Welcome to Myanmar!
Mengarlapar!! (but actually it sounds more like: Mengalabaaa! It means hello)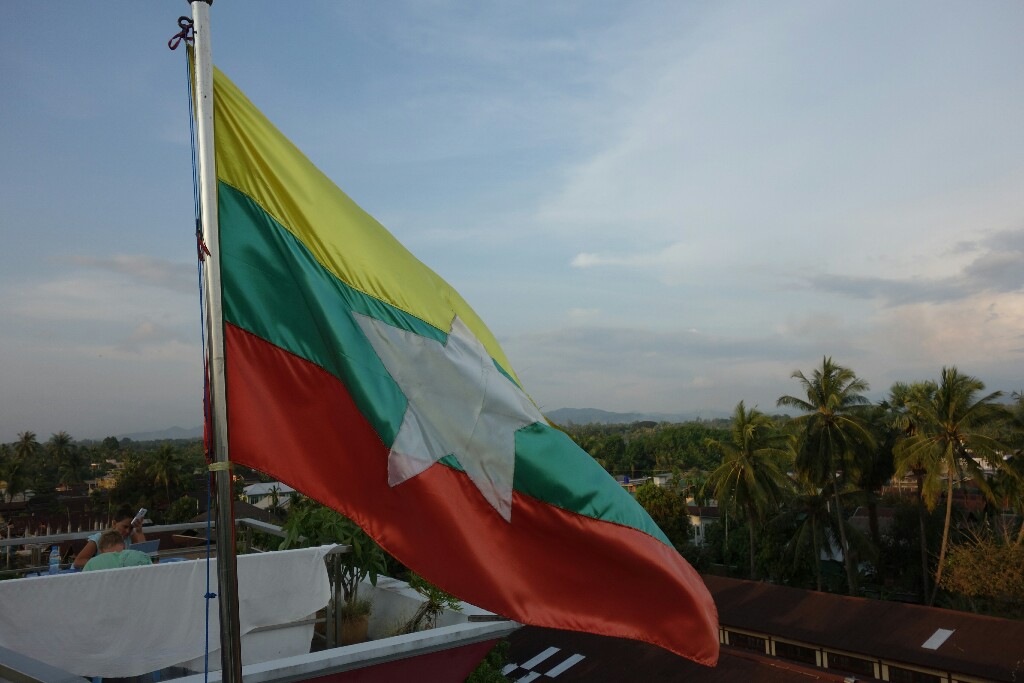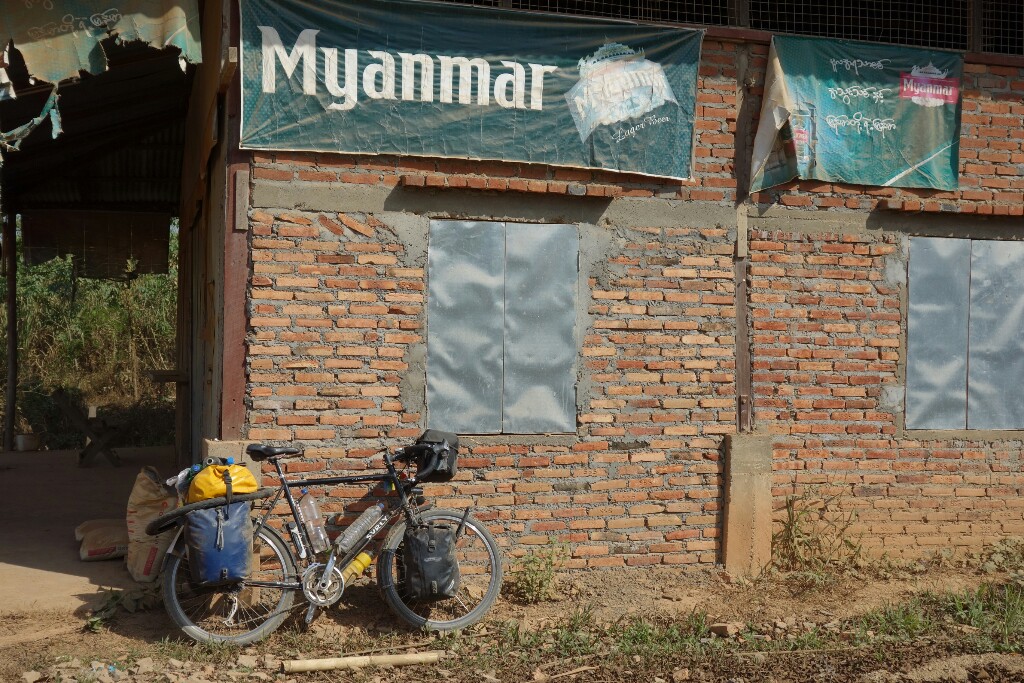 Myanmar begins with a gravel road. At the border checkpoint they don't want to see my passport. They say 'immigration office' and point further down the road. Ok, why not. After a while and asking several times I find the immigration office. They check my passport and say I need a copy of the main page and the Myanmar visa. Fortunately there is a copy shop next door. All right. I do the copies, go back and get my stamp.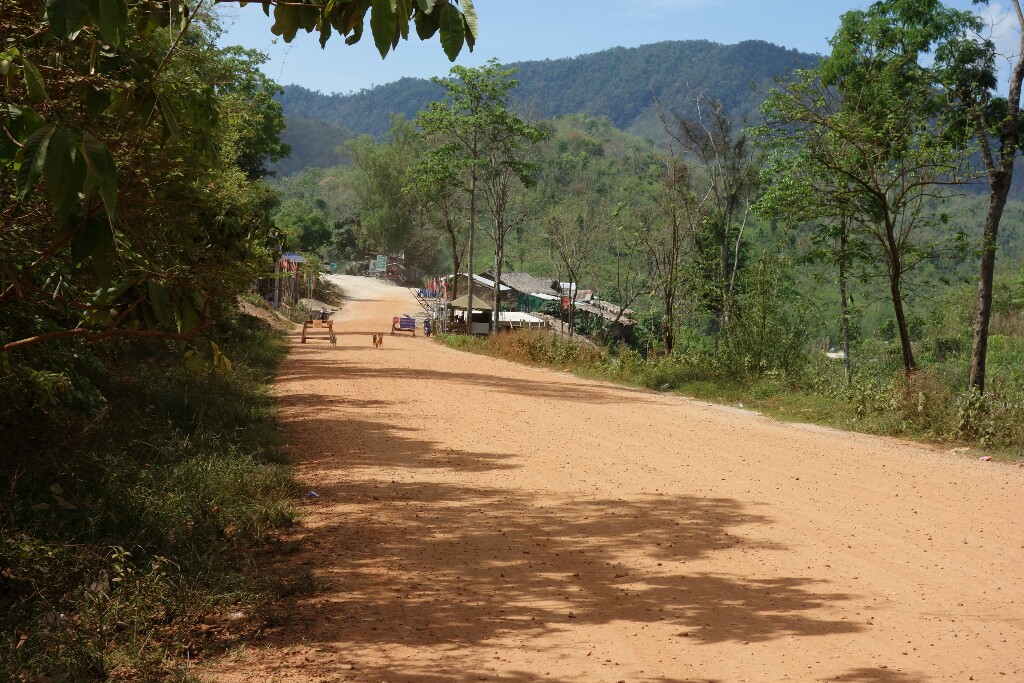 The road doesn't look that bad on the picture but in parts it is very steep and sometimes a quite bad road. It goes up and down all the time. The heat is extreme, I sweat a lot. It's not much traffic but the cars go fast and leave me in a huge cloud of dust behind. Soon I am covered with dust.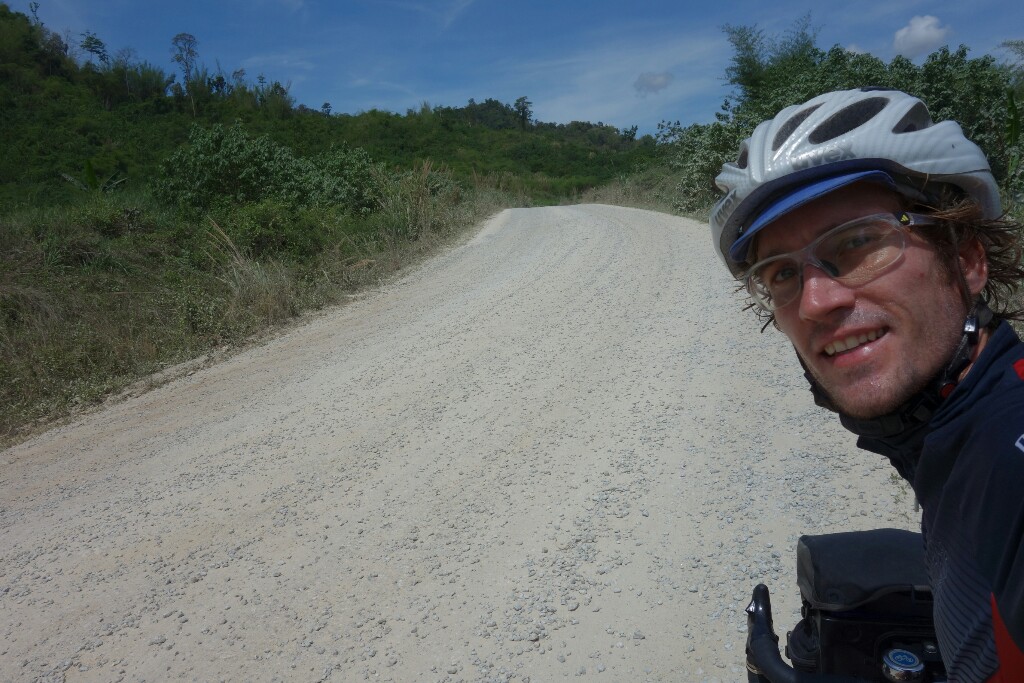 The area from the border to almost Dawei is ruled by rebels. But they have a peace agreement with Myanmar. Everything seems fine and safe. There are some checkpoint, where all cars have to stop and pay. I don't know home much, because they aren't interested in me as a cyclist.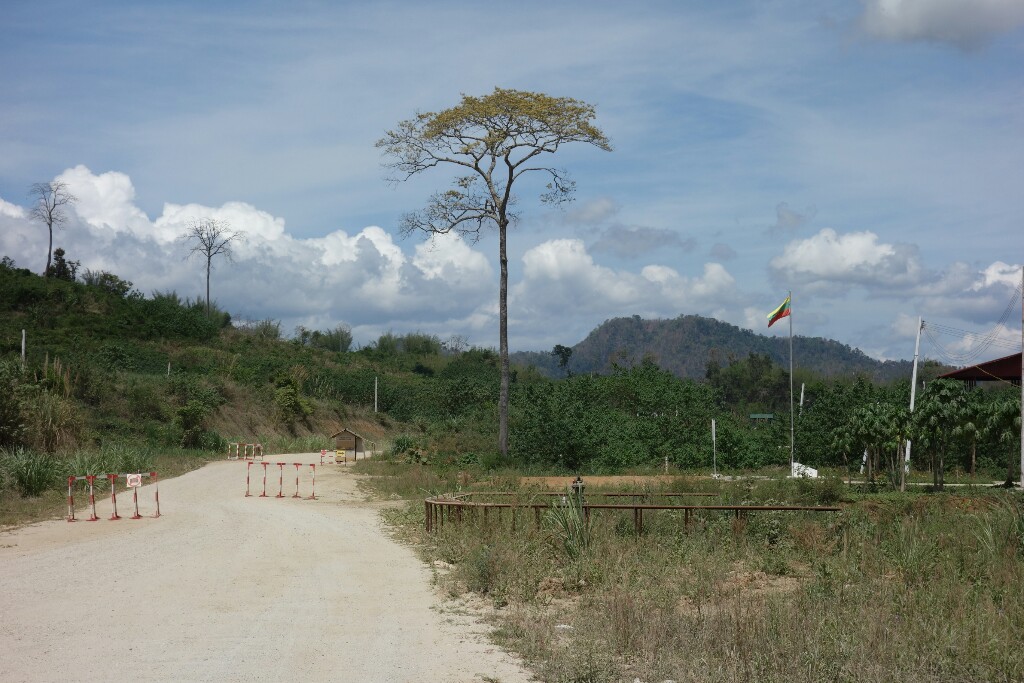 The most cars are jeeps, highly overload and often with some people sitting on the top of the transported stuff. 
The sign is more for cars then for trucks, because luckily there are almost no trucks. For me it means, in no case release the brakes, otherwise I can't control my bicycle anymore on the gravel ground, when it gets too fast.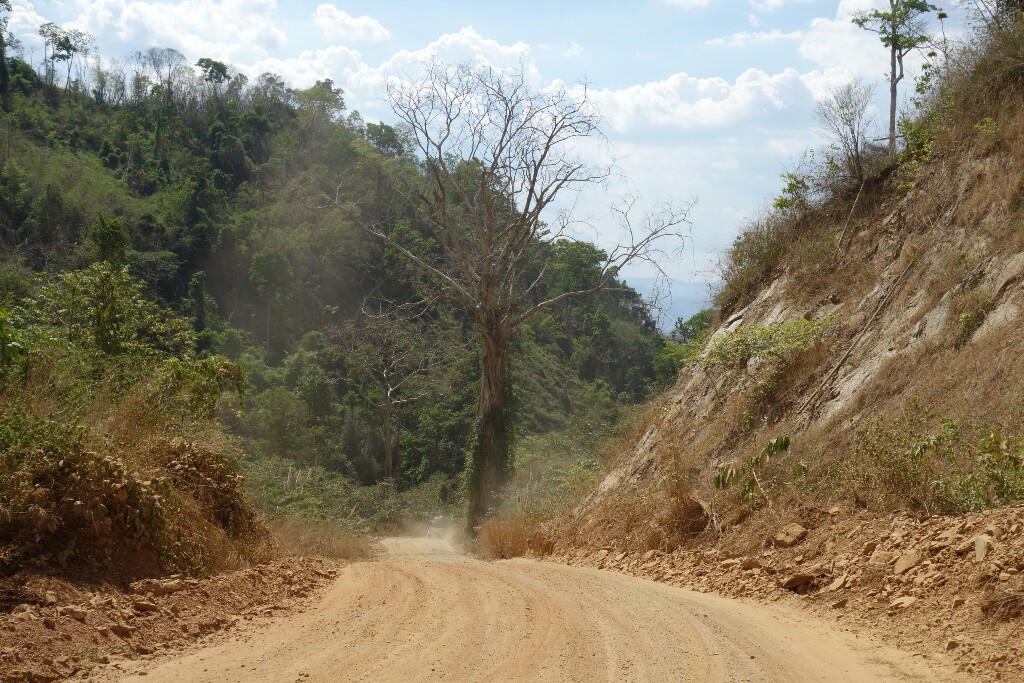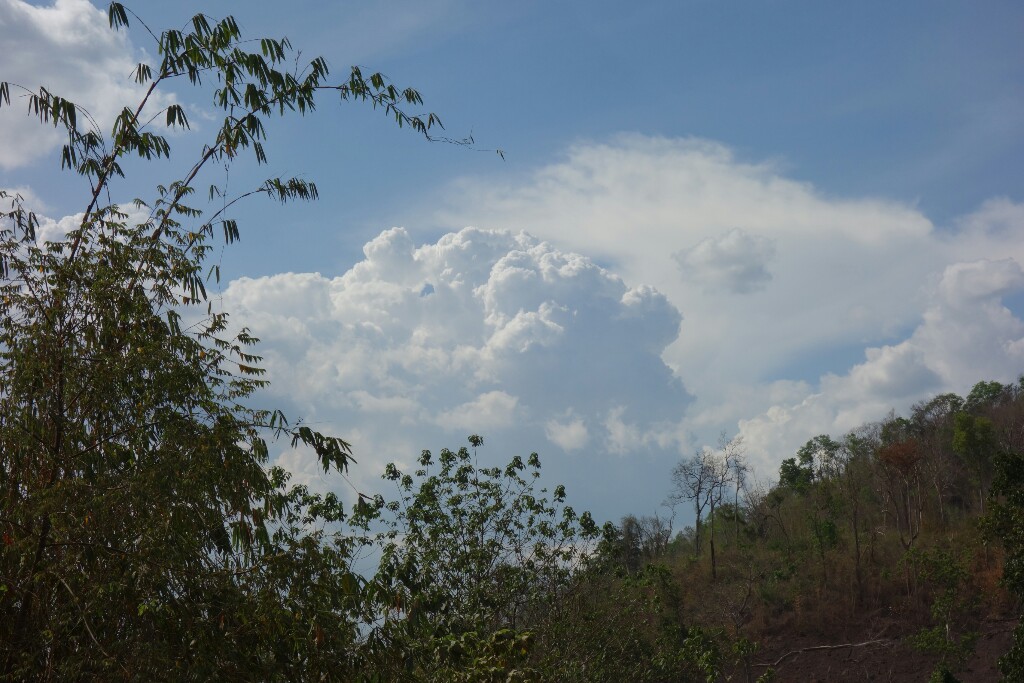 At a second lunch break I sit on the table with some local youth, very friendly.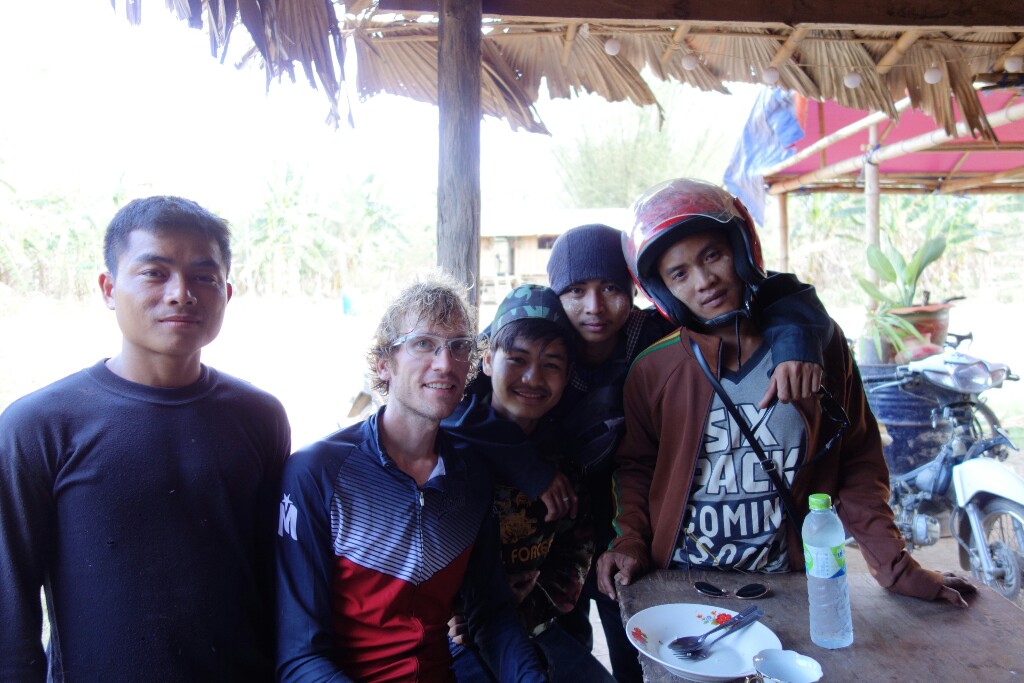 The sun is going down and sets the nice landscape in a wonderful light. But I absolutely need to find something for dinner. Eventually a restaurant appears. Perfect, I eat and fill my water bottles. Then I want to start cycling again and find a camp in the last lighted 30 minutes. I push my bike back to the road, something is wrong. Oh no! My back wheel has a puncture. Completely no air anymore. I have no option, I have to fix it as fast as possible. The people of the restaurant aren't really interested in me. I hurry, find the reason, a short thin metal wire, and take a new tube. It is my 4th puncture.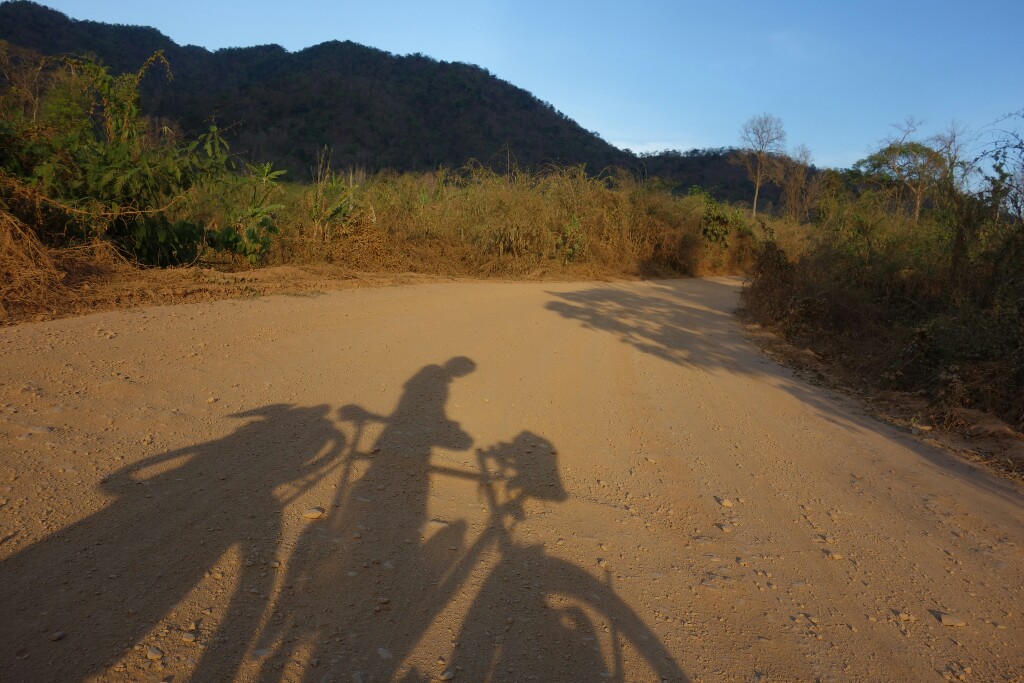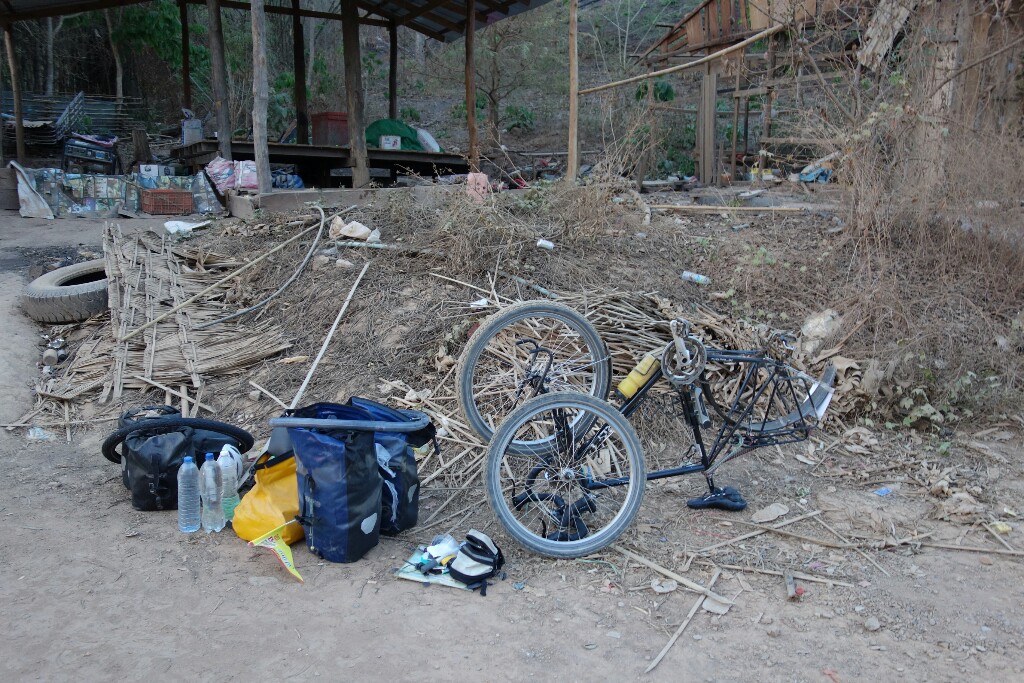 With about the last ten minutes of light I go on. Of course I can't find a possible sleeping place. Gambled away. I cycle with my dynamo light, it's dark now. To see more I get my headlamp out of my pannier, just in this moment a truck comes towards me. It stops and two people get out of it. One says something like: "Hello my friend, what are you doing?" or "How can I help you?"
It is Saw Cho and he invites me to his brothers farm, just some hundred meters back the road. Wow, what a luck. 🍀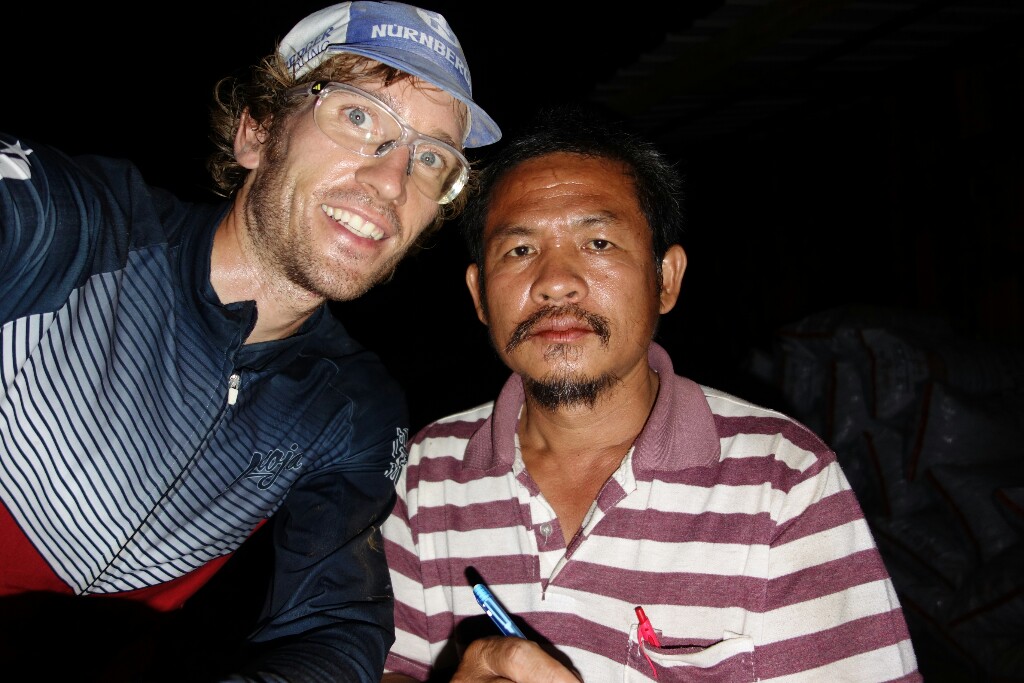 In dust we trust.
I get something to eat (rice and fish) and can take a bucket shower. Perfekt and needed. Saw Cho is Christian (Karen) and suddenly I hear loud singing/praying sounds. He brings me to his sister, where five children sit around her and sing very energetic and nice. I get a chair and should sit there as well. It's so powerful, amazing.
I can sleep on a nice wooden not finished house together with some kids.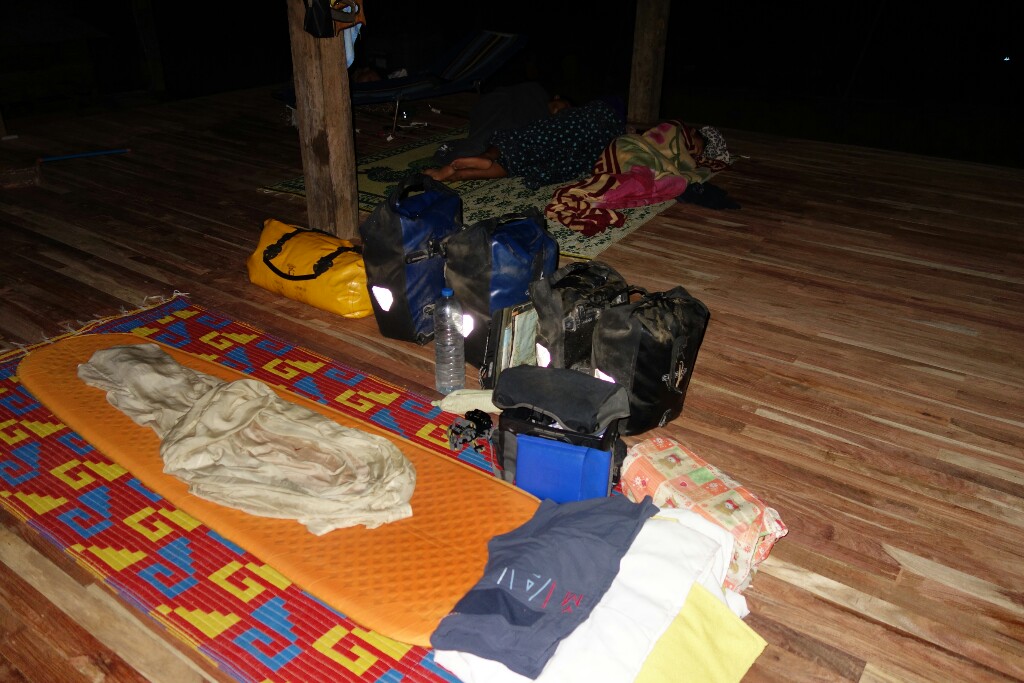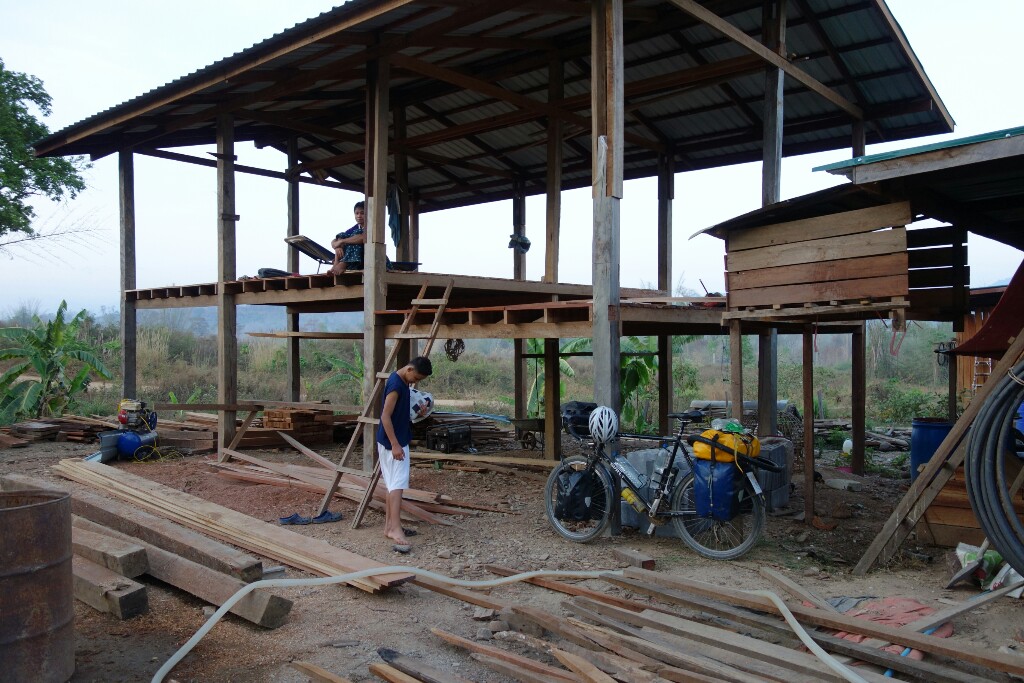 The next morning, saying goodbye to three of the children. The yellow color in their faces is very typical for Myanmar. Almost everyone does it, it is very finely ground powder from a tree. They do it, to not get any darker skin.
Further it goes the dusty road.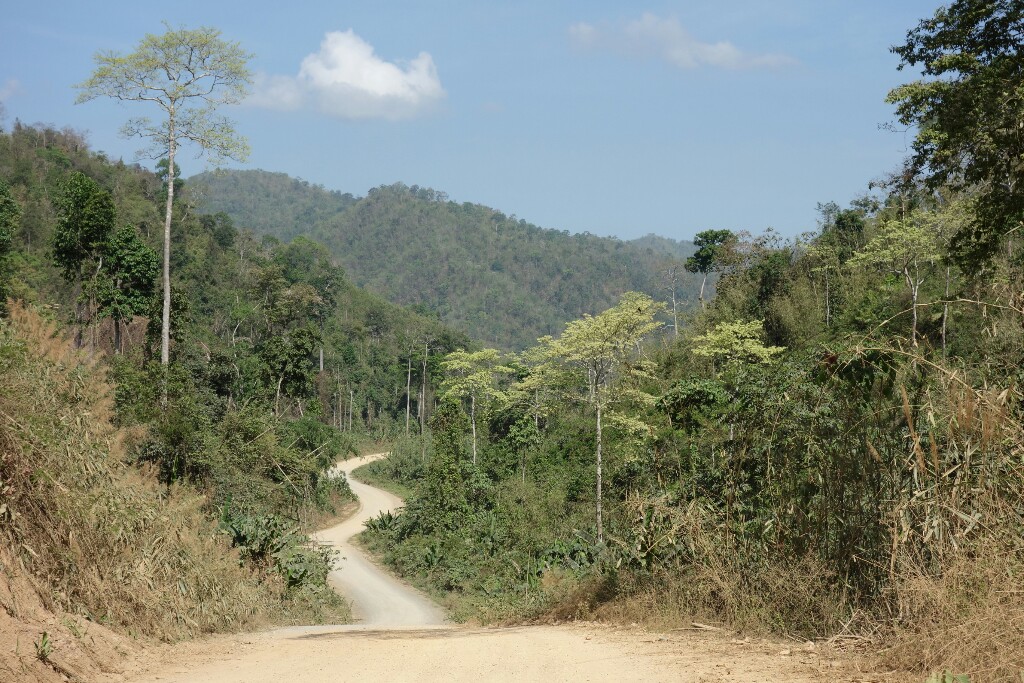 A while ago I realized, that my sunglasses don't get dark anymore like they should. Even at strong midday sun. Said, with this white road I feel it particularly.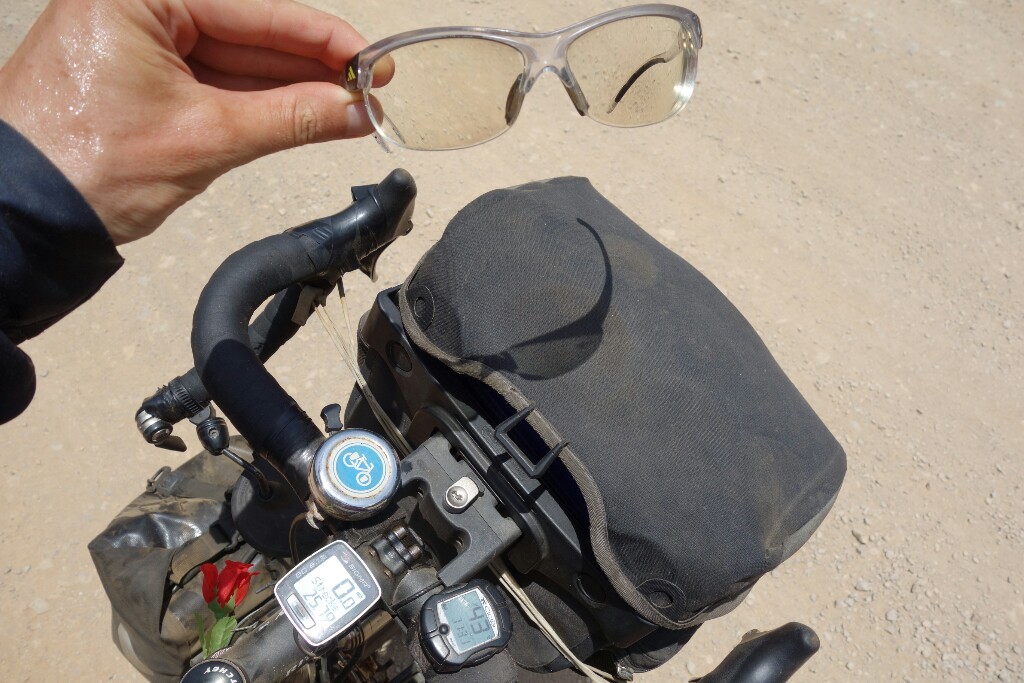 The road gets steeper and steeper, but in the steepest part they put some concrete at least. With all the luggage it's not possible to cycle these passages, I push my bicycle slowly and painstaking uphill. A scooter with two young guys stops, one hops off and helps me pushing the bike up the ramp. Very kind. On top we have a small break together and talk a bit, but they don't speak English, so we take more pictures instead.
Just down the hill they wait with water and an energy drink for me in a small restaurant. Really, very nice guys.
Furthermore I get information about another cyclist, being just a bit behind me. And indeed suddenly a young fully loaded touring-cyclist appears. Luca started in Switzerland and is 22 years young.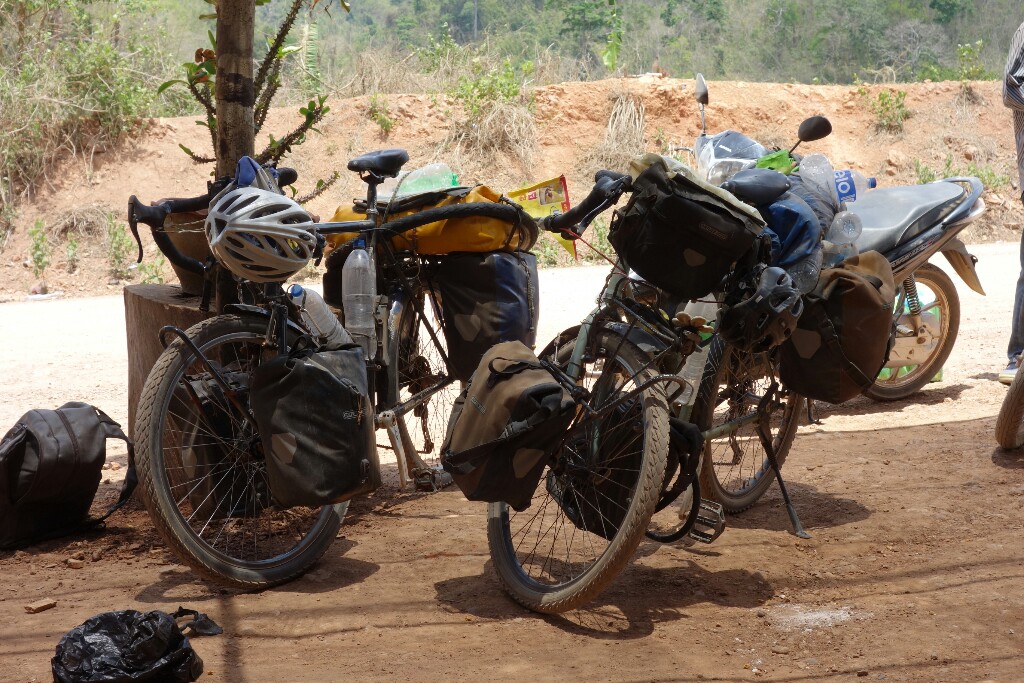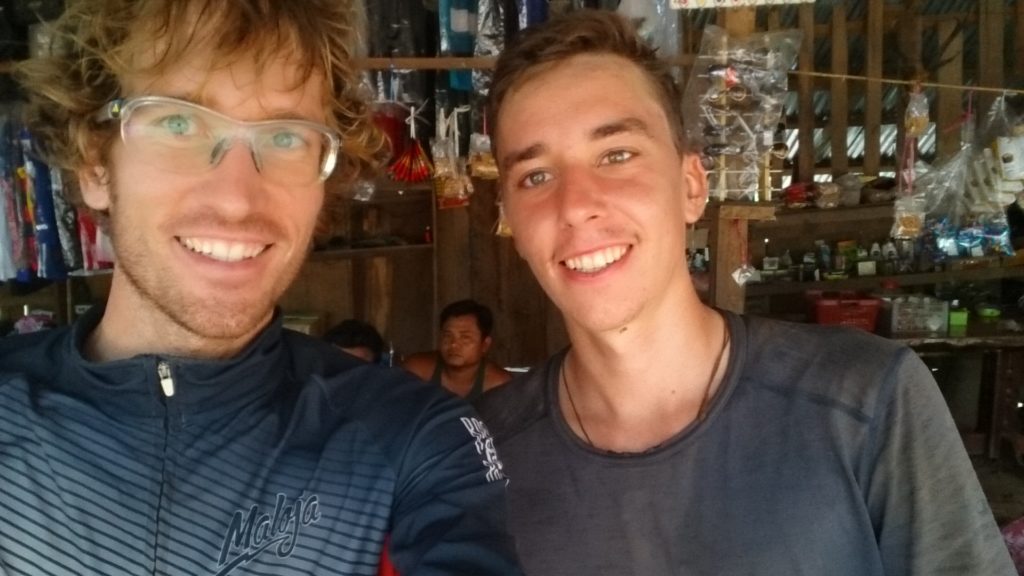 After lunch we continue our way together. Luca has a good sense for small rivers, we have a pleasant refreshing bath in the small hidden pool next to the road.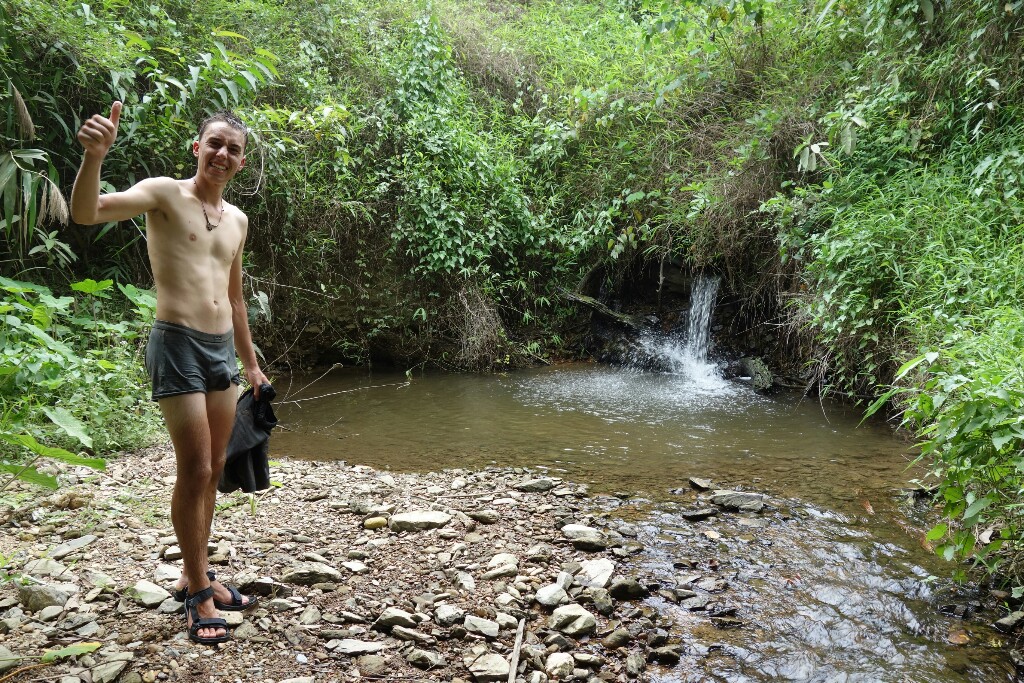 A while later we hear a loud sound and as we come closer we see the big fire. The rainforest is burning, more or less uncontrolled. Somehow sometime the fire will go off. So big and so near, both of us haven't experienced a fire like that before. Although it is on the other side of the river/valley and the air temperature already is 36 degrees we feel the heat of the fire.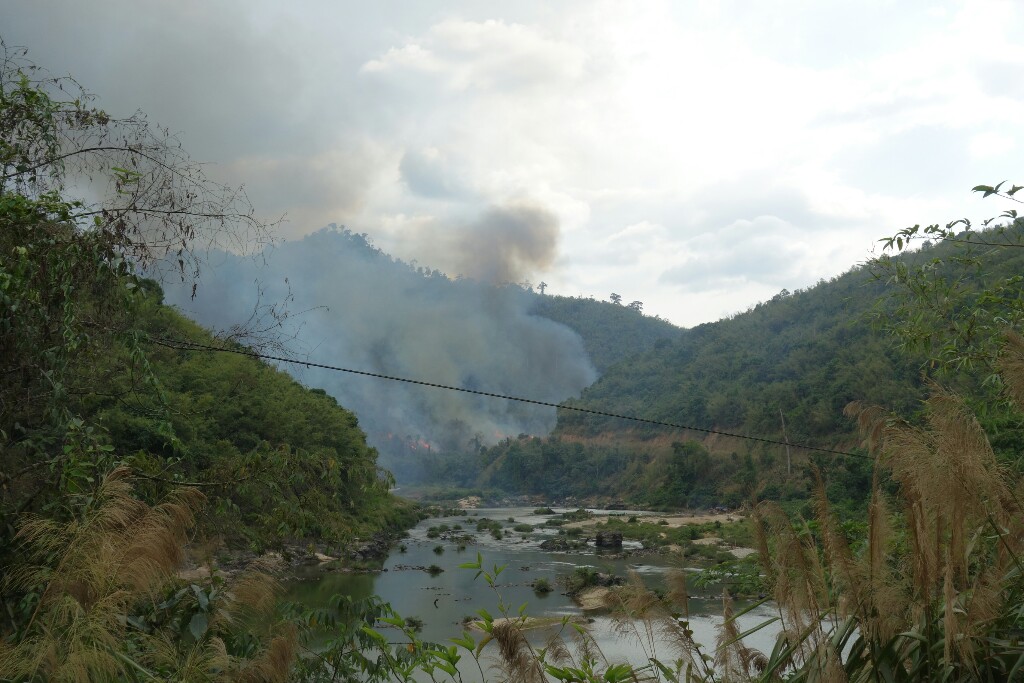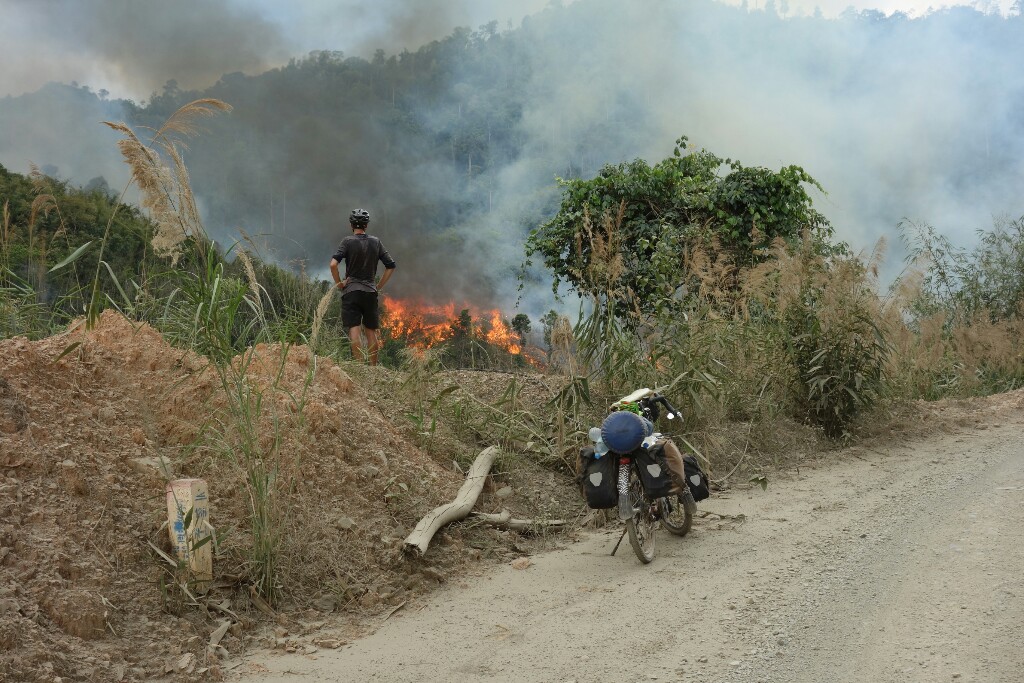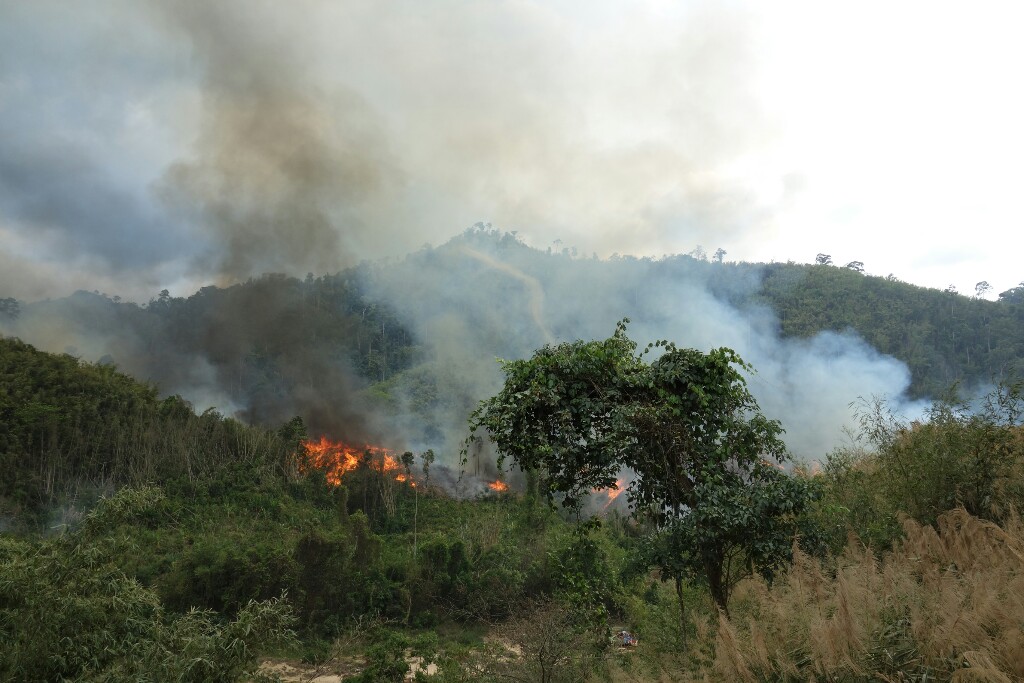 After two hard days on the dusty exhausting road (about 90 km), we are happy to have asphalt again and oil our chains.
Here, too, in Myanmar the ice business is a big thing, you find everywhere. Duly the heavy slippery ice cubes get dissected, shouldered and carried with flip-flops to the ice box. Incidentally, the ice for cooling and drinking is always the same.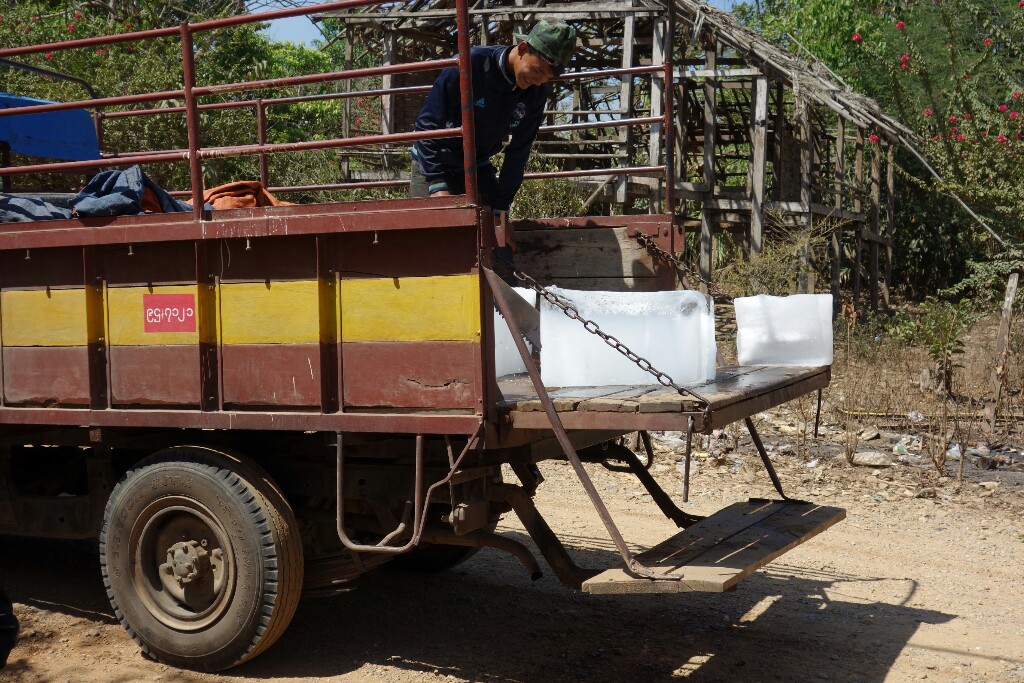 After a nice soft downhill in a green vegetated and stoney river valley, we have our first real Myanmar food in a small restaurant, delicious squid.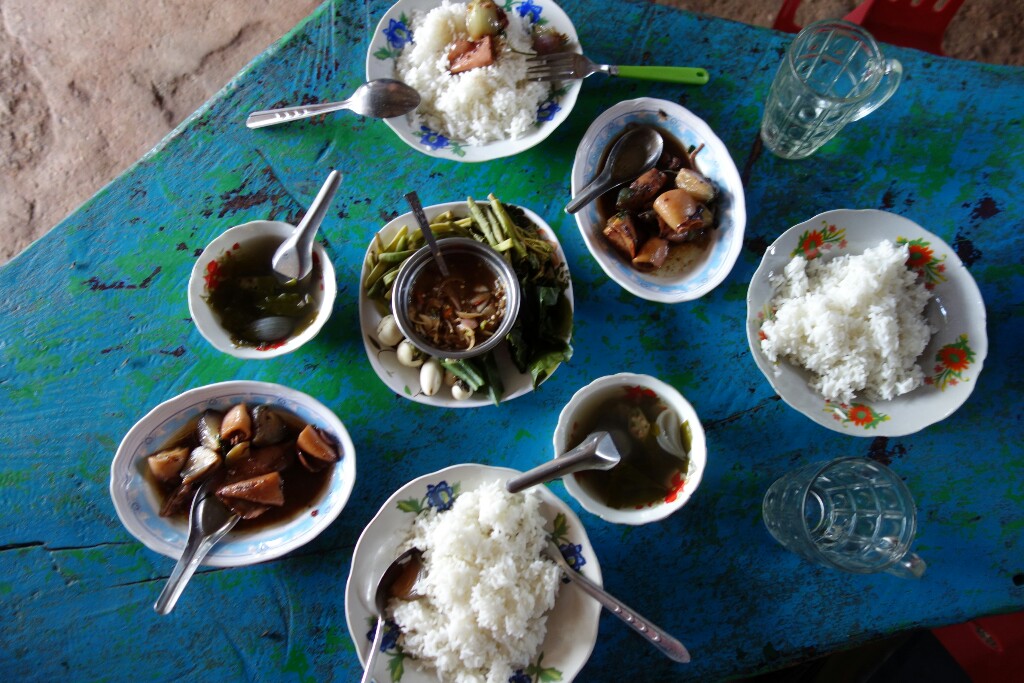 And then it begins, the WATER FESTIVAL!!! It is the New Year celebration and called Thingyan (in Thailand, Songkran). In the beginning I am willing to take some nice pictures from a safe distance. Luca plays a good model in this case. 😉 Later on I did better with keeping the camera in a safe and dry place. It is the first day (the celebration just starts slowly) and we have a lot of fun with the kids throwing water on us or dousing us with water. It is very refreshing in the extreme heat.
Finally we reach Dawei and stop at a small café/tea shop, where some fatty, nice looking baked stuff lies outside on a table. Immediate two policeman, who sit inside start talking to us, ask some questions and invite us to their table, to have tea with them. Briefly I think, is it a good idea or not, because their is some kind of registration rule in Myanmar and we camped last night. But of course we say yes and they are very friendly. We even ask them for a hotel and they show us the way. We are lucky and get the last, just cancelled, room for a good price. For dinner we go out (waterproof or leaf it in the hotel) and find this place to eat.
The building will be the biggest in town in future. Fortunately the tourism in Myanmar is very little. I appreciate that. In two weeks I see about 20 tourists only. That is one thing, wherefore I liked Myanmar a lot.
Most probably it will be a hotel, but interesting is the scaffold, it's made from bamboo!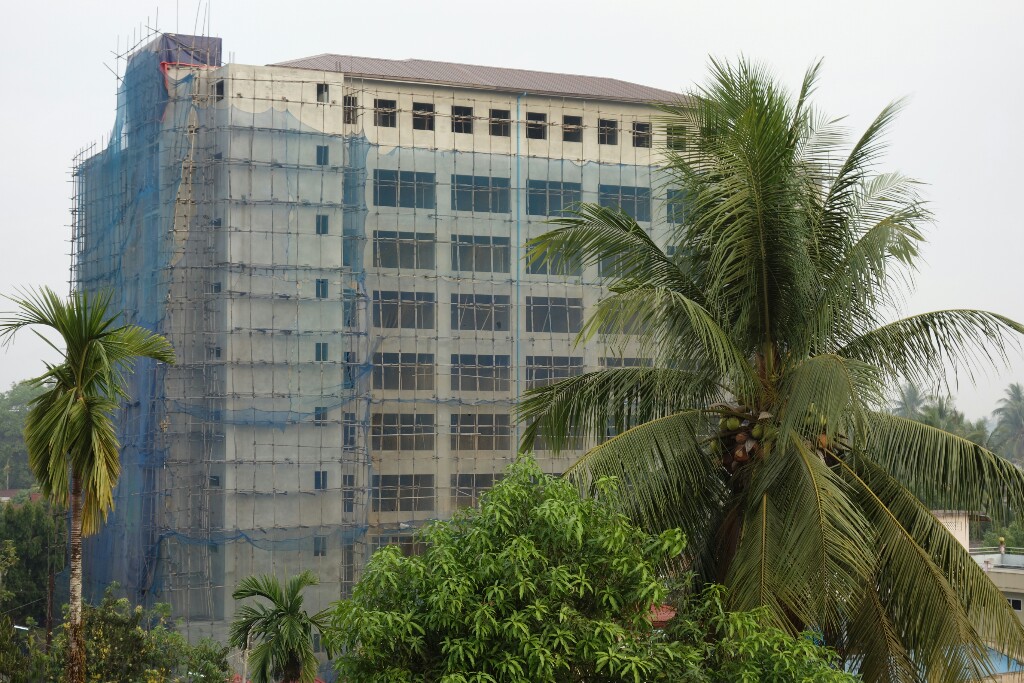 After having lunch together Luca and I say goodbye to each other. His plan is to cycle to the North and apply for an Indian visa, where he wants to cycle and hike (7000er) in the high Indian mountains. (He already arrived now, yesterday he send me a message, that he landed well in Kathmandu.)
With the little ryhme I say goodbye from Dawei.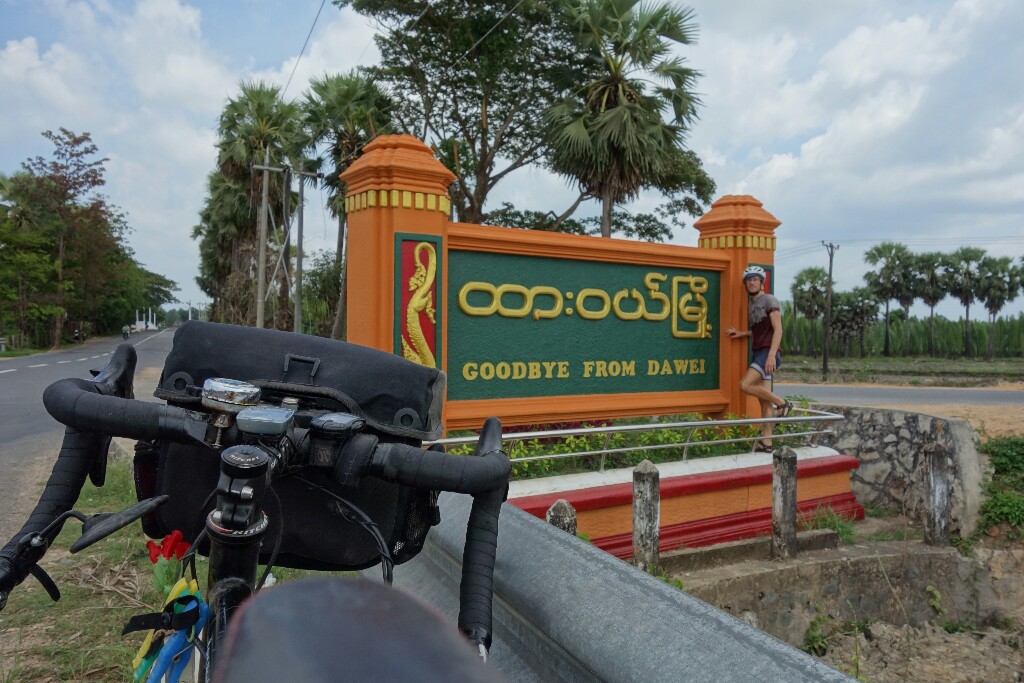 One important survival strategy in Myanmar for me is to drink a lot of sugar cane juice, several every day. It tastes so good, is very cheap and always a nice refreshing break. Most of the time it is prepared with a huge hand-operated squeezer. Mouth-watering.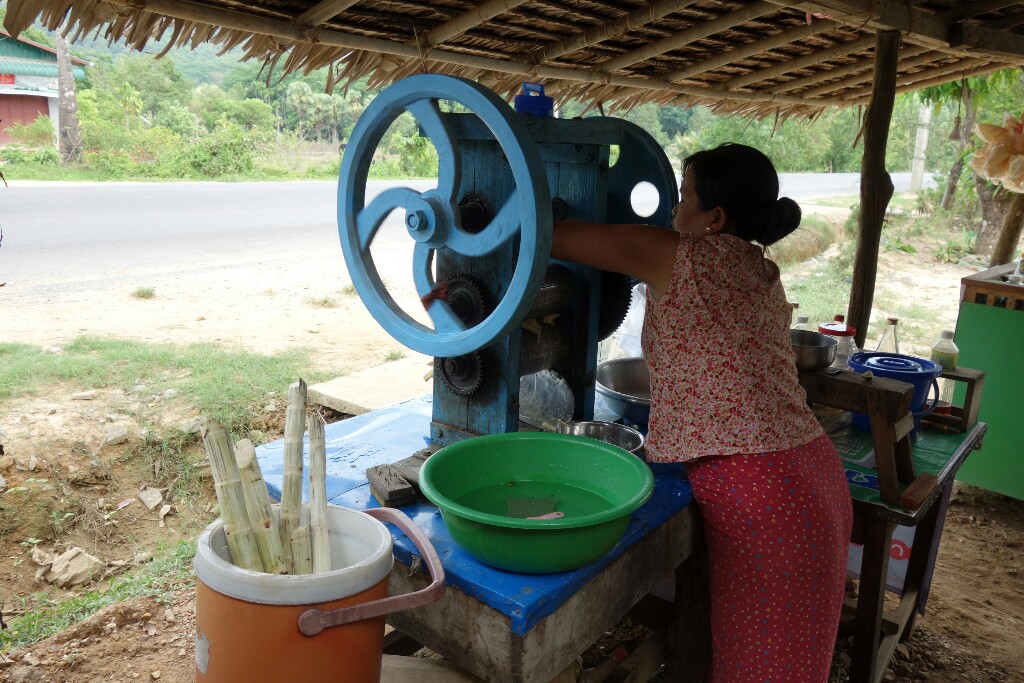 At evening I stop at the gate of a temple to eat a little bit. Of course, after a while the monks come. They are quite young and interested so I ask them, if I can take a picture. In the gloaming they look beautiful with their red clothes.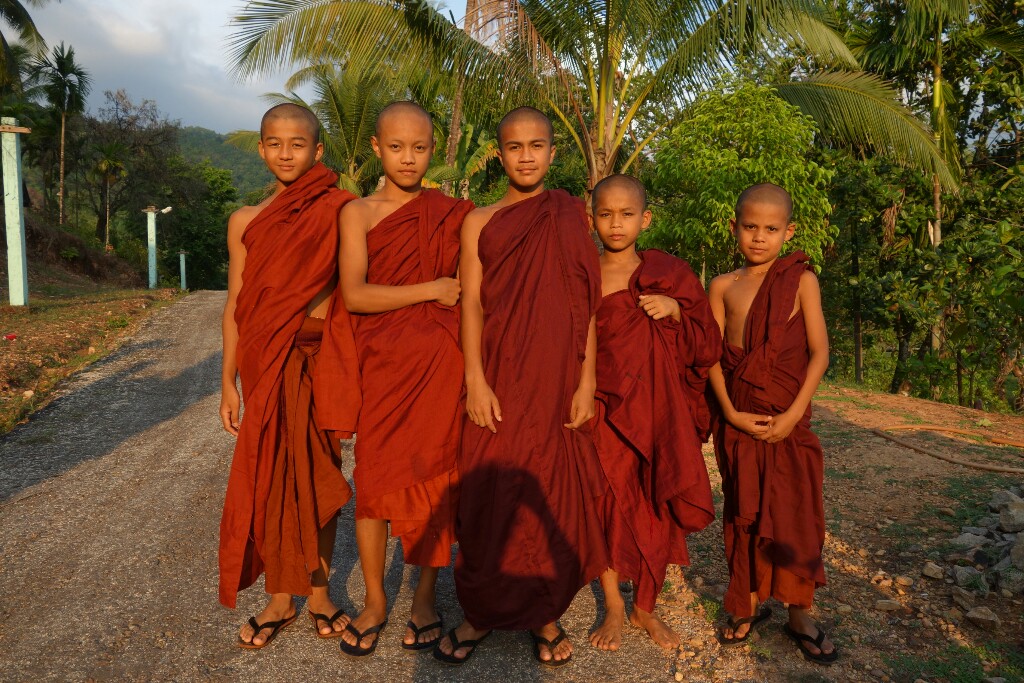 They invite me to stay, but I want to cycle a little bit further. A place for camping is not possible to find in the area. As it gets pretty urgent for me to find a place for the night, an older man and woman, sitting on their terrace, shout a very kind hello to me. So I turn back and ask them if they know a place for me to sleep. Immediately they beckon me over and say I can stay for the night. I can take a shower and get dinner (rice and fish). The whole family is very friendly and I feel pretty well.
By the way, it's very common for men to wear kind of long skirts. In the end I got so used to it, that I didn't recognize it anymore.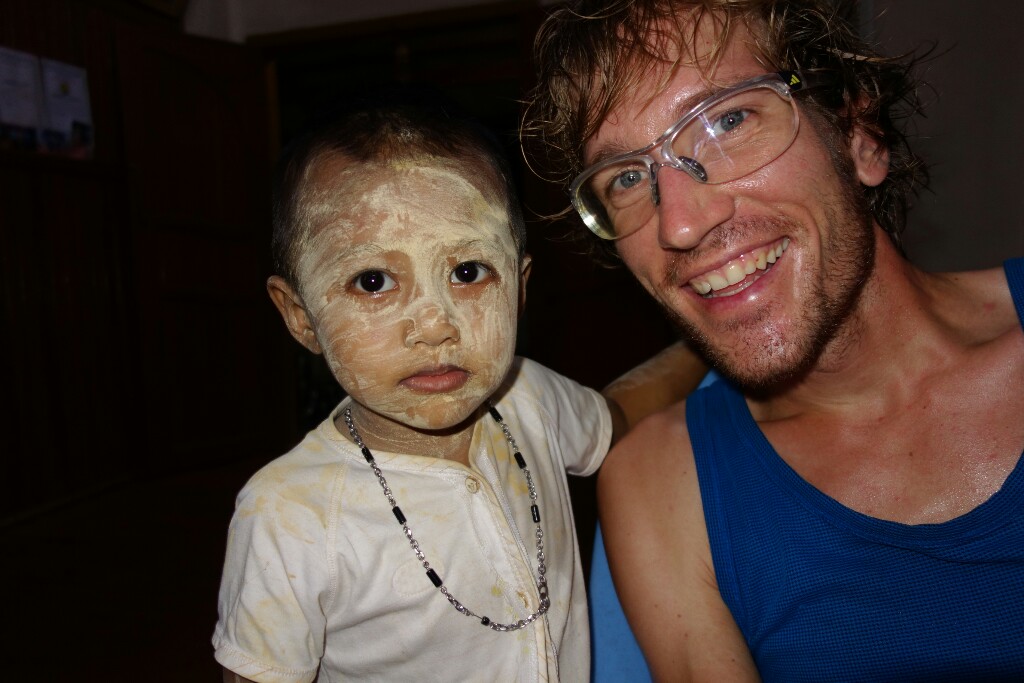 Over night I try to dry my wet clothes, but in the morning they are still wet. So I have a break at a soccer field and dry them again in the already strong sun. Unfortunately I had to ascertain, that my Ortlieb panniers aren't completely waterproof anymore. :/  It was an extreme water festival day yesterday and somehow the water went inside my bags.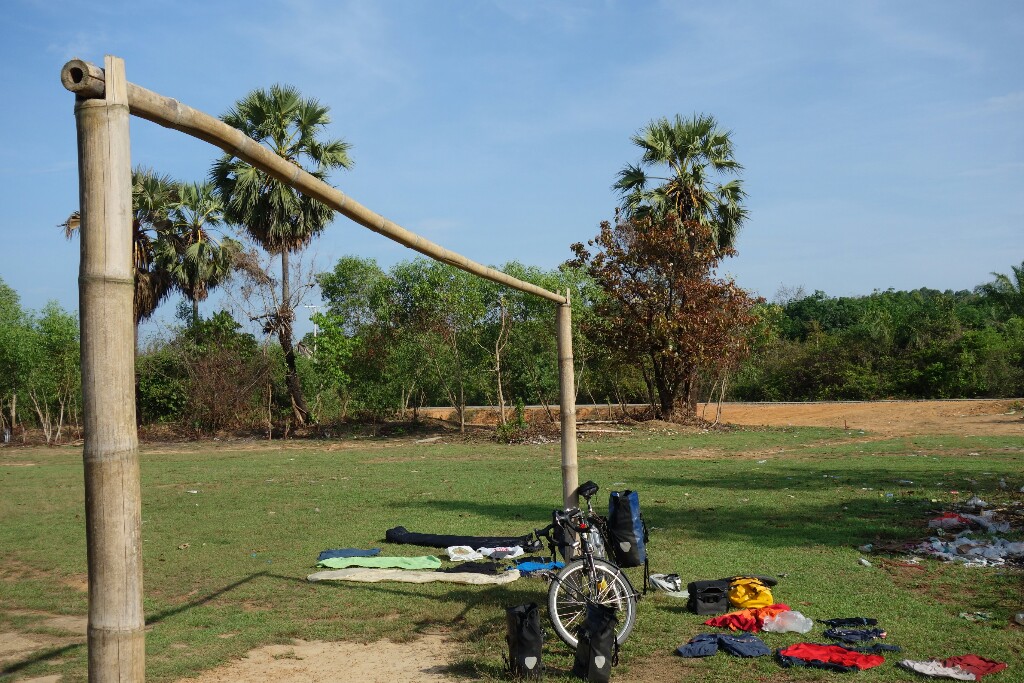 Unfortunately it exists too often in our world! Would be interesting what is written on the sign!?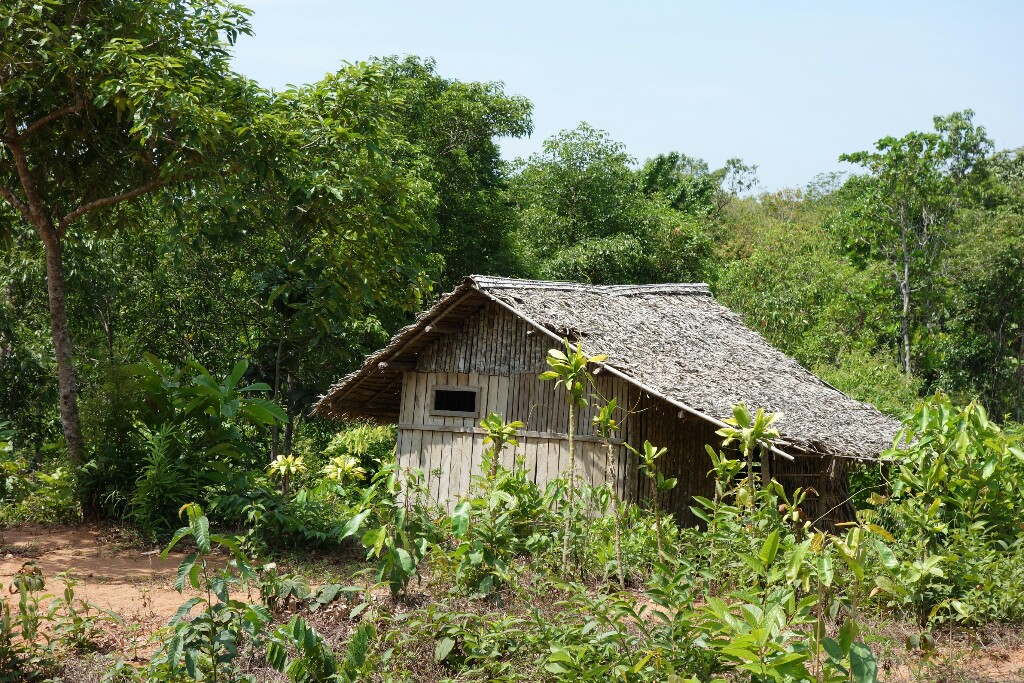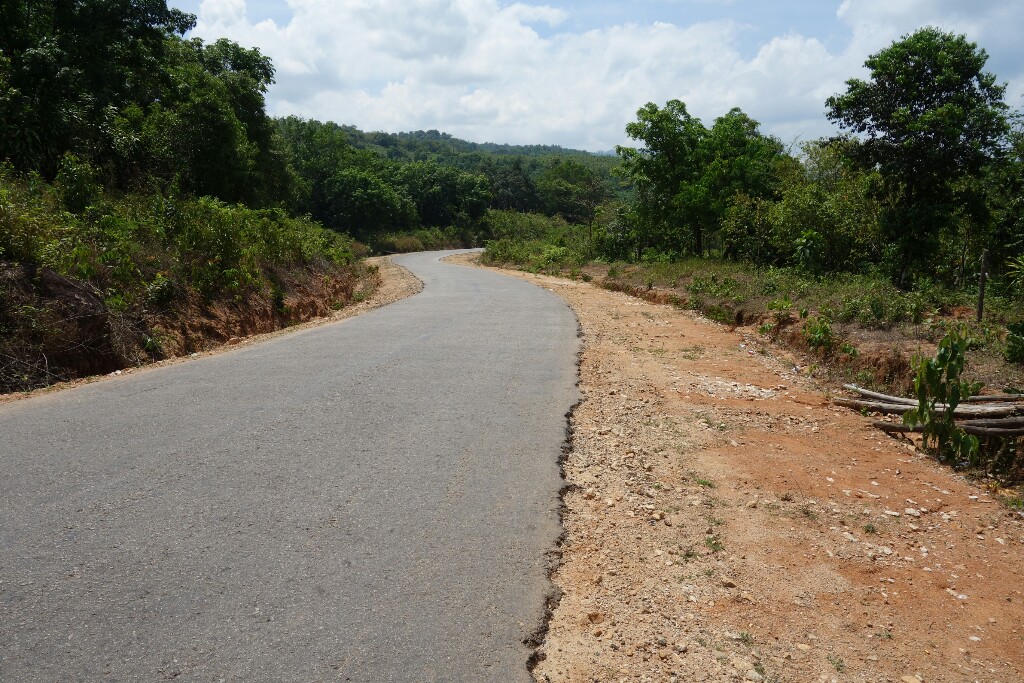 A lot of people in Myanmar chew interesting stuff. I don't know what it is, but it makes your mouth red like blood, so that you look like a vampire. I think it's not good for the teeth either, I see lots of old people chewing it and they have bad teeth. But almost every little café has a separate table, where you can order the stuff. I never try it.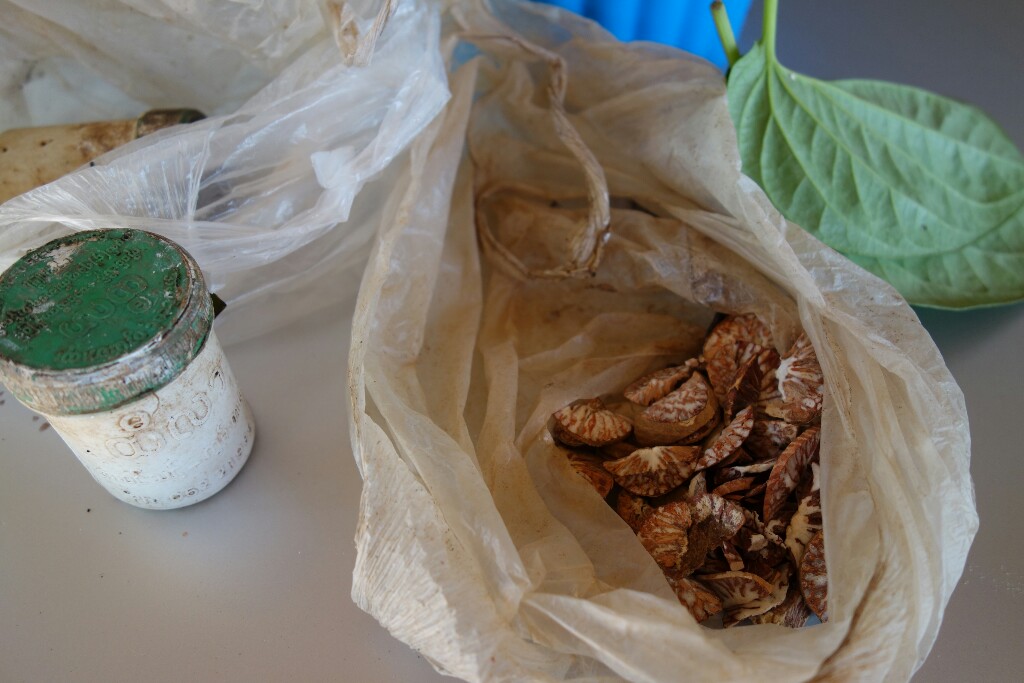 They do it right. What else should you do in the heat.
Around lunchtime a group of young people on scooters stops me. They invite me to celebrate the New Year with them and have lunch together, their village is just a small detour from the mainroad. I say yes and they bring me to the restaurant. The guy on the left side invited me and speaks good English. First time experience: I try a piece of wild cat/leopard. As they all drink beer, I have one as well. Myanmar beer is the main beer brand in Myanmar and it's made with local rice.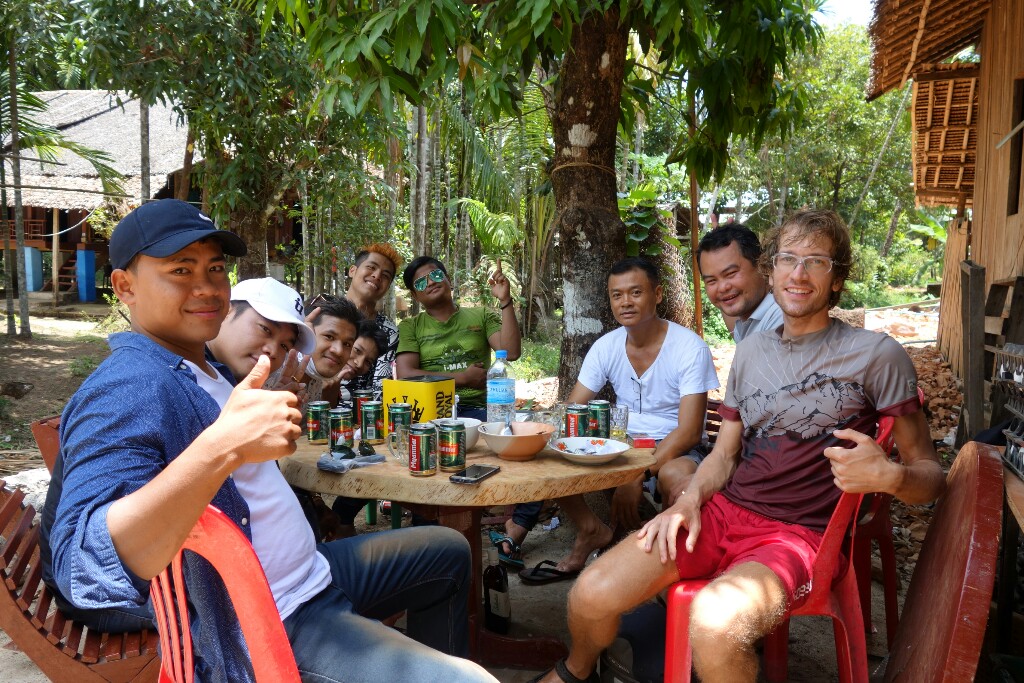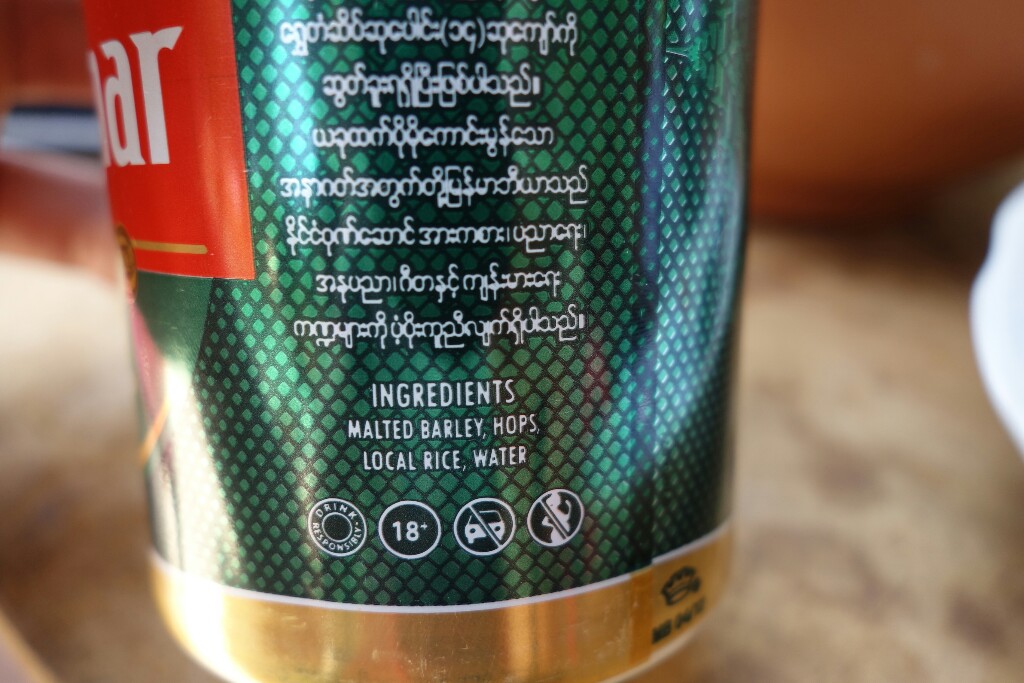 It is the third day of the water festival. For logical reason I already changed to cycle in my swimming trunks. I am wet the whole day. And if there is a group of children waiting with water at the roadside and they see me, of course they keep their water for the extraordinary looking foreigner on a bicycle and not for a local man on a scooter. But no one gets spared. The cooling is good most of the time and I have one of my happiest and funniest cycling days so far. The children have water in different containers, from a small cup to 5 liter buckets. If you get that in your face it isn't fun anymore. During these day, I lose control of my bicycle two times and almost fall. Some have water tubes, from a small garden hose to big fire hose.
Another challenge for me connected to the water festival is to not get sunburned. The suncream doesn't stay long on the skin and the water reflects the sun enormous. Therefore I mostly cycle long-sleeved.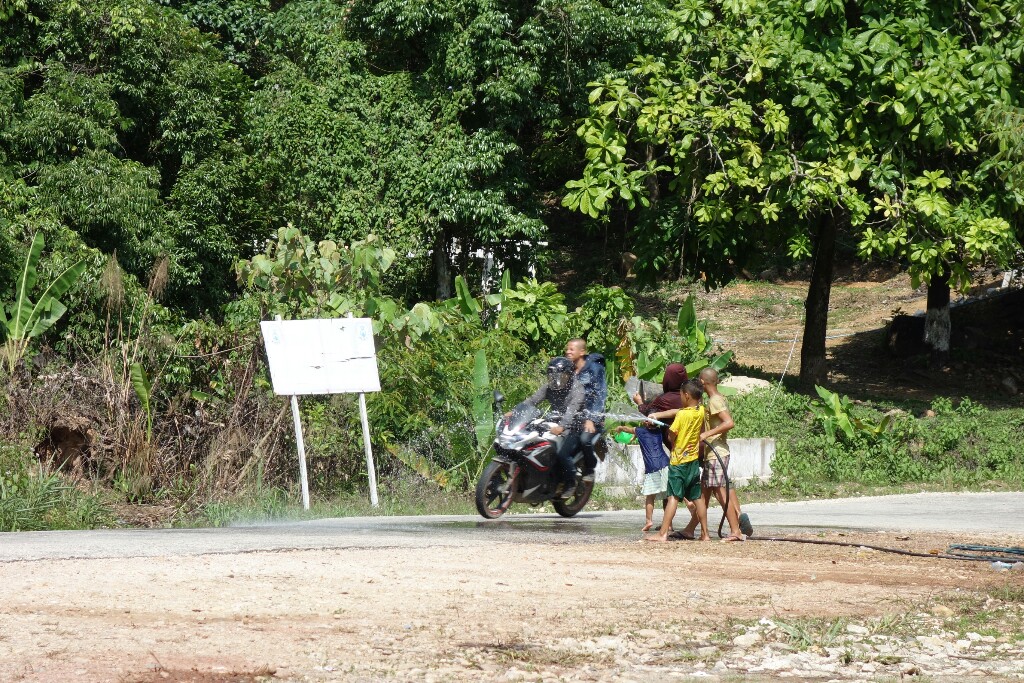 So I am quite happy about the clouds, when I see them appear.
Soon I recognize the approaching thunderstorm. Actually I could cycle on, because I am completely wet anyway, but I prefer to see the heavy rain falling from a dry and safe place. So I turn back to the last café and have a good shelter under the roof. The young locals are drinking beer and two men timber a new door.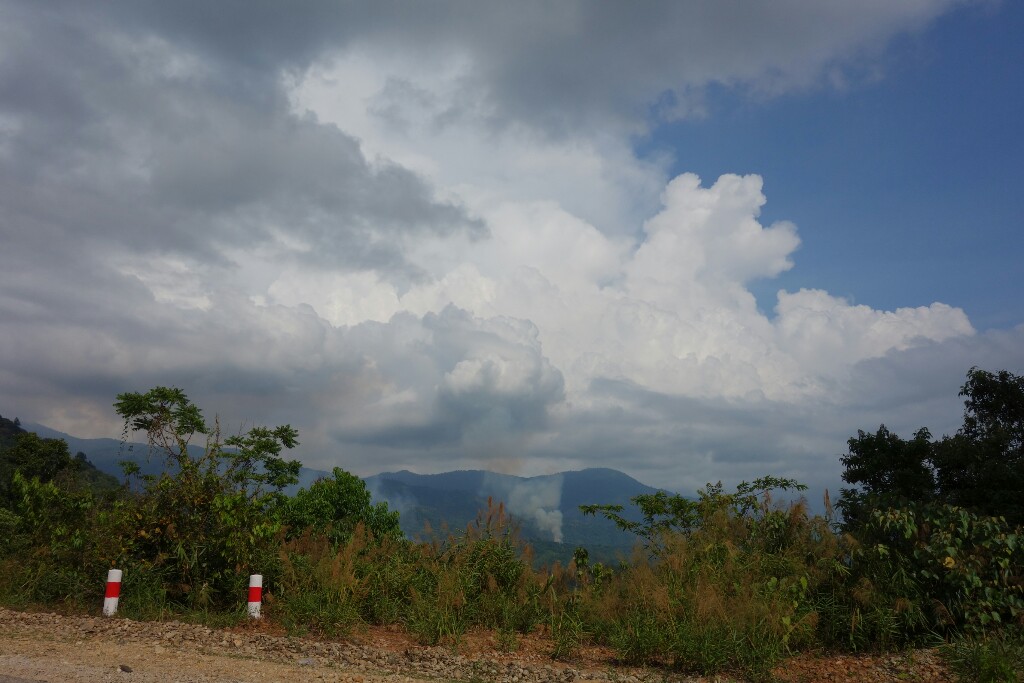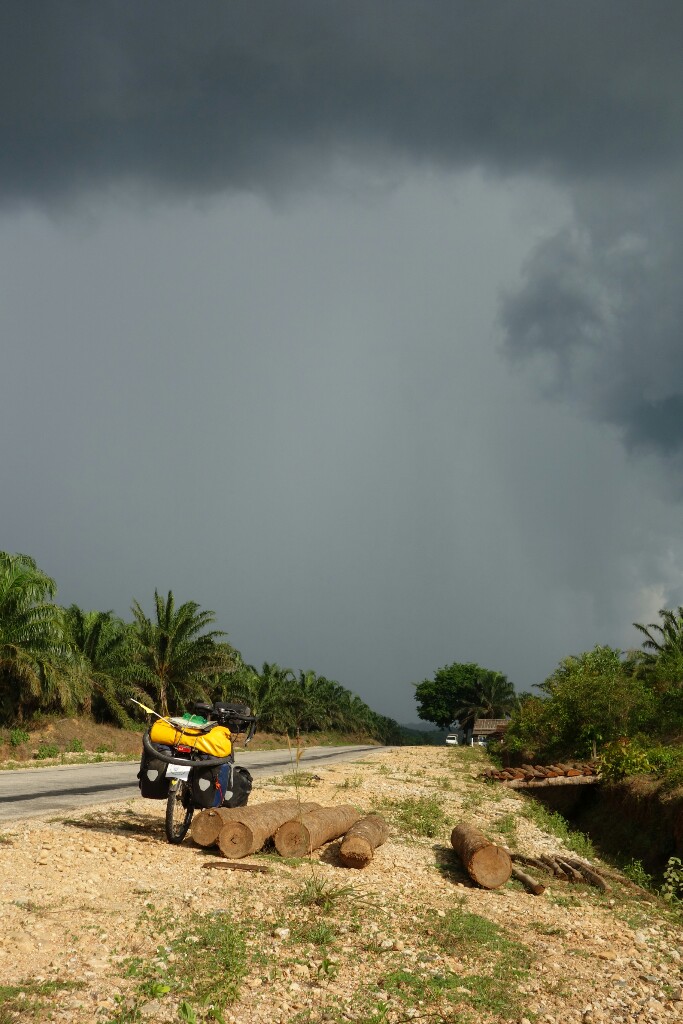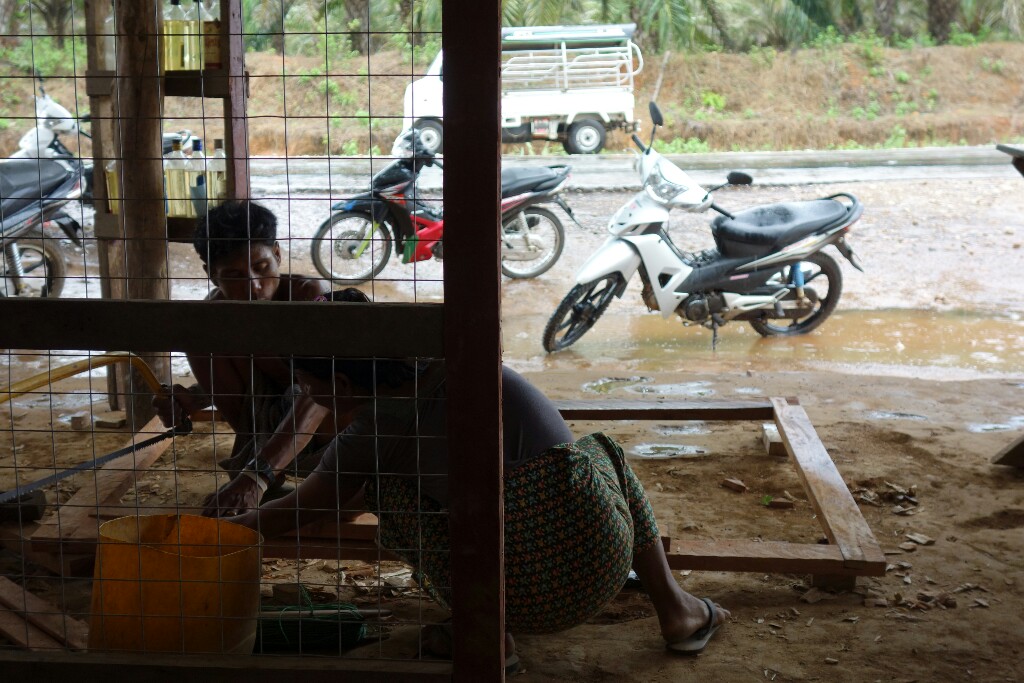 Very late, it's already dark, I arrive at the house of this family and in my distress they host me. Very friendly family.
(In the morning I almost forget my still in good shape Schwalbe Marathon spare tire, which I found in Bangkok. The nice boy gives it to me, when I want to leave. But I already decided to leave it in a bicycle shop, because I don't really need it, and it's one kilogram of extra weight. Just, so far, there was no bicycle shop in Myanmar, I have to wait till Thailand.)
Regretfully the picture is blurry.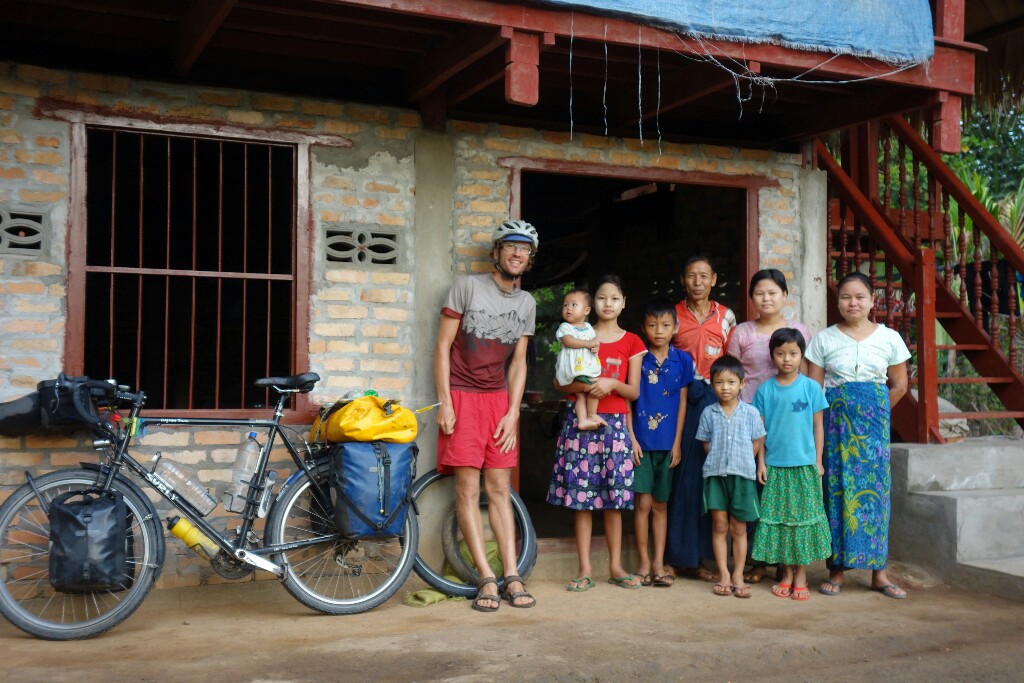 Second breakfast. One more thing I like about Myanmar is, that it is a tea country again, in every café/restaurant they have thermos bottles on the tables with hot tea for free. Single cigarettes are available as well.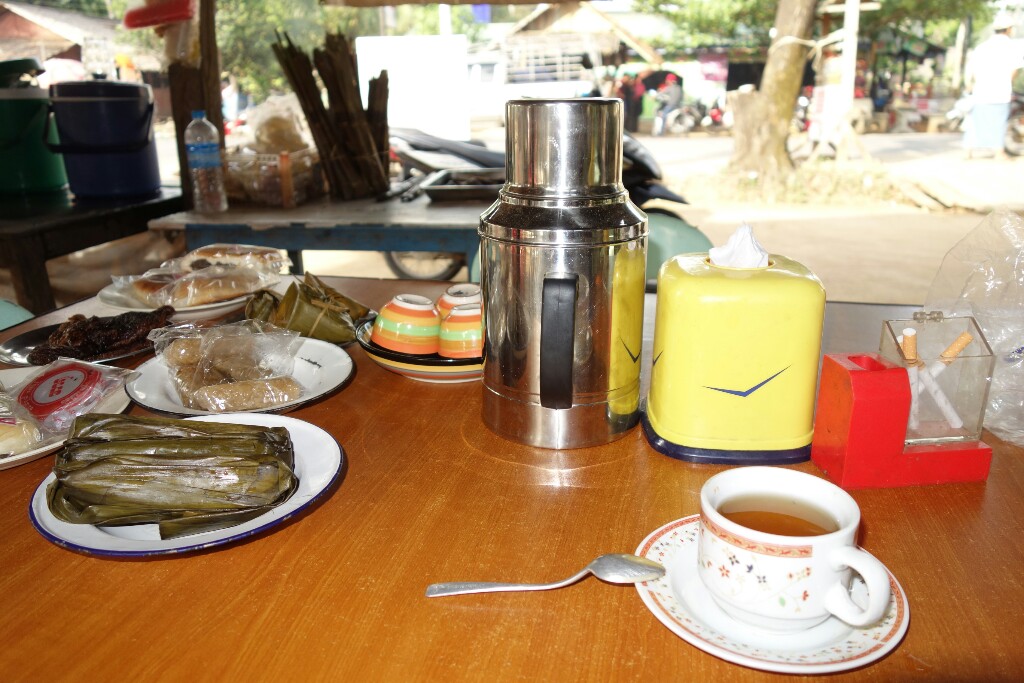 The bridges are old, but still possible to cross. Everywhere they are busy building new ones. I hope they don't extend the road too big and better leave it small as it is. Road and traffic in Myanmar from Dawei to Kawthaung are just perfect for cycling.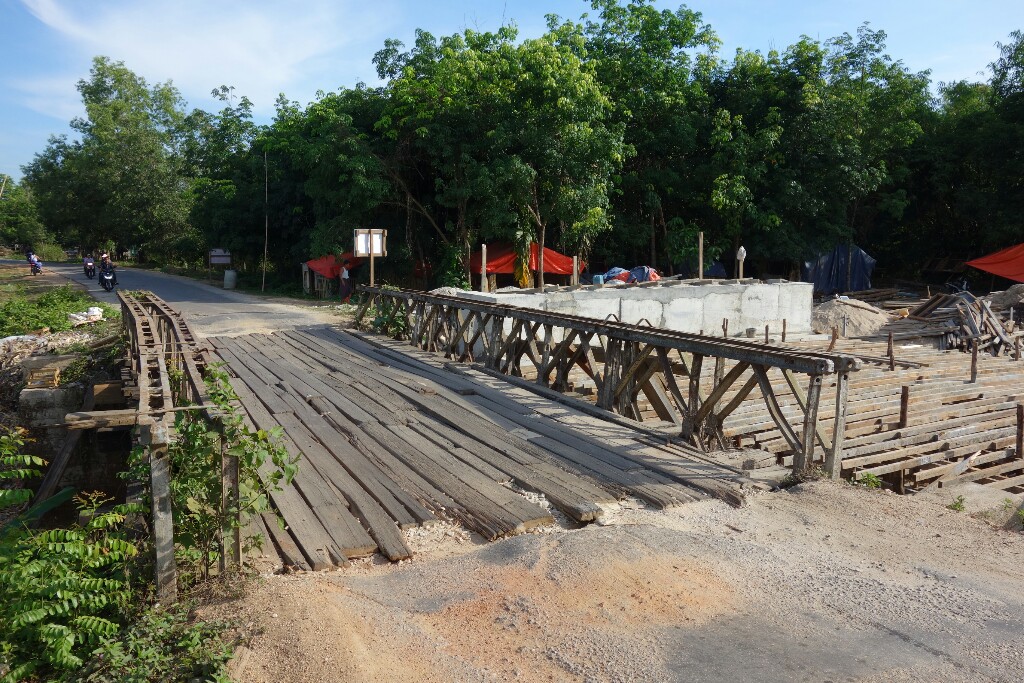 In Myanmar you have a mix of different religions, you find temples, churches and mosques.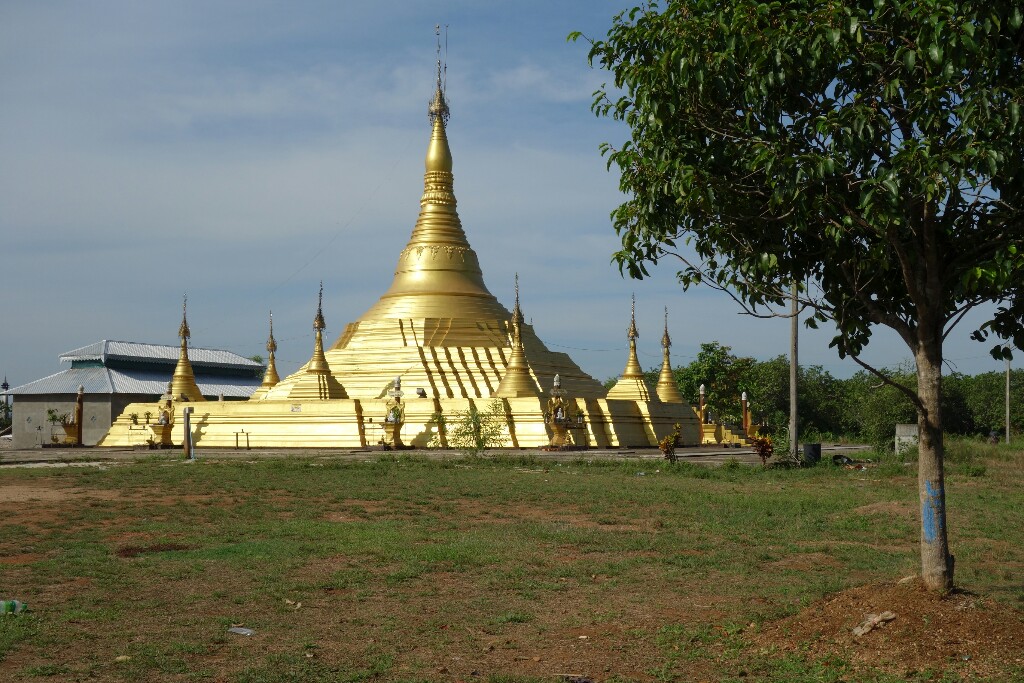 In some bigger villages they have stages and dancing shows. The stage is at the main road, everyone passes there. While I take this picture and watch the dance, a woman comes to me and pours a big cold bottle of water over my back. Brrr…
Sorry, but bad drivers are bus drivers very often.
The same as yesterday afternoon, again it's the time for a big thunderstorm. 🙂
South of Palaw I choose to take the smaller road, to find a way to the sea, but it wasn't even possible the see the sea. In the end the small road leads over a very nice bamboo bridge. And when I see the storm coming, I hurry to reach the asphalt and find a shelter.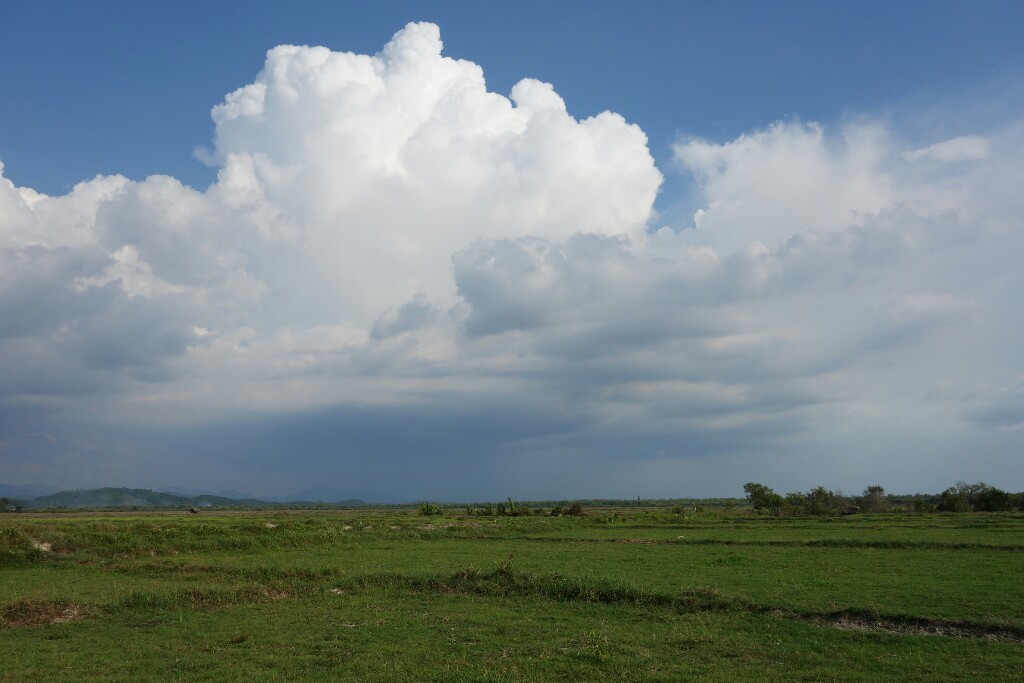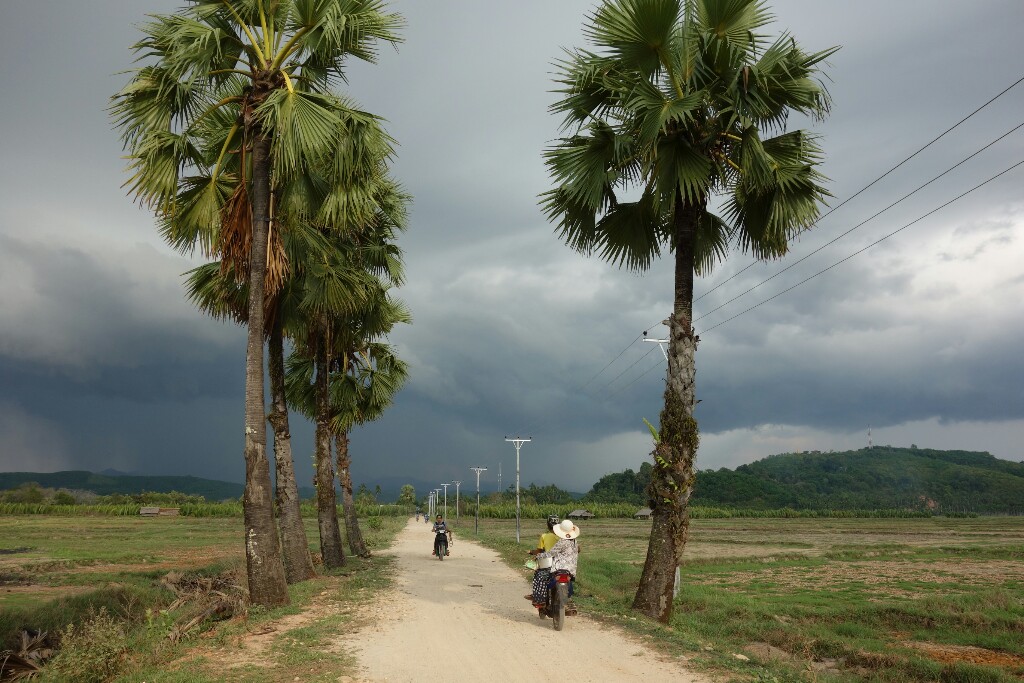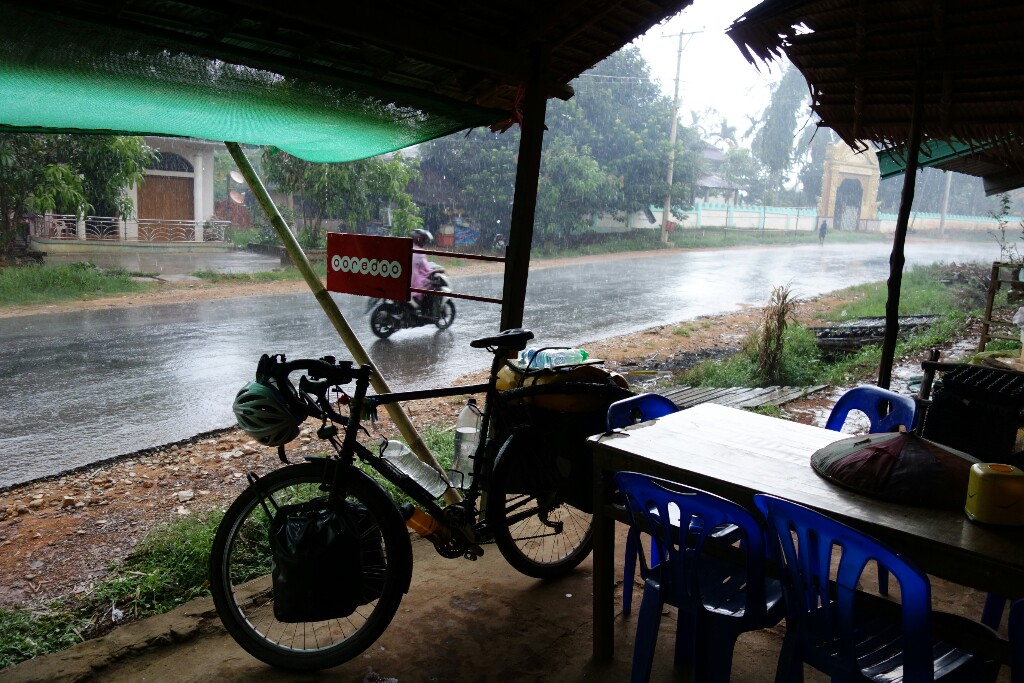 To night I go and ask at a temple, if I can stay over night. I find an old monk and he shows me a place, where I can sleep. In the morning the sun brights the temple in a warm light.