Turkmenistan – The five day transit rush
We are one of the lucky persons who got the visa for Turkmenistan. We meet and hear about a lot other people who were rejected. There is no rule or schema why you get it or not.
Today is the 10th of October 2016, the border control is ok and doesn't take so long for us. For safety reasons I don't take pictures at the border.
The distance from Sarakhs to Farap is almost 500 km, which means we should cycle 100km per day. We take extra food and water with us to be safe for the beginning.
In the first village Serakhs we change some money in an official bank, as we hear some days later it was a very bad exchange rate. We changed 40 $ in 140 Manat, it is the official rate you find in internet. But then in Turkmenabat someone tells us, that the rate is 1 $ = 6 or 7 Manat.
The first children we see, climb through the school fence and ask if they can take a picture. Yes of course.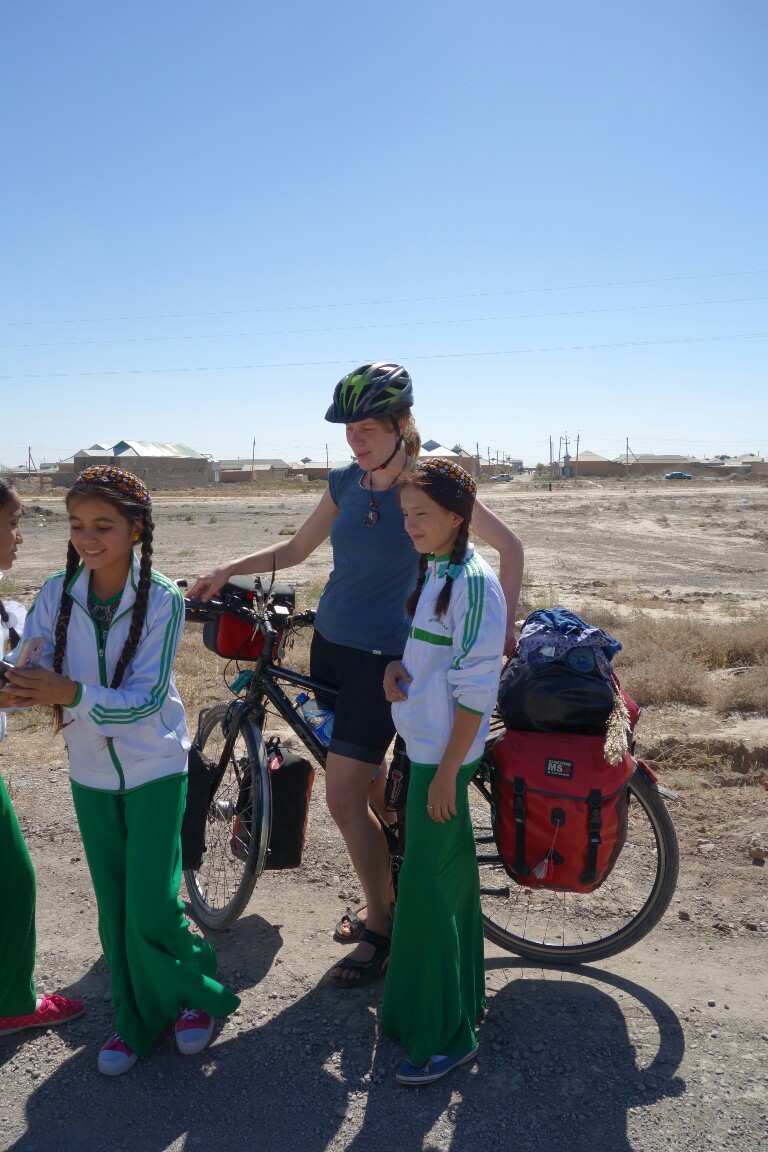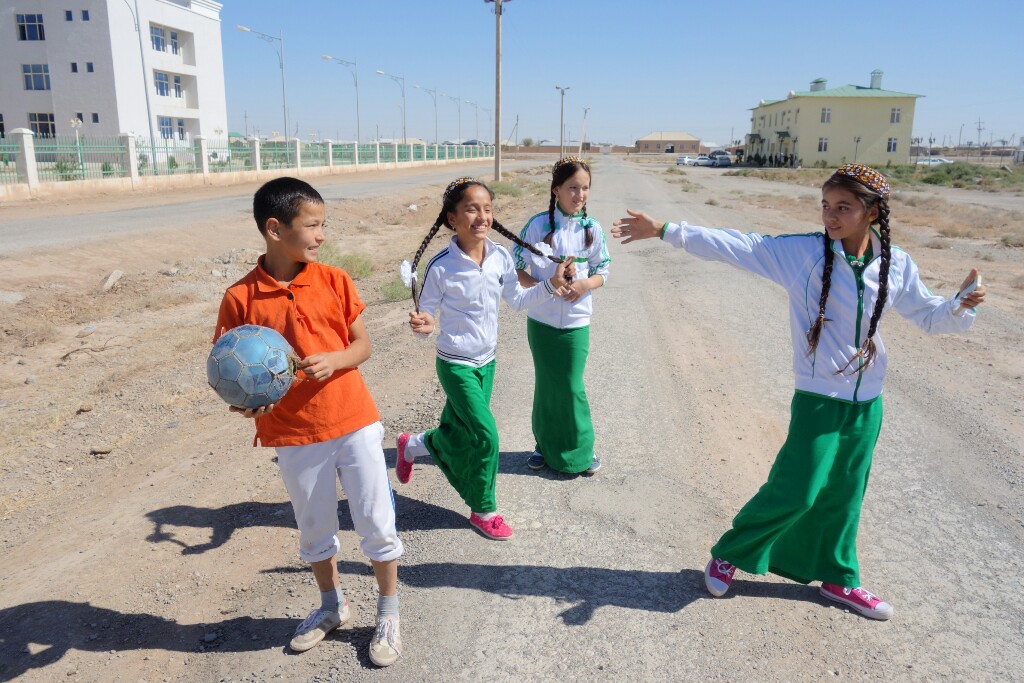 Two Hundred meters later an official looking man stopps us and says: Why are you interested in children?
Me: They wanted to take a picture of us.
He: Let me see.
Then he checks our cameras, sees the schoolchildren and a picture of a train and says: Oh, you're interested in Turkmenistan train? Why?
Me: I just took a picture. What is the problem?
He: Why are you interested in this and that?
And so one, and so one… Silly stupid man!
We say goodbye and go. 😉
Picknick lunch break in the middle of nowhere.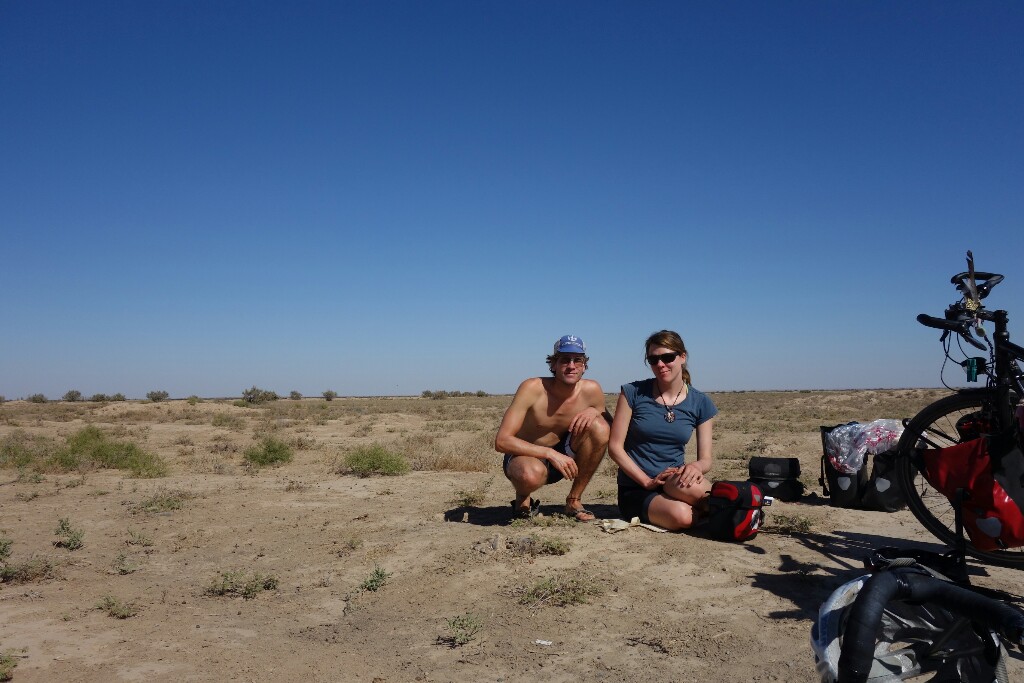 A lot of camels.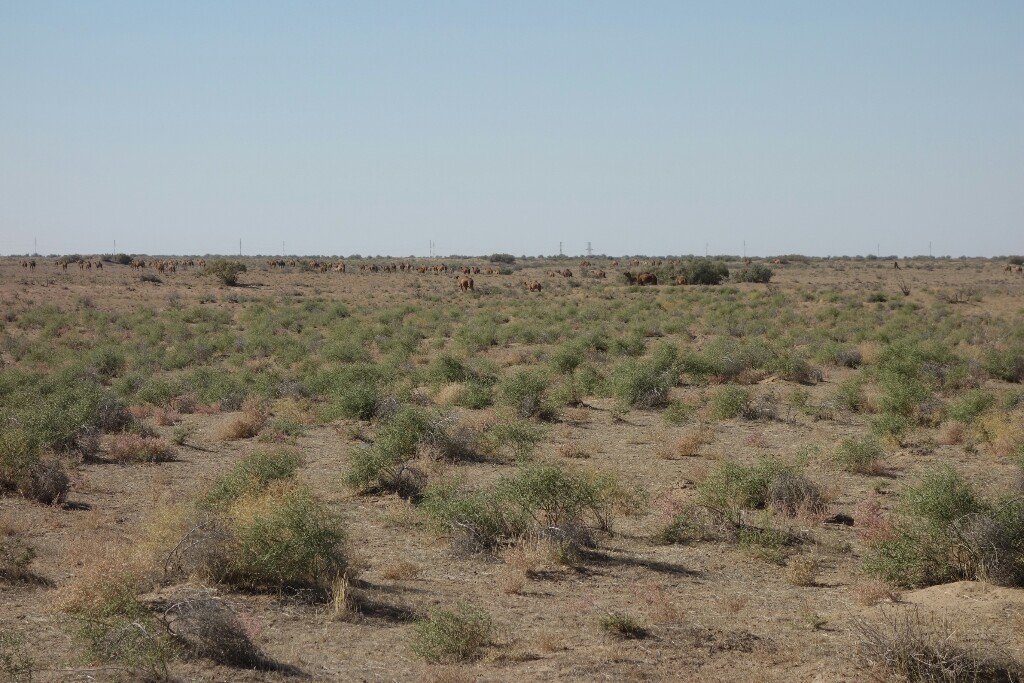 The road is very bad.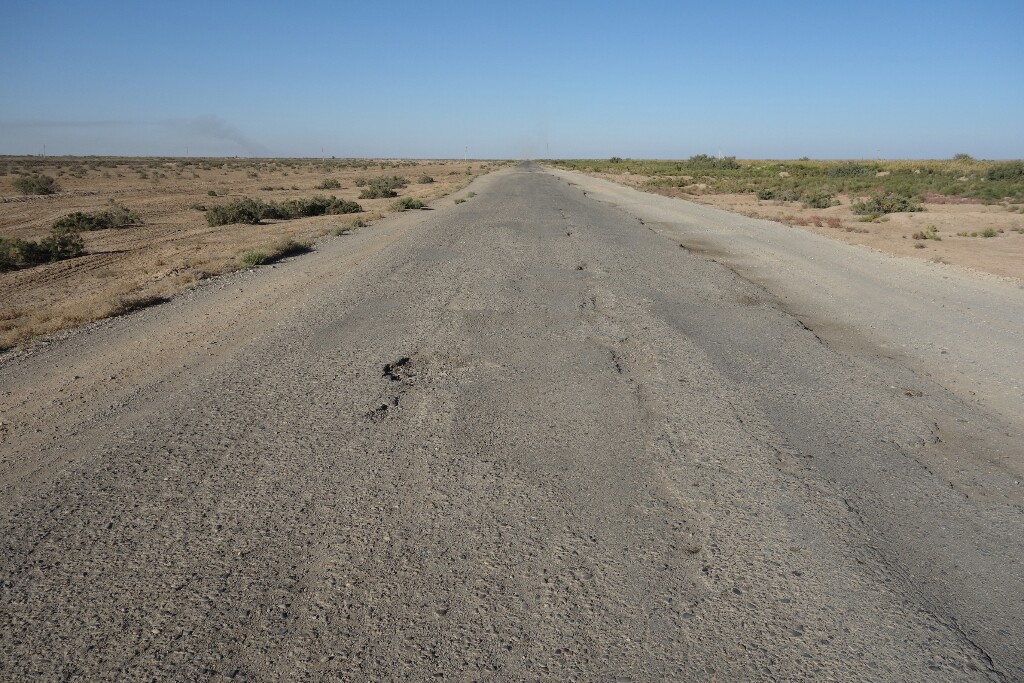 And gets even worse. We are happy that it doesn't rain, otherwise you might get a problem with this sandy road.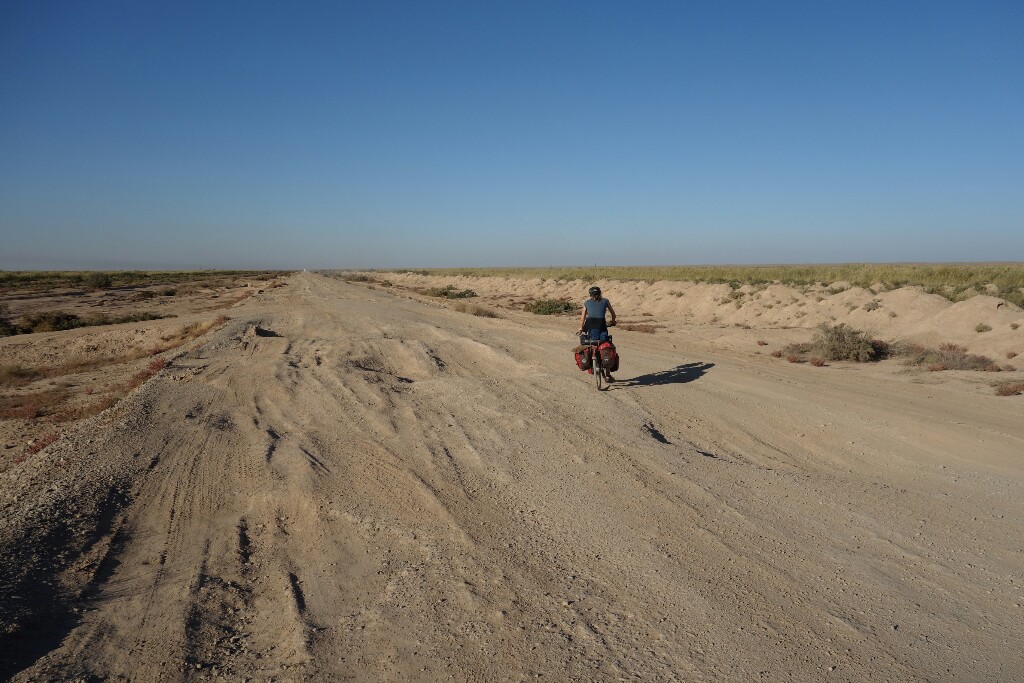 In the end of the day we are very dusty.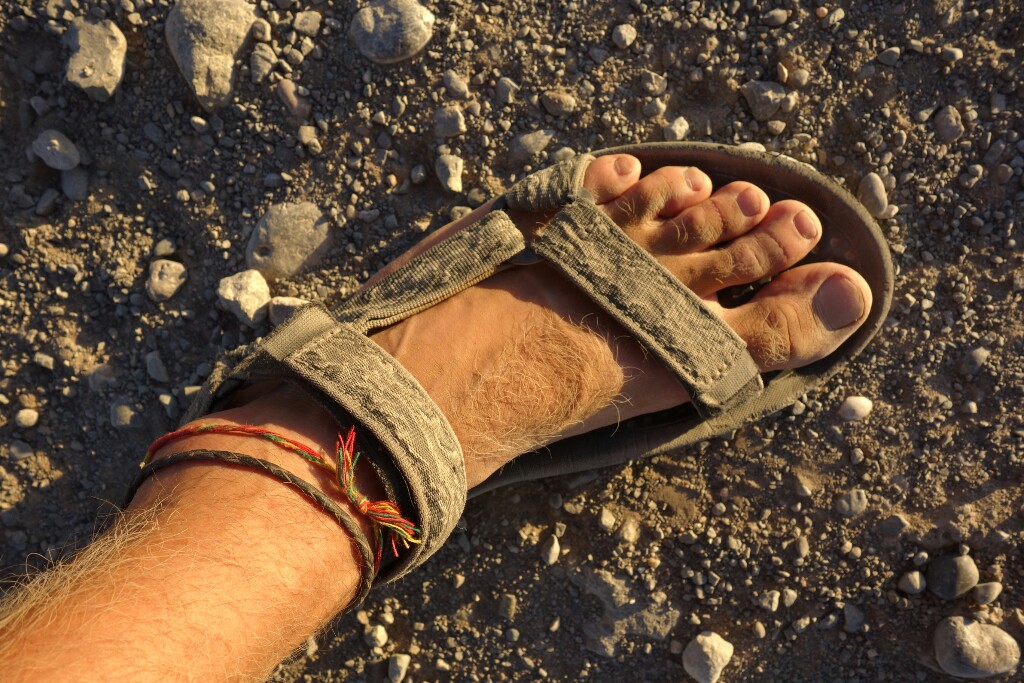 Finding a camping is hard, there are only cotton fields and feeders, no places to hide. We thought we are in the desert, but a lot of mosquitoes surprise us and try to eat us. We feel so uncomfortable, no time to cycle on, because it is sunset right now. Finally we see a farm house, and decide, that it is the best option to ask and try to find a place for our tent on the farm ground.
Surprisingly easy we are invited in the house. We get food and can sleep inside. We are happy. Good start for Turkmenistan. 🙂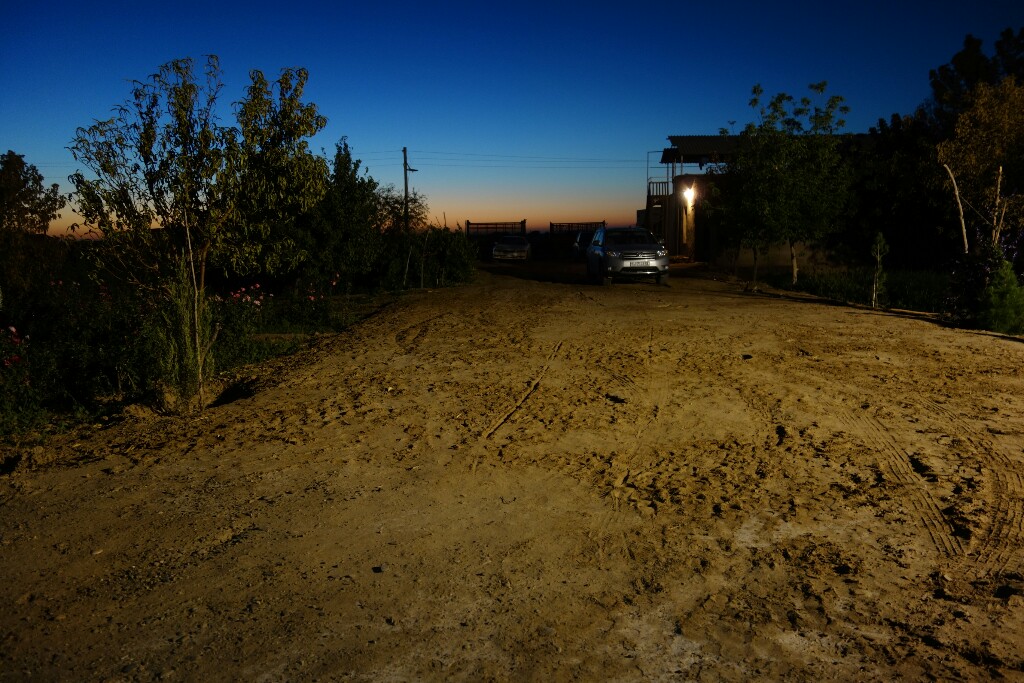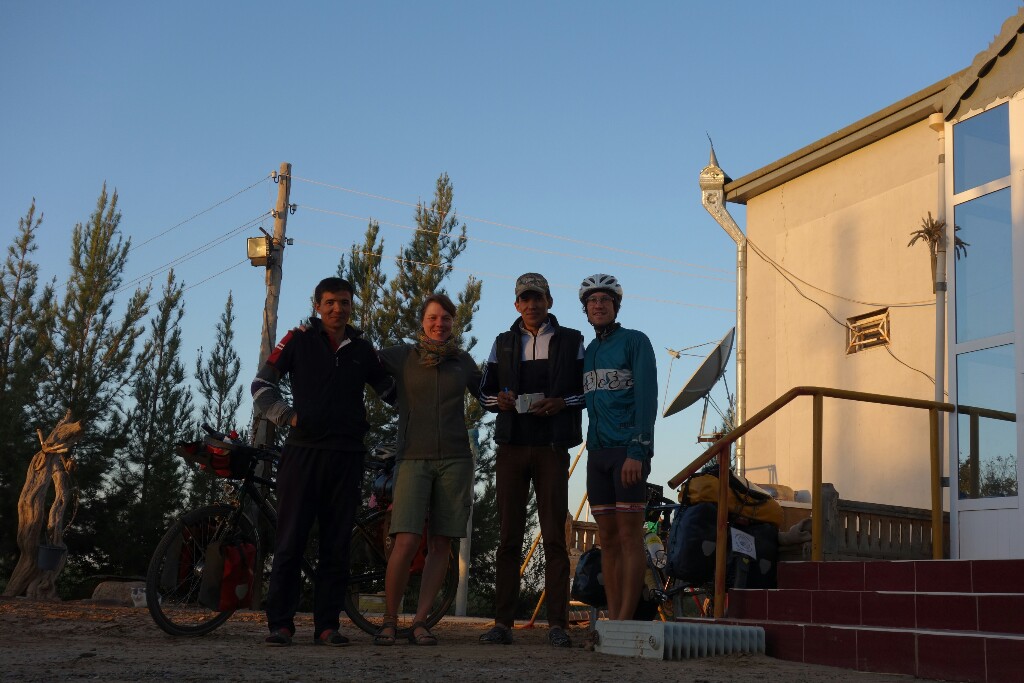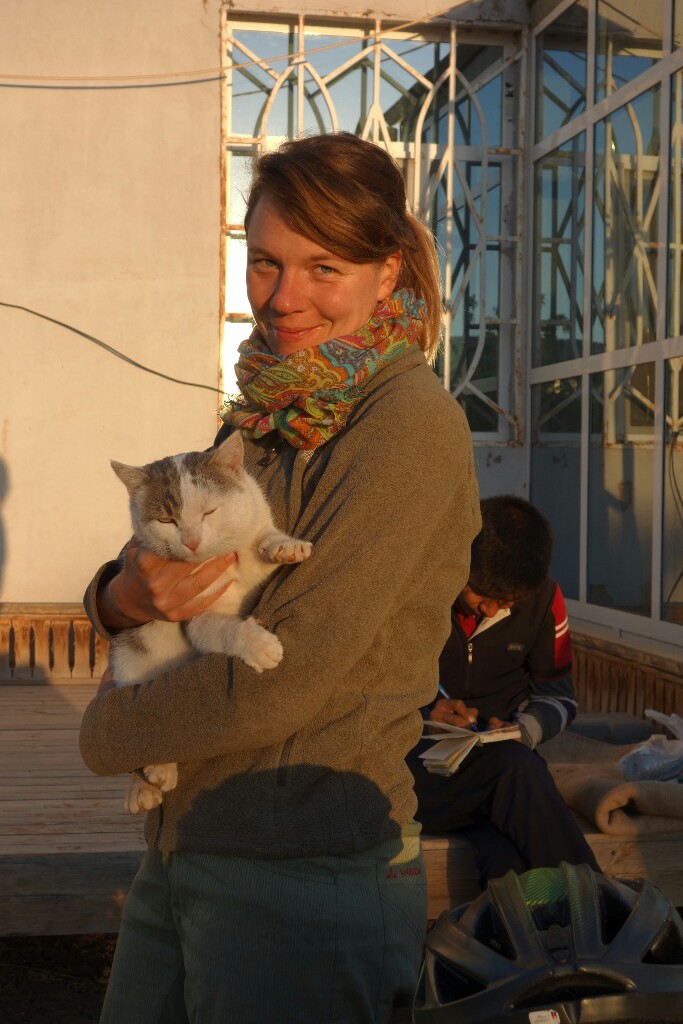 Shops at the roadside.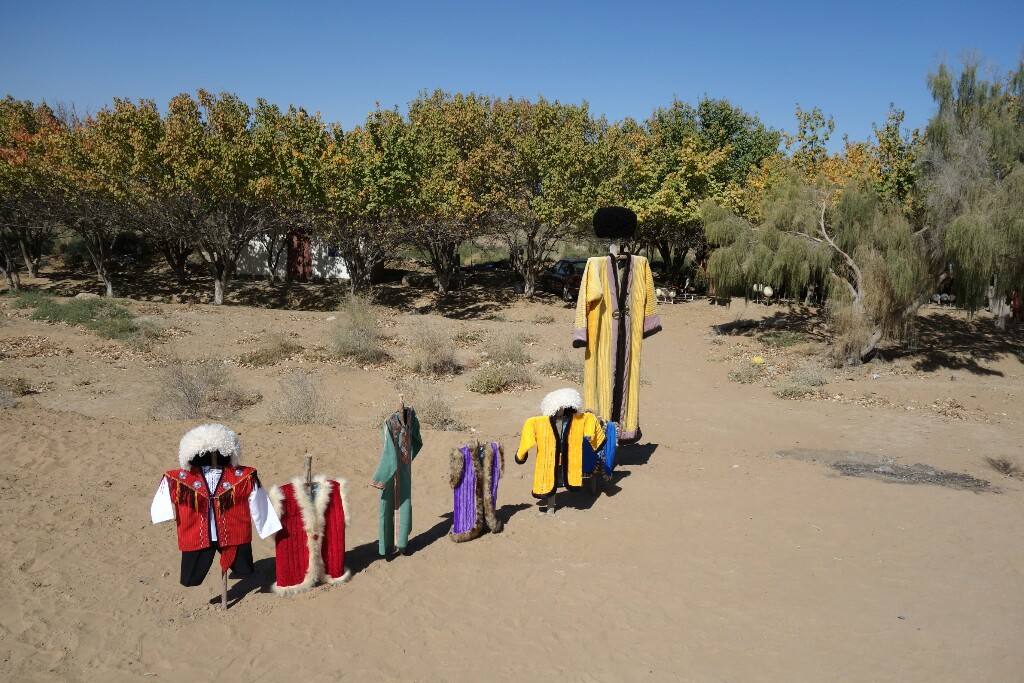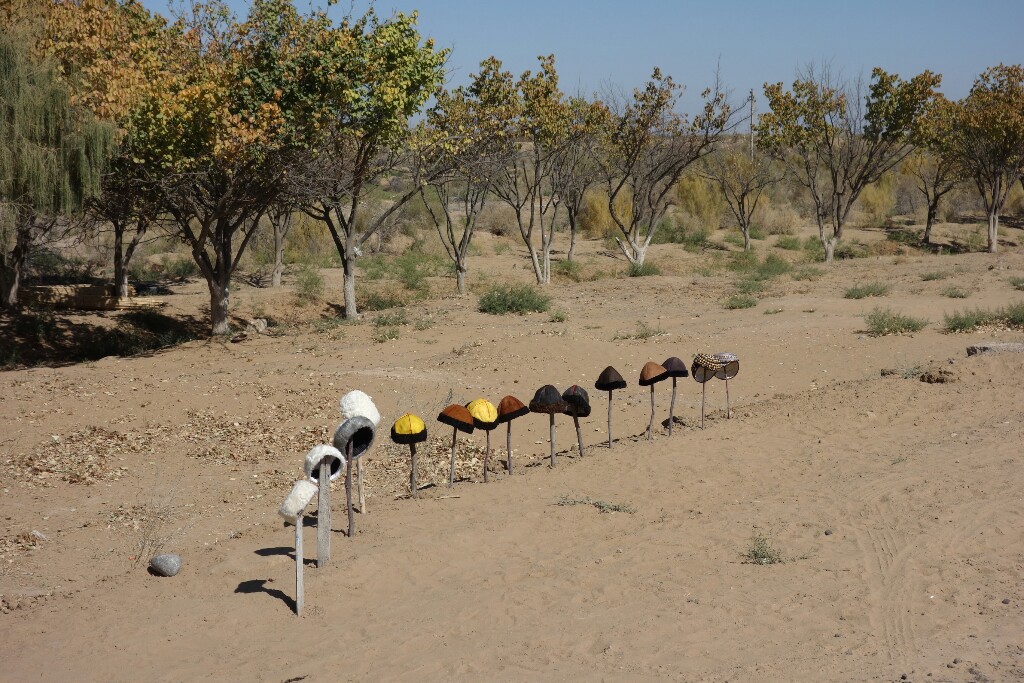 Next day, same nightplacesearch problem, so we end up here, not so bad.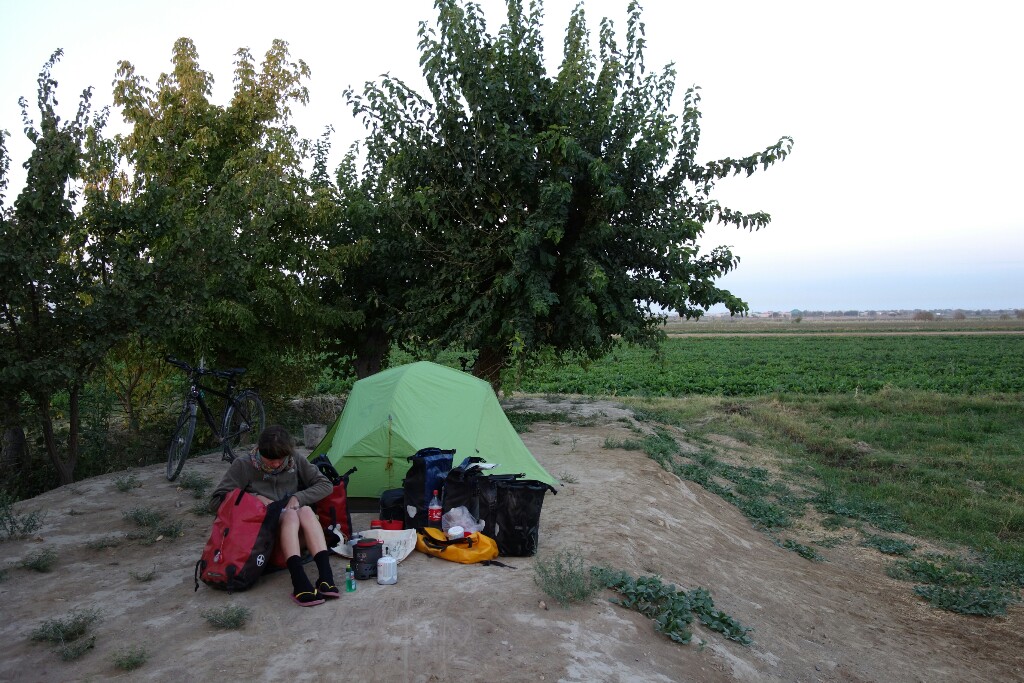 This picture we see a lot of times every day, people collection cotton.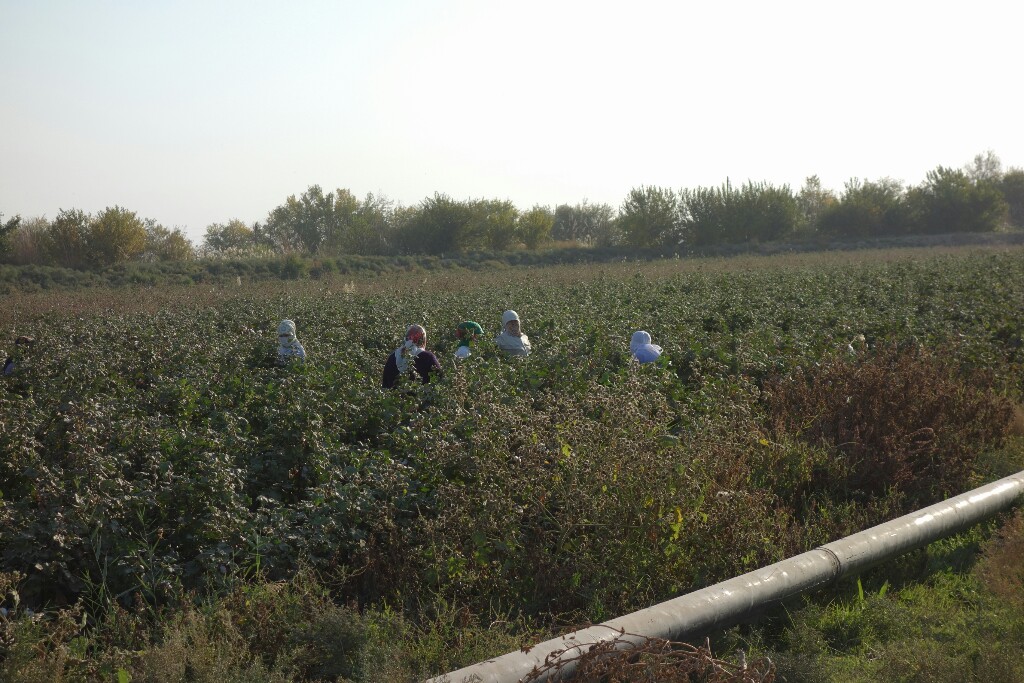 Johanna tries to find the lightest melon, we really want to pay for it, but in the end the give it to us for free.
More school children with huge bicycles.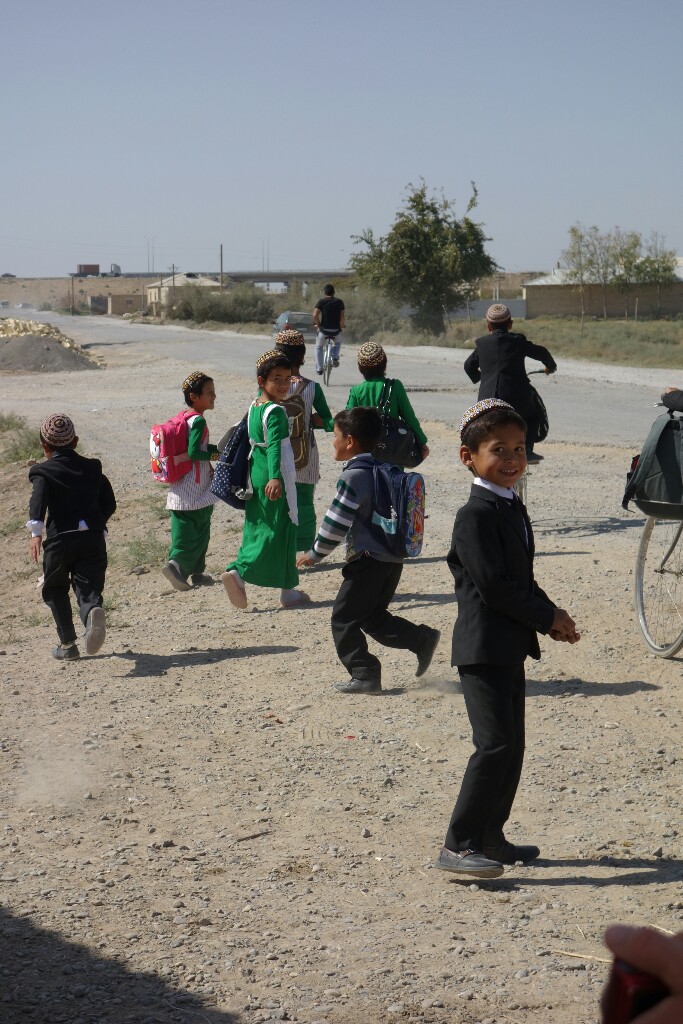 Our most seen animal in Turkmenistan. As soon as they recognize a cyclist they run away.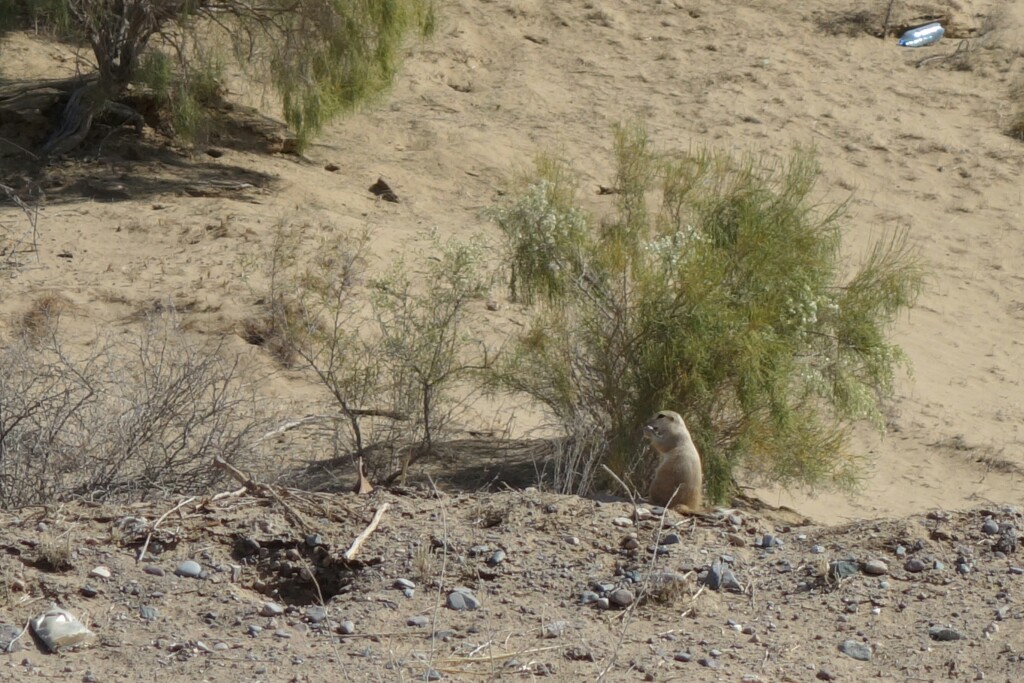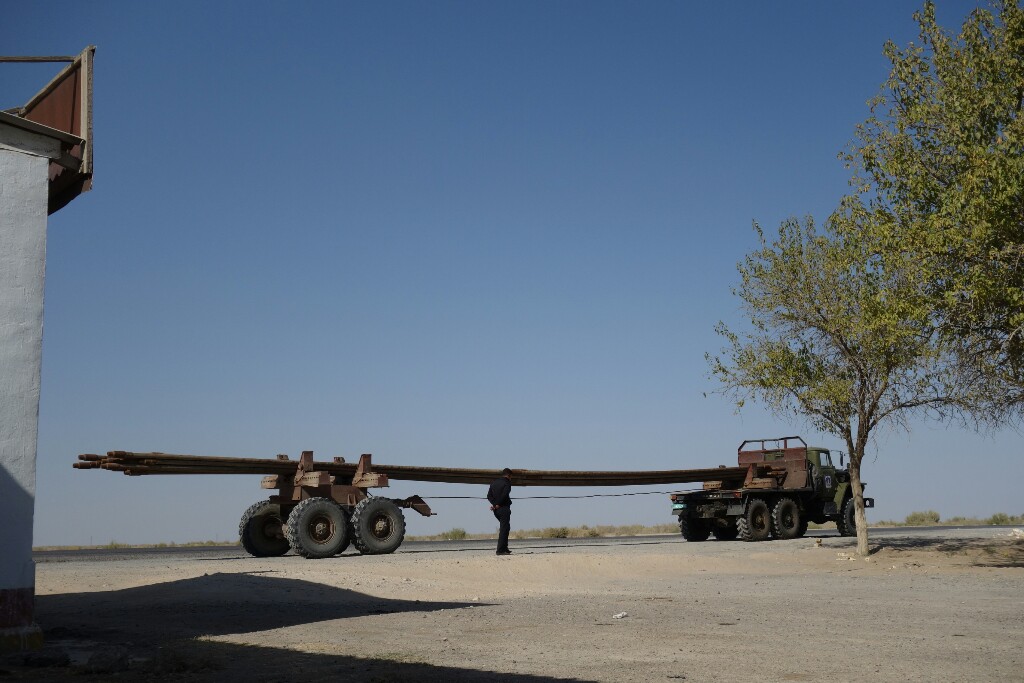 Chilling dog, he didn't like carrots.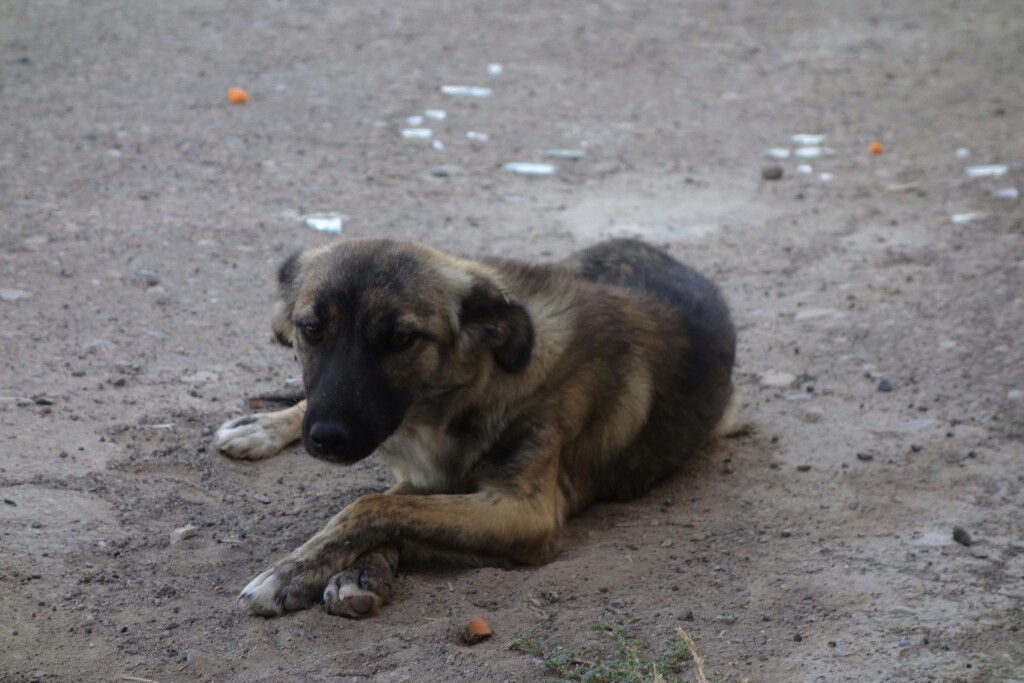 In the evening there is only sand around us, it's not possible to leave the road with our heavy bikes. They only house far and wide is our hope. It's a house for workers of the Türkmengaz company. They are friendly and we can stay.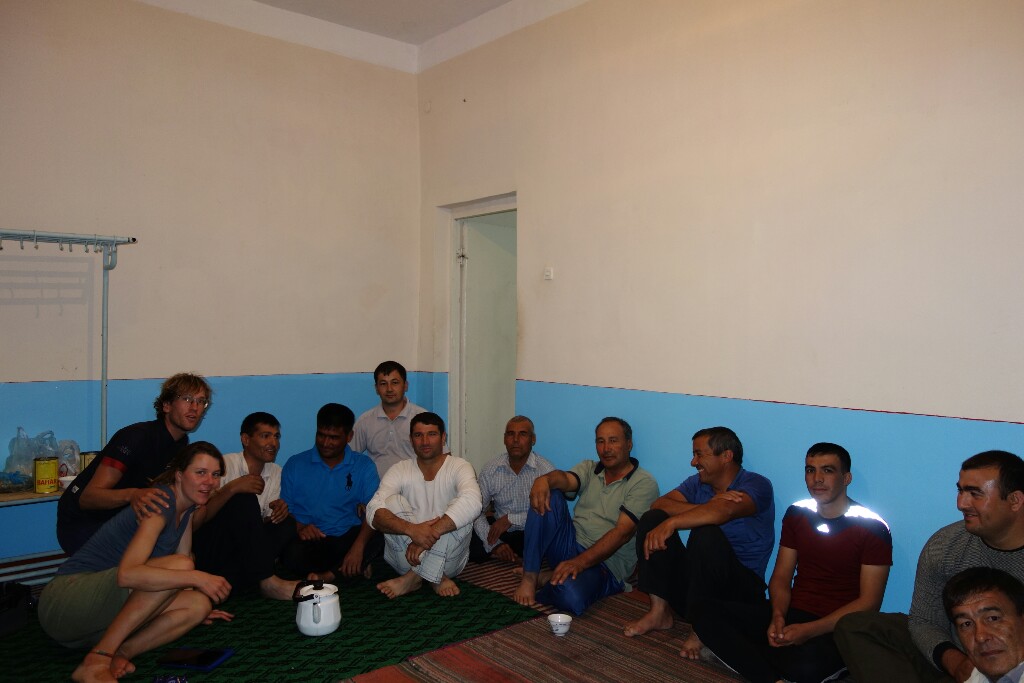 The next morning we get up early with all of them. With the sunrise they leave by bus and we by bike.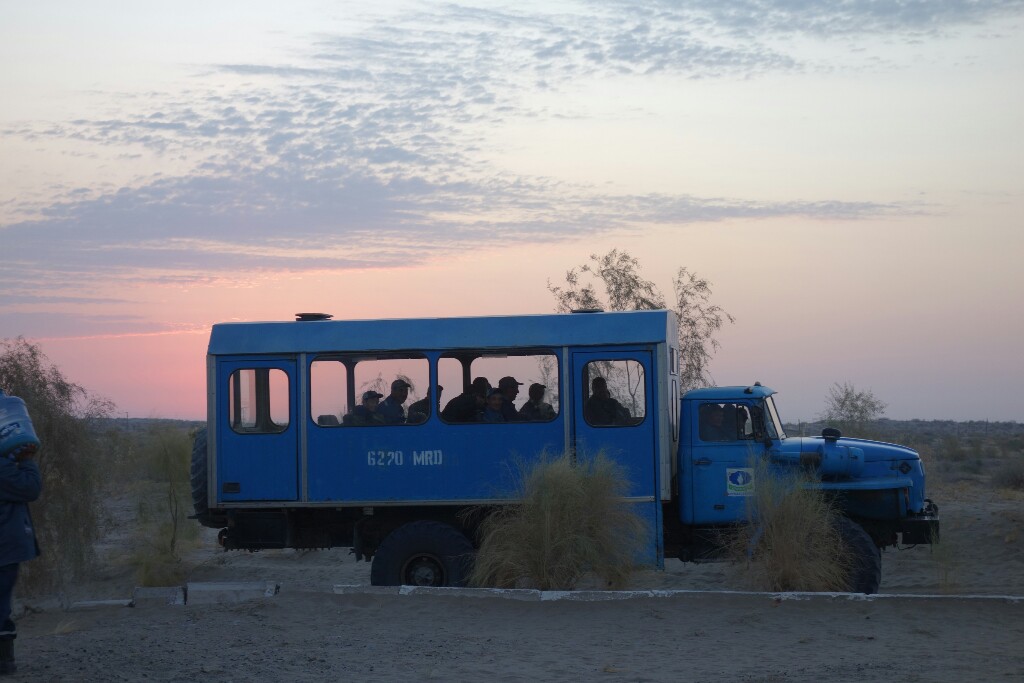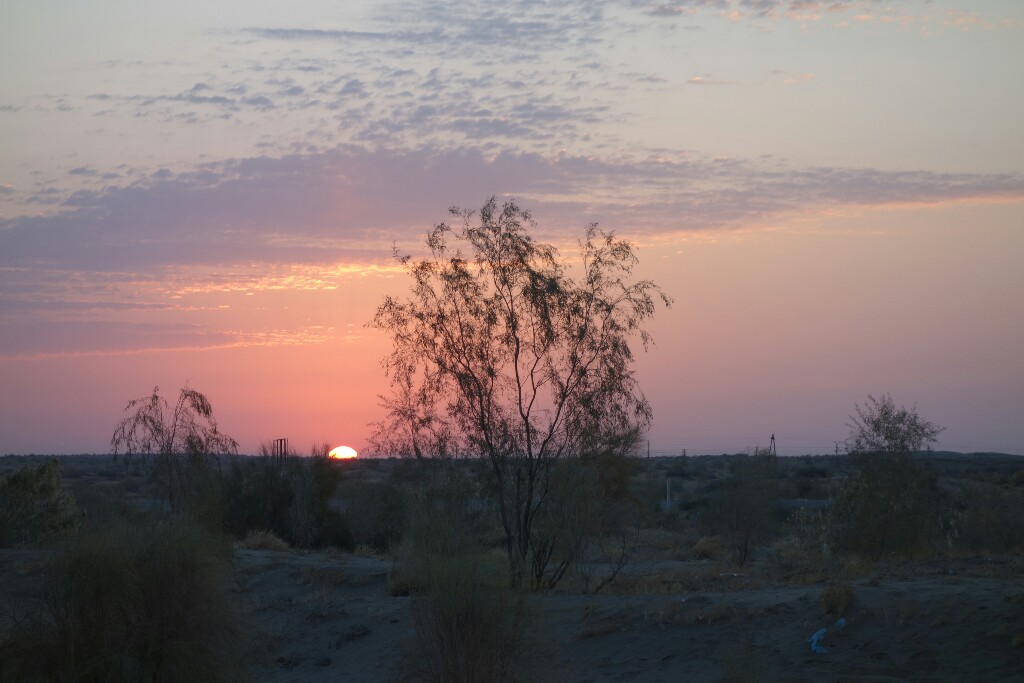 The road has so ugly and rough asphalt, that we choose the old parallel road. One burned out fuel tanker is one of the events today.
Small pause in the sand dunes.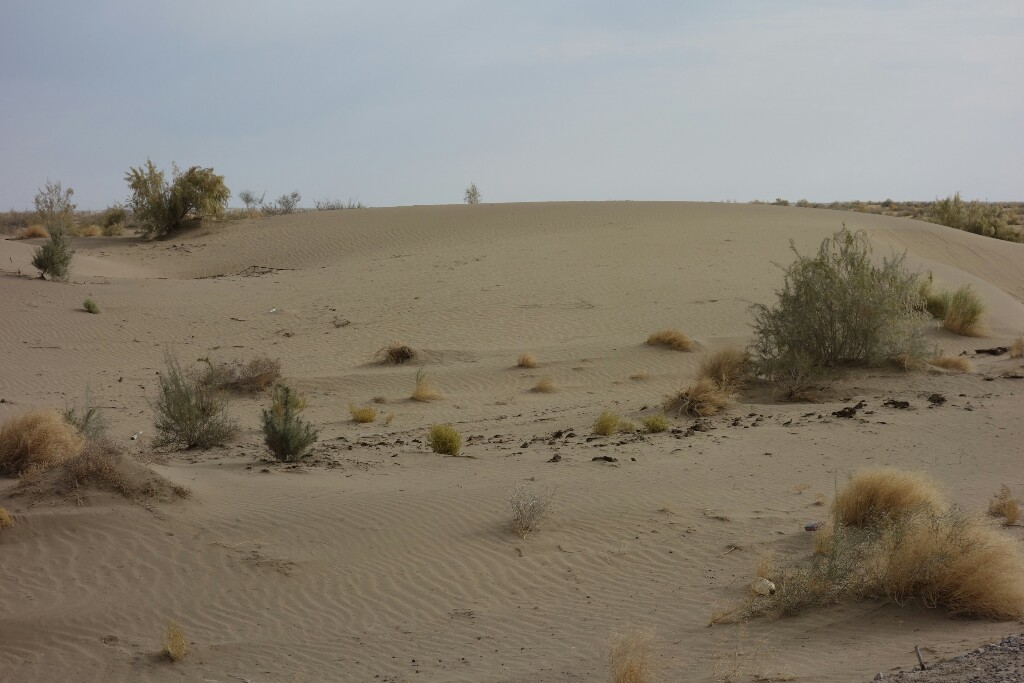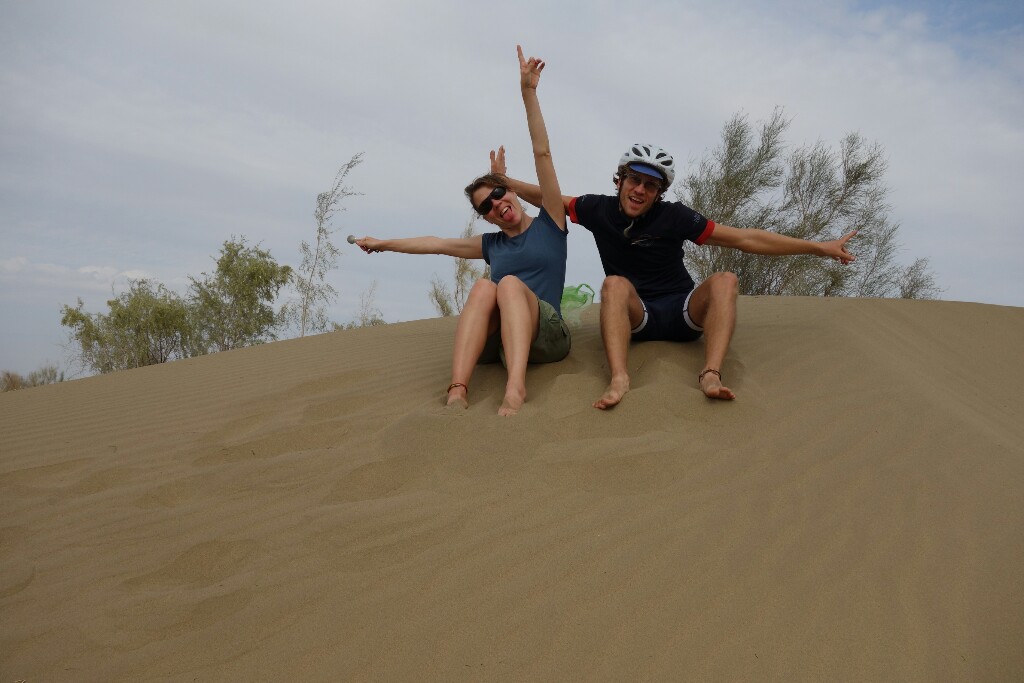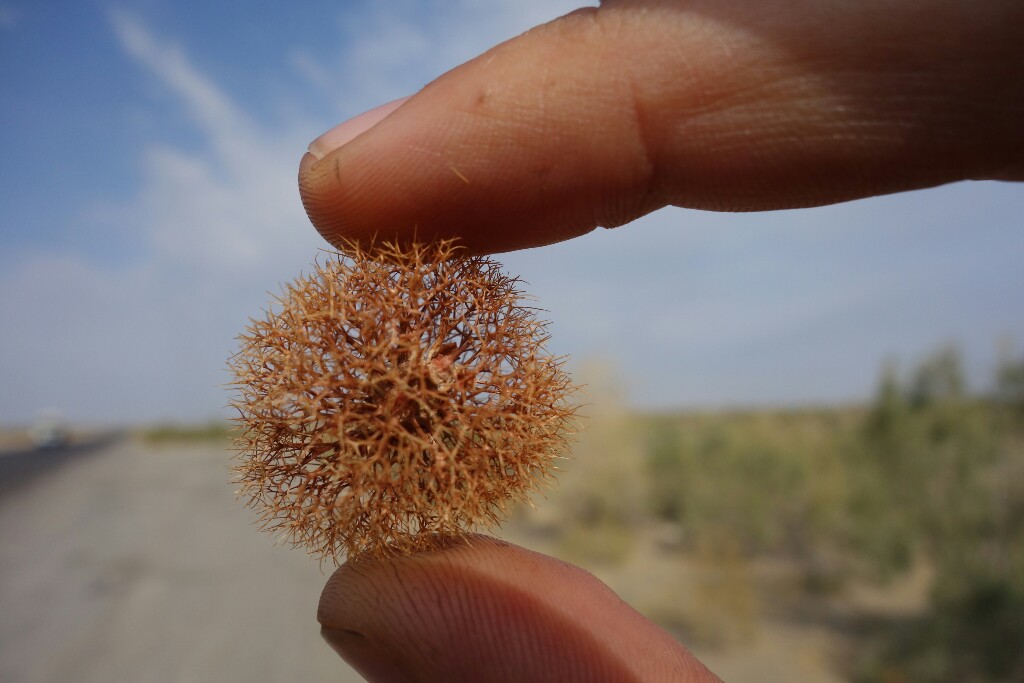 We are good in time, so that we arrive in Turkmenabat for our last night in Turkmenistan. The night we stay in a cheap hotel for 20$. On the right side you see the flag by the way.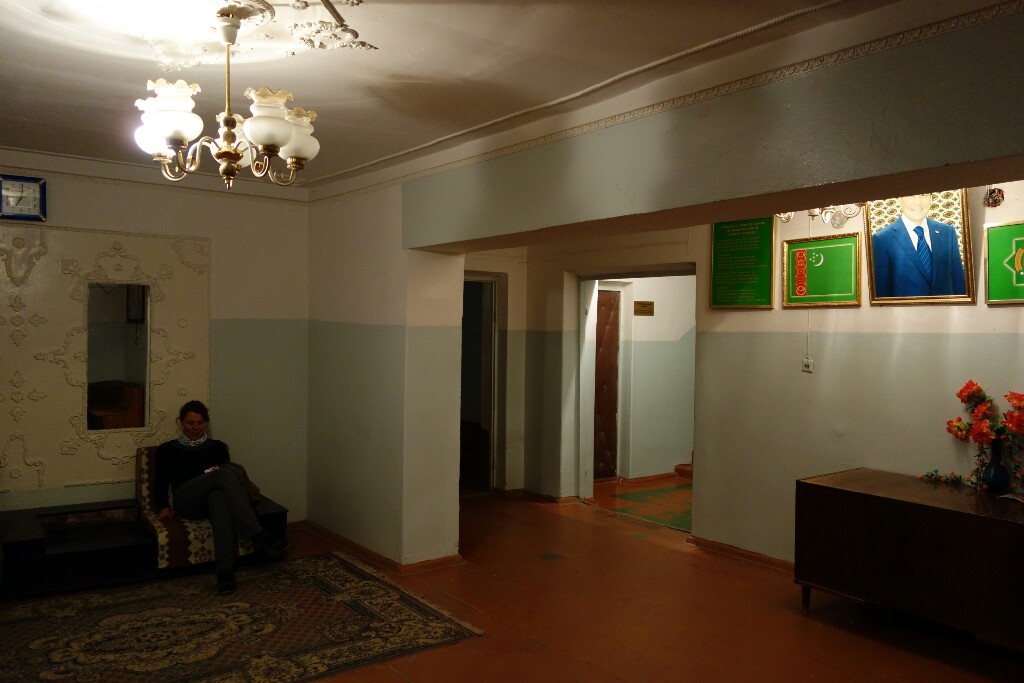 Advertisement for a phone company. Aha. Sure I can imagine what they mean, but as a mathematician I can say, it's true yes.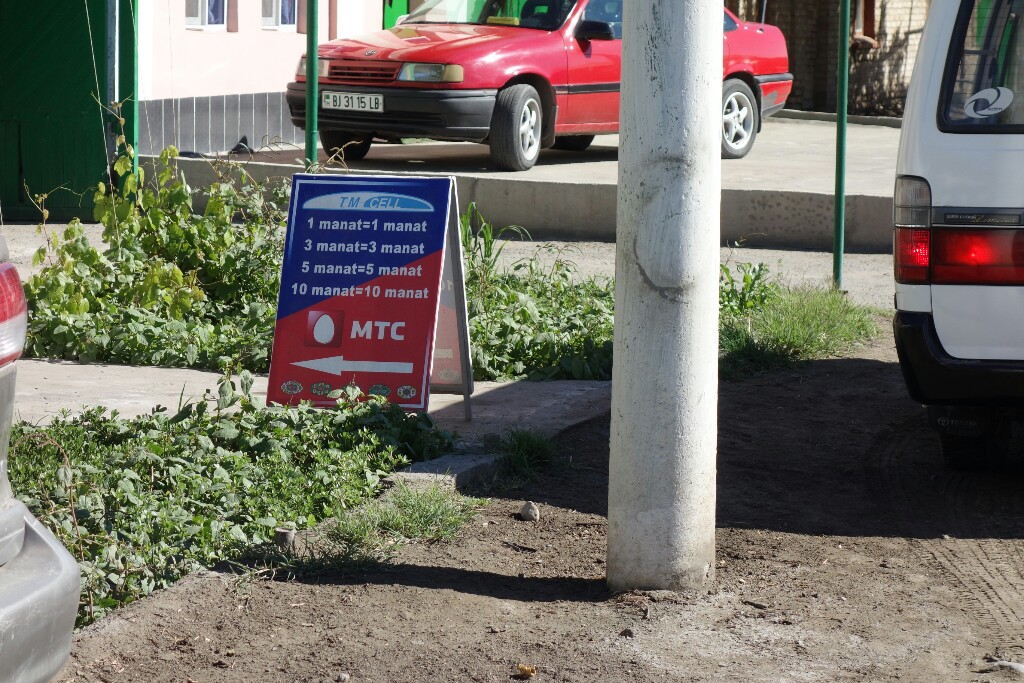 Form Turkmenabat to Farap we have to cross a huge river on an unsteady temporary bridge.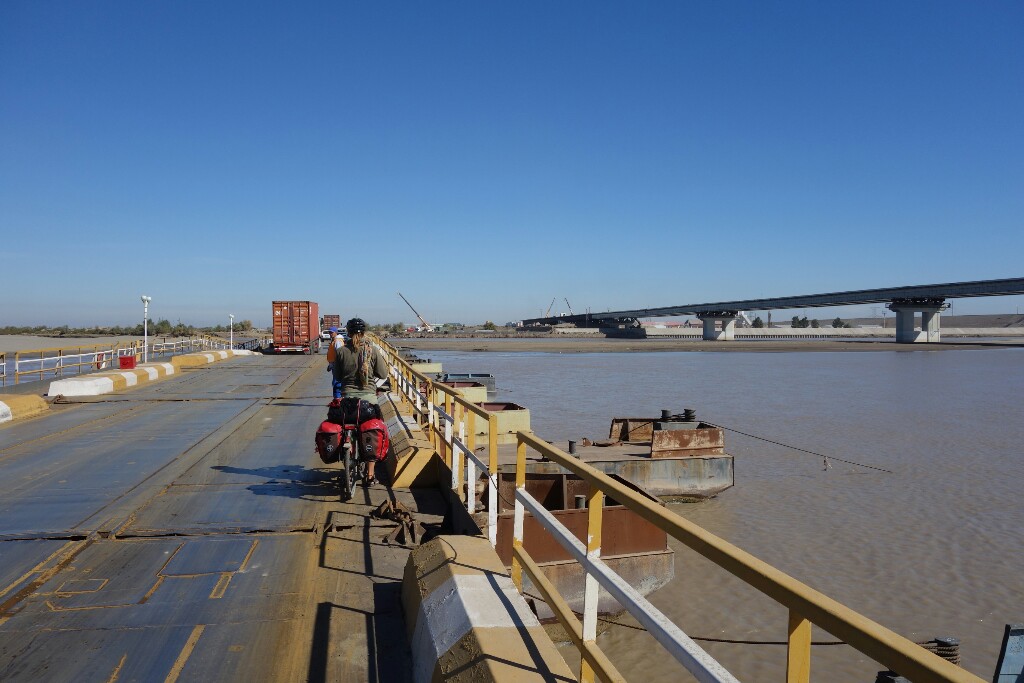 The road to the border is small, for two kilometers we cycle along a queue of trucks, they all wait for the border process.
So that's it. This was Turkmenistan. Fast. Just some interesting facts about Turkmenistan: The freedom of press in Turkmenistan is on the third last place before North Korea and Eritrea. All people get gas, water, electricity and salt for free. Turkmenistan is the country with the fewest smokers worldwide. 
Again a 'doctor' checks our eye temperature, everything all right. Normal border crossing, a lot of people check our passport, we have to fill out some papers, unload all our bags, x-ray them and open some of them. We need about one hour and then we are in Uzbekistan.