Welcome to Kazakhstan (again)!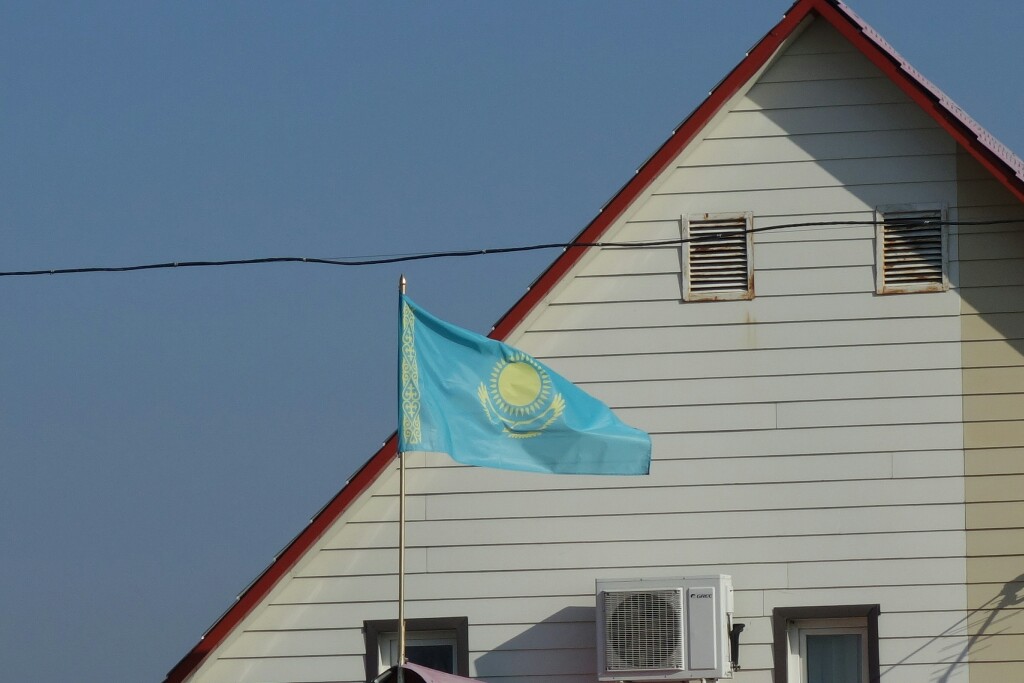 At the border we get two stamps again, which means we don't have to register and can stay for another 15 days.
We don't get far and Johanna's second pedal breaks. What a pity! We thought it's fine, because the right pedal is fixed properly. But we didn't think about the left side. A lot of tape and a small piece of metal helps and it luckily lasts until Almaty.
A very cute dog, which looks like a soft toy, wants to play with us, while we fill our water bottles.
The sun goes down quite fast, and it gets cold pretty soon.
We disappear from the main road and take a small field road to the left. In a hilly grassy landscape we set up our tent.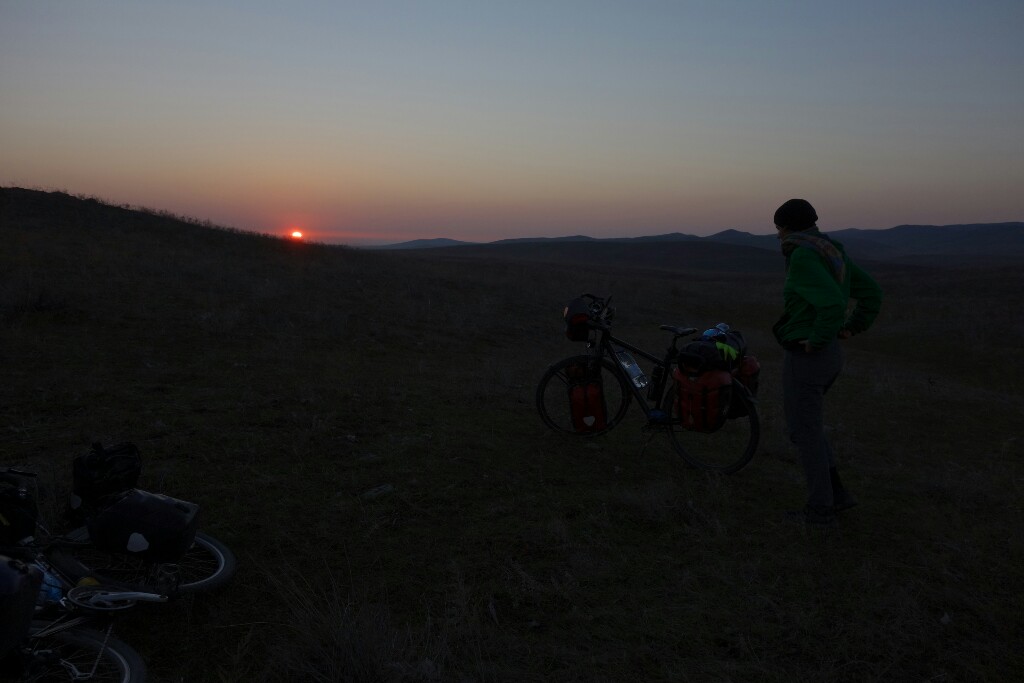 At night the temperature goes below zero degrees. All water bottles we left outside are completely frozen, but we have some bottles inside the tent to boil our water for tea and coffee. The sun warms us pretty well, so that we can have a pleasant breakfast.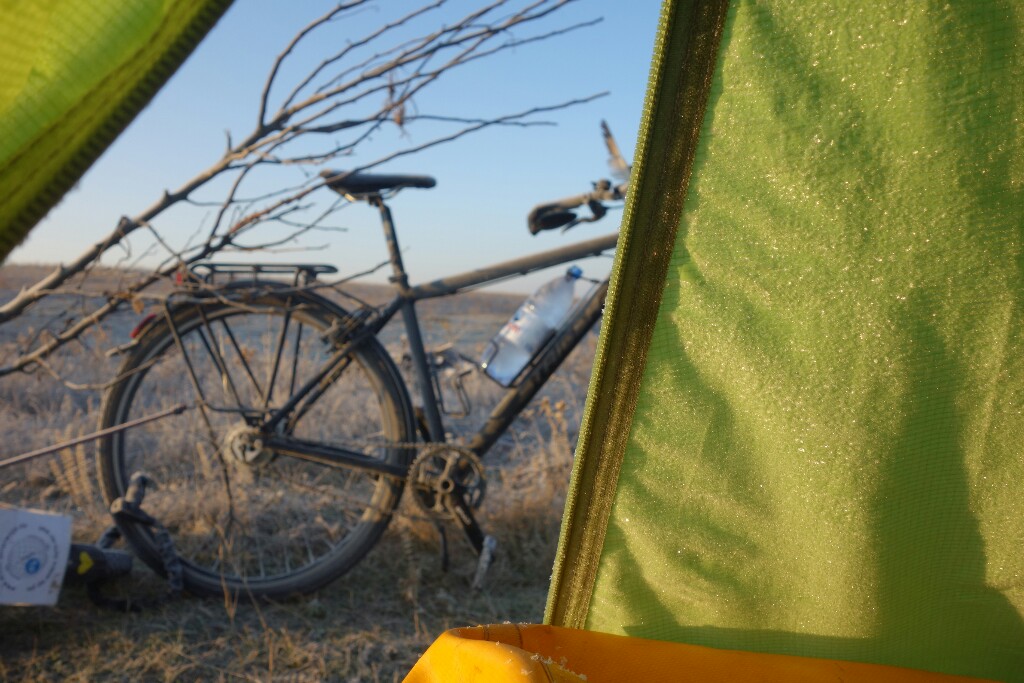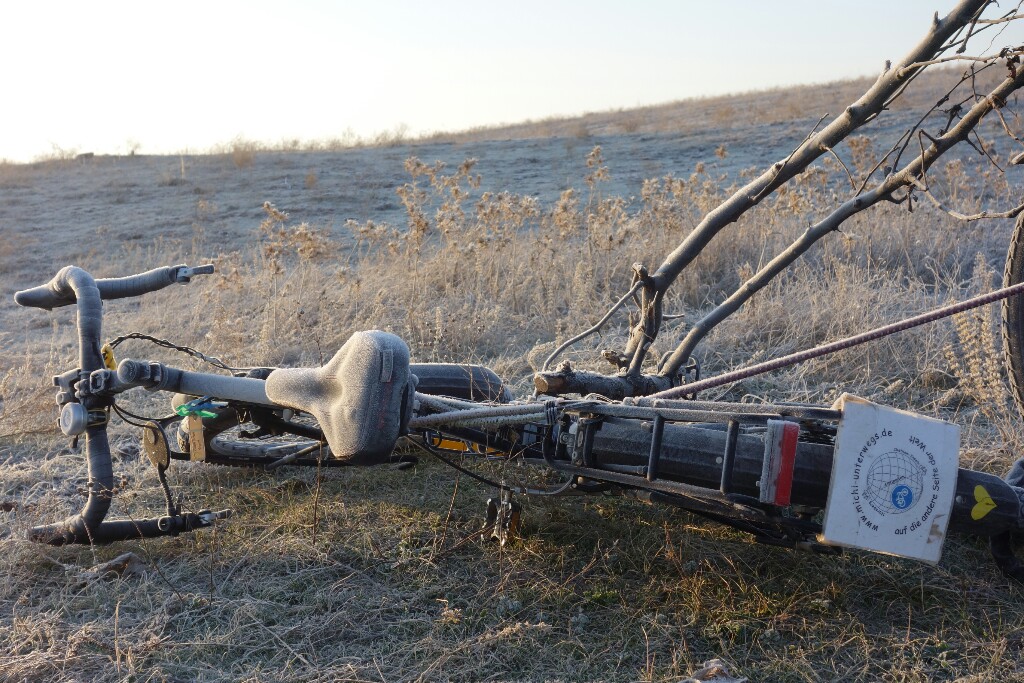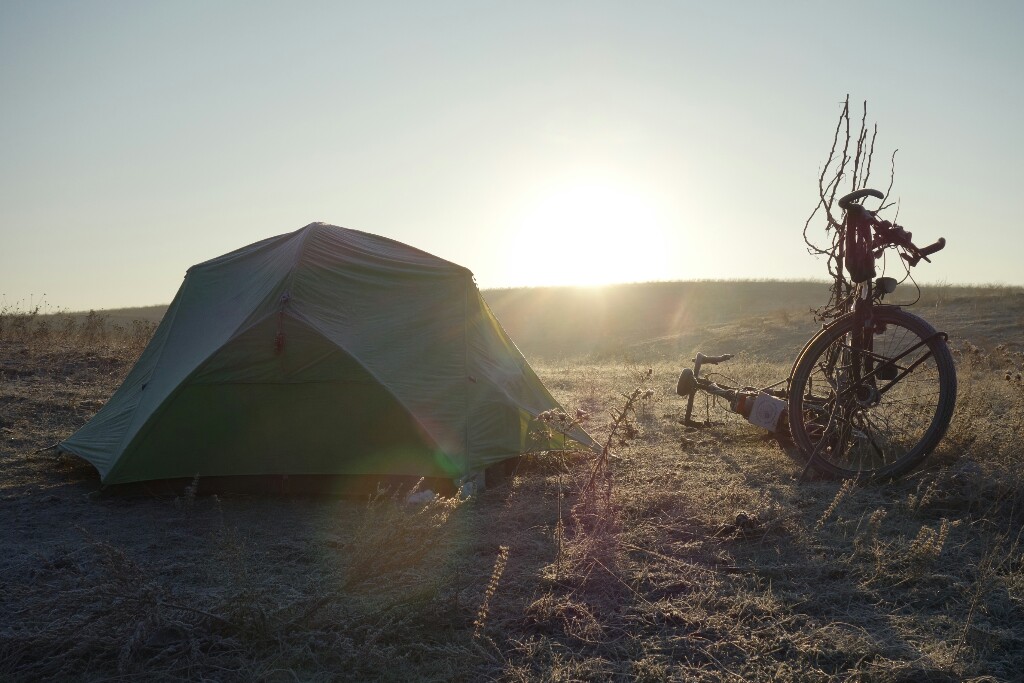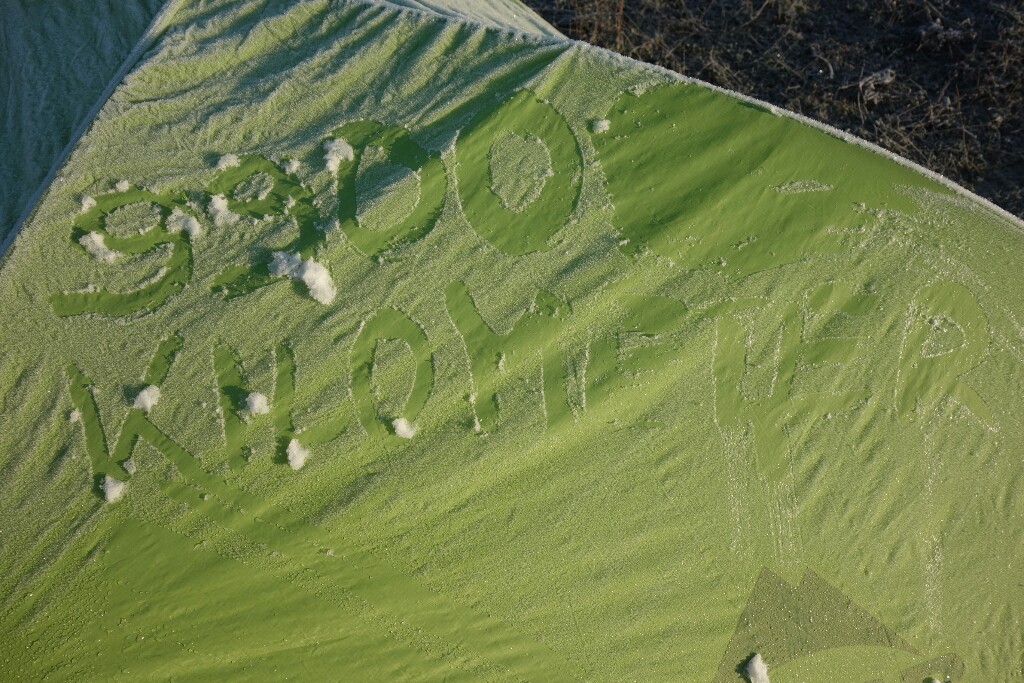 On our way to the small mountain pass we find a big wind farm close to the top. Behind a small wind shelter we eat some of Magomed's tasty raspberry jam. It was his gift for us, when we left. It's standard size, he said.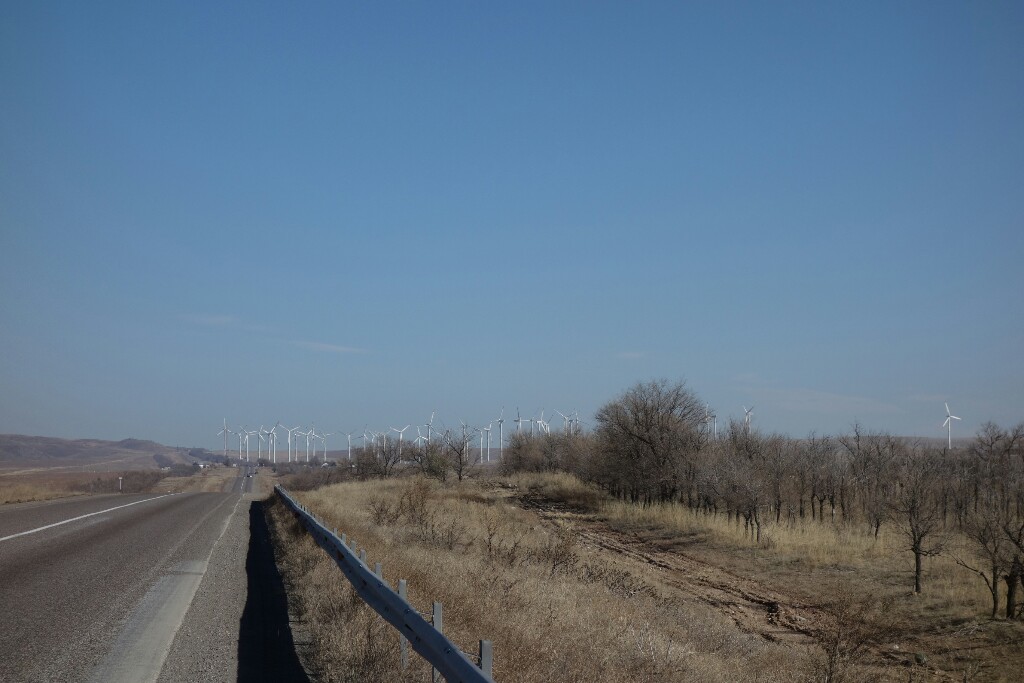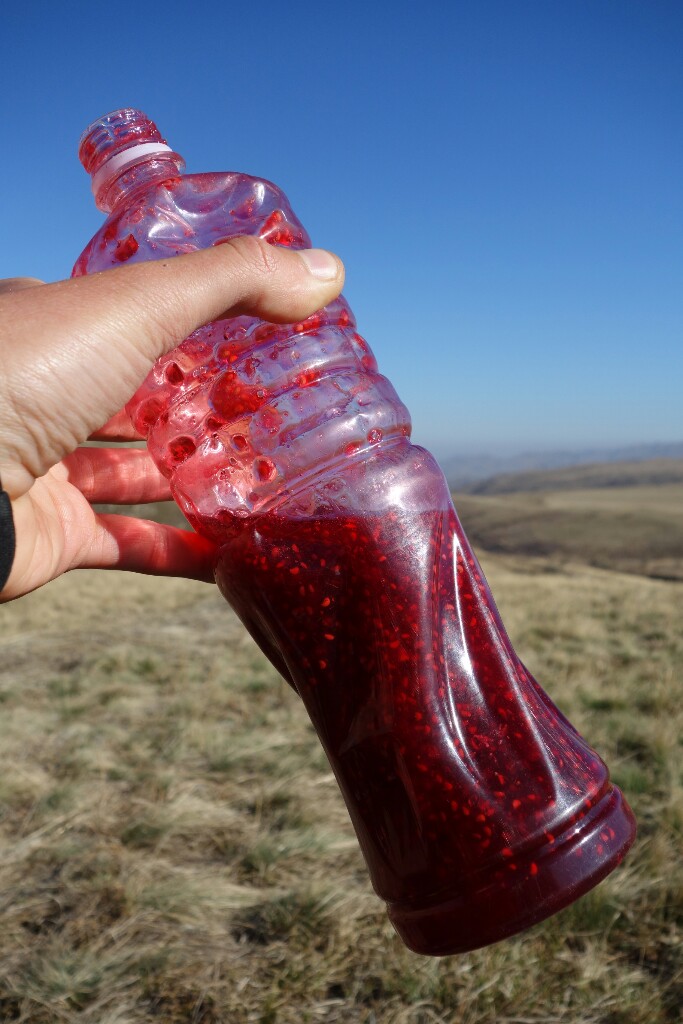 Before we enjoy the downhill we better check our breaks again, when we see this sign, 67%.
We are happy to find a hotel at night, because the big flat area isn't good for camping. First they ask a far to high price (20.000 Tenge), but in the end we can stay for 7.000 Tenge, which is around 20 $.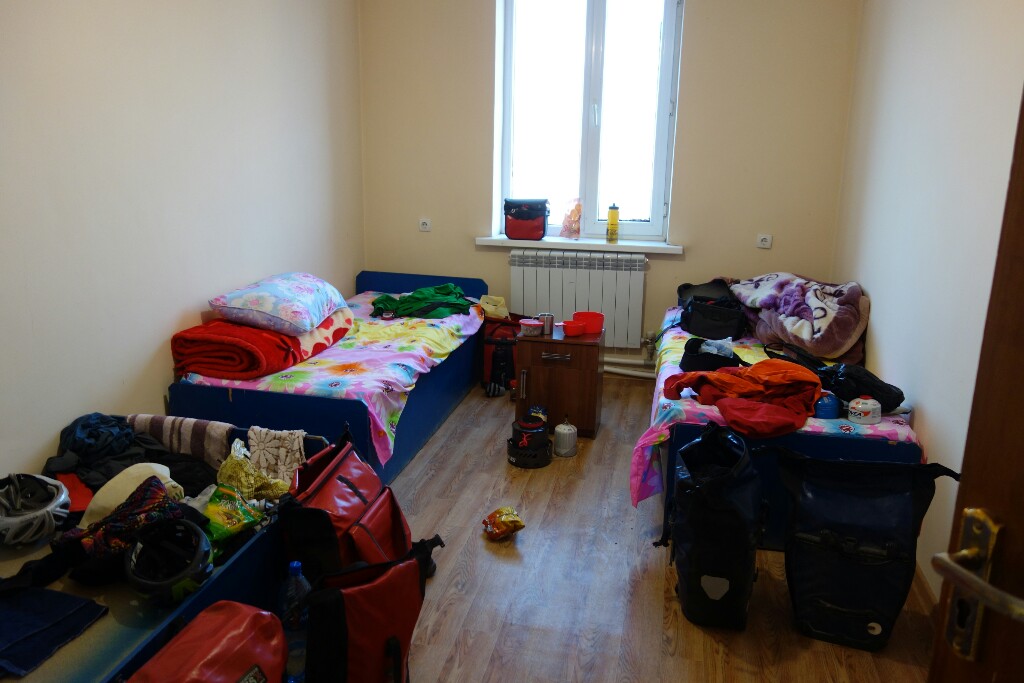 The truck from Spreewald parks in front of the hotel, we see a lot old discarded vehicles like this from Germany.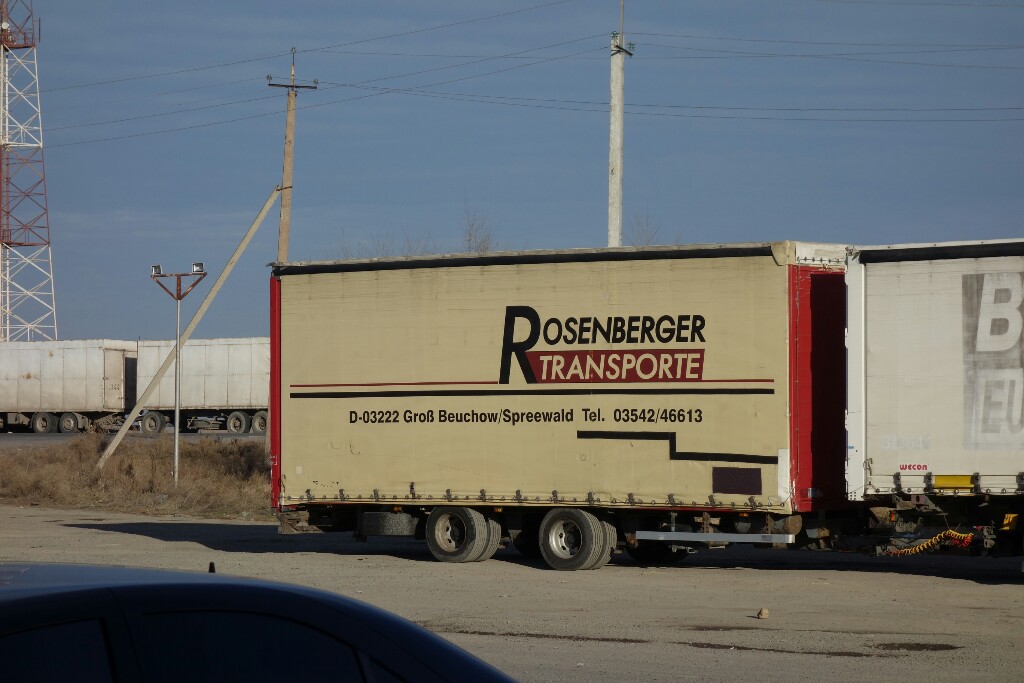 Today is a special day for us. We started cycling more than seven month ago. My bike computer shows a magic number: 9.999 kilometers. It is a repdigit, which we want to touch glasses (or bottle lids) for. And as chance would have it, it is the 11.11. today.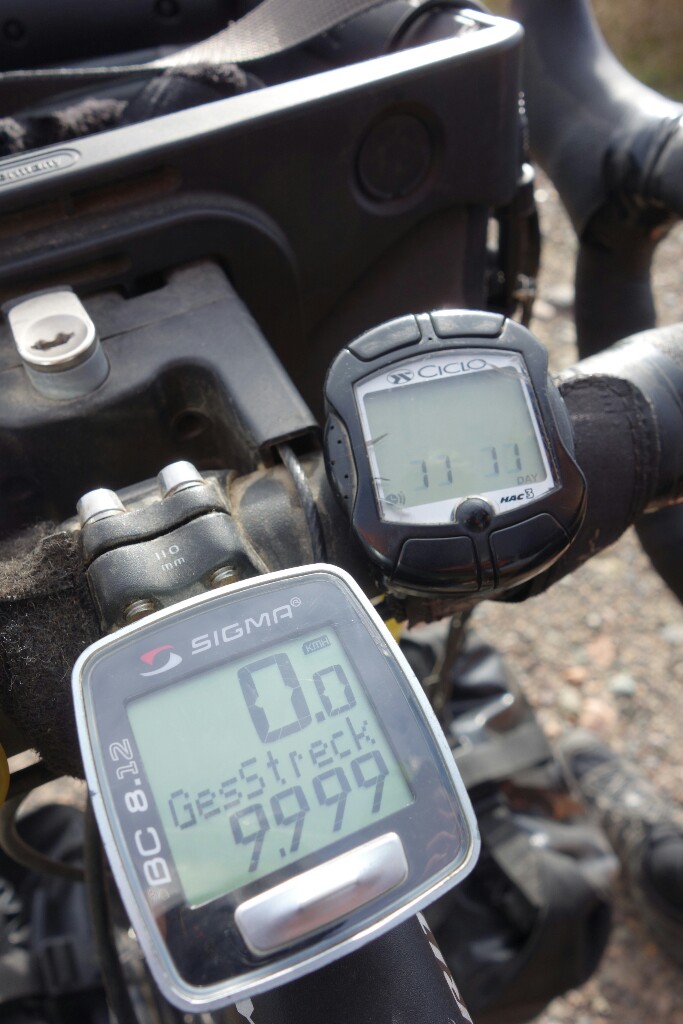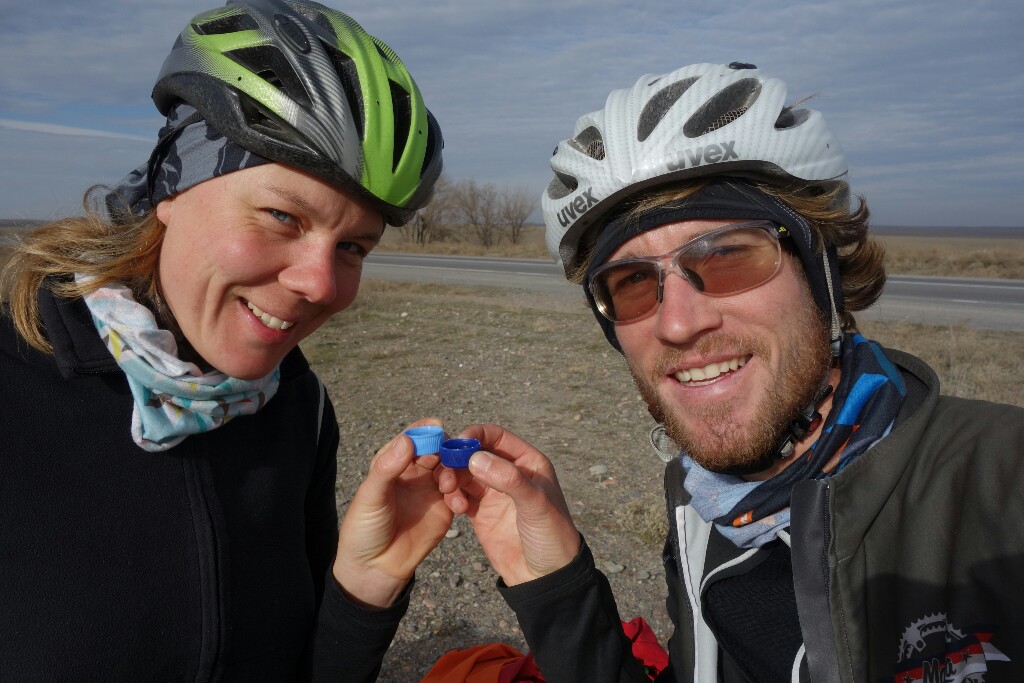 But we don't get far. Just one kilometer later we have to stop and celebrate again. We cycled 10.000 kilometers in 14 different countries! This time we celebrate with lemonade and cereal cookies. 🙂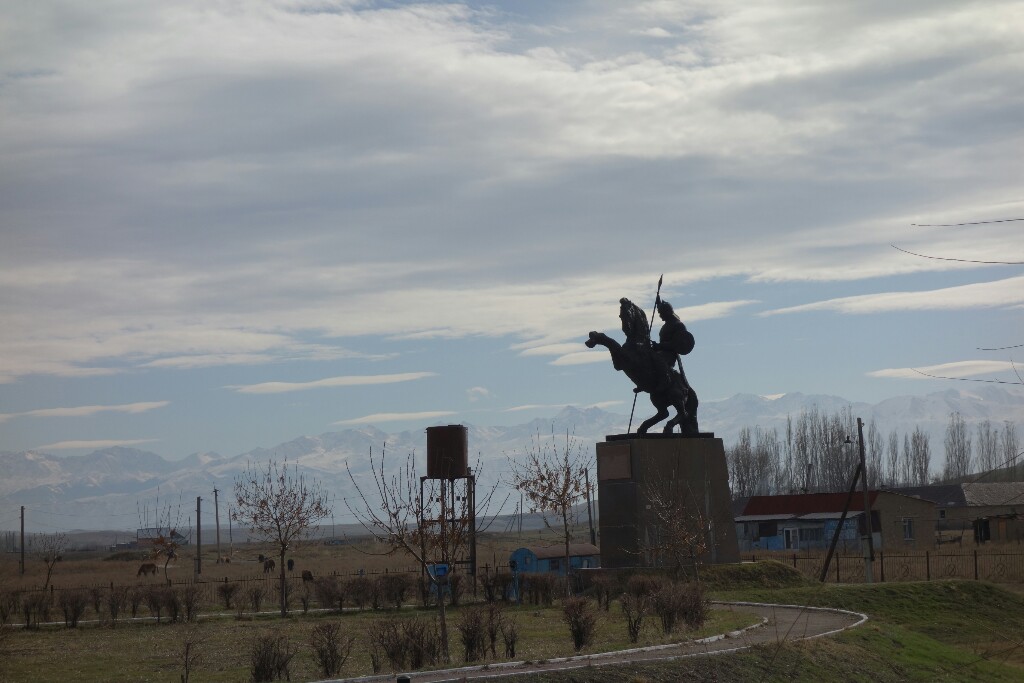 Happy and satisfied we arrive at our host Sergey.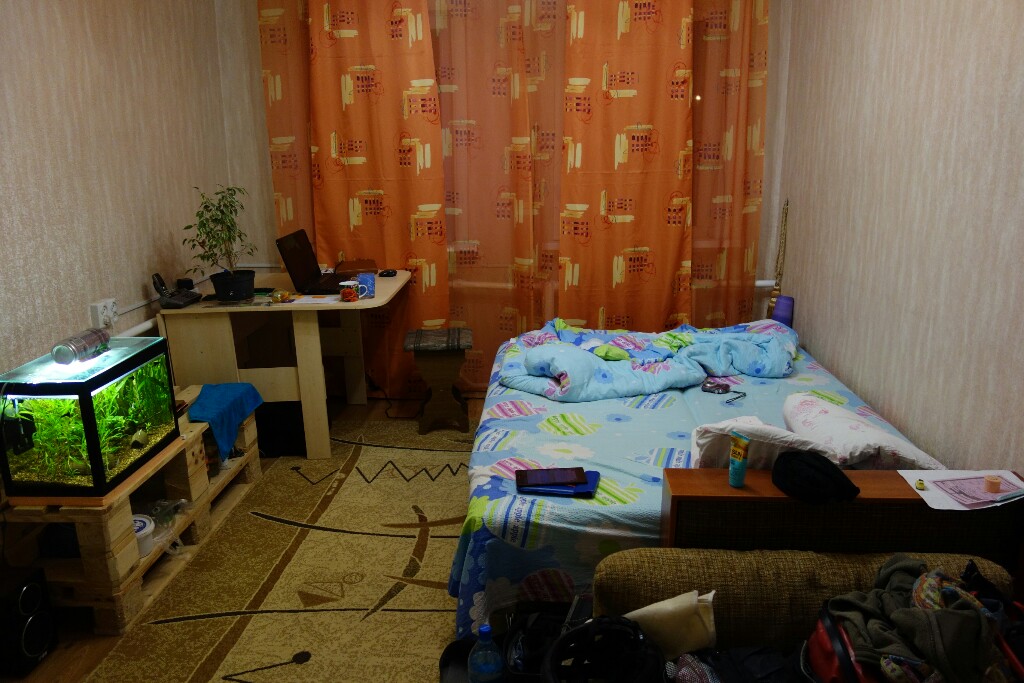 Beside all celebrations today we find a lot of things in different places on the road. Just the Aux-aux cable isn't working.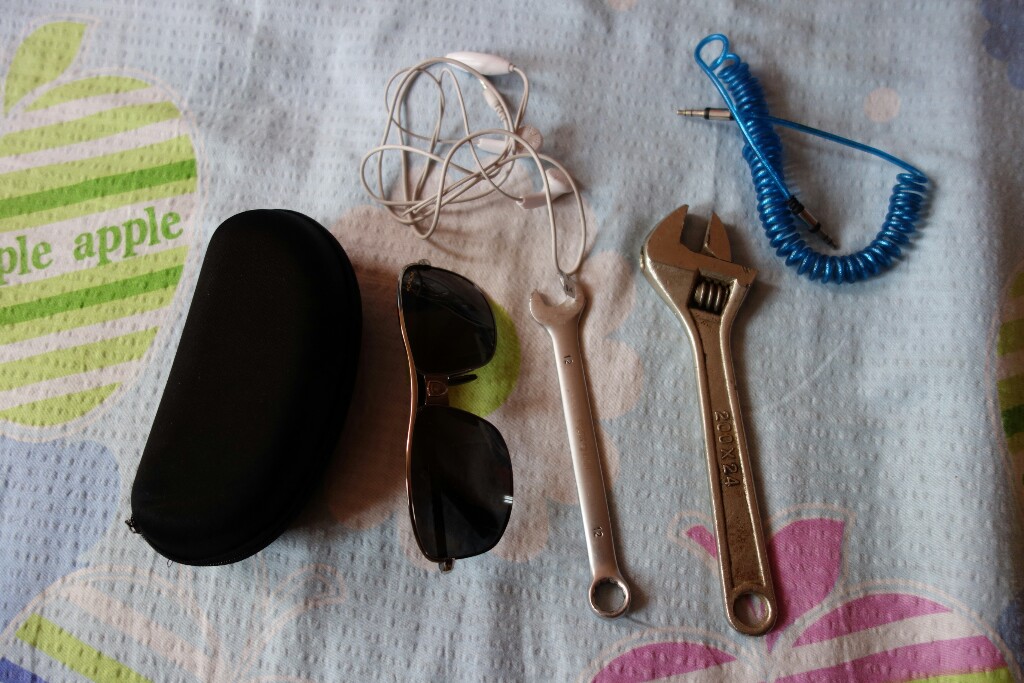 Together with Sergeys wife and daughter we go for a small walk in the mountains.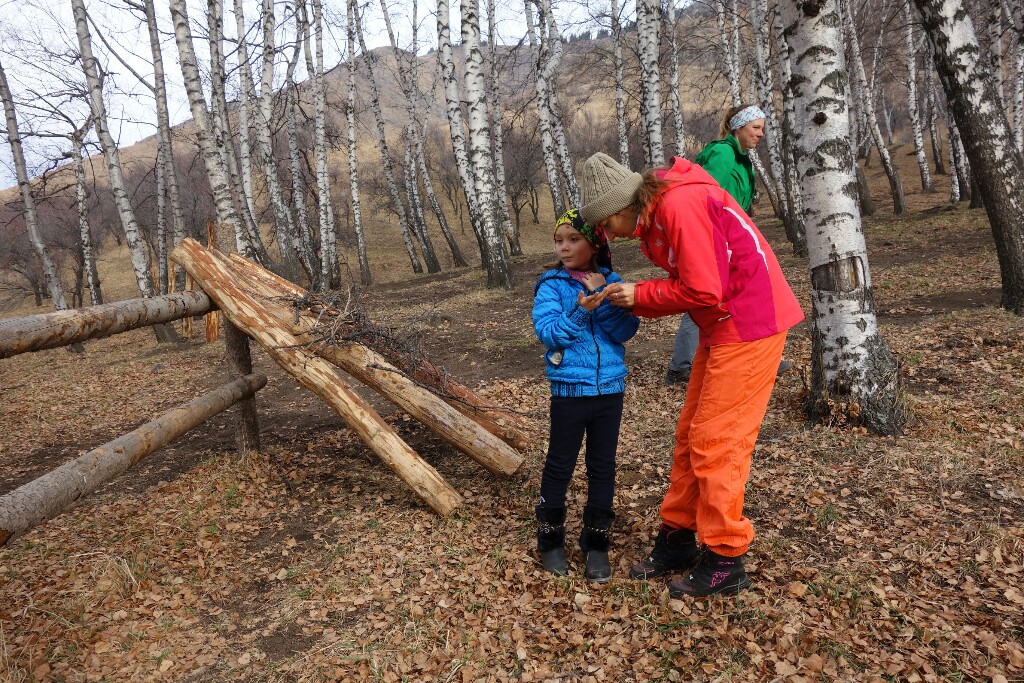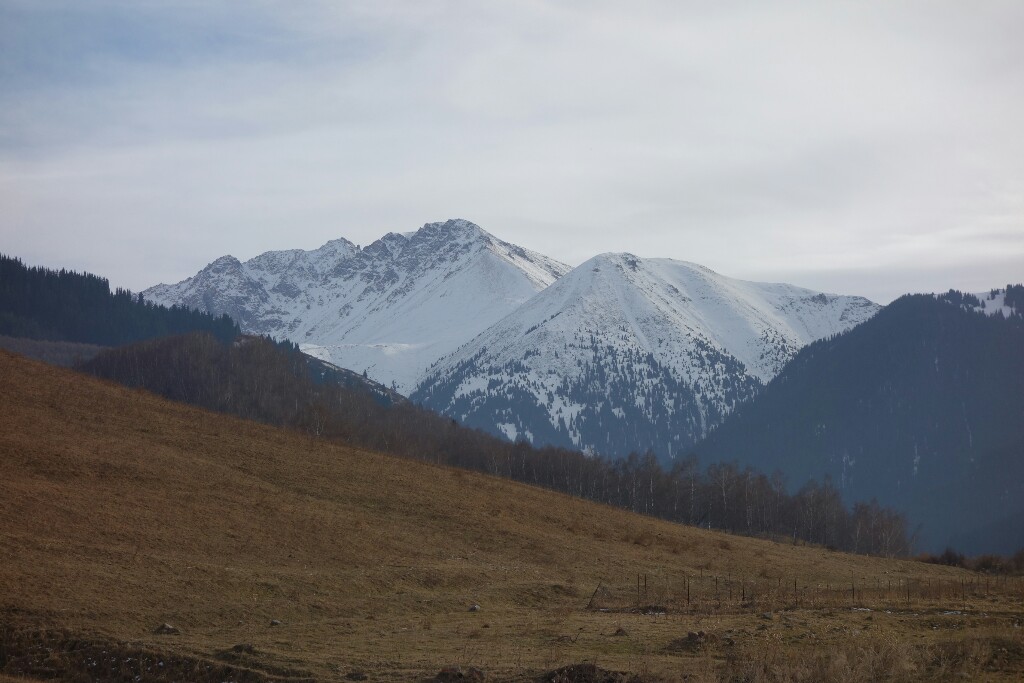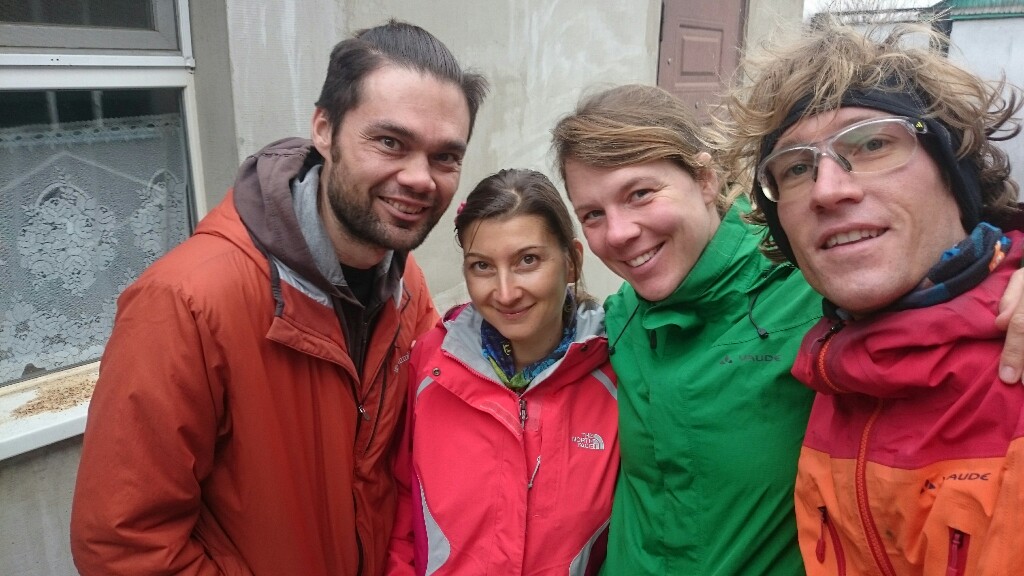 In Sergey's house we find the time and calm to think about how we will continue our way. Where will we go? The last idea and opportunity for the Chinese visa, would be to take a train to the capital Astana. There it might be possible to apply for it. But no one and the internet couldn't confirm this. Anyway it would take about 7 working days, the train takes one day, and 5 of our 15 days in Kazakhstan passed already. That means, it wouldn't work properly.
Taking the trans siberian train across Russia, would mean we would need a Russian visa and much too much effort to end in Korea or Japan still without a Chinese visa, and the problem how to pass China.
I really don't want to fly, but it seems, that there is no other good way. Sure flying is easy, cheap, comfortable and perfect to escape the winter. So we check the flights and decide to fly to Bangkok on the 18th of November. The airline Air Astana takes our bicycle for 15.000 Tenge each, which is about 40 €.
We cycle to Almaty center, where we have a break in park. Alma means apple by the way.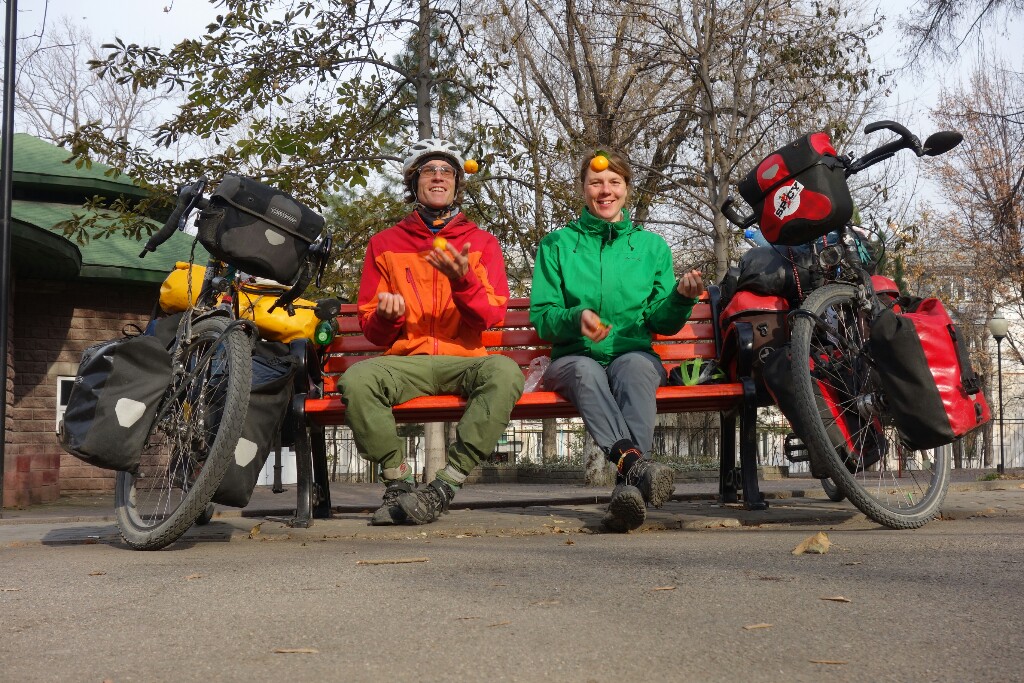 We have to find carton boxes for our bicycles, which is quite difficult. We check almost every bike shop in town, but it's not easy to find boxes. Finally we get one at Limpopo.
James let's us stay in his flat.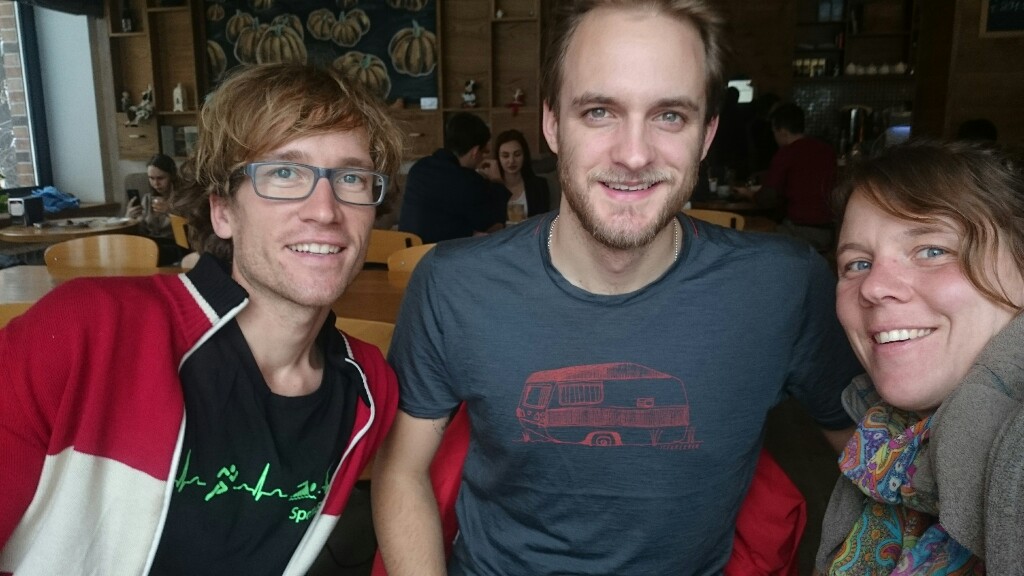 For me it's the first time, that I try to fit a bike in a box. The boxes are very small. Johanna's bicycle is a little bit too long, it doesn't fit inside, so she decides to built the box around. It takes a long time until we are done. We did it the best way, we could do it and now hope that they are safe for flying.
My bicycle outside and inside the box (behind James fixie) and Johanna's bicycle.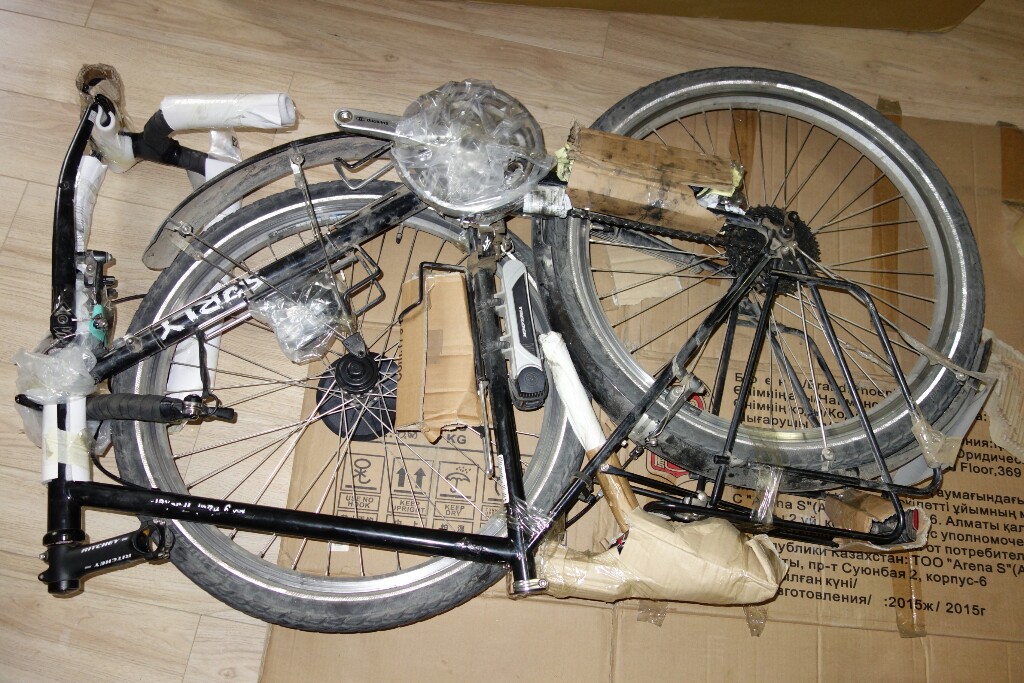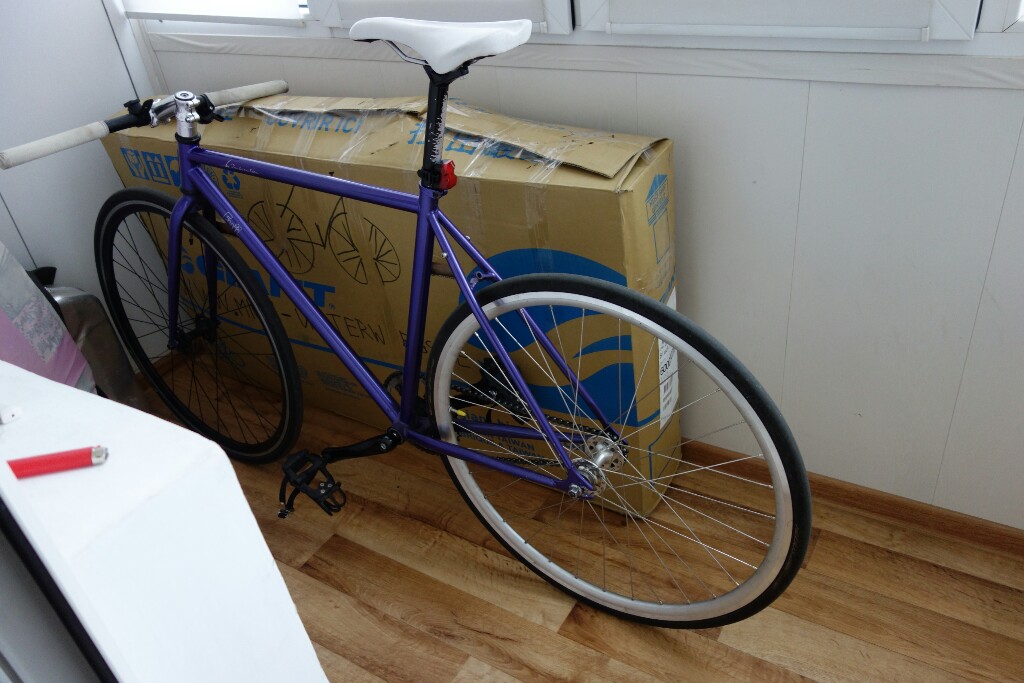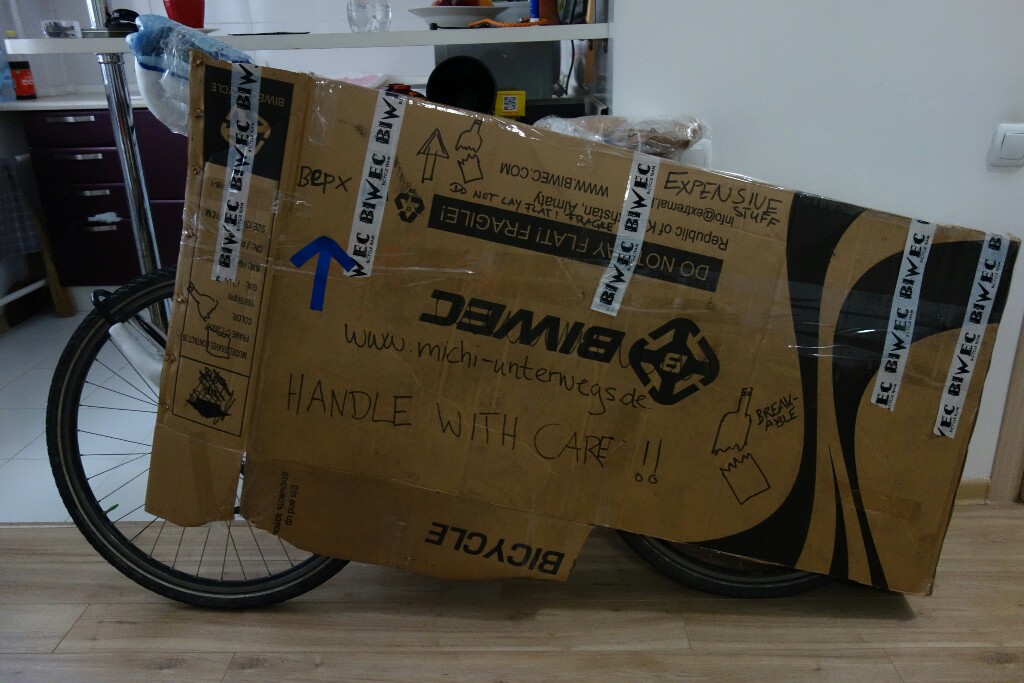 The evening before our flight we celebrate into Johanna's birthday. 🙂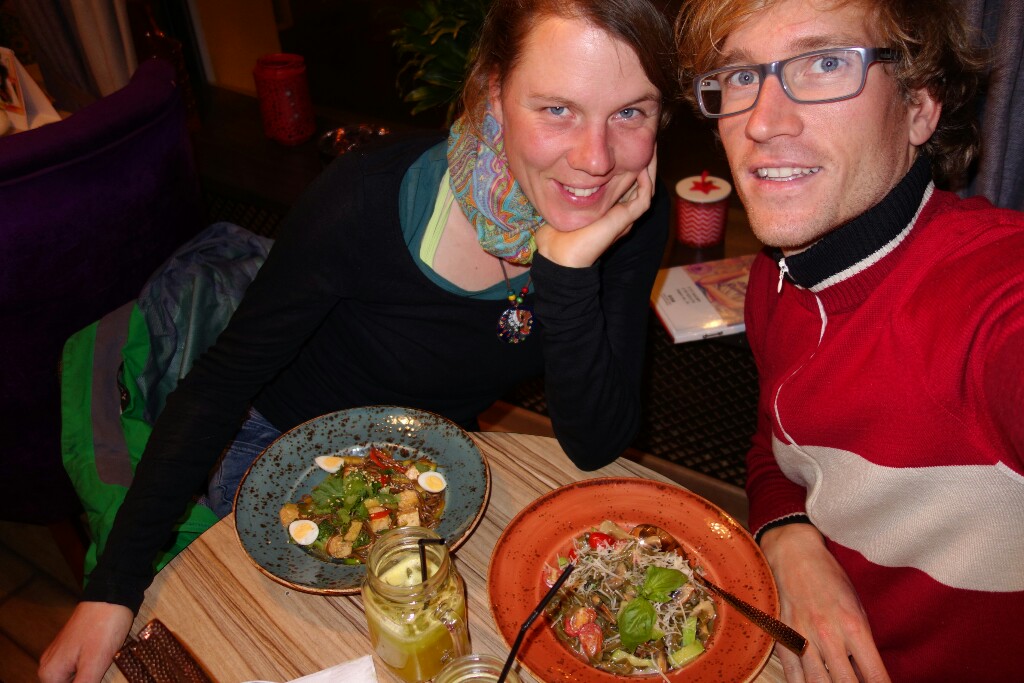 Just some minutes to midnight we leave the bar to change to another one. And Johanna gets a very special present! It start snowing extremely strong. Wow! What a nice start for a birthday. Happy birthday!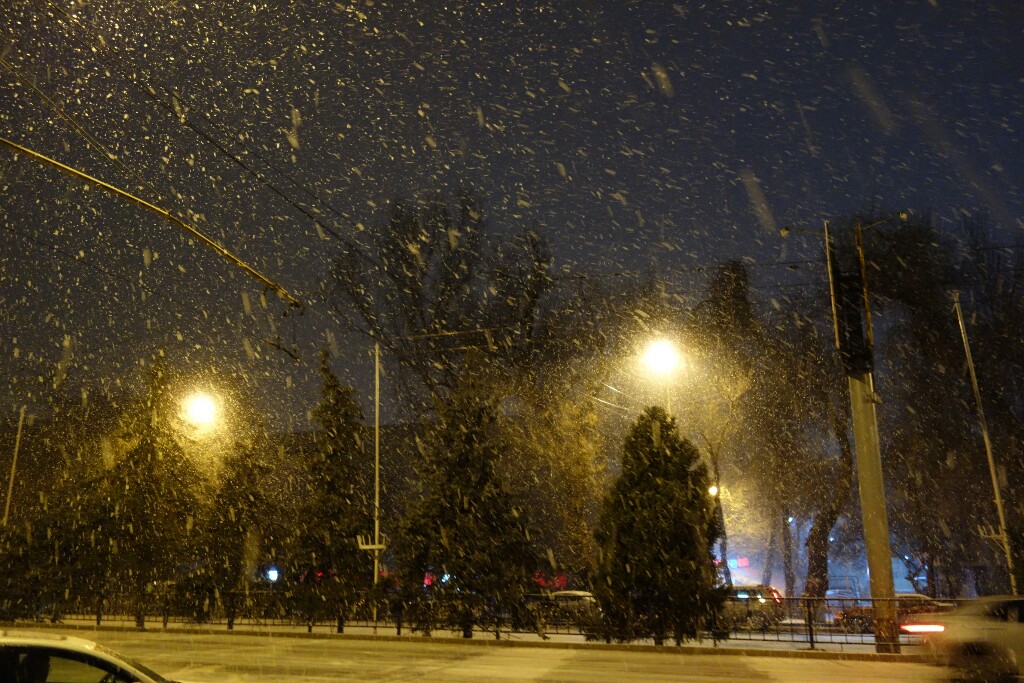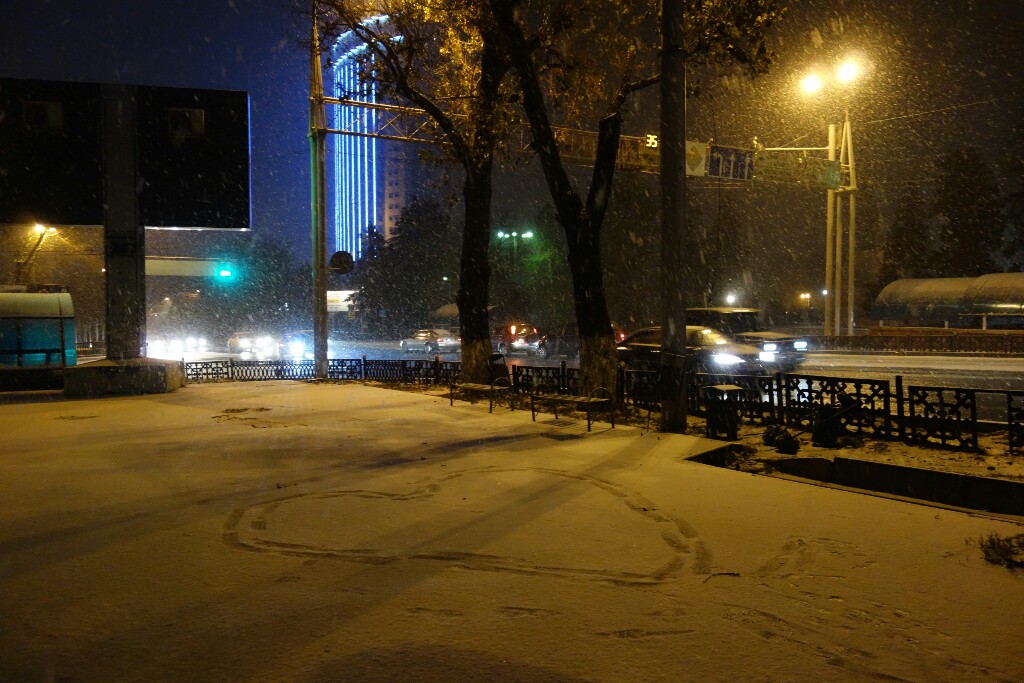 The next day we go for a good breakfast and can enjoy the snow for one day before we leave to Bangkok.
We use bags of rice to have only one piece of luggage and protect the bags as well.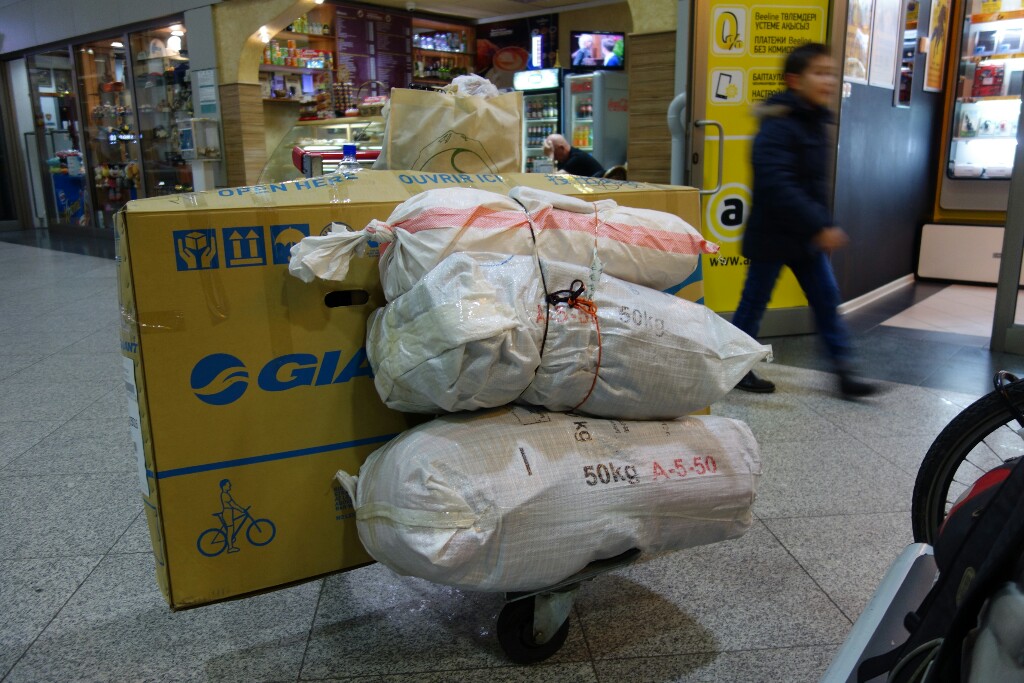 Goodbye winter! Goodbye Central Asia! Goodbye Chinese visa!