Welcome to Kyrgyzstan!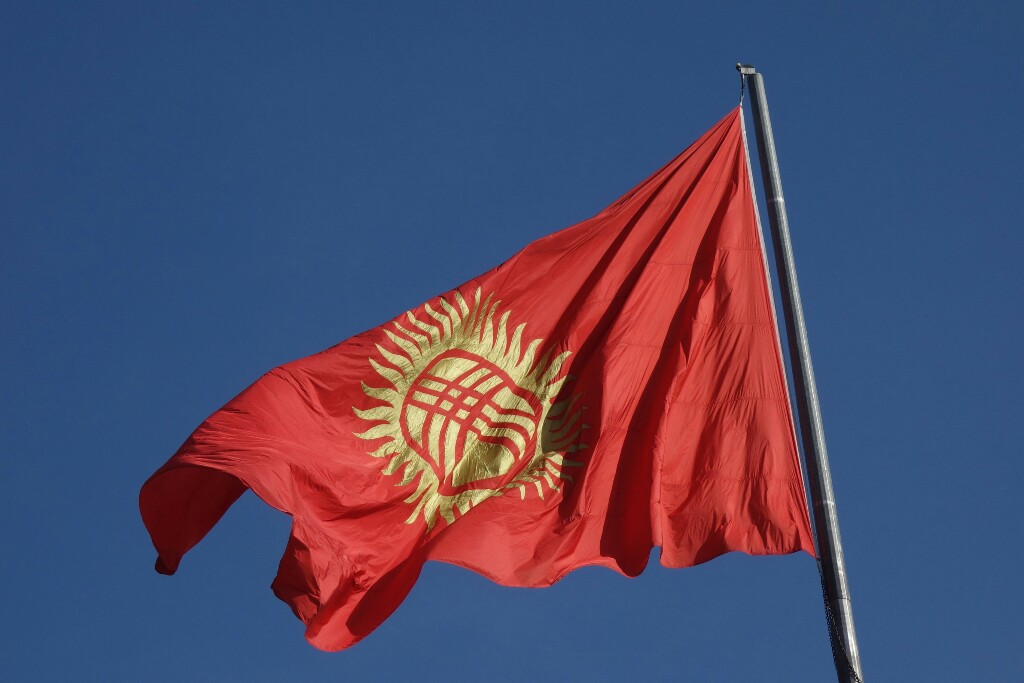 The border crossing is easy, just one small note wonders us. It says that we have to register us after at least 5 days. We thought we could stay 60 days without trouble. But it's a new law from the 4th of November, today it's the 5th! :/
Kyrgyzstan begins with a not ending village along the main road, and it will be like this more or less for 90 km until the capital Bishkek. In the beginning it is nice and reminds us of Romania a bit.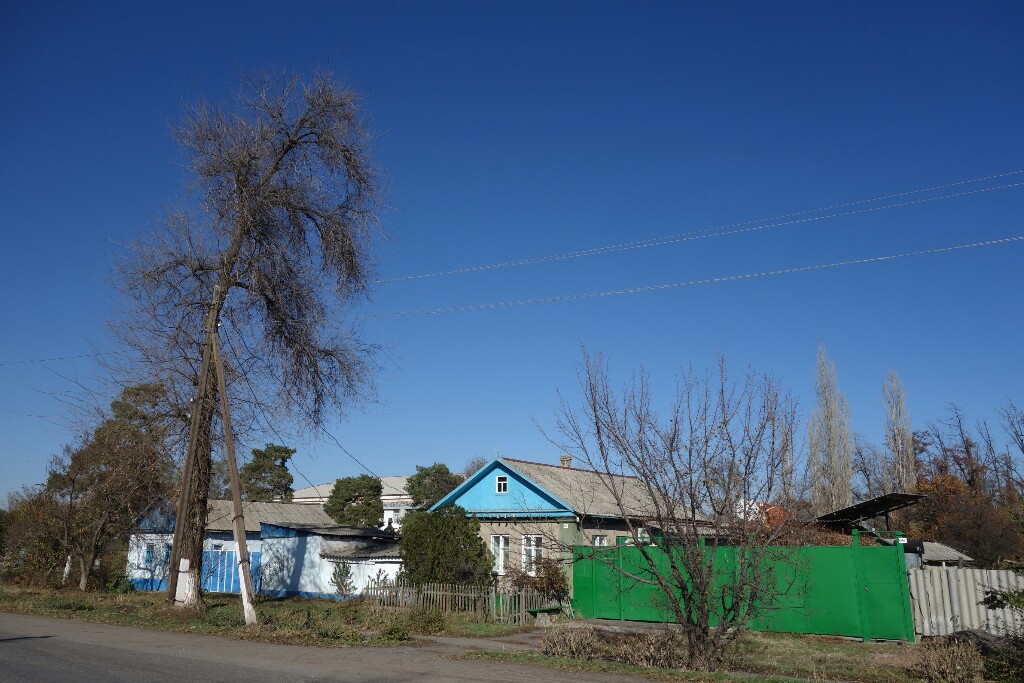 Very soon we are invited by some farm workers. We don't say no and take a small break.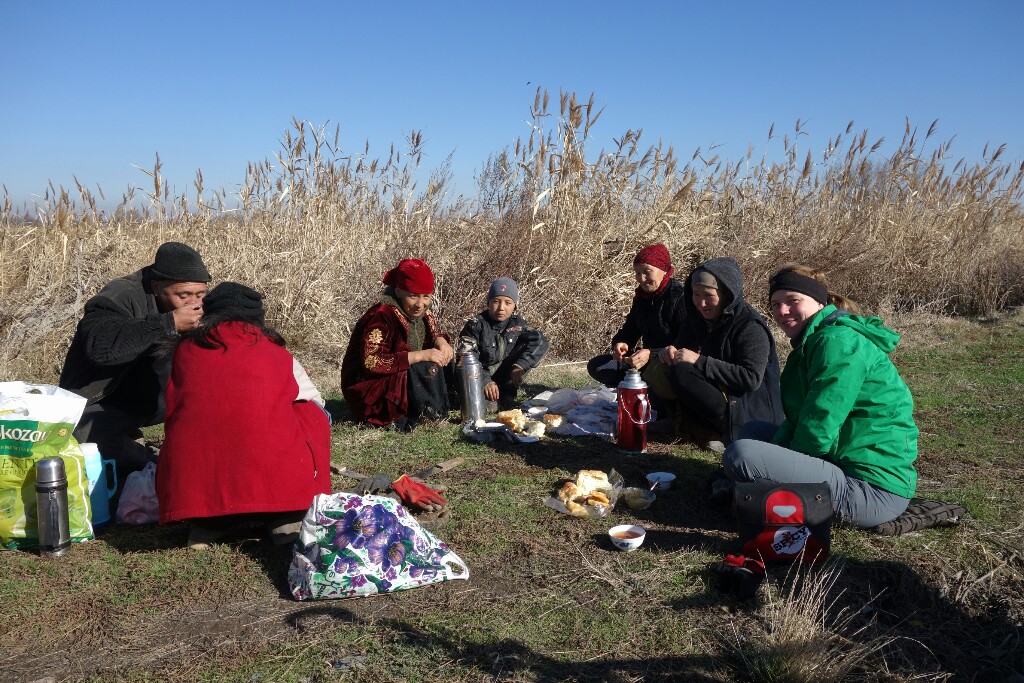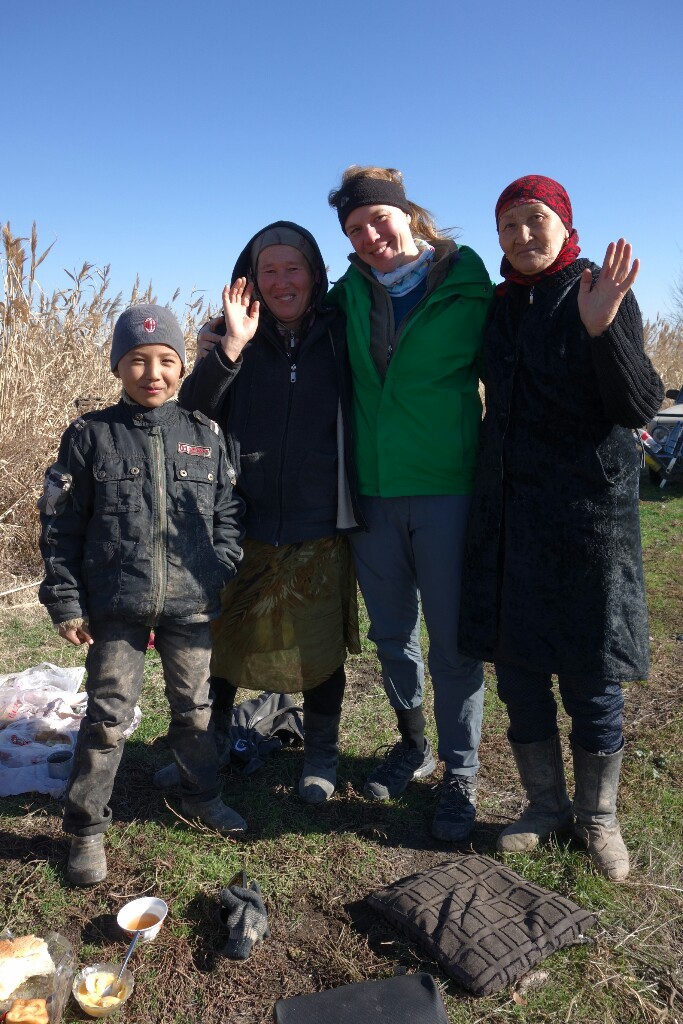 The snow mountains are still very impressive.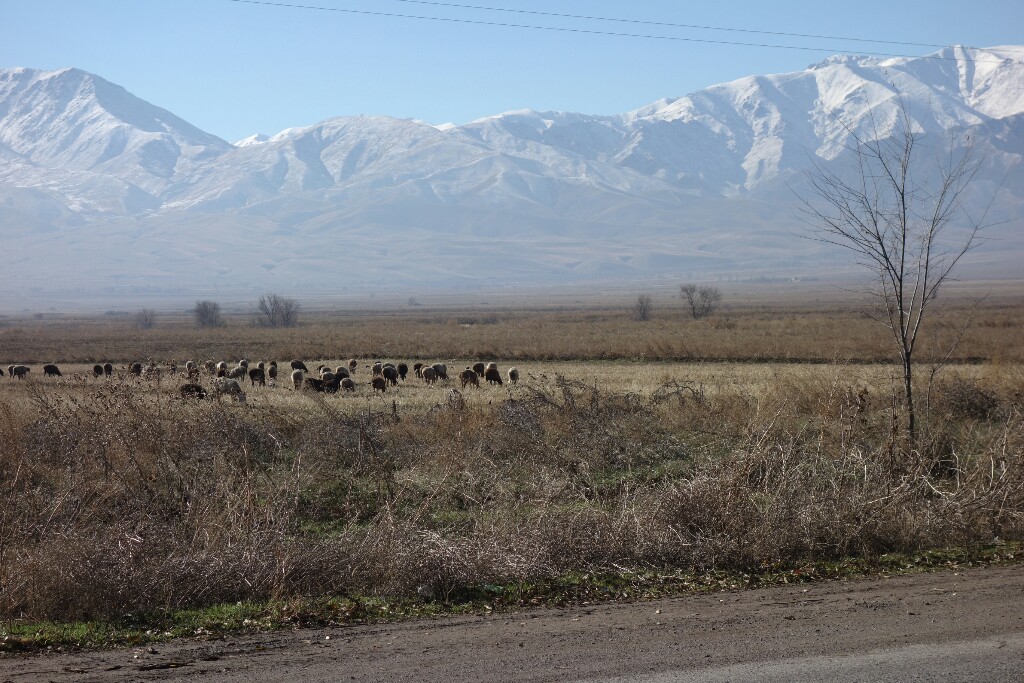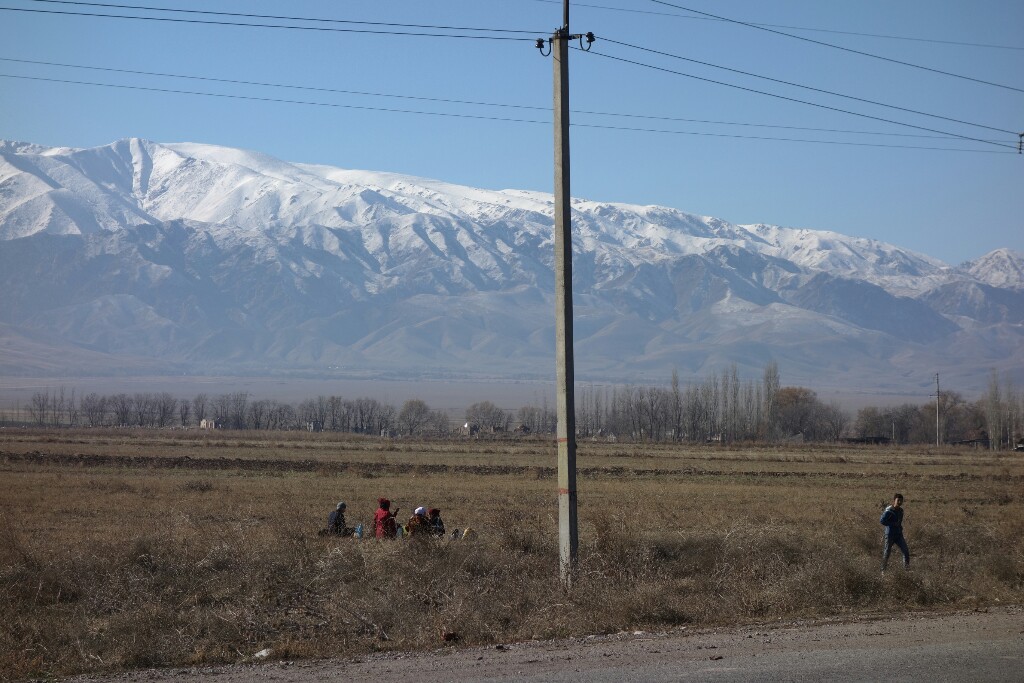 As the wind is not our friend, we can't reach Bishkek in on day. A hotel is not available. But we meet Magomed, who only speaks some words in German and some words in English, but the universal language of the body. He tries to tell us something. It takes quite a while for us to understand him. When he literally starts with Adam and Eve and that we are all descents of them, we get it. He is the first, who speaks about unity of mankind.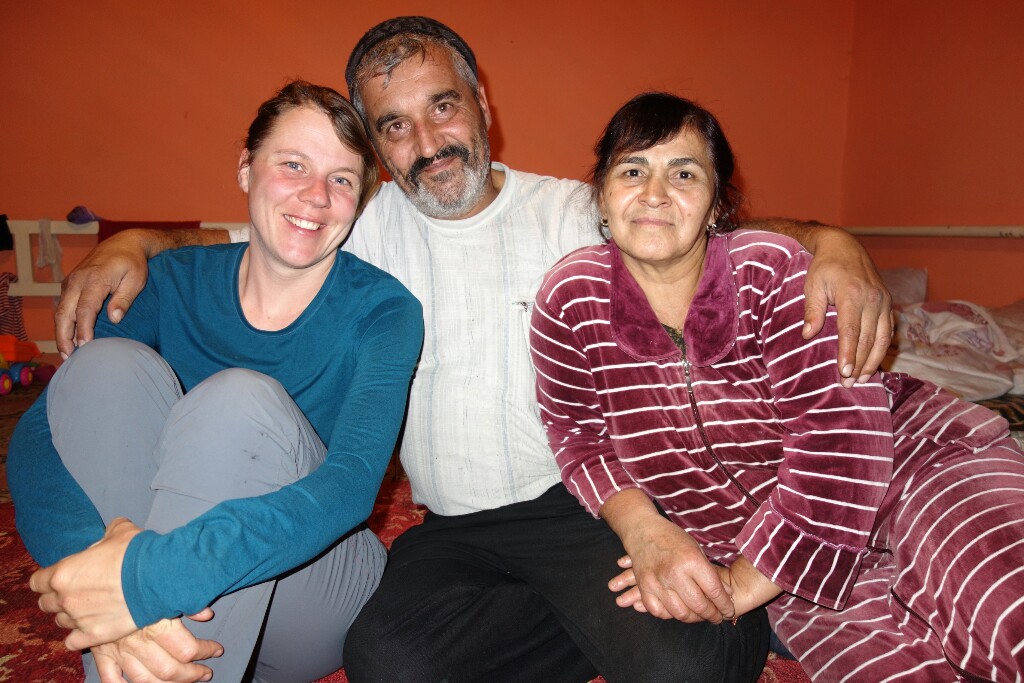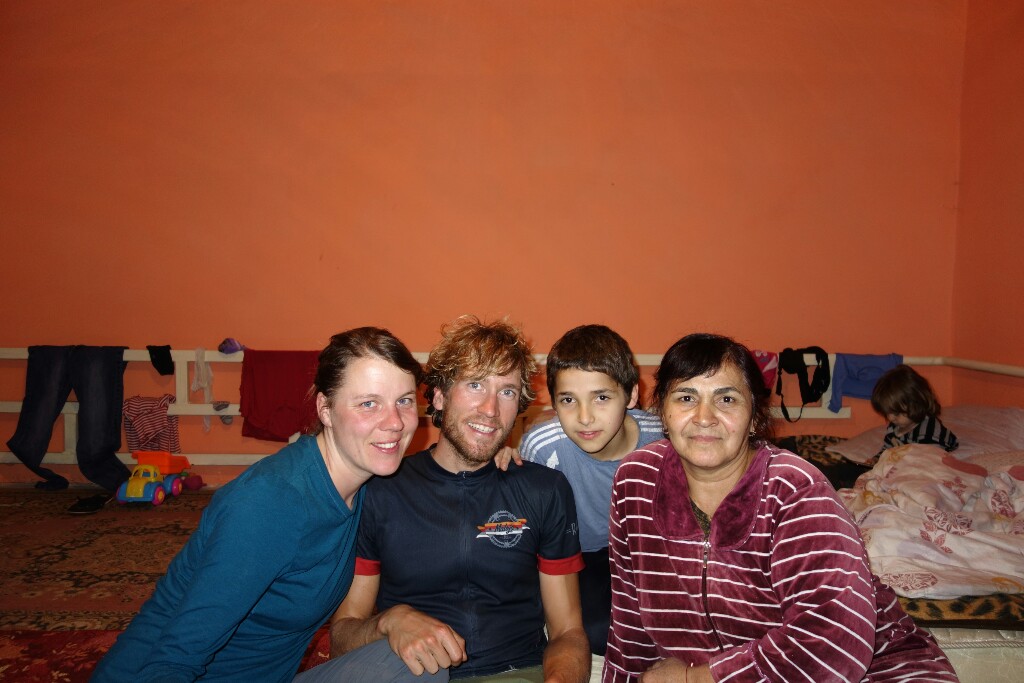 The day starts with low temperatures but the mountain chain in the south looks amazingly beautiful.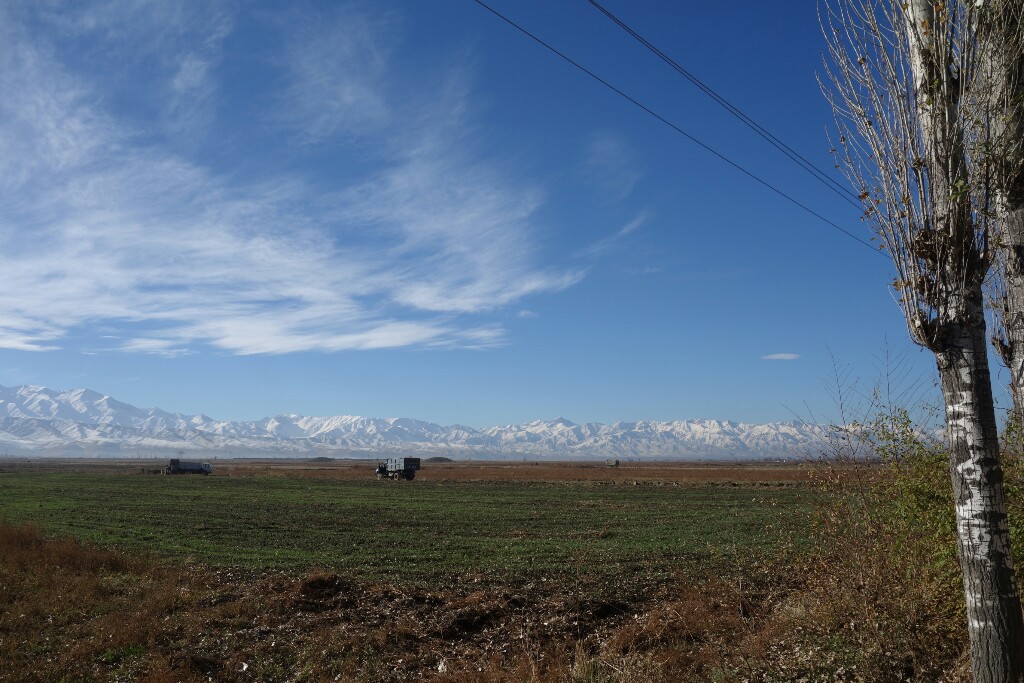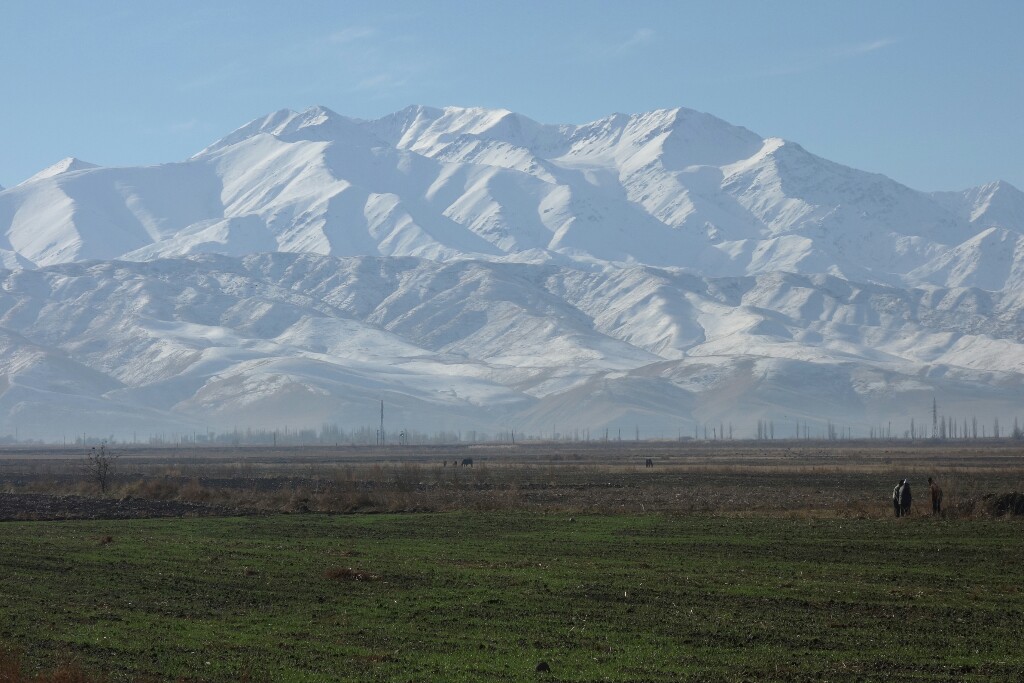 The traffic to Bishkek is really not nice, the drivers got too fast, overtake very close and don't take care or respect for us. But we arrive safe at the Apple Hostel in Kyrgyzstan's capital.
We enjoy the warming sunbeams of the radiant setting autumn sun in front of our hostel.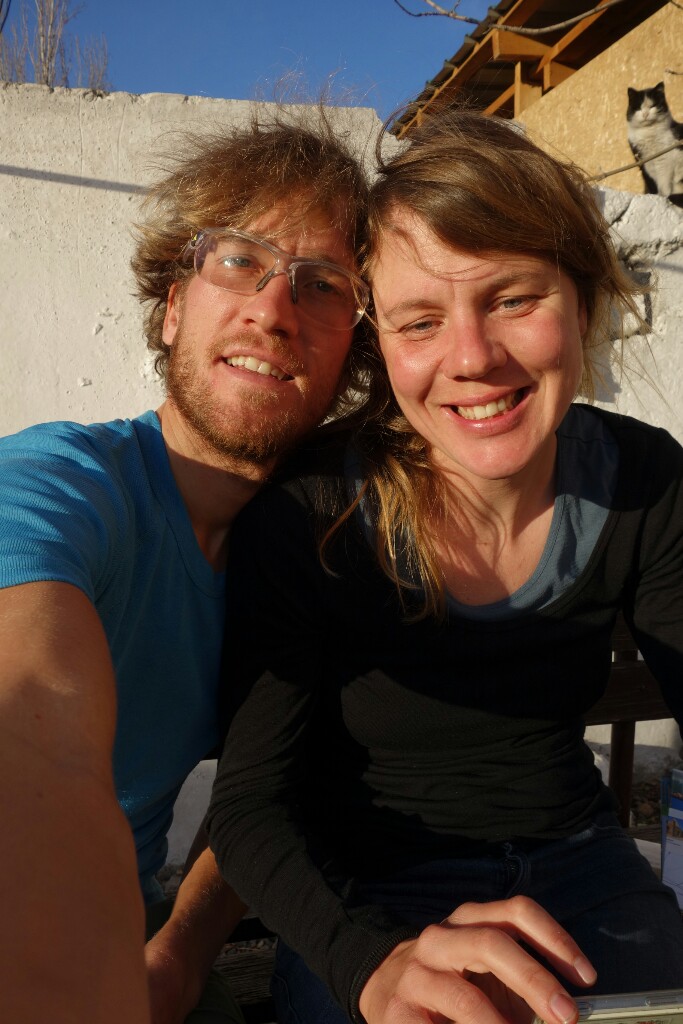 Alexis, a freaky guy from Greek stays in the hostel as well. He sent back his passport to get the visa for China in Athens. I hope it worked. His homepage is: www.nomadcyclists.com In Almaty he wants to enlarge his heavy bicycle with a fuel engine.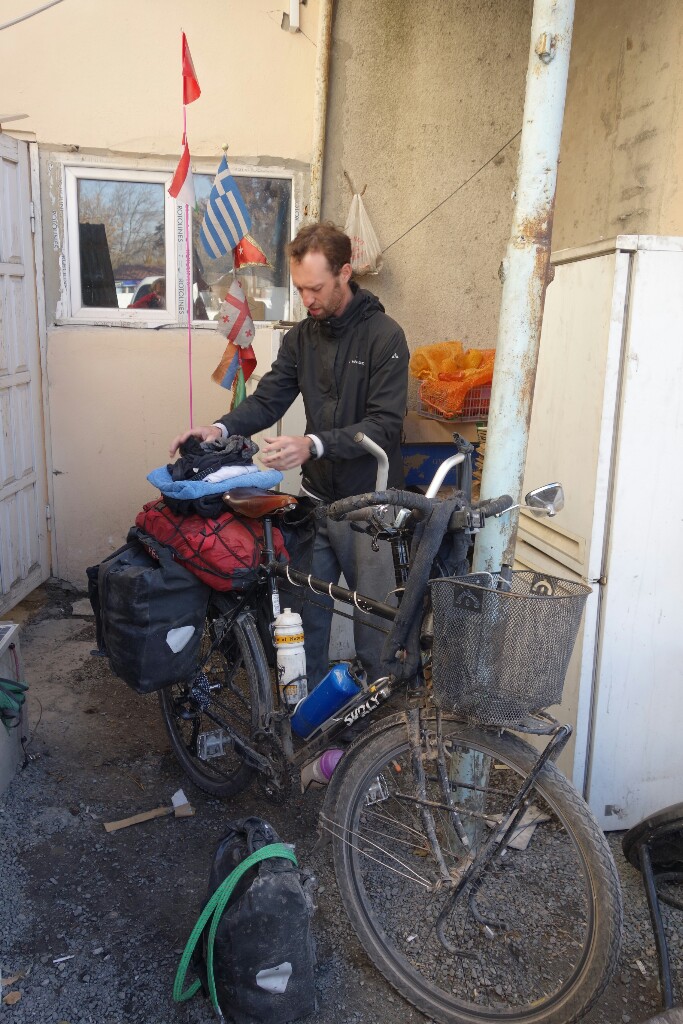 We go to the city and visit some places, but actually there isn't nice stuff to see. The best part are the high mountains in the background. There are just big Soviet style buildings.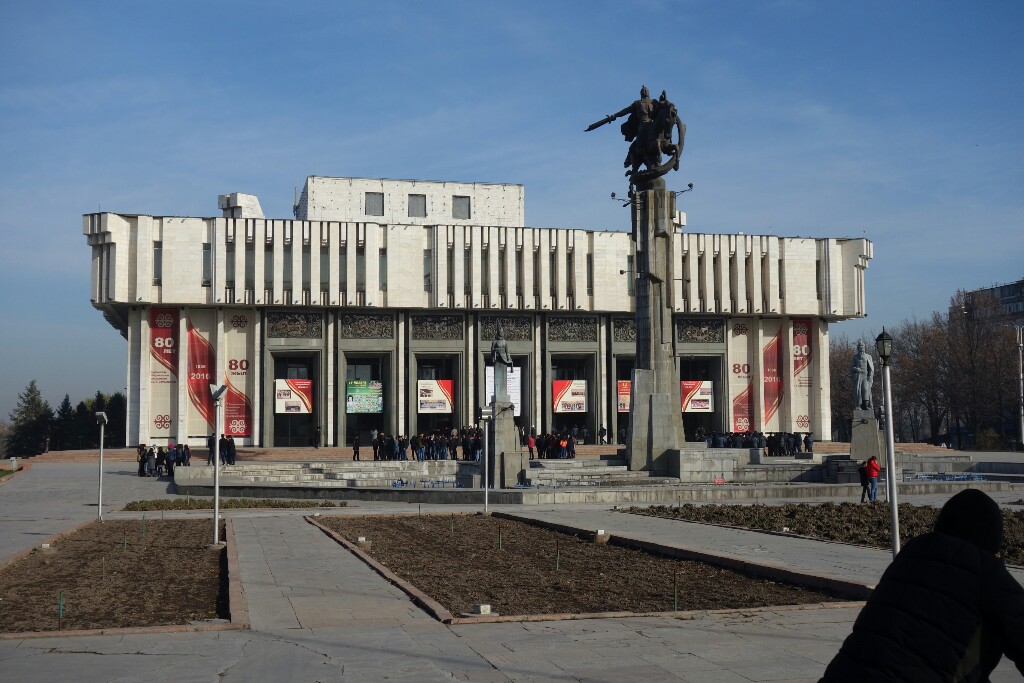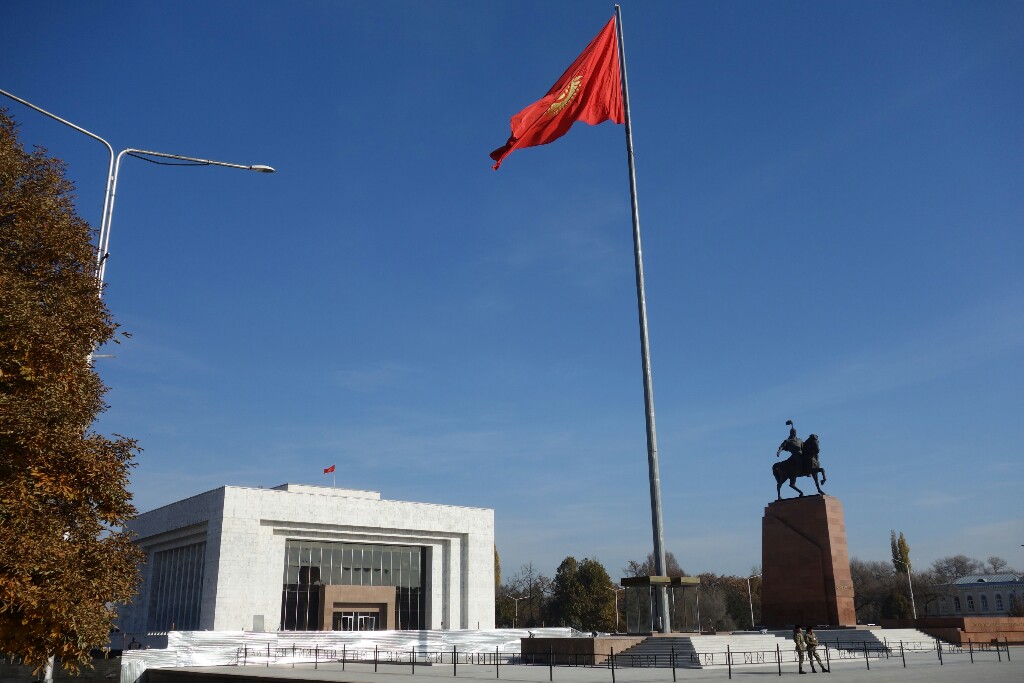 Going to the Chinese embassy is not worth a try, they had a bombing attack some weeks/month ago. So we visit the German embassy and ask about sending home our passports and apply for a Chinese visa in Germany. Yes it would be possible, they would give us a provided spare passport paper,  we could send our passports via express to a visa agency in Germany and we could use the embassy address for getting the passports back.
But in the end our calculation is, that it would cost a lot and take a long time. At least 2-3 weeks and about 260 € for one person. And the winter is coming, cycling will not be possible anymore soon. So we would have to take a train to China and in China as well.
Hmmm waiting so long and paying so much just to go by train through wintery China to reach the warmer areas!?
Our last backup solution, taking a flight over China, gets bigger and bigger in my head.
At the market we find a lot of fruits and vegetables for us.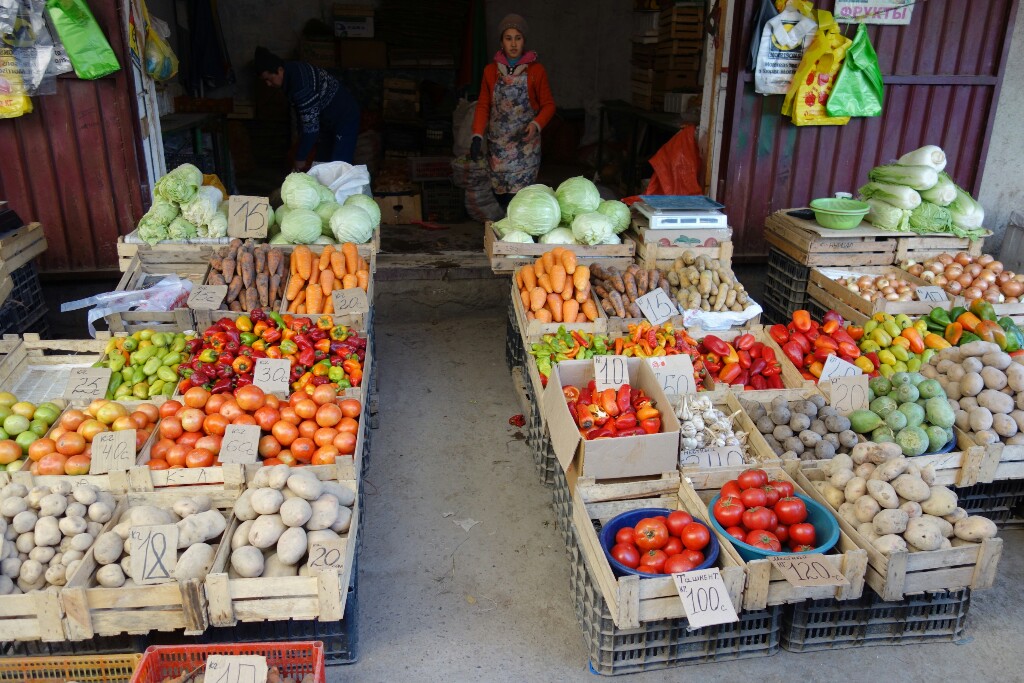 Eating in a small restaurant.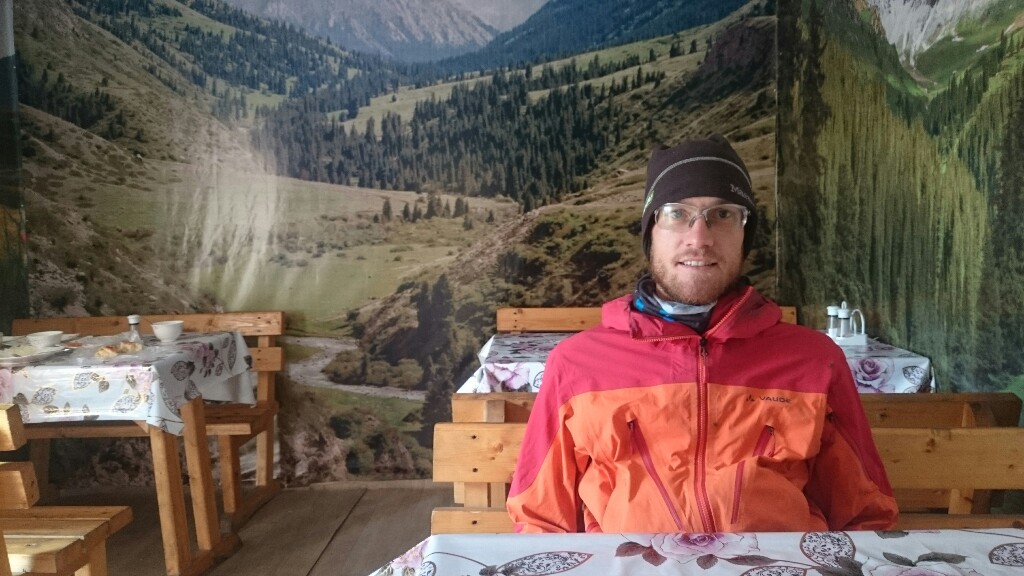 We decide to leave Kyrgyzstan direction to Almaty at our fifth day, so that we don't have to register. For our last night we can stay at a very nice and (among cyclist) popular warmshowers place in Bishkek. At Nathan's house we meet three other cyclists. Two single cycling women and one guy from Poland. Tori has a blog called: www.littlebluebike.net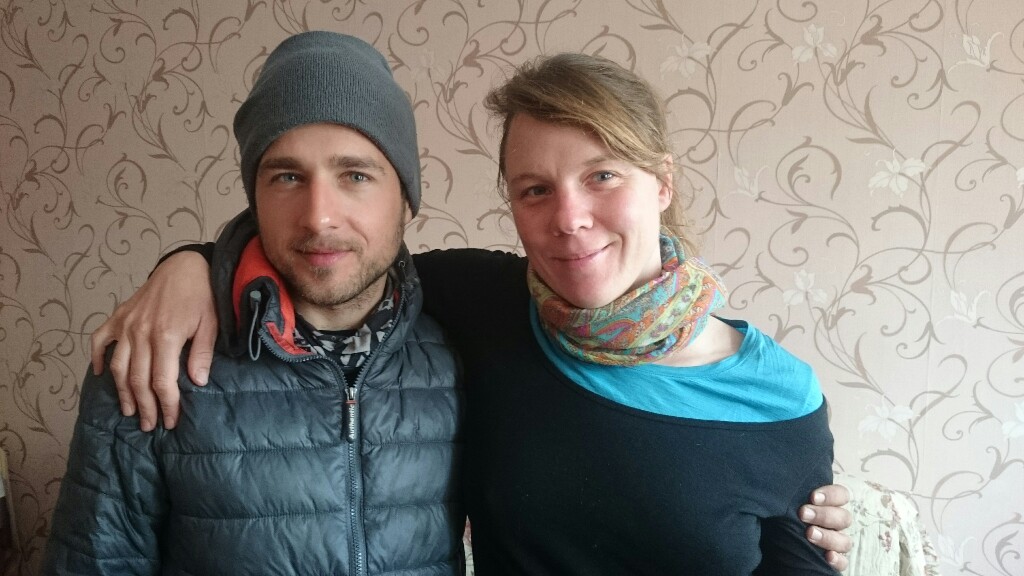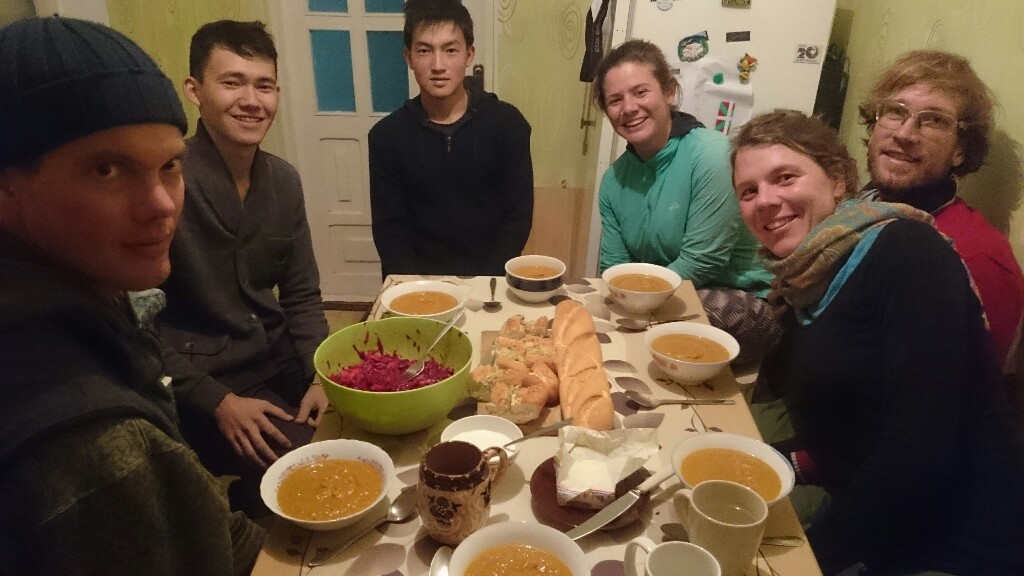 The next day we start cycling north to the border to go back to Kazakhstan.