At the border we get two stamps on a small paper, on which we have to fill in our dates. It means we are registered and can stay in Kazakhstan for 15 days. Soon big roadworks begin, in some parts the new big highway is finished, in other parts not. All the junctions and bridges are under construction, we have to cope with dirty air and get dusty.
For our lunch we leave the road, a dog bears us company.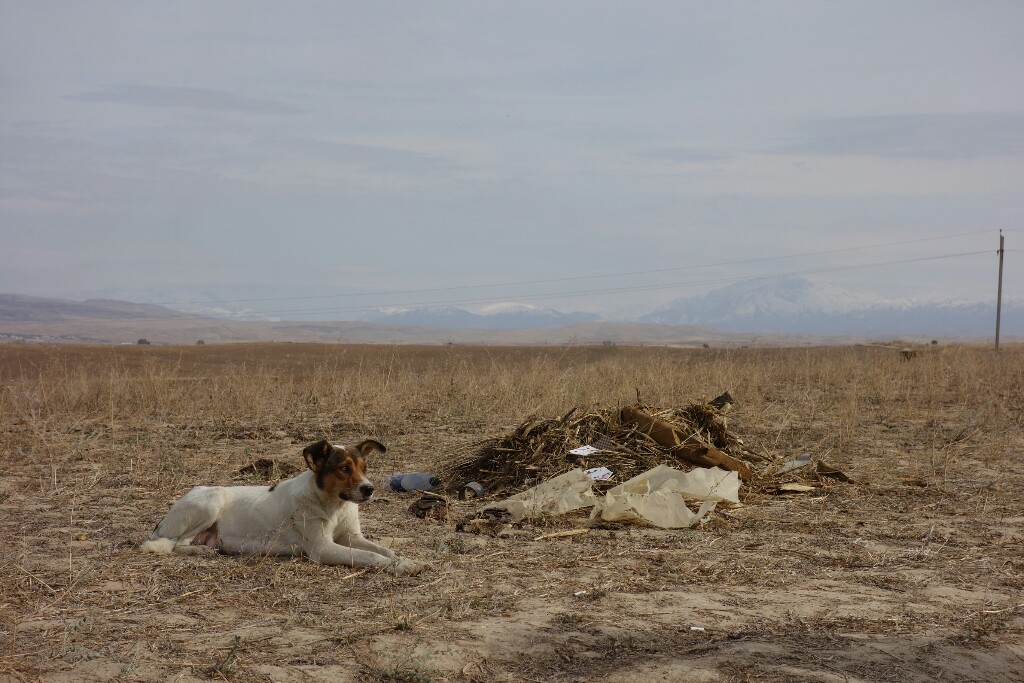 We enjoy the treat of a nice camping spot in the evening.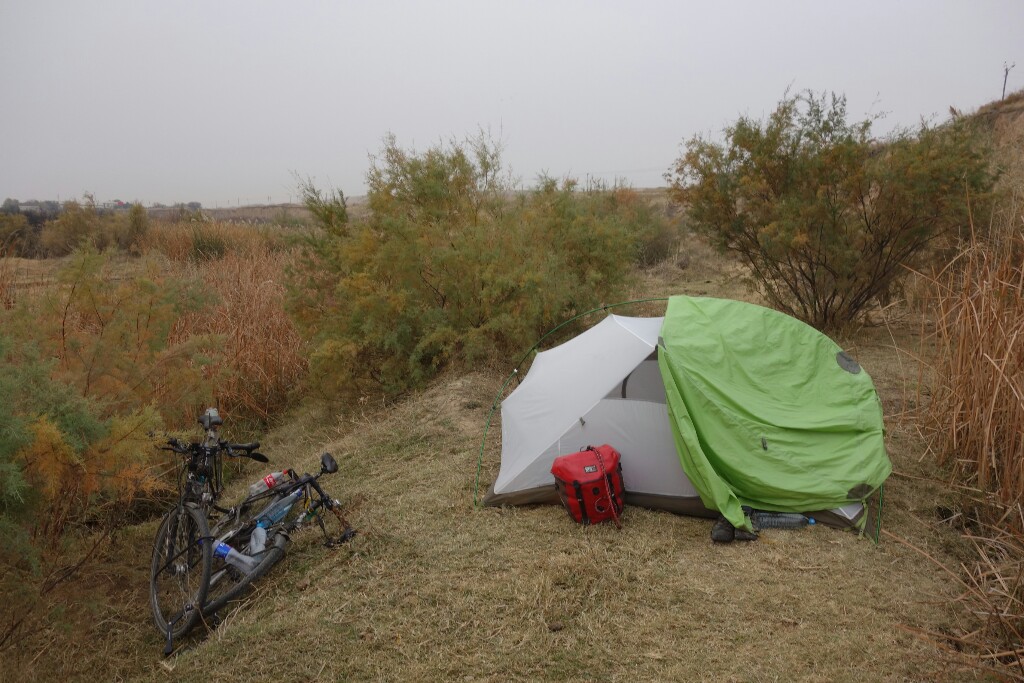 Kazakhstan is a country full of horses. And they eat them, too. So they have to buy and sell them of course.
Roadworkers, the guy in the back put on his balaclava, I don't know why, but he didn't want to rob us.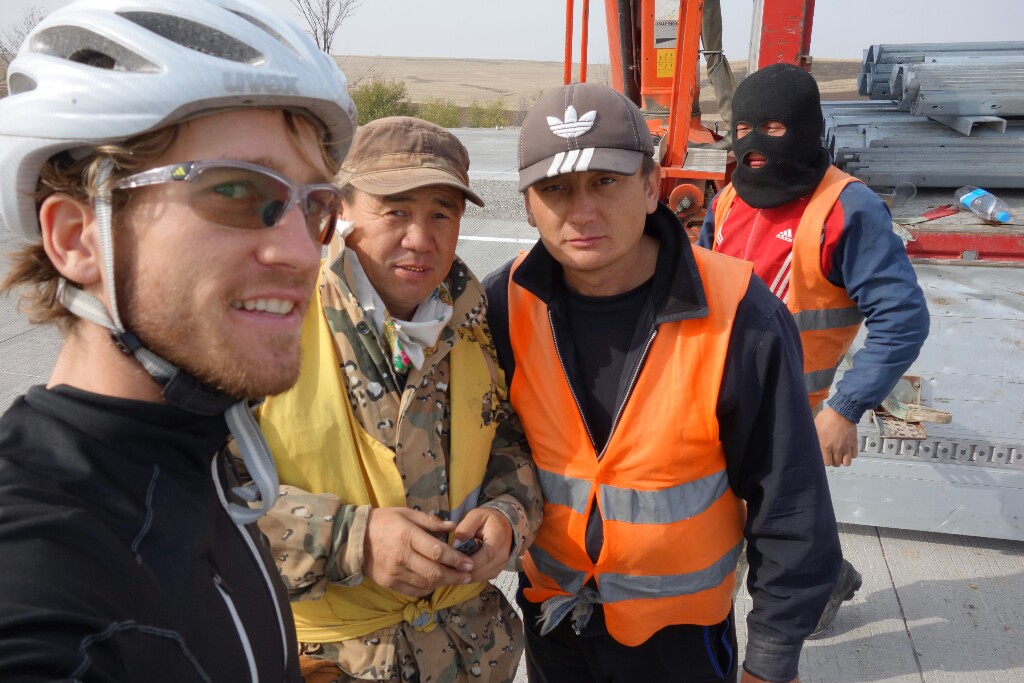 In Shymkent we met a really nice family in front of the supermarket and they invited us to their house. It was such a warm welcome in Kazakhstan.
Hm…?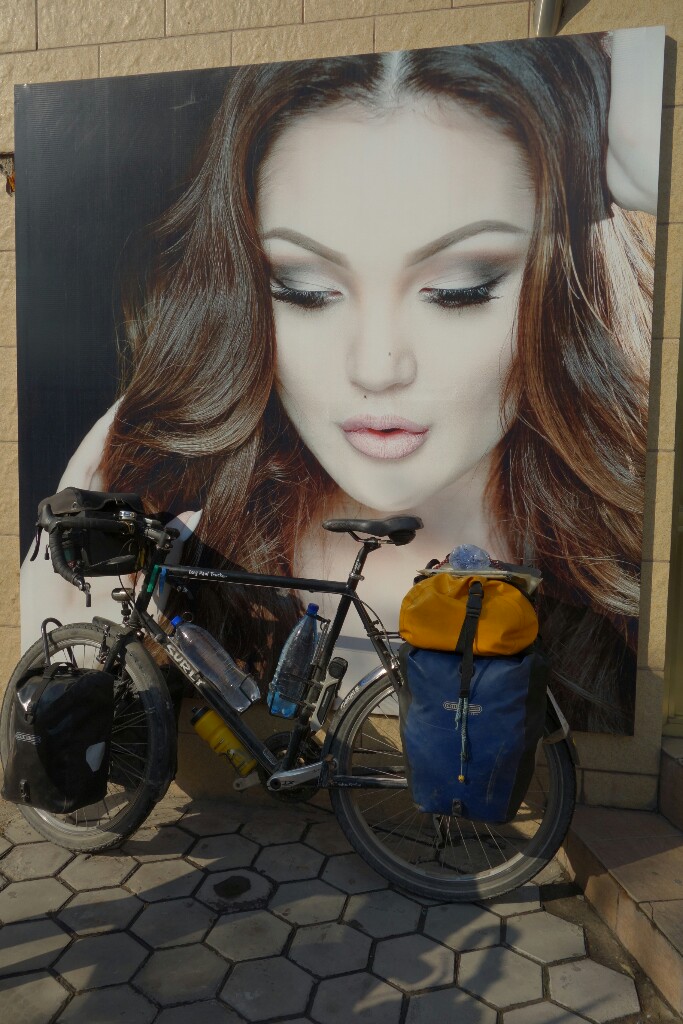 In a mini market with a one table restaurant we get a good and cheap lunch, all the people, standing around near the market, come to say goodbye.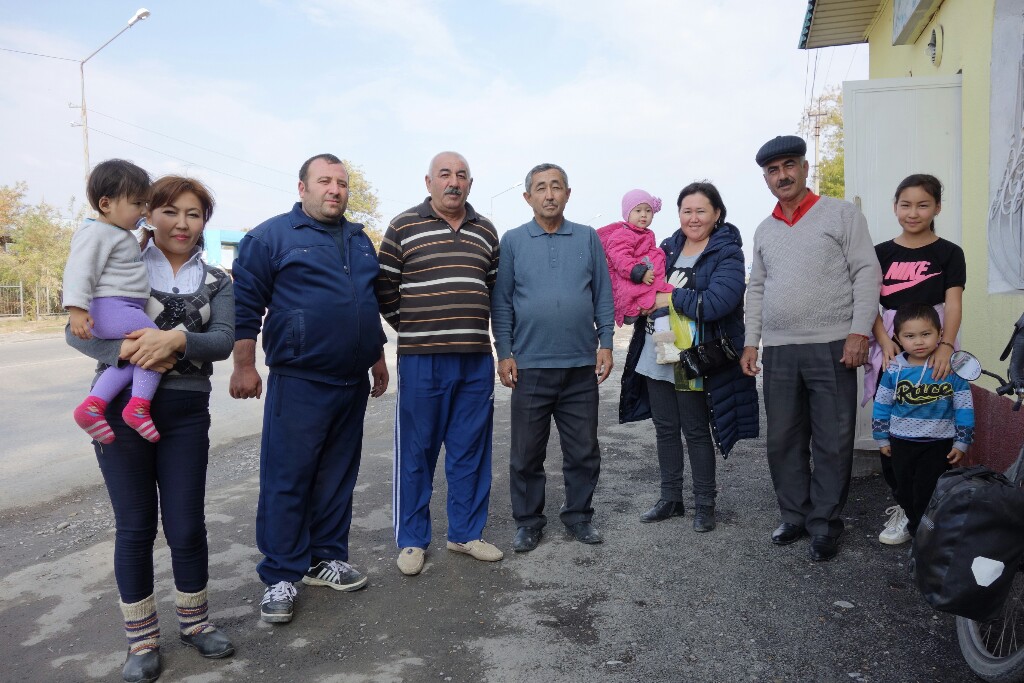 In the afternoon we cycle on our own, empty, not yet finished highway road, how lucky we are. We forgot to fill our waterbottels, so we don't have enough water. But a perfect campsite beside a small river appears. We filter some liters of water. Great.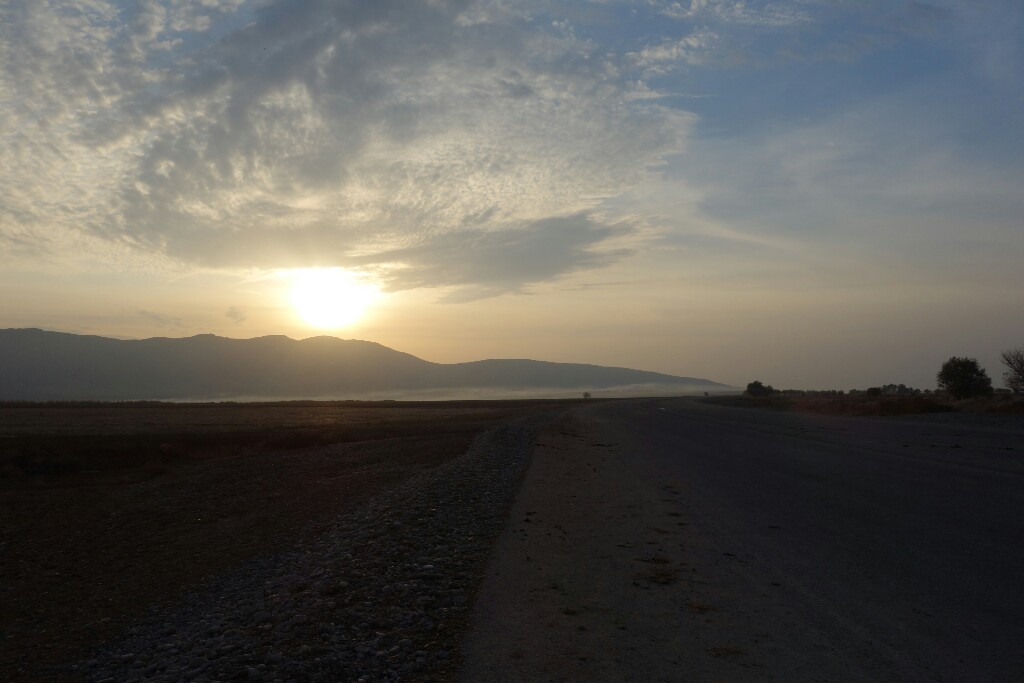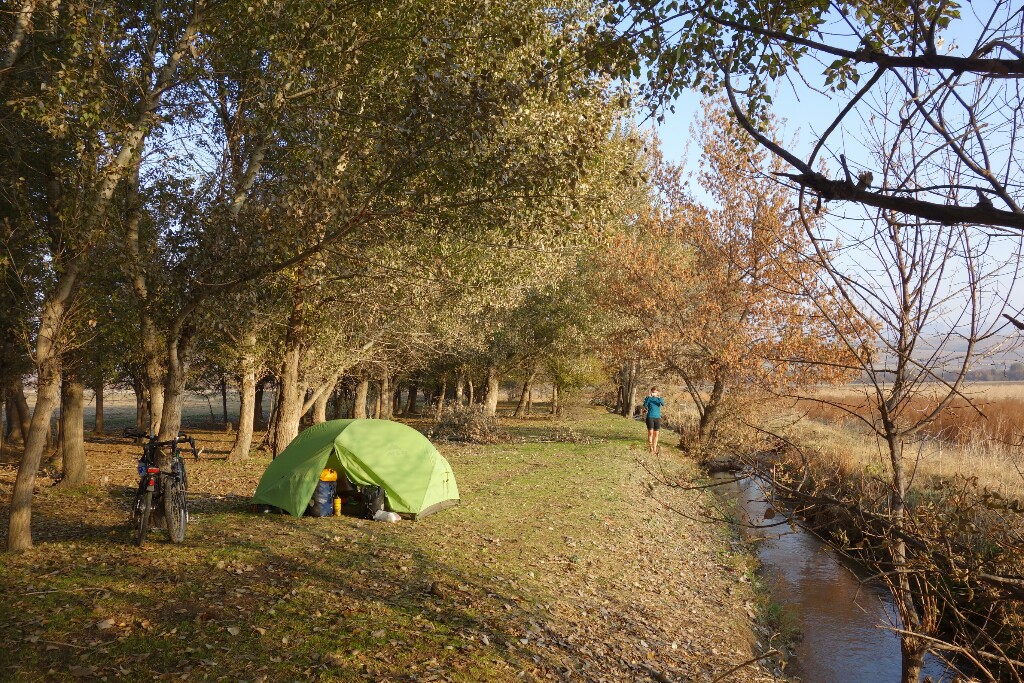 The next morning we think we are alone, but then about 50 horses pass by, alone without a horseman.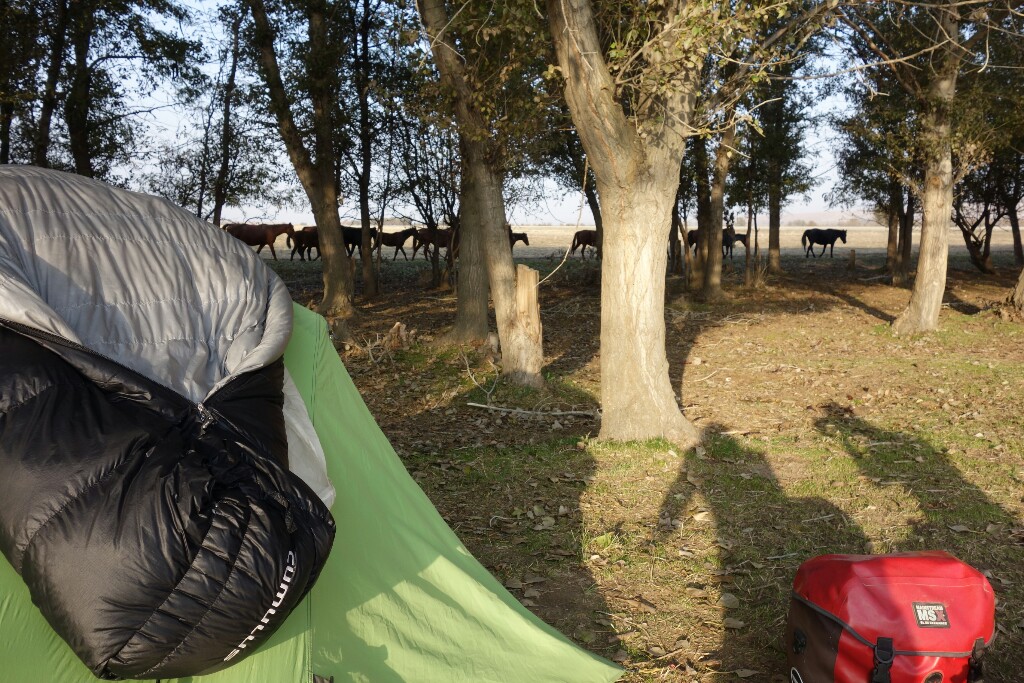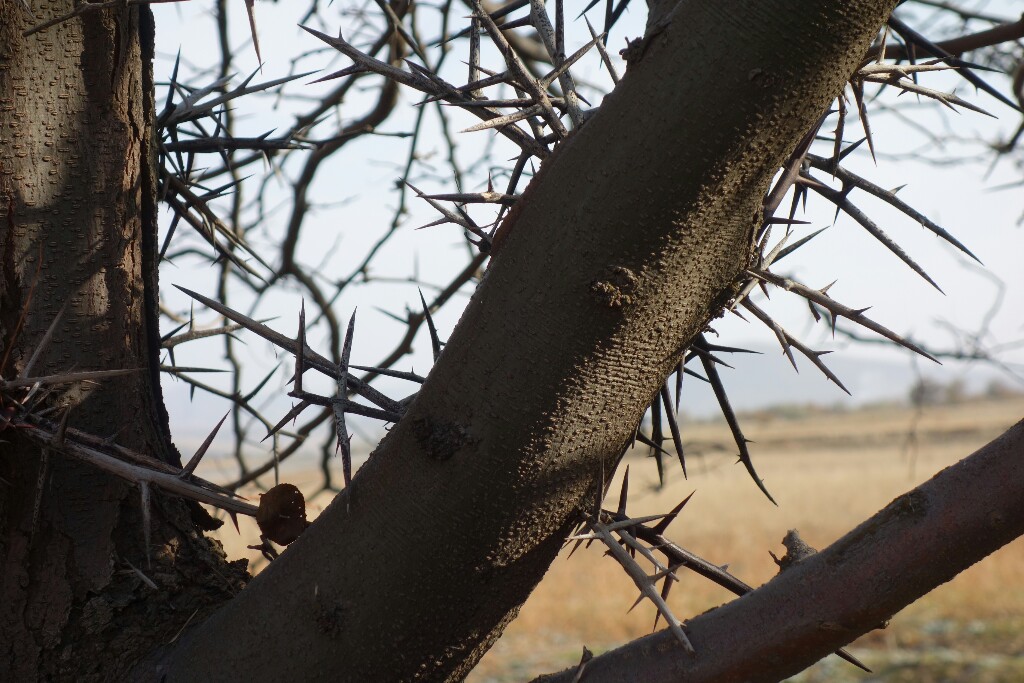 For another 30 kilometers we can enjoy the road only for us.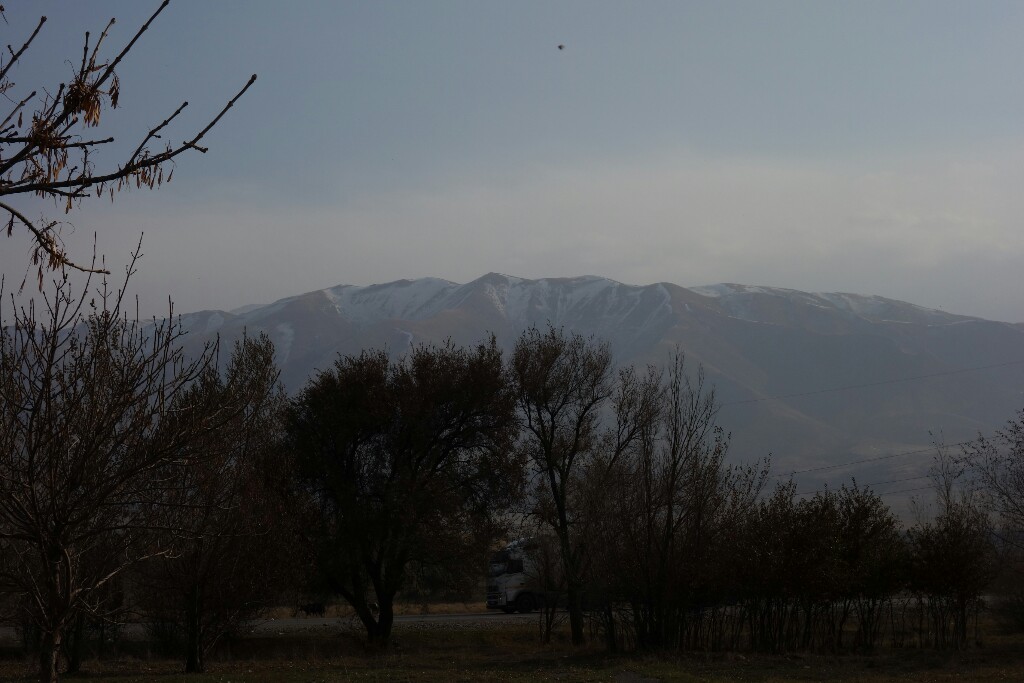 With impressive sun cloud mood we go east and camp in between huge hedges.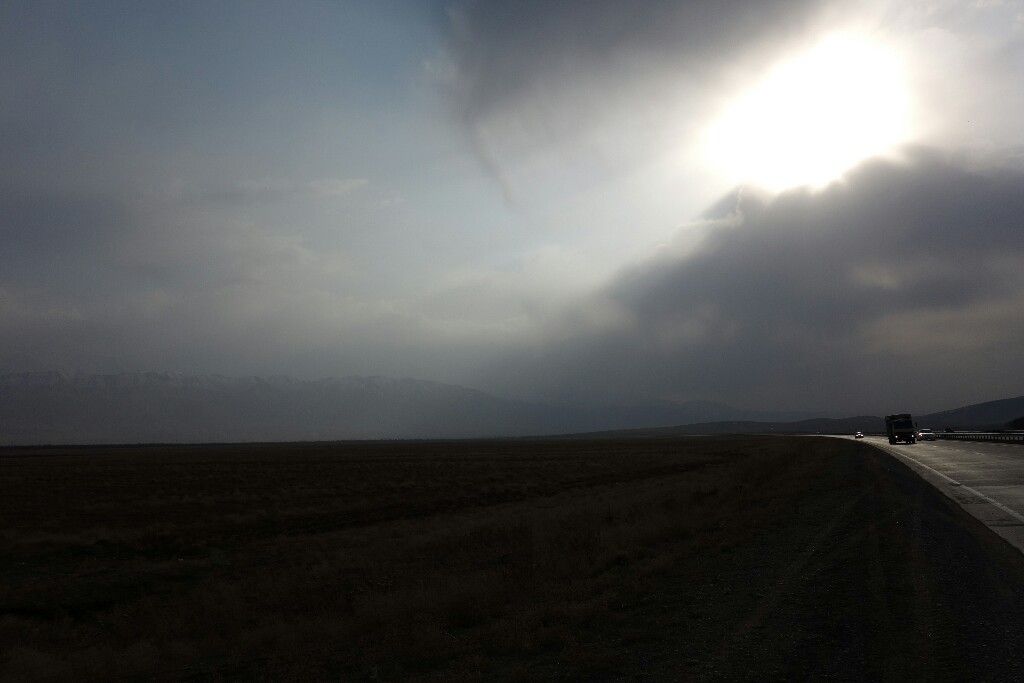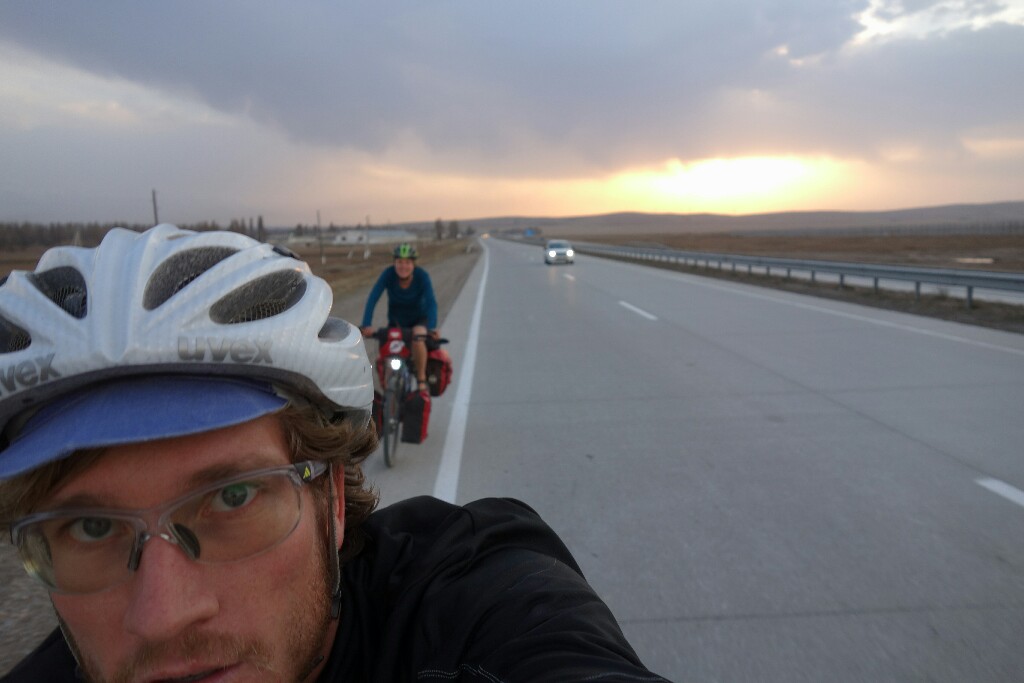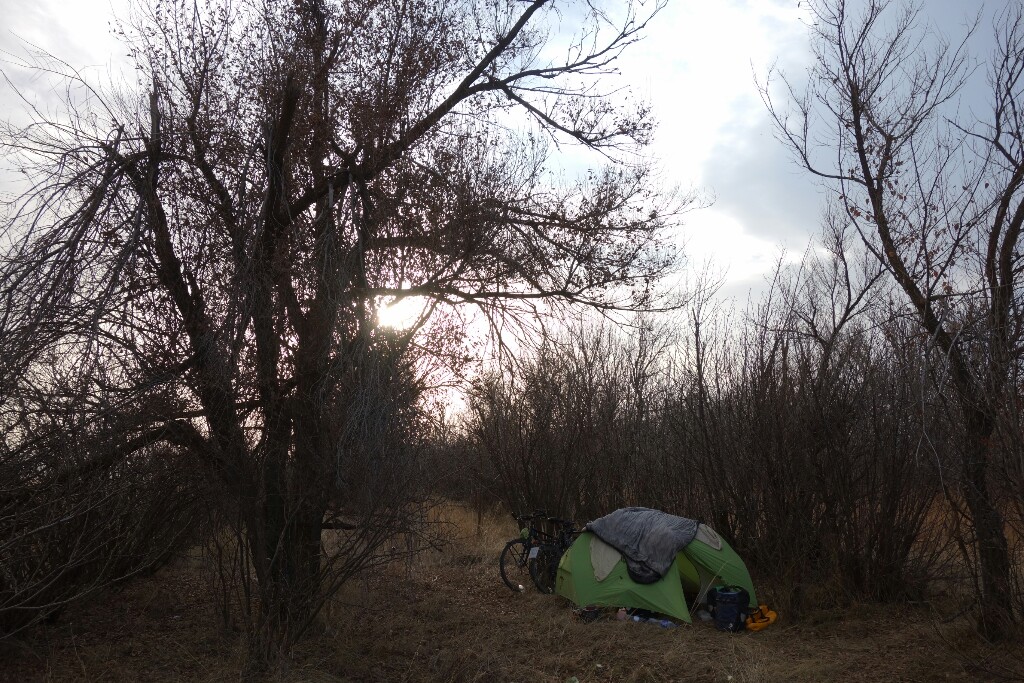 We pass Taraz, only one hour till sunset, what a pity, Johanna's back wheel has a puncture. Now the puncture statistic is draw again. 3:3. It was a small thorn in the side. But at least the light is nice and the ferns look beautiful.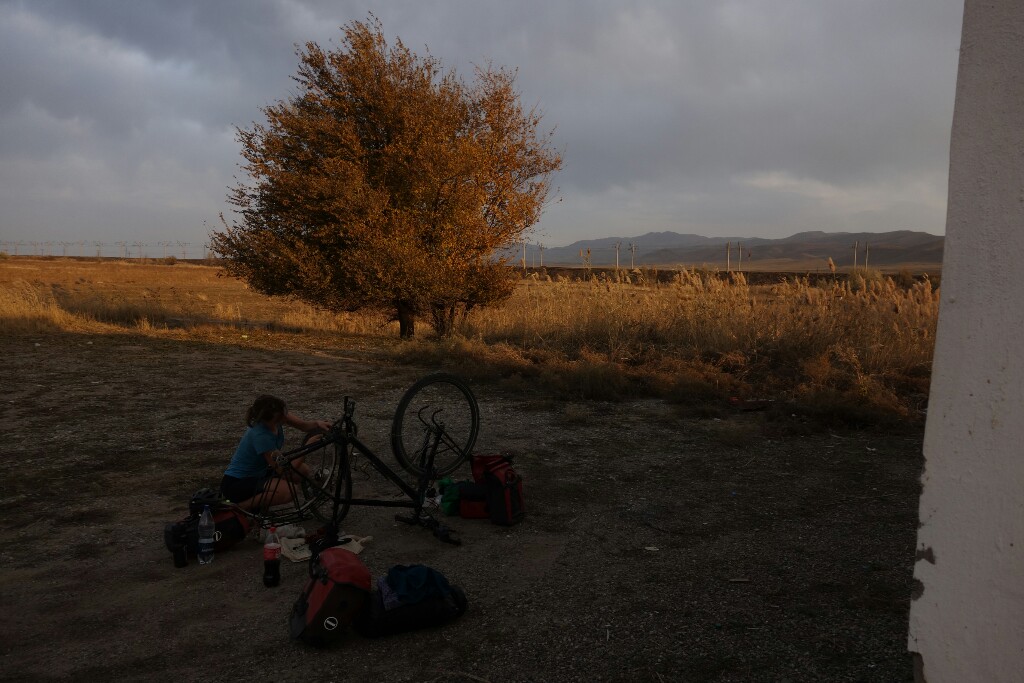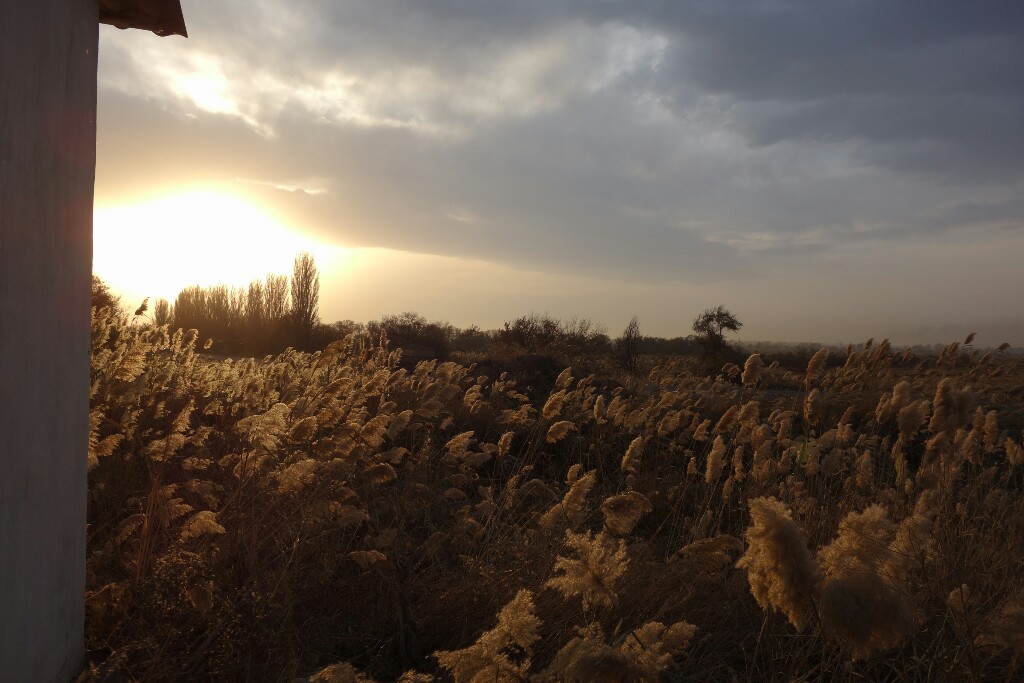 We try to mend it fast, but we can't go far anymore. The best place we find is next to the railway. The wind is blowing strong, the ferns are a good windshelter, but also make a lot of noise, sure no comparison to the trains noise. What a night, however good coffee in the morning helps. 🙂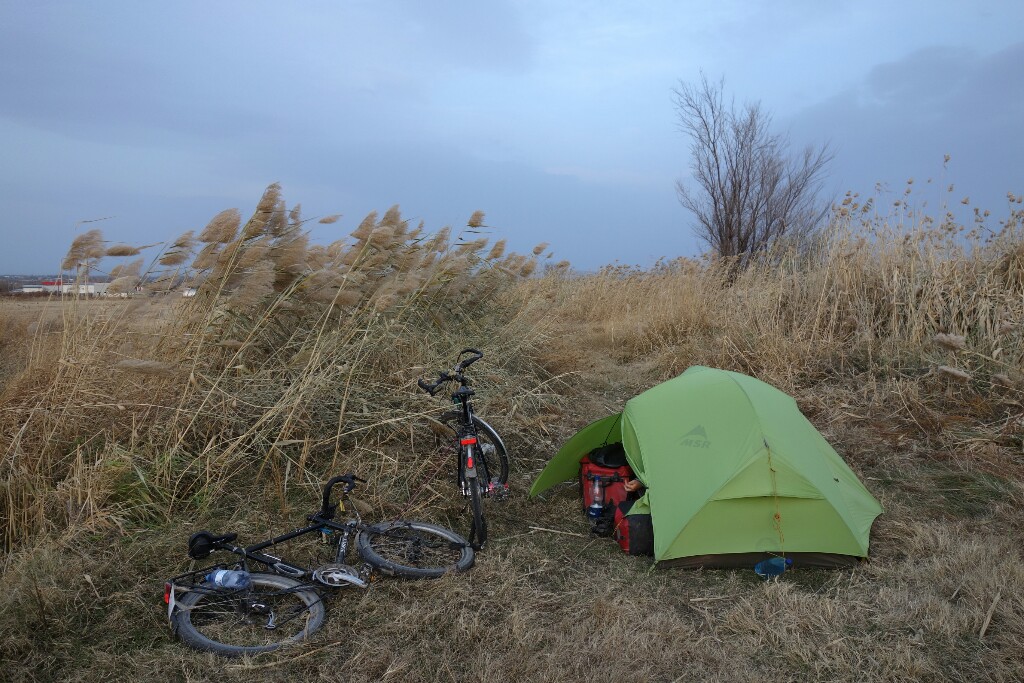 We start cycling with good wind, while we have our lunch in a restaurant the wind gets crazy.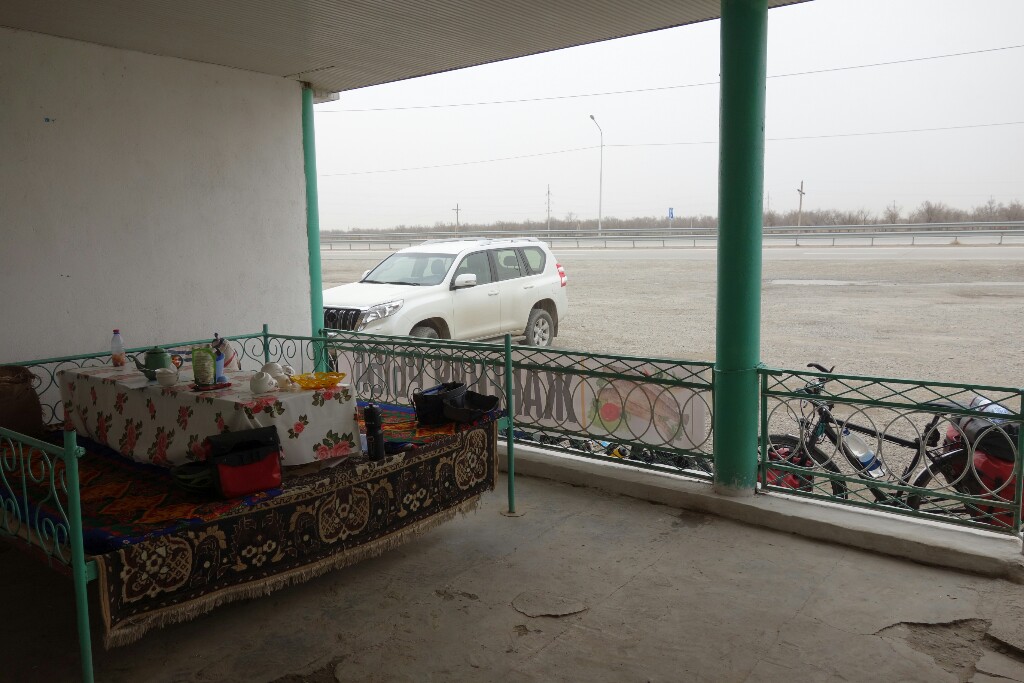 We eat up, buy some food for the night and jump on the bikes. It's tailwind, we easily pedal 30 km/h. In a small town we ask for a hotel, and this time there really is one. Not easy to find, but we are lucky to find one at all. It's cheap and looks quite new. All the panniers are on the table and on the chairs because we saw a mouse and are afraid that it bites a whole in our bags.
Our гостиница (gostiniza, hotel) in the next morning.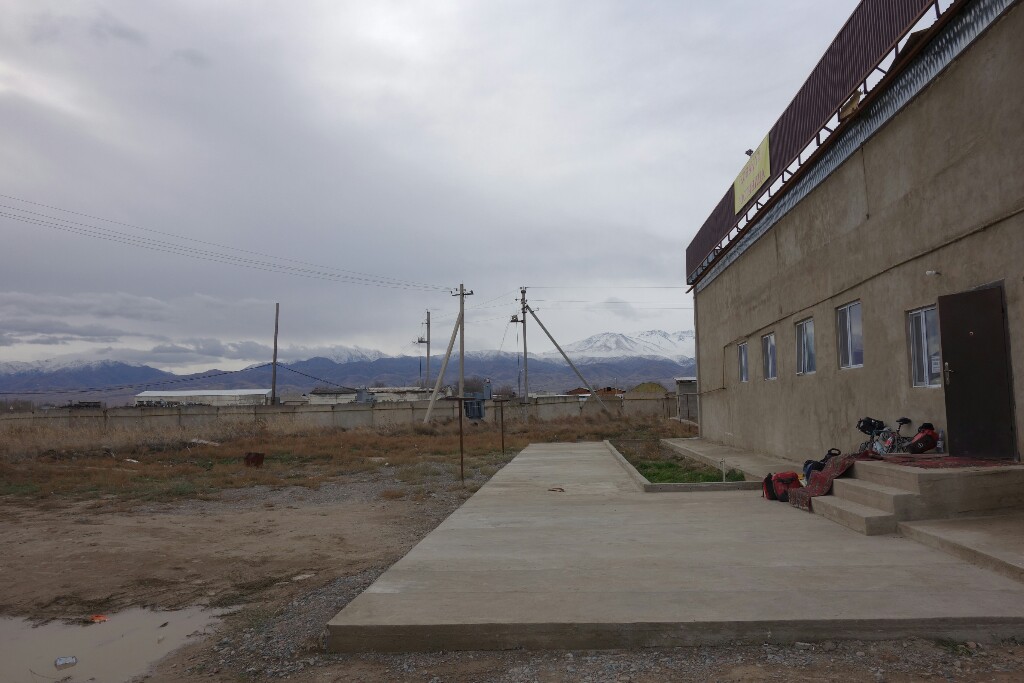 The wind is still with us and the snow mountains in the south are amazing.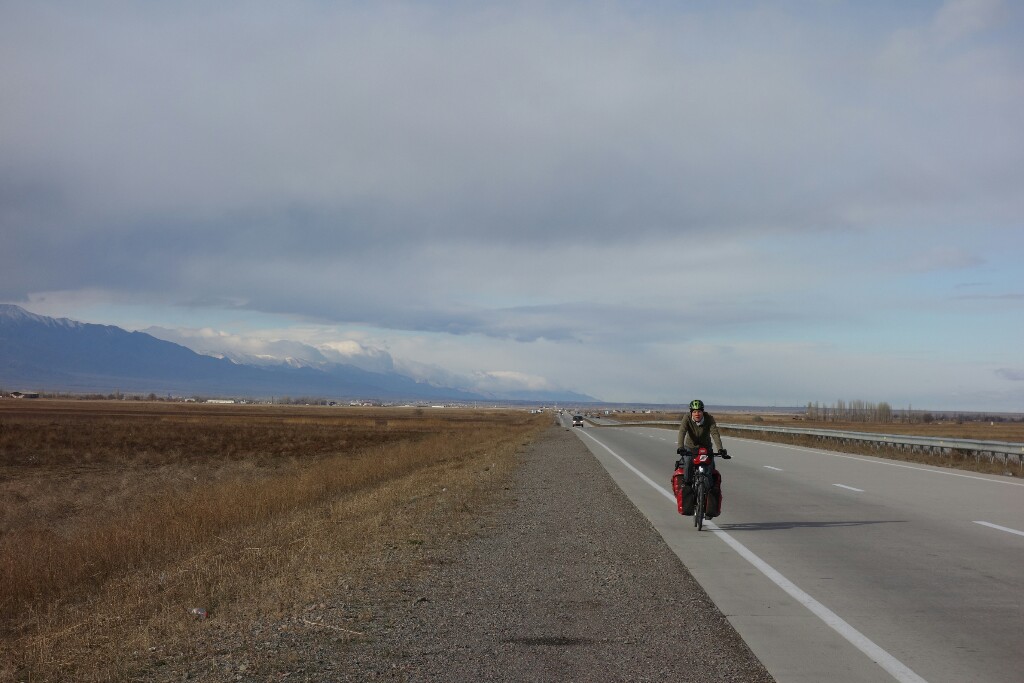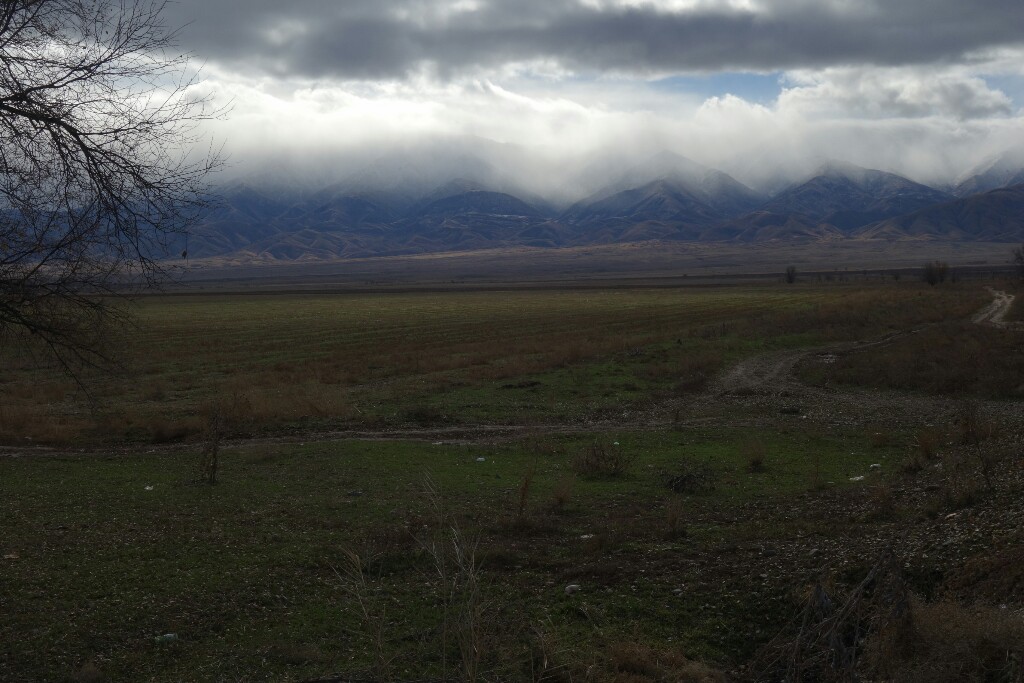 Seems like a bio market, but just looks like one.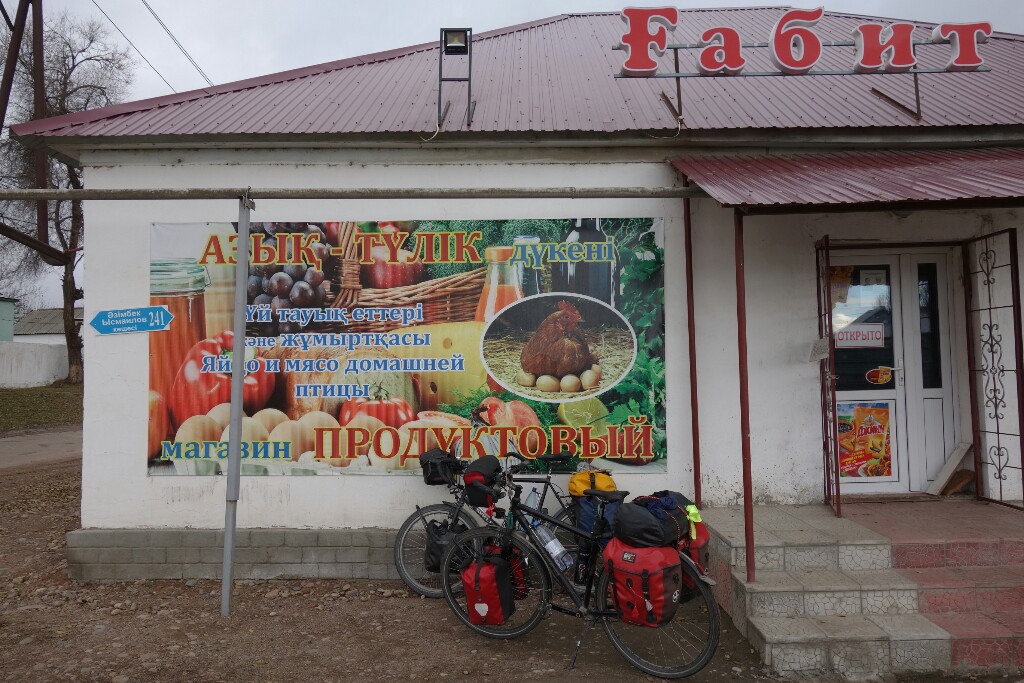 After the city Merke it's not far to the border of Kyrgyzstan. As we can't find a hotel, we have to ask people again. An old man, who chops wood in front of his farm, invites us. He is the uncle, together with the children we wait for their parents and they dish up a vegetarian meal just for us. Again the next morning they dish up a perfect breakfast with pancakes, fresh bread and strawberry jam.