Welcome back in Thailand.
For Johanna it will be the last country on our journey. After one year on a bicycle she will fly back home from Bangkok. For me it will be more or less a east-west crossing through Thailand on my way to Myanmar.
Because we had a last swim in Cambodia in the sea and talked to a German couple, we are late and cross the border during midday sun. The heat is stunning. But everything works pretty easy and we have a stamp for another free 30 days in Thailand.
After cycling a bit we find a restaurant and a while later a café for real cappuccino and dessert.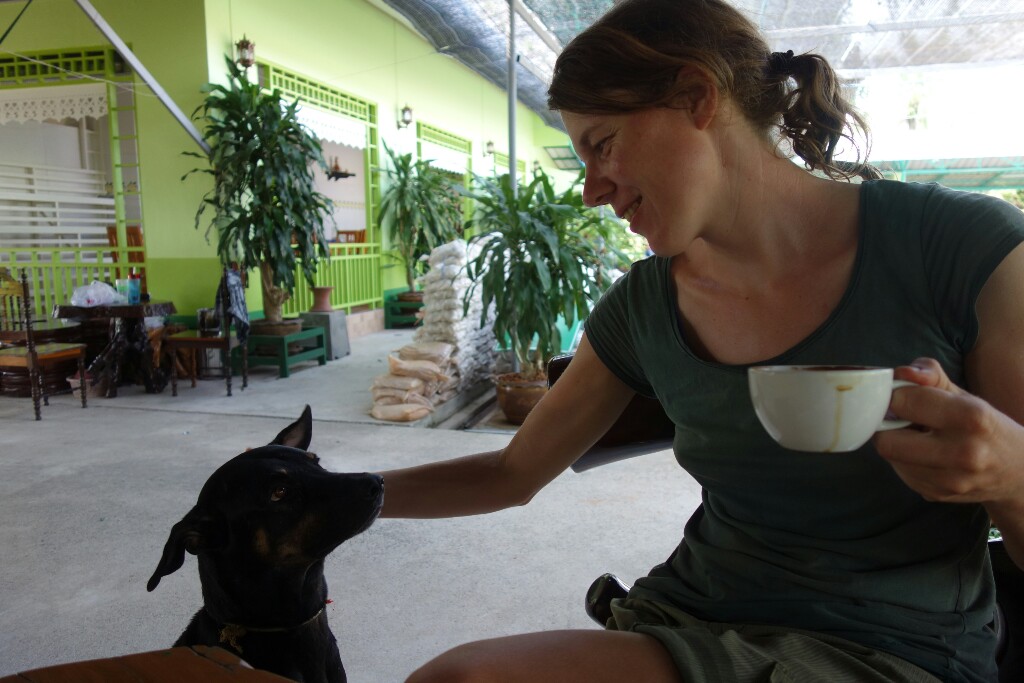 There is more than one main road again, and as soon as possible we go for the small pleasant parallel roads. Nice old VW-Bus.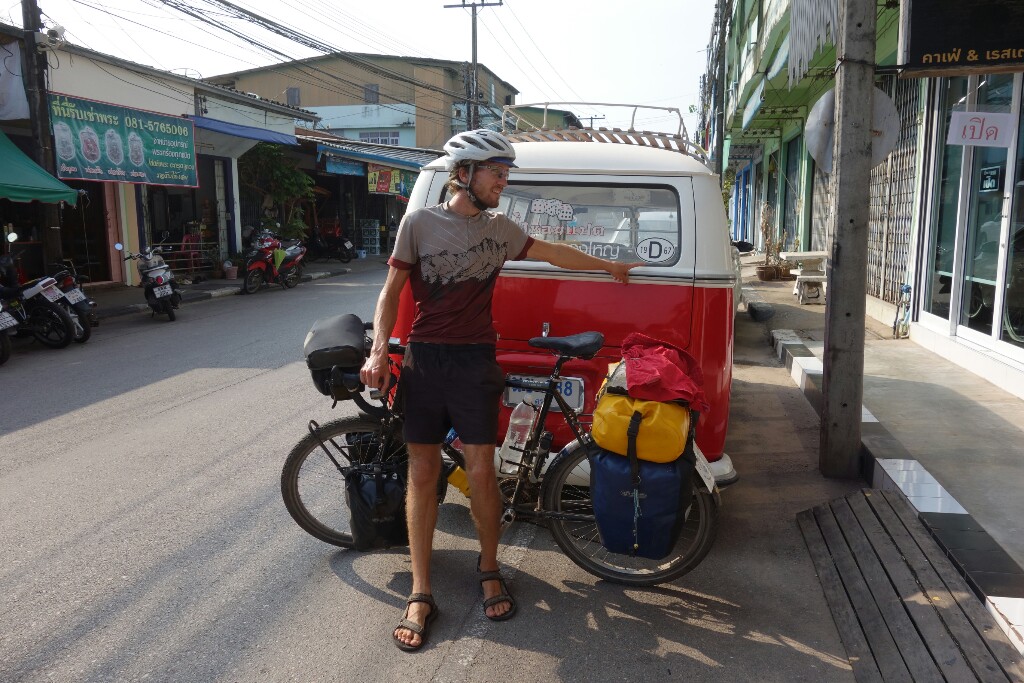 We make a big mistake and try to open a fresh cashew nut with or mouth. It's very poisonous. Our mouth burns, hurts and gets numb. We are happy about the mobile bar and have a Sprite to relieve our mouth.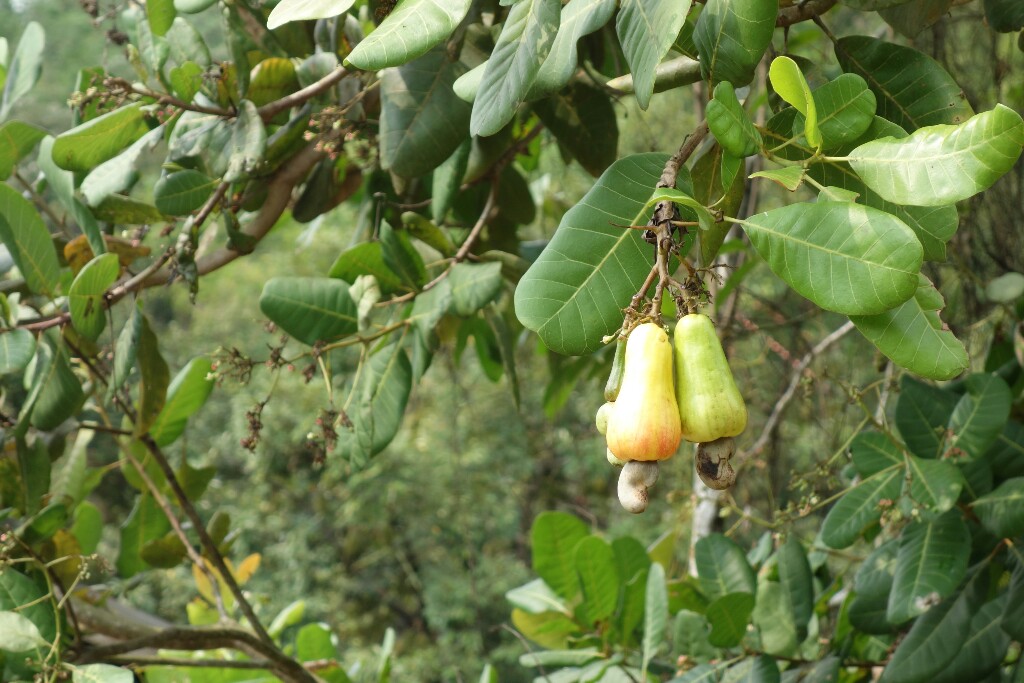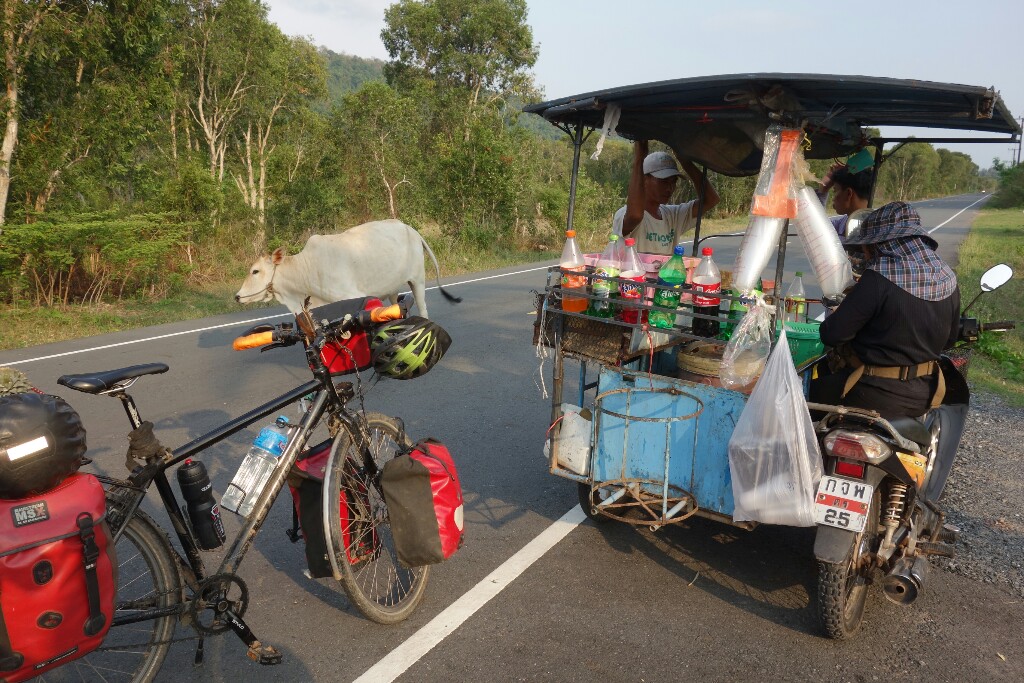 At evening we pass some nice small resorts, but the room price is to much for us. At a very small one we ask if we can camp. Yes, we can do so and it is directly at the beach. Actually the place is made for camping as well,  but doesn't have any English sign. We go for a swim in the warm water. At the beach we admire the never ending work of the mini crabs. If they know, how arty their cleaning is!?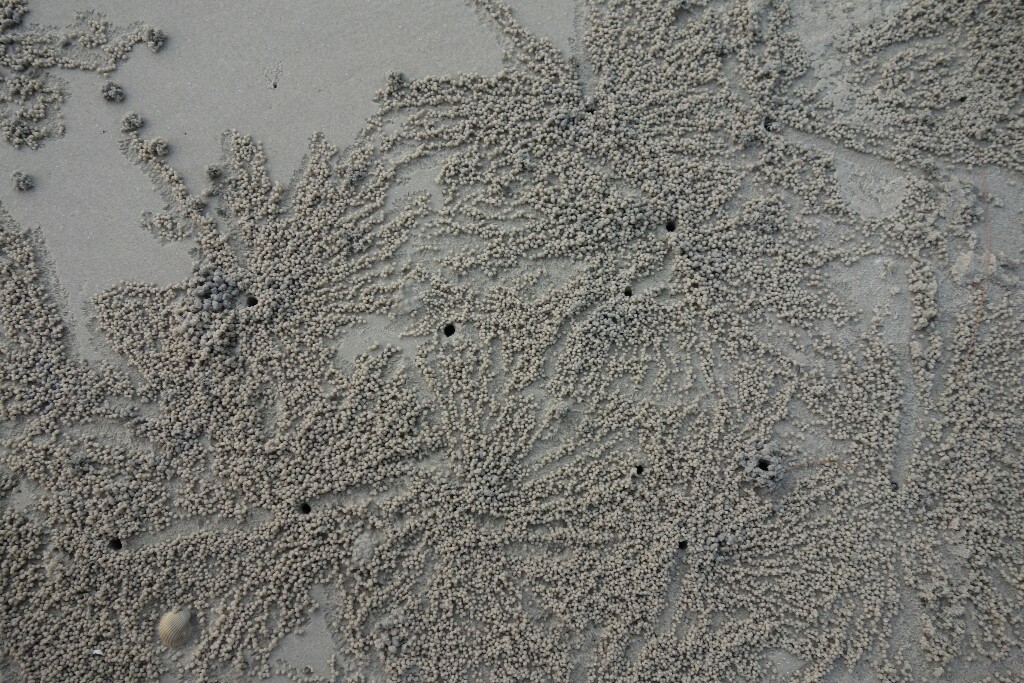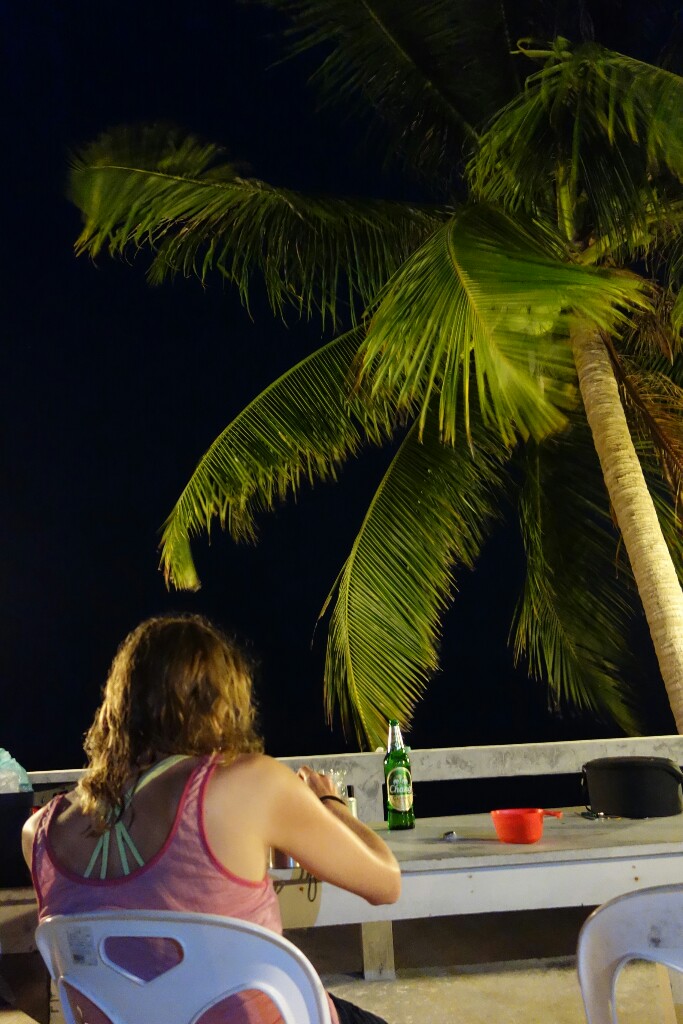 At a short break for peeing we both frighten when something falls from the tree. It is a nice shiny lizard. After the fall from about 3 meter he runs to my bicycle and hides between tire and mudguard. When I turn the wheel he plays rat race.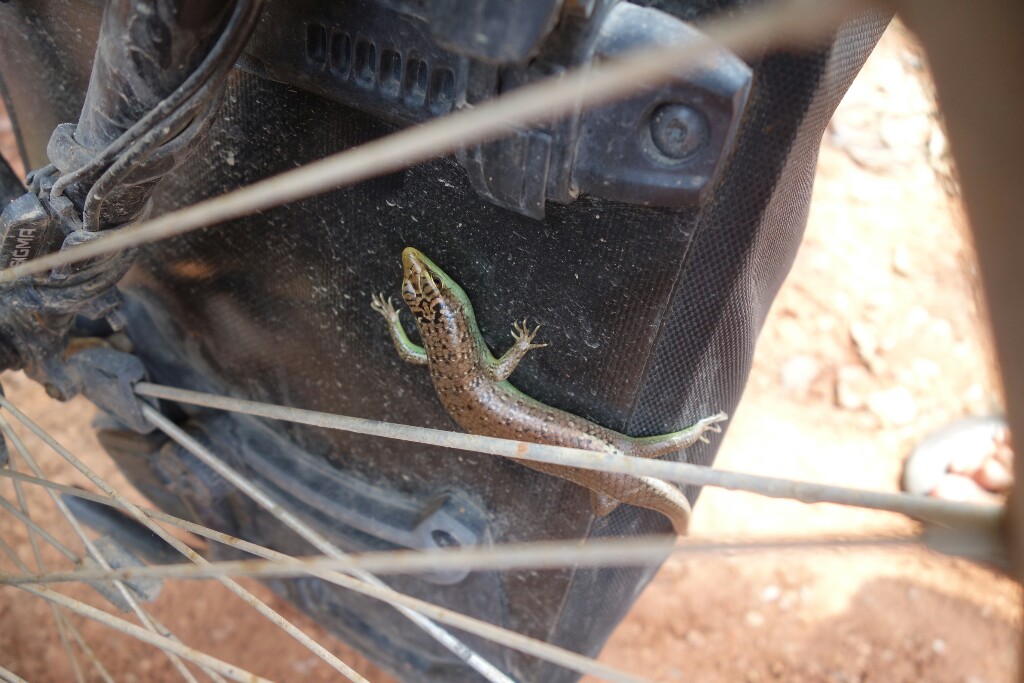 I don't know what tree it is, but it looks pretty funny. I call it light bulb tree.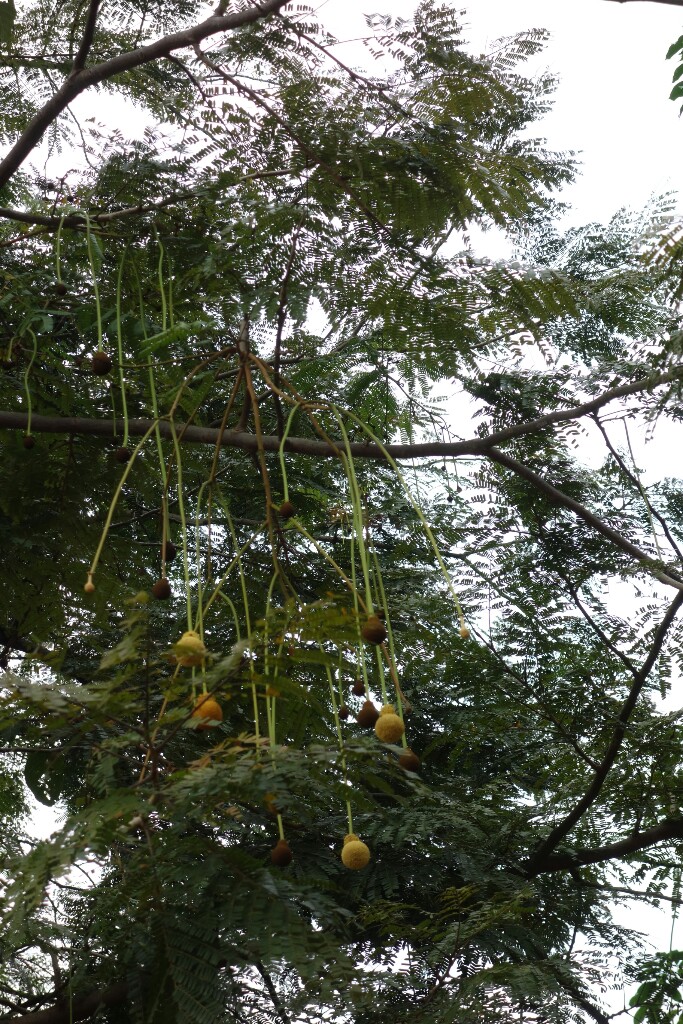 And another (maybe half parasite) beautiful looking plant.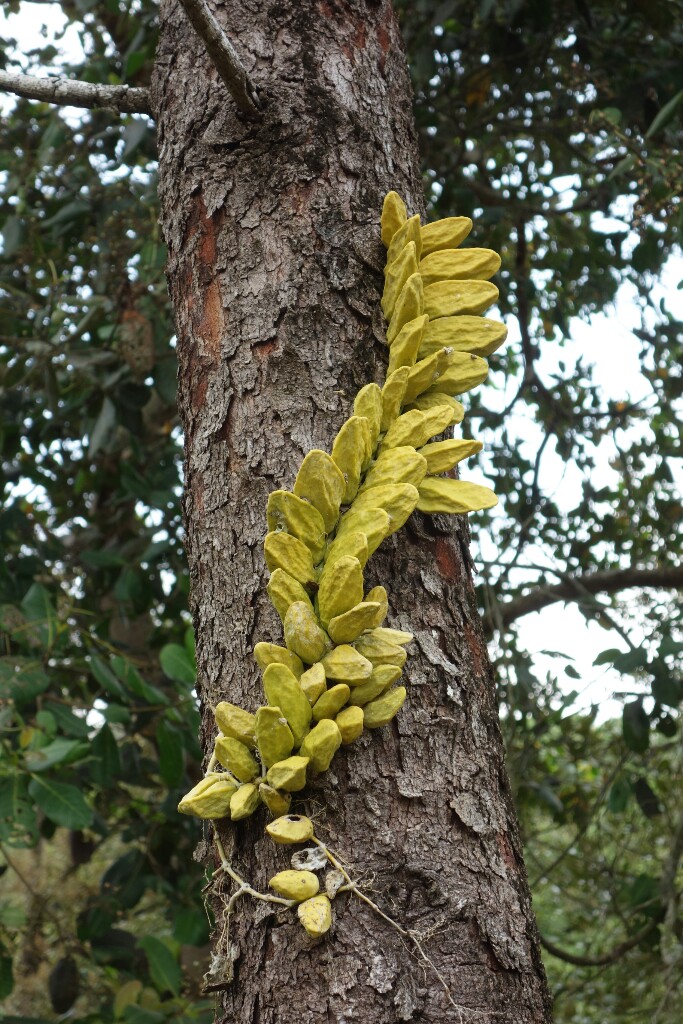 At a sign "black sand beach" we have to have a look. Walking on big concrete footbridge through the mangrove forest we reach it and have a small rest before we take the ferry to the Koh Chang island.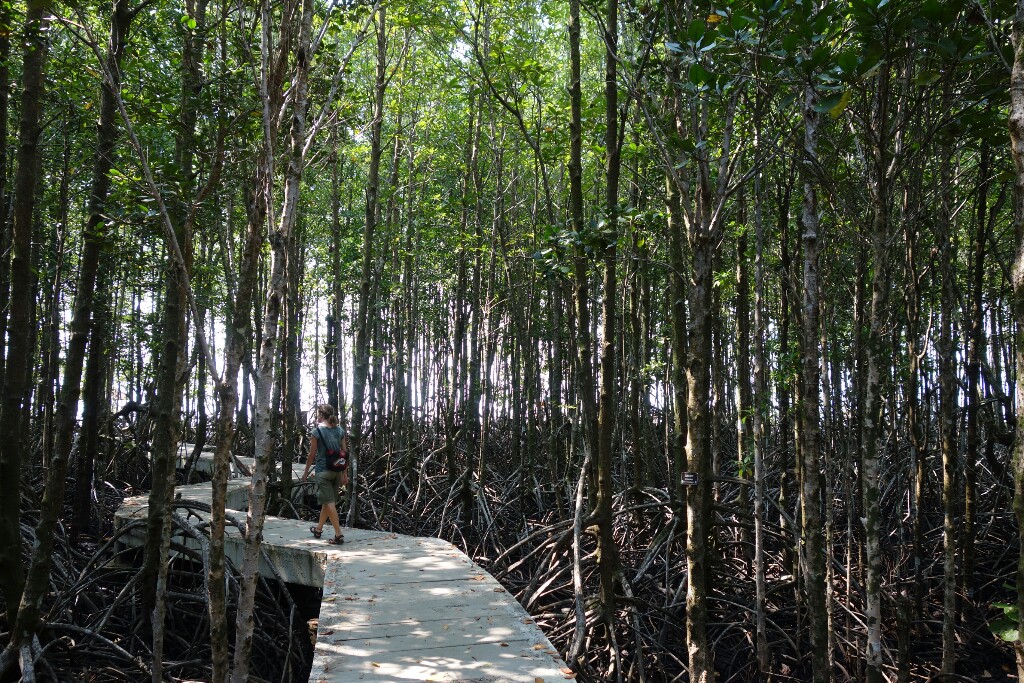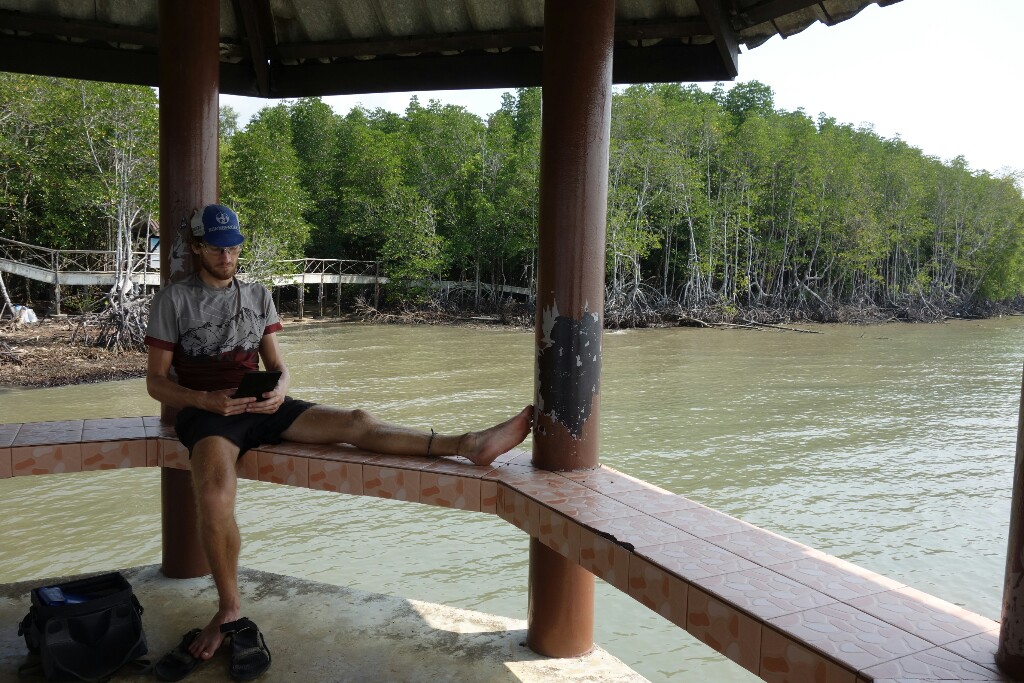 Johanna wants to go diving on Koh Chang. Cycling to the other side of the island is very hard, the road is built brutal steep. I don't know what the constructors thought. We have to push our bicycles, it's not fun at all.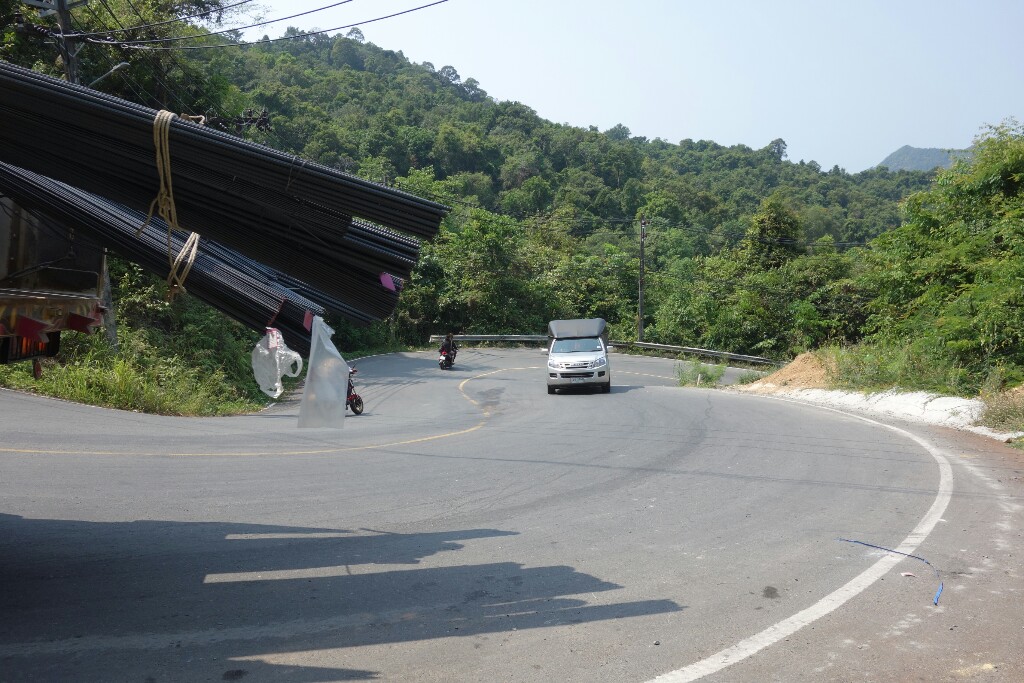 Somewhere in a village at the coast we find a nice and quiet bungalow, where we will stay some days.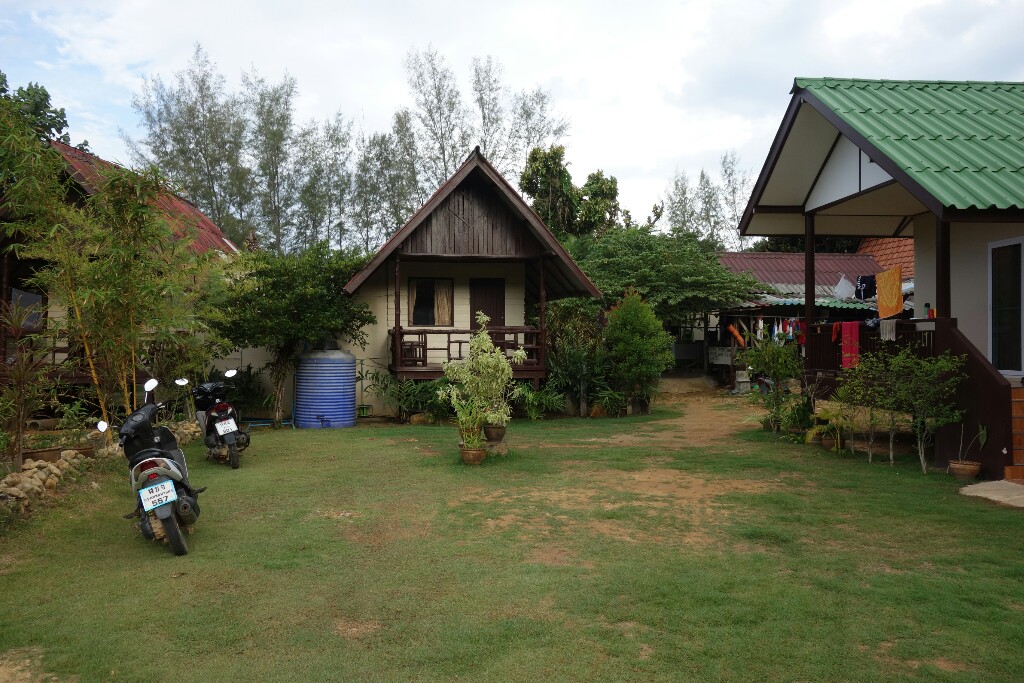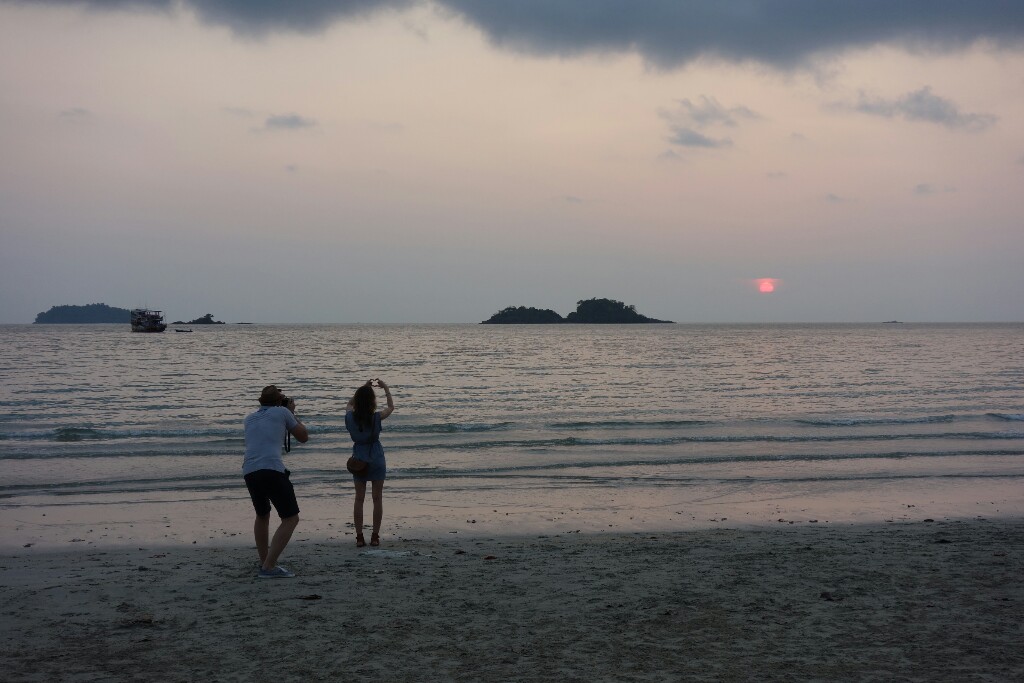 The next day we cycle (without luggage) to the end of the island. We see the biggest banana.
While Johanna is diving, I visit a nearby waterfall. I find a hidden hiking trail and follow it for a long time. The path leads through deep jungle and ends on top of the waterfall. I am happy being on top, all the other tourists are at the bottom. I enjoy the loneliness and silence in the cascades.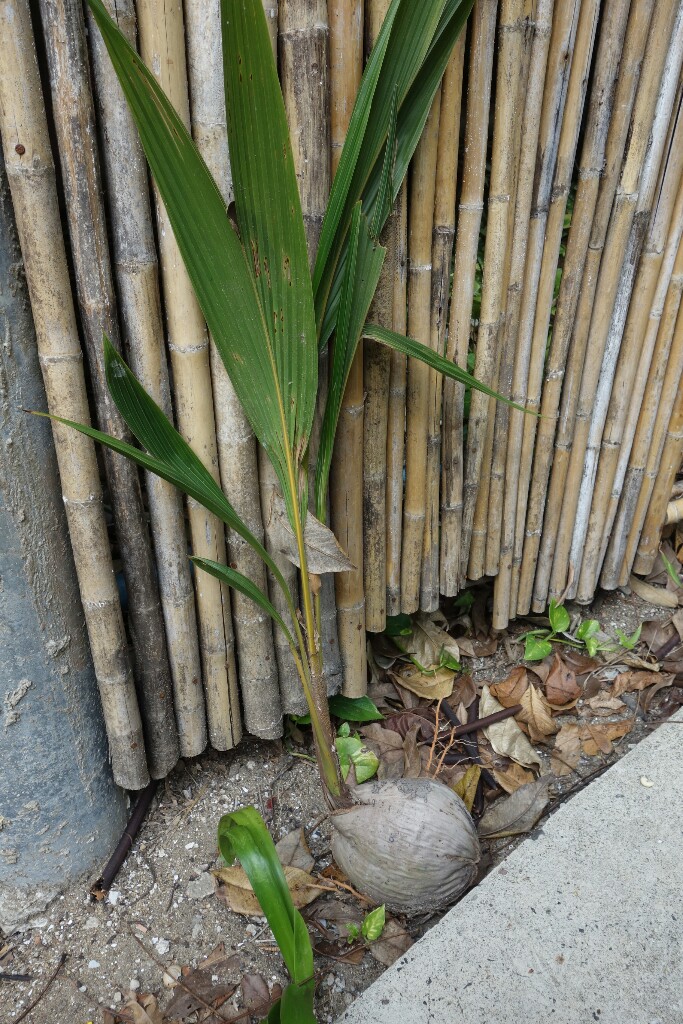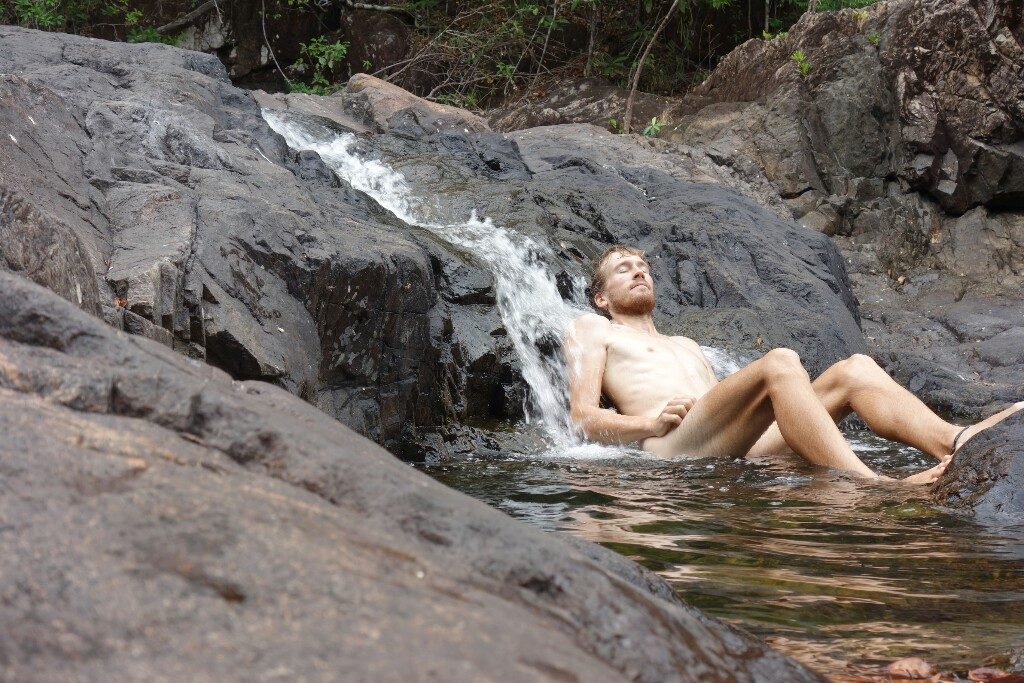 After 3 resting days on the island we take back the ferry to the mainland.
Finally we are in an area, where a lot of pineapples grow. It is very interesting to see how the plants look like.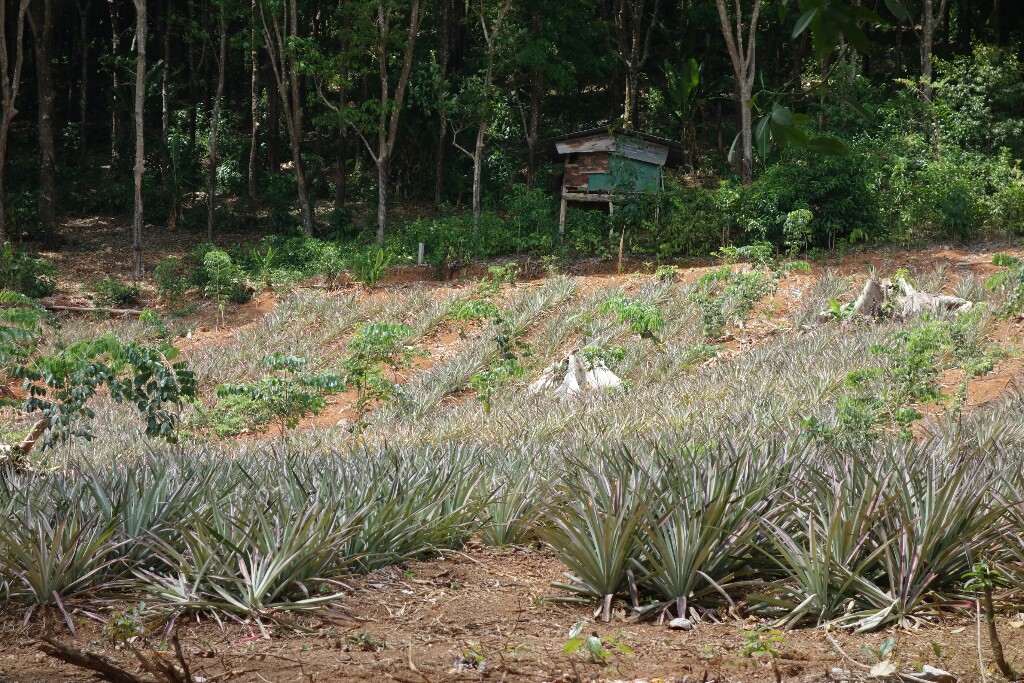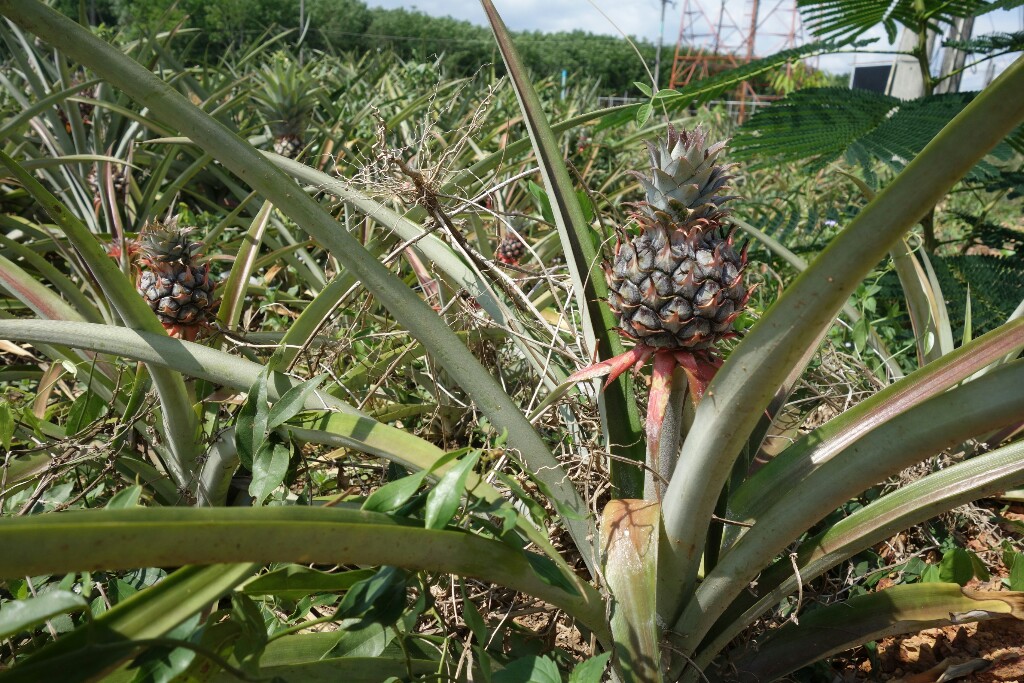 Coffee break in one of the many cafés. We call them "Hipster café", because they always look so modern or fancy.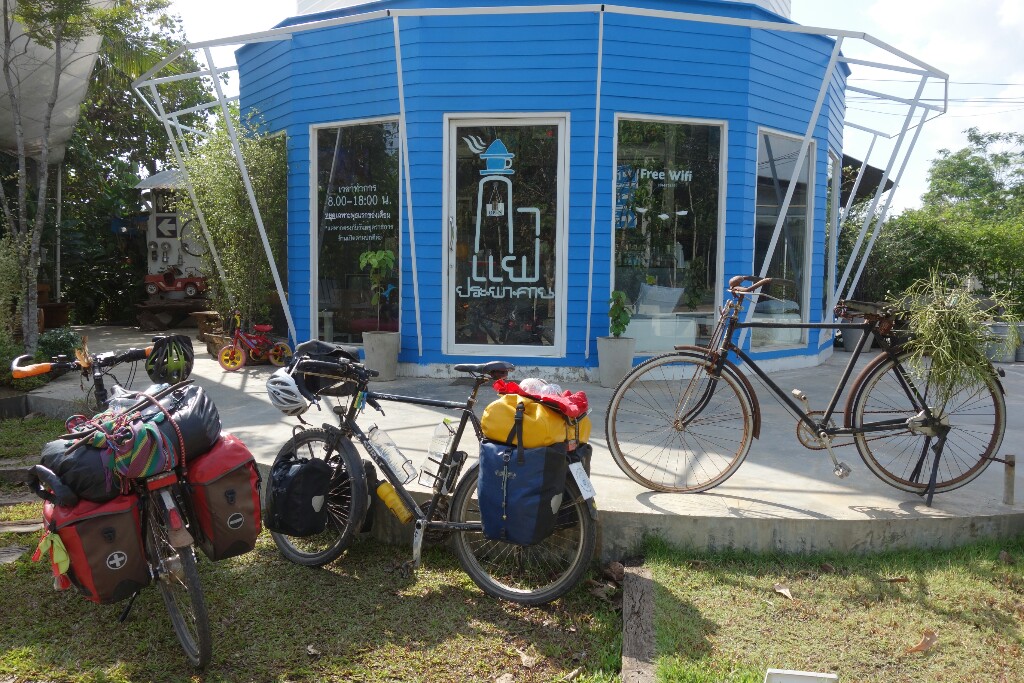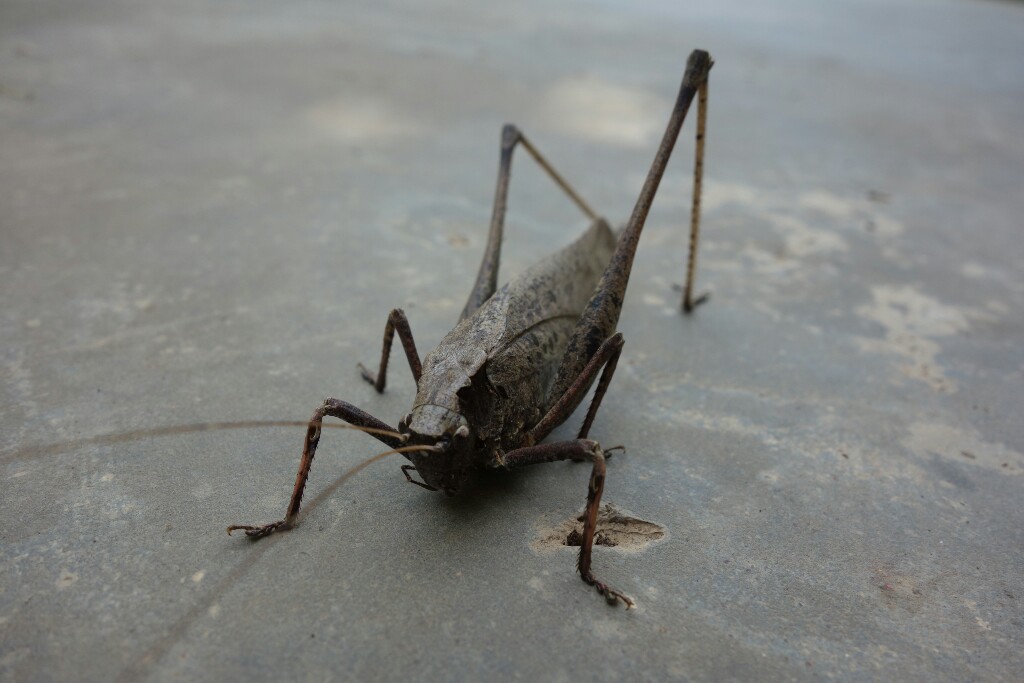 Ugly house facades in a small town, where we meet a kind women called A. She invites us to her house and we sleep on the roof terrace.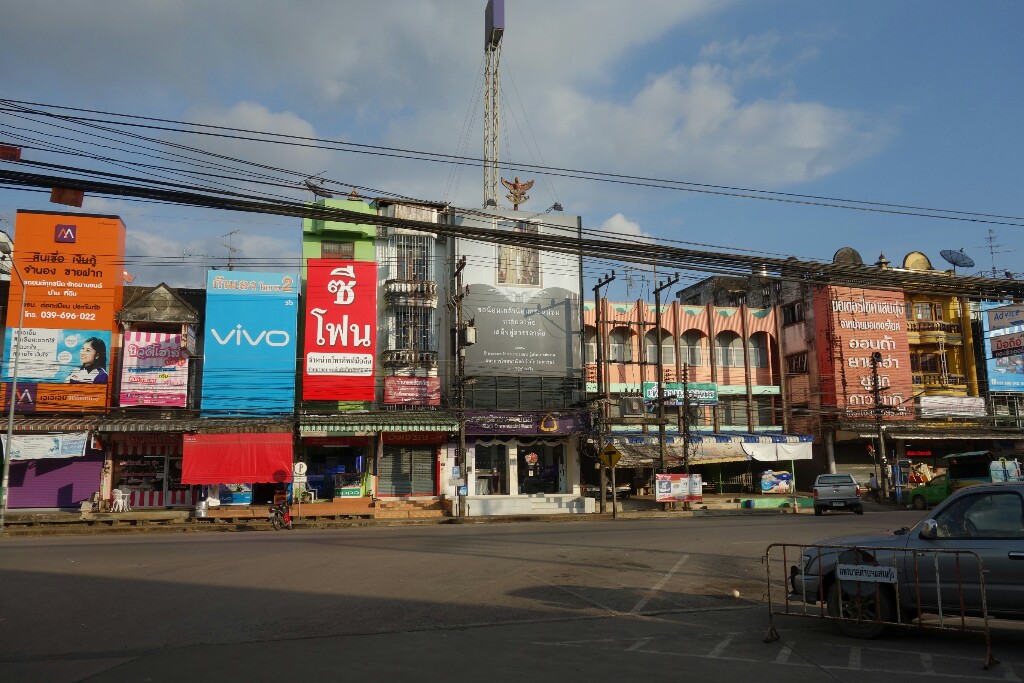 On a small road we are shouted and somebody gesticulates, that we should stop. A small party is happening. We are invited and get food. It is the anniversary day of an older dead couple.
Later the day we meet Alexis (or Alex) from Greece. He started in Bali and cycles north now. He said, he is searching for a new country to live. You can find him on Instagram: "Where the f**k is Alex". I don't have Instagram, I couldn't find him.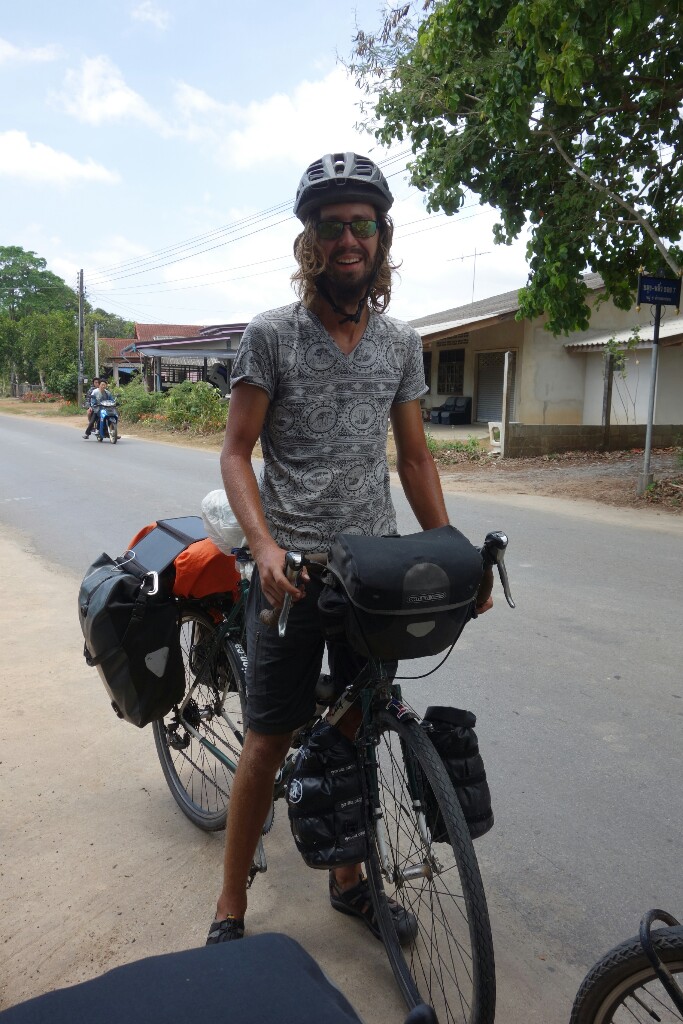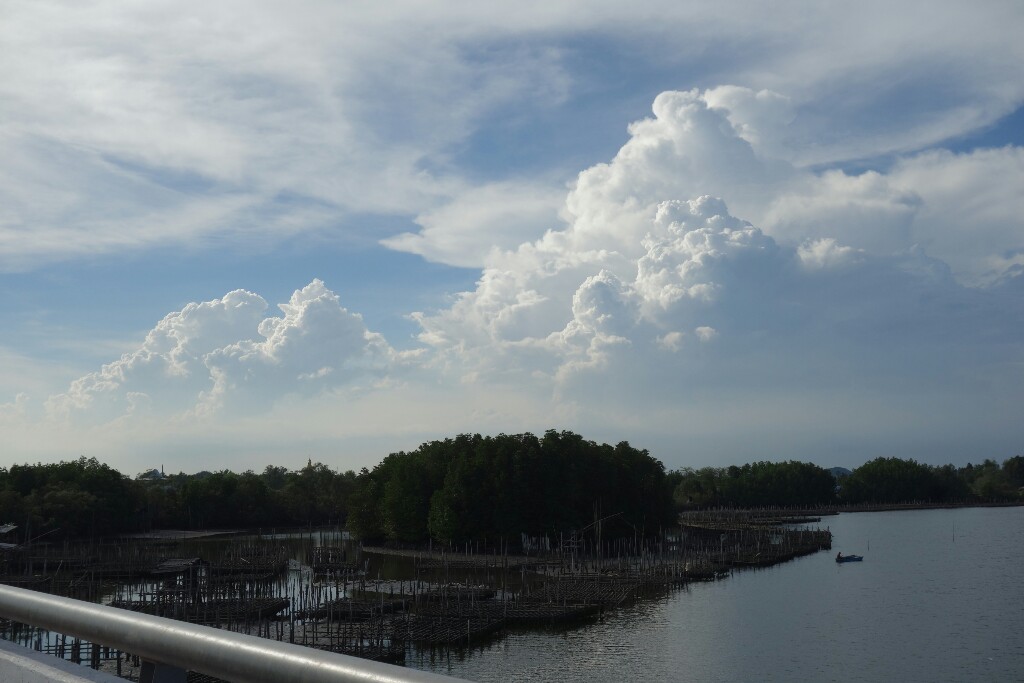 In Ban Pak Nam Krasae we have a short look at an old warship.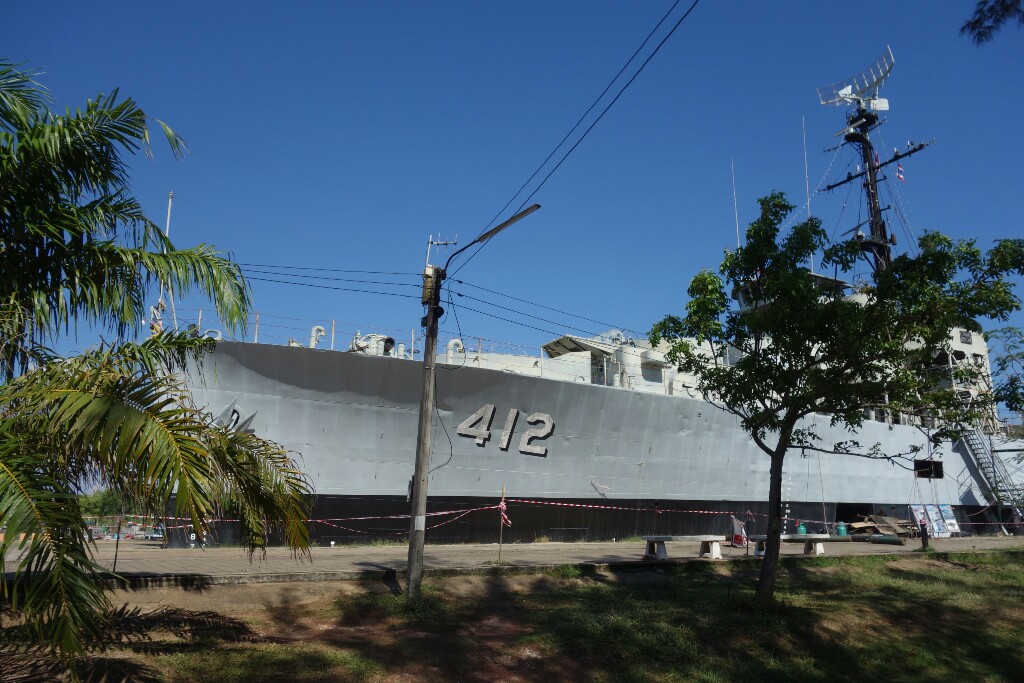 Beauty and ugliness.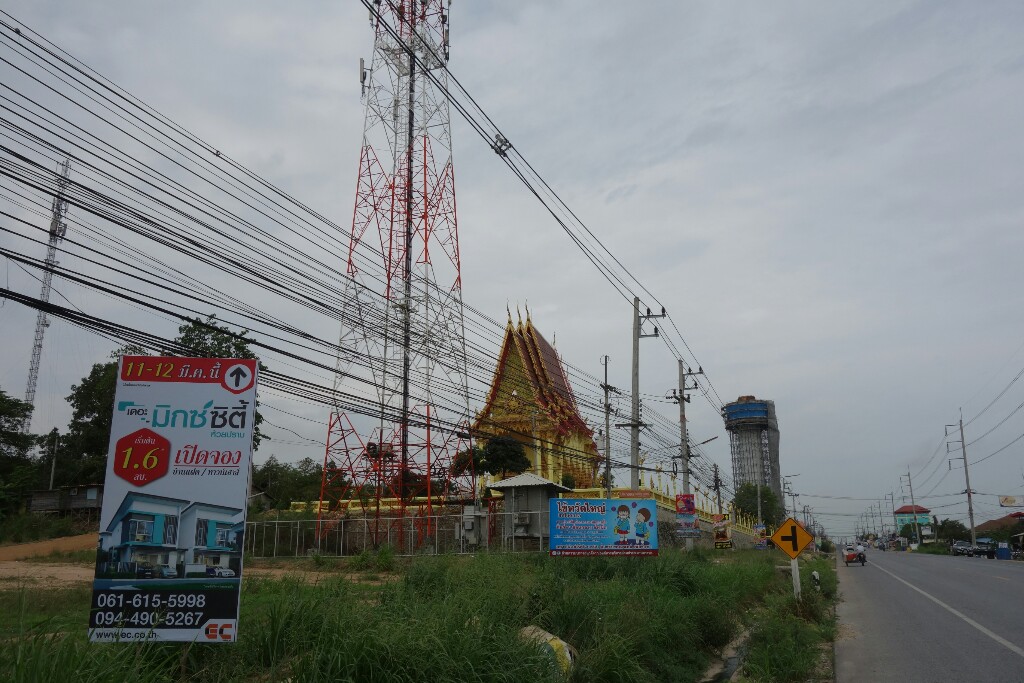 Near Bang Phra we rest for some days at Neils Ecofarm. He has a big building site/lifelong project and it is a mix of an eco farm, permaculture and a school. Very interesting. A lot of volunteers come and go all the time.
Together with Eduardo from Chile we cycle to the coast to visit the small island Ko Si Chang. On the way we see a lot of dog apes, unfortunately they live from the rubbish.
I am not so well today, so I decide to skip the island and return earlier. From one of the ugliest beaches so far I have a view over the industry filled ocean to the island.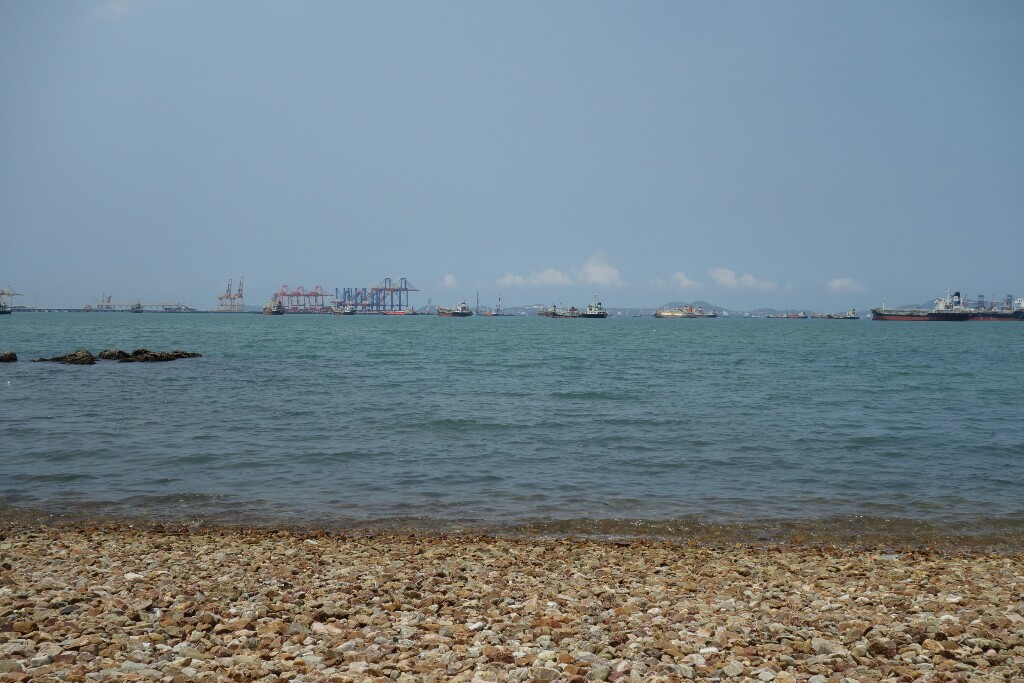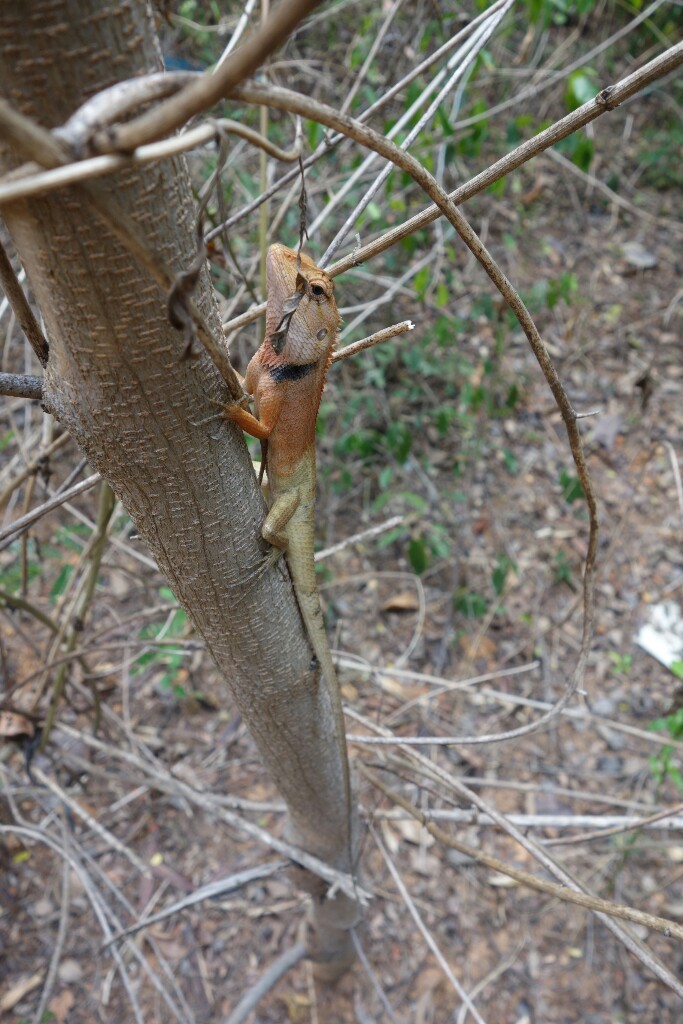 On the way back I cycle through a large cemetery with very special graves. From the front and from the back.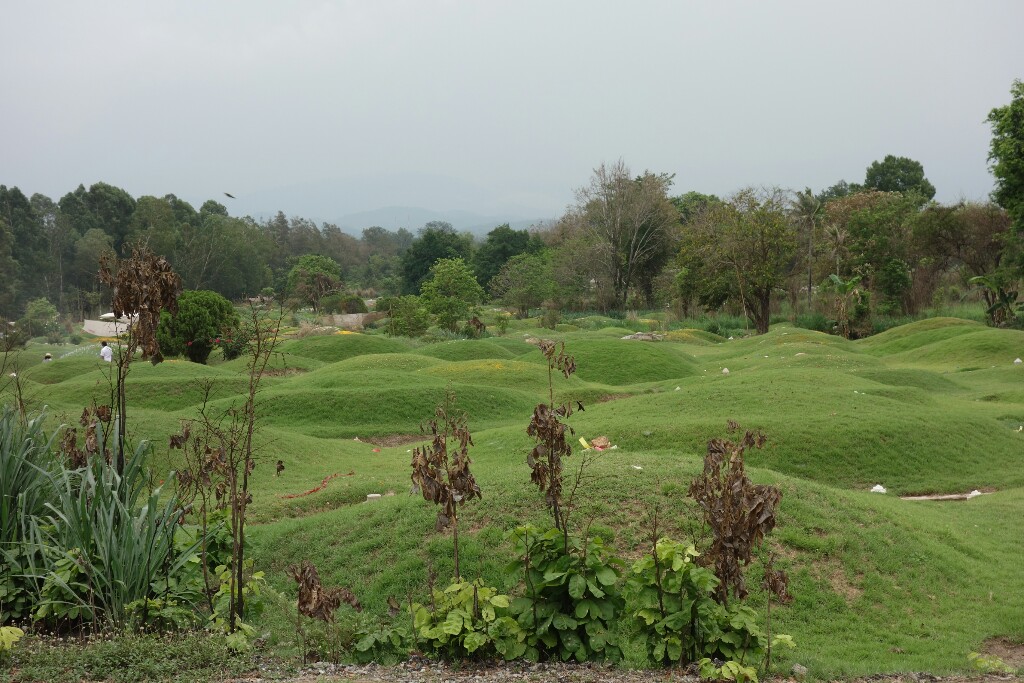 Near the ecofarm there is a big artificial lake with a dam wall, I like the place. We have some relaxing hours there.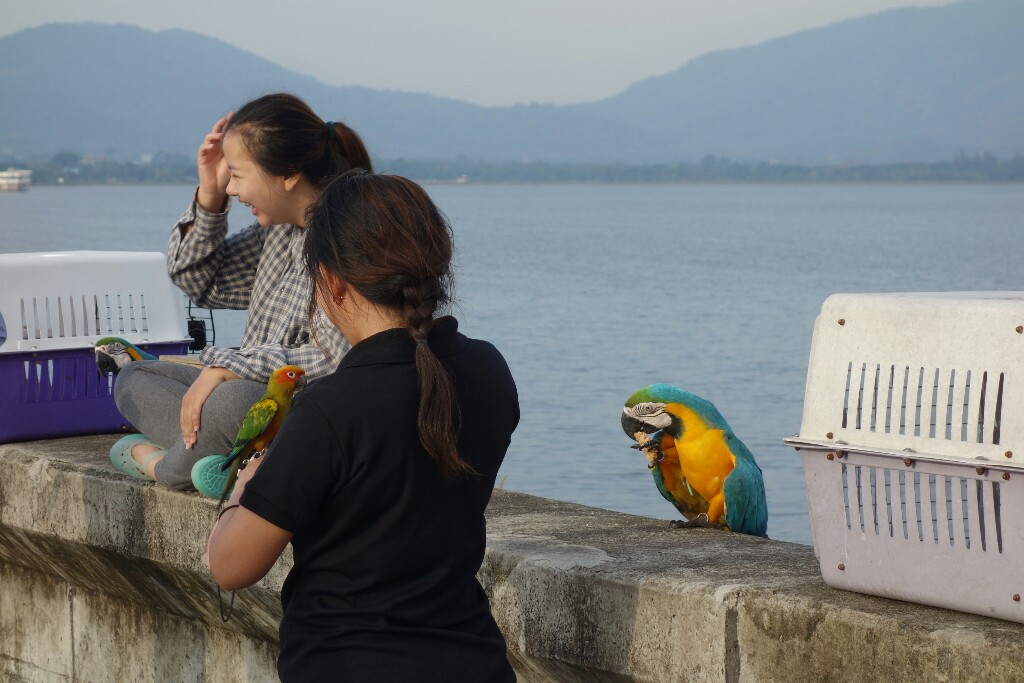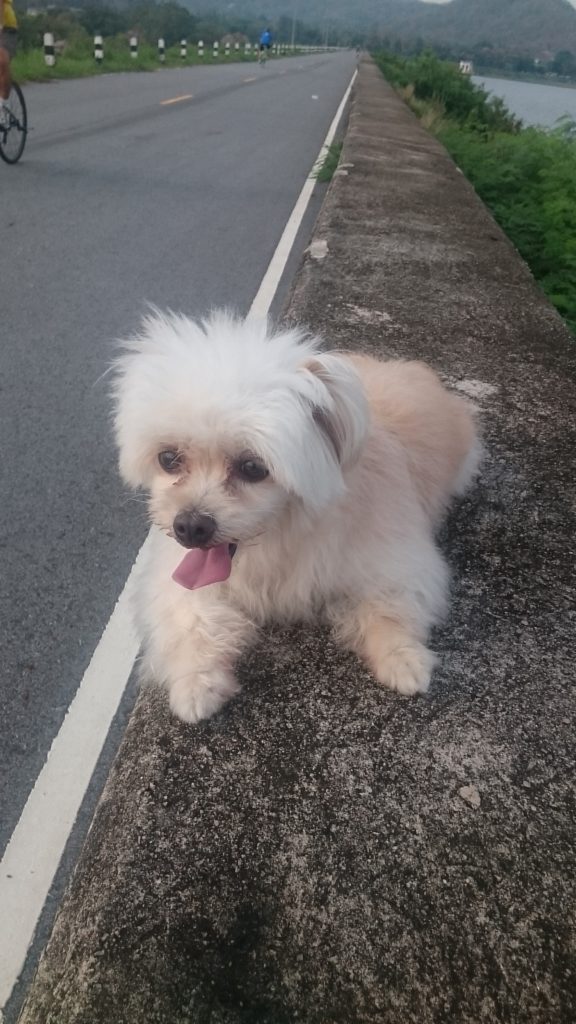 The way to Bangkok has some not nice and unfriendly parts to cycle for us. But for the most part we find ok roads. One dangerous and exciting, but unnecessary bridge crossing, because some hundred meters later we have to go back to the other side of the river to the main road over a big concrete bridge.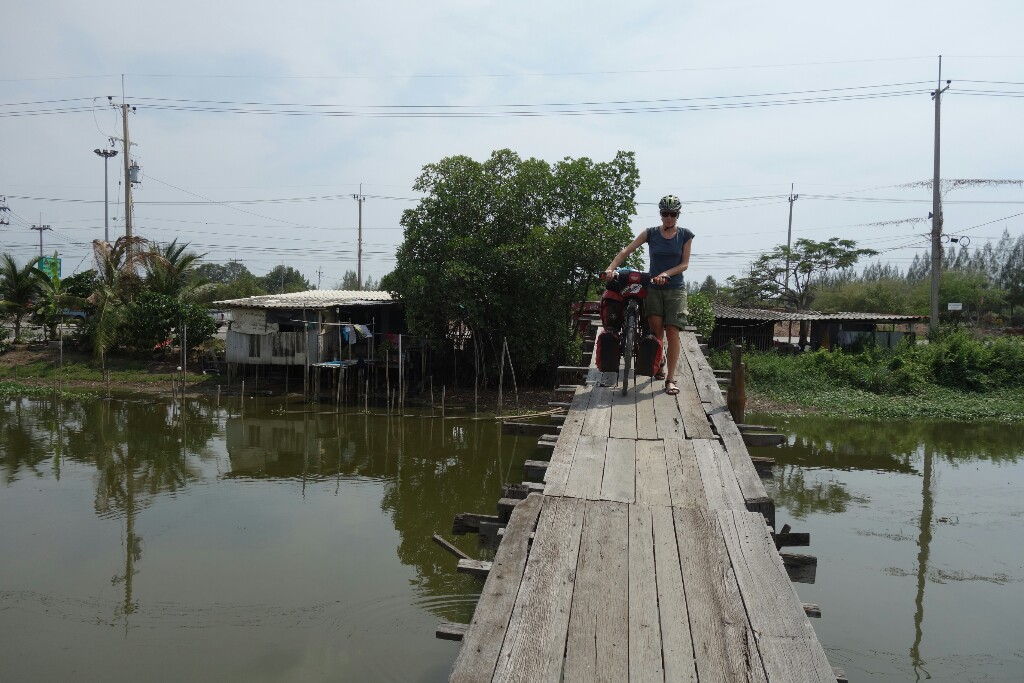 In the south of Bangkok we cross the Chao Phraya by ferry, to be on the right side of the river. The highway bridge juts enormous in the sky.
Our goal in Bangkok is the wooden room from Supaporn. The same place where we stayed in November last year. After more than 4 month cycling a Southeast Asian loop we arrive back well in Bangkok. Breakfast in the old wooden house.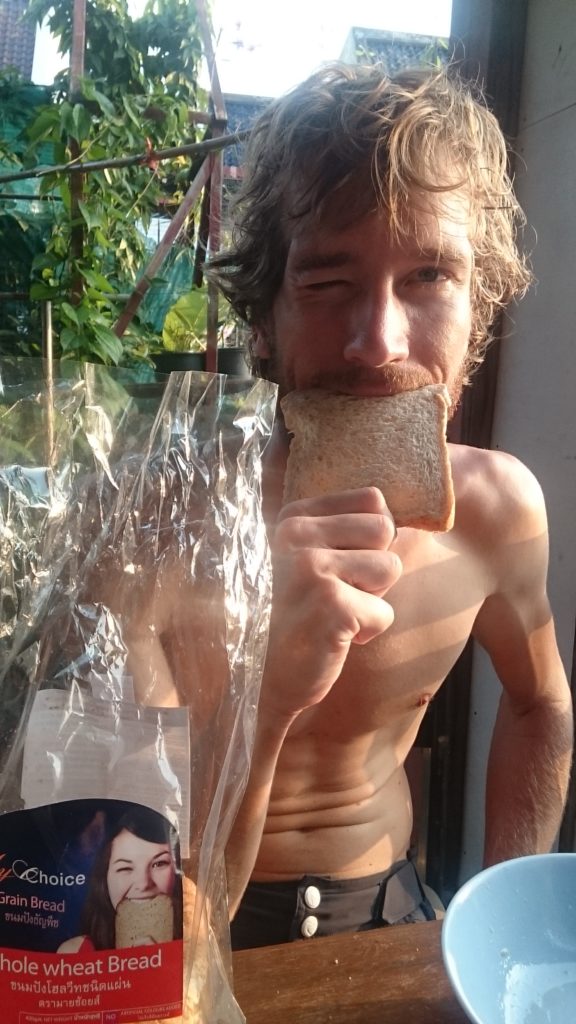 We have one week time to organize some things and say goodbye to each other. I get my visa for Myanmar, it costs 1600 Baht, about 44 €. But the time in Bangkok goes past quite fast.
Fresh fruit and vegetable juice, like my mother does it. 😉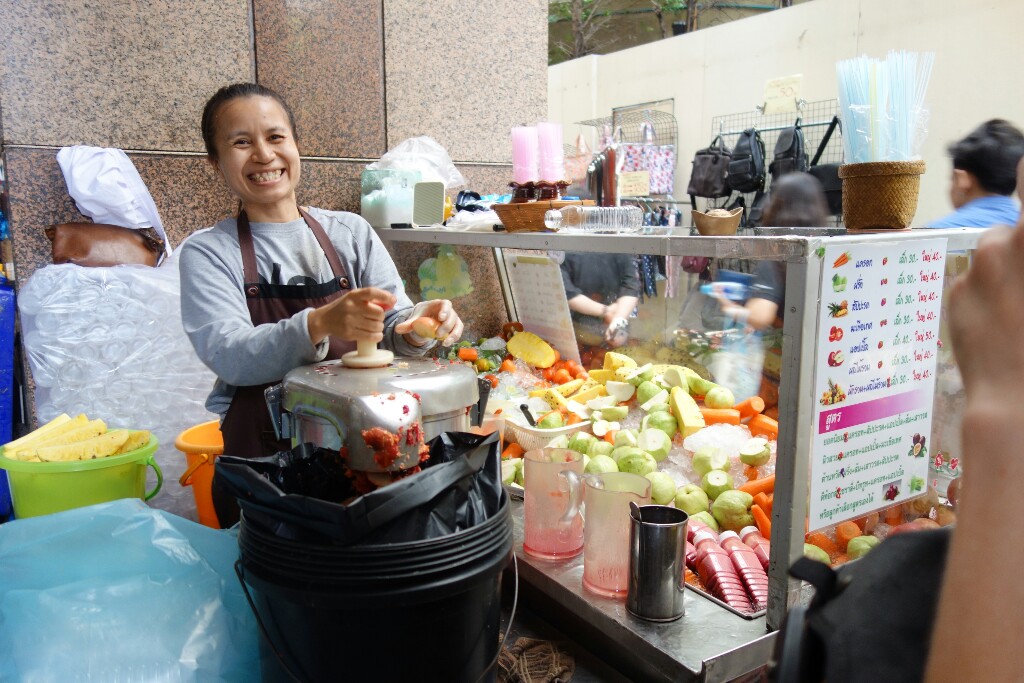 Very special sweet stuff, we don't try it.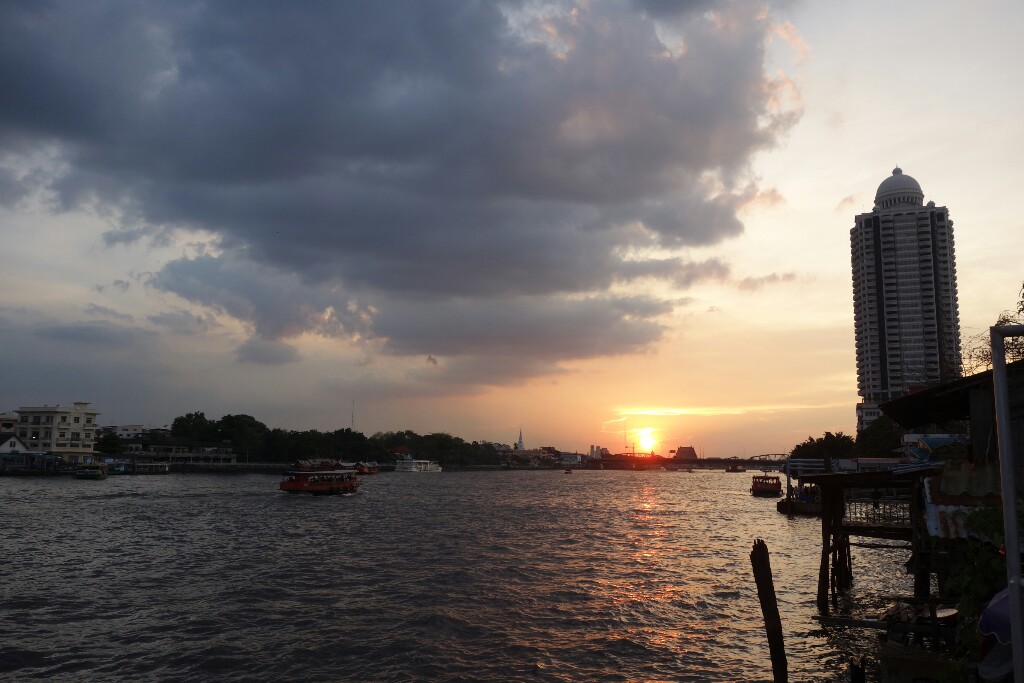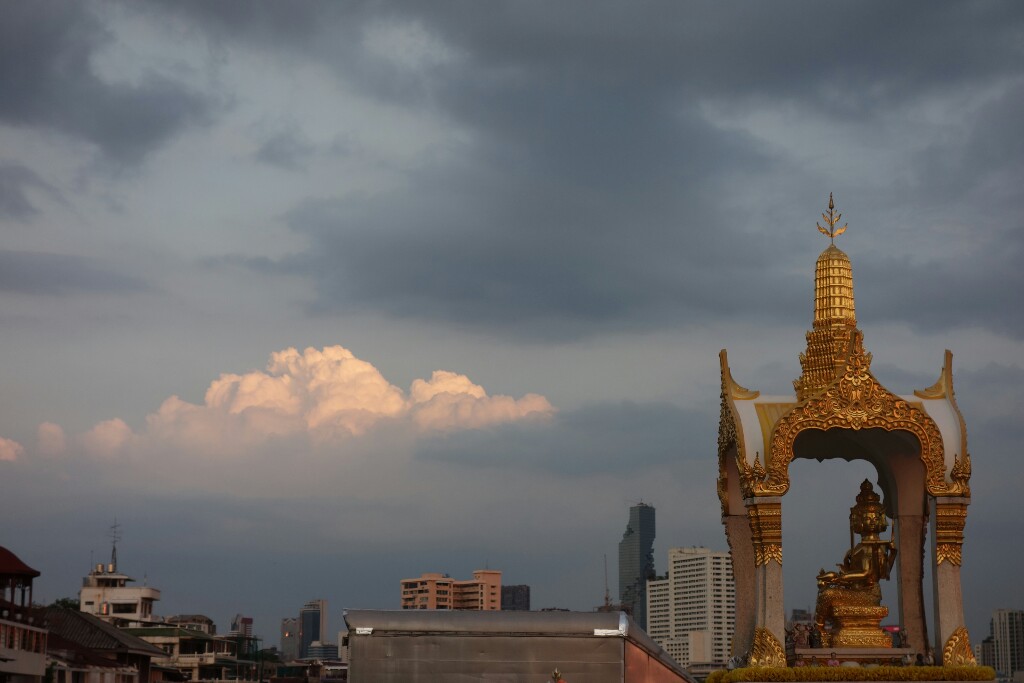 Not far from our room there is a big weekend market. We go there on Friday evening and have a beer on the grass, like the locals do it. Feels good to get some real Bangkok spirit and not to see only the main tourist attractions.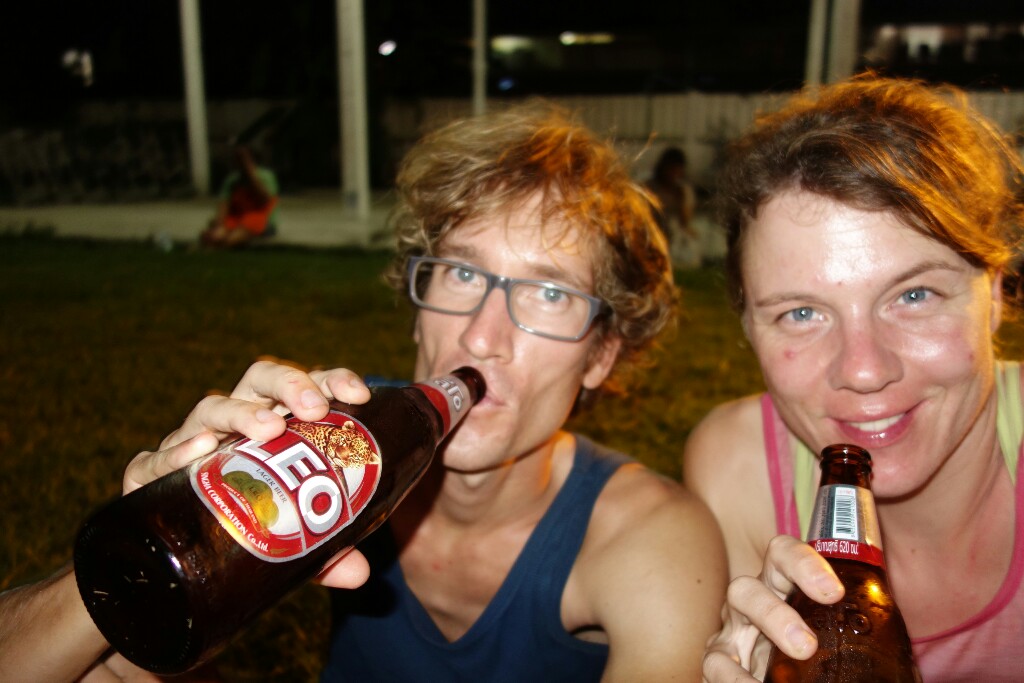 In another big park.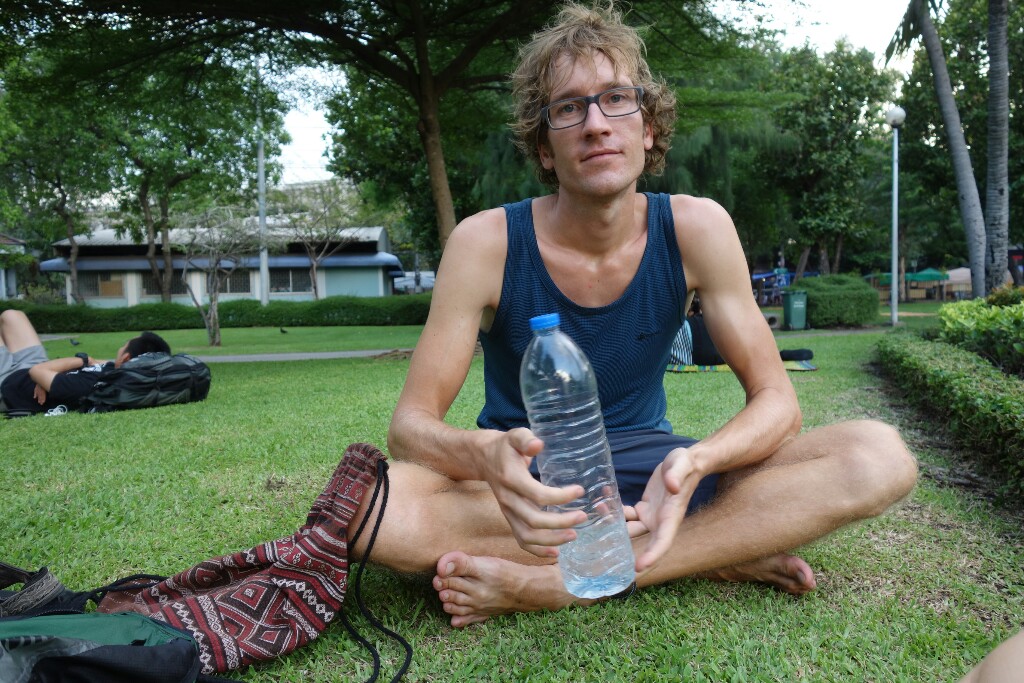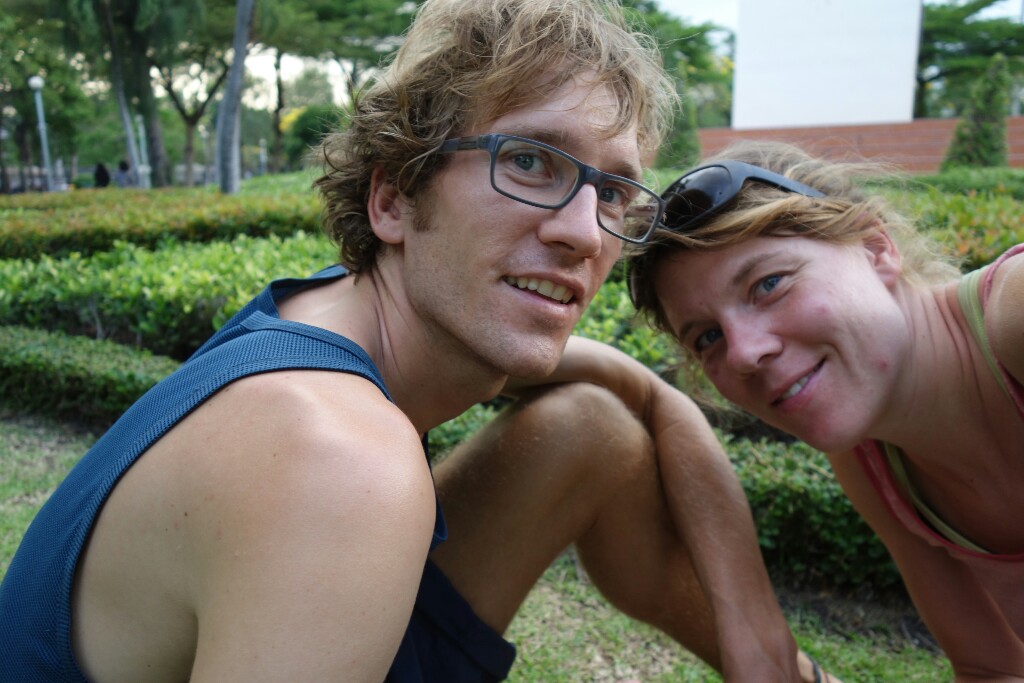 Saying goodbye to each other is very hard for both of us. We spend one exciting cycling year together and went through thick and thin together, 24/7 all the time. But it is time to say goodbye. Johanna flies to Cologne at the 6th of April. From Cologne to her hometown Rottweil she cycles together with her father. We go and eat in an vegetarian restaurant one last time.
For me the visa of Thailand ends, so I have to get ready to cycle to Myanmar. There is one small new border crossing just about 200 kilometers west of Bangkok. It's called Htee Kee. Ready to start again with my cleaned and fully loaded bicycle.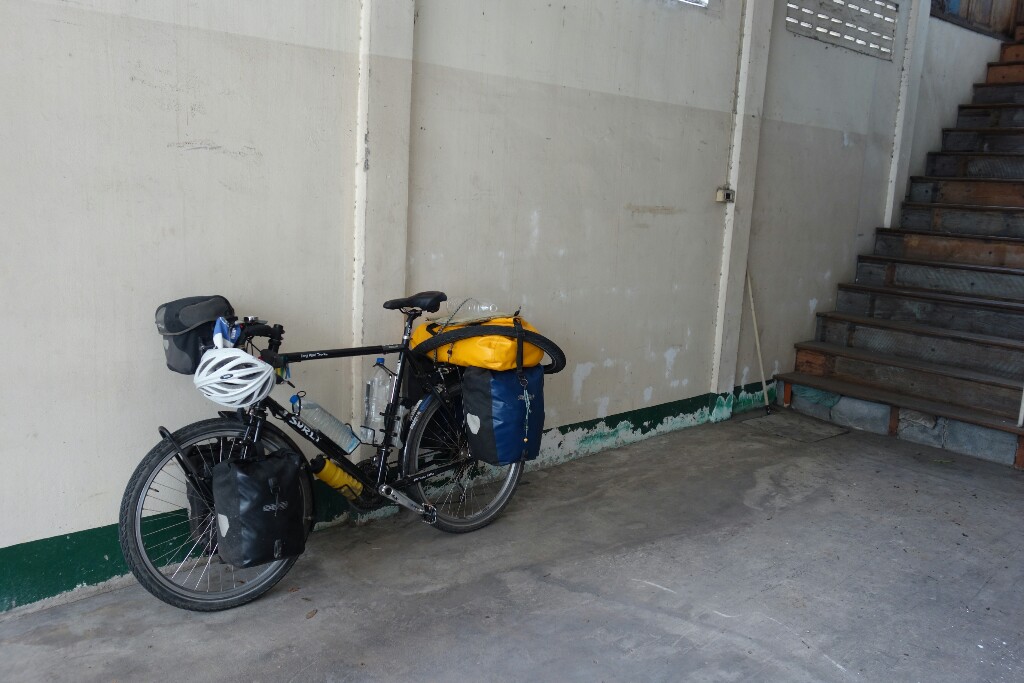 The first day is short, just to Nakhon Pathom, where I stay at Siriwats art café from warmshowers. When I arrive and wait for Siriwat, I get this. 😉 It's very hot, in some minutes I drink the whole bottle. 🙂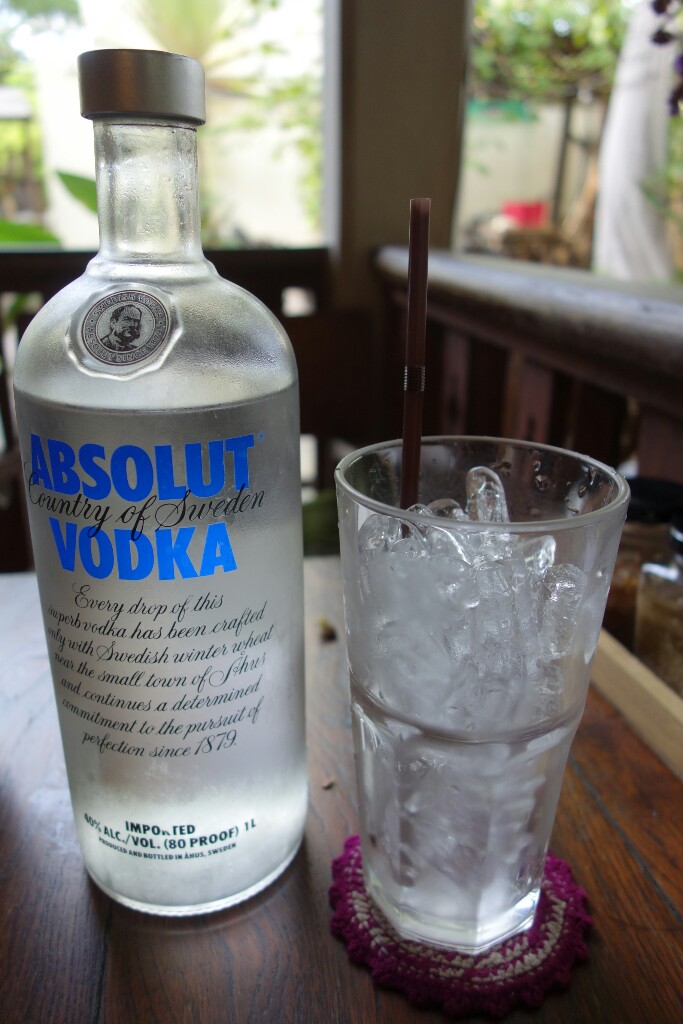 The city is famous for its biggest Chedi. It is the biggest Buddhist building worldwide, 127m.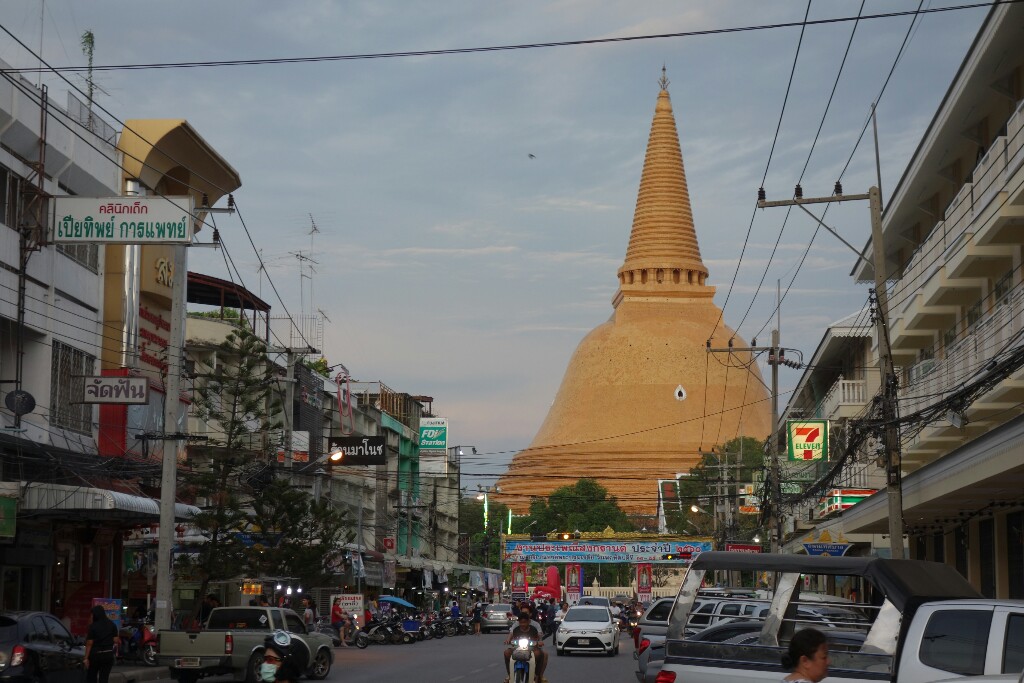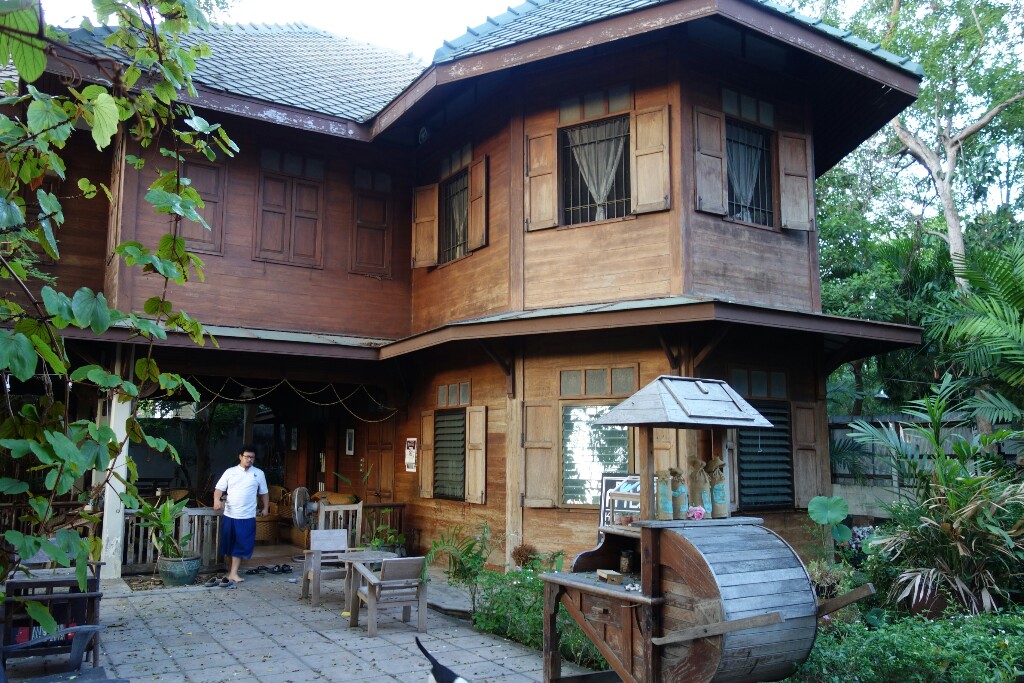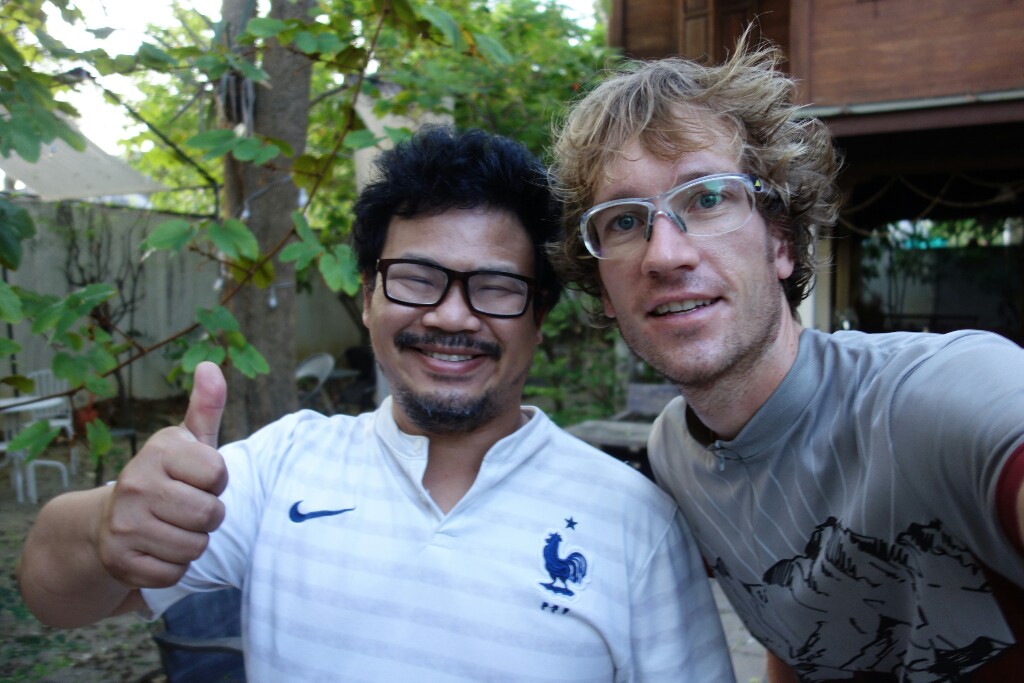 We have dinner and breakfast together at the open air food market. I eat vegetarian and get a yellow flag, which has something like vegetarian written on it.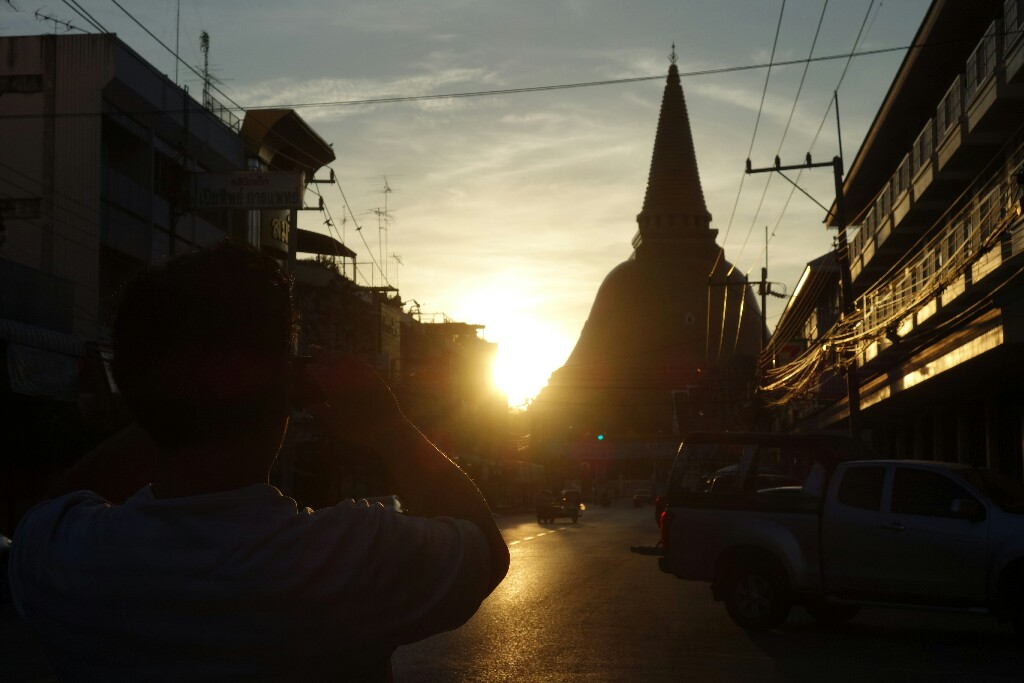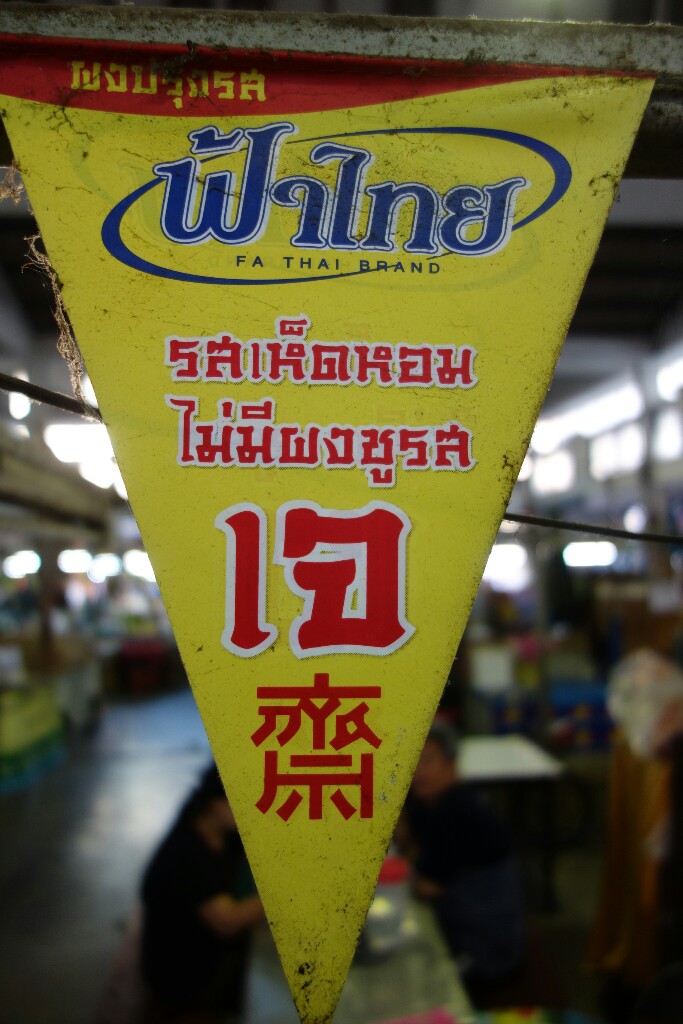 Siriwat serving breakfast to all the cats.
At a little market stand at the roadside, I want to buy bananas, but they are still green. So they don't sell it to me, but they fetch dark brown/black ones and give them to me for free. I get offered a coffee as well. Good refreshing break. 🙂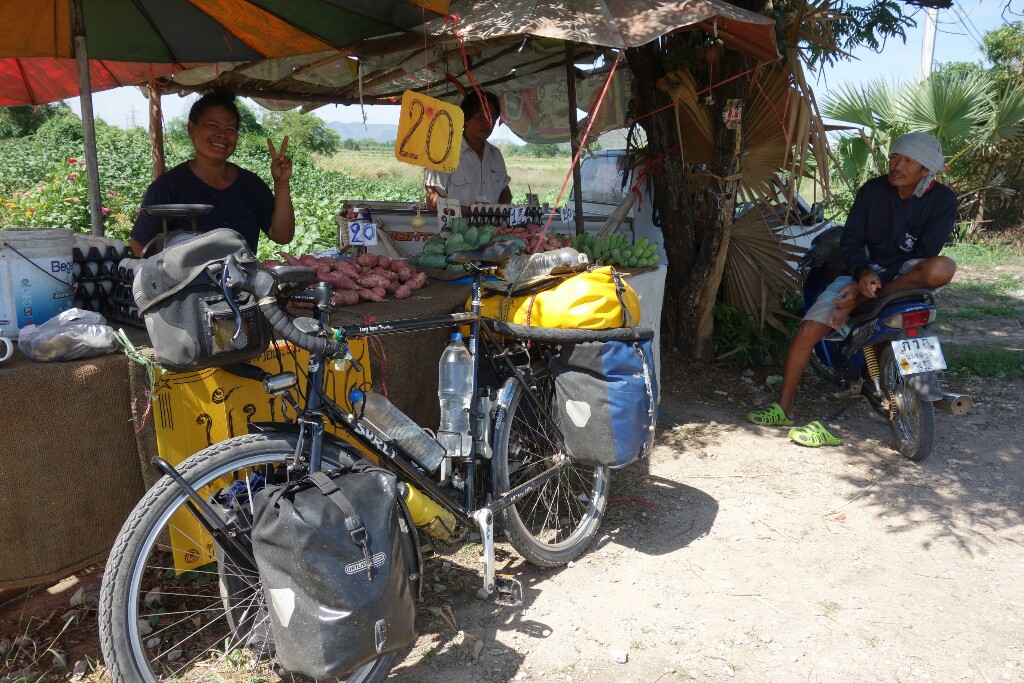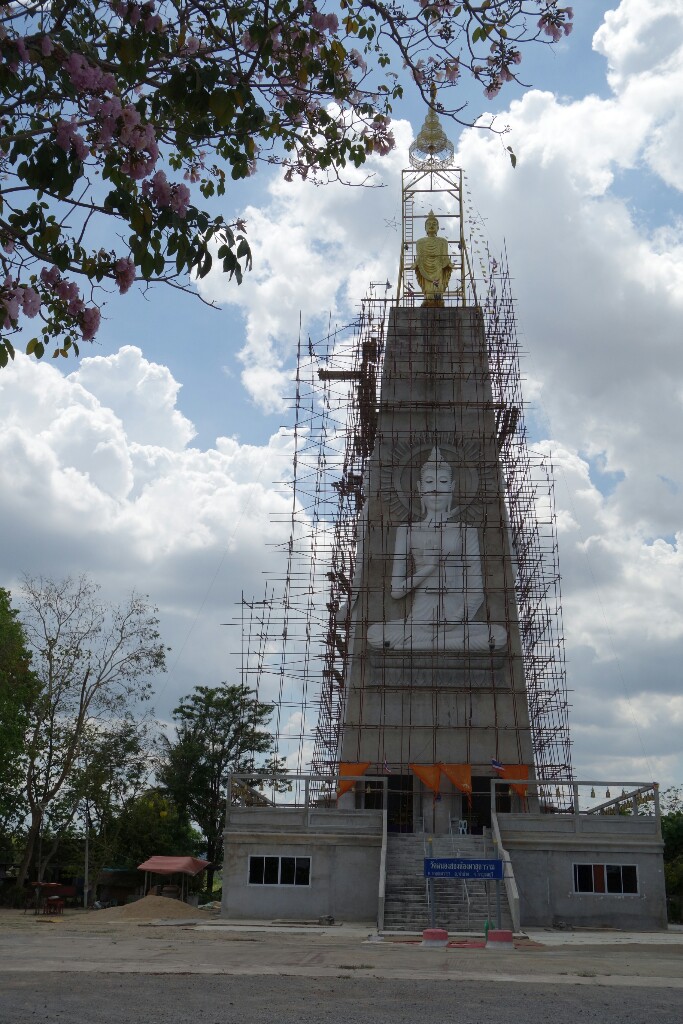 Someone chuck his bicycle in. 😉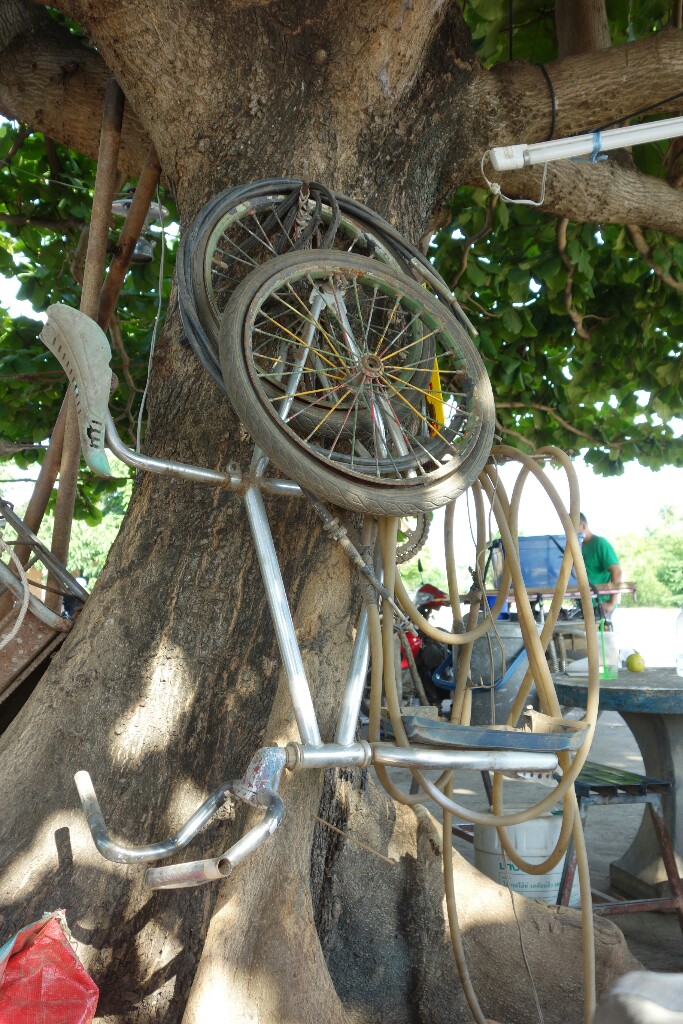 Short before the border. I don't think all kilometer data are correct.
With beginning darkness I have to find a place to pitch my tent. I managed to get close to the border, so that I can easily reach it, because my visa ends tomorrow. In Bangkok I bought an adapter, (just 100 Baht, about 3 €) so I can finally use the very common Southeast Asian gas cartridge!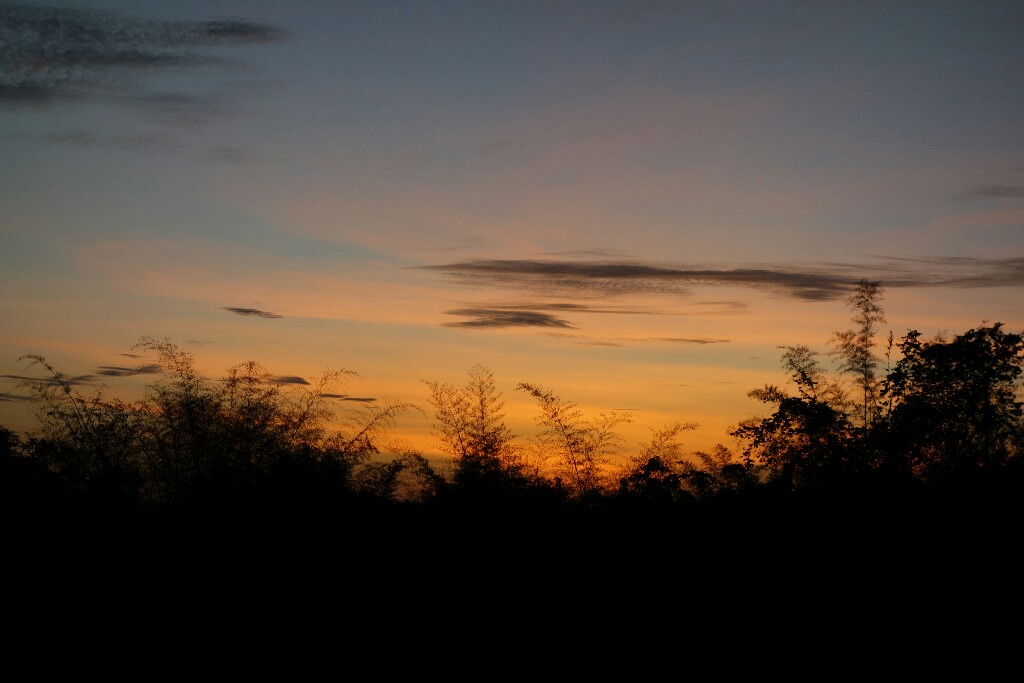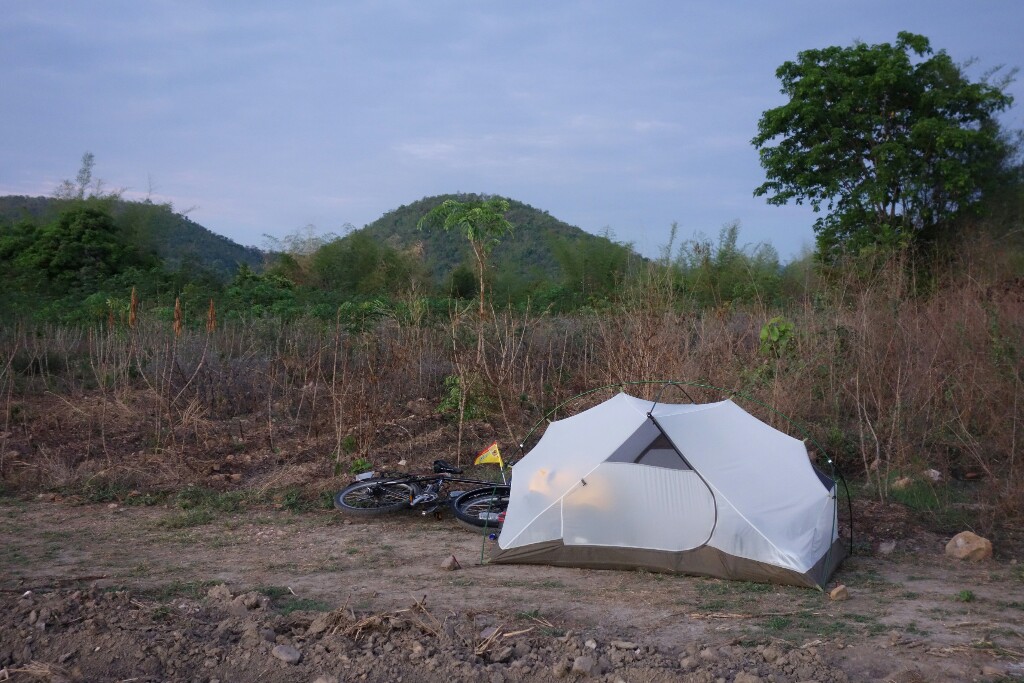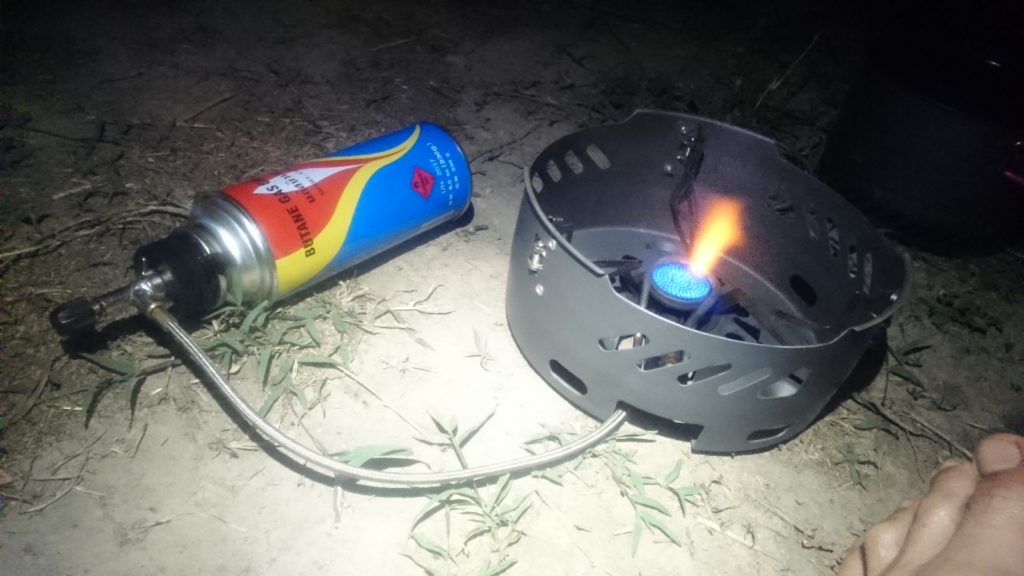 My second time in Thailand is over again after 30 days. But the interruption will only be a short time in Myanmar before I come back the 3rd time. Turning back to the Thai border post. Immediately the road changes from asphalt to gravel. Myanmar is waiting for me with a lot of water… 💦 💦 💦 😉