Spontaneously we decide to stay one day more. In the the evening we visit the Emam Zadeh Mohammad tomb in Bastam.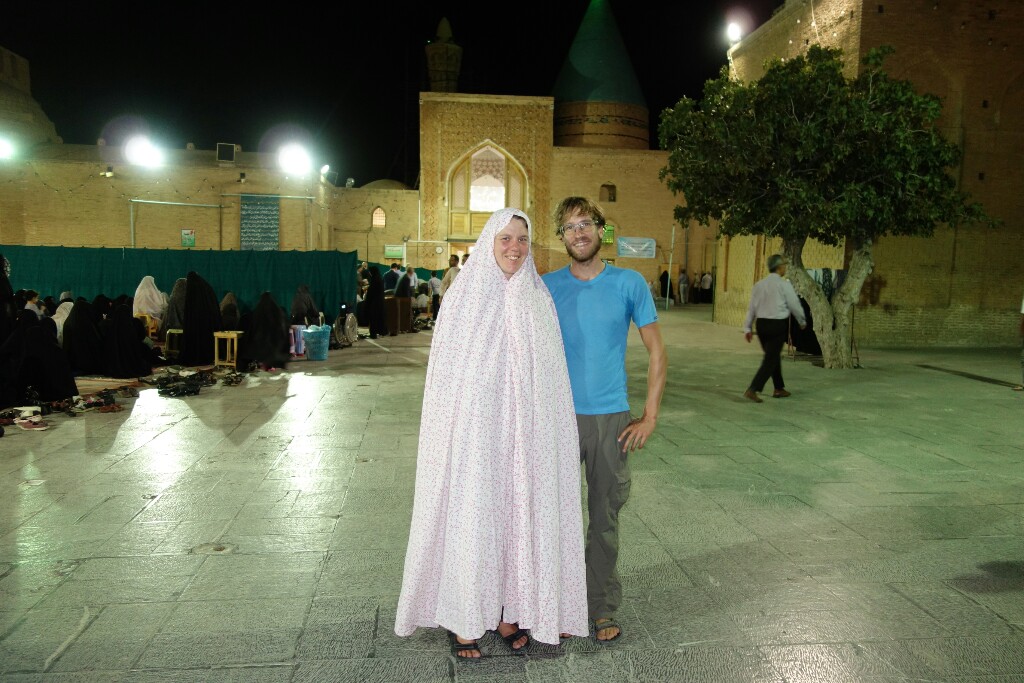 A truckdriver and his breakfast.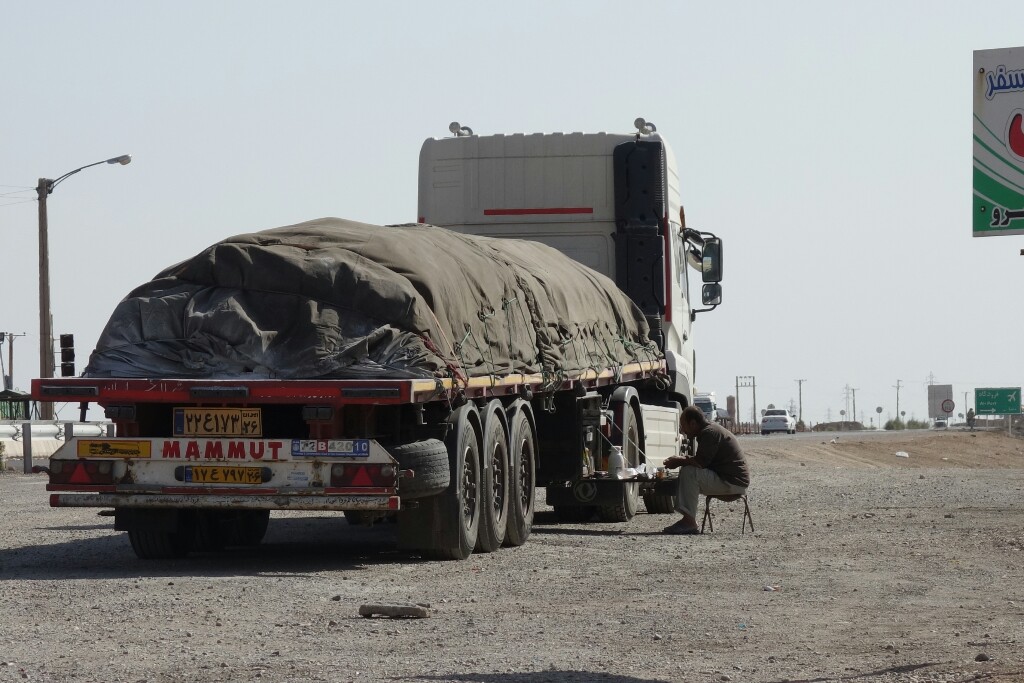 On our way to Sabzevar we find parts of the old road, which is nice and restful for us. Additional we see interesting old parts of buildings, they look beautiful, but I don't know what it is or used to be.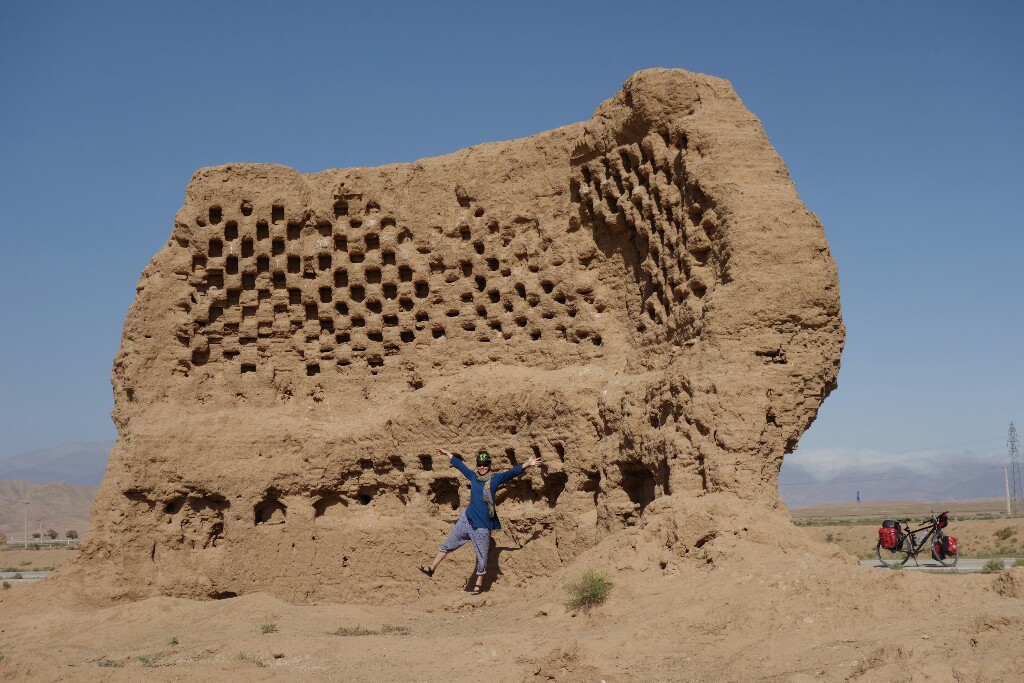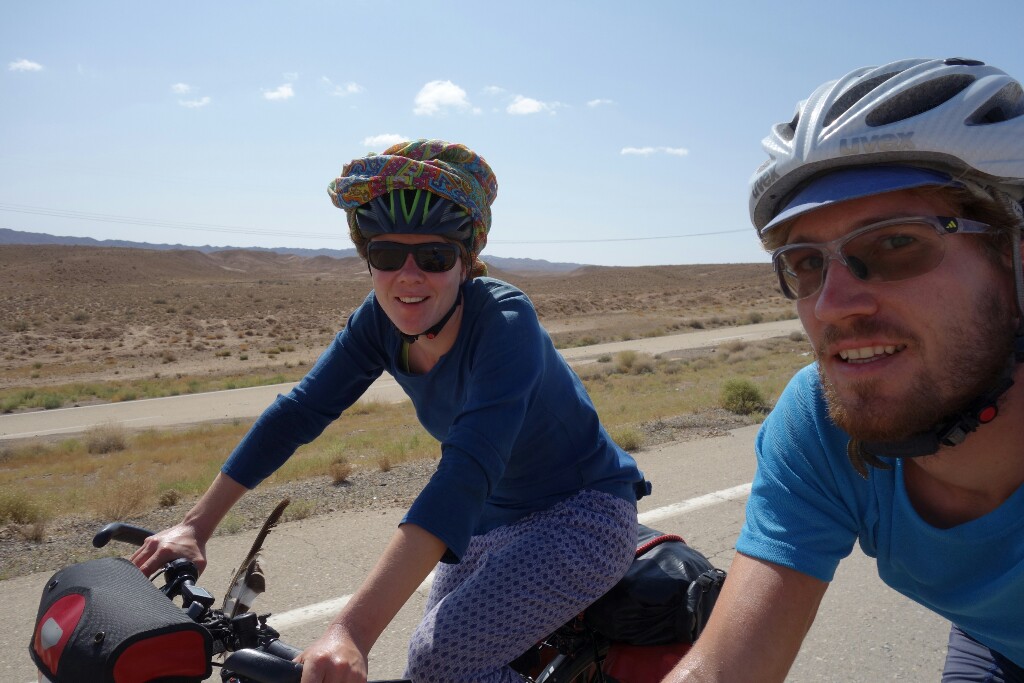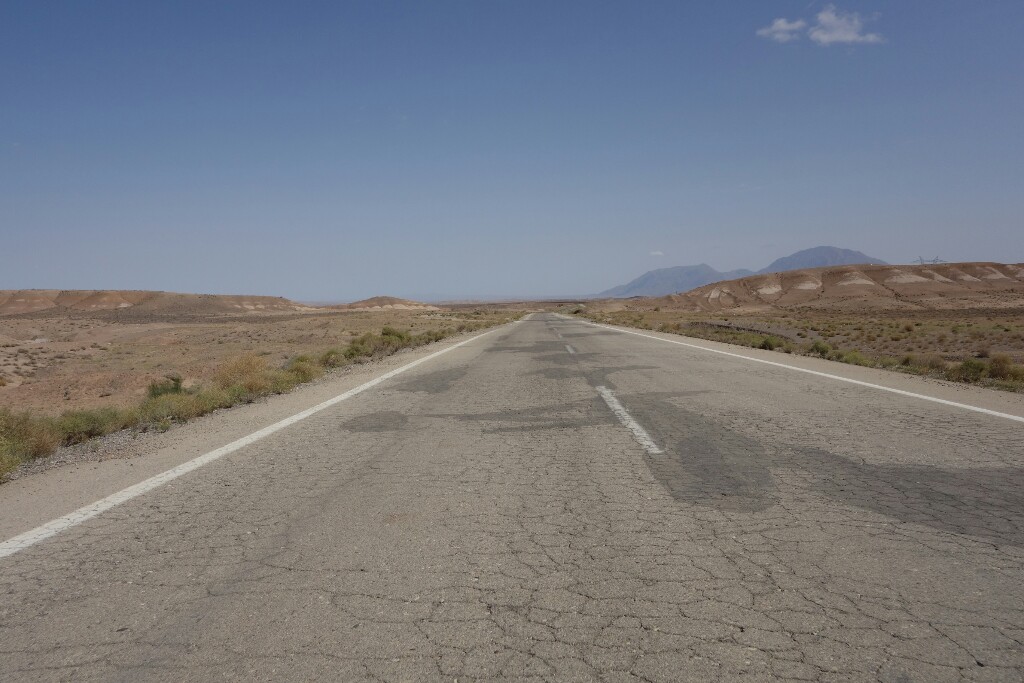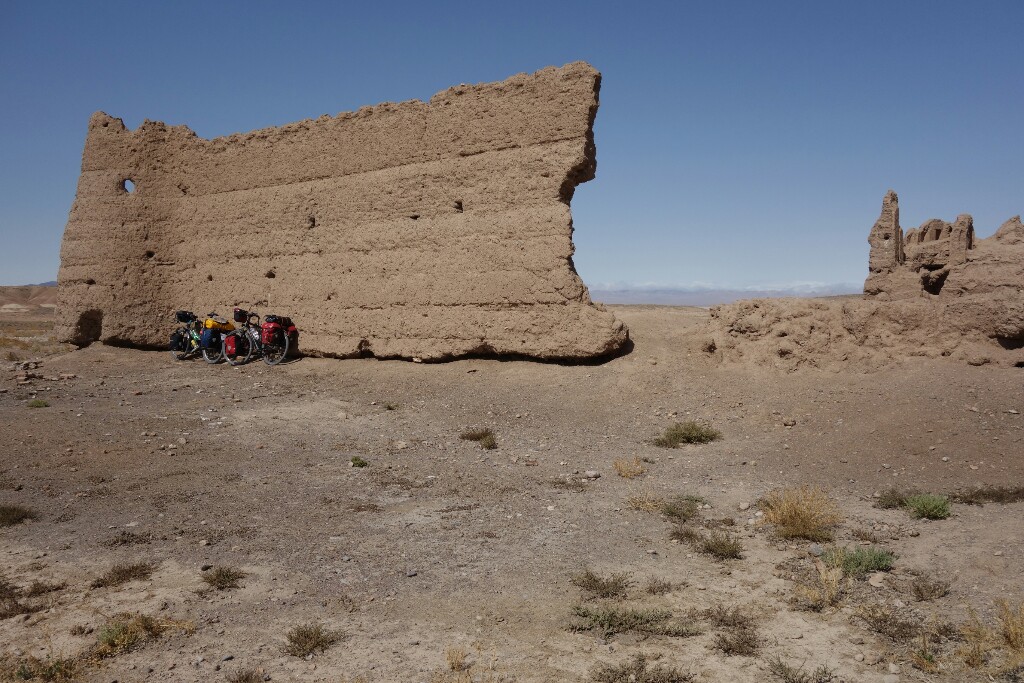 The caravanserai of Mayamey.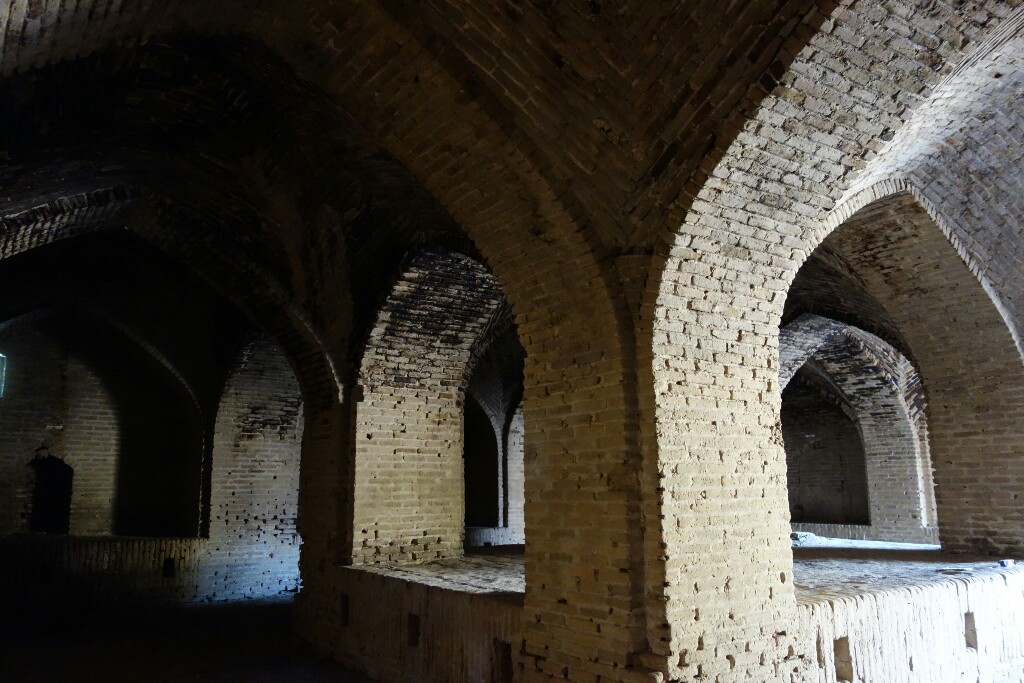 We camp at a not crowded rest area next to the road.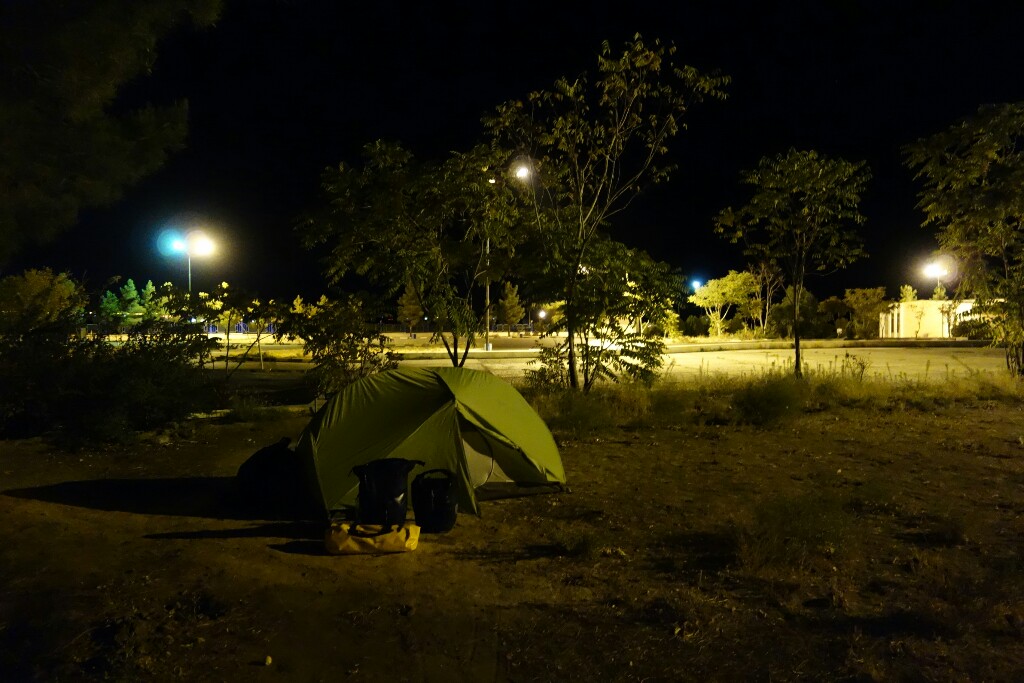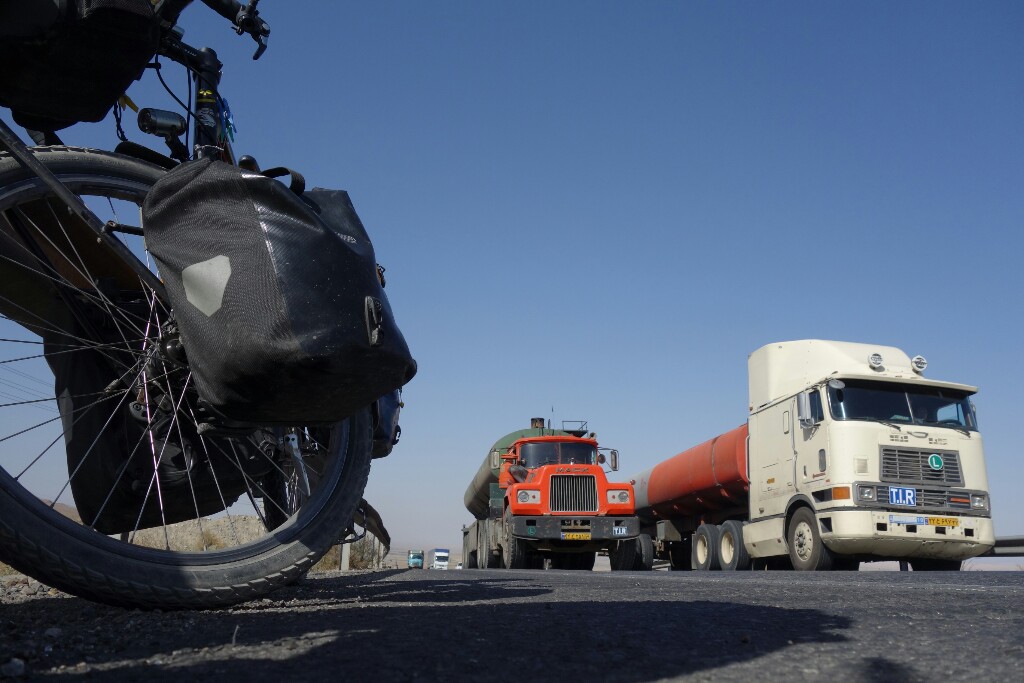 The caravanserai in Meyandasht is restored and in good shape, there is a hotel and a restaurant inside. We have lunch and one man plays the traditional Persian guitar for us.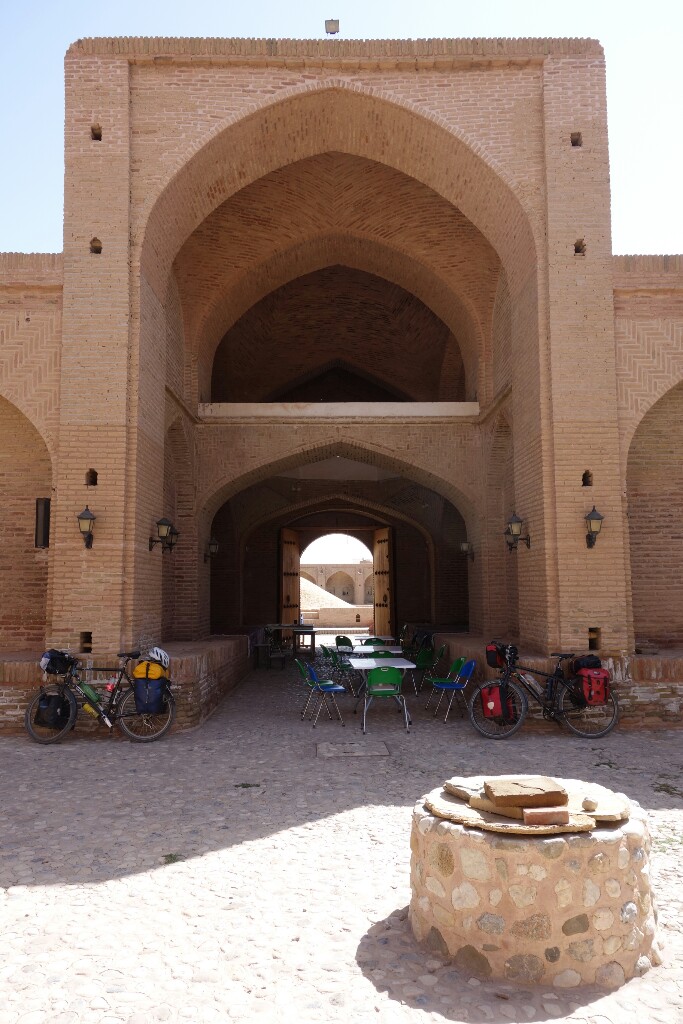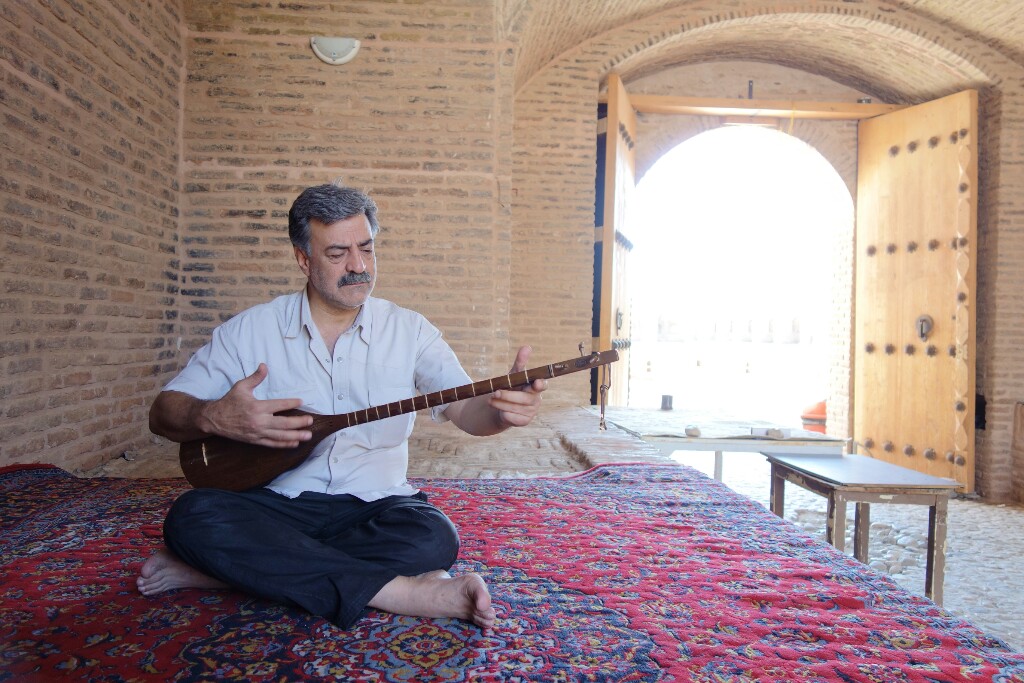 They are building the new road bigger and one-way streets separated for each direction. Some parts are finished, some not. The not yet finished road looks pretty perfect for us and on orux (openstreetmap) we see that we arrive back to our road after 15 km. We poker that all parts are already nice prepared. It more or less works, but every 500m there is a small bridge and they didn't close the gap. In the end it's  really annoying and takes much much longer.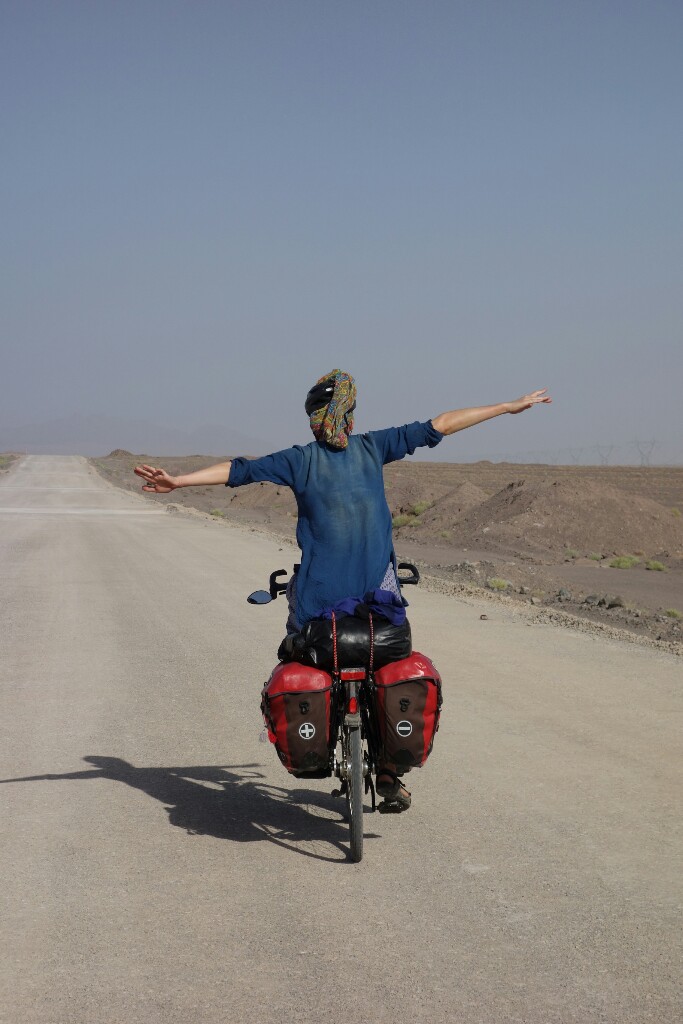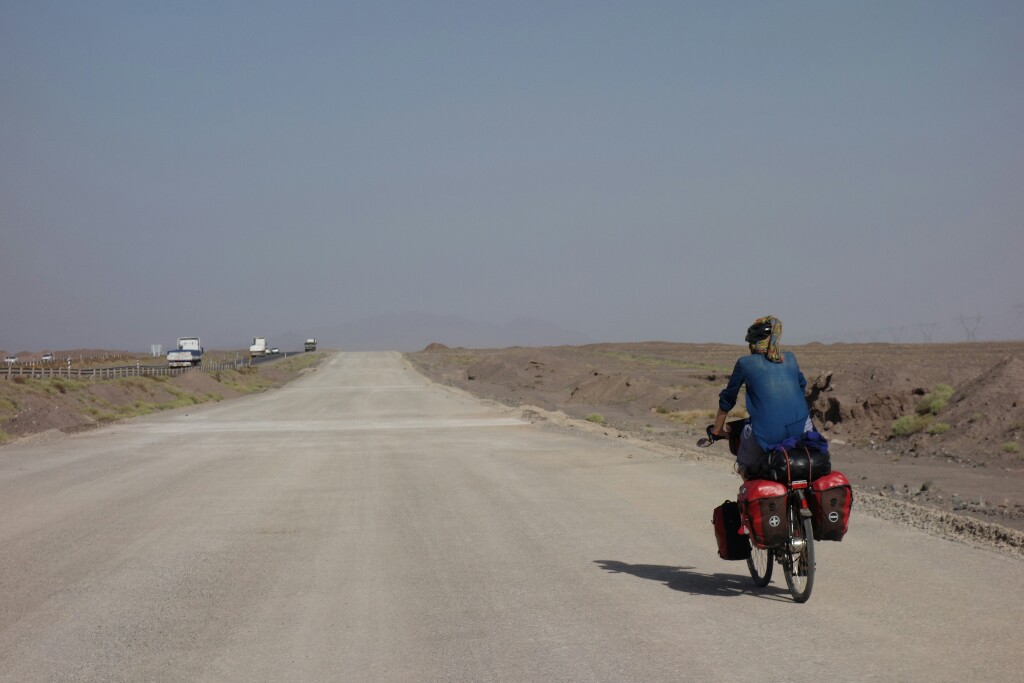 We see our first camels. 🙂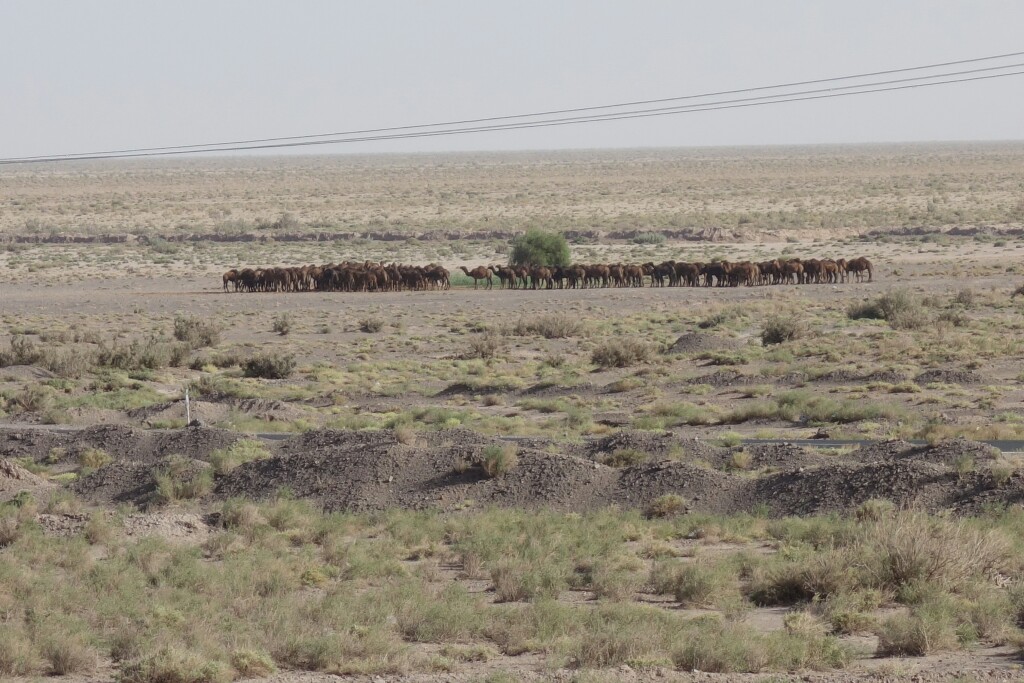 My Cockpit with a new sticker. 🙂 They have very delicious green mandarins here.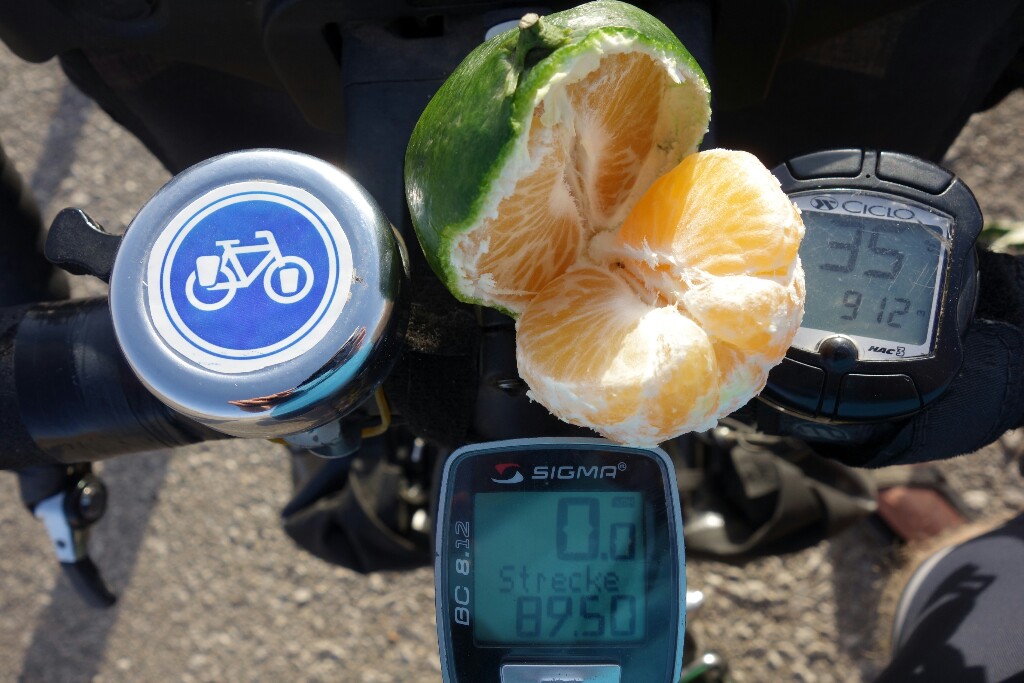 In Mazinan we sleep in the caravanserai again.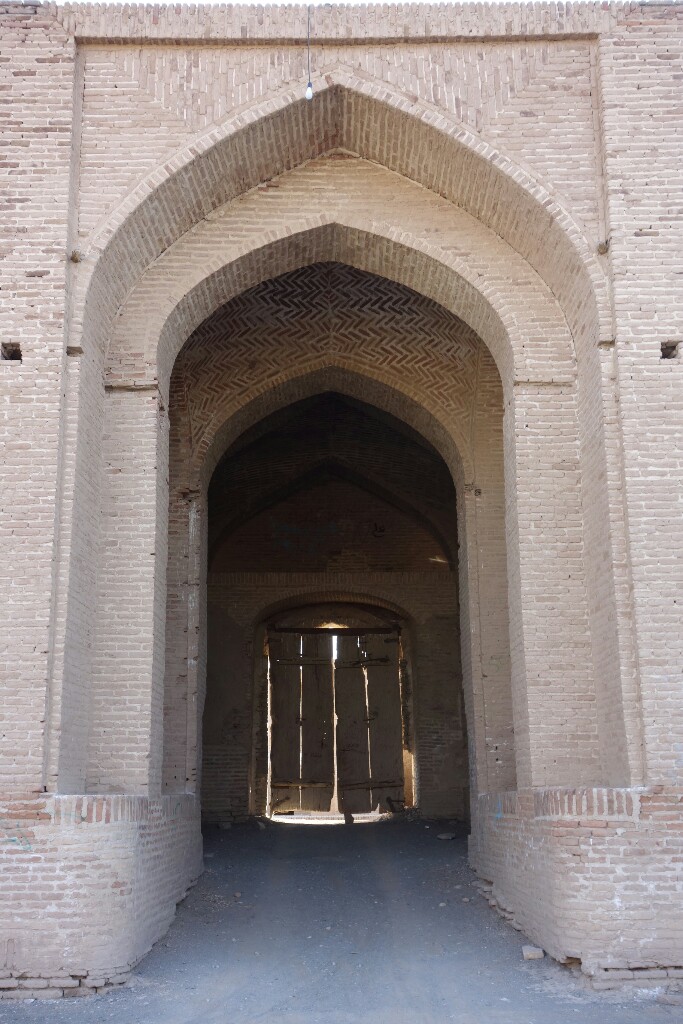 One more caravanserai on our way to Sabzevar.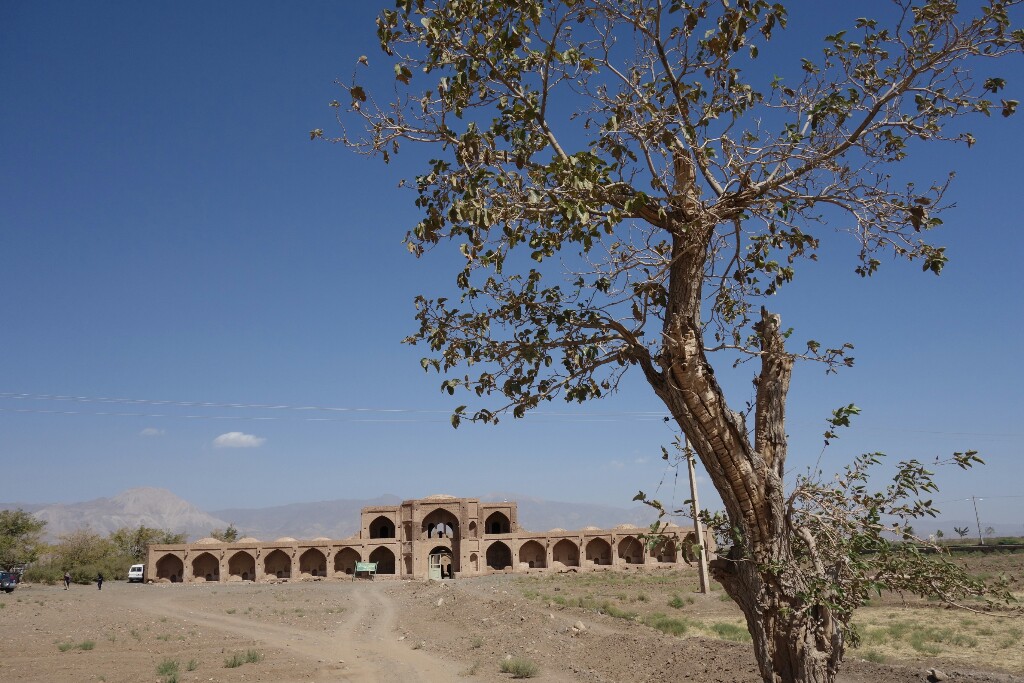 Why not, if you don't know a name?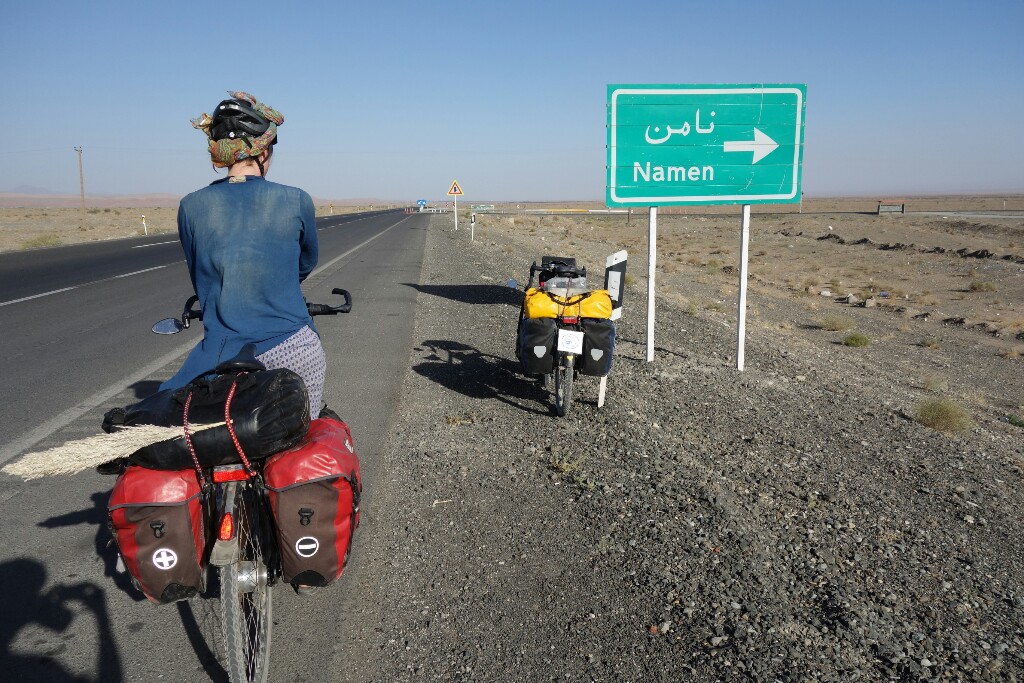 In Sabzevar we stay with a policeman. The next day he accompanies us for some kilometers.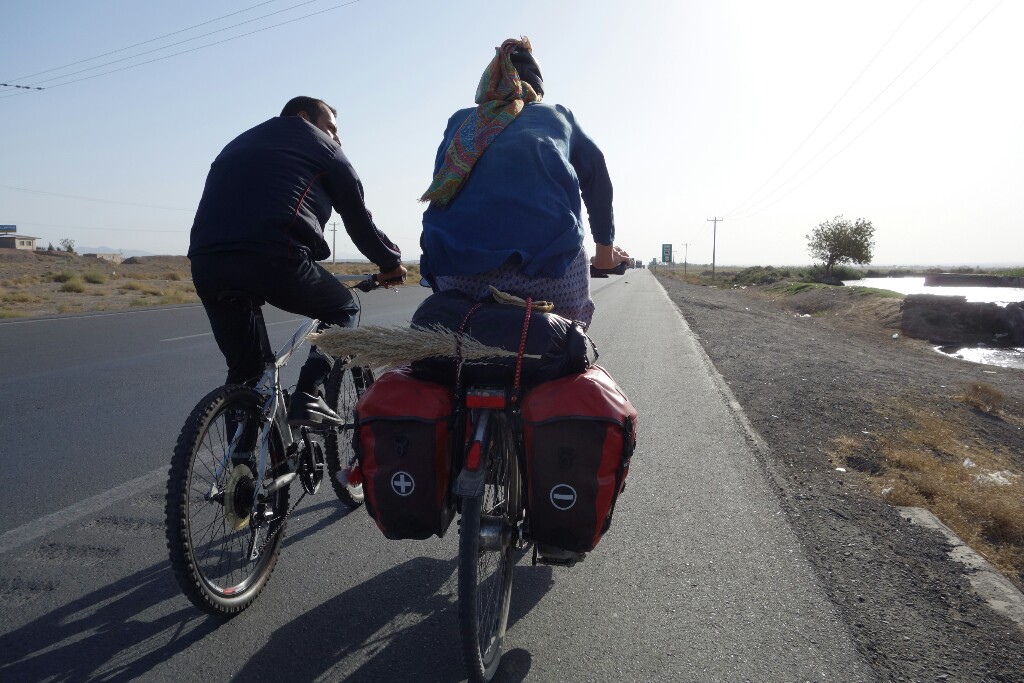 The flat desert road is really boring, but the caravanserai is a nice place for our lunch break.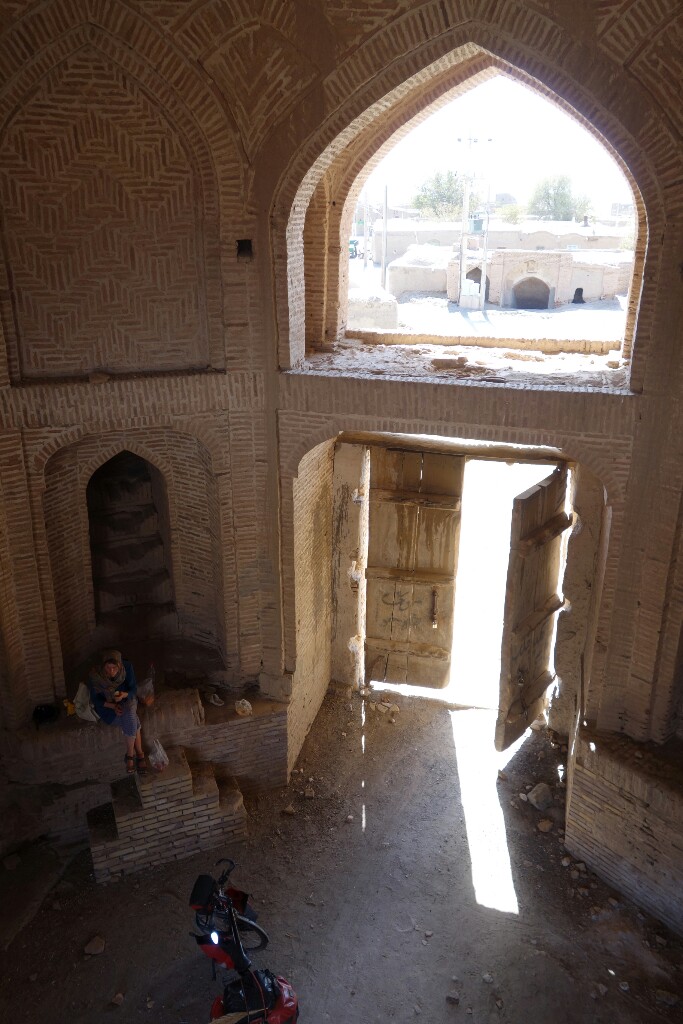 We cycle and cycle, the sun is going down, we didn't find water yet, so we have to cycle on. After sunset we see a EMS (emergency service) sign. That's our rescue after 40 km of nothing. They prepare food for us and there is no emergency call, so we have time to play and talk.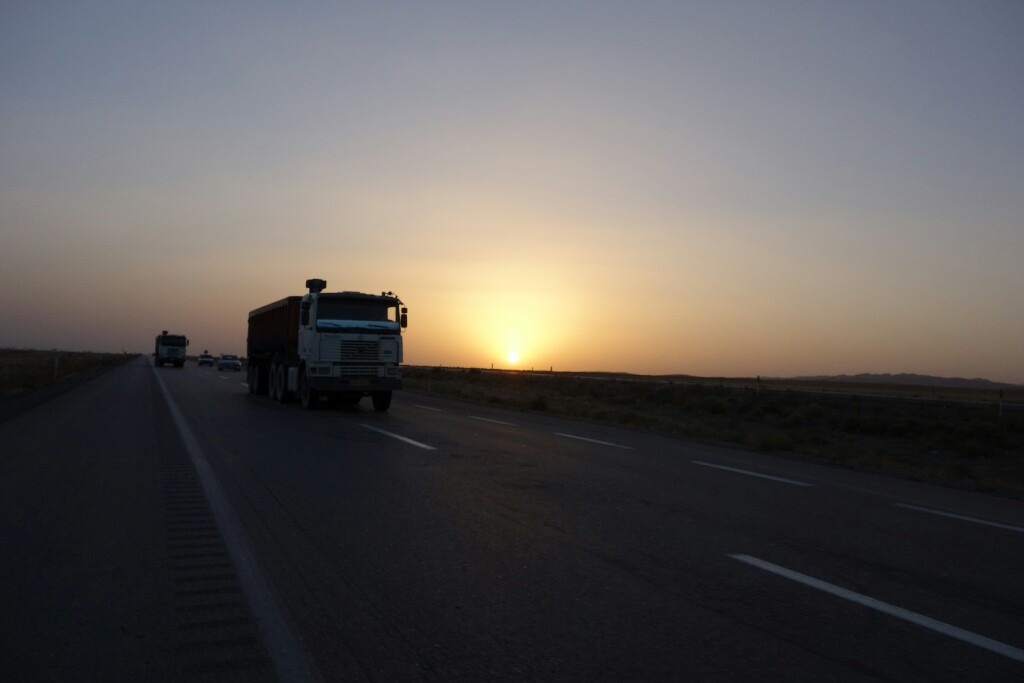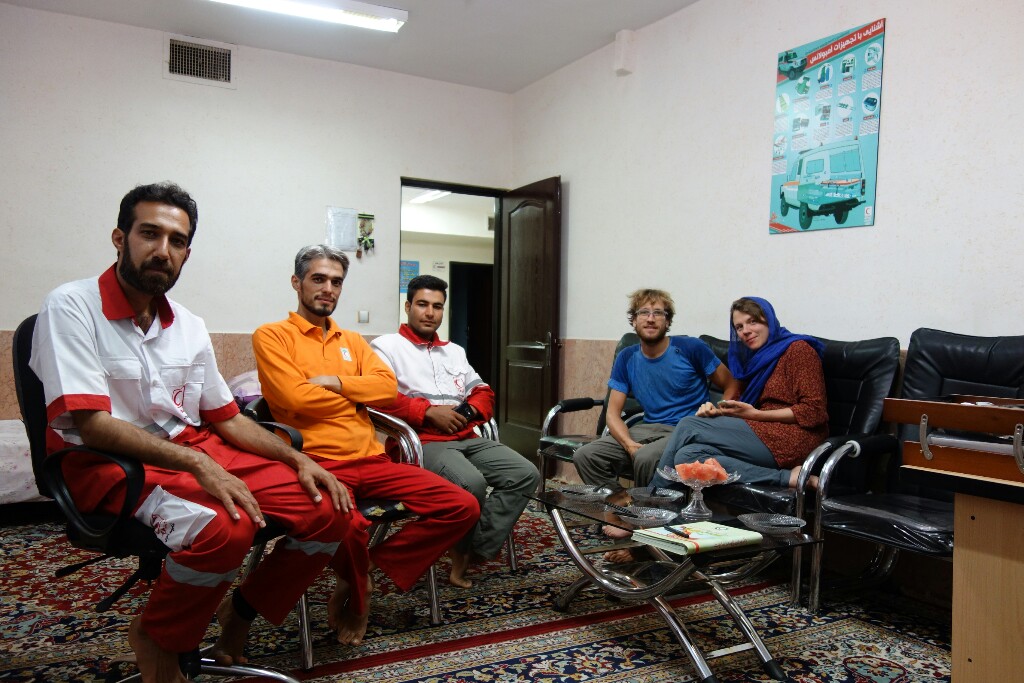 The wind is extremely strong. Our EMS hosts are worried and want us to stay longer, but we want to go on. Short break on our way to Neyshabur.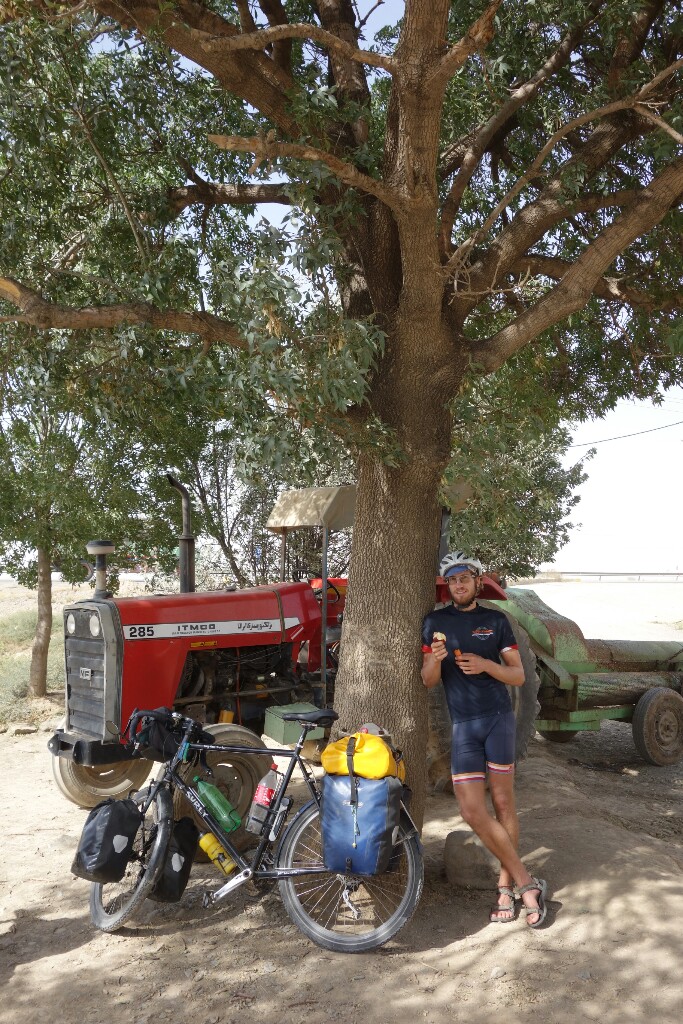 In Neyshabur we stay with Yaser, he is a train driver. And he likes to observe the stars. We get the chance to accompany him at night. The night was very cold, but a good experience. One of his friends is a photographer, he makes really cool night pictures: www.skyatnight.ir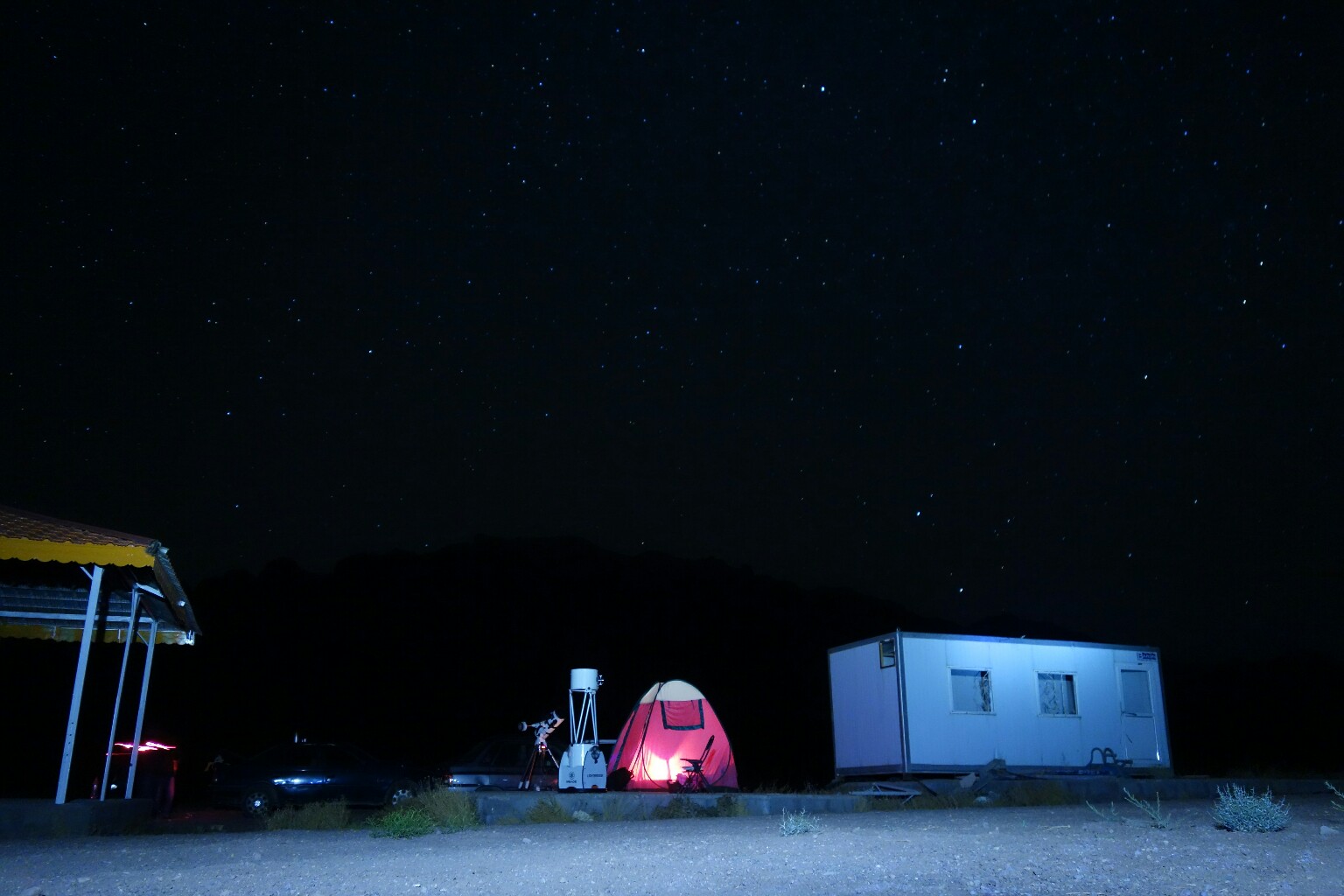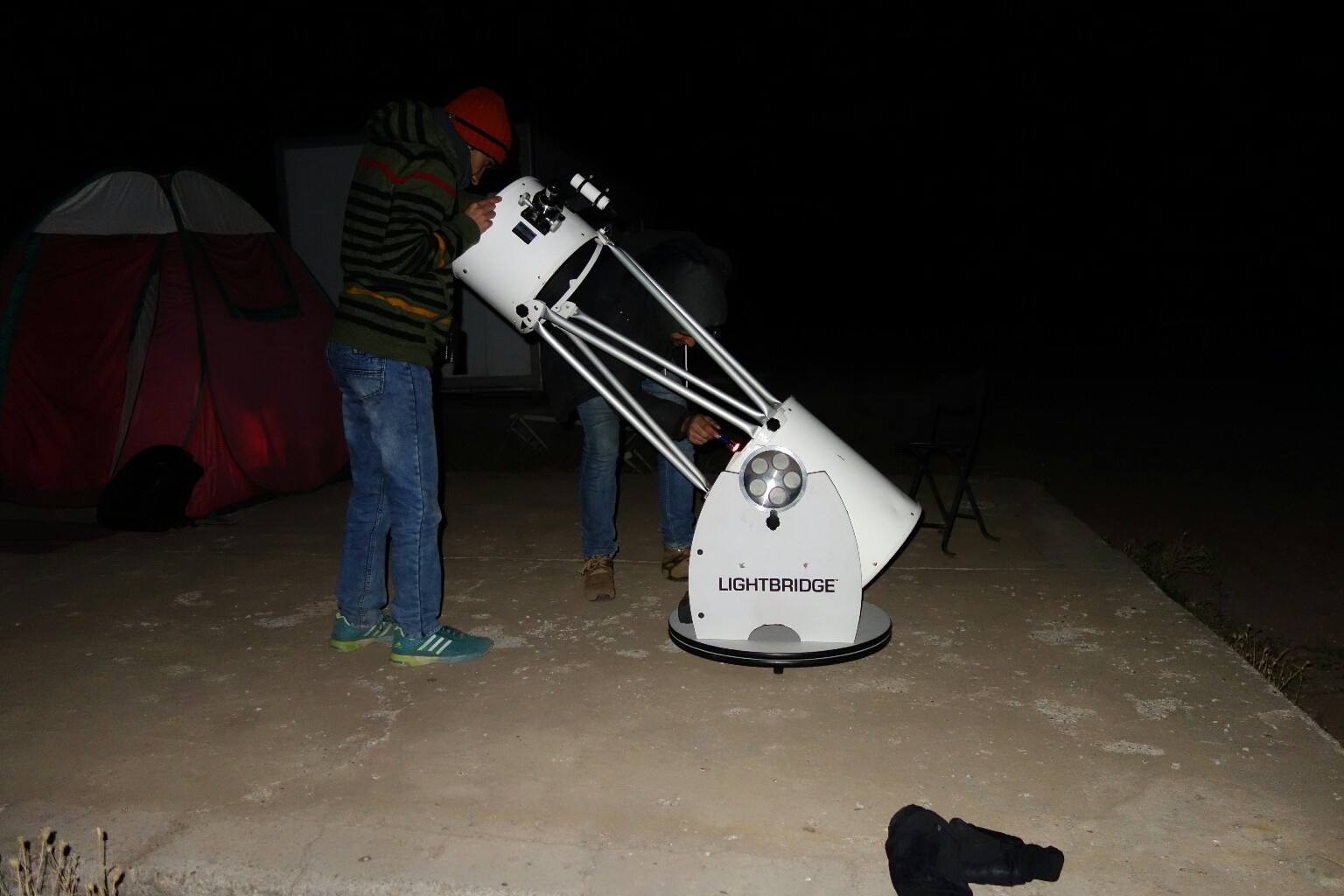 The next day we go sightseeing with Yaser. Among other things he shows us a nice wooden mosque.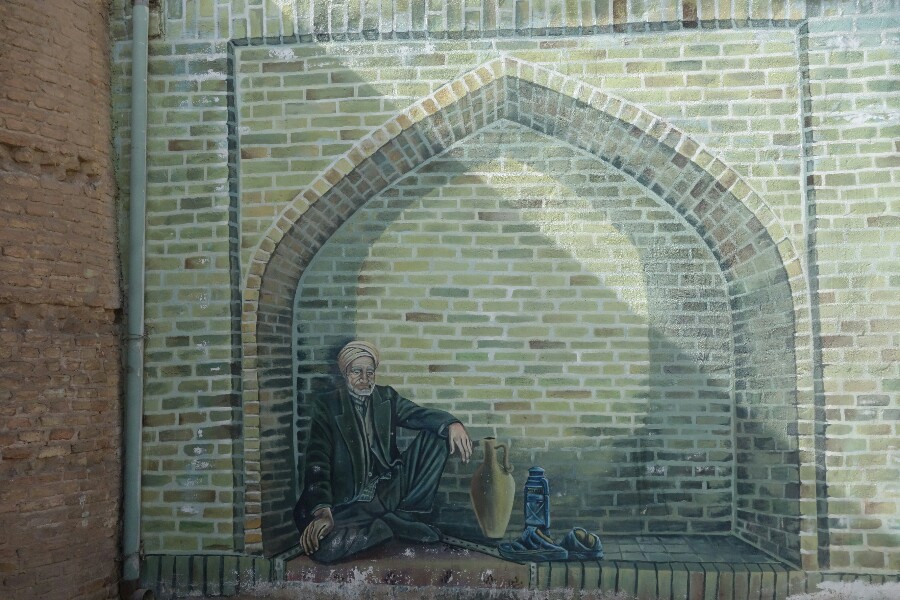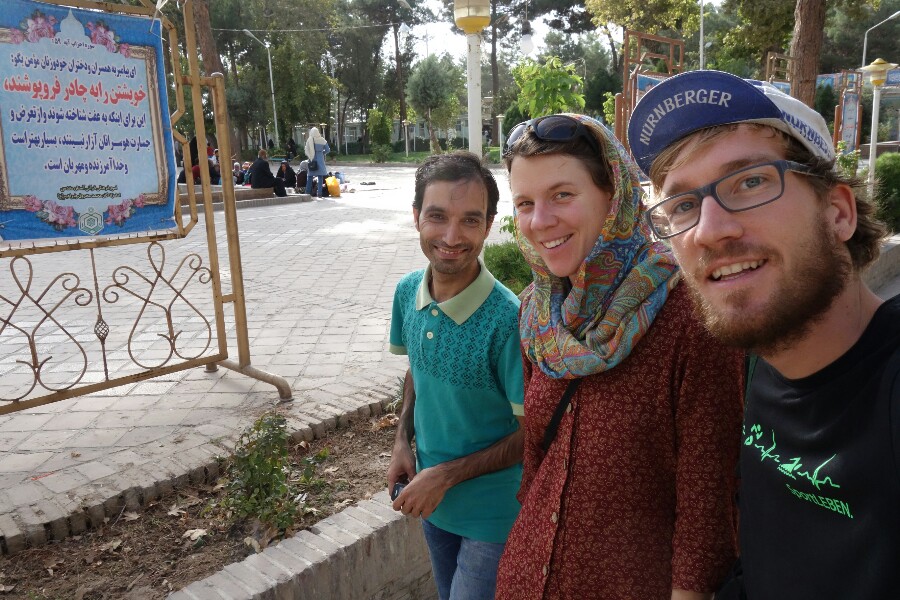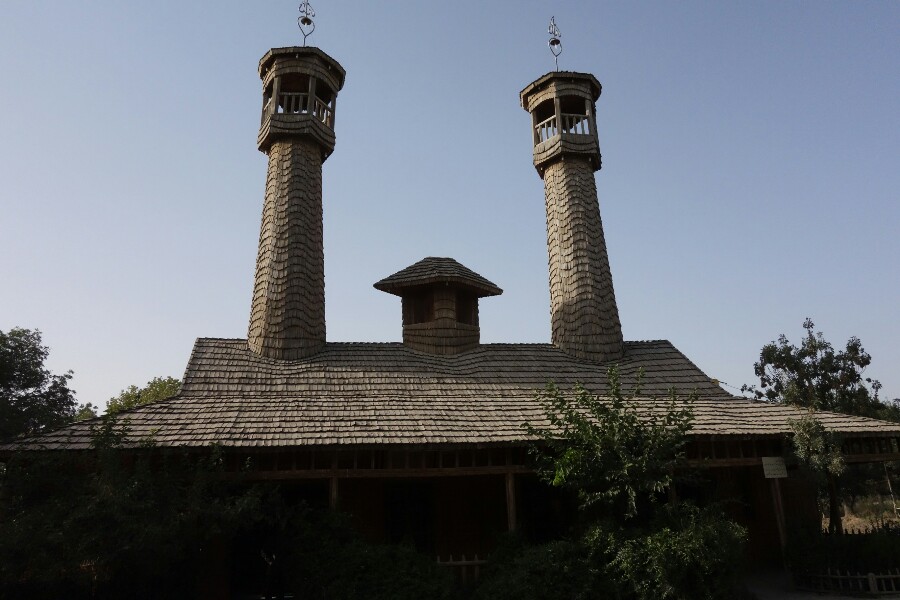 Although we had one rest day, the wind is still blowing strong, at evening the wind gets more and more, we hardly get ahead. And the wind makes it very cold.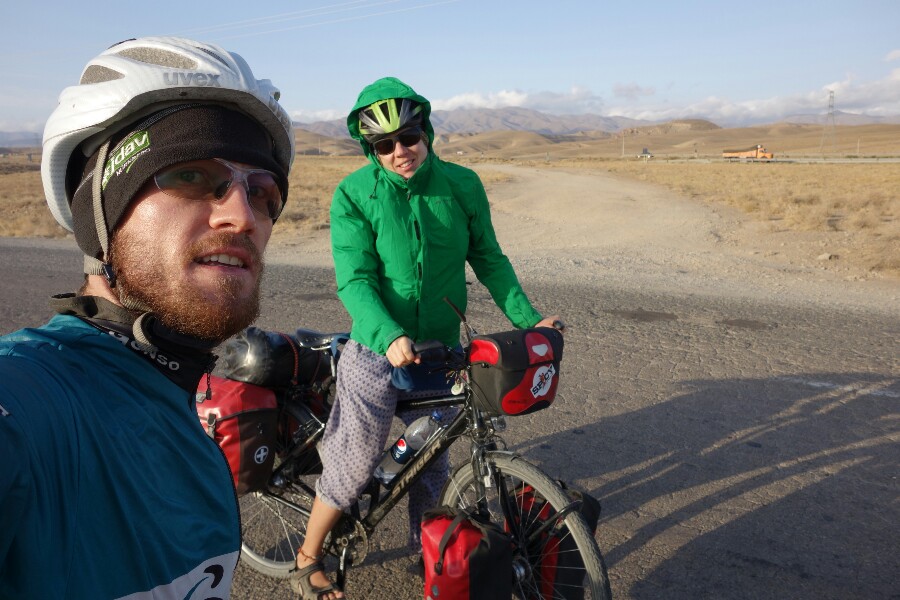 But for the night we escape the wind in a small building. We are changing our clothes to warmer ones, sheltering behind a wall. Someone whistles from the next building. We go there to have a look what he wants. It's a 'melon seed farm' and we can stay for the night.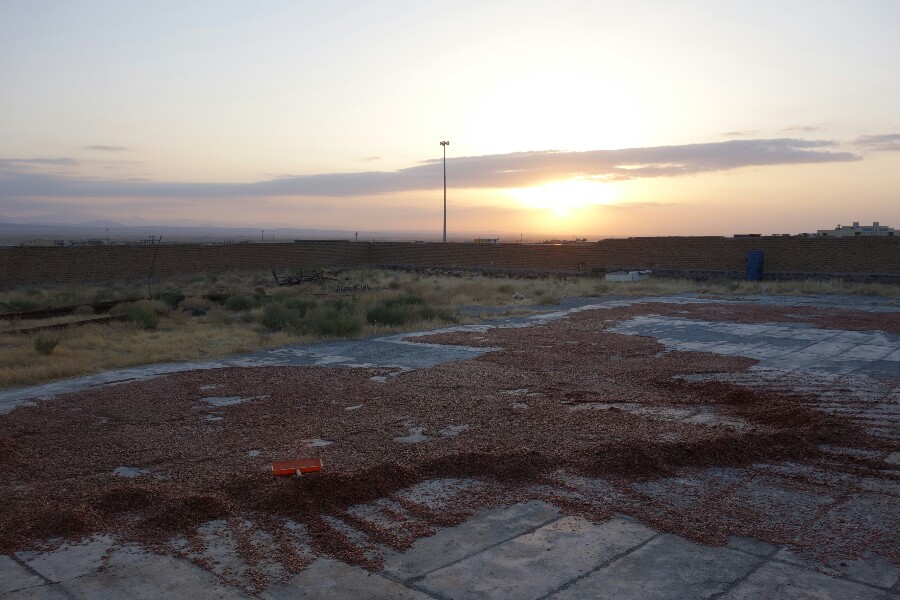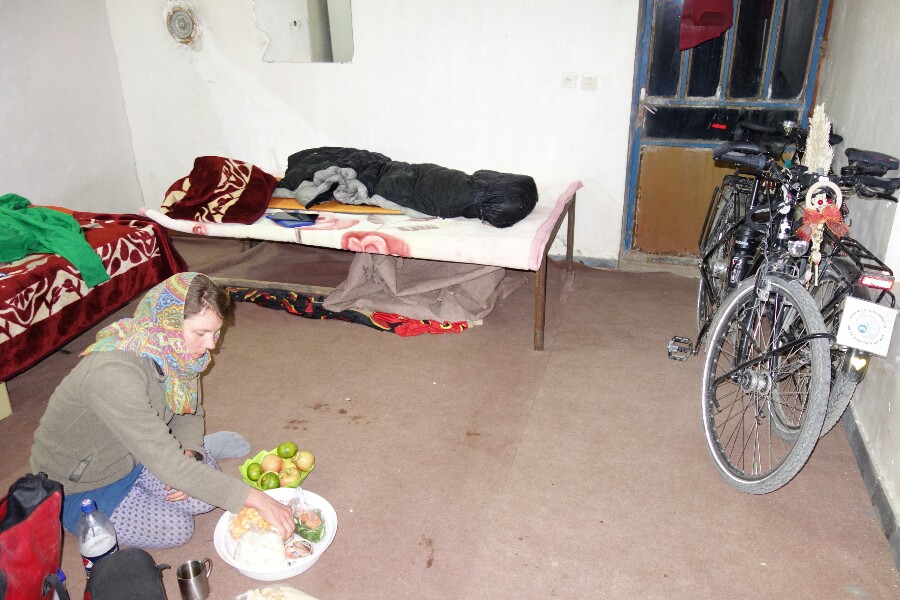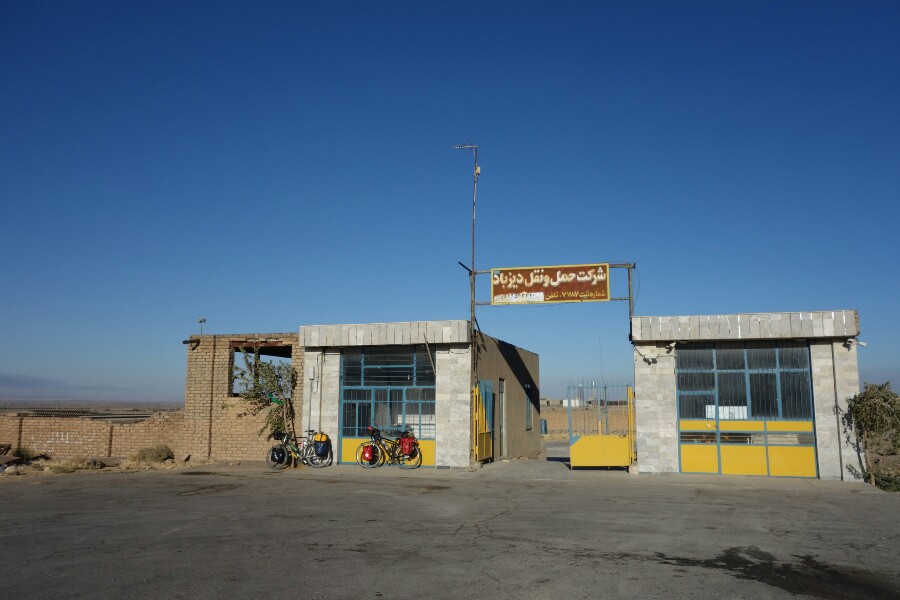 The wind blows the whole night and has still power the next morning. But we want to reach Mashhad today, so we get up at 5 o'clock with the sunrise. Wind is not easy to photograph but maybe you see it. Some parts we cycled with just 8 km/h on a flat road. And there is a wind turbine park with more than 40 windmills.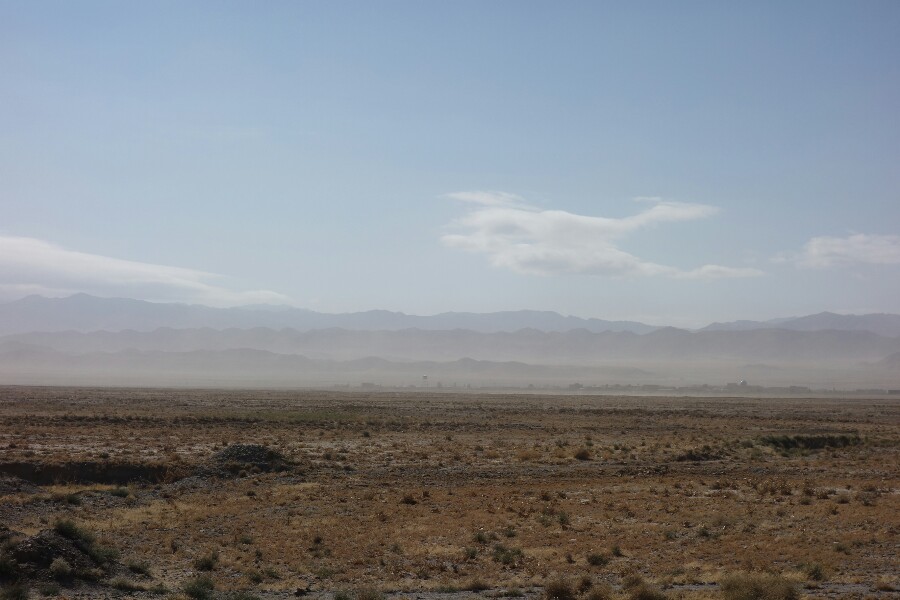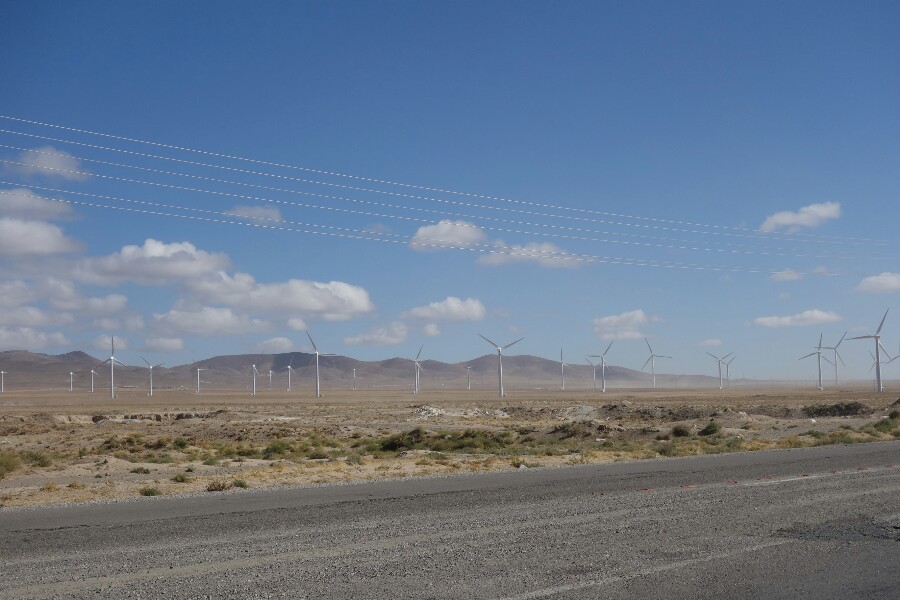 The old gas station on the old road is a good wind shelter for our lunch break.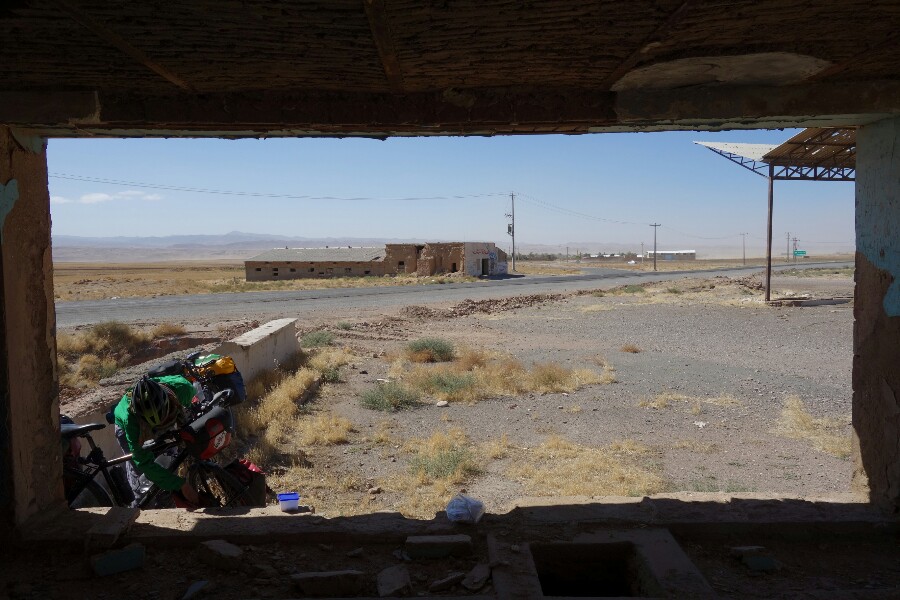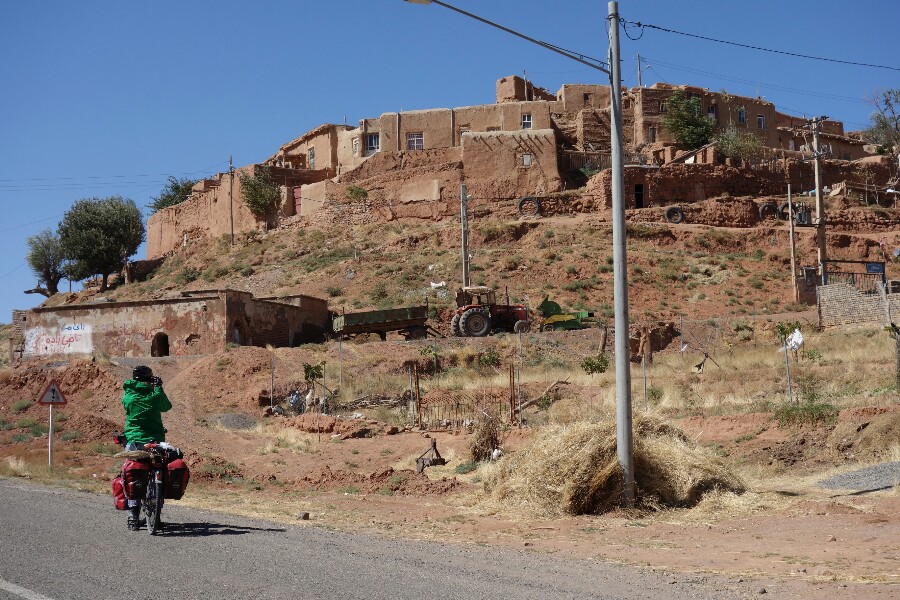 Downhill to Mashhad.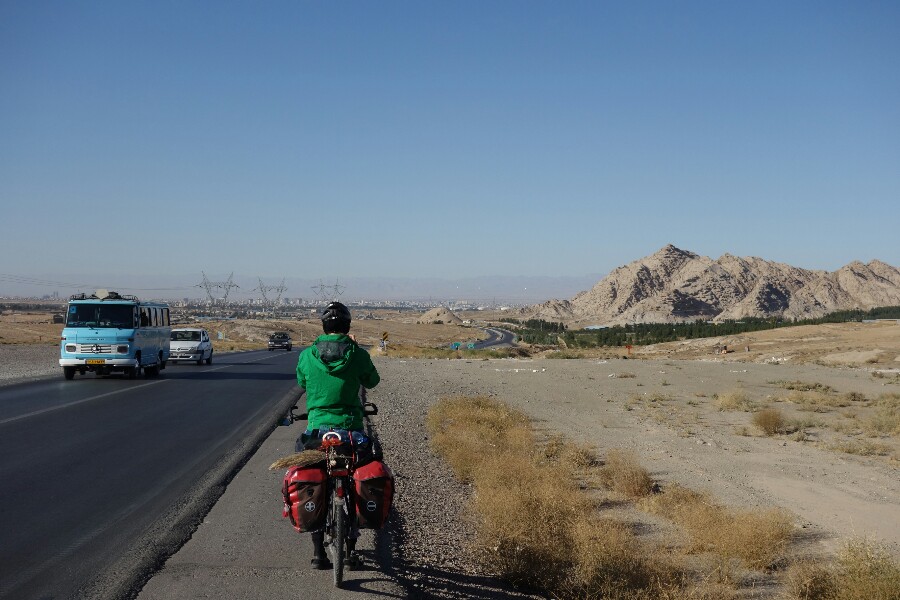 In Mashhad we stay with a really cool couple. It is a good rest before Turkmenistan. They are teaching and telling people how they can go to work by bicycle. The logo means cycling is infinite and it will change the city climate.
So come on, jump on your bike and cycle to work. 😉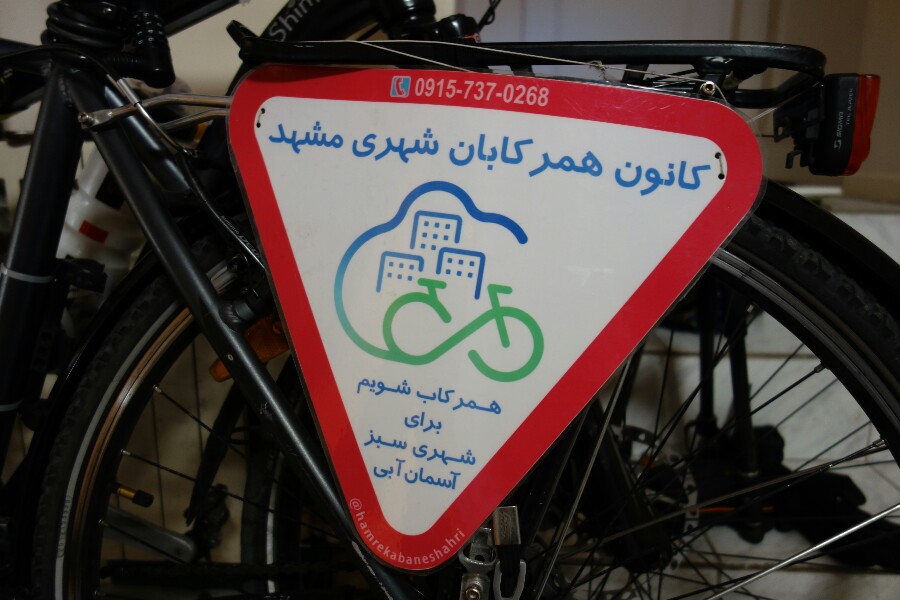 We make pancakes for breakfast.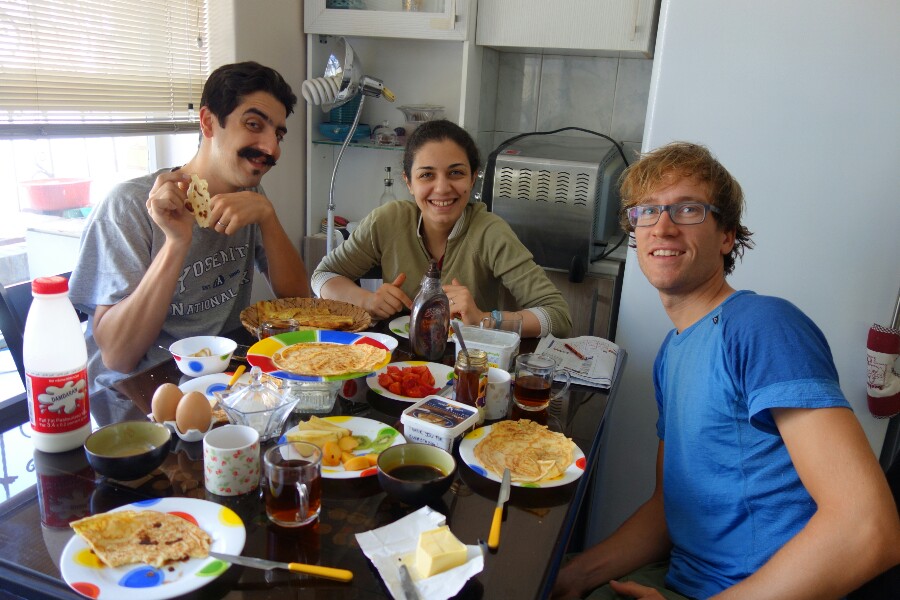 Ehsan fixes parts of our bikes. The cage of Johanna's pedal has a break. Now it's splinted and repaired.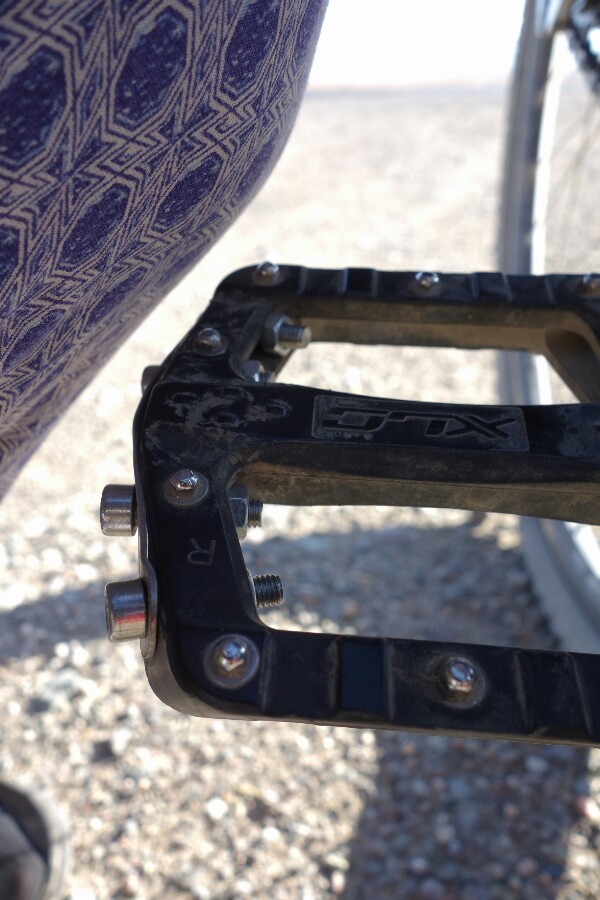 Since Yerevan my backlight doesn't work anymore, because the children also tried to steal my front light. Ehsan and me find out that one cable very close to the entry of the front light is broken. We open the front light, put a new cable and solder it. Now my rear light works again. 🙂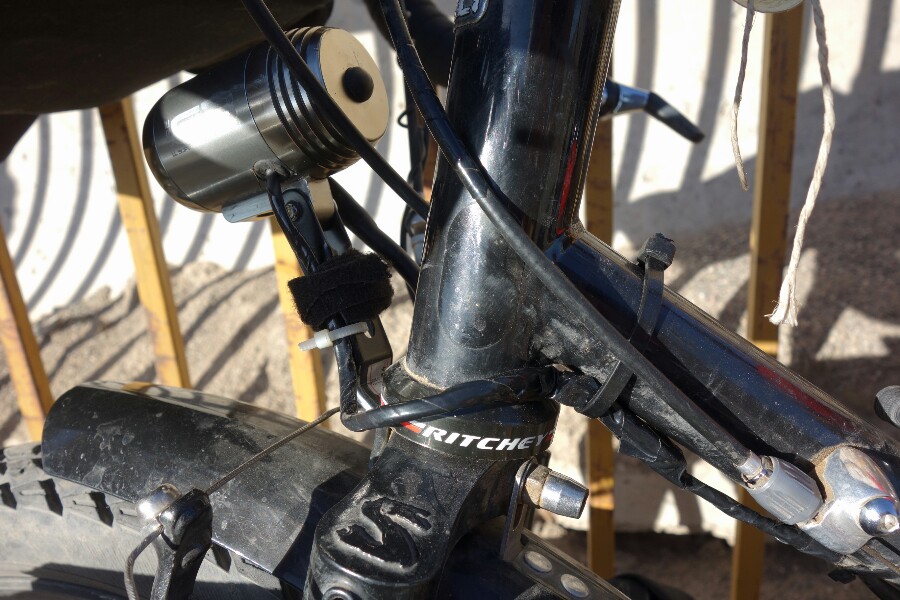 The holy shrine of Mashhad is nice but more or less just big, there are a lot more nice places to see in Iran. It's not allowed to take a camera inside.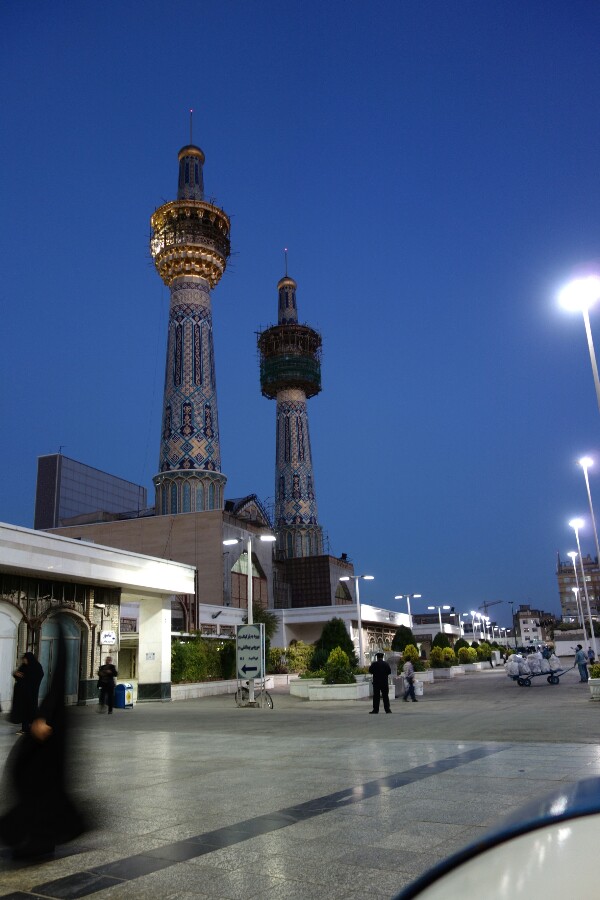 One day before Mashhad Joanna's saddle broke. In Mashhad we buy a new one, but at the first day she has to find out the right position.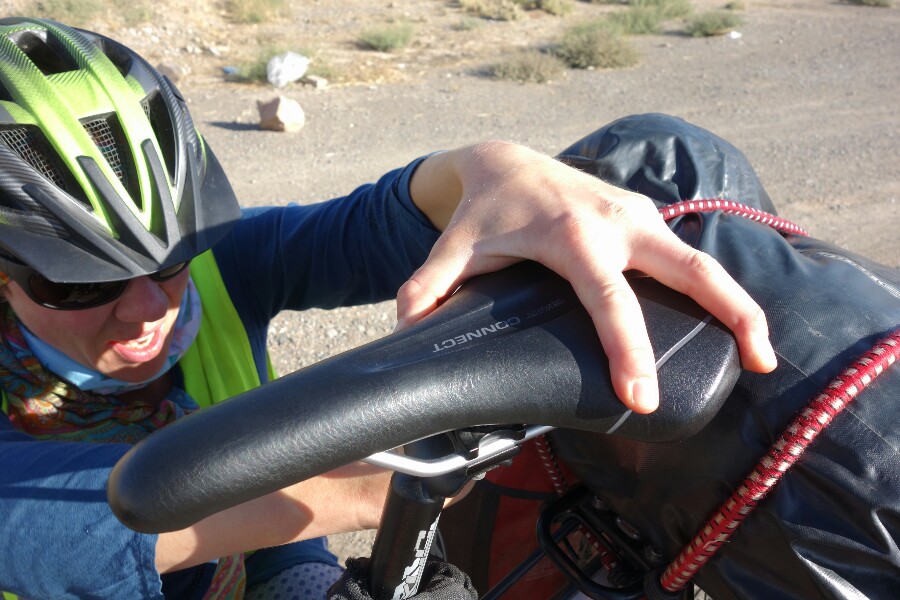 The first day from Mashhad to the border it goes down a lot. The landscape is not boring anymore.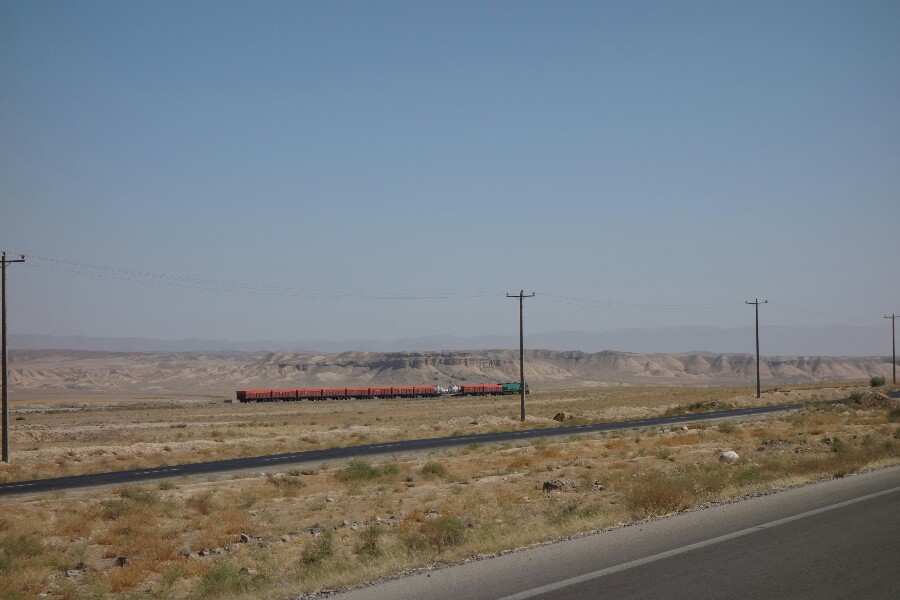 If you see just blue sky, look again. 😉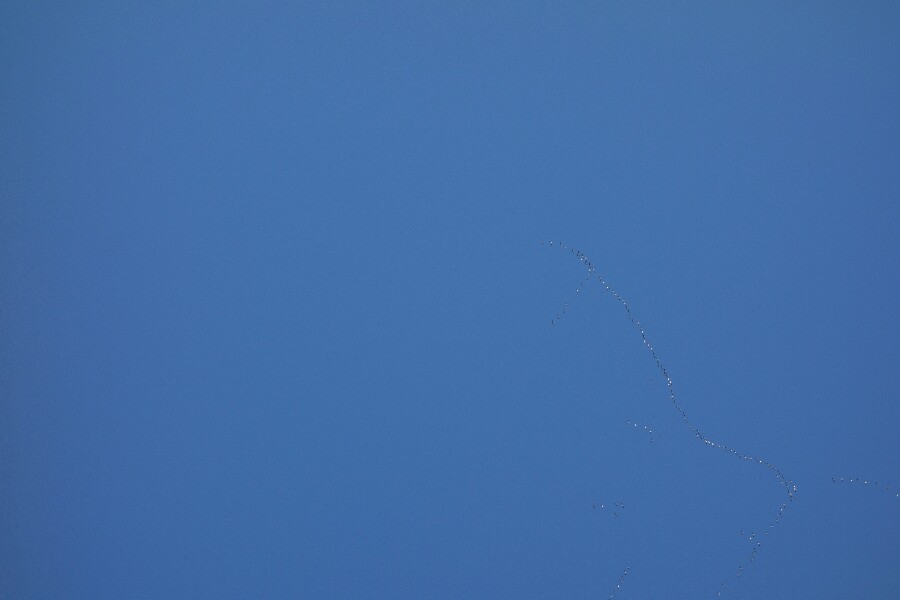 For the night we find a nice camp next to a dried out river.
Is the truck flying? Or is it a Fata Morgana?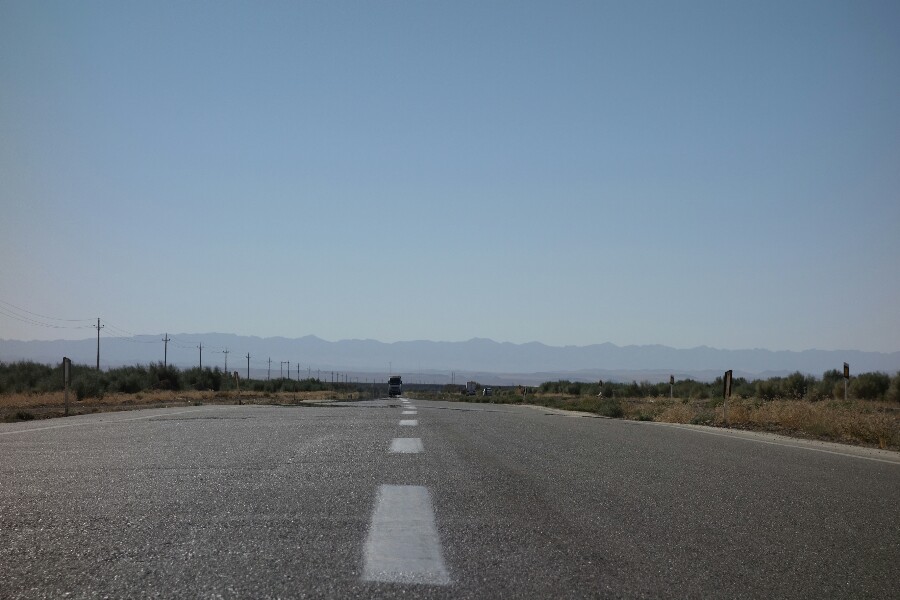 Sarakhs is our last village and stop in Iran. We spend our last time together with Shahab.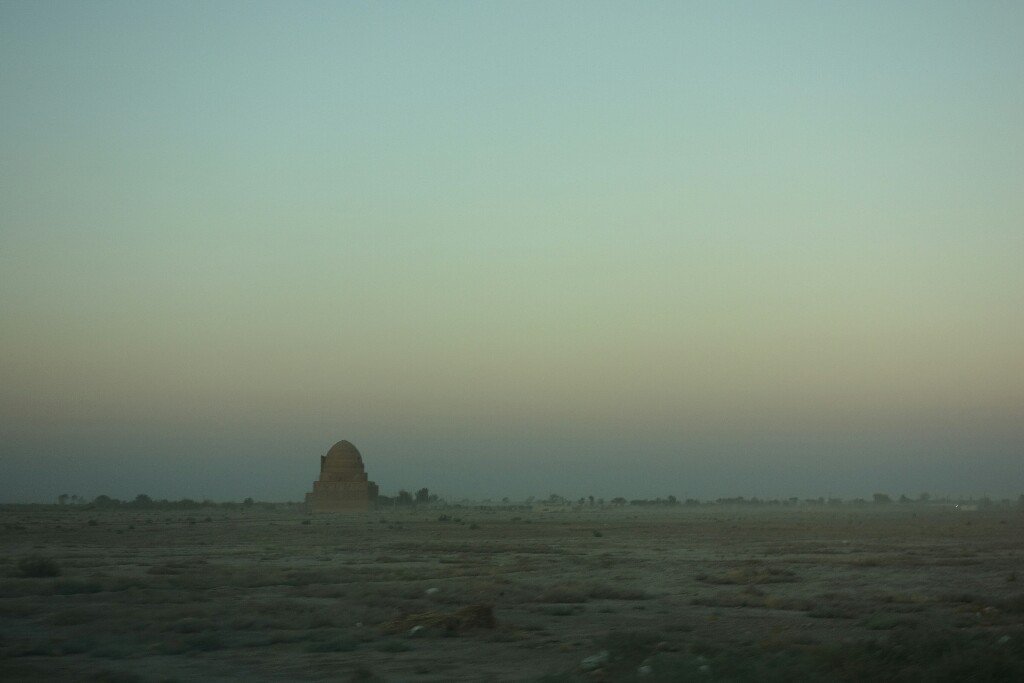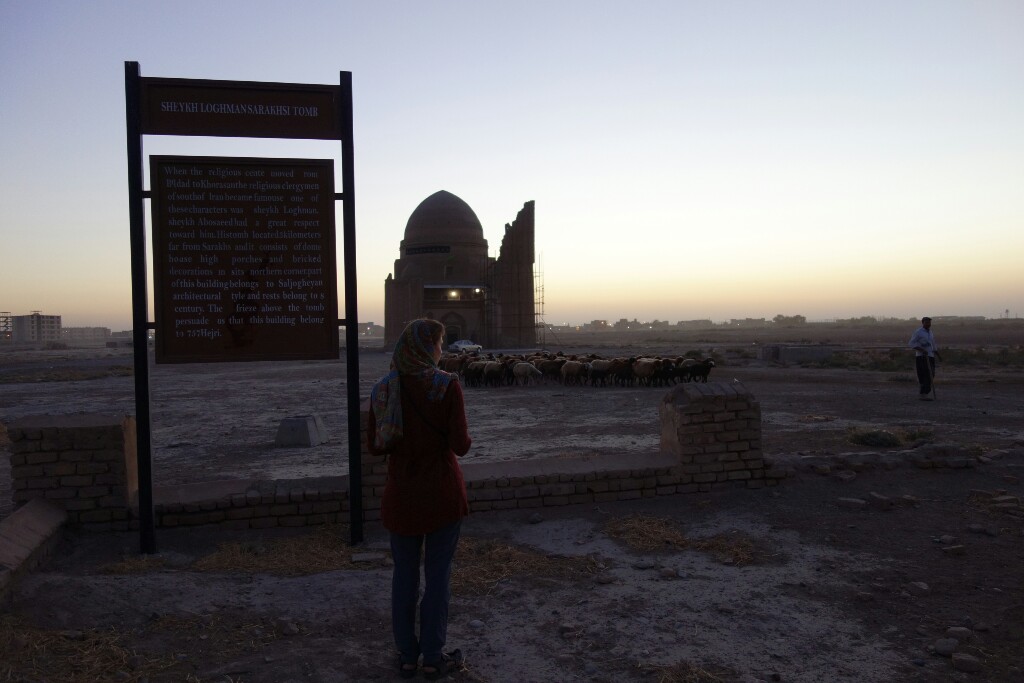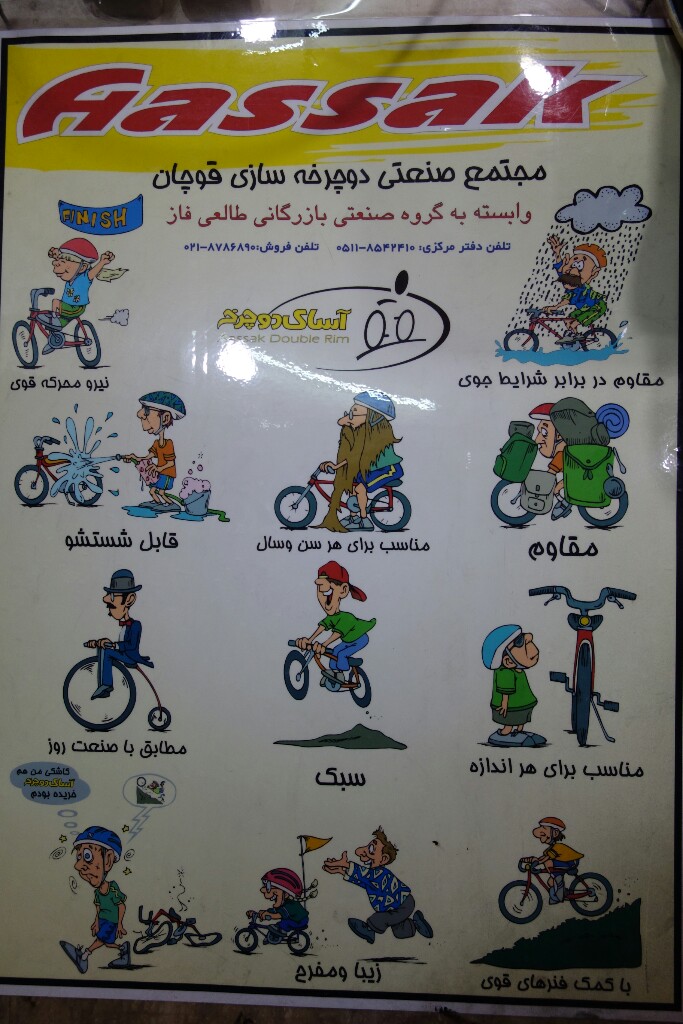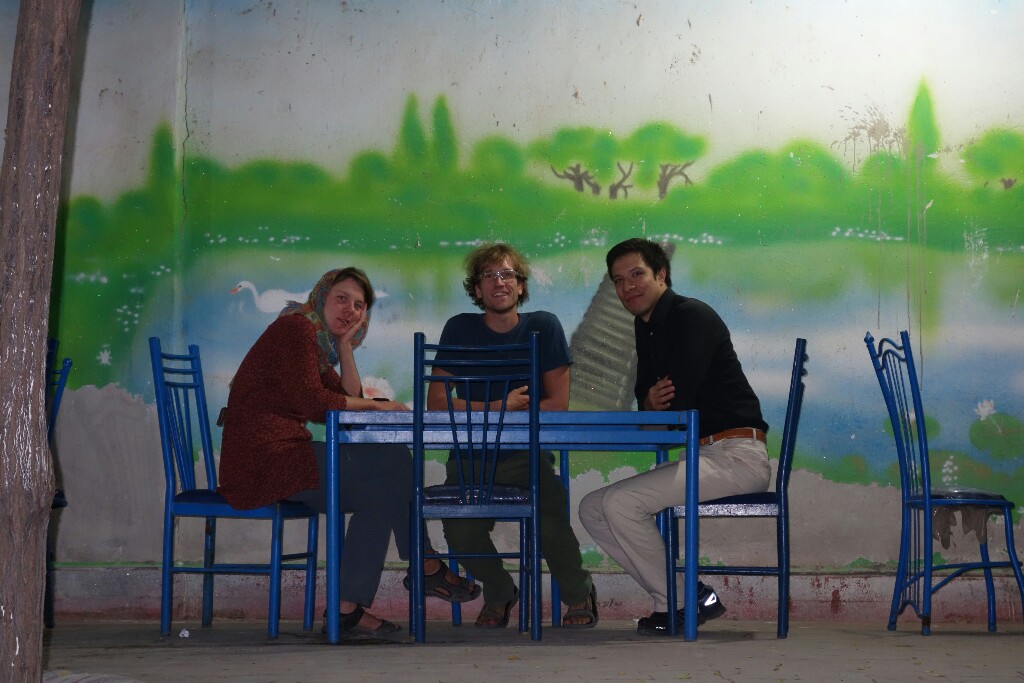 In total we stayed 55 days in Iran. Time to say goodbye!
Turkmenistan transit rush here we come. 🙂