Welcome to Cambodia.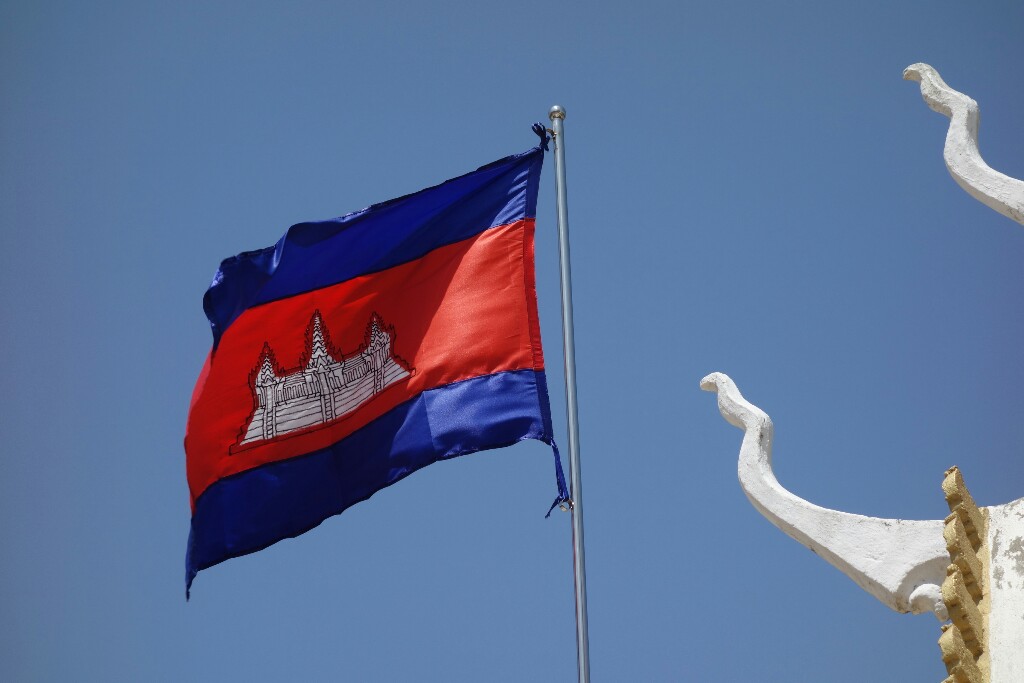 As I wrote everything works out fine at the border and we get our 30 days visa on arrival for 30 $. Short after we look for a hotel/guesthouse where we stay for one night. The next day we sleep long and give the main road a try, but just 40 km to Svay Rieng, where we stay the second night. It's Sunday and we have our lunch break at a big schoolyard. The school is open, so we can have a look at the classrooms.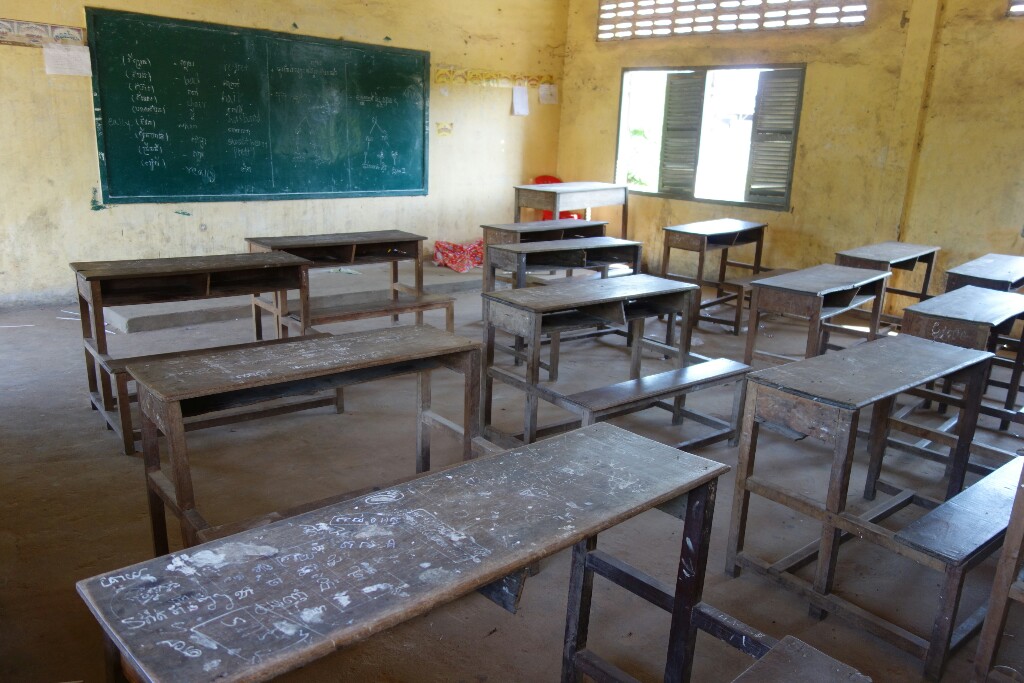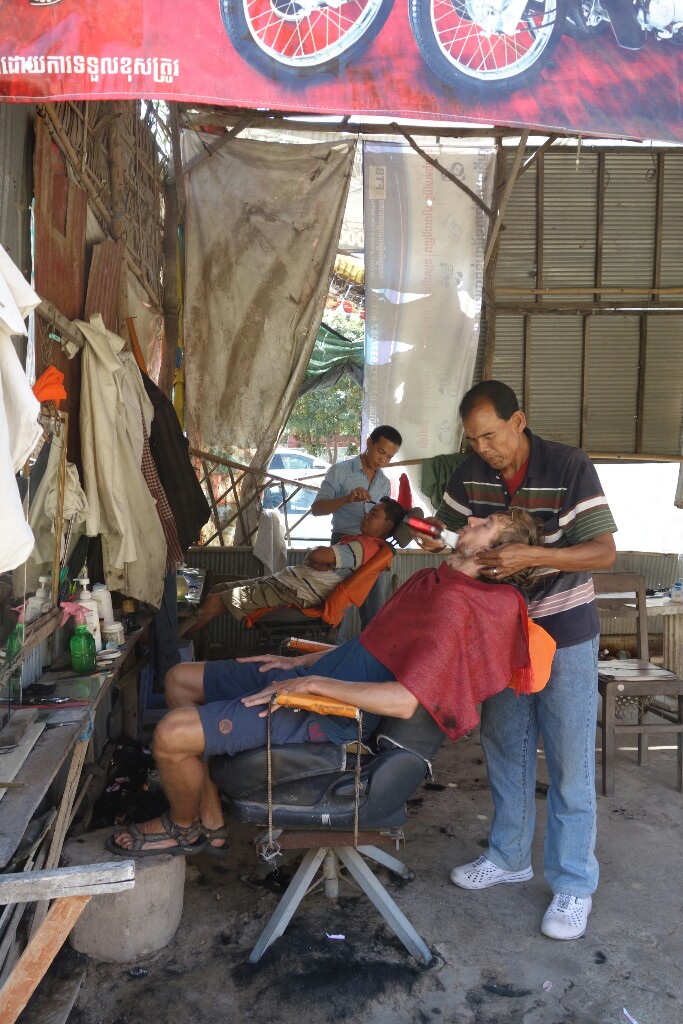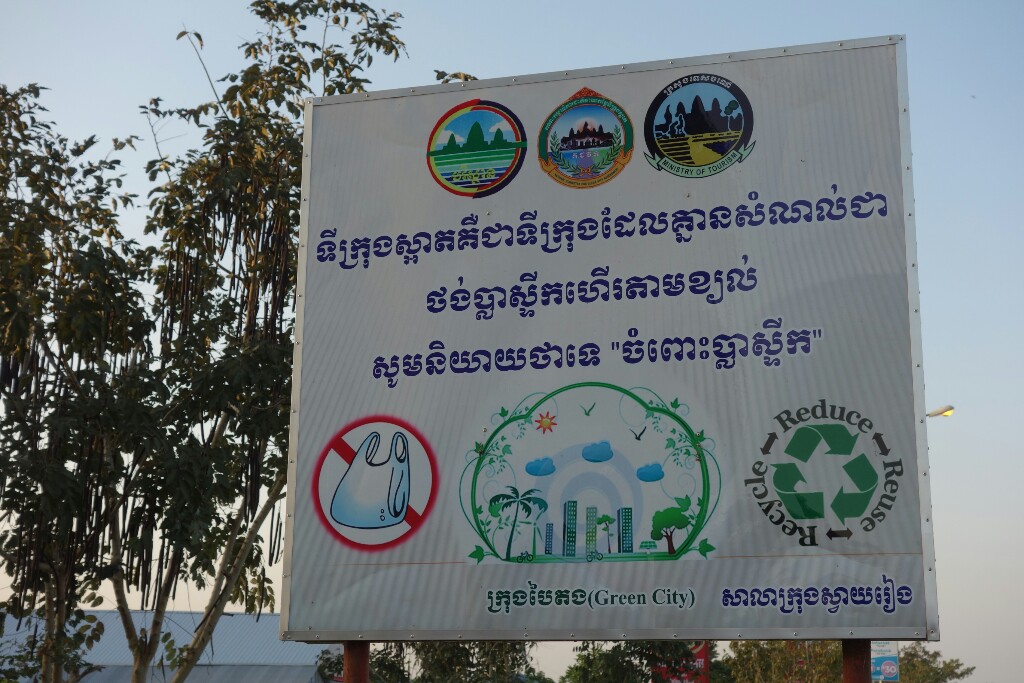 As we aren't forced to rush and use the big road anymore, we try some smaller Cambodian sandy sideroads the next day. We meet children cycling home from school.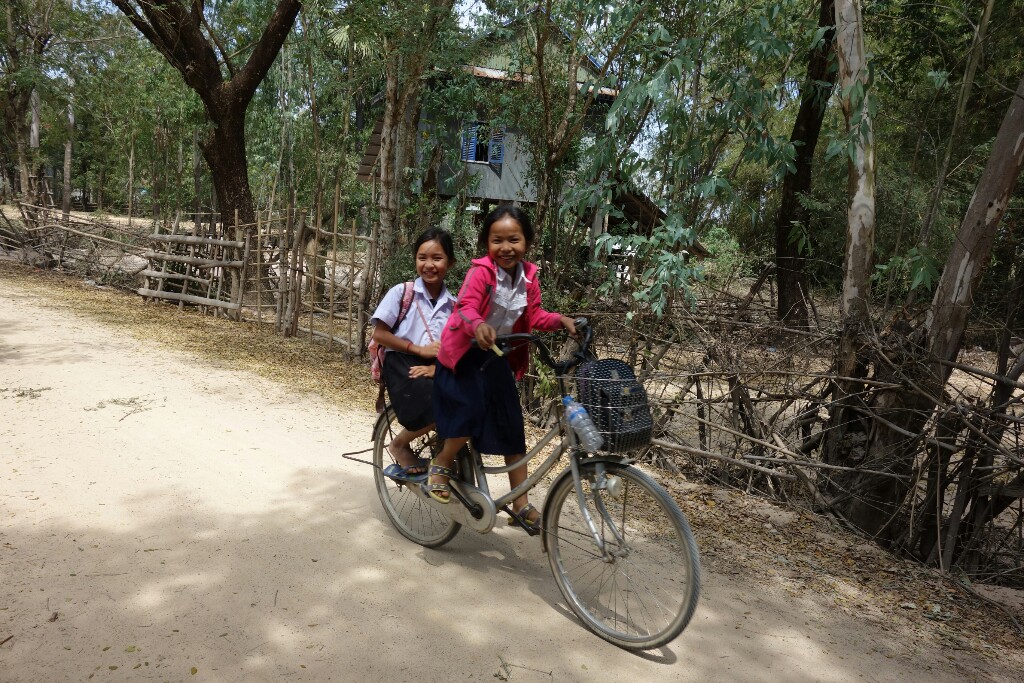 And then around midday a friendly guy stops next to us with his scooter. He asks the usual questions and if we had lunch yet. We say no and he invites us to his home, where they cook vegetarian rice with cucumber extra for us. 🙂 They speak good English and give small private lessons.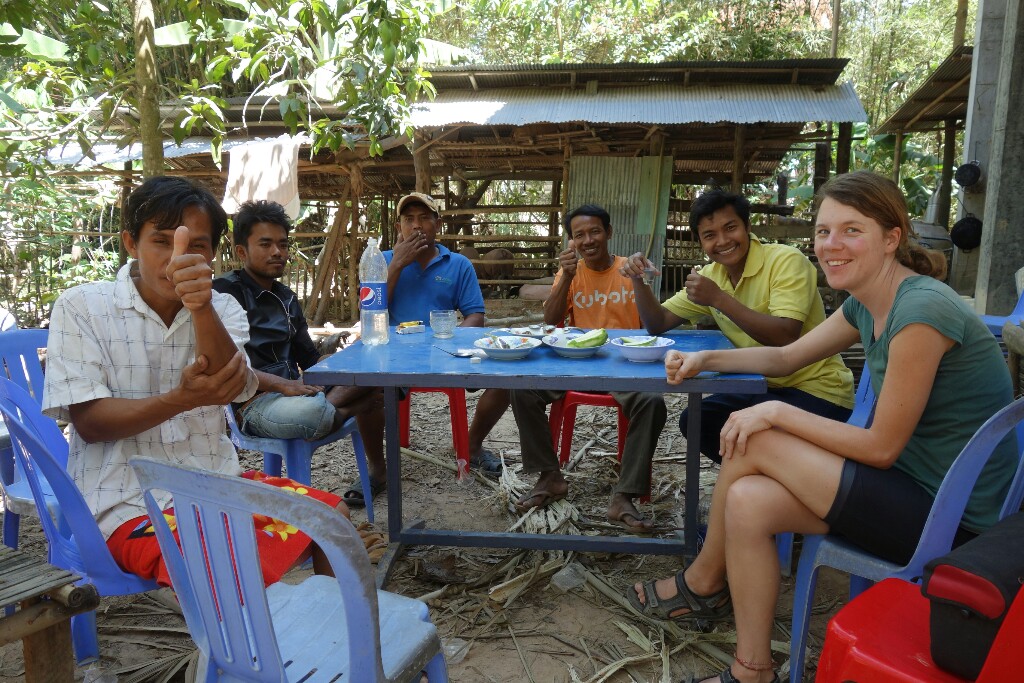 Cambodia is very flat and has a lot of coconut palm-trees.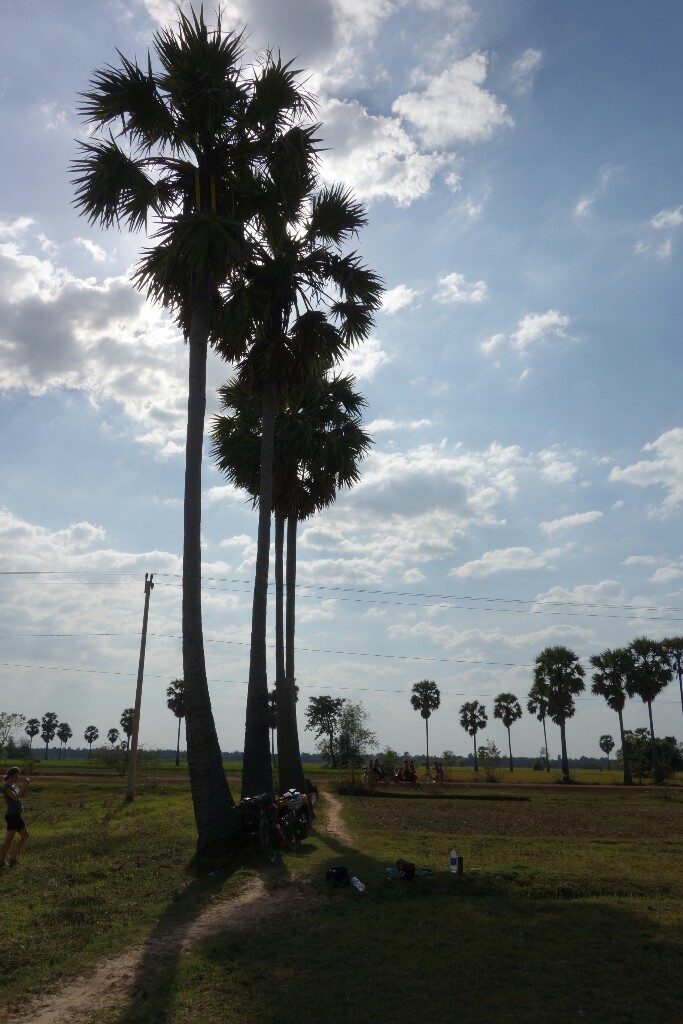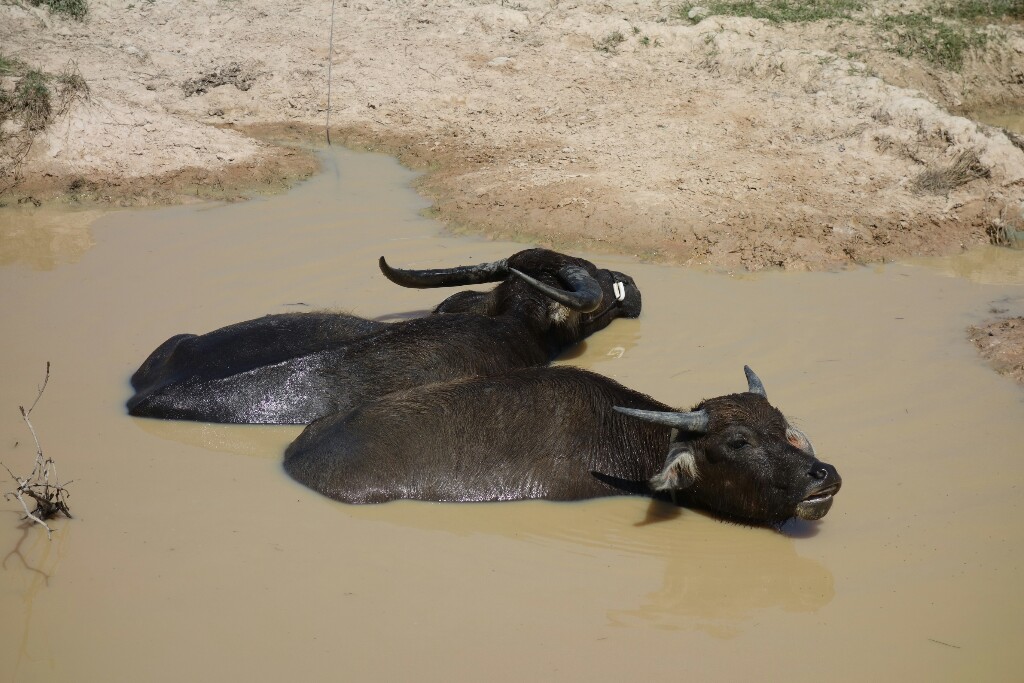 Some of the sand roads are in good shape and it rolls easy like on a German forest road, but others are horrible bumpy and we cycle with walking speed only.
Main junction in a village.
It looks more like a stall, but it is a guesthouse.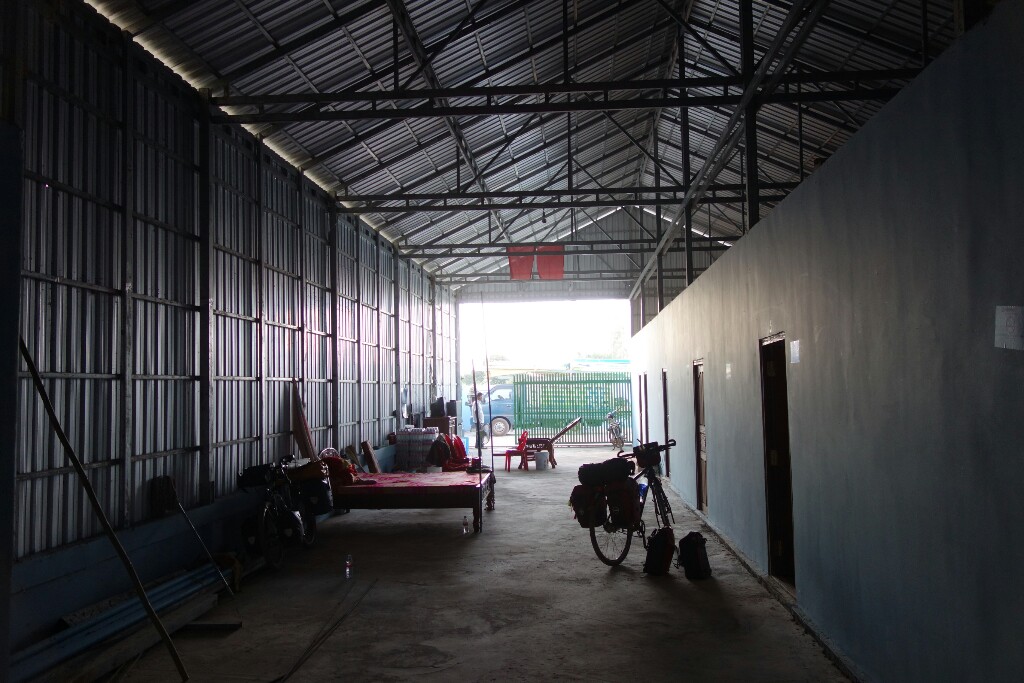 Johanna buying delicious pineapples for breakfast.
From Prey Veng, where we have lunch, we try to find small roads to Pea Reang at the National Highway 8.
The cows are so big and white, very impressive.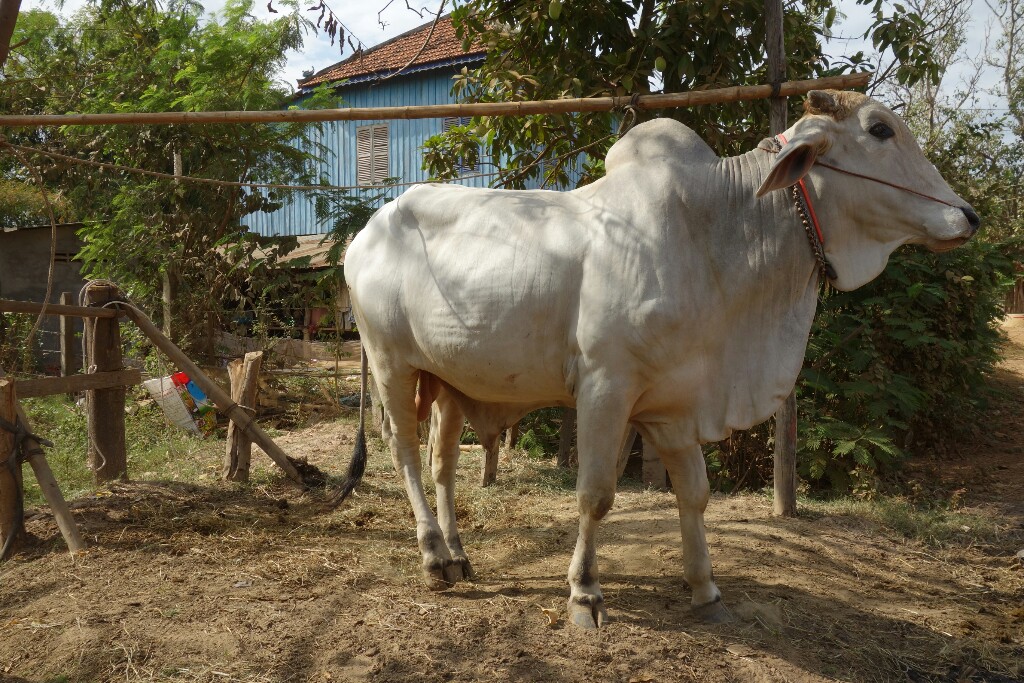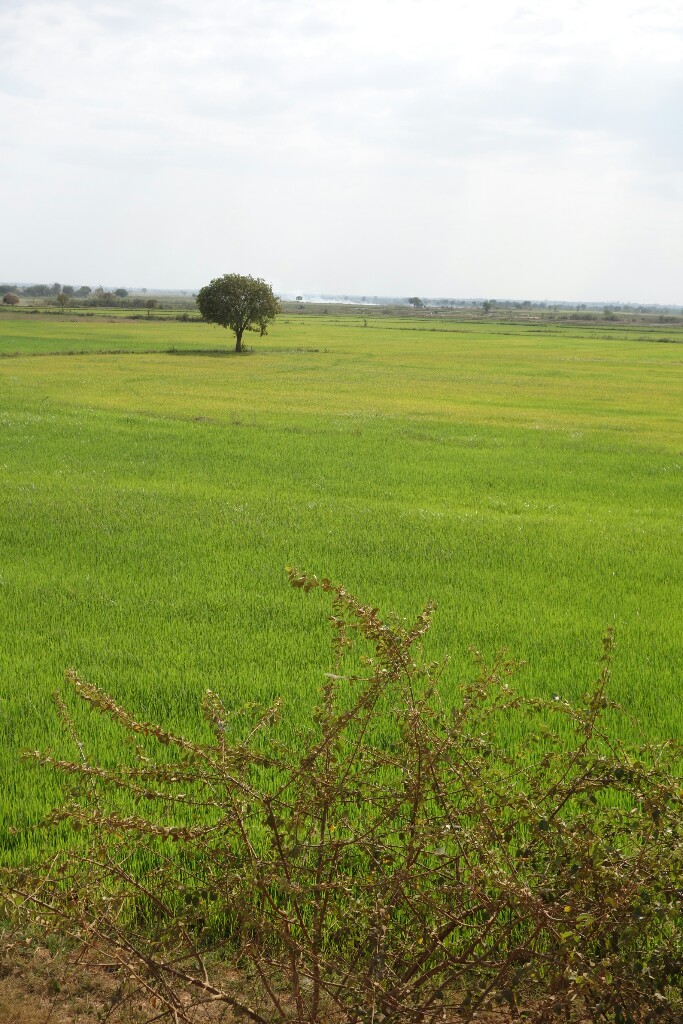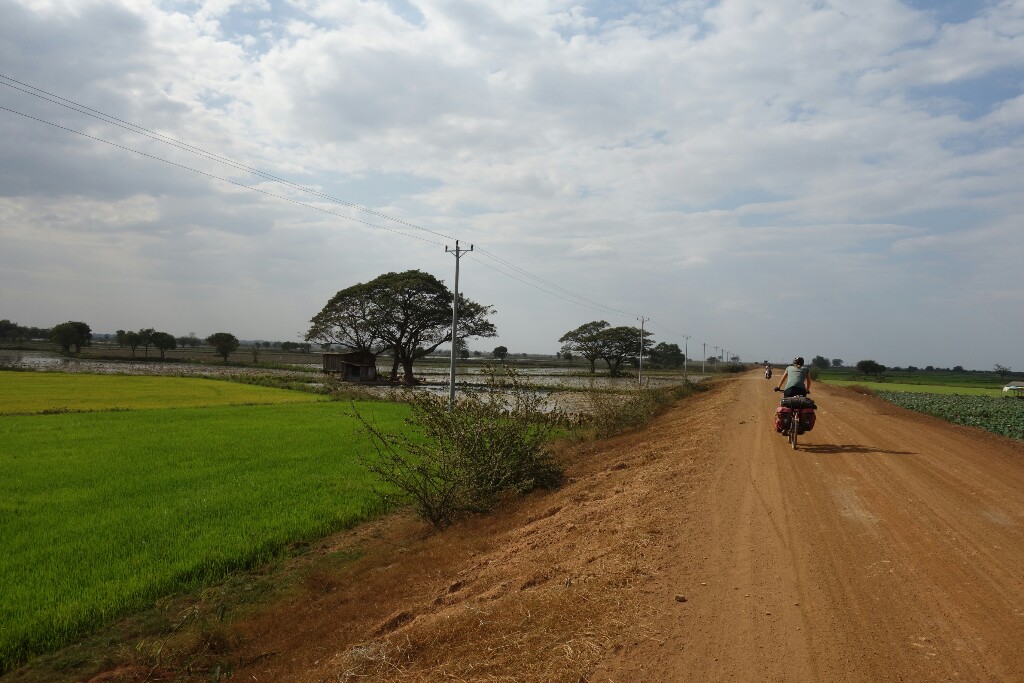 Yes, interesting or unusual loaded vehicles are all over Southeast Asia.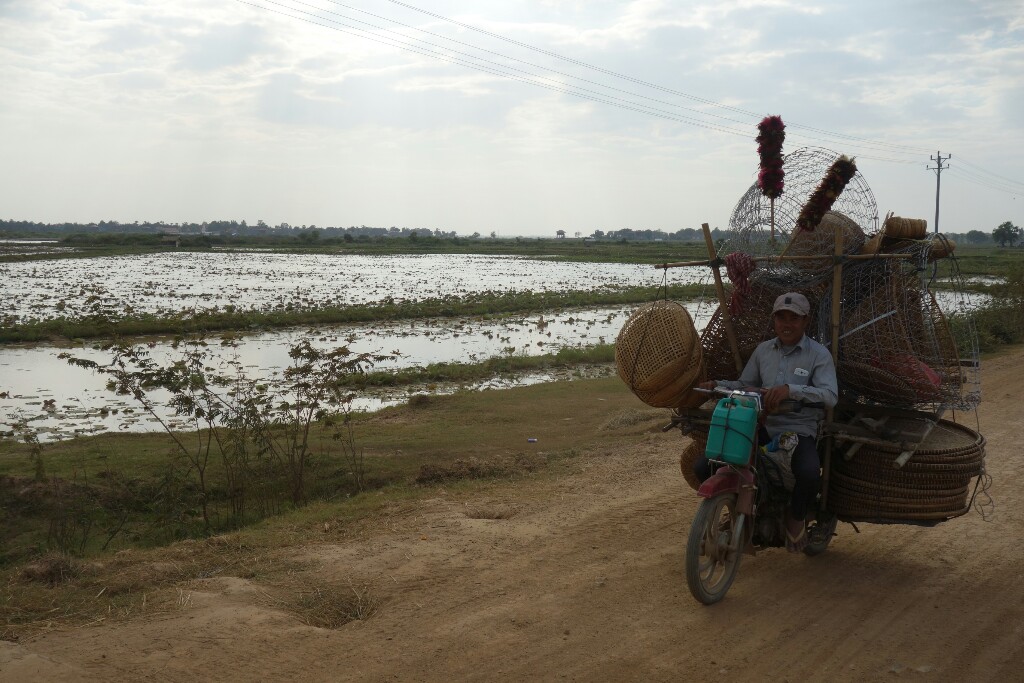 The result of our work on a dusty day.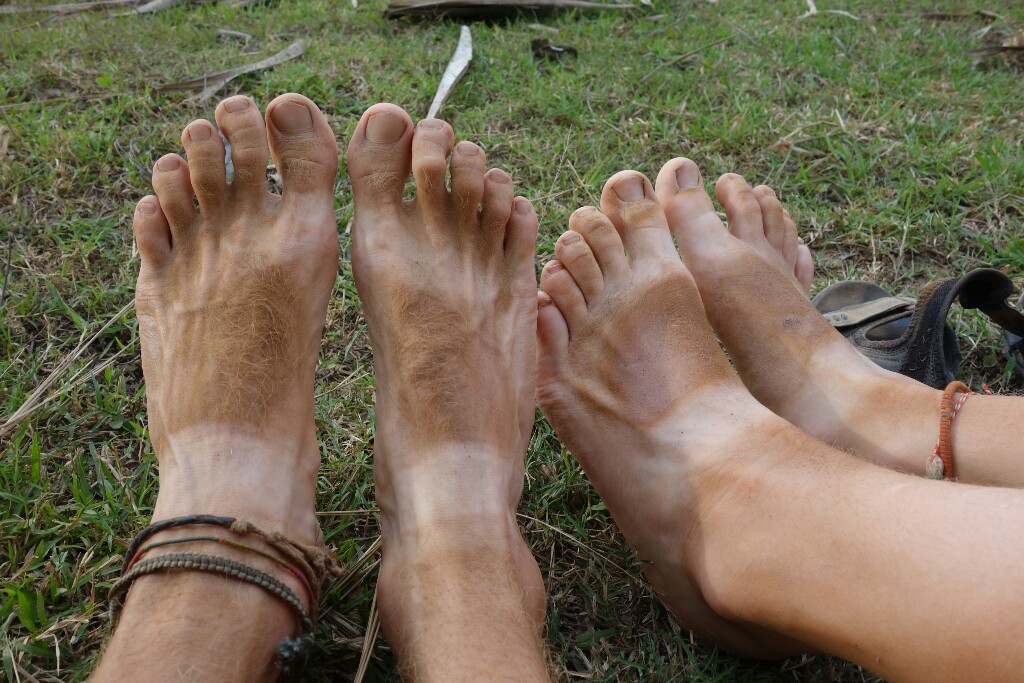 Finally we see children riding on water buffalos.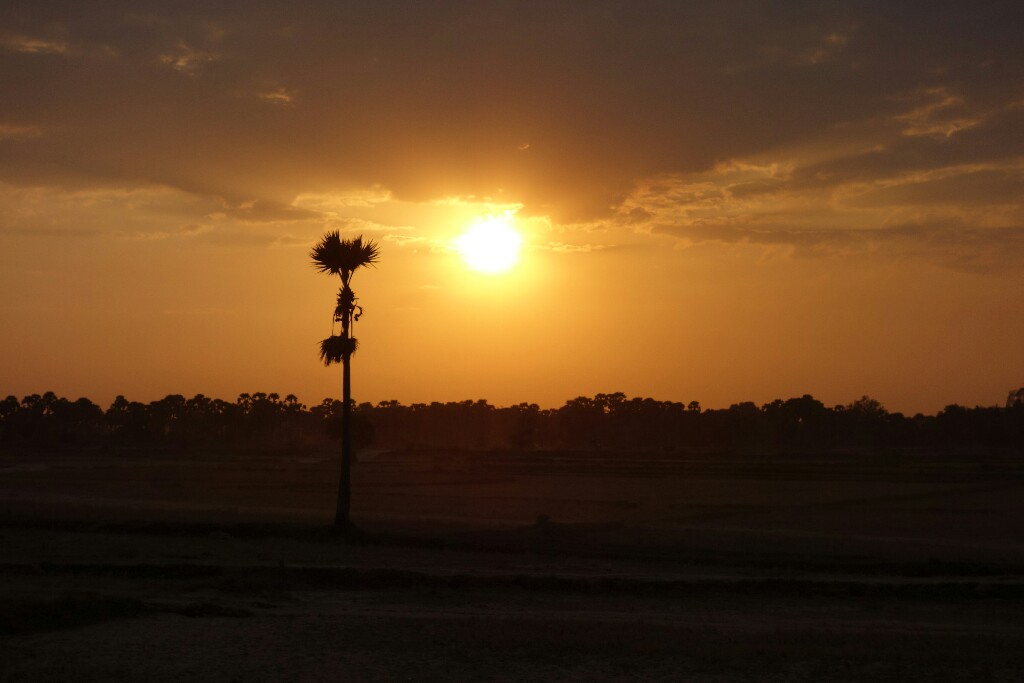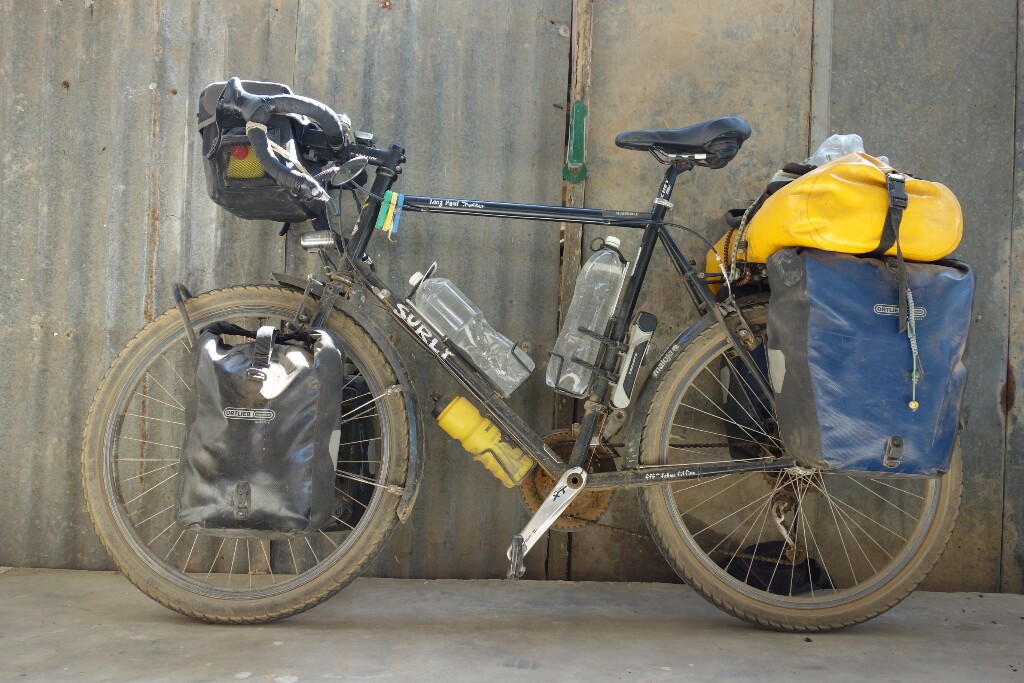 We cycle through an area with big new infrastructure and nothingness and some industrial buildings. In front of on bigger building there is a movable market, a lot of woman buy their lunch  and eat in the shade. When we arrive the lunch break is almost over, all the sellers pack their stuff and leave. We think it is a clothing factory.
Transformers figure.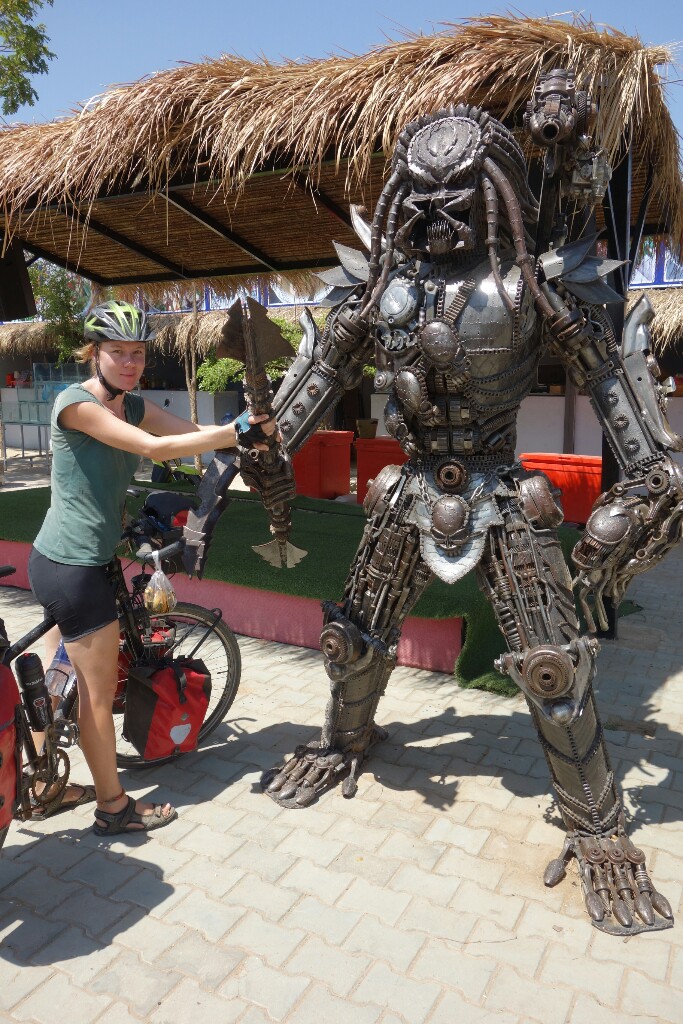 The area around Phnom Penh at the Mekong is famous for silk. We visit one small silk factory. On the picture you see the cocoons of the caterpillars.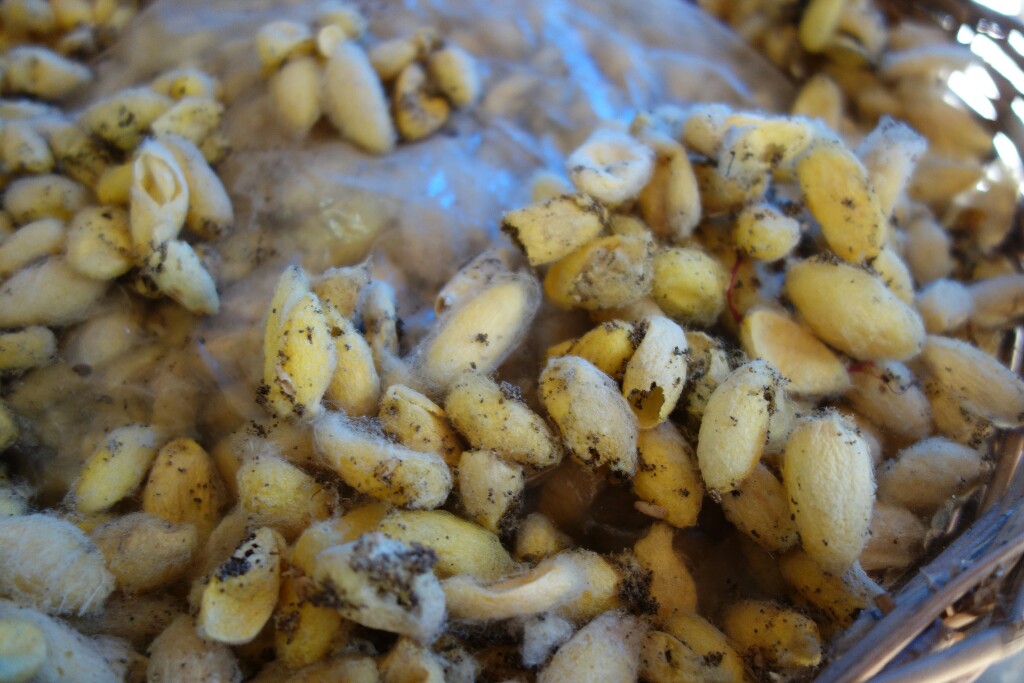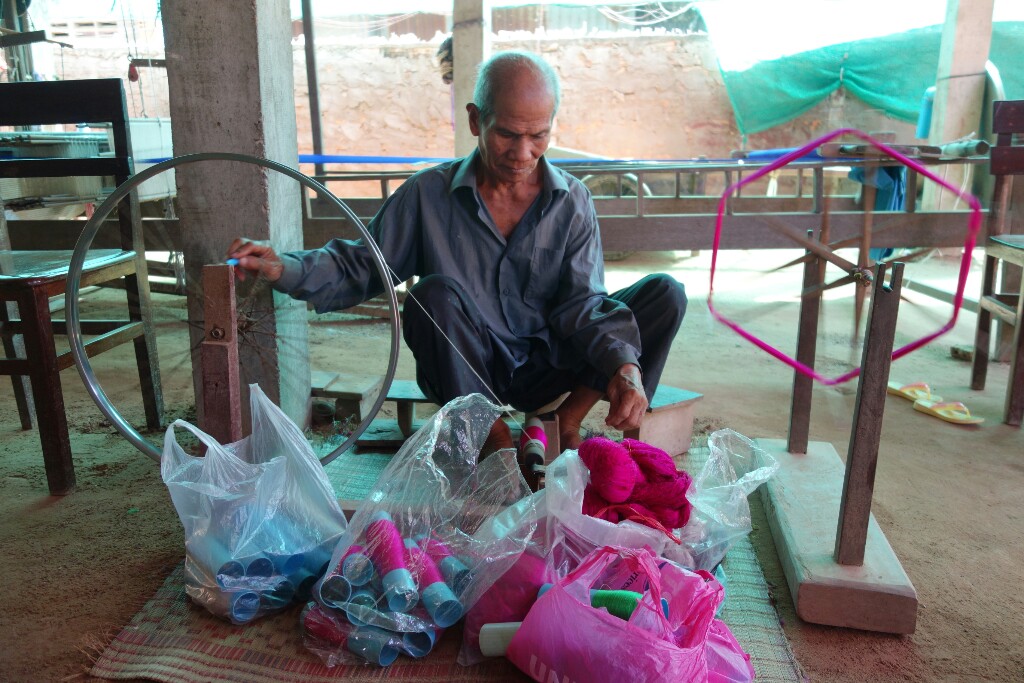 A lot of mango trees grow here.
After a long time, last time was in Luang Prabang, we see the Mekong river again. By a small ferry we cross over and arrive in the center of Cambodia's capital.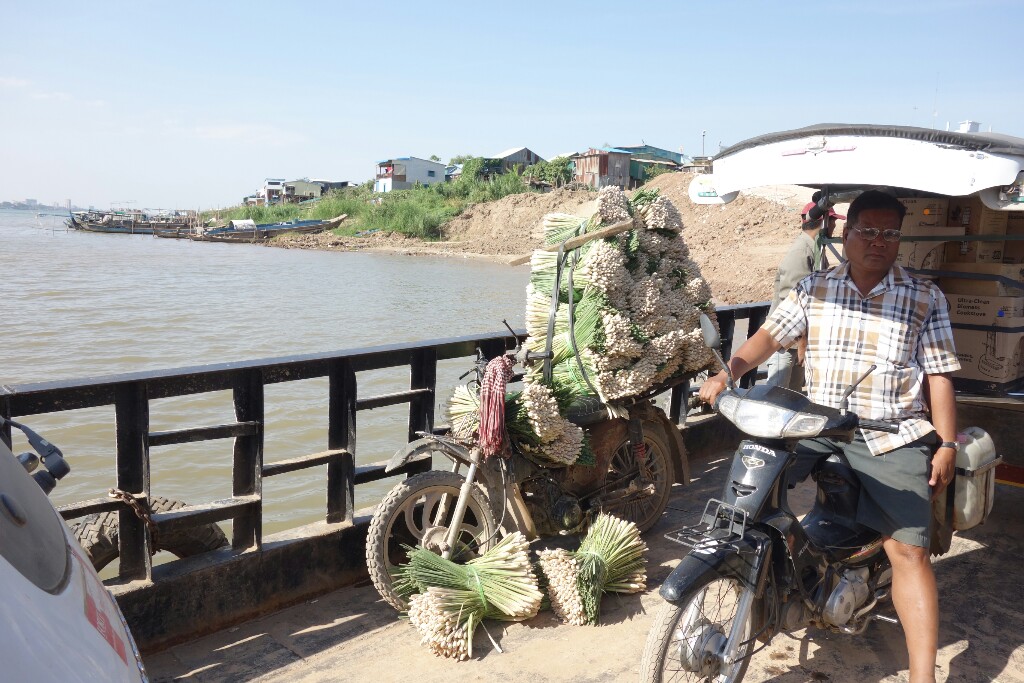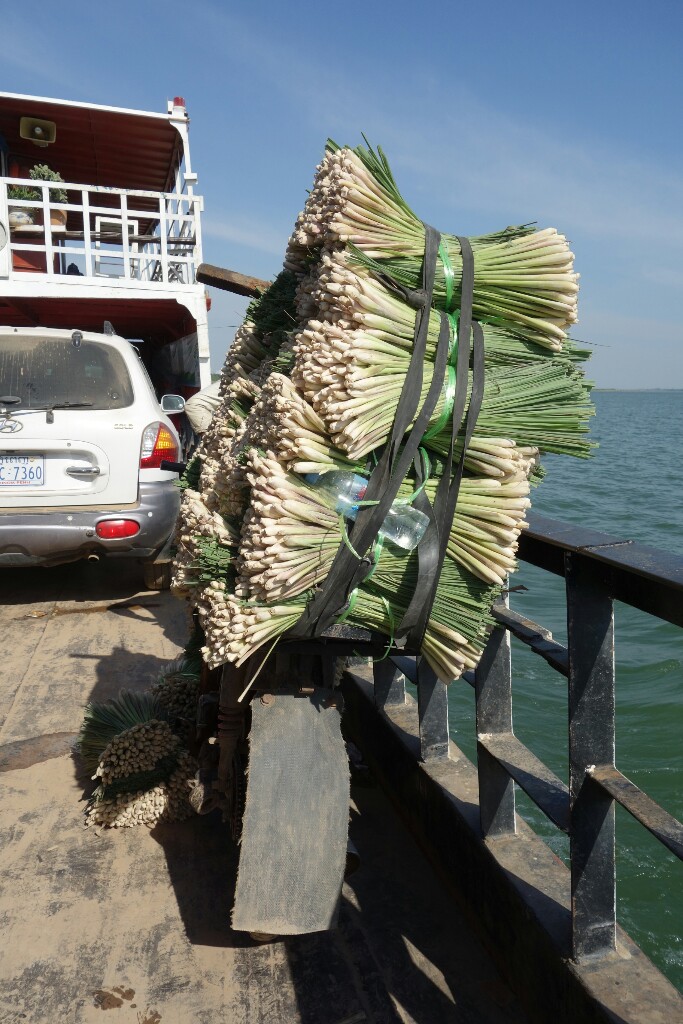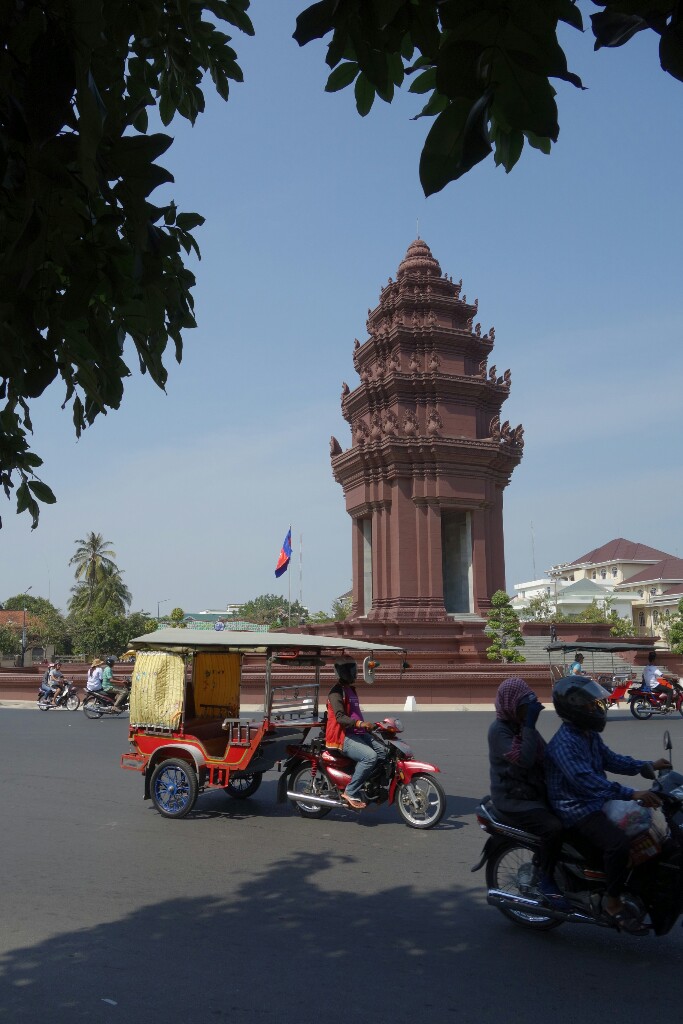 Our friendly host William from England let's us stay in his apartment. As we both need a big rest, we stay for one week. The sunsets look georges.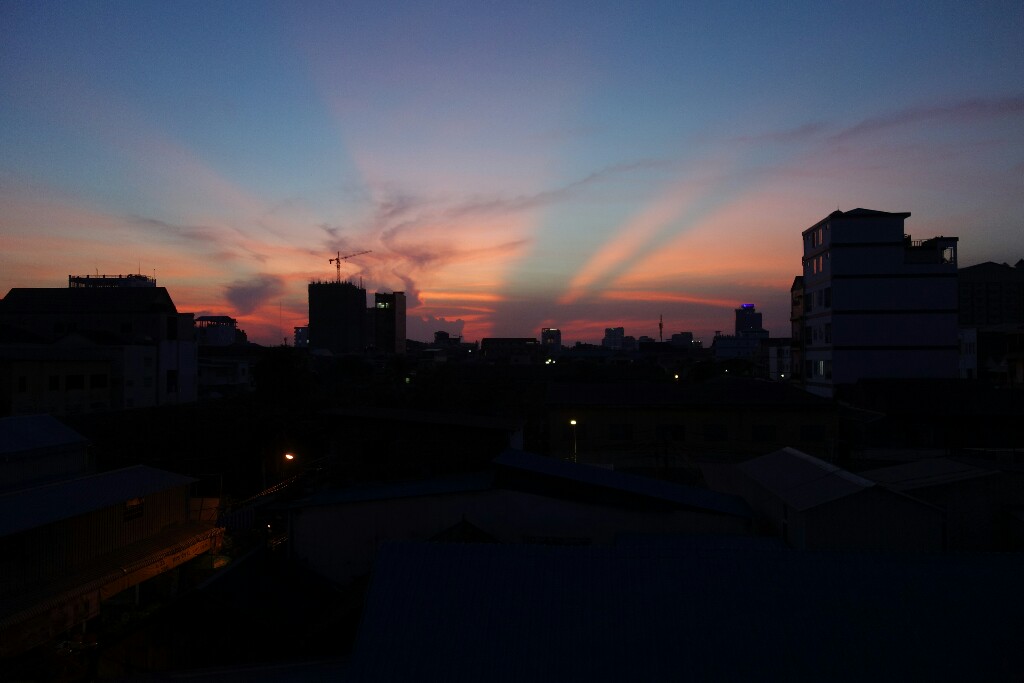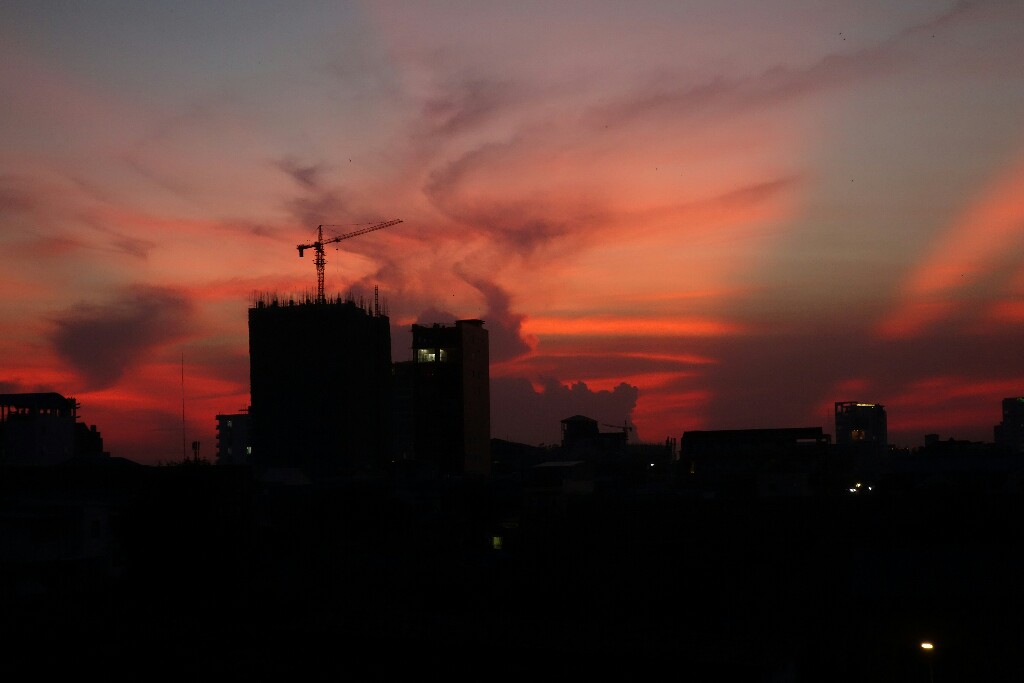 Extreme decorative cakes in a bakery in Phnom Penh.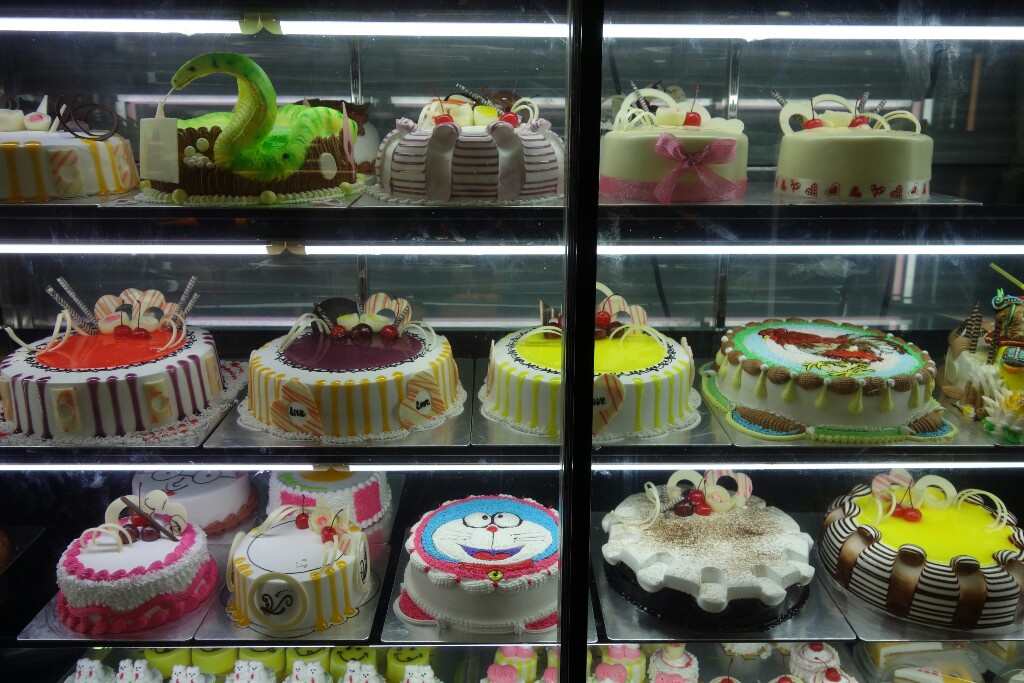 After all the sandy dust roads, we give our bags a quick wash and they look a bit more shiny again.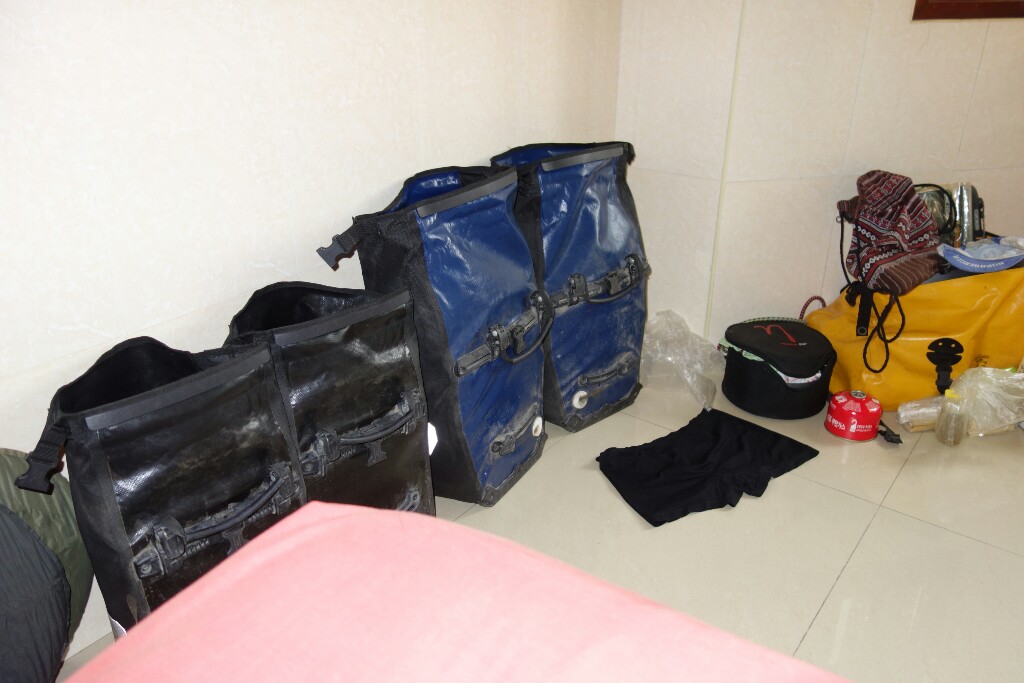 As a daytrip we cycle a bit north to the silk island, where we have a swim in the Mekong.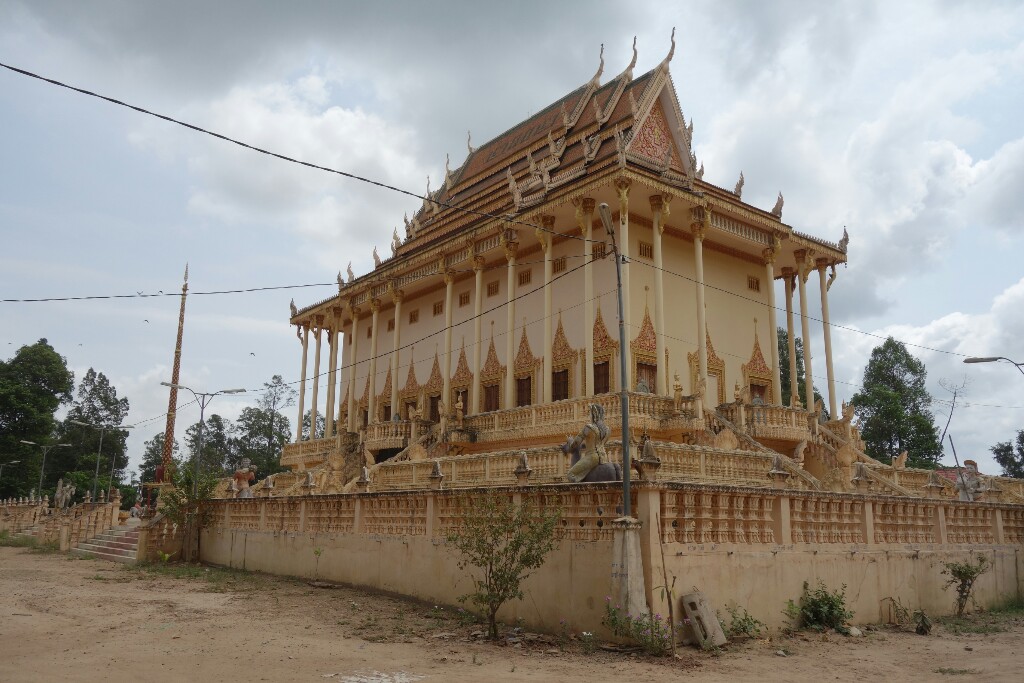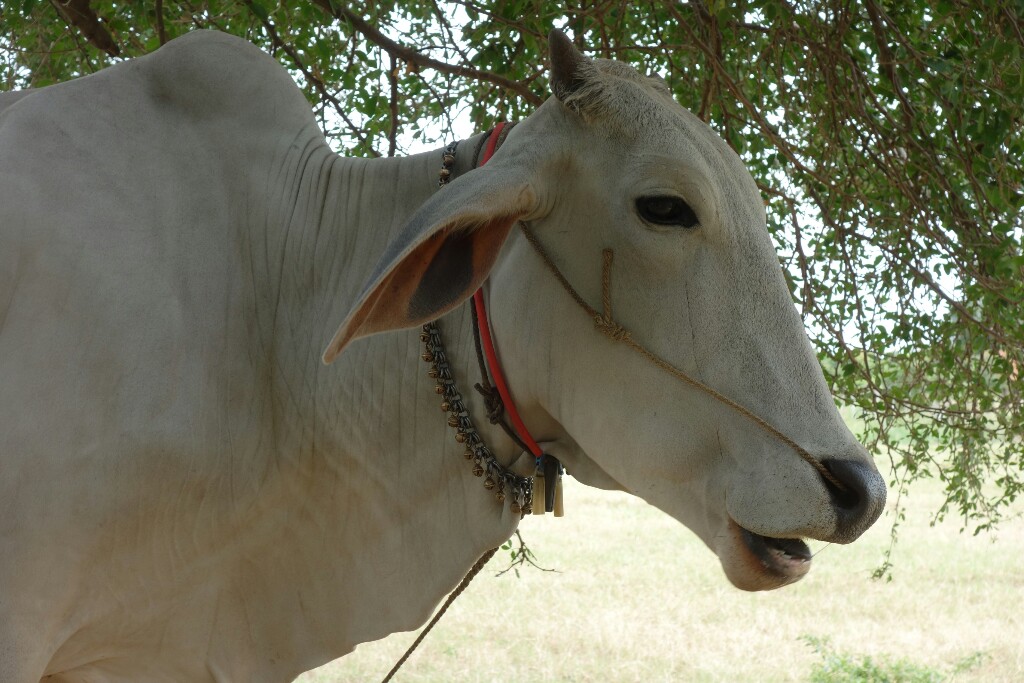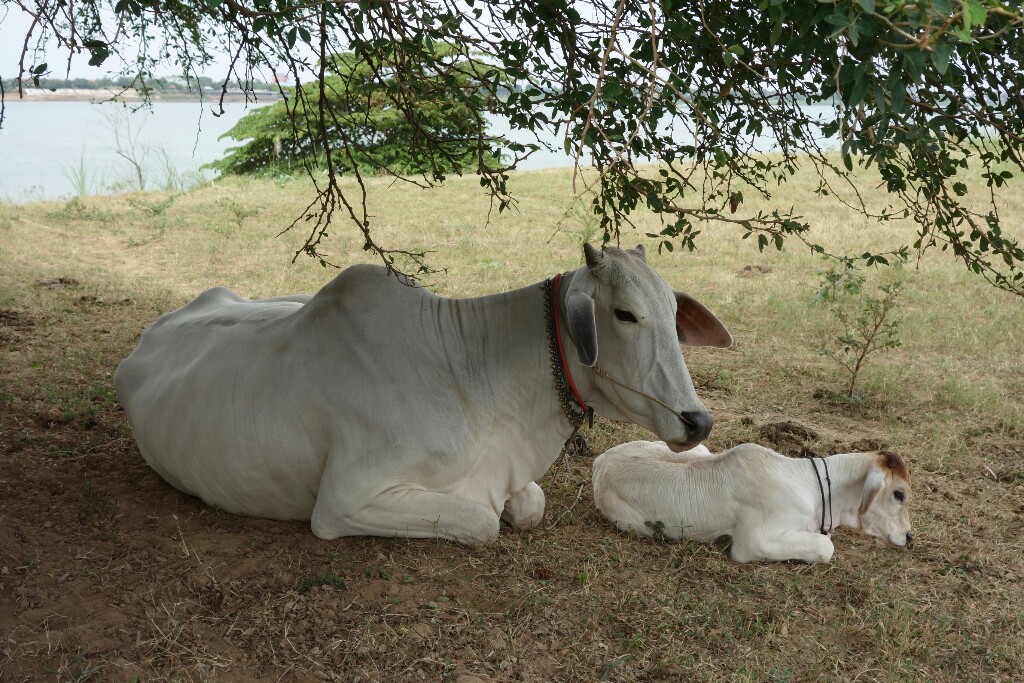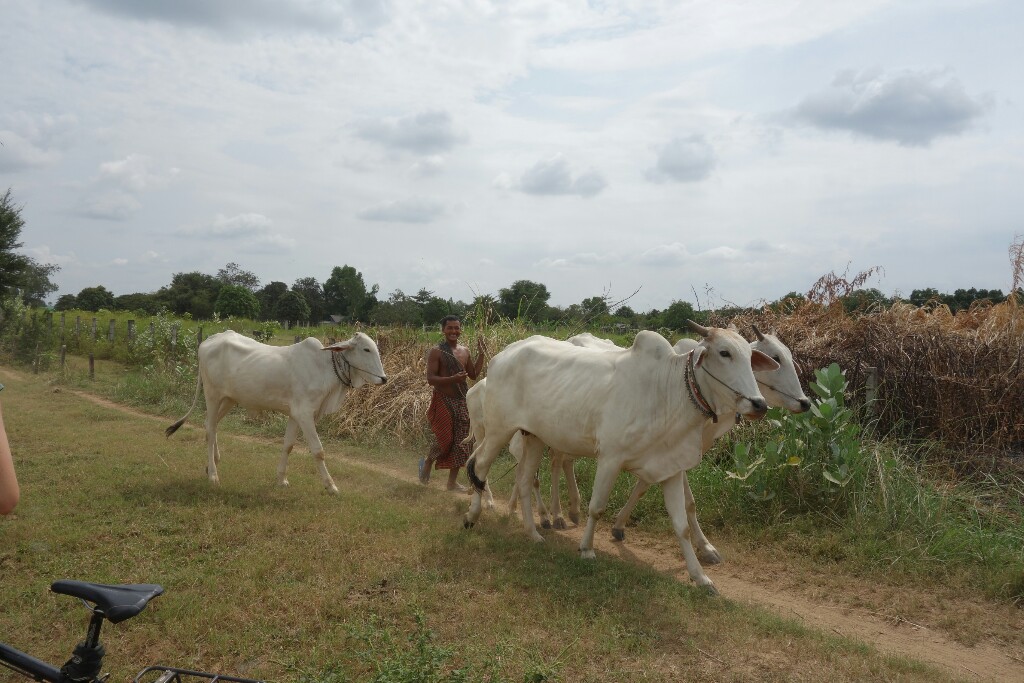 On the way back we stop for lunch. And while we sit in the homestay with a restaurant we realize that the pictures at the wall are from Germany, actually from Franconia. The woman joins us to the table and speaks German with us. She lived in Germany in a small village in Franconia for 11 years. She is Cambodian but we can hear her Franconia accent, we feel a bit like at home.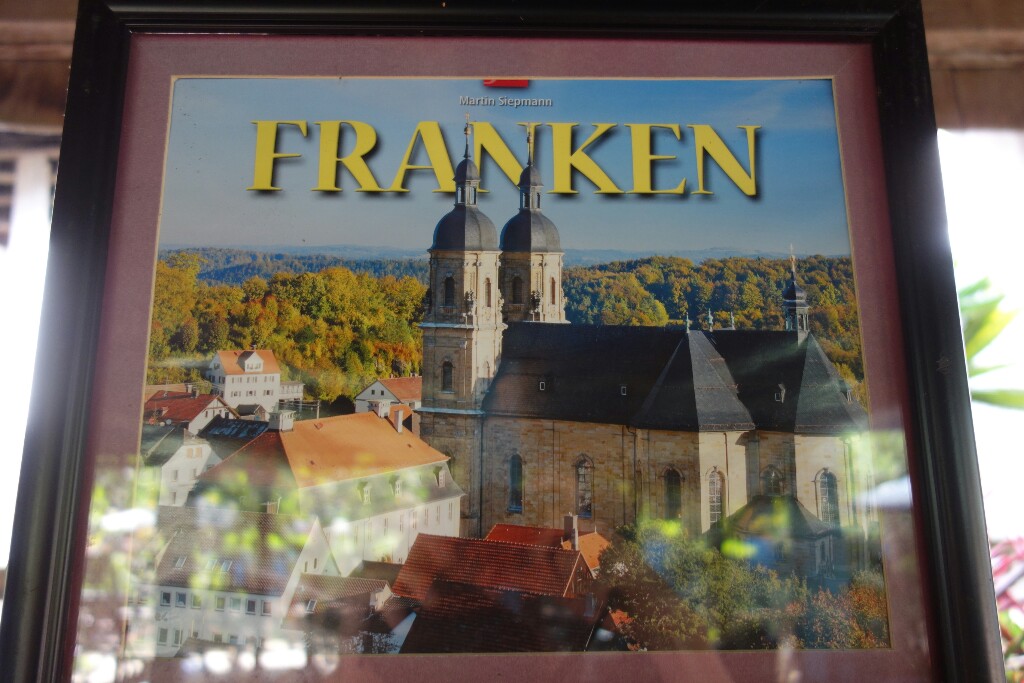 After one week we are ready to cycle on to the seaside. Kampot is the next big city in the south. In the beginning, the way out of the town, we are lucky and find a new paved, still closed road for about ten kilometers. But after that the traffic hits us hard again. We stop and have a lunch break firstly.
Johanna's ergonomic handle grips are used off, ugly and sticky. As it's not possible to get new ones, she has the great idea to rip some bar tape around. One bicycle shop gives her shiny orange left over tape for free. Nice highlight for her bike.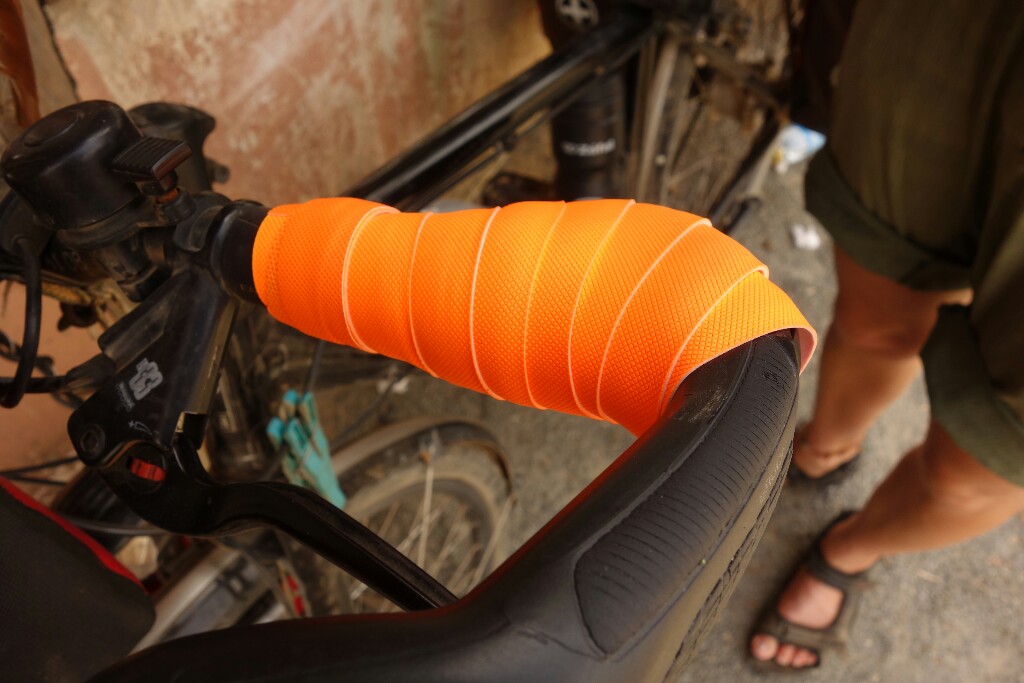 We decide to skip Angkor Wat. It was a longer decision, but for me it is just a very touristic hot-spot and I don't like those places. I like the hidden and smaller places more, those ones you sometimes find accidently. Also they recently raised the entrance fee from 20 $ to 37 $ for the one day ticket. A bus ride to Siem Reap would take one day. But as we don't have enough time to visit Angkor Wat anyway, we visit two smaller Angkor temples south of the capital on our way to Kampot. The first is Tonle Bati, 30 km south of Phnom Penh. The ruins are very nice and impressive, we are the only visitors.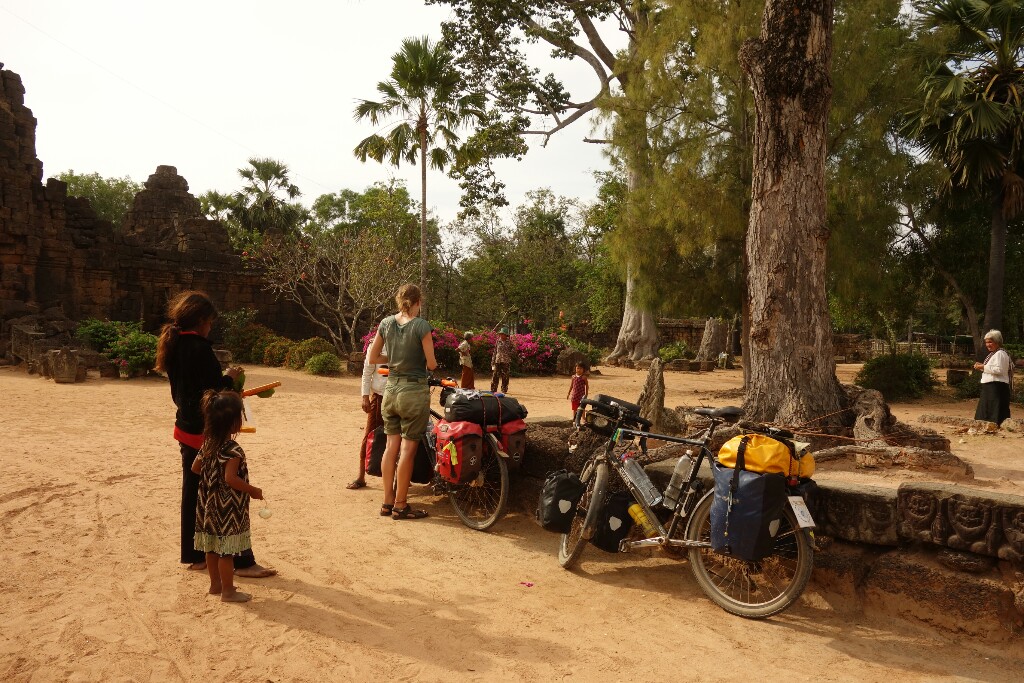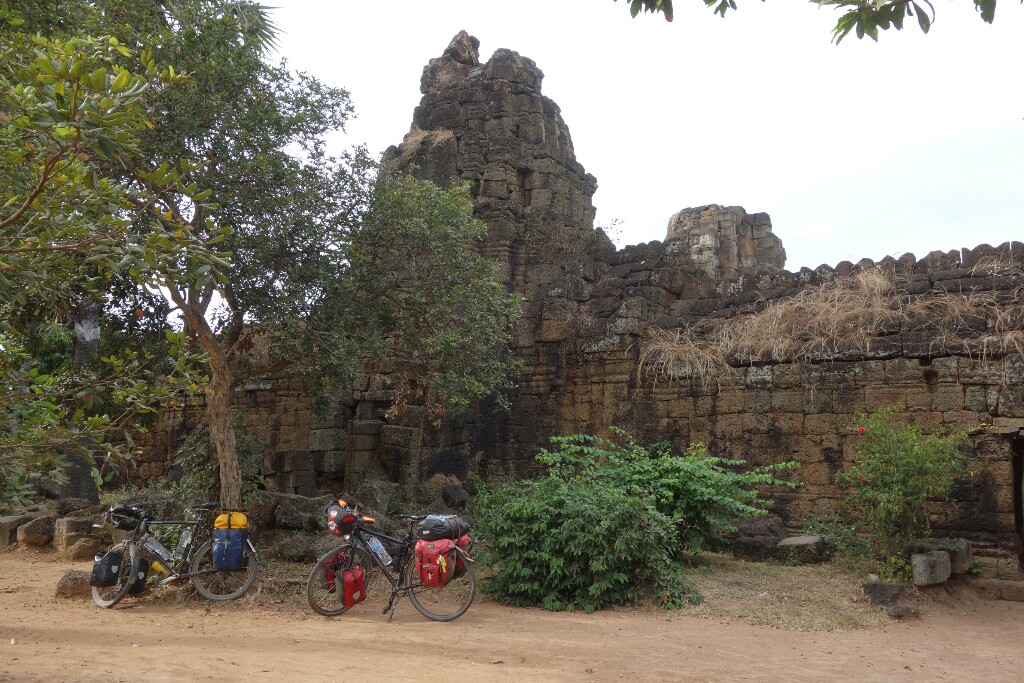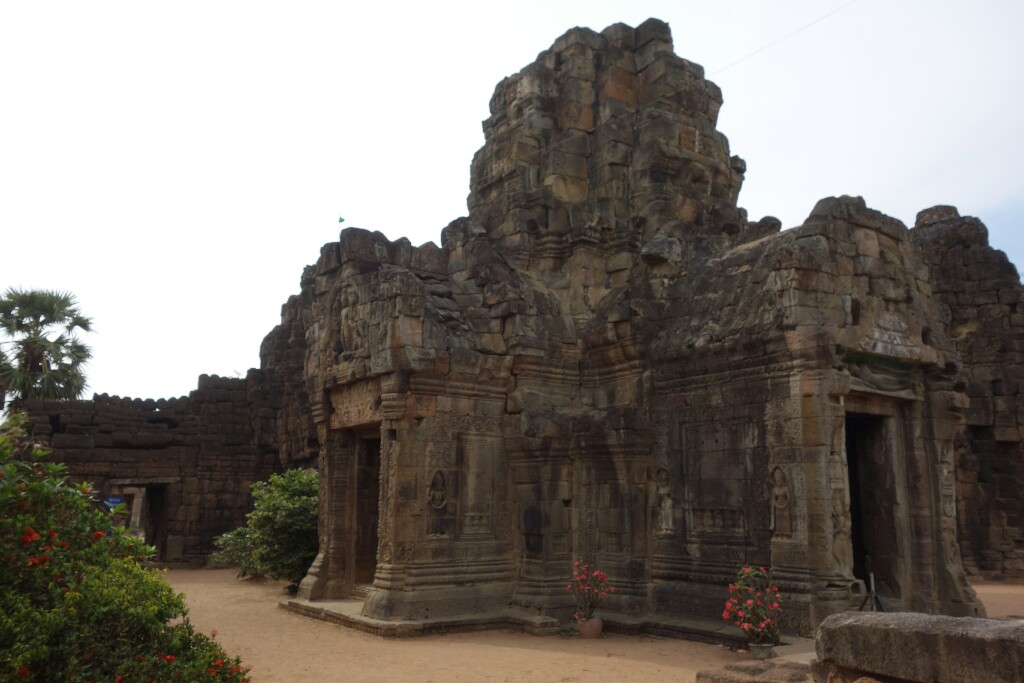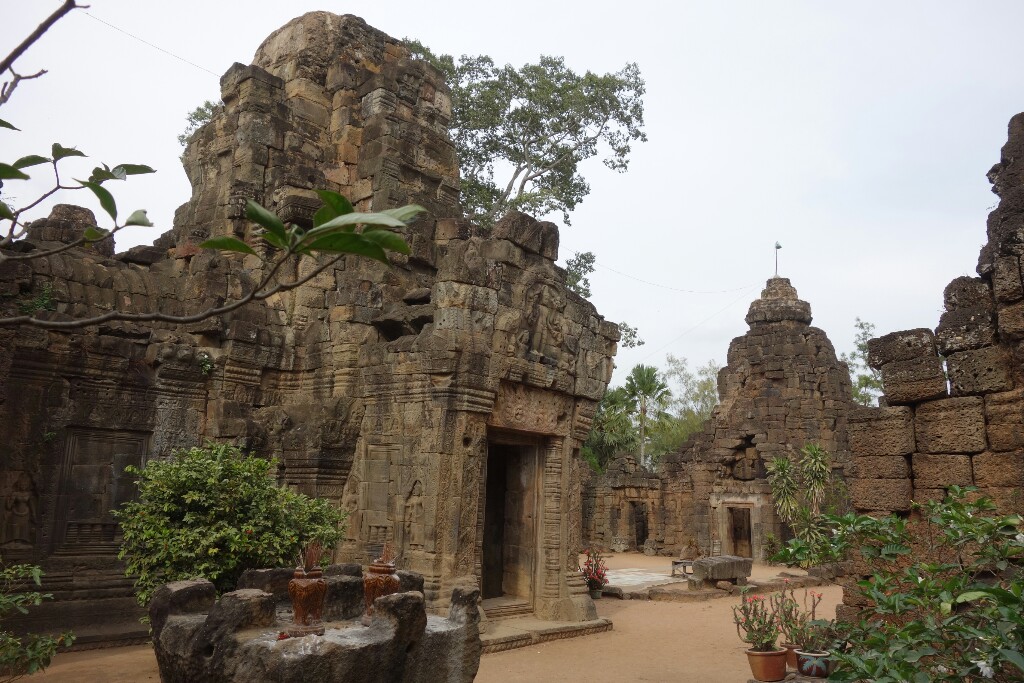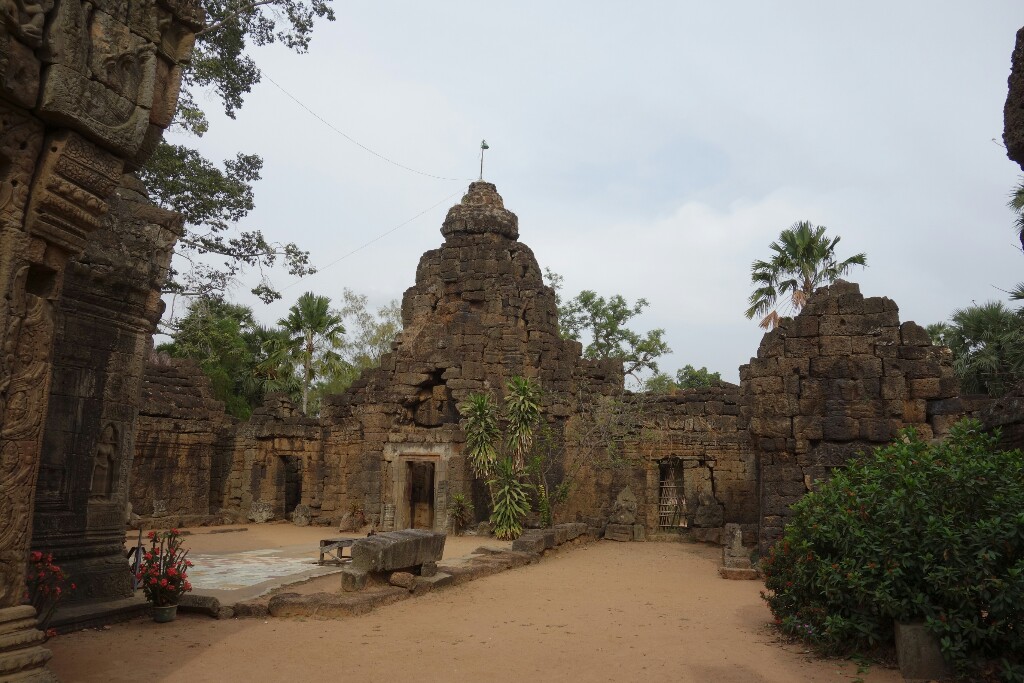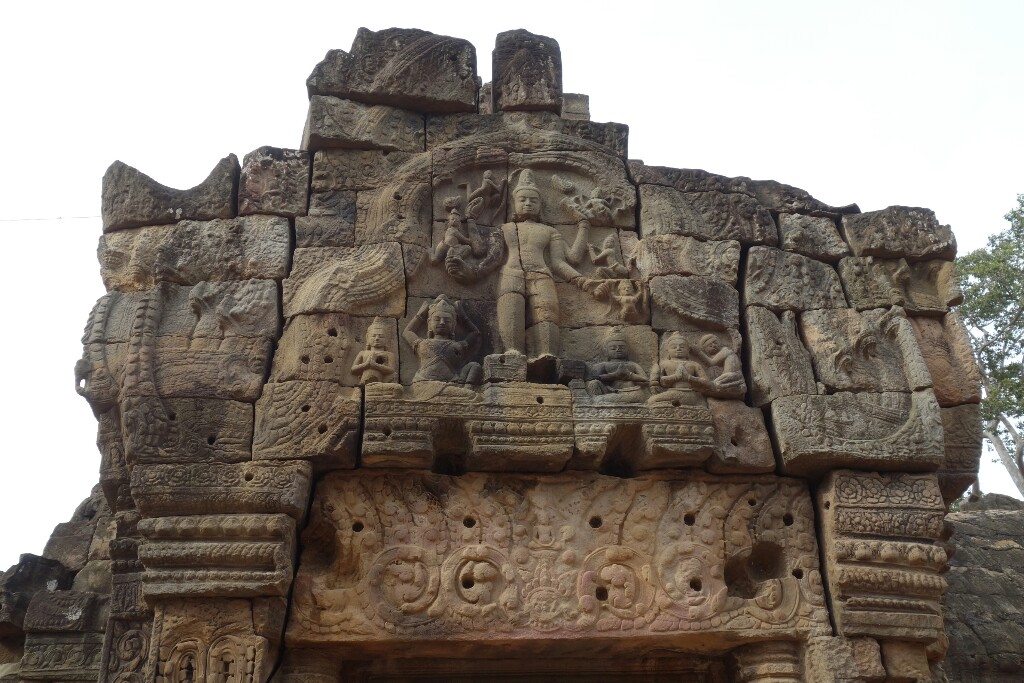 When we cycle back to the main road, we see a tandem. It is a couple from Switzerland. Spontaneous we decide to stay at the same guesthouse like them and we have a nice evening together. They started their tour in Siem Reap and are on their way to Bangkok now. After the cycling trip they will work in the south of Thailand in an orphan asylum as volunteers. Unfortunately we didn't take any picture or exchange contacts, and as they are very early birds, starting before sunrise, we don't see the next morning again. Hope they are fine.
We take a small road to the Phnom Chisor Temple, it's on top of a small mountain, you have to climb some stairs up to 100 meters above sea level.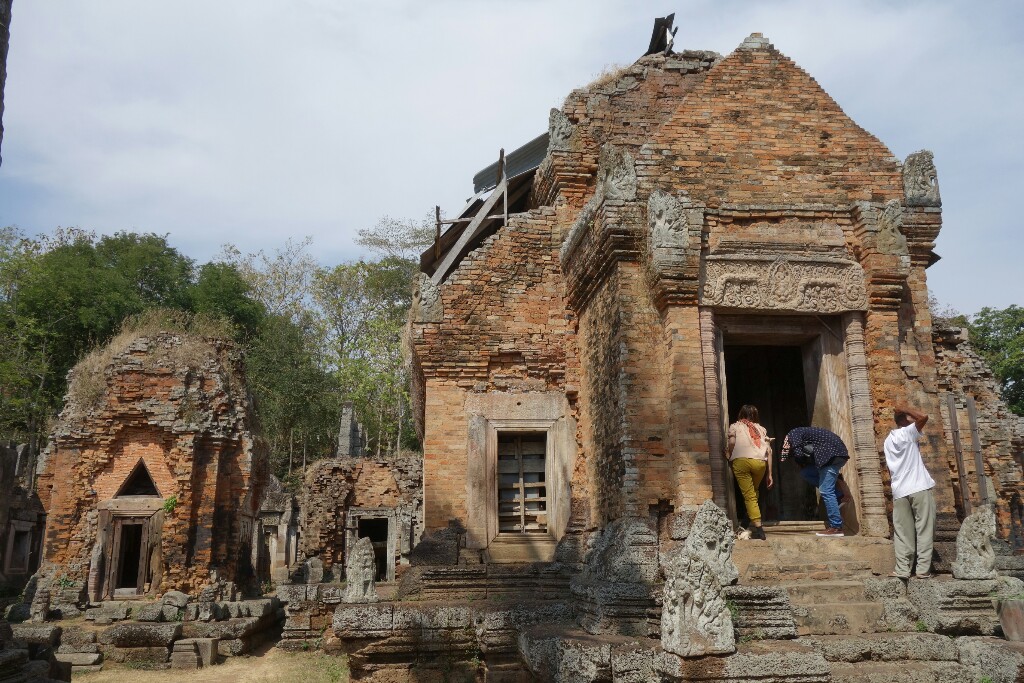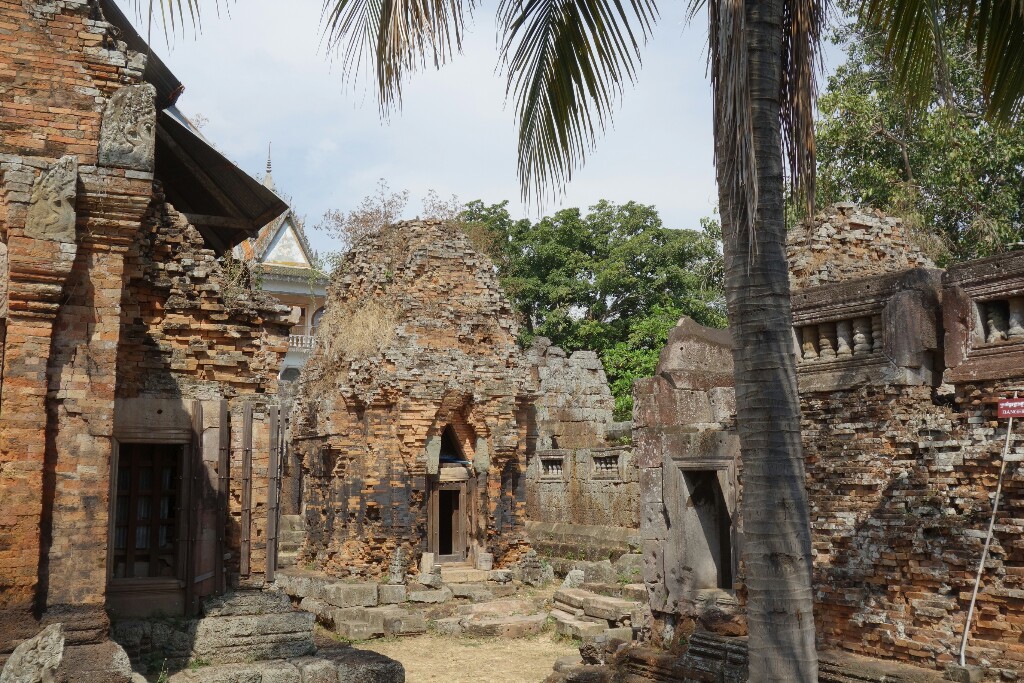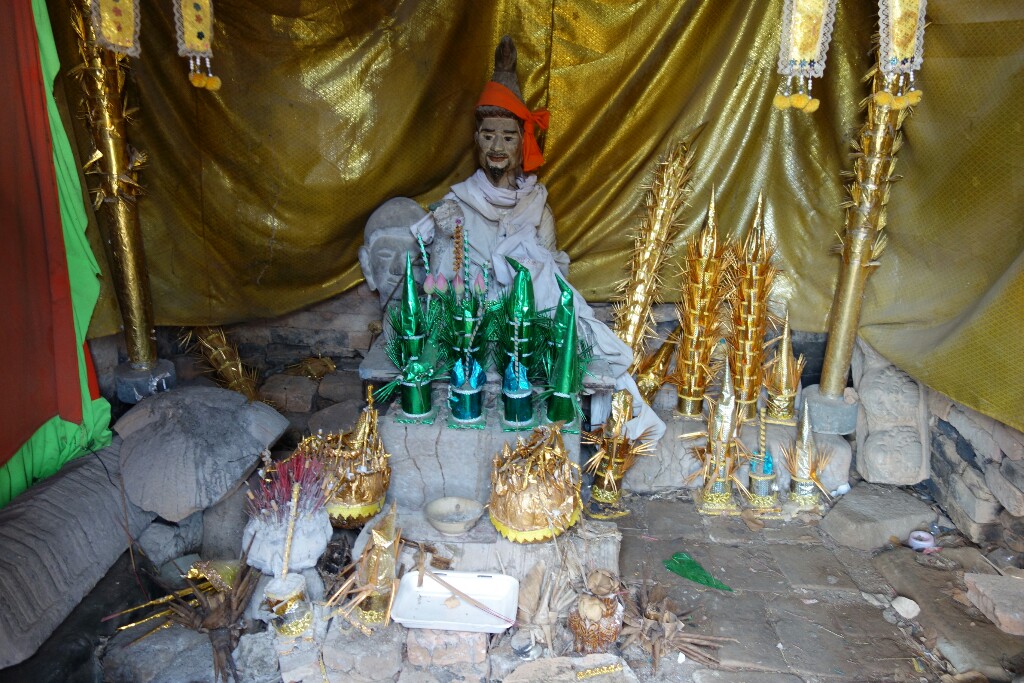 We climb up to the highest point of the small mountain. I miss hiking a bit, I forgot how good the feeling is to arrive on the top of a mountain. Very happy to reach the peak of Chisor, 123m.