It took a while for us to figure out about the vegetarian/vegan restaurants in Vietnam. The word for vegan is "chay". If you know it, you find quite a few of them all over. Good food.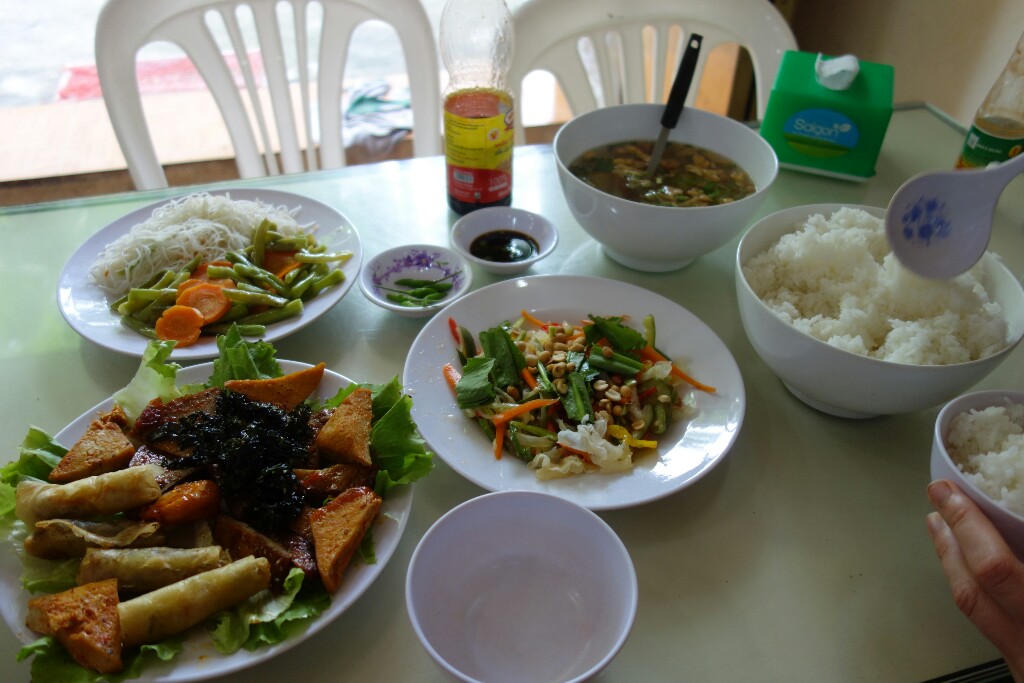 In Cam Ranh we stay in a new, comfortable and nice made hotel.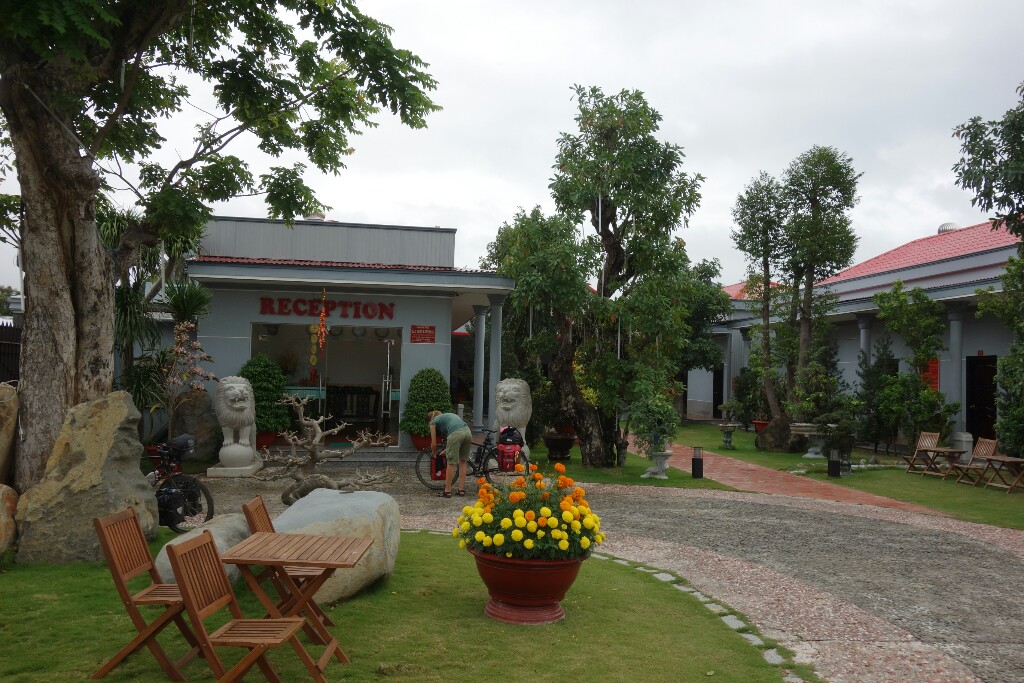 After Cam Ranh we are happy to find some smaller nice costal roads again. The weather setting is spectacular.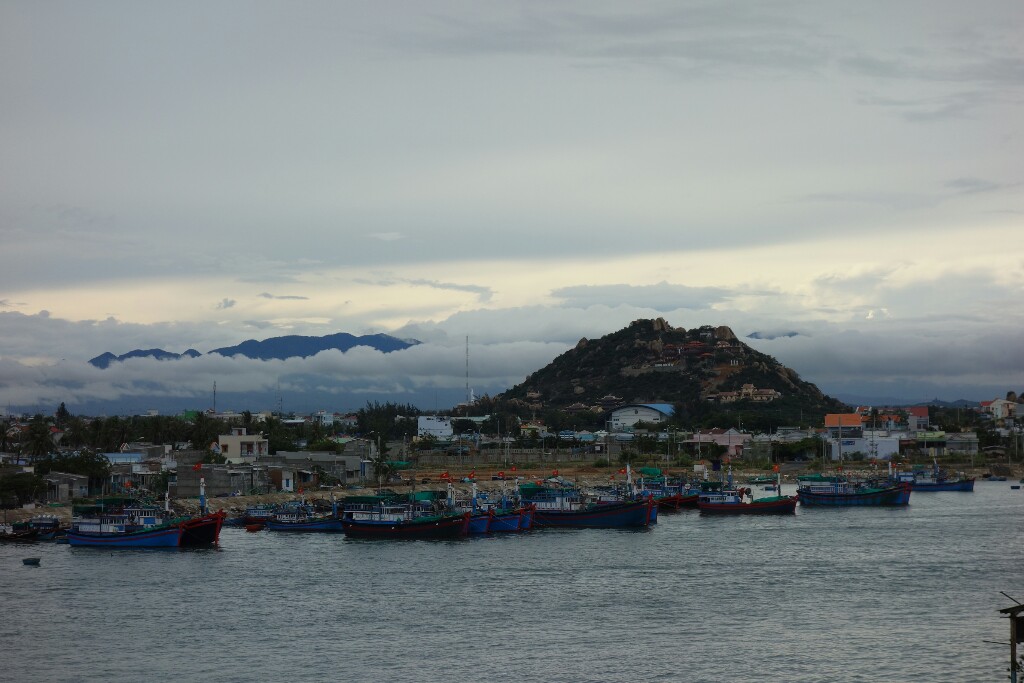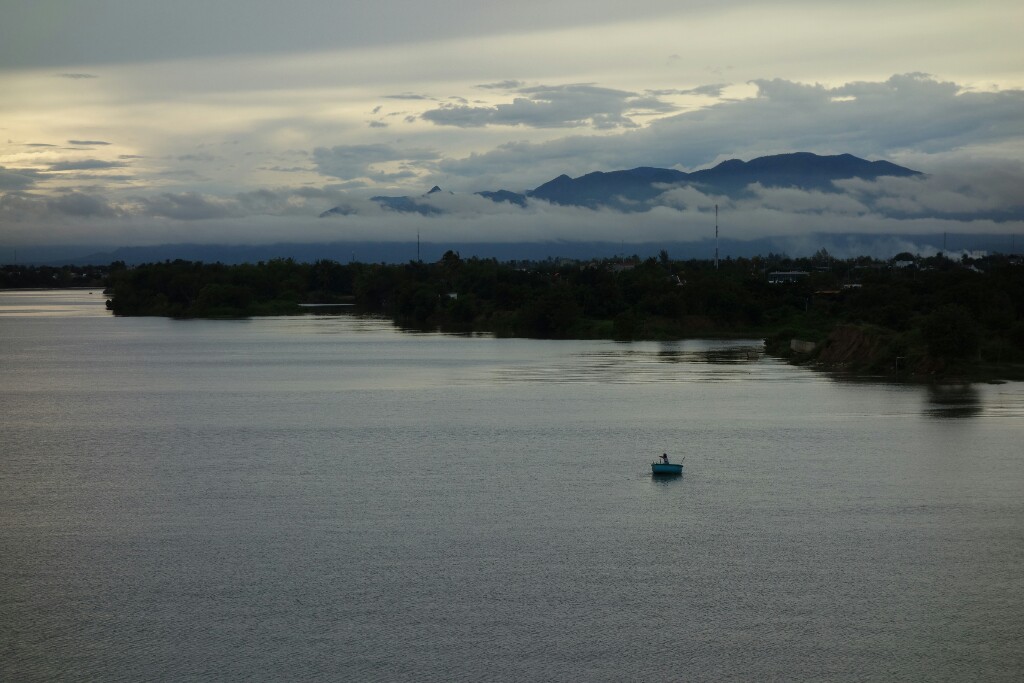 A building project for a wind turbine farm. But next to the sign there is nothing, so hopefully it will still be build.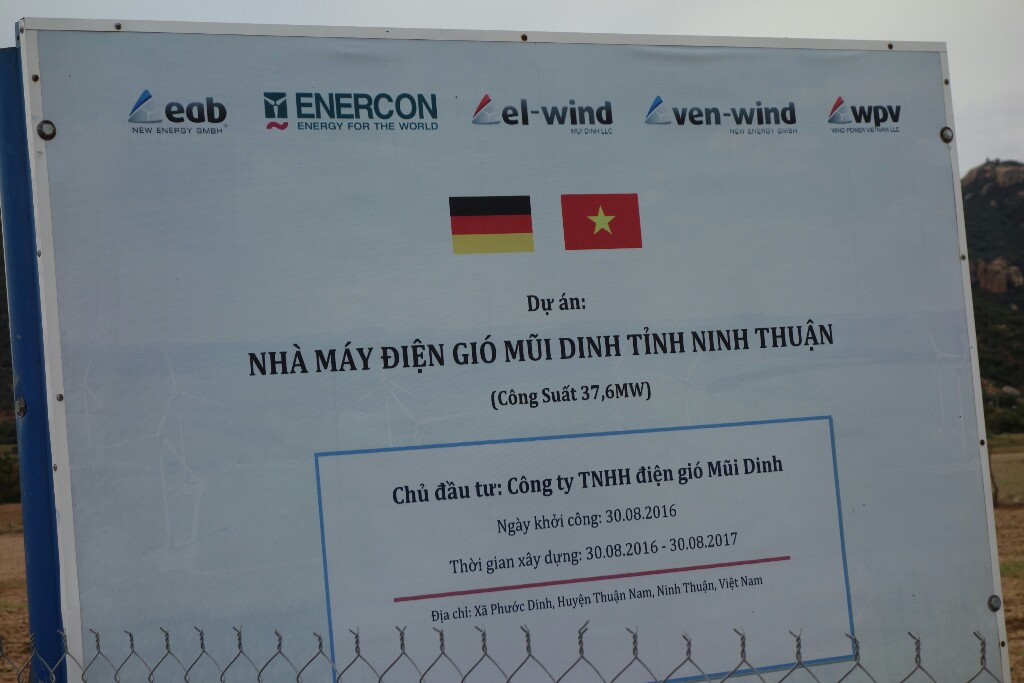 As it is very difficult to find a place, it is our first and only time, that we camp wild in Vietnam. Great place.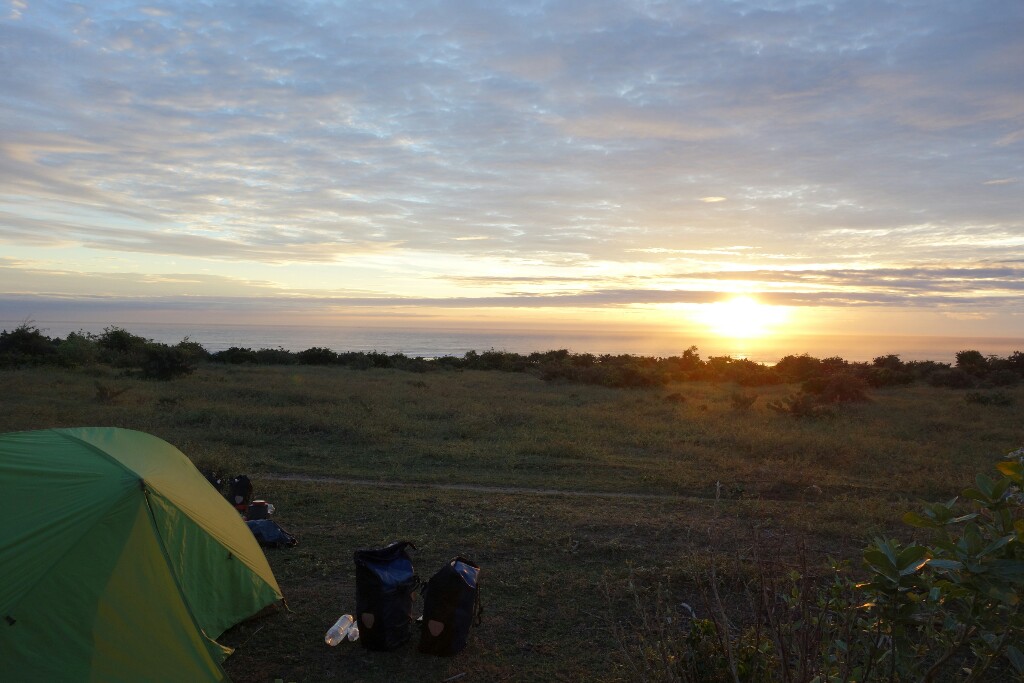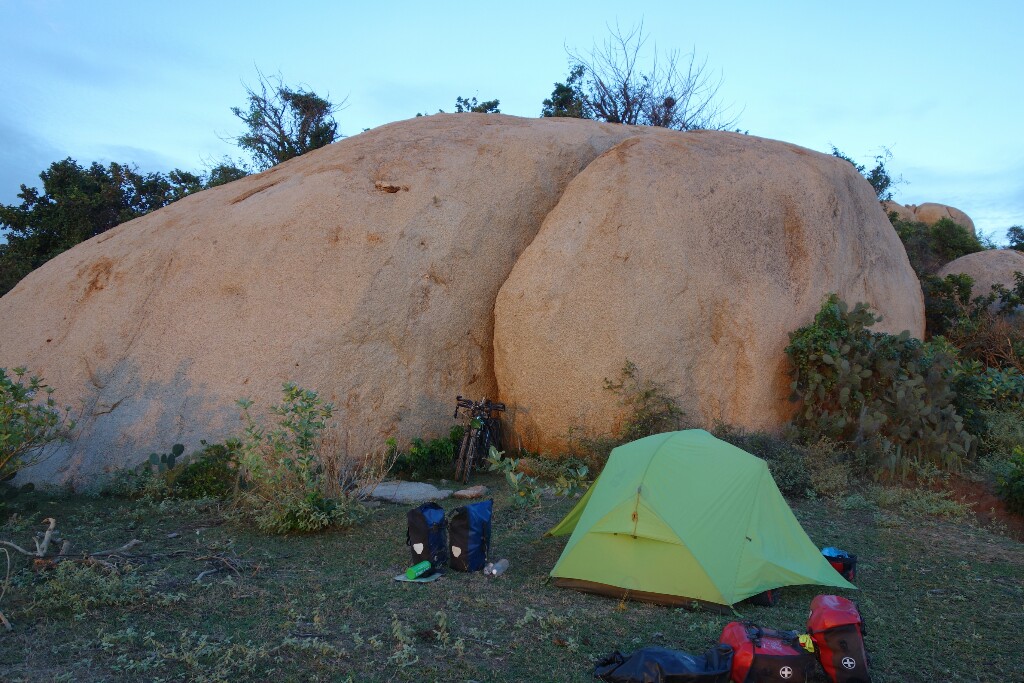 The cows suffer in the stunning heat, too.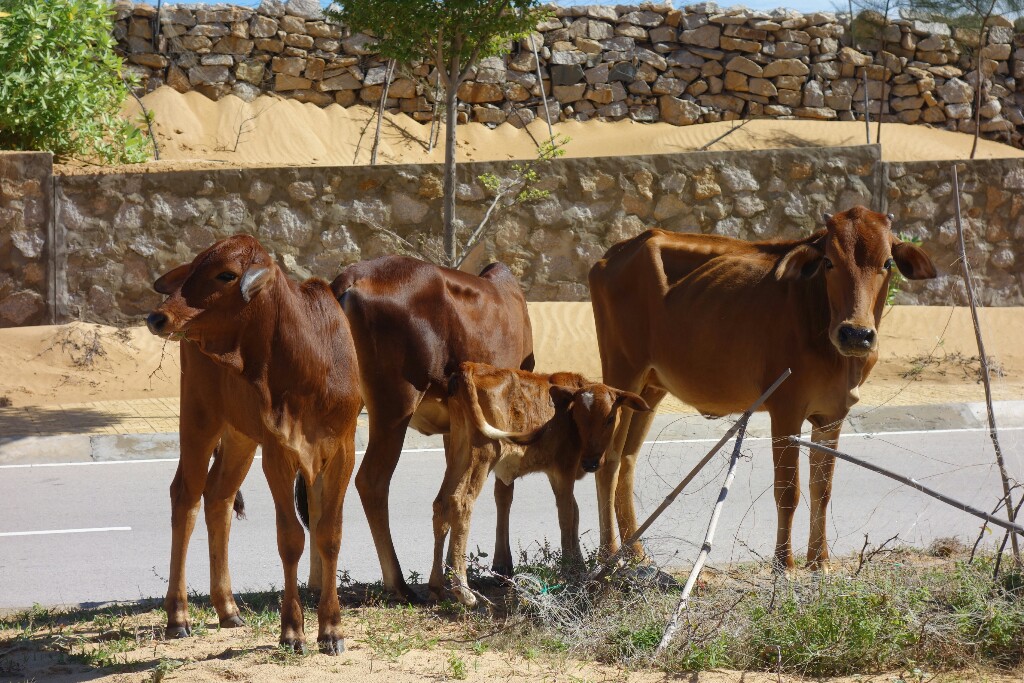 Unexpected we pass a huge impressive rock. It looks fantastic. After the big rock we cycle a wonderful part along coast.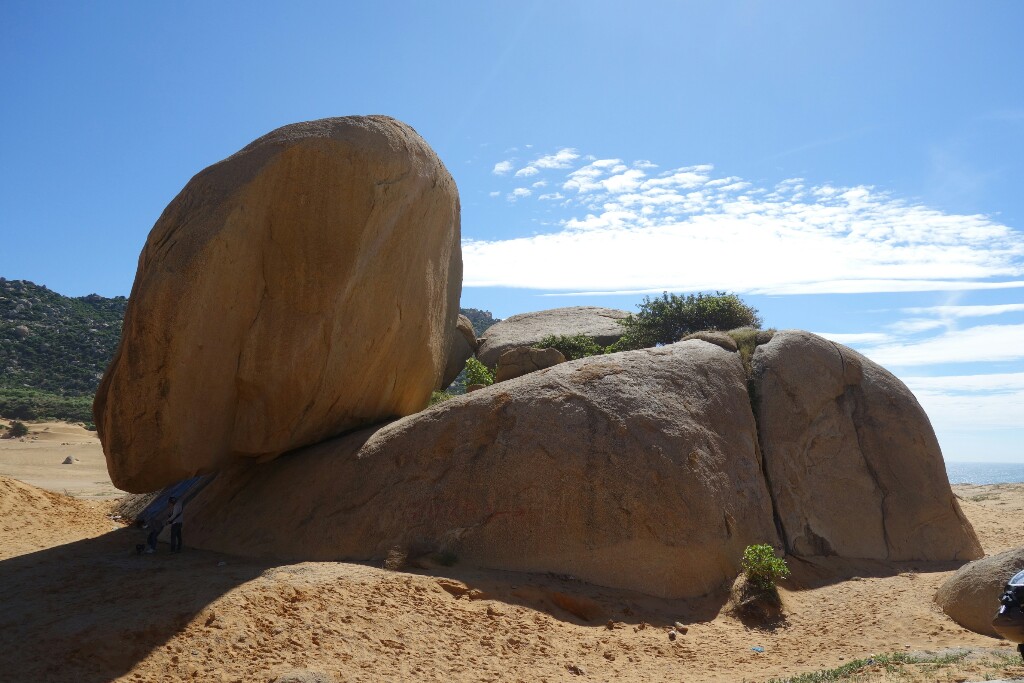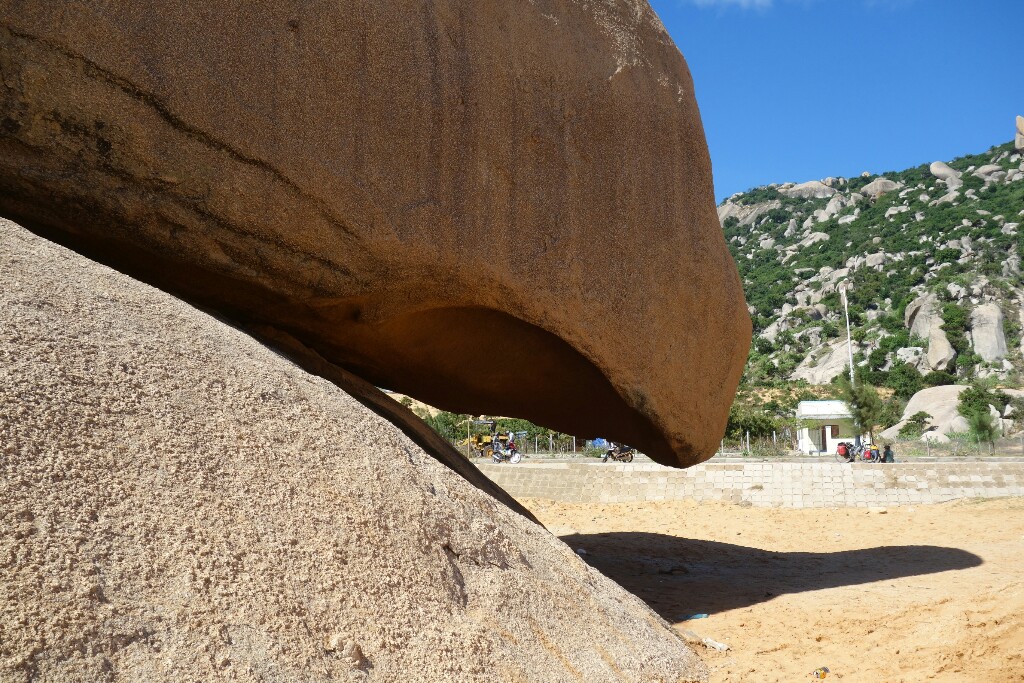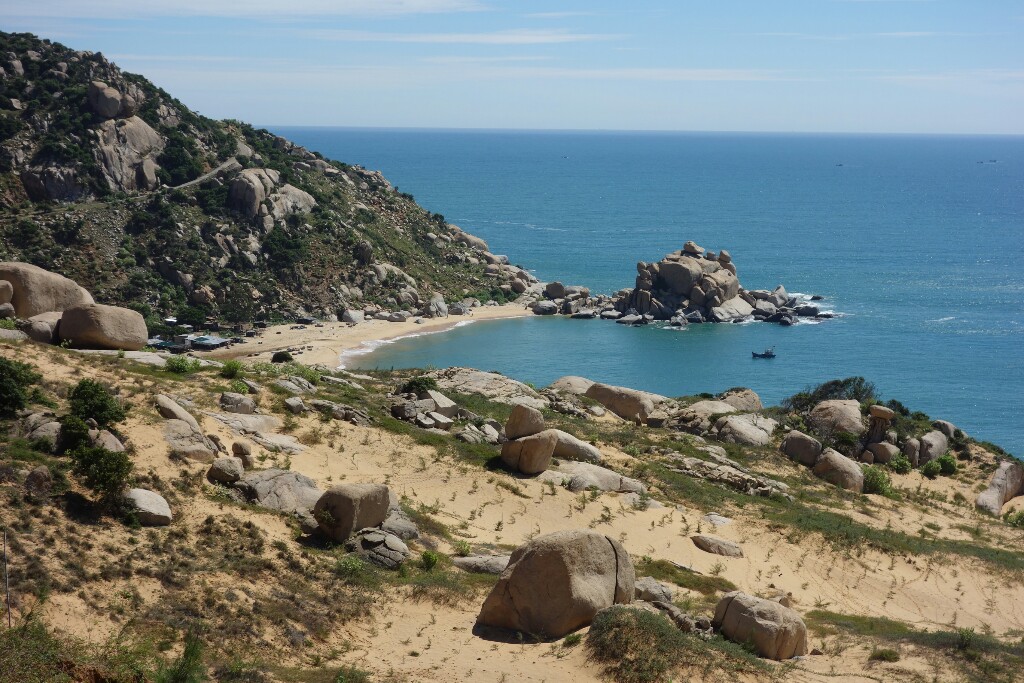 At the best possible option we walk some minutes down to a small bay. The water is clear and refreshing. Just the midday sun makes us trouble, the bay has no shade.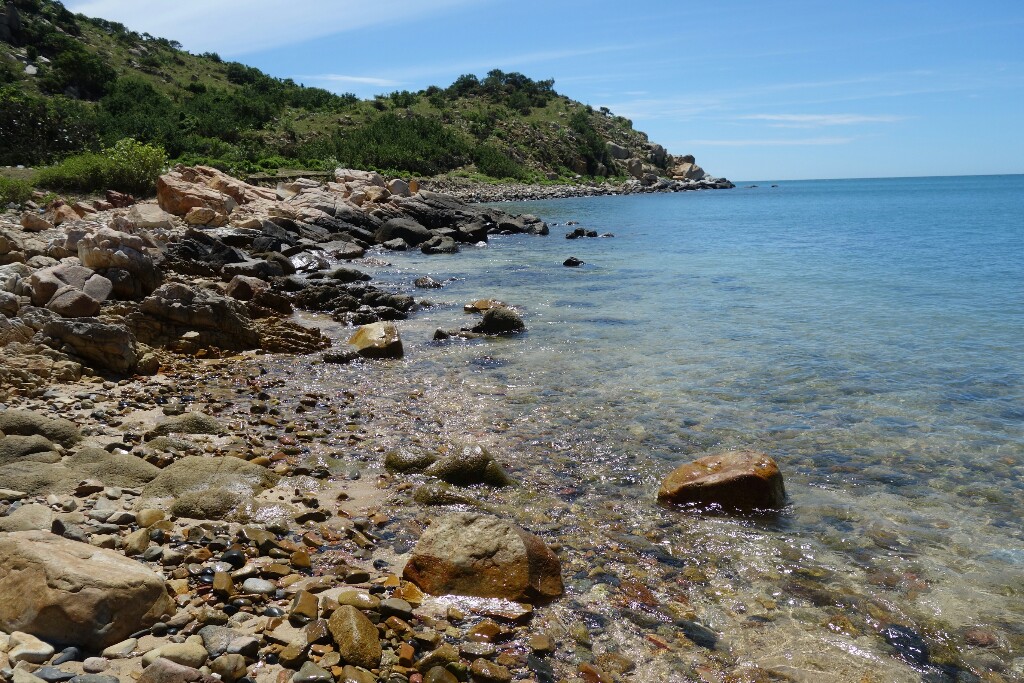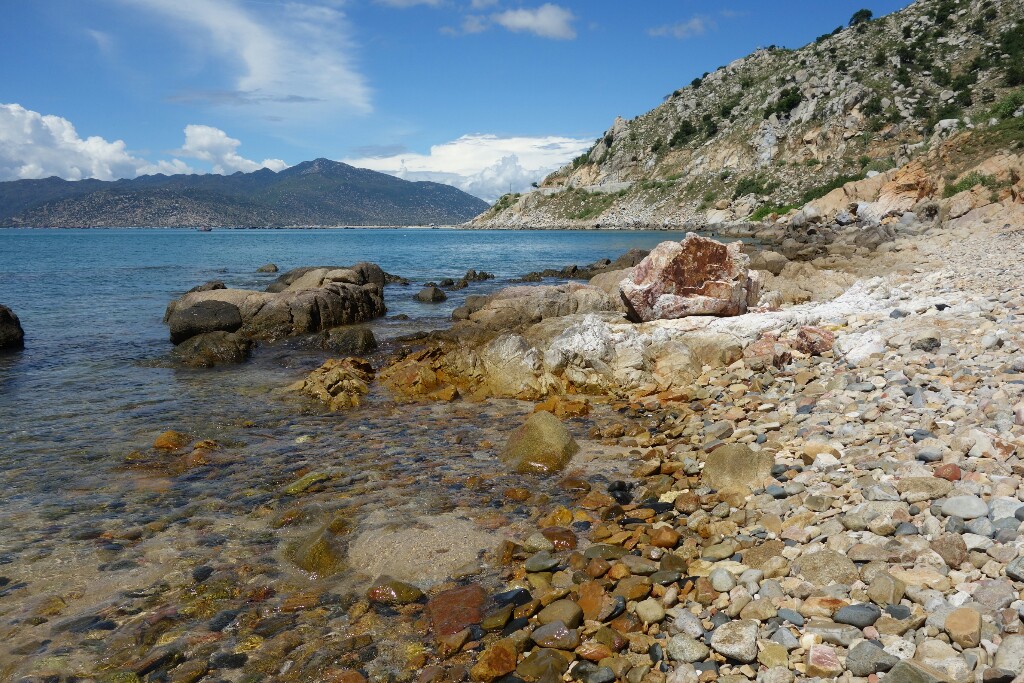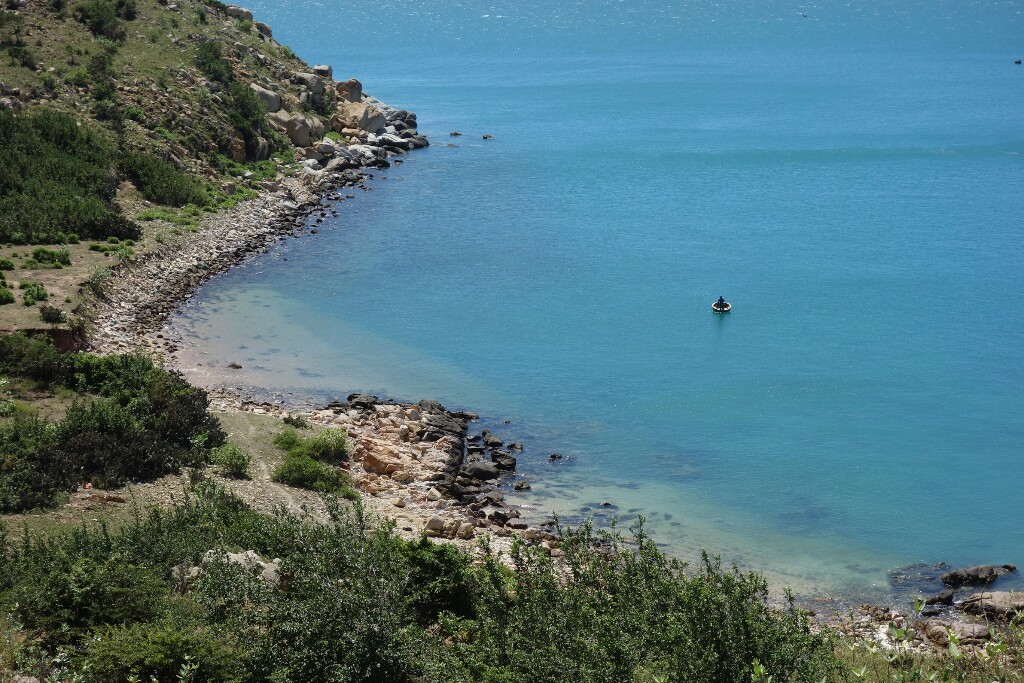 Suddenly we get very hungry and hope for a restaurant in Lac Nghiêp, and there is a com chay (rice vegetarian) sign. The restaurant is closed but two young guys are there having their lunch break. They invite us and share their chay meal with us.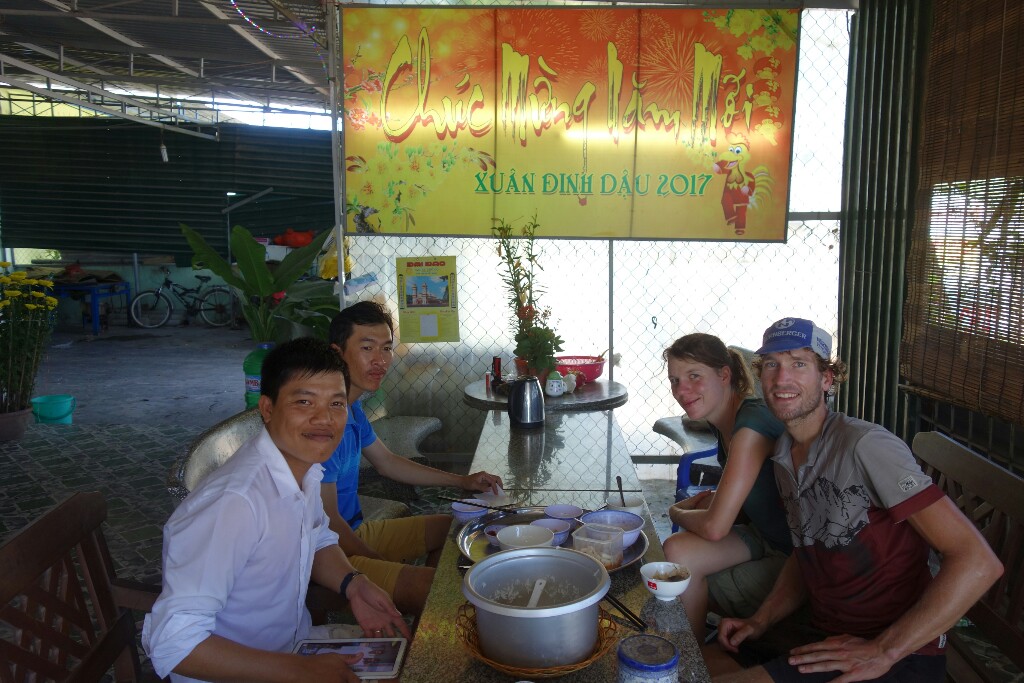 After the nice lunch we have to cycle on the 1A highway again, fortunately only 25 km, and then we celebrate, because we will never have to cycle on this awful road again!
At a big junction. Rice experiences a lot until it arrives shiny white on our plates. 😉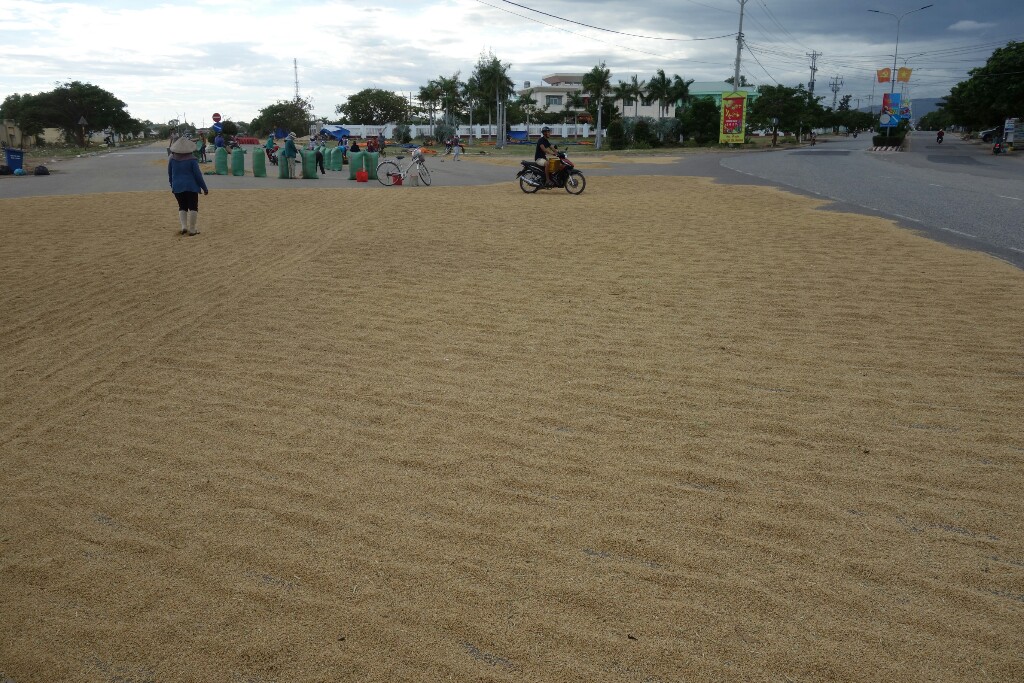 Very nice illustration. Everyone can read it.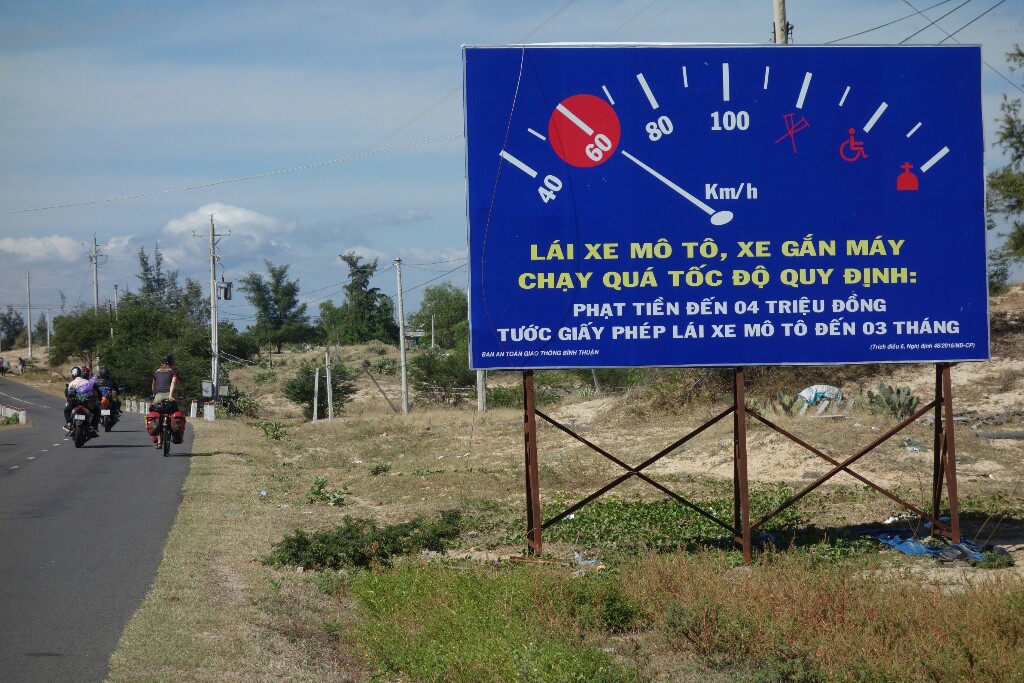 Good camouflage.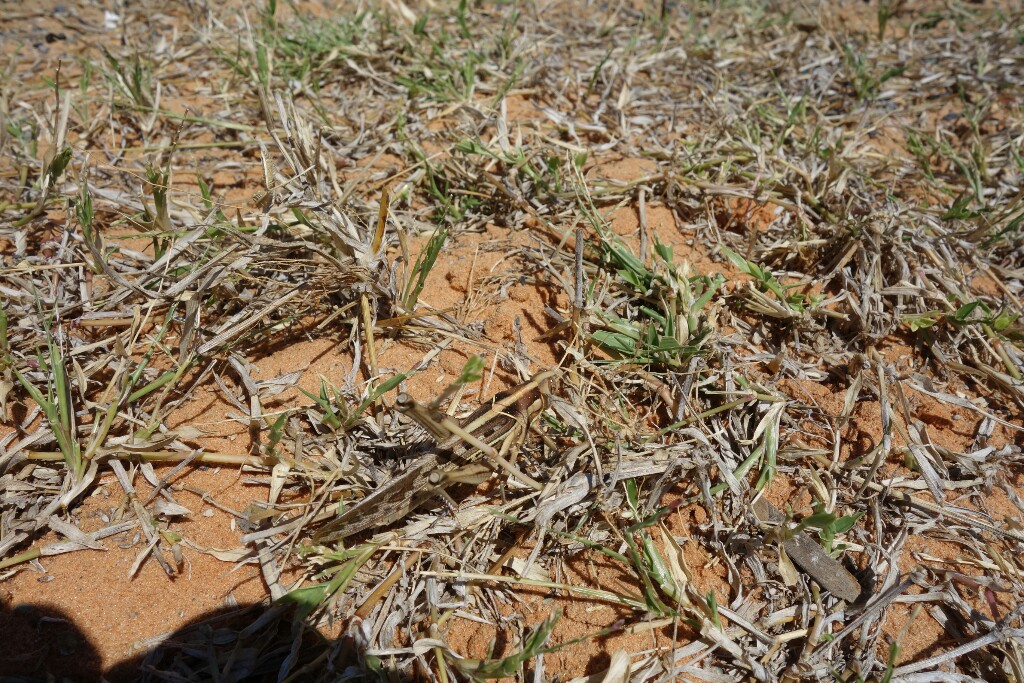 Today it's very hot again. The big white dunes look beautiful and don't care so much about borders or walls.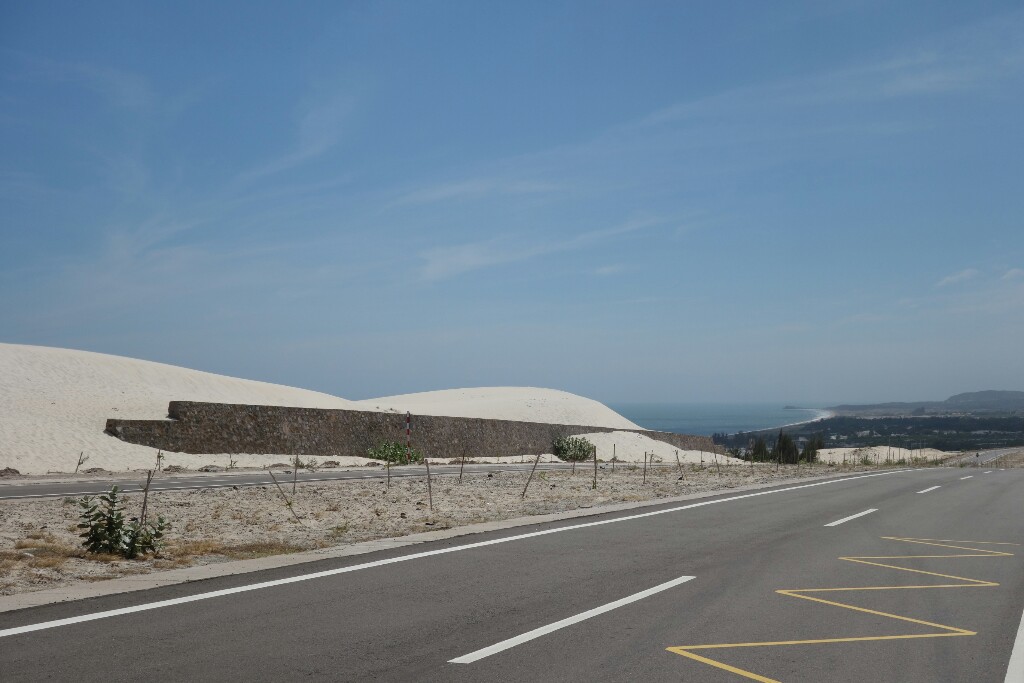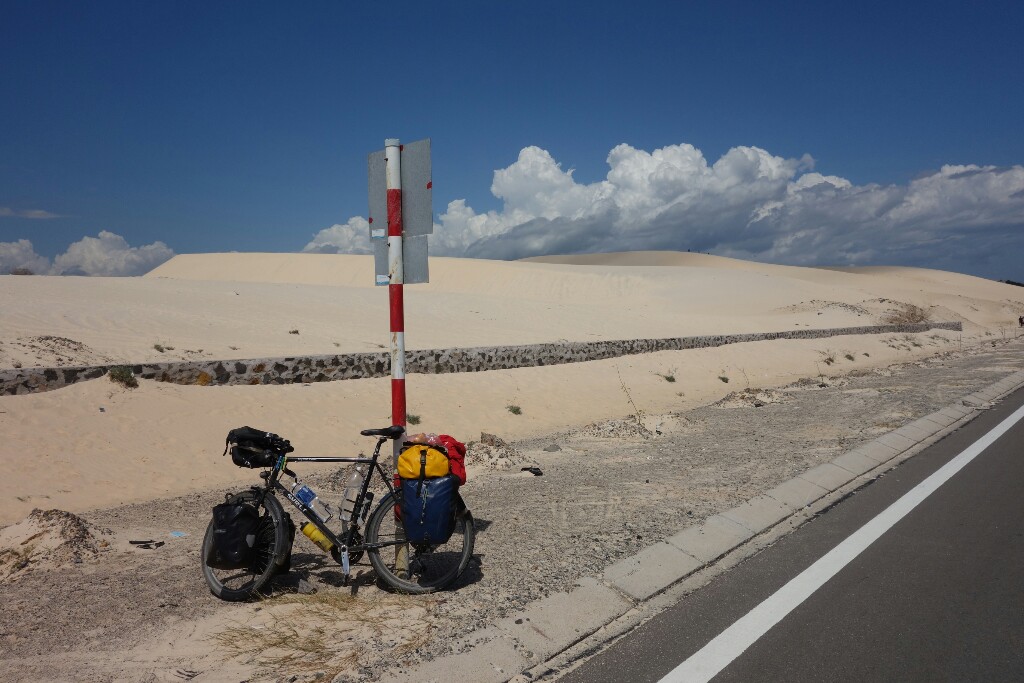 The road to Mui Ne.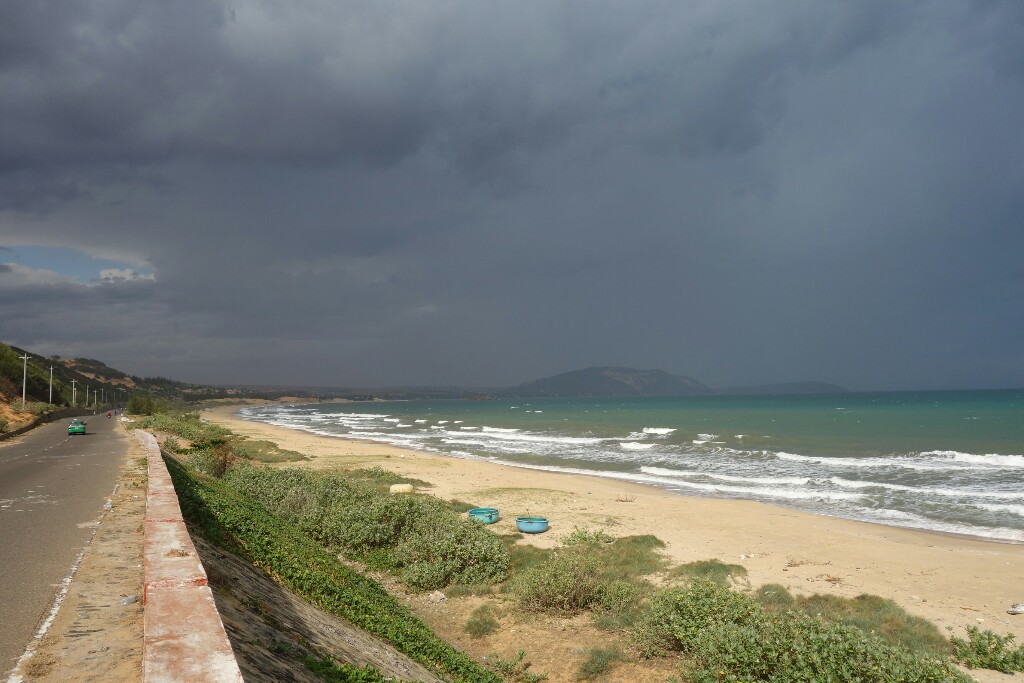 Johanna taking a swim in the rising sun.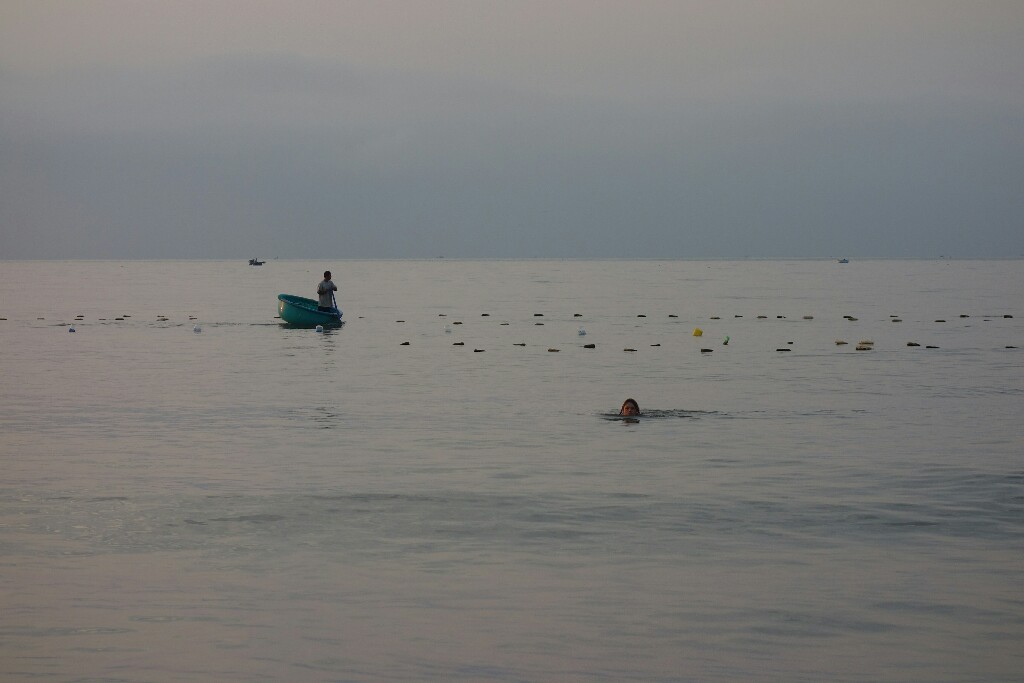 With the morning swim and the nice sunrise the day starts perfect. But when we want to leave, Johanna's front wheel has no air anymore. Quick she fixes the puncture and we start cycling. The puncture score is 4 (Jo) to 3 (Michi) now.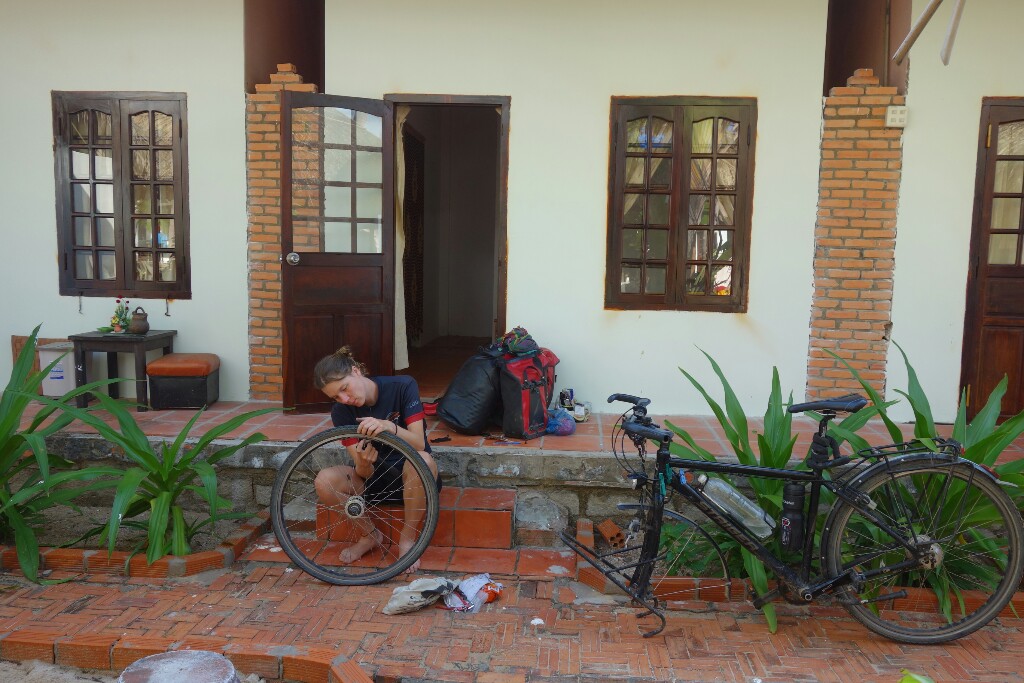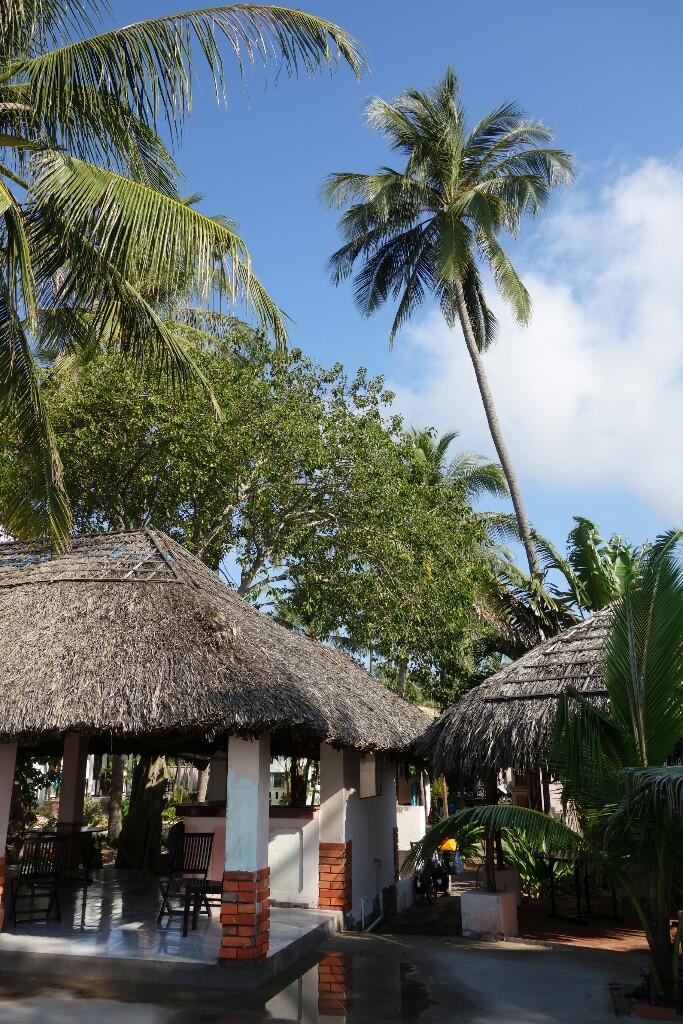 A while later we pass the 14.000 kilometers mark.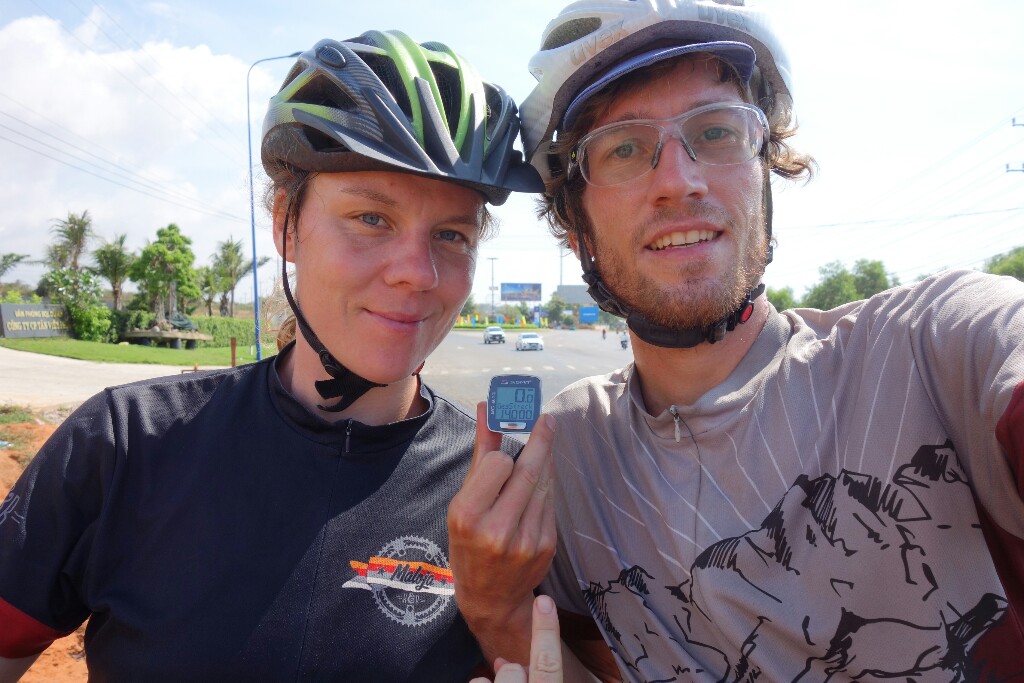 At most bridges we see plenty of nice colored fishing boats.
Busy streets in Phan Thiet. It's like a critical mass just with scooters. Taking a nap.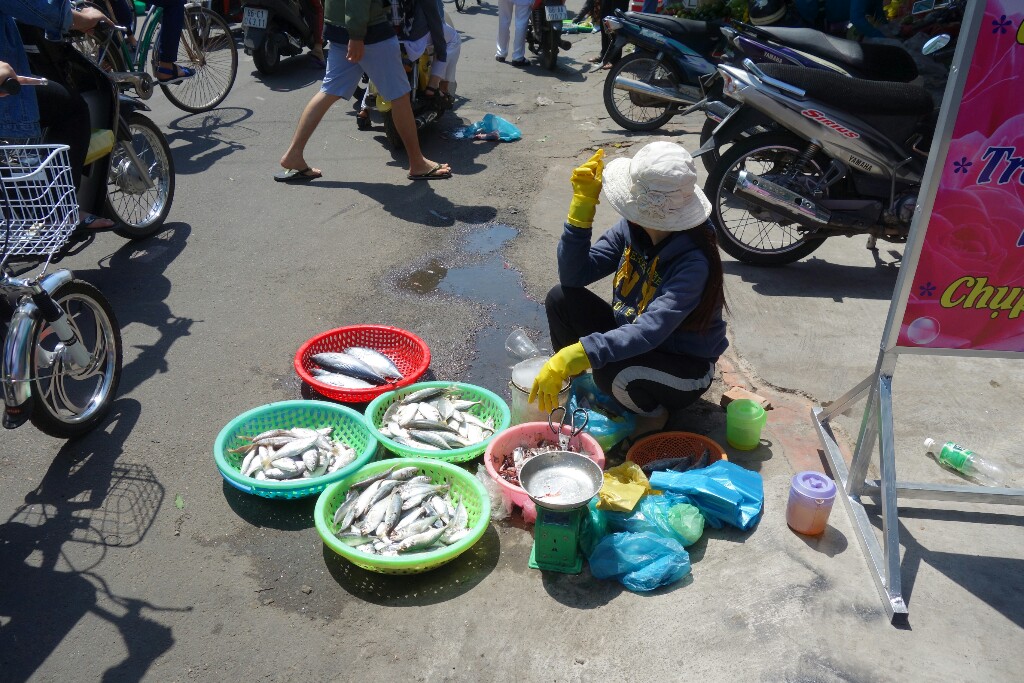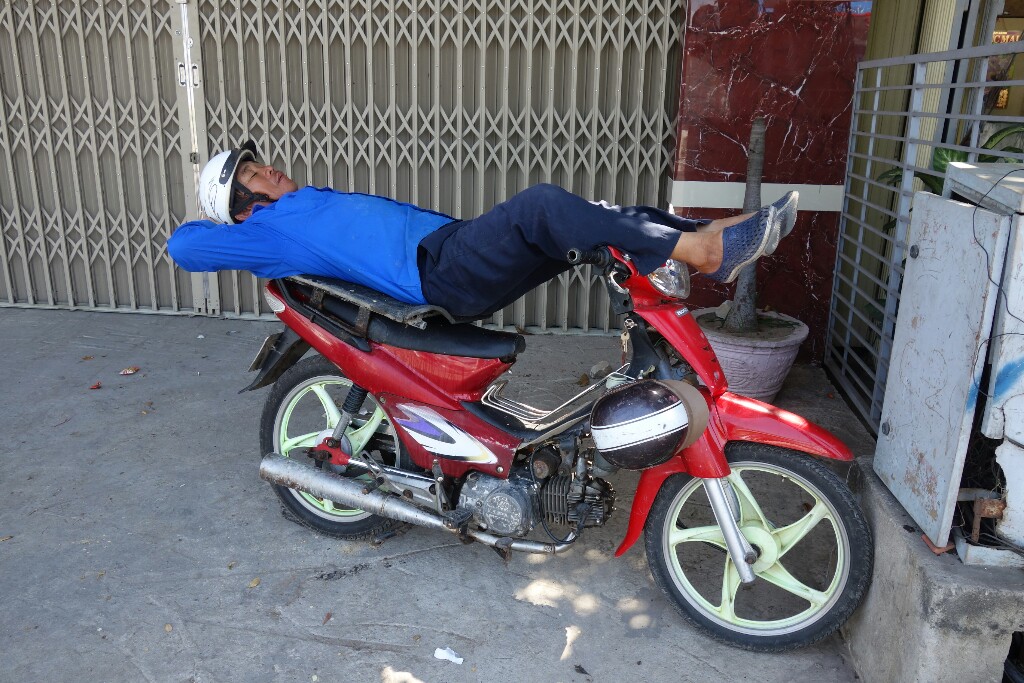 Finally, after we have eaten a lot of them, we see how the dragon fruits grow and where they come from. The half day we cycle along big plantations, some of them are lighted at night.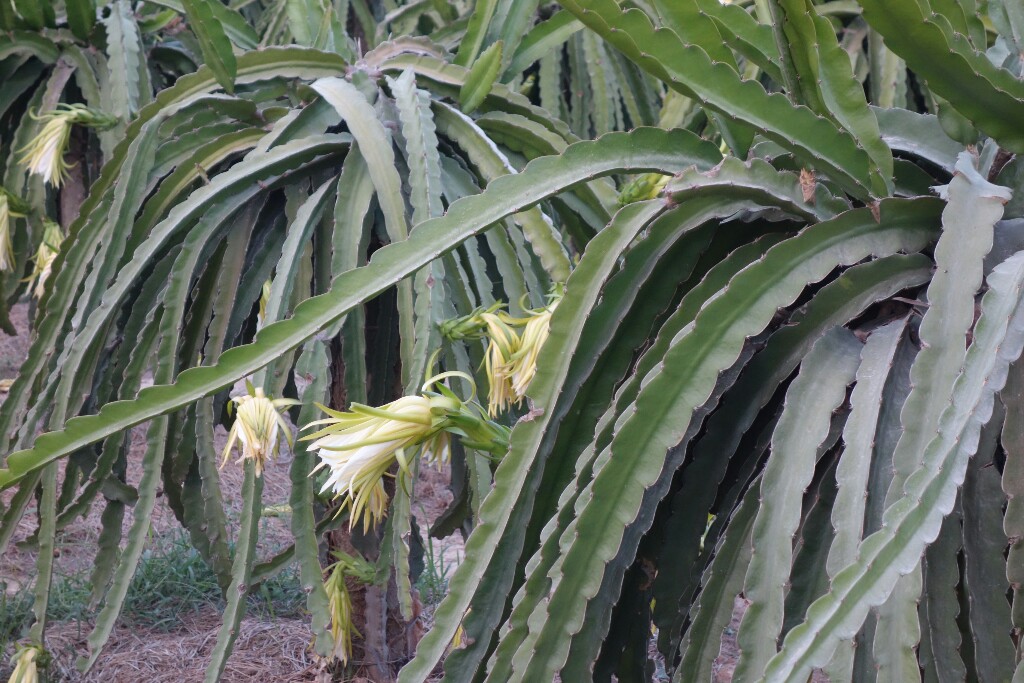 At night in a cheap standard guesthouse our room neighbours are German travellers. They come from Franconia and are students at the FAU. As they have similar experiences and feelings in Vietnam, it does good to meet sympathizers.
Whenever possible we go for a swim.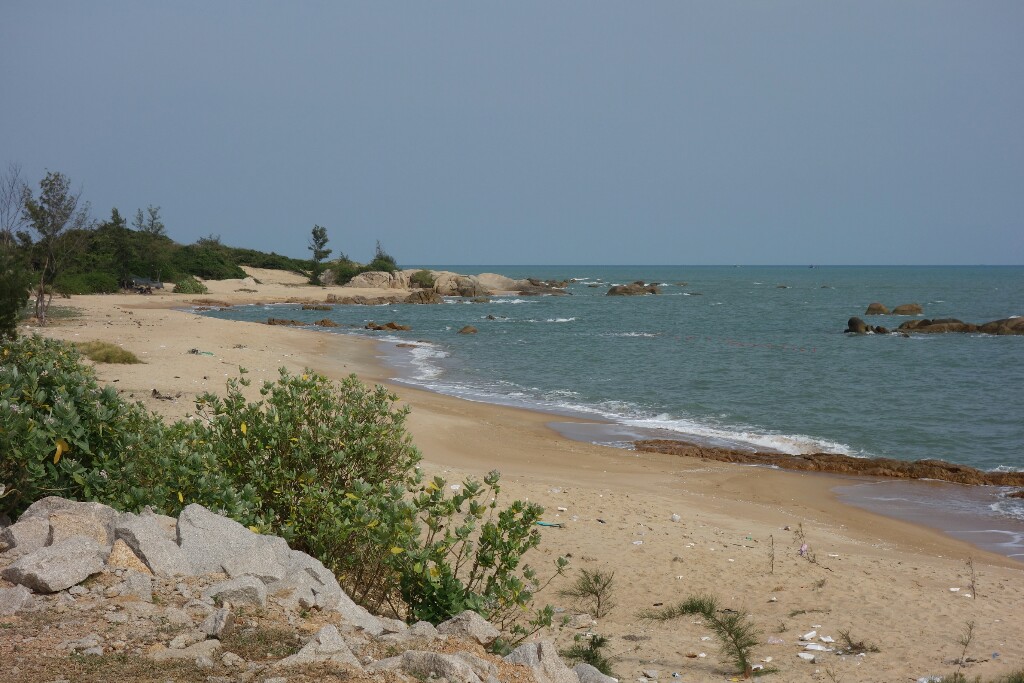 At night we arrive at a small fishing village. We directly head for the camping place, but the owner says it's closed, we can't stay. What a pity. He says there is another camping in three kilometers. We give it a try. The road has only expensive looking resorts and hotels. Some are closed, some are not finished and some are run-down already. It's dark and after 5 km we randomly find a camping. We are happy and pitch our tent at the beach. For dinner we cook spaghetti, but our fuel from the gas station doesn't work properly, the flame of our stove is small, licks and gives off sooty smoke. It takes ages and isn't fun at all.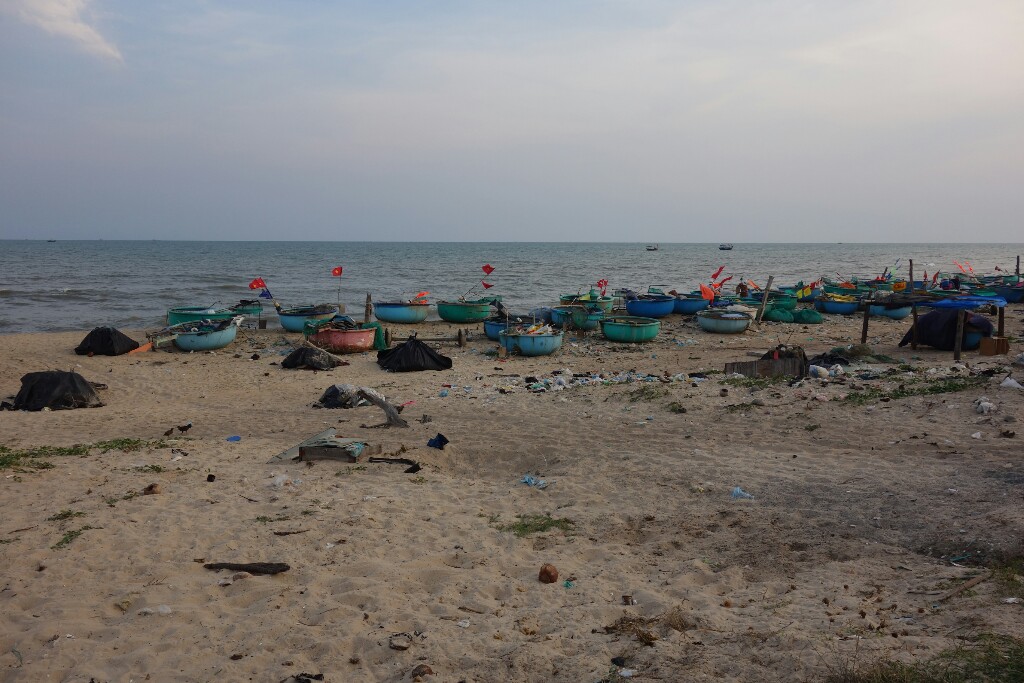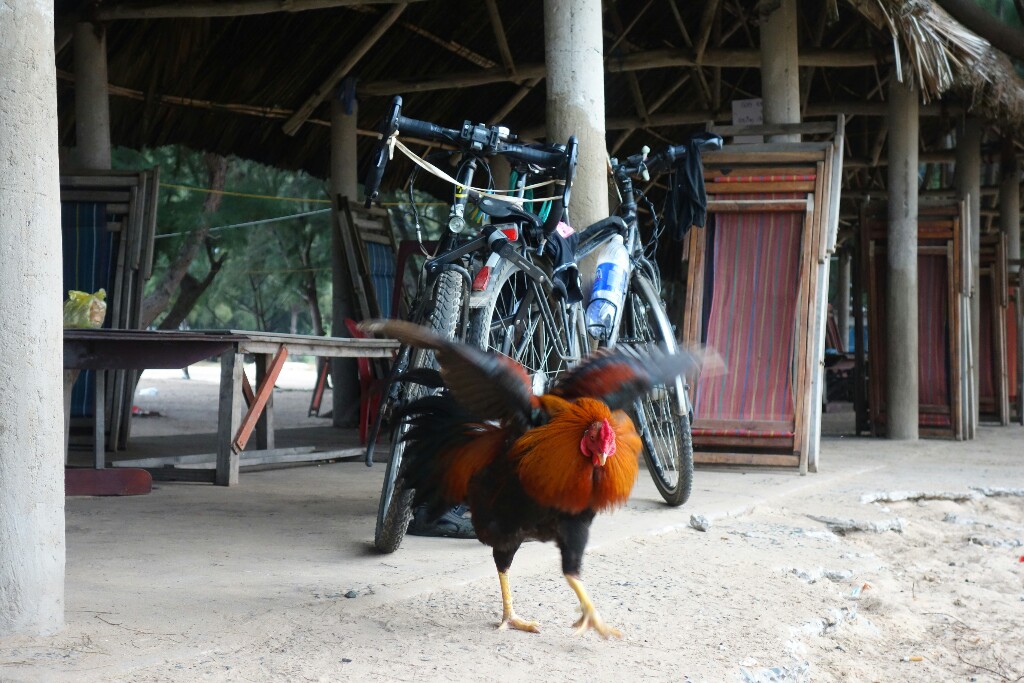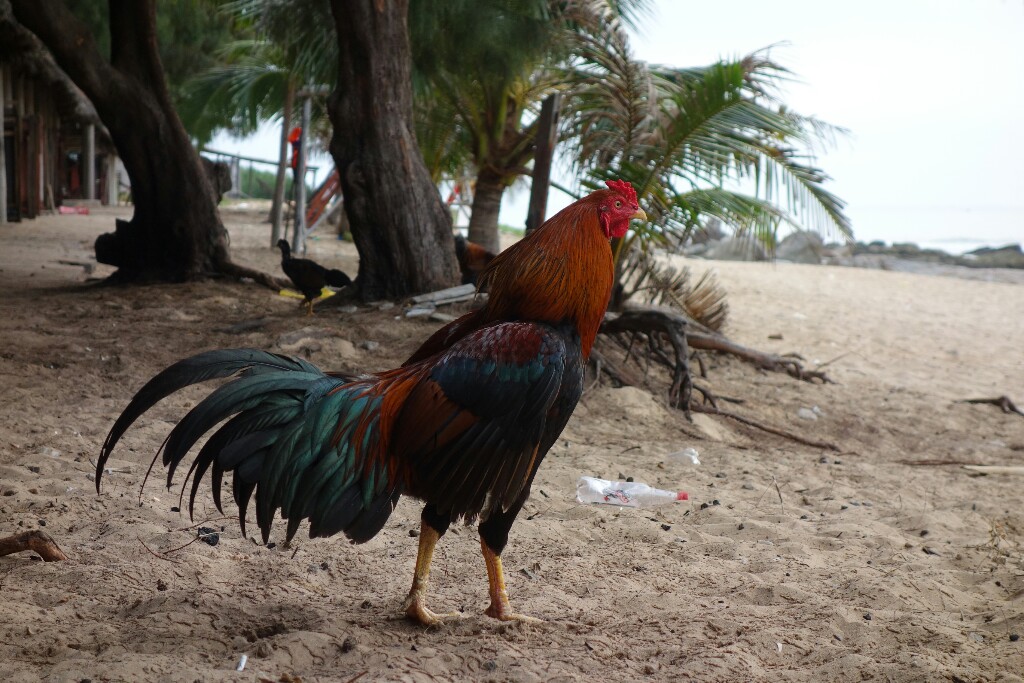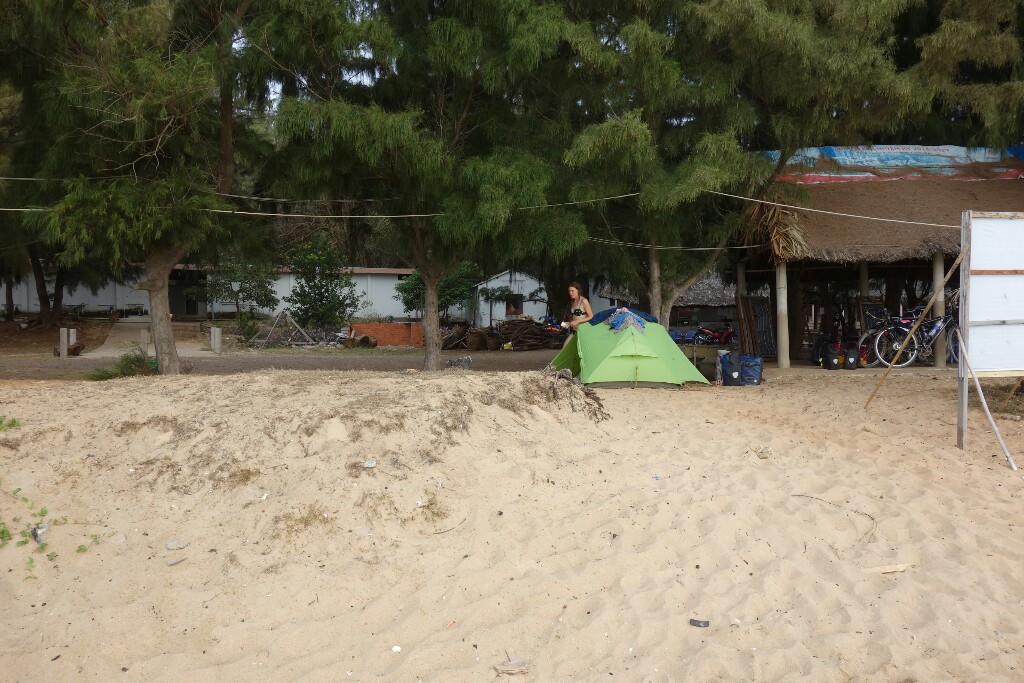 Not just seen once, the typical ice transport. Important ice for drinks and people who don't have a refrigerator.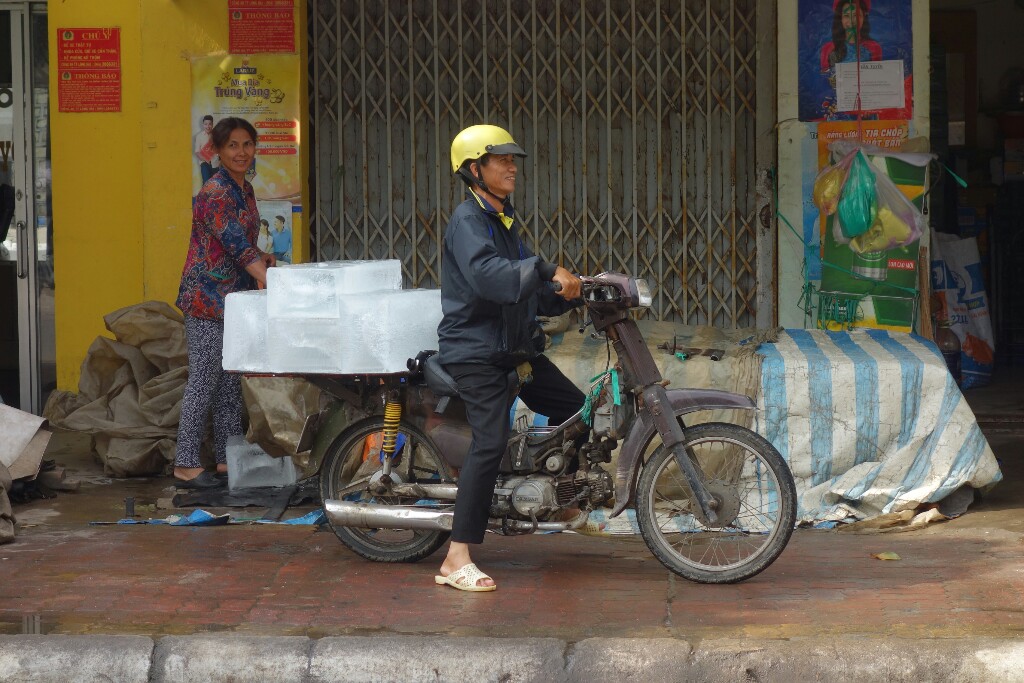 Today we arrive in Vung Tau, where we hope to be able to take a ferry to Ho Chi Minh City. We phoned the company and they said they can take our bicycles on the boat, but we don't believe it 100%. Fortunately everything works fine and we are on the fast hydrofoil to Ho Chi Minh City.
Big city, traffic is ok.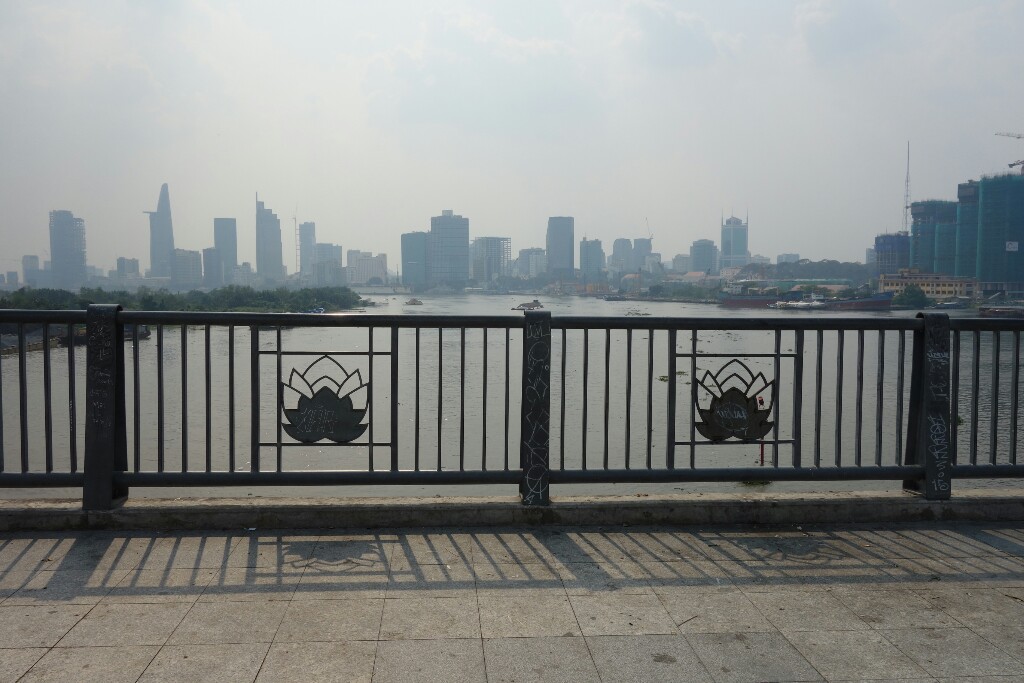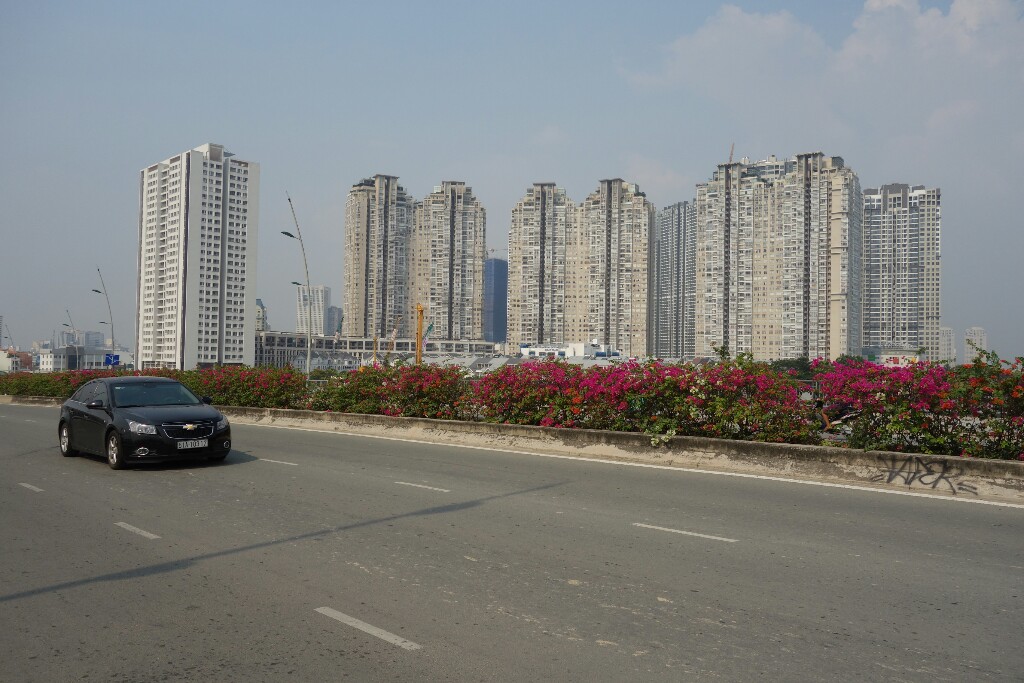 After a short ride we arrive in the small living compound, where our host Regina lives, she comes from Germany and we feel so welcome. We would like to stay longer but our visa of Vietnam ends in two days. It is so sad, because after all the stress and rush through Vietnam we could really need some restful days in this oasis of calmness.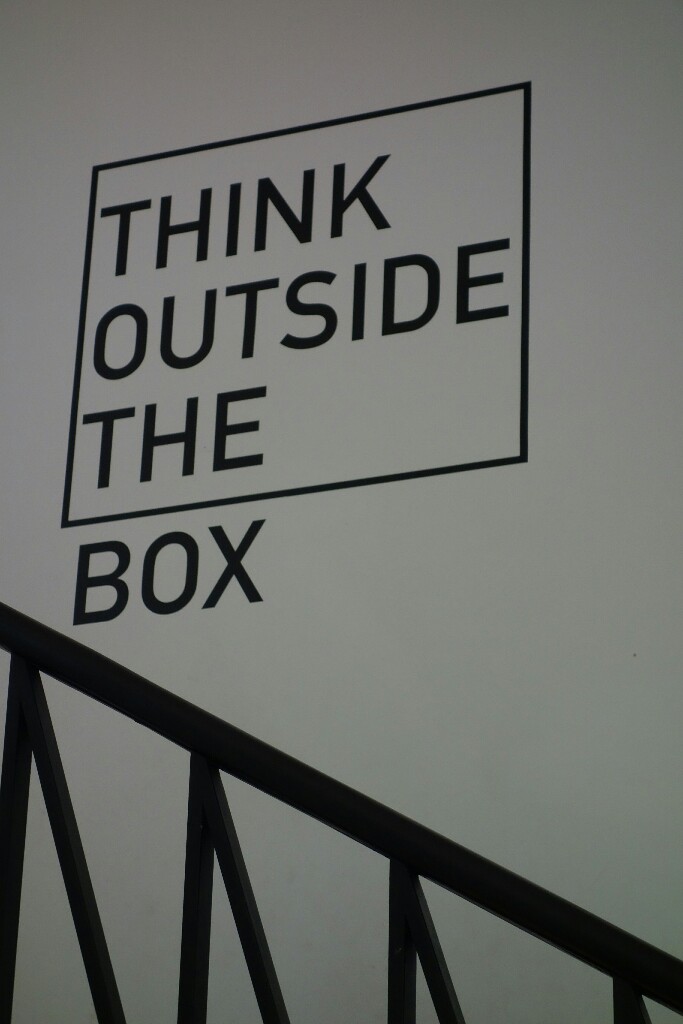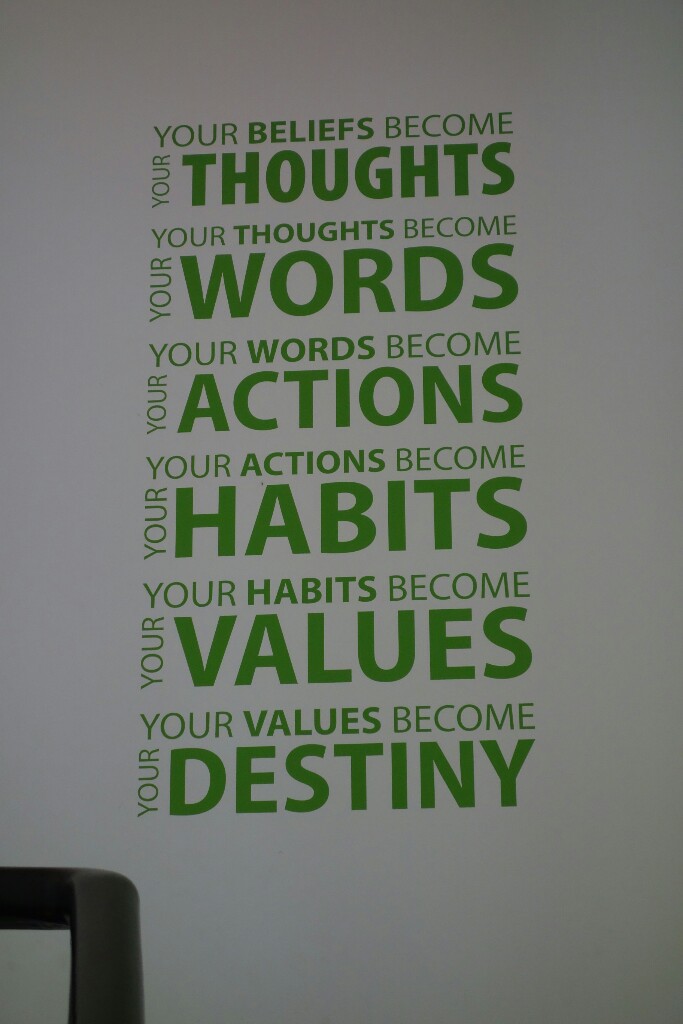 We try to extend our visa, as it should be possible in the immigration office, where it is written on a information panel: Visa extension: 10 $. But they don't want to extend our visa. They say we don't have an insurance because we bought our visa in the Vietnamese Embassy in Luang Prabang, so it is a different type, as if you buy it through a travel agency. They tell us we can extend it in a travel agency for at least 60 $. What a pity. Damn!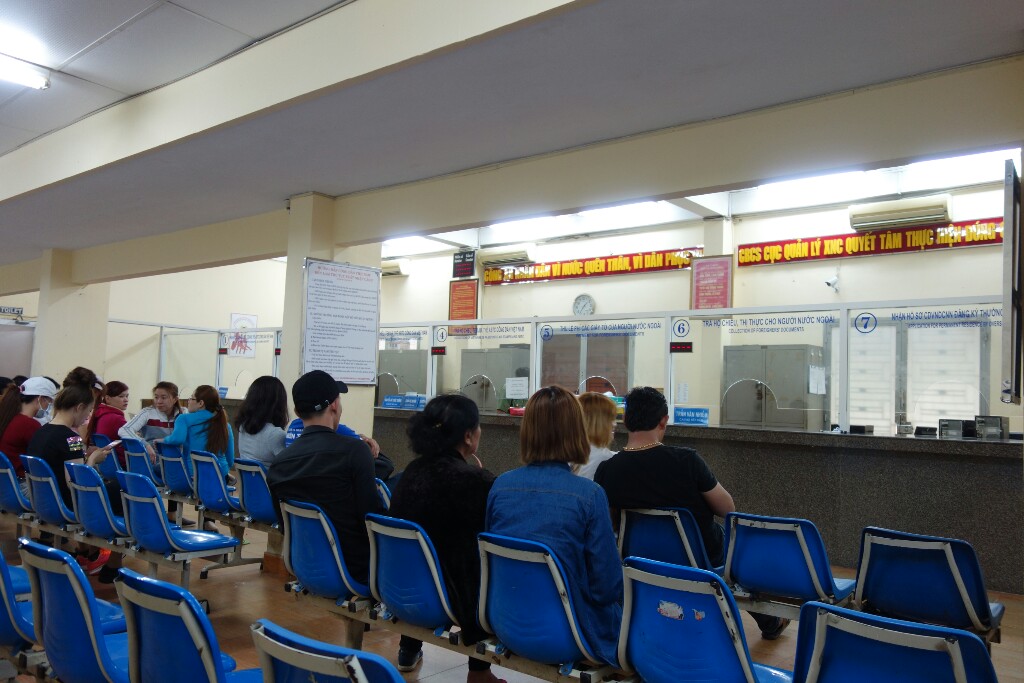 We change some dollar to be a able to pay our visa on arrival for Cambodia at the border and decide to stay one day more and start early at our last day to reach the biggest border crossing point (Bavet) on the main road in 80 km distance.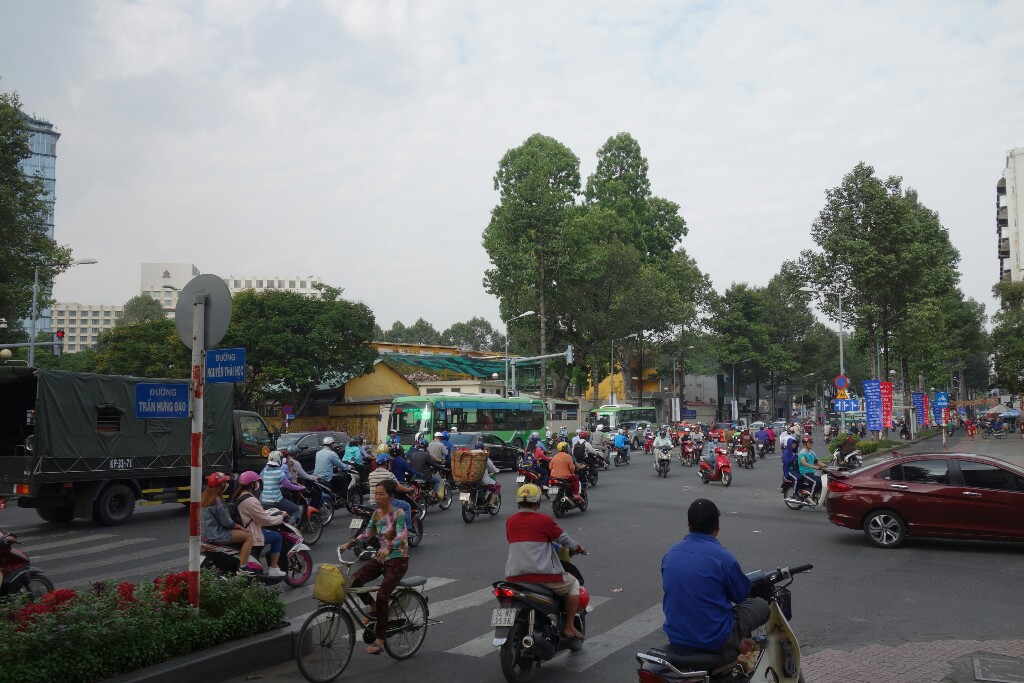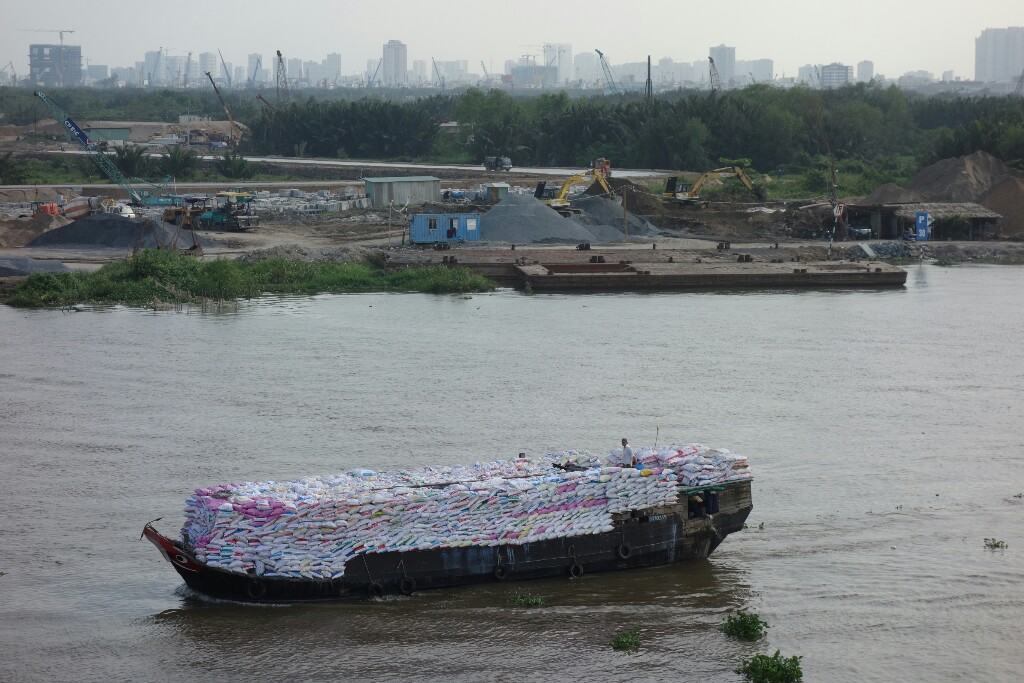 Our plan works out fine. Road and traffic to Bavet are ok, actually a way better than expected. The border checkpoint is closed and tentative in a big hall. We get stamped out and get our 30 $ visa on arrival for 30 days in Cambodia. With the water buffalo short before the border we say goodbye to Vietnam. In our opinion a country we don't want to go back so soon anymore, especially not by bicycle and during Ted.
Now we look forward to a new country, it will be the 18th on our way.