A big problem in Southeast Asia is the rubbish. We see so much of it everywhere. And in Vietnam we have the feeling that it is even worse than in Thailand or Lao. Sure the waste is not only in the sea or at beaches, we see trash everywhere, where roads are and where people are. Sadly they always pack everything diligent in plastic. So, nice beach, but could be nicer. 🙂 People, please don't litter our planet!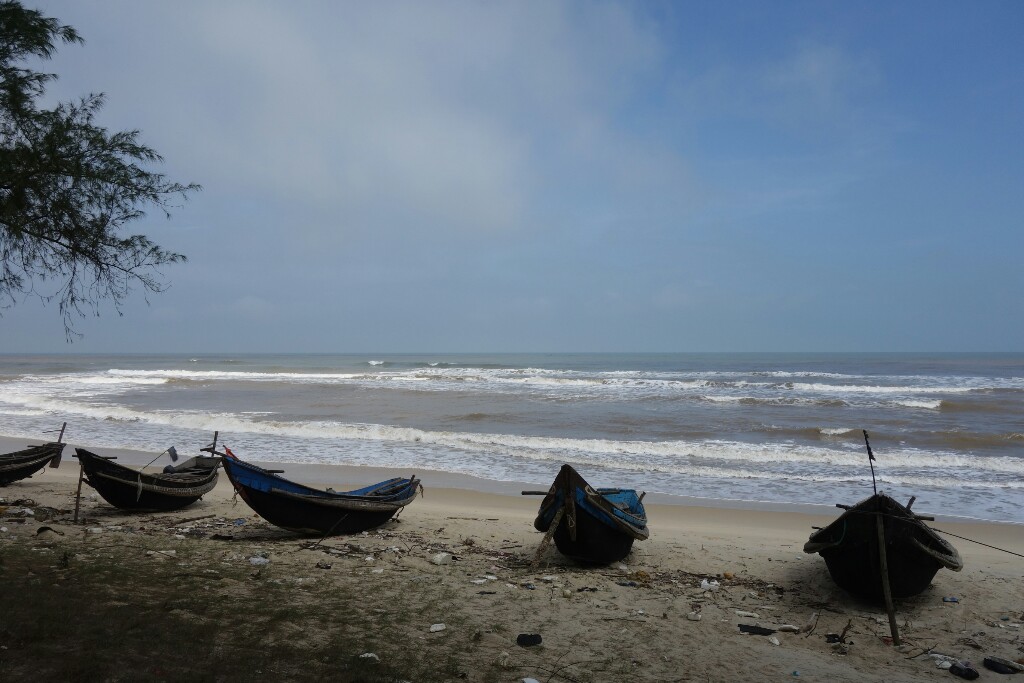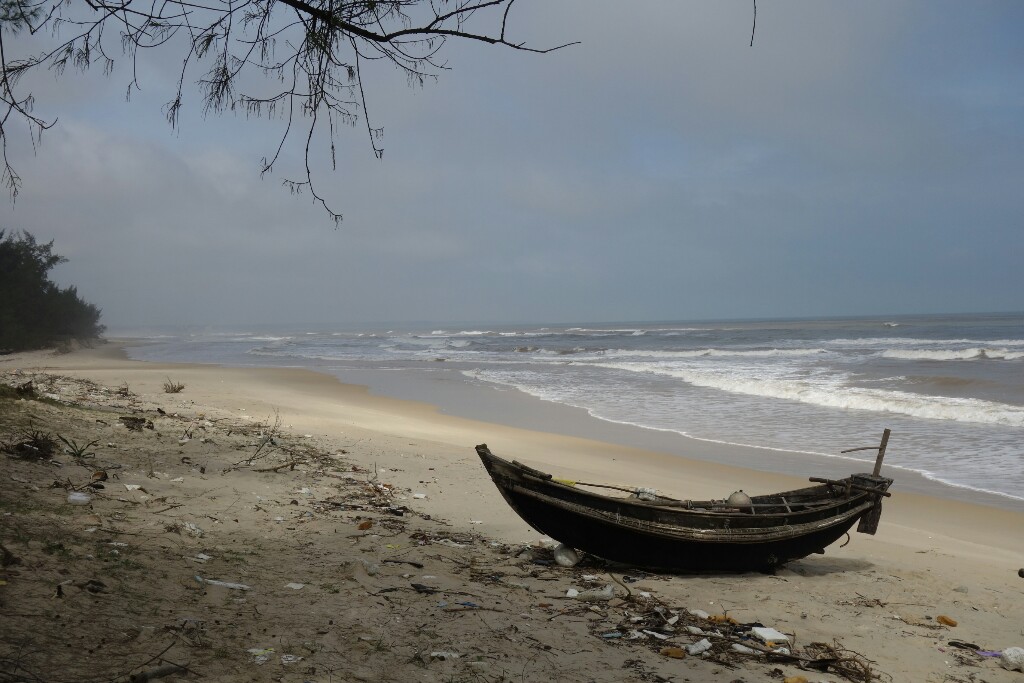 The very poor do recycling business. Paper, plastic, and cans give at least some money. The fully loaded normal bicycles look fantastic. Maybe they carry more luggage than us.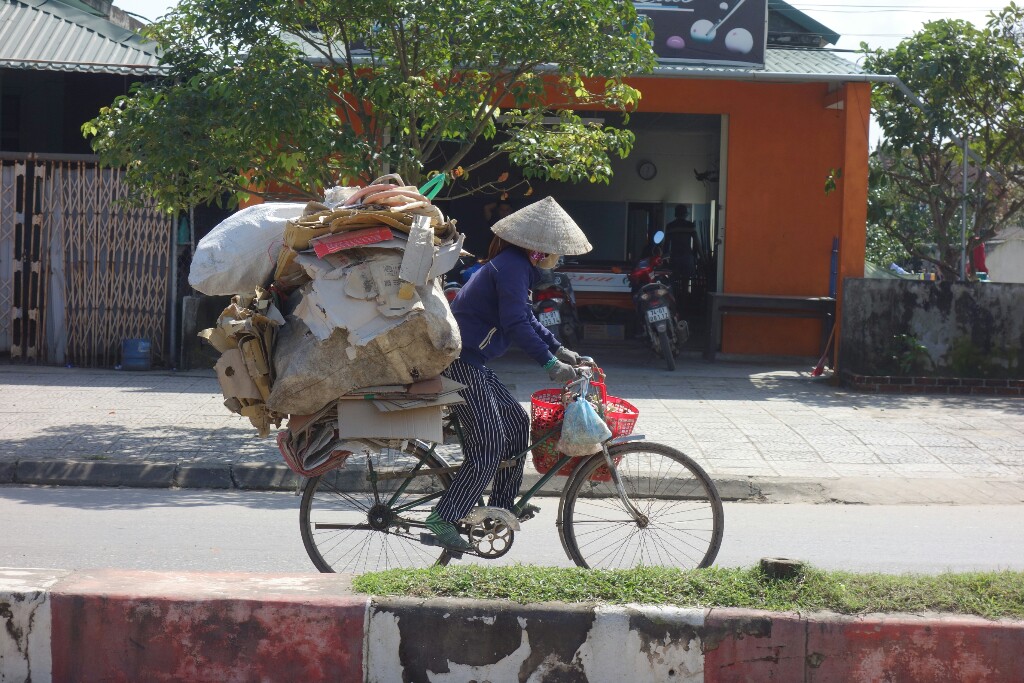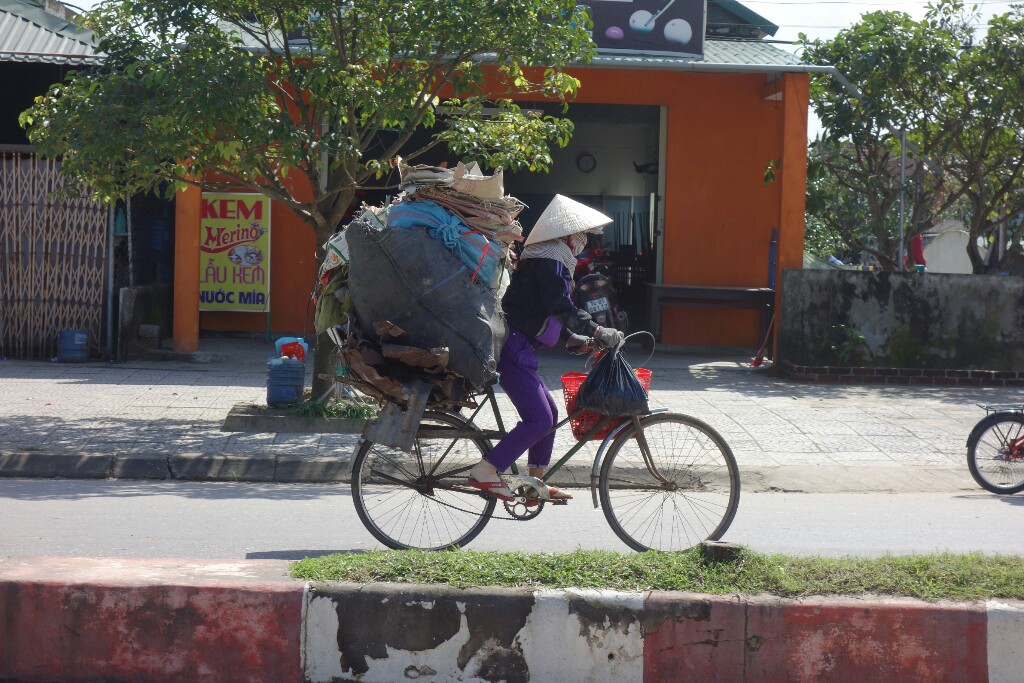 Children with way to tall bicycles on the small road.
A high observation tower in the middle of nowhere. For a short moment we think about sleeping up there, but it would have been a lot of work carrying up all our stuff.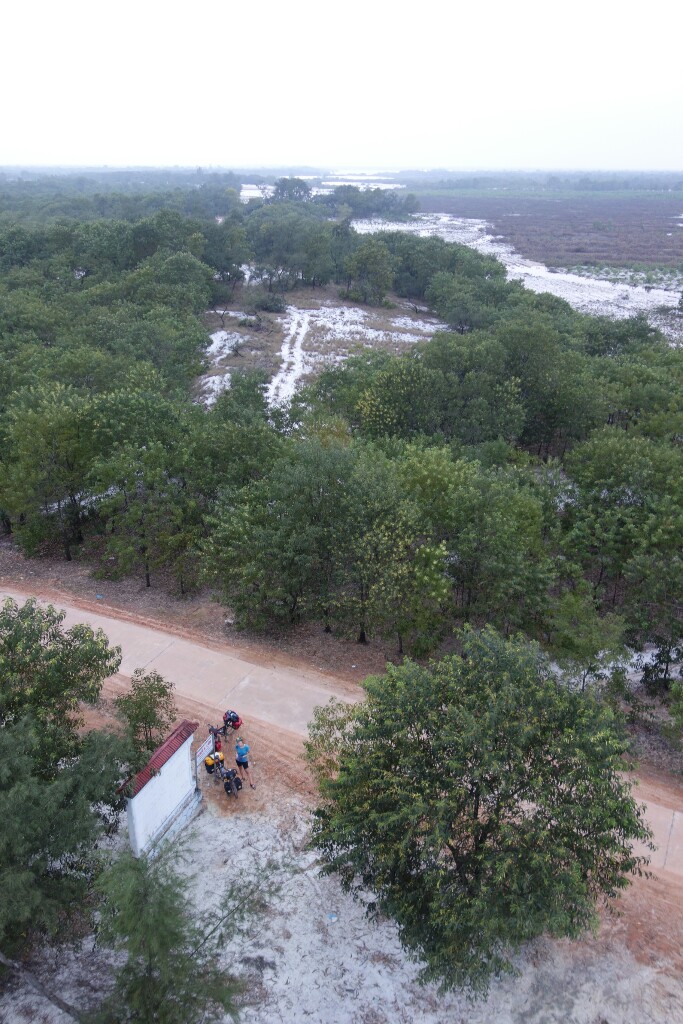 I don't know why, but today is the day, we will search for a long time for a place to sleep. We ask some people for a hotel, they say it's 15 km away, but it's the wrong direction for us and it's late already. We try to reach a village at a small river Keh Làng, in our map it looks busy as there could be a place to sleep. It's not far, but anyway we get in darkness the last two kilometers. We start asking people, but actually no one is able to help us. Some say that there is a hotel, some don't understand us. Then we ask some people, who sit in front of their house. Fortunately one of them speaks English perfectly, she is willing to help us. There should be a guesthouse not far, she tries to describe the way. But we say we won't find it alone. We ask if someone can show us the way. Another woman guides us to the place by bicycle, then she points to the house and cycles back in darkness. She didn't speak English and didn't explain what we are looking for. The house is just in front of the market and a simple restaurant. Again no one understands us. Just a drunk man who repeats something about a guesthouse in 10 km very often, but doesn't sound trustworthy. Our best idea is, to go back to the English speaking woman and ask again, if we can put our tent in the yard somewhere. On the way back we ask at a temple and pantomime the sleeping symbol with the folded hands next to one ear. They let us in and show us the altar, because they think we want to pray ;).
Finally we get back to the place of the English speaking woman. After some explanation they allow us to stay. We can sleep on the terrace. We even get instant noodles. The whole story took about 2 hours. Happy to have a place to sleep.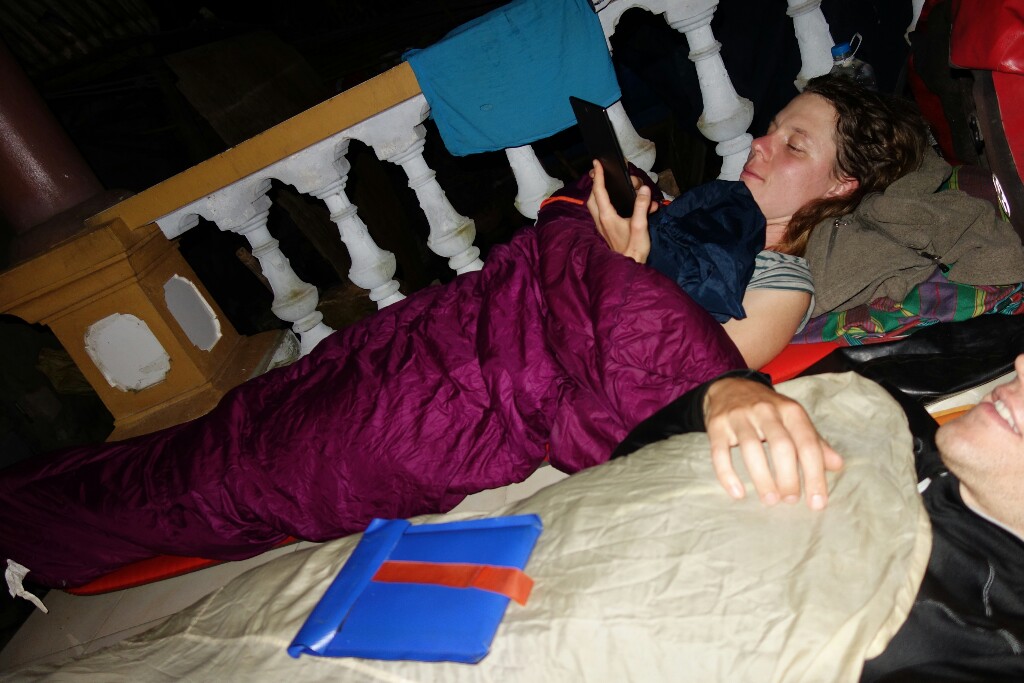 This is Vietnam.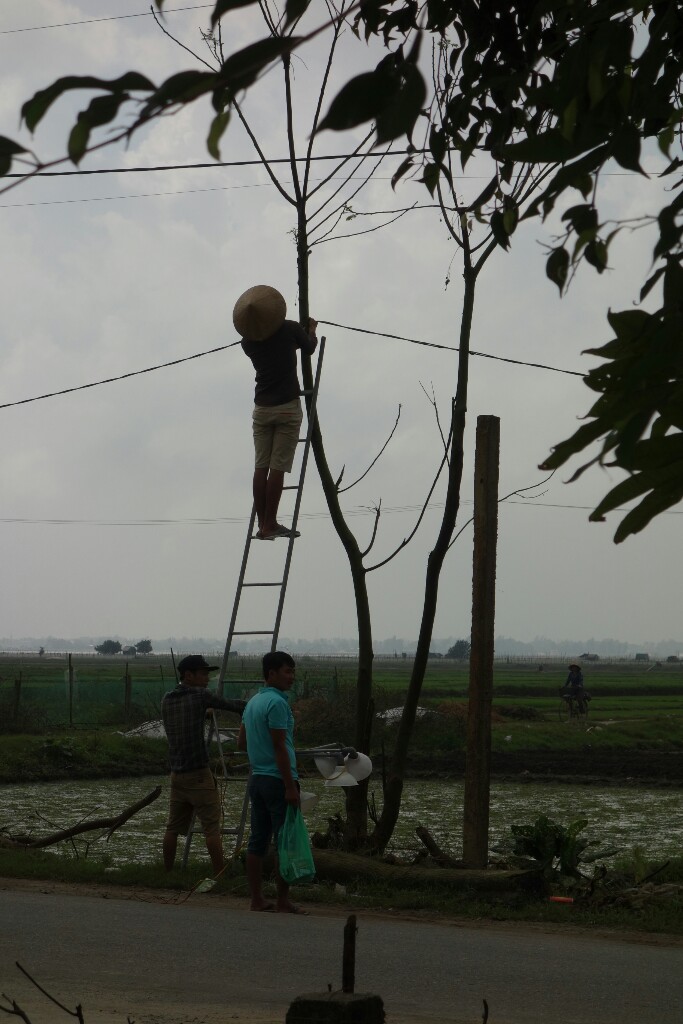 Hammer and sickle. Flags of communism hang around a lot.
Hard to see, but there is a big graveyard in the background.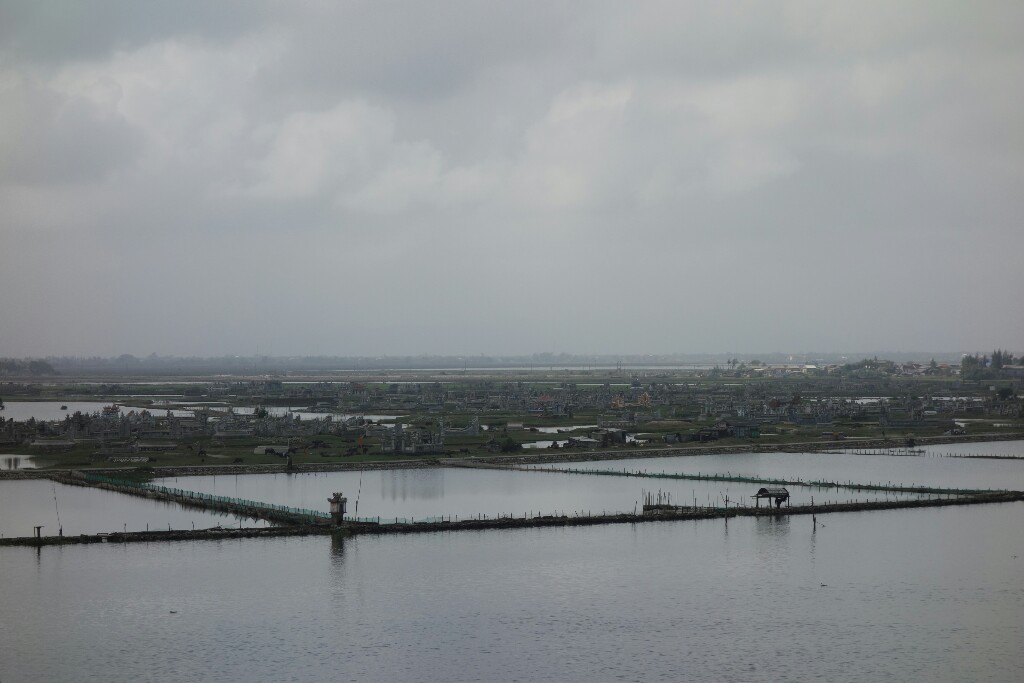 Pictures taken from a bridge in Hue.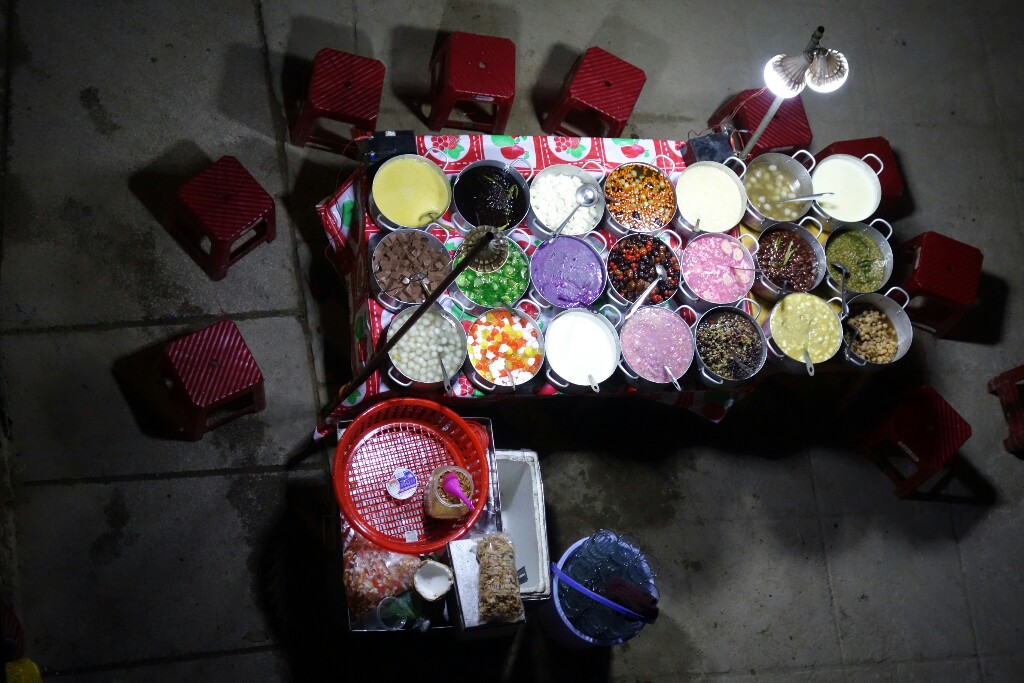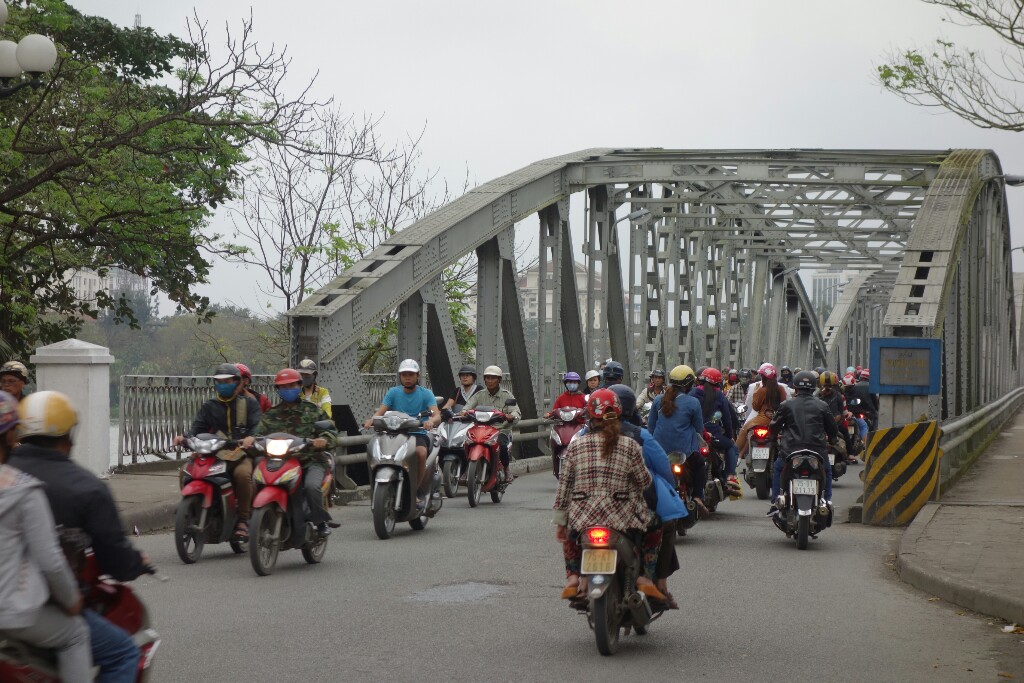 Hue was the capital of Vietnam from 1802-1945. We visit the palace complex of the Nguyen dynasty, the forbidden city.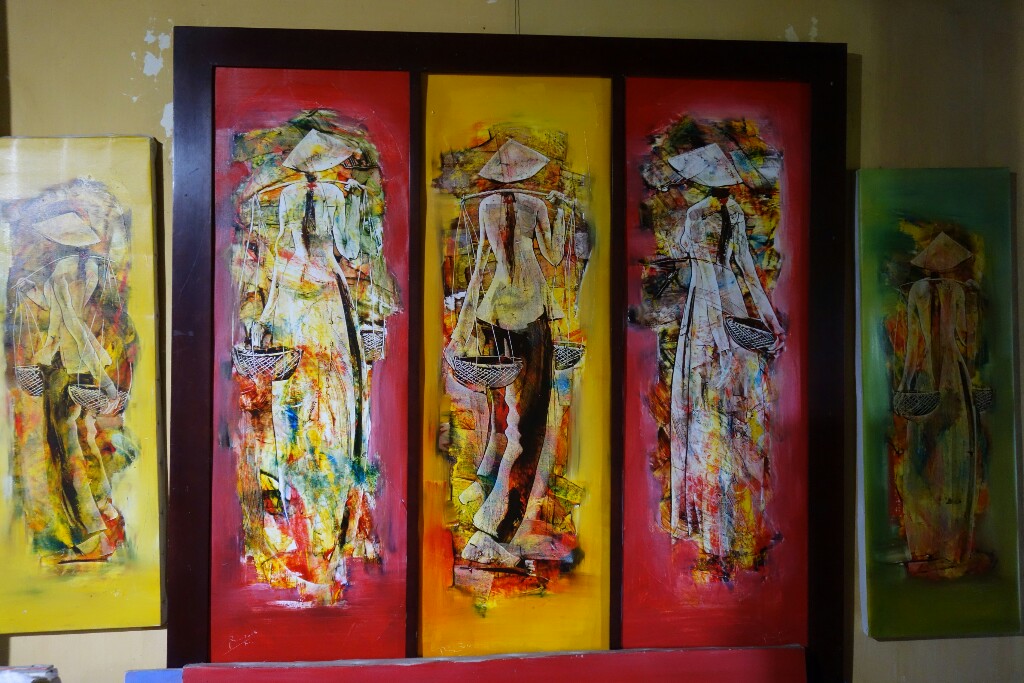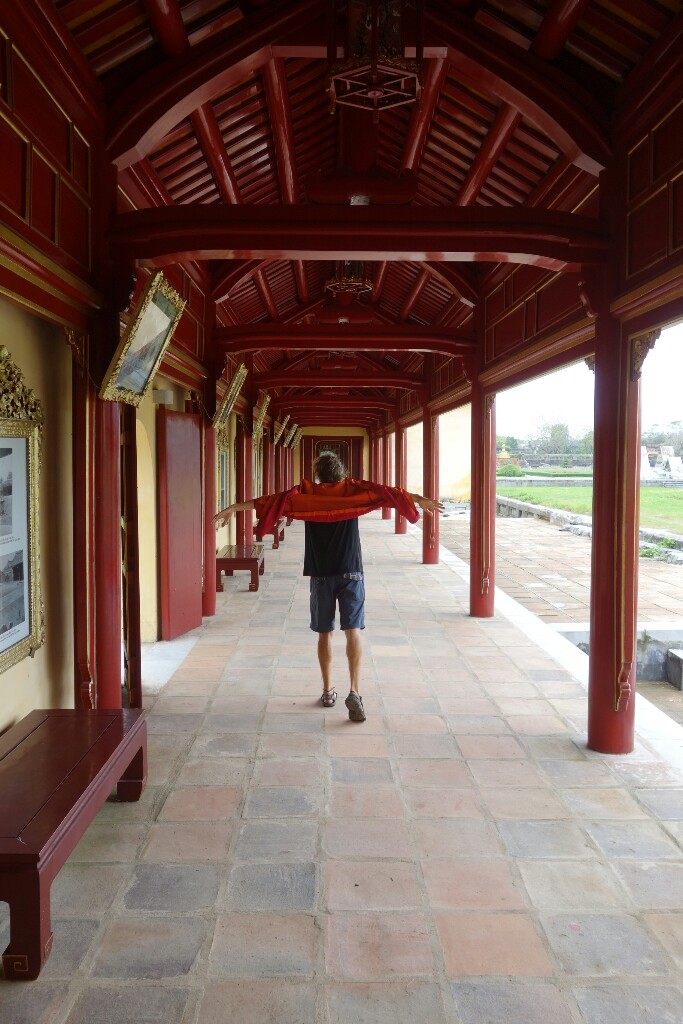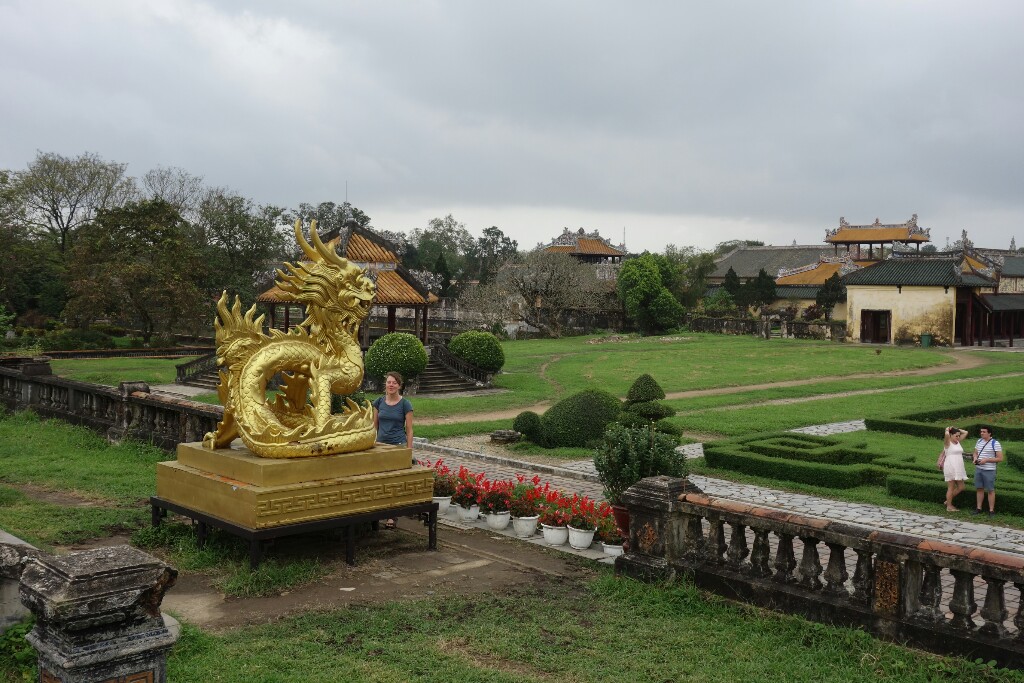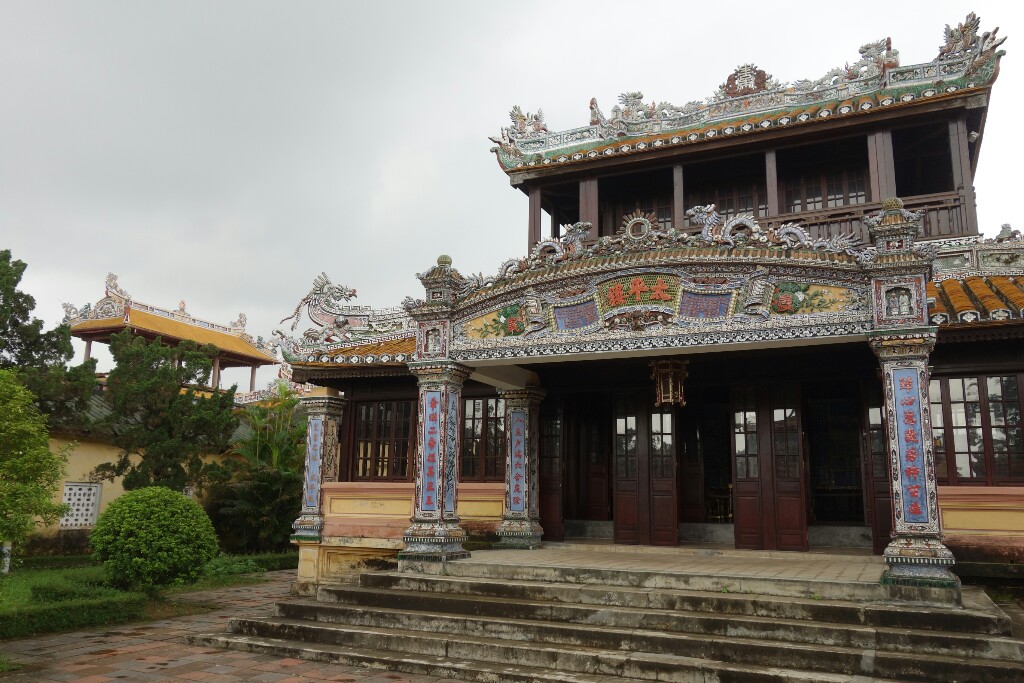 Again we have to struggle a bit with our sleeping place. We find a bed symbol in Google Maps, and someone in Hue translates us, that it should be a place to sleep. First of all we have to find the place, because it's marked wrong in Google Maps. When we arrive, we find out that it is a teacher's accommodation. We are lucky, the English teacher is just about to go home for the weekend. We ask her, if we can stay. After a short discussion with the other teachers, they say we can stay in one room for free. We are happy.
Later in the evening, while we eat in a restaurant 100m away, we get a phone call on the waitress phone. It is the English teacher and she wants to tell us, that the geography teacher, also staying in the teachers home, invites us to a small party tonight. The party looks like a big mess in his very small room, everything is happening on the floor. The next morning we have a tee together before we leave.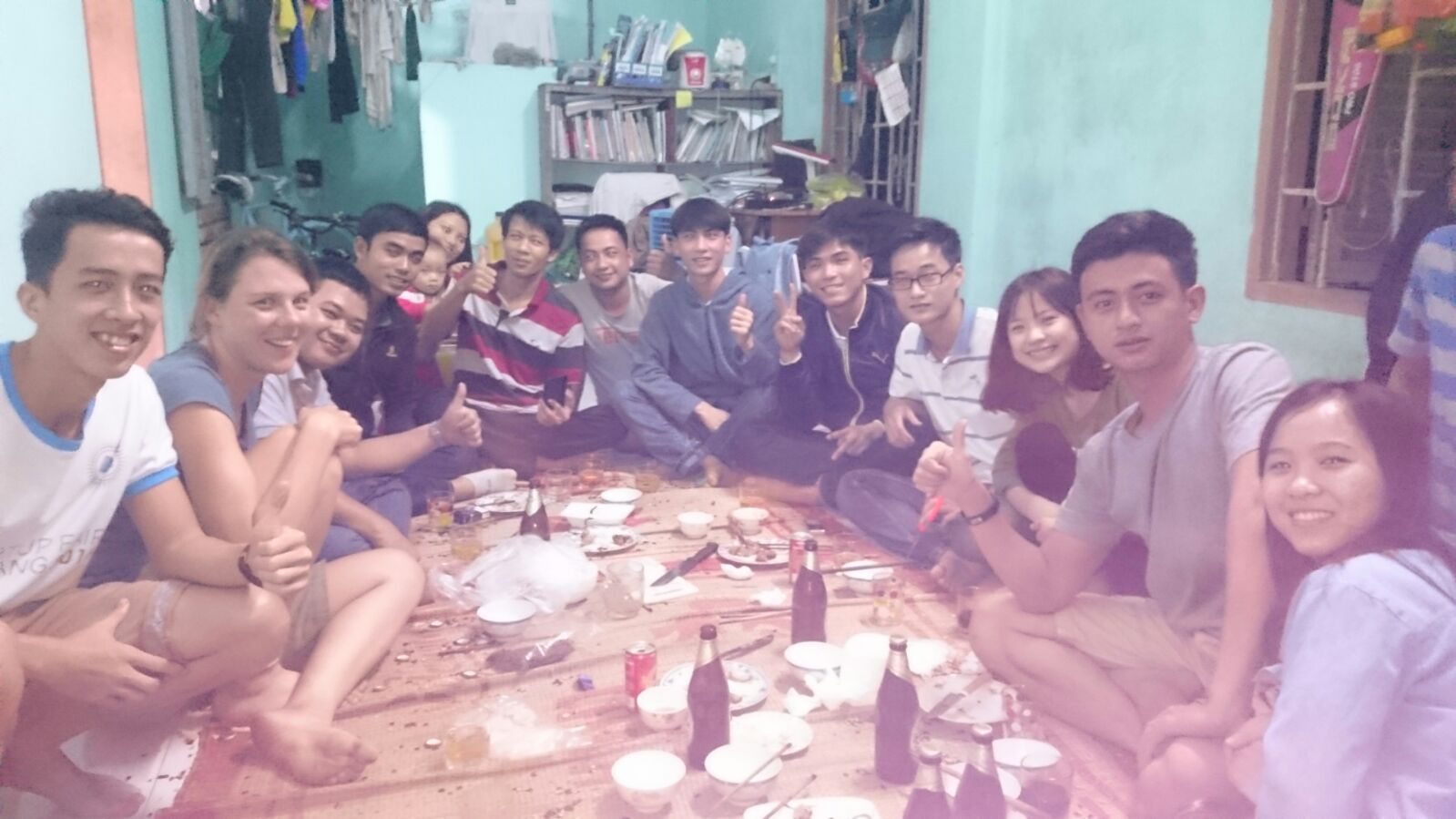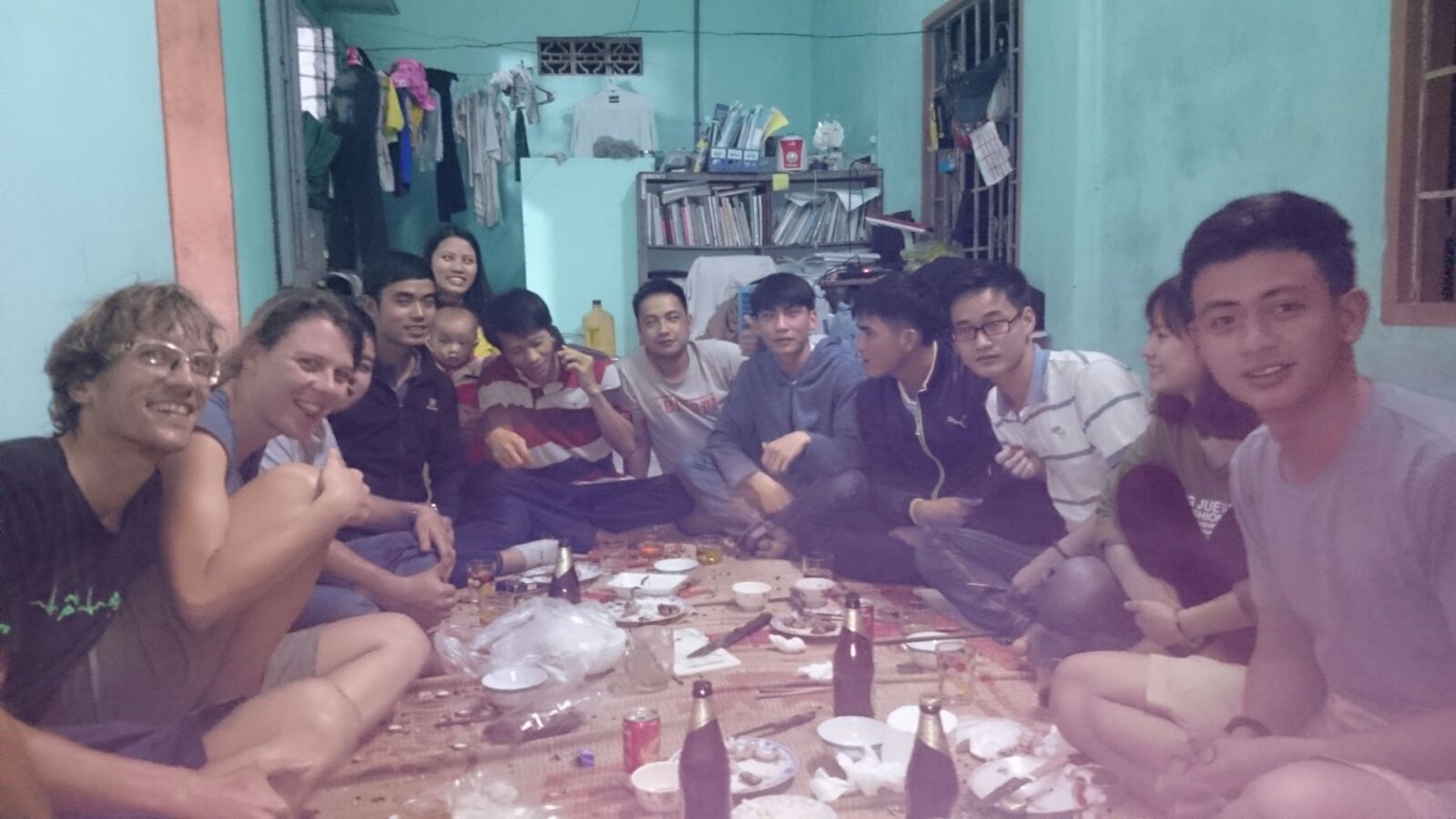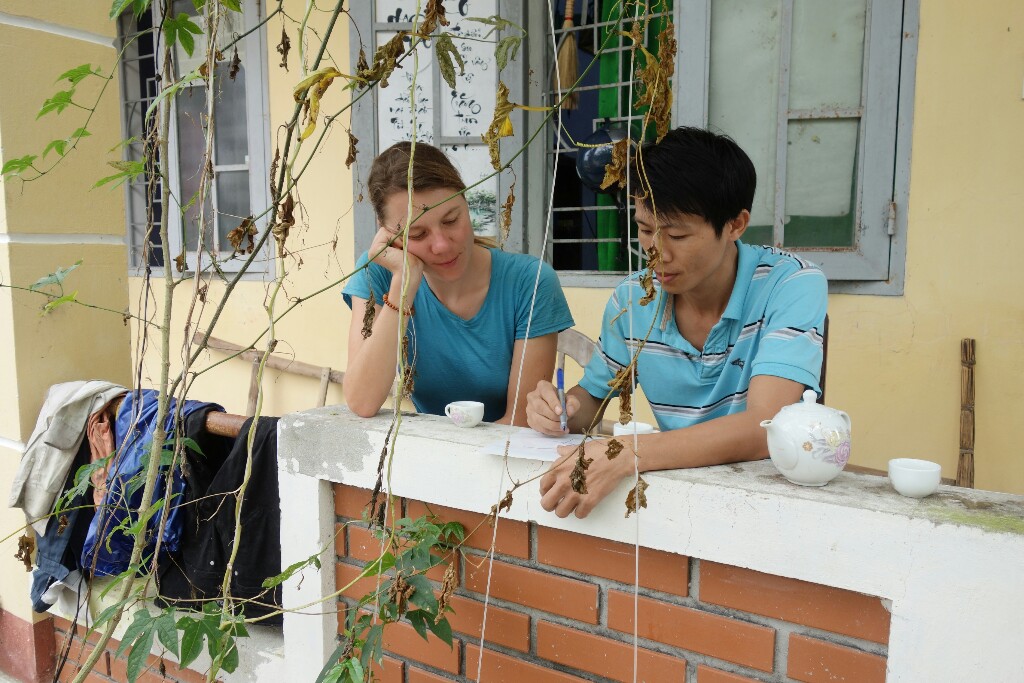 Teamwork. 🙂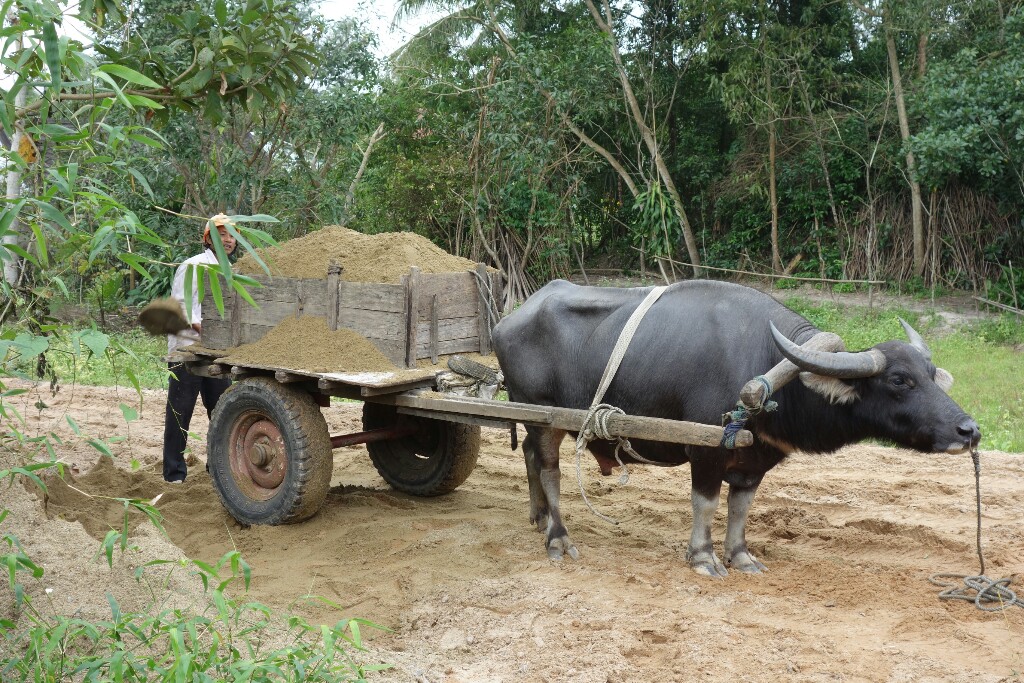 Just a little later we meet to guys from the party again, they wear bicycle shirts. They can't really explain what game they play, some kind of treasure hunt, but they aren't cycling, they have their scooters.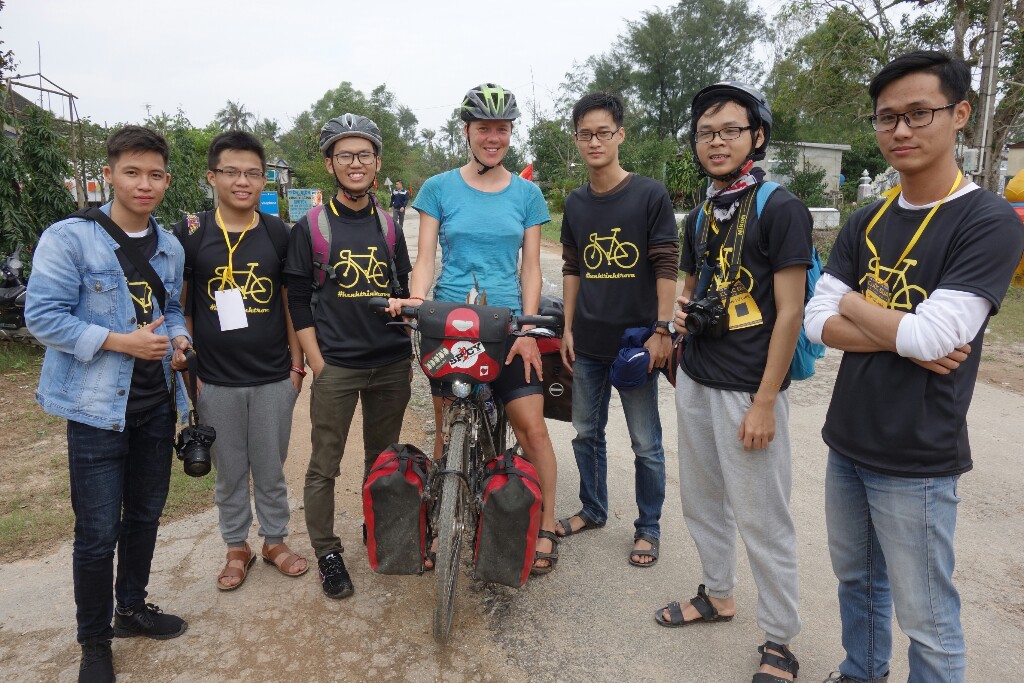 We cycle along the closed bay of sea, the smell of shells gets into our noses. I don't know how it works exactly, but they farm the shells in old tires.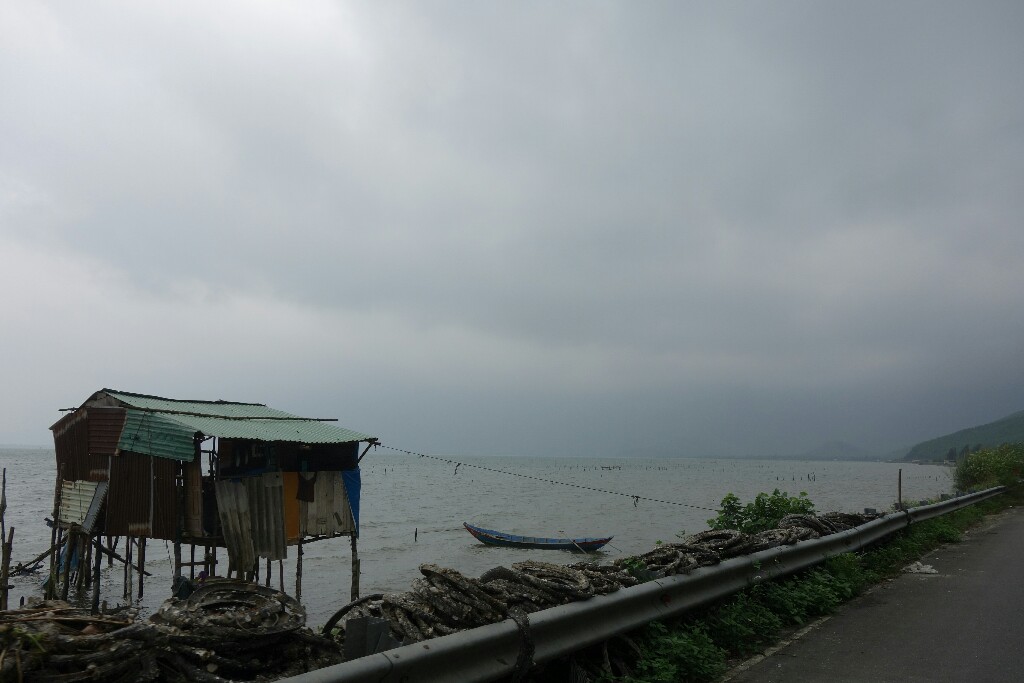 The broom waggon. 😉 We see a lot of transport modes of this kind.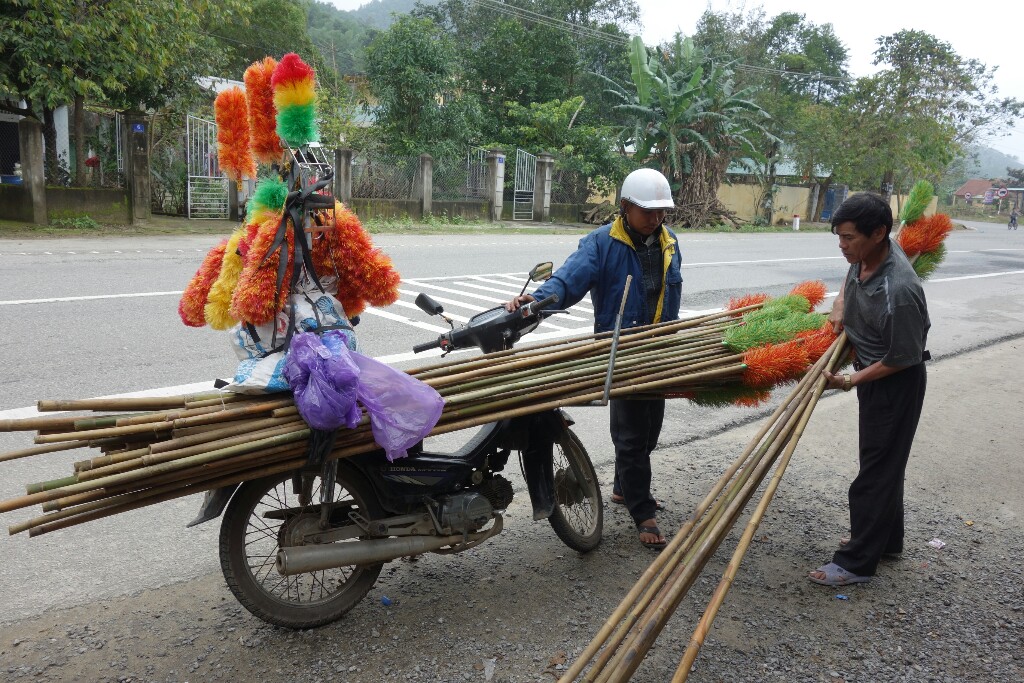 Animal transportation is always visible in Southeast Asia. The poor pigs suffer a lot in their cage in the heat. Everyone can choose, if he wants to eat meat or not.
Then it is the time for one highlight, the Hai-Van-Pass (Wolkenpass), a natural border and weather divide between North- and South-Vietnam. It's only 500 meter above sea level, but still a climb for us after cycling so long in flatness. Most of the traffic leads through a tunnel (built 2005), all the falang scooter driver push us uphill, yelling energy giving words to us. The pass lives up to its name; it's busy cloudy and foggy.
The top is not very special, a bit to touristic for us, but we find a quiet place to have a small rest. The pass was an important point during the Indochina War and the Vietnam War, there are some ruins and bunkers of this time.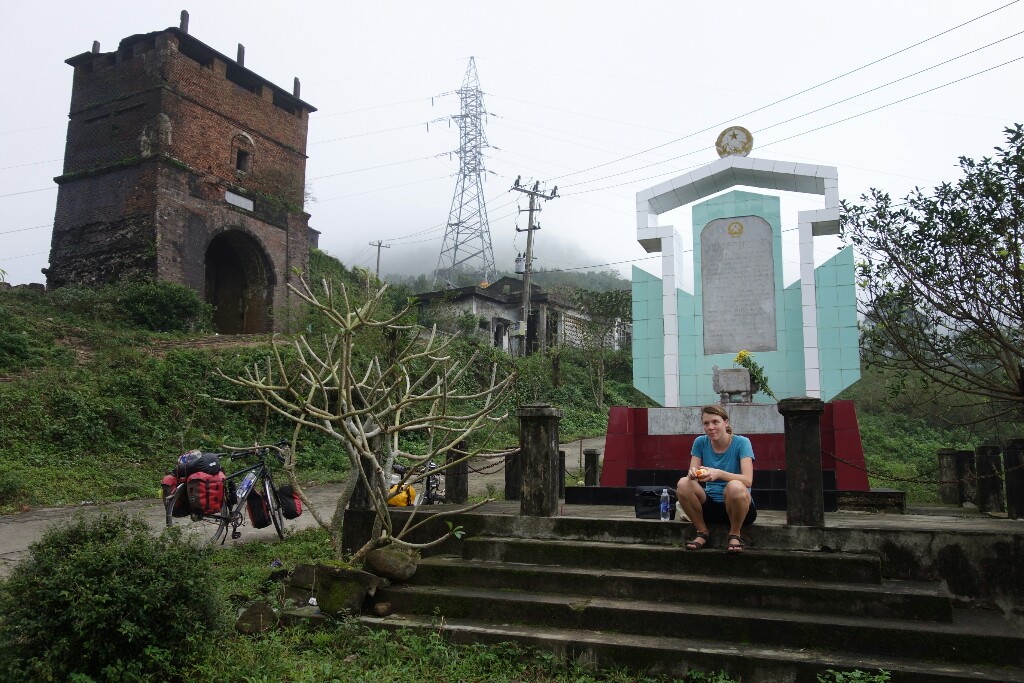 We arrive in Danang and check in at the Buddy Hostel. At night we walk around, and enter the "Big C" supermarket in the center. I can tell it isn't the best idea short before "Ted" (= Chinese New Year). It happens like on a funfair. We are happy when we are out again.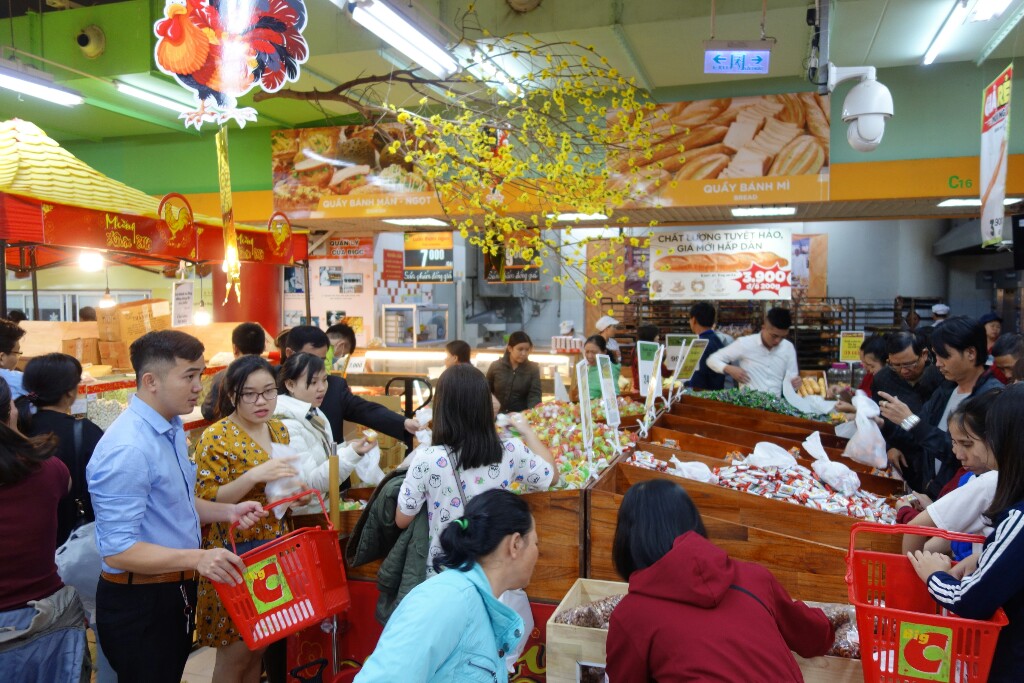 At night they light the bridges very nice. The lights change and you can hear some music from speakers.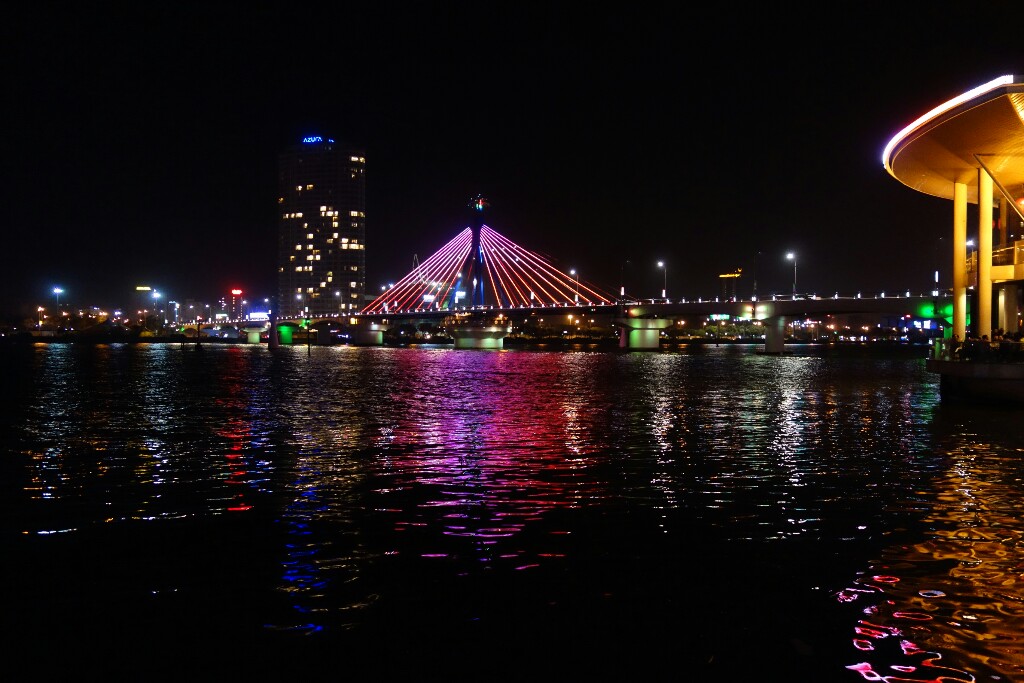 One day later we arrive in the touristic hotspot Hoi An, where the rain will catch us hard. The city has a nice old town, but all the residents living and working here, are much too pushy for us. They want to make business.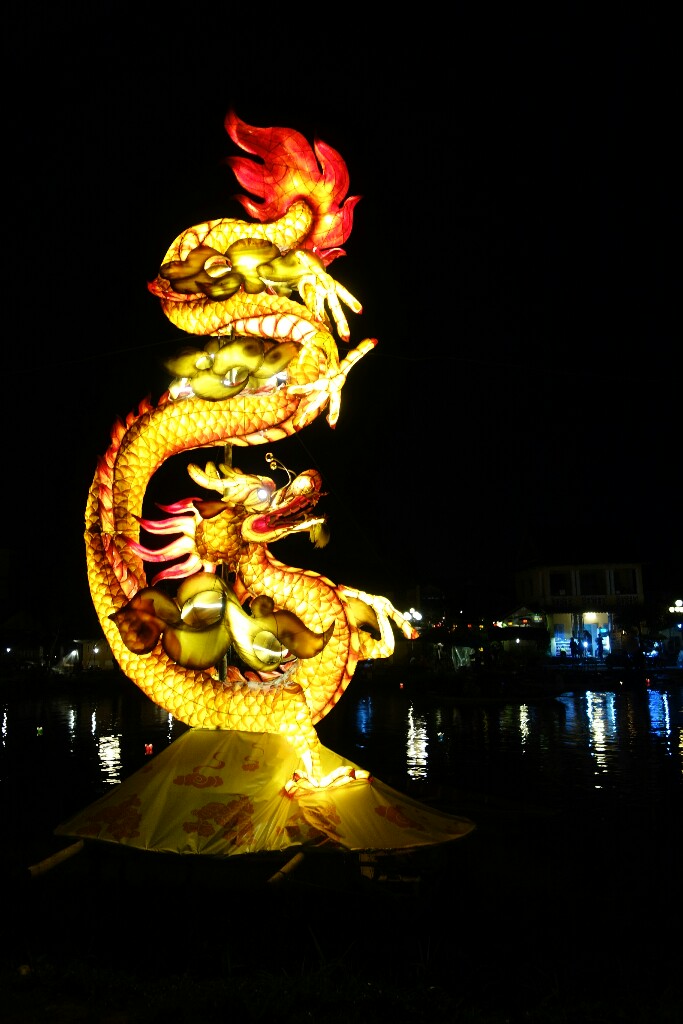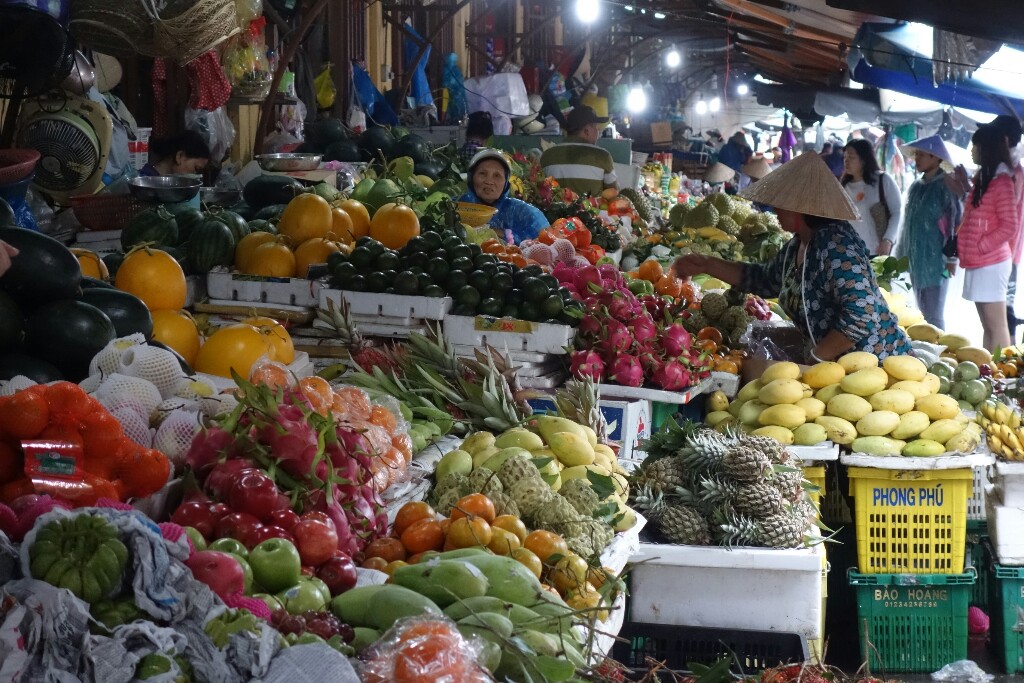 Another "Ted" thing is, that they sell big plant pots with flowers or small mandarine trees everywhere. People buy it and carry it home on their scooters. It is equal to our Christmas tree story at home.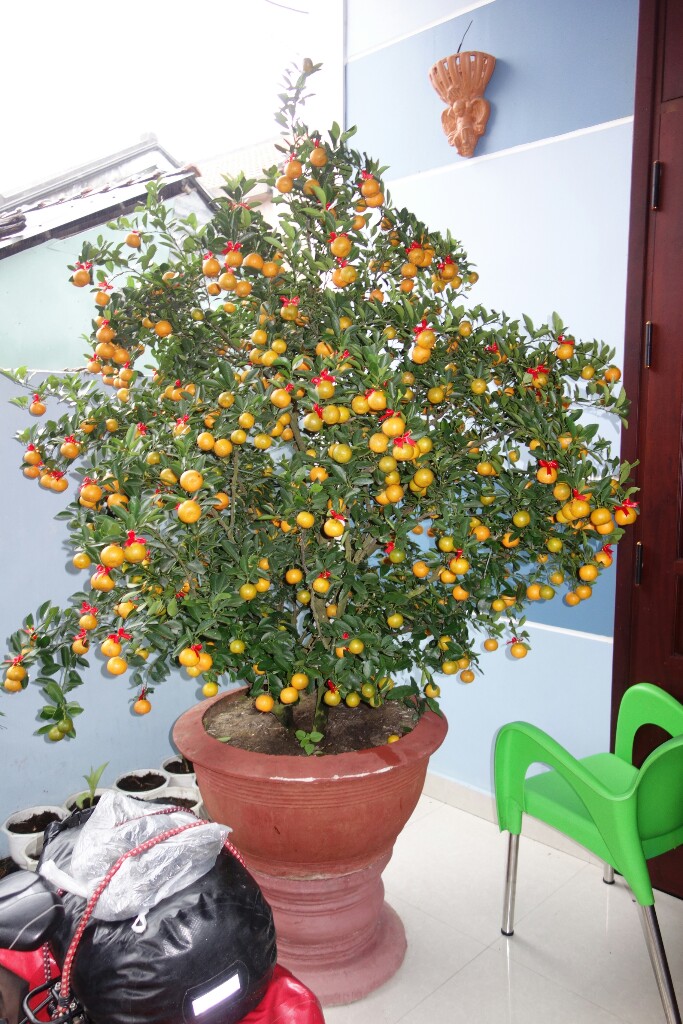 Copied pictures of a very good French photographer, who also works for National Geographic.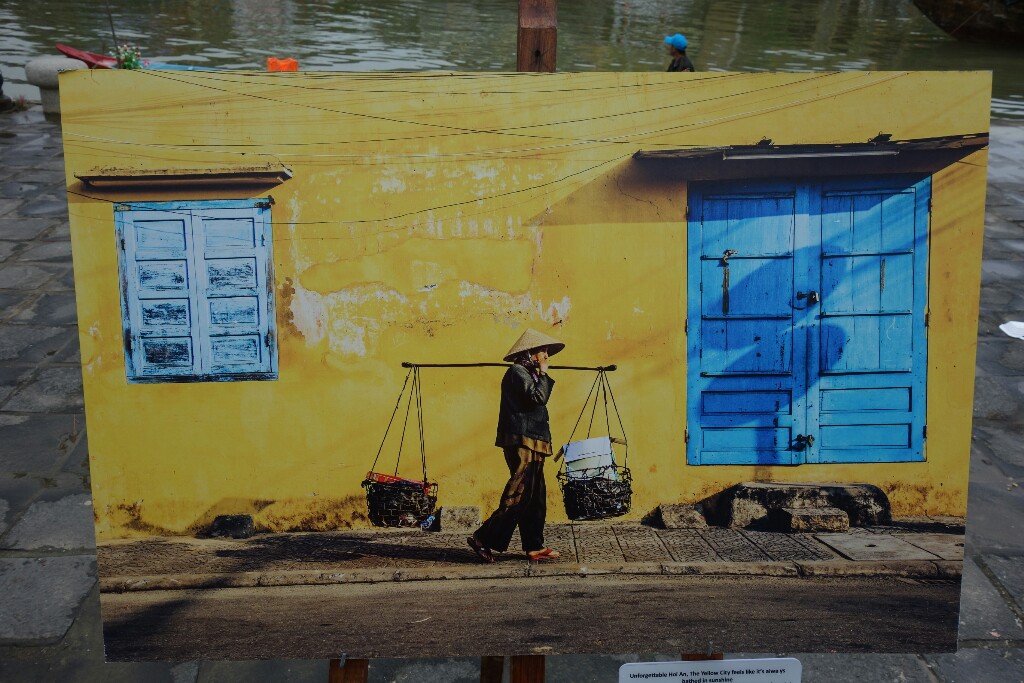 As it rains very hard and all day long, we stay another night. This is how my soaked saddle looks after two days in rain.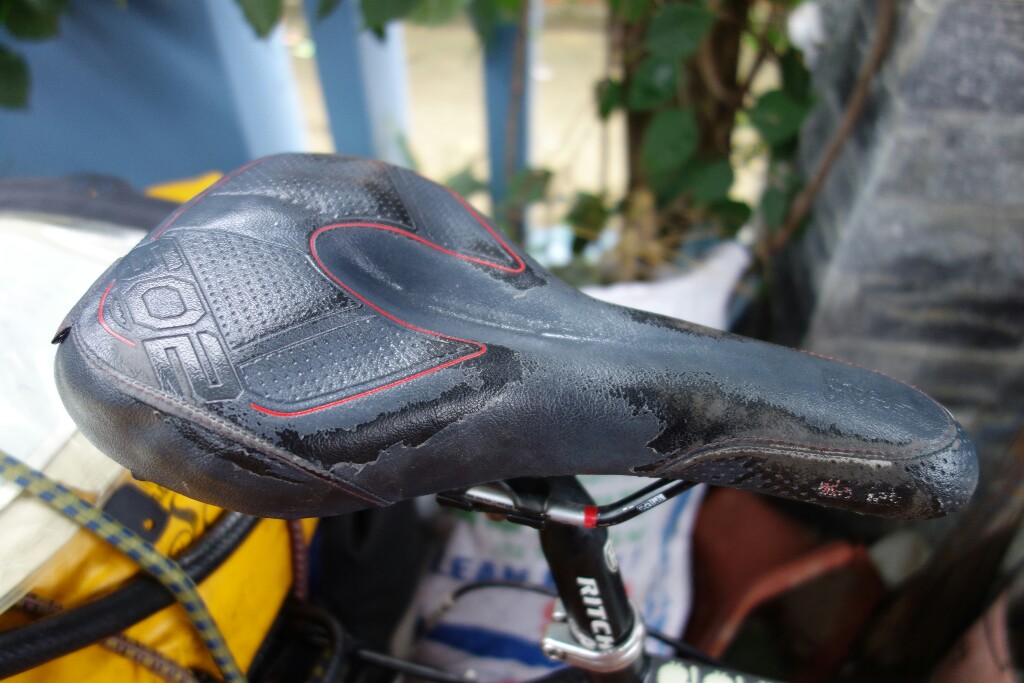 But the next day it rains even harder, anyway we have/want to cycle on. The wind is good, we cycle on a good, new and quiet road, but after 3 hours and about 50 kilometers in the rain we are wet to our bones. After one or two hours the rain jackets refused to work. But we find a nice small restaurant, where we get a good cheap vegetarian meal in a dry place, watching the rain pouring down outside.
Later the day it stops raining. We are back at the 1A-highway and have to share the road with the horrible traffic.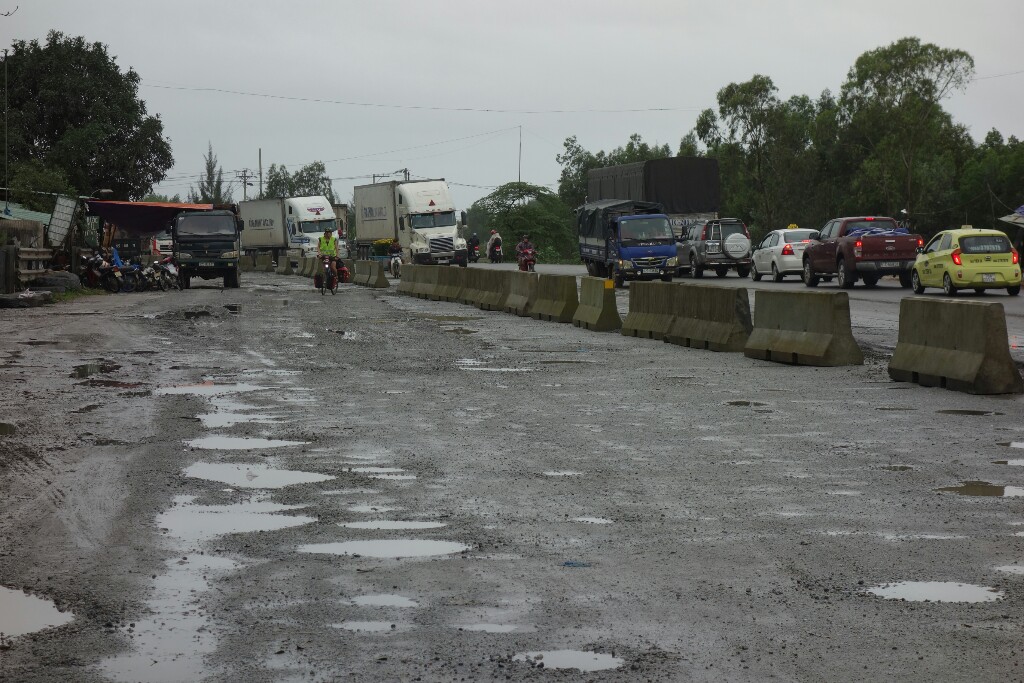 Not just seen once, the movable pet seller aquarium.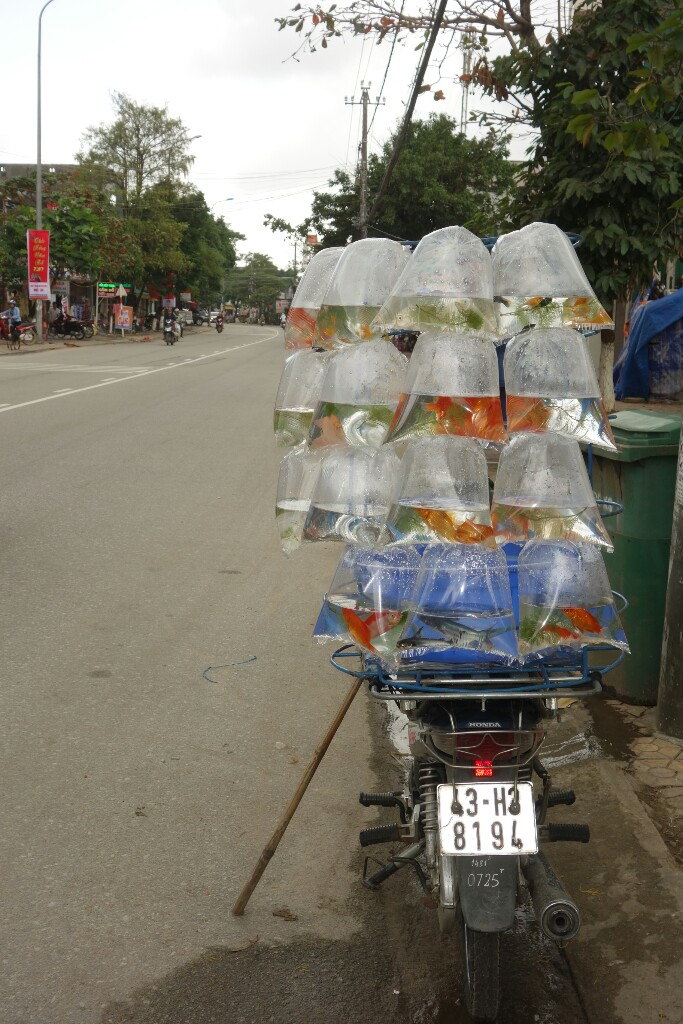 That's more our style of roads and traffic. A cheer for all cows. 🙂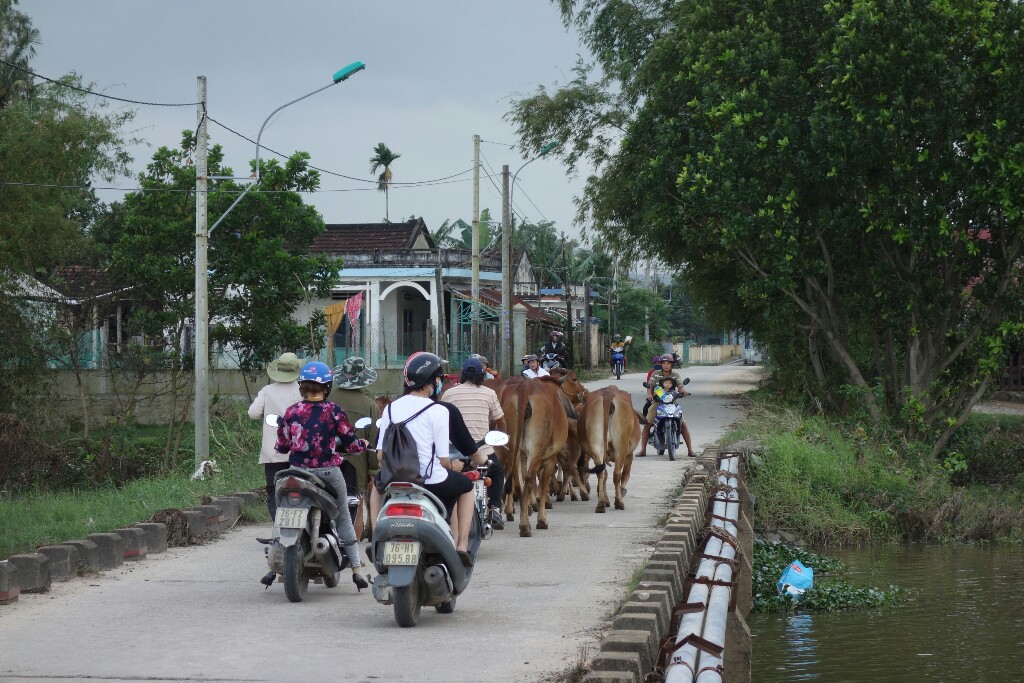 The smallest pineapple we see at the market in Dúc Phô.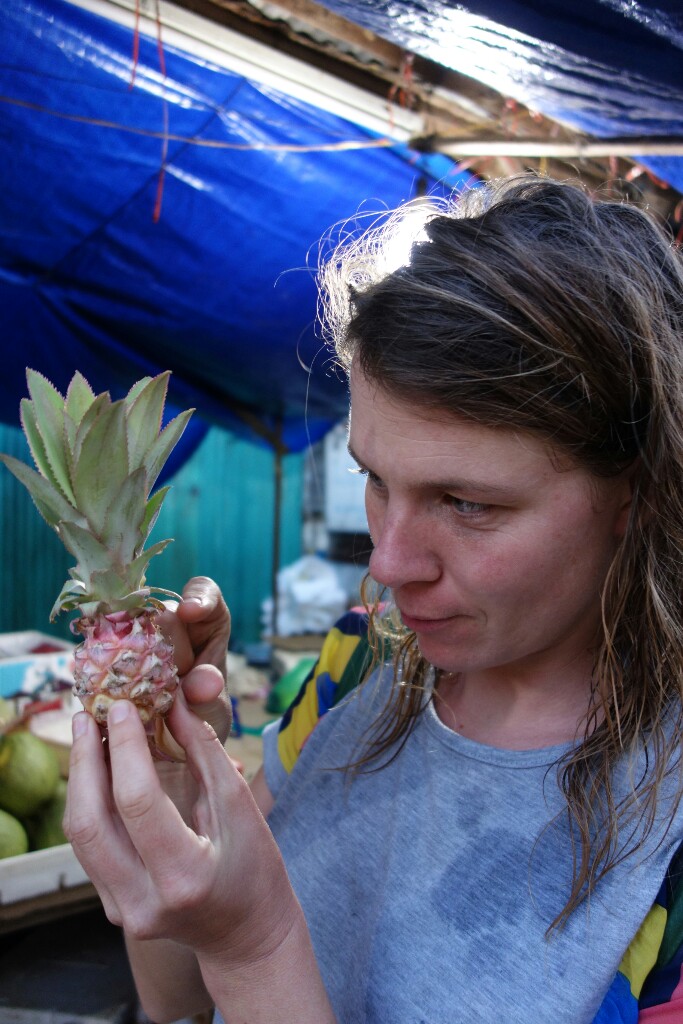 You can say from here on the nice part of Vietnam's coast, specially for cycling, begins. There are a lot of good sideroad options next to the sea and several camping possibilities. I found this informative blog of another traveler, who wrote about all the campsites:
http://vietnamcoracle.com/camping-the-ocean-road-saigon-to-nha-trang/
The beach of Tân Thanh.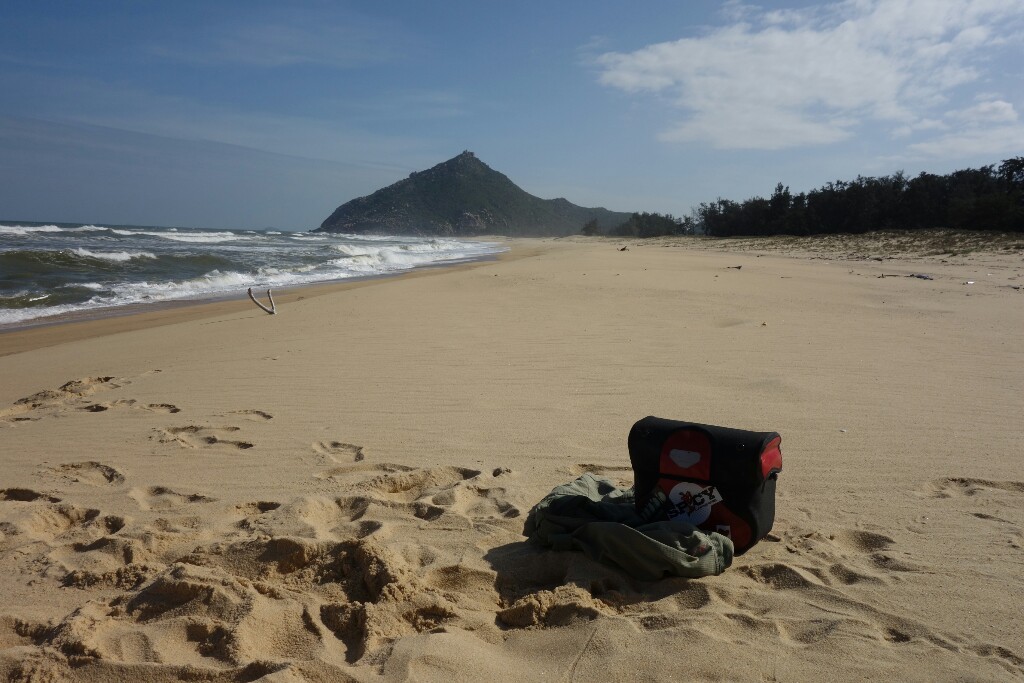 Anyway we suffer with the scooters today, it's "Ted" holiday now, and it seems as everyone is out today.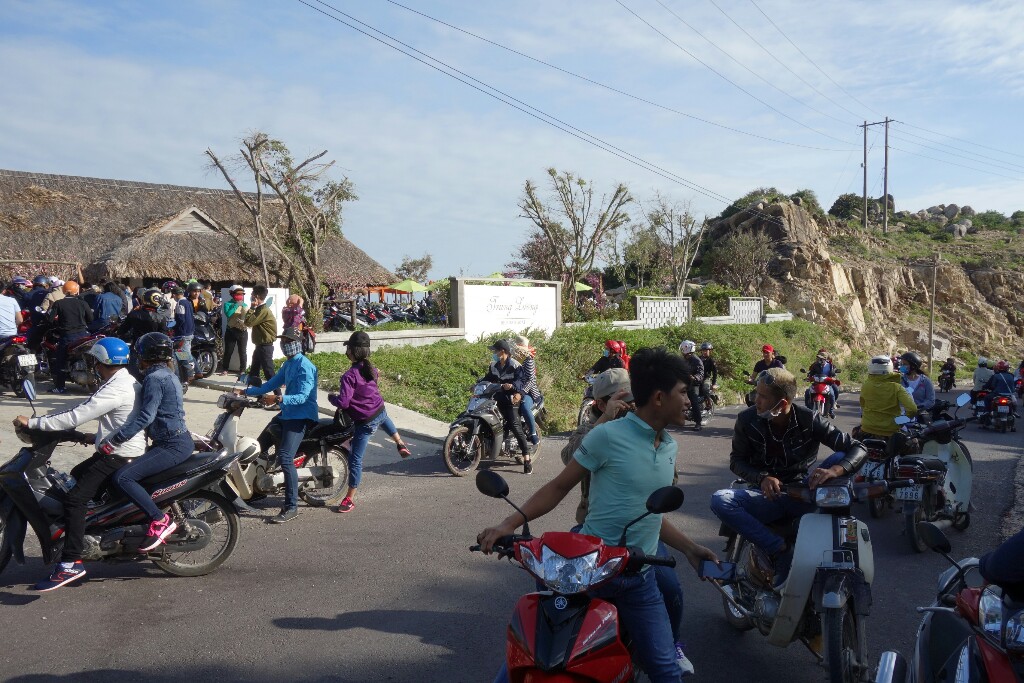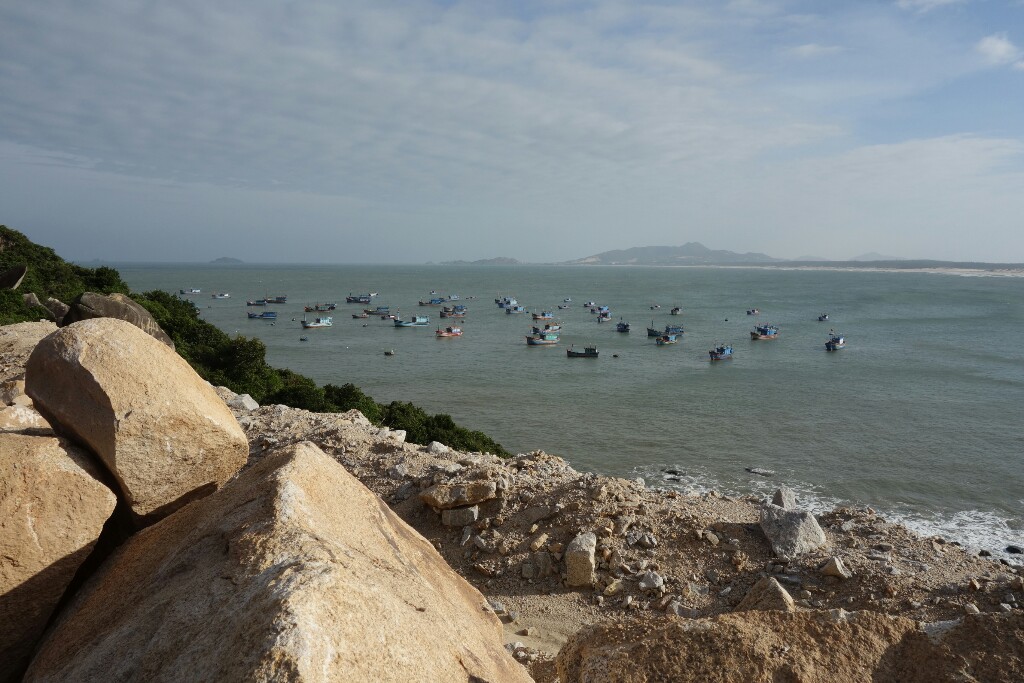 Short before Quy Nhon we cycle over our so far longest bridge, it's about 4000 meters long. Strong wind.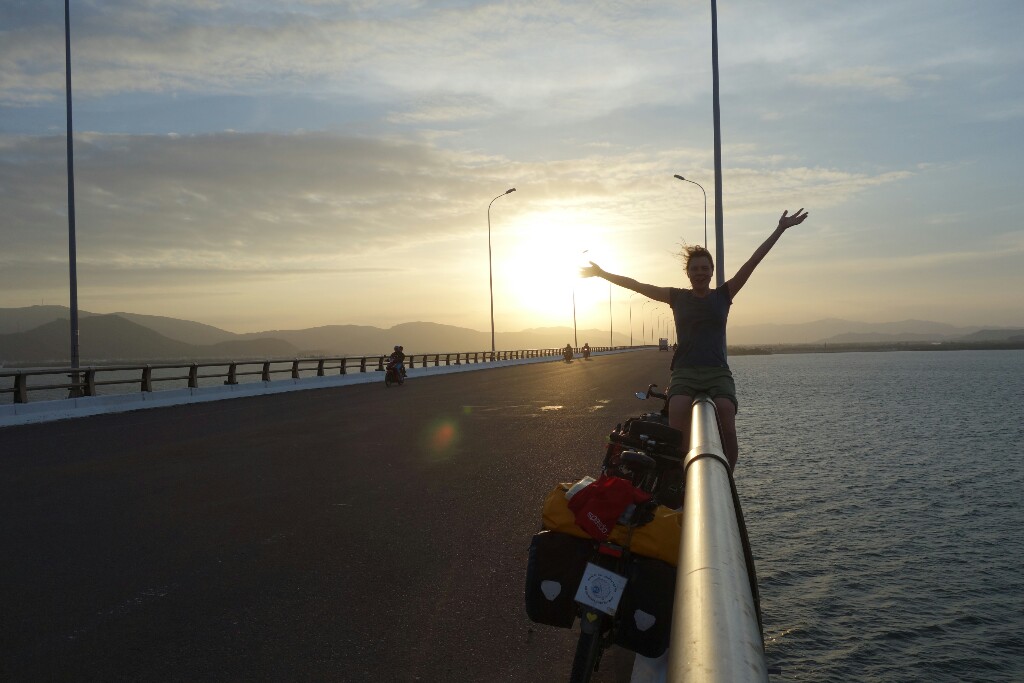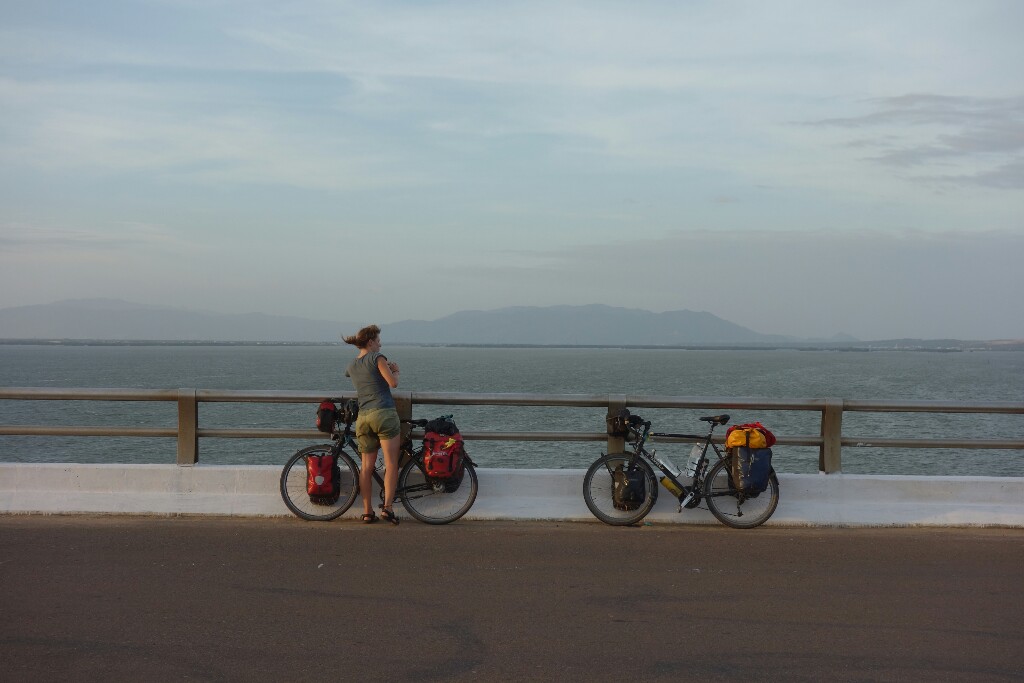 The next day I meet Antti from Finland. He is 65 (or older, not sure anymore) years old and has a light nice racing bike mounted in the lightweight bikepacking style. He is cycling around in Southeast Asia for several weeks. His blog is: www.fillarantti6.wordpress.com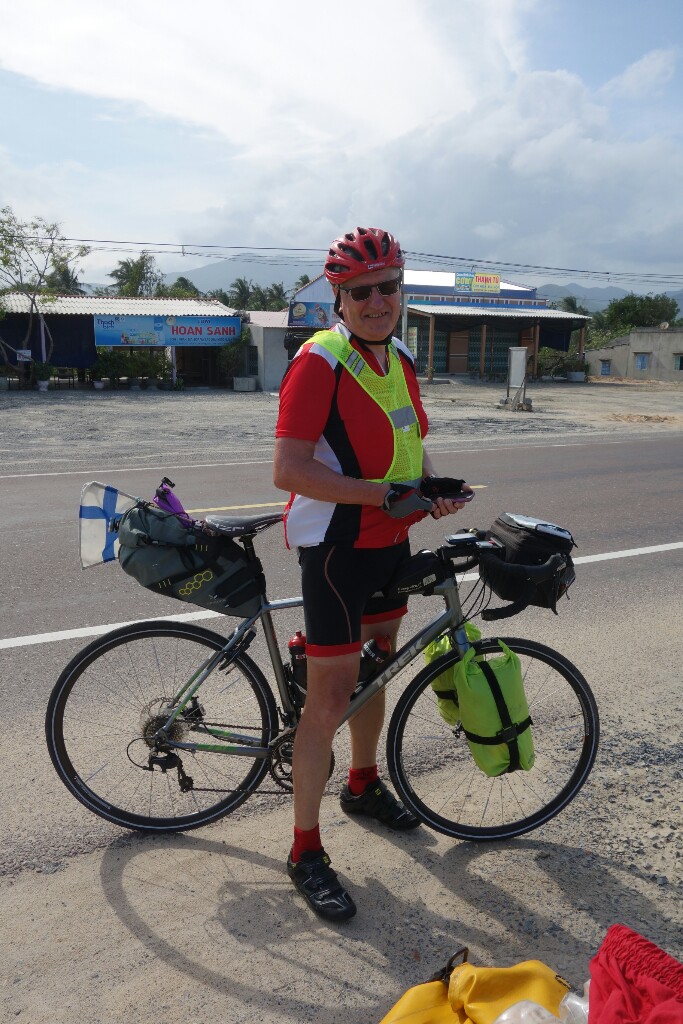 Exact at the right moment we find a (love-) guesthouse at the beach south of Dân Phuóc fortunately. At the small beach we find a big variety of colored shells.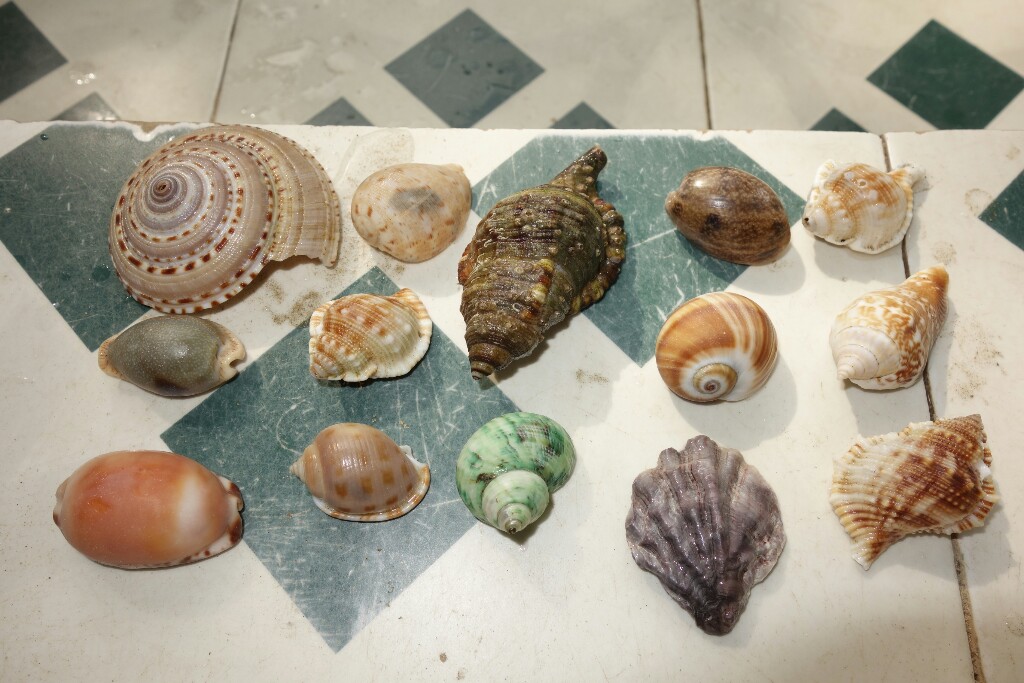 Johanna buying some fruits and vegetables the next morning.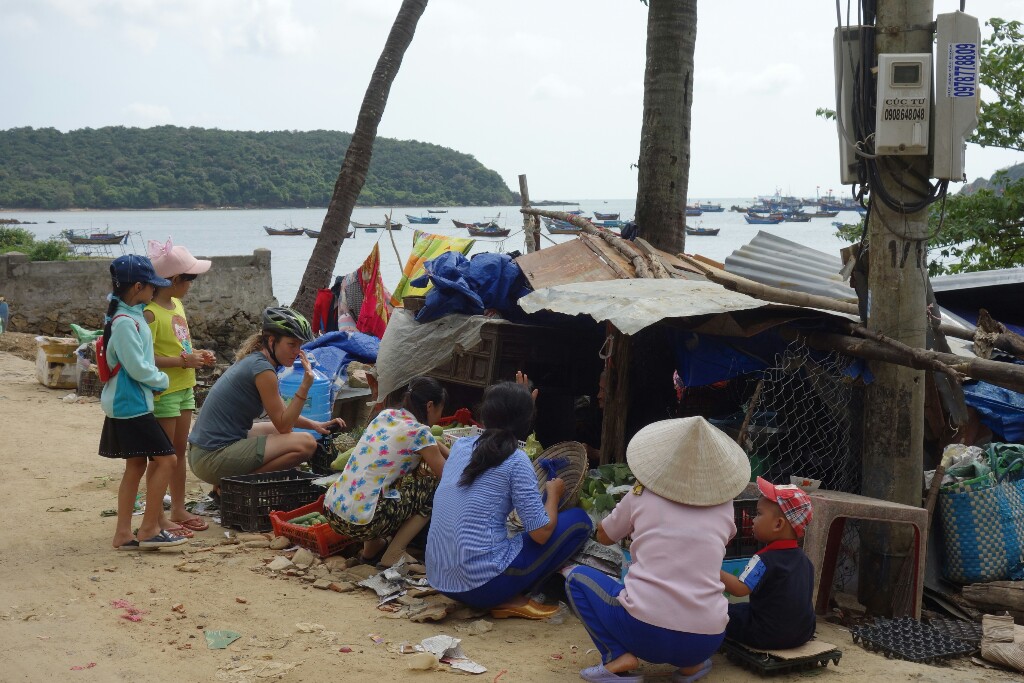 Looking around for lunch in Tuý Hòa we meet another cycling couple. Emilio from Argentina and Ying from China started cycling in Urumqi, their blog is: www.theroamerpartners.com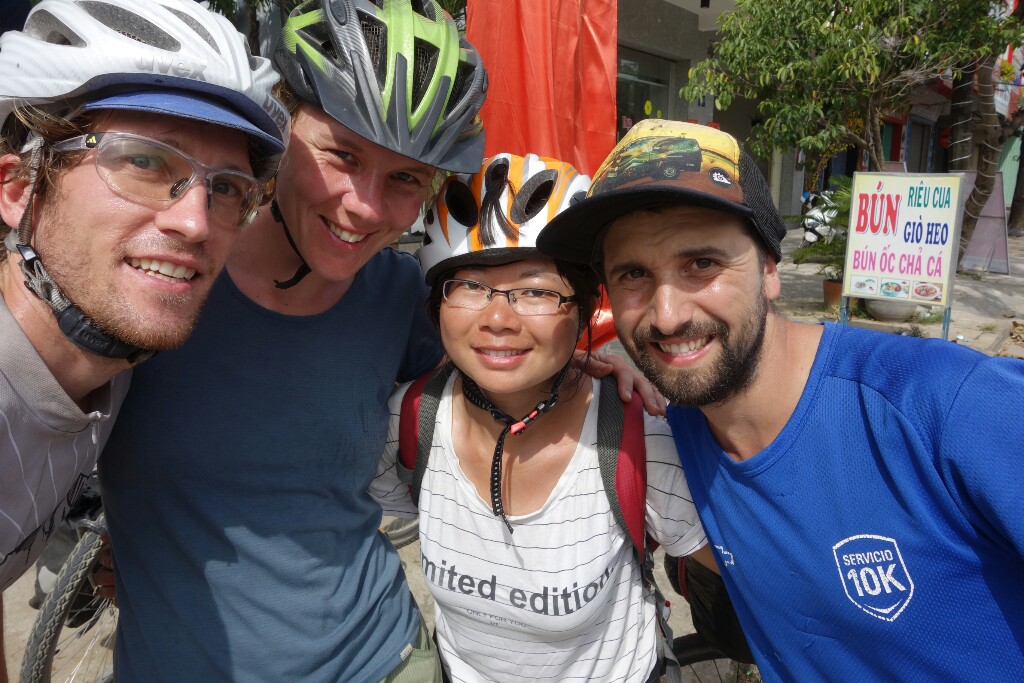 Before we find a night quarters in Dai Lãnh, we have to climb a small 160 meter pass. Amply rewarded we get with a amazing view and the sunset.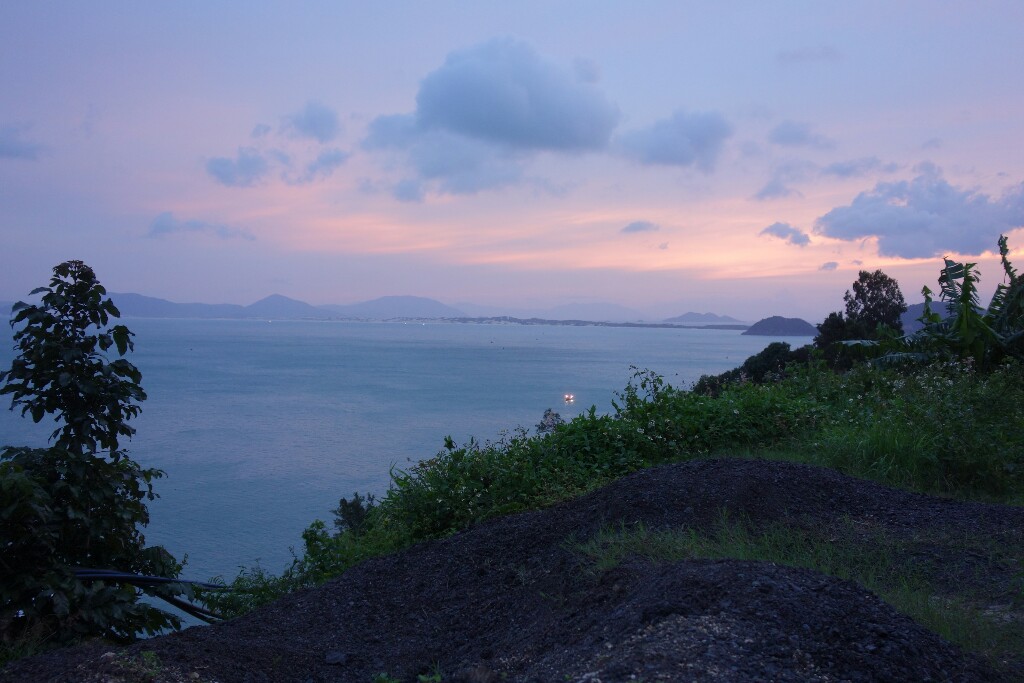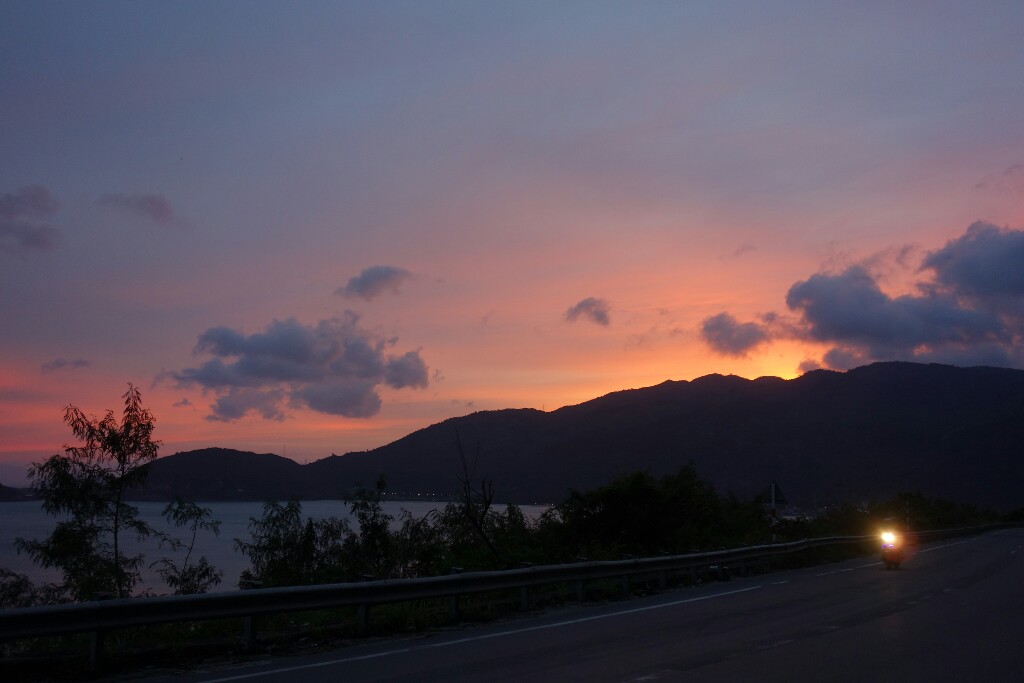 In the first moment very terrifying. But if you think a bit of it, it's good that this Swastika symbol isn't abused in the whole world. Just a normal Buddhist graveyard. In Hinduism and Buddhism it has the meaning of a lucky sign.
(The Hakenkreuz of the Nazis is rotated through 45 angular degree.)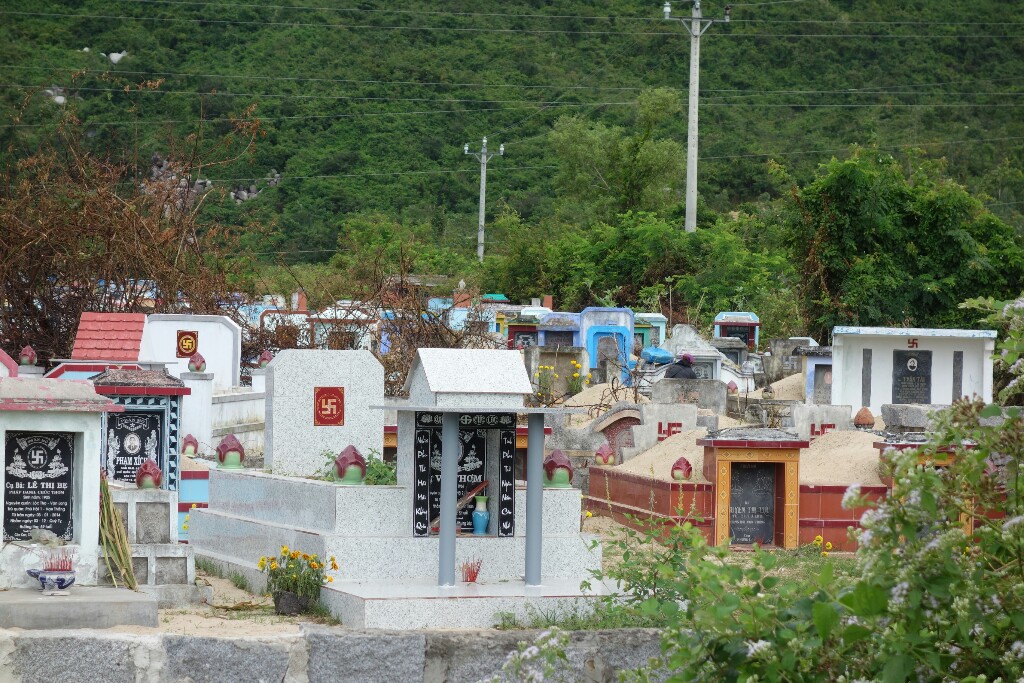 At the end of the day we simply want to arrive in Nha Trang and find a hotel or guesthouse. But it is high season because of "Ted". Johanna feels very sick and weak tonight, but everywhere we ask it's full. Annoying. Now it's already dark. Our last chance is a piece of paper, someone translated it into Vietnamese for us. It says something like: "We can't find a place to sleep. Can you help us please. Can we maybe stay in your house?" We are almost to despair of it. But it doesn't take long and someone arranges a room for us. It's not clear, but a young woman, who works next door cedes us her room and stays somewhere else. We are infinite grateful.
Fruit seller the next morning in Nha Trang.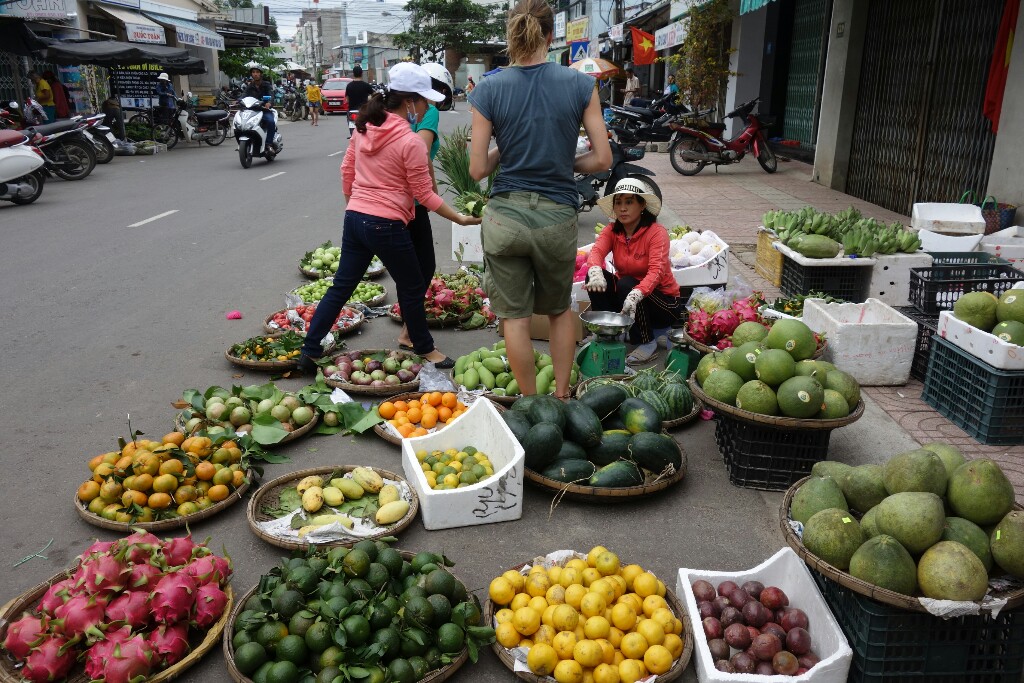 Vestiges of fading. Wear. If you know bicycle components a bit, you know how a gear cog looks in new shape.