Adrian rents bicycles and offers small cycling tours as a side job and hobby. On Saturday morning I can join the village tour with some locals from Georgetown. I don't mean it in a bad way, but it is nice to see, how easy the "city people" are excited and happy with a bit of sport, rice fields and some nature. They stop for lots of group pictures.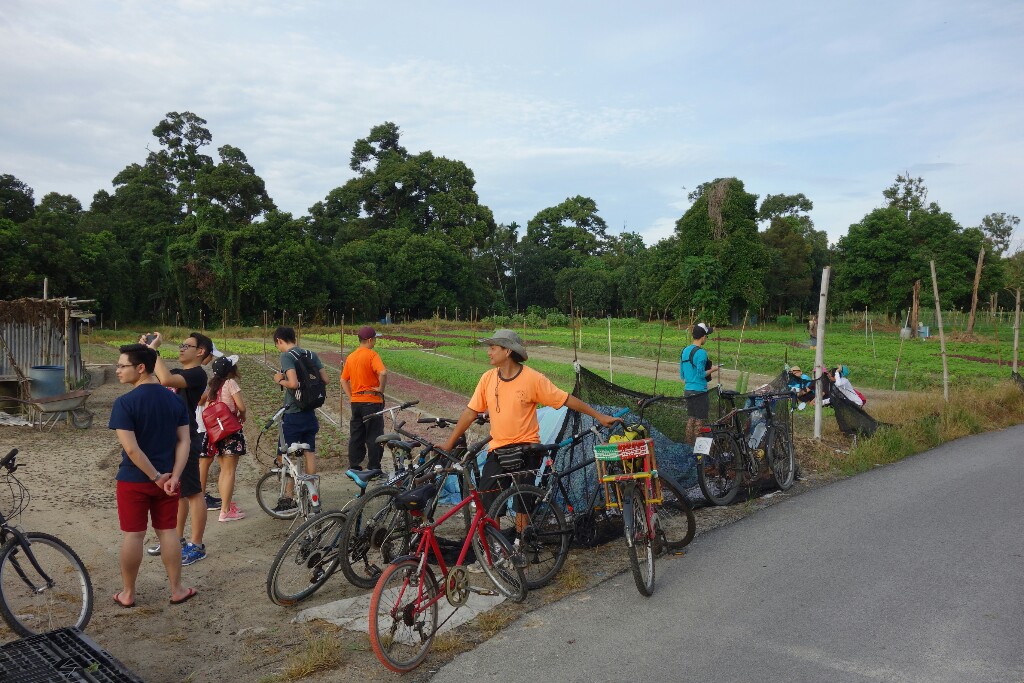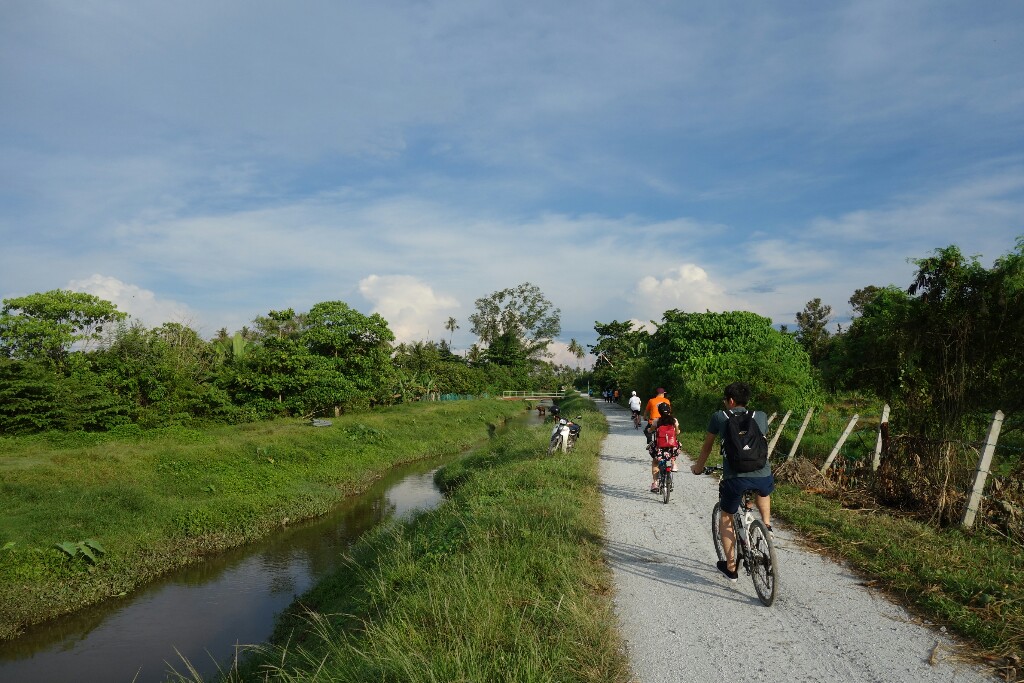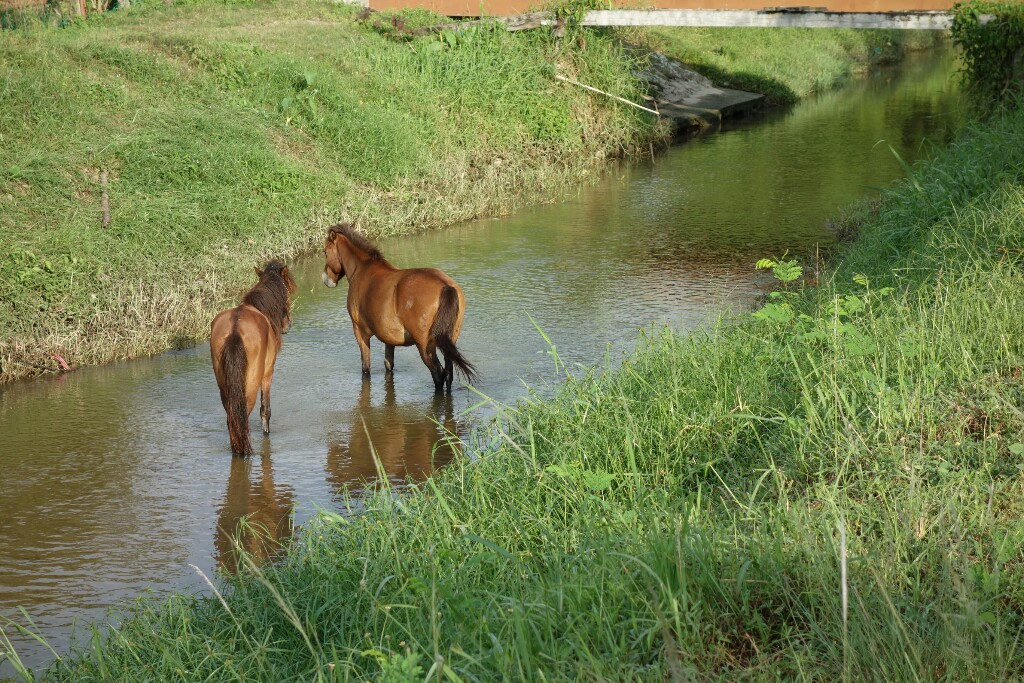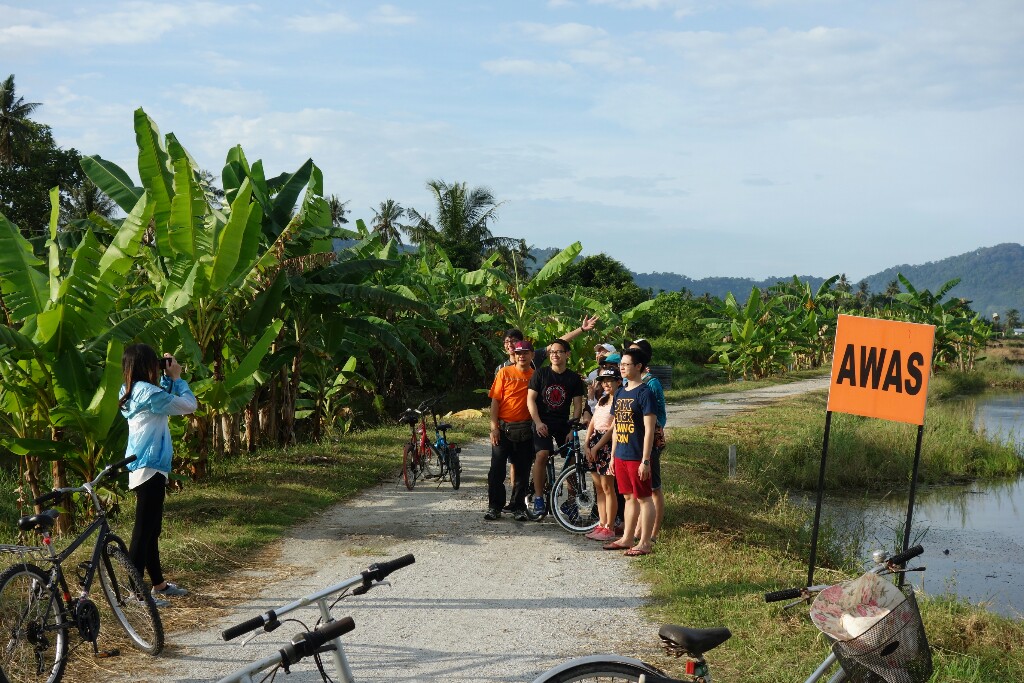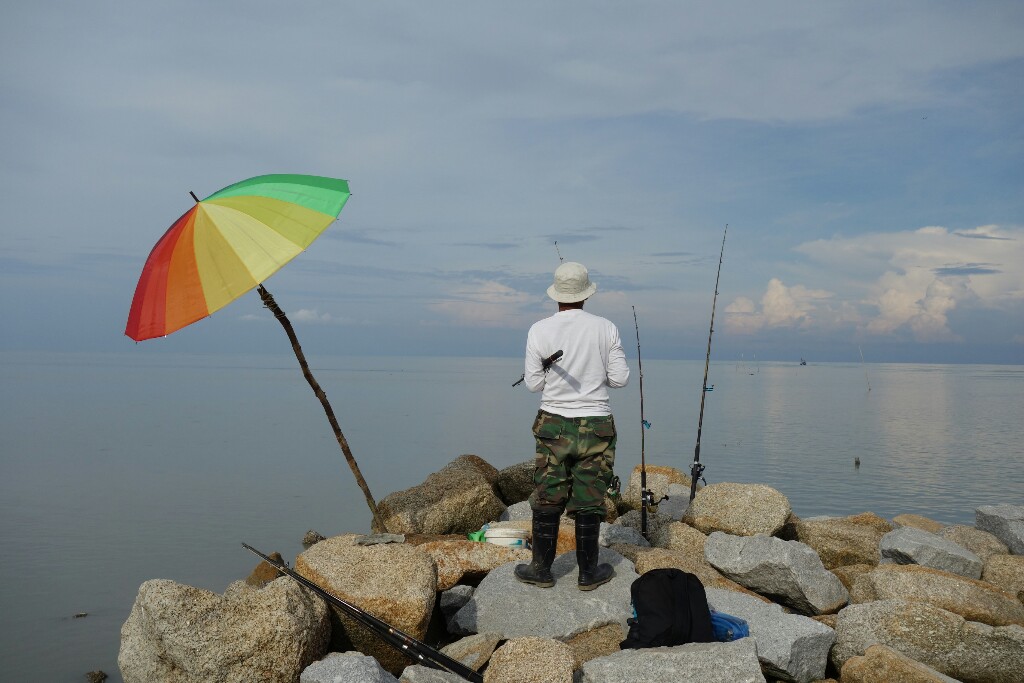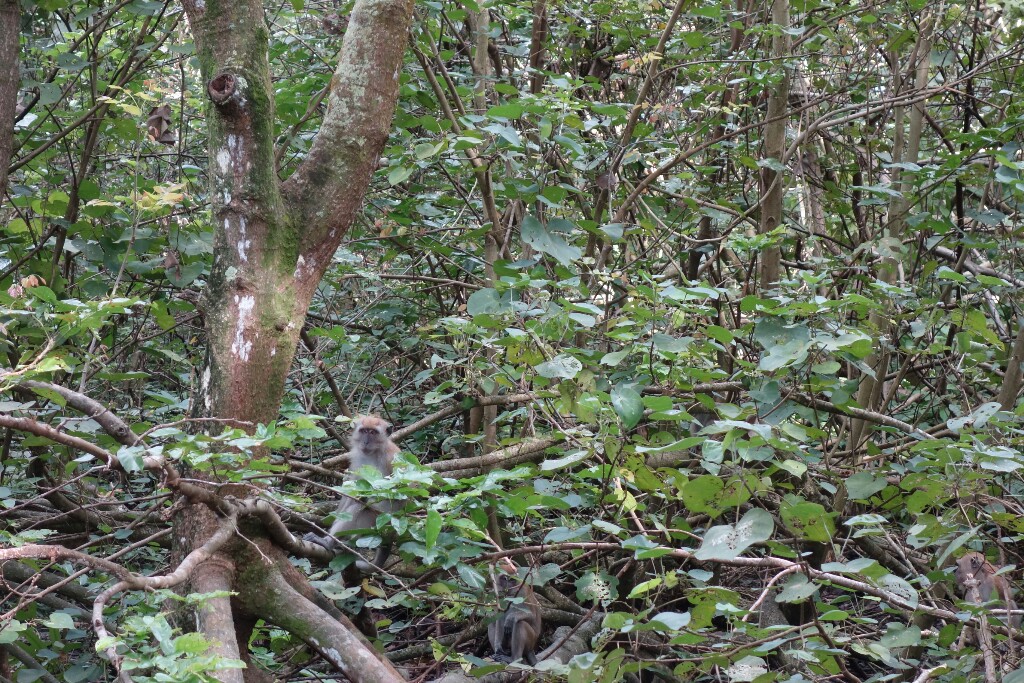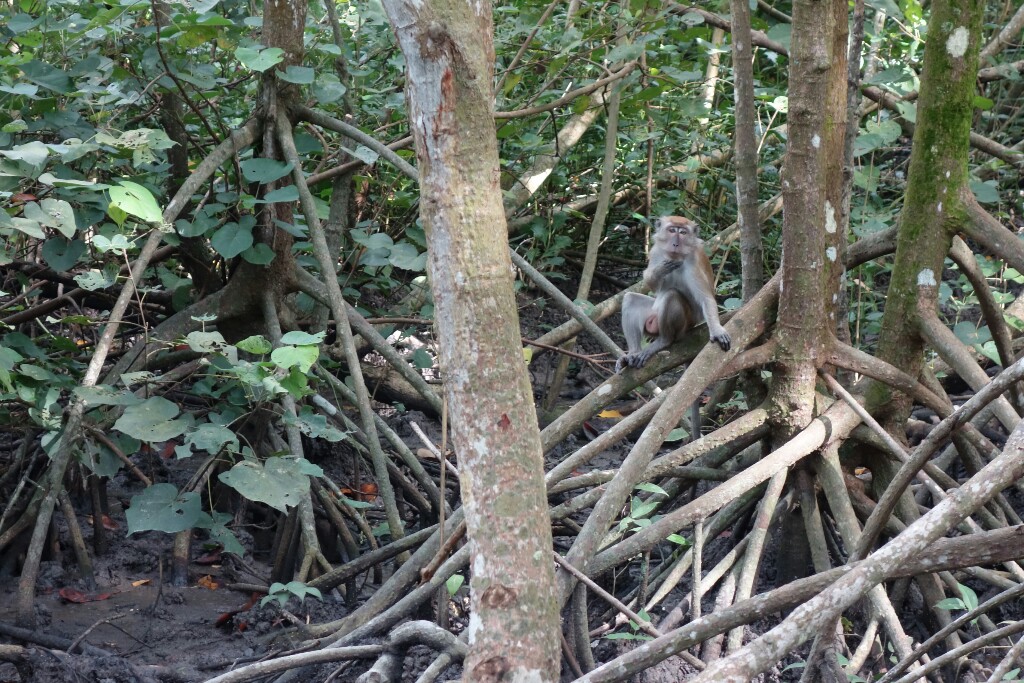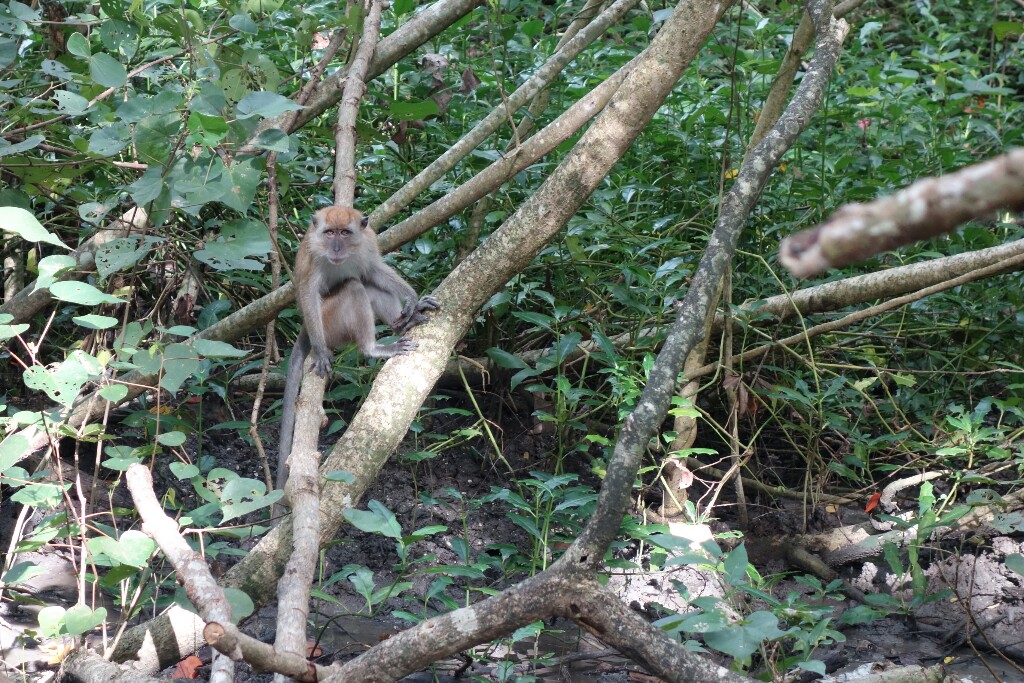 Sunday morning I go for a short ride to the nearest beach, where I can finally swim again. It is a big, beautiful and not crowded beach. For lunch Adrian invites us (a couple from work-away and me) to a Chinese restaurant. Most of the time on Penang Island I use to create and update my blog. After three days my visa is ready and I start cycling again to pick it up in Georgetown. Saying goodbye to Adrian and the volunteers.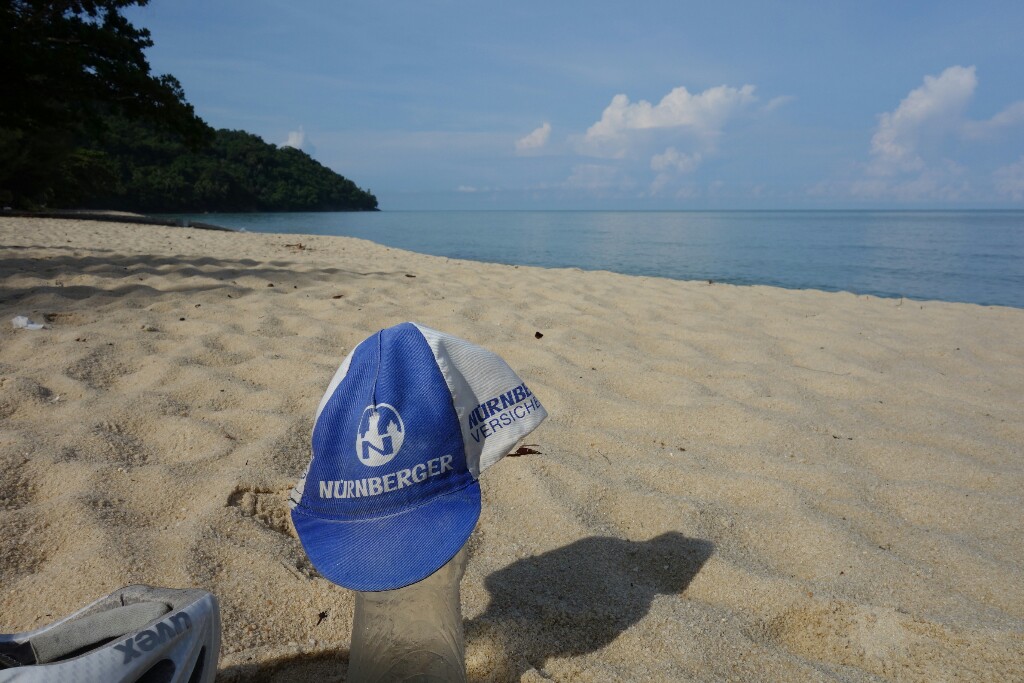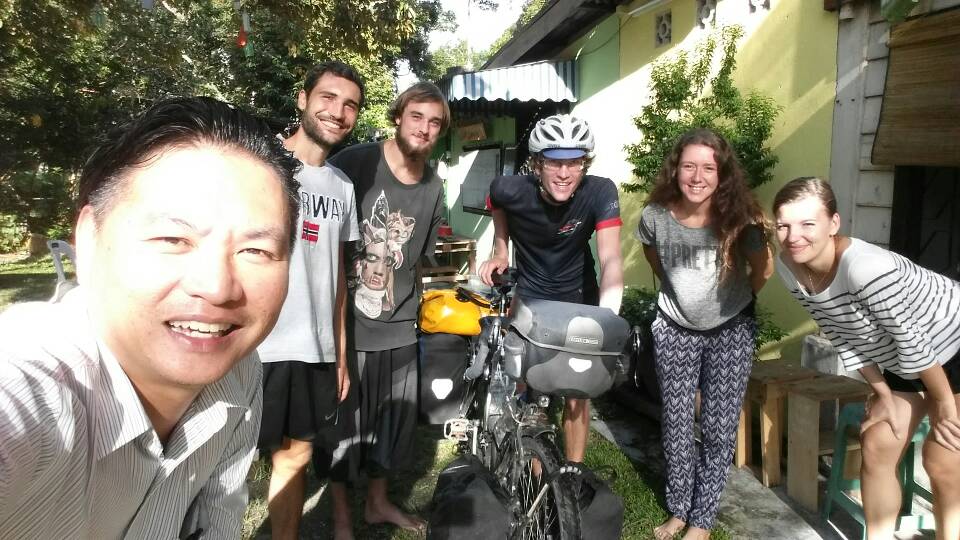 For the way back I choose the way better option via the northern road, it's a very nice ride and compared to the way there (I took the shortest over the middle mountain) almost no traffic. On the nice soft downhill I see a Red Bull car and stop it. Two girls sit inside and of course I get a can for free. Actually I could fly to the embassy in Georgetown now, but I prefer to cycle. AWAS is my favorite word in Malayan. I think it means "Careful!". In the background you can see the sea.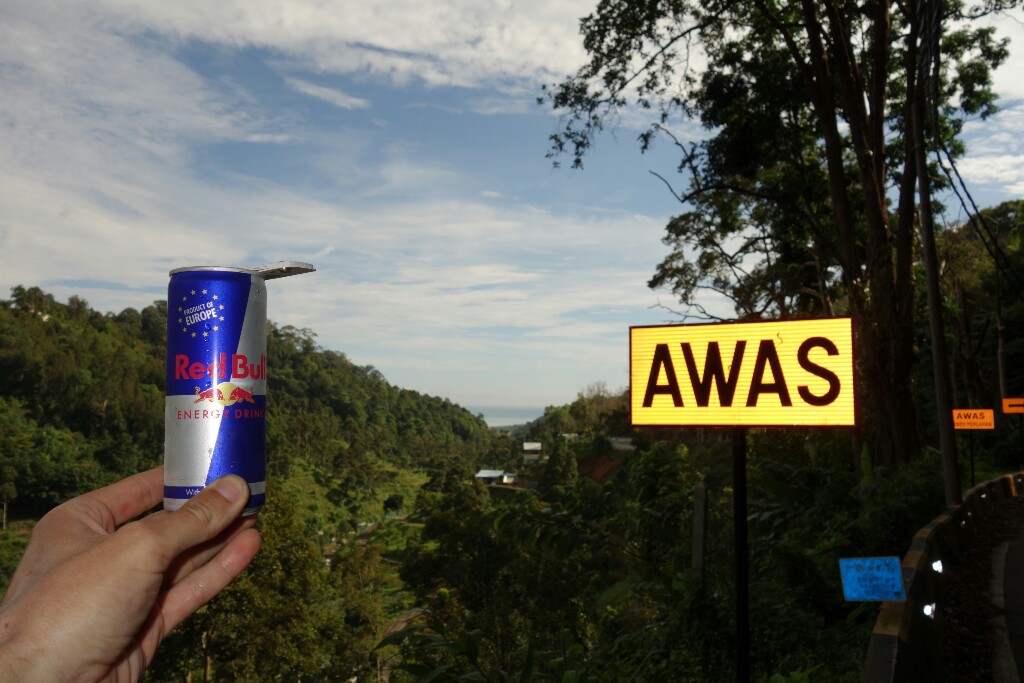 At the small reservoir it seems like just a wall separates sweet and salty.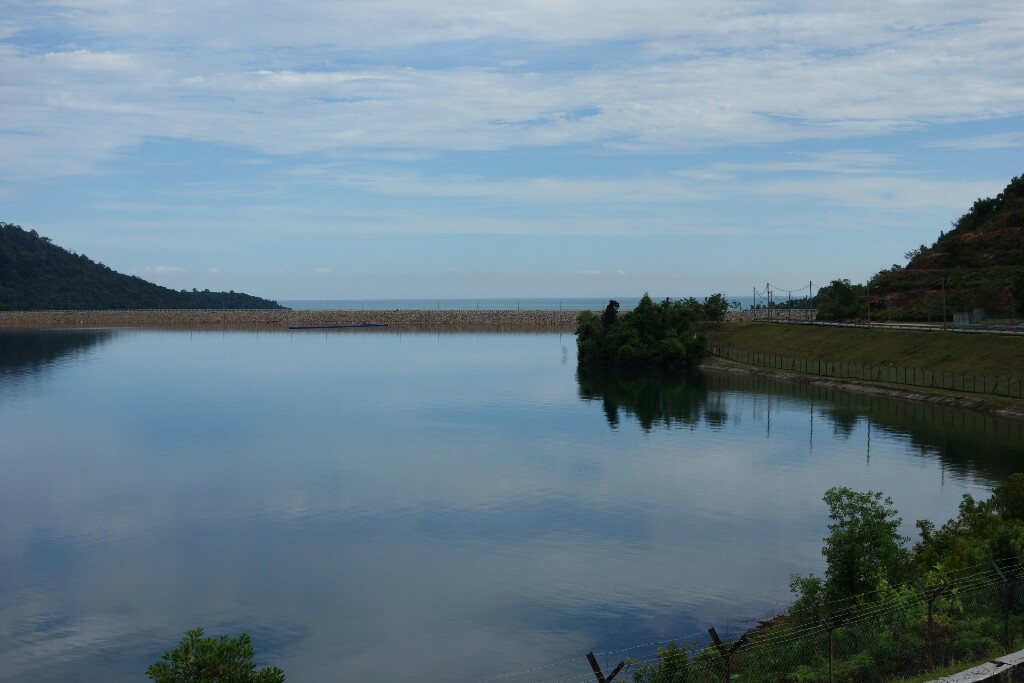 Short after I find a lonely beautiful beach, where I take a wonderful bath.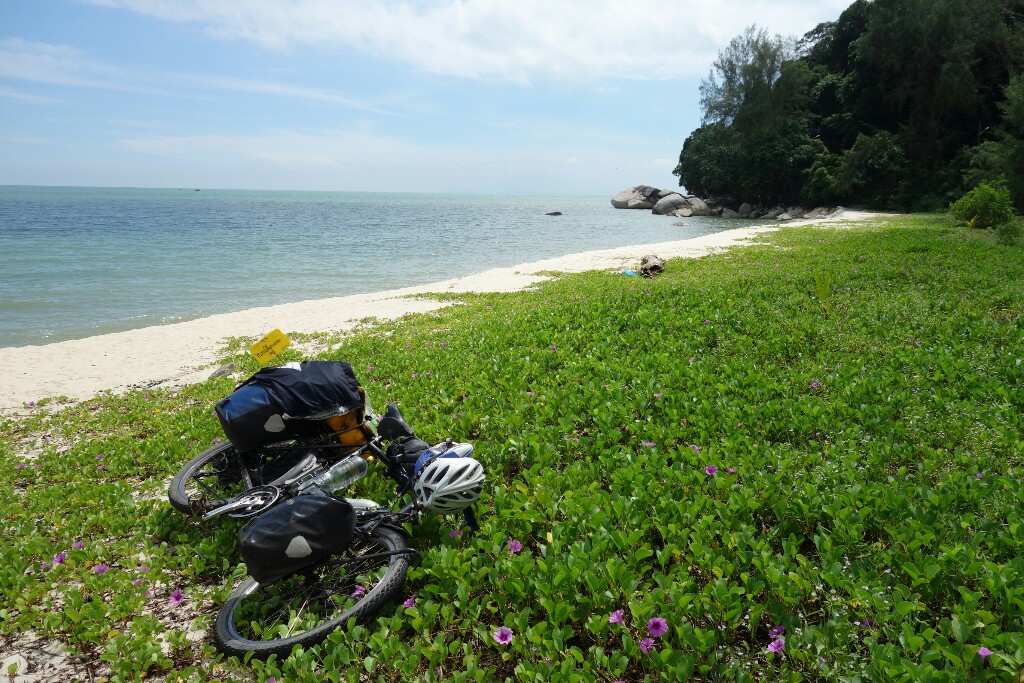 Collecting my passport with the Indonesian visa inside works without any problem. I am happy and go to the ferry boat. The way back is for free and I enjoy the view back to Georgetown with the skyscraper scenery and the dangerous looking clouds.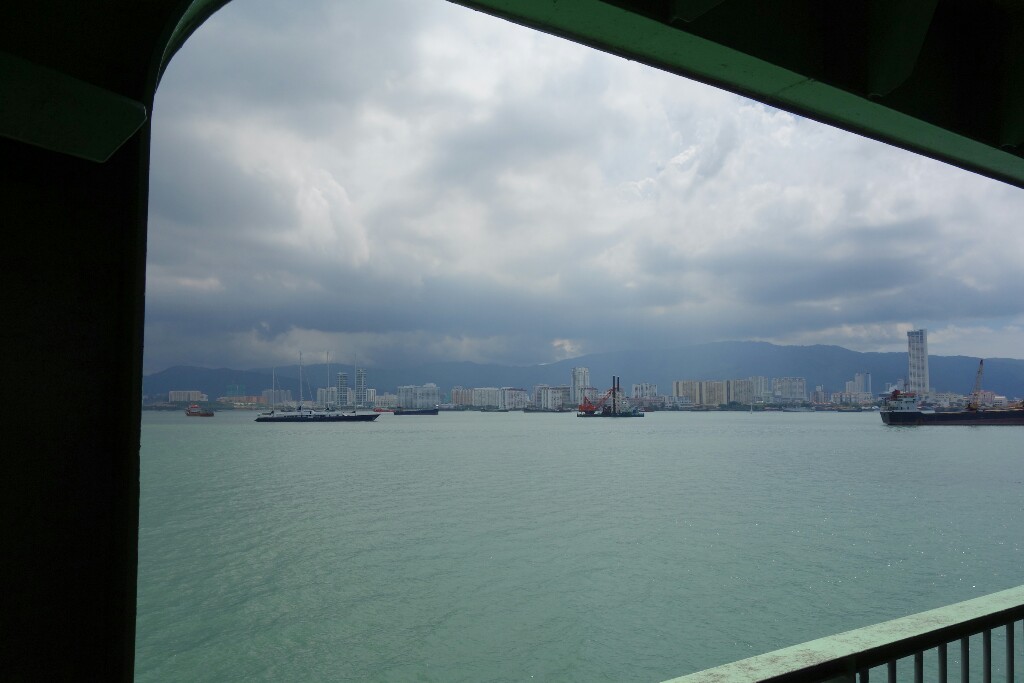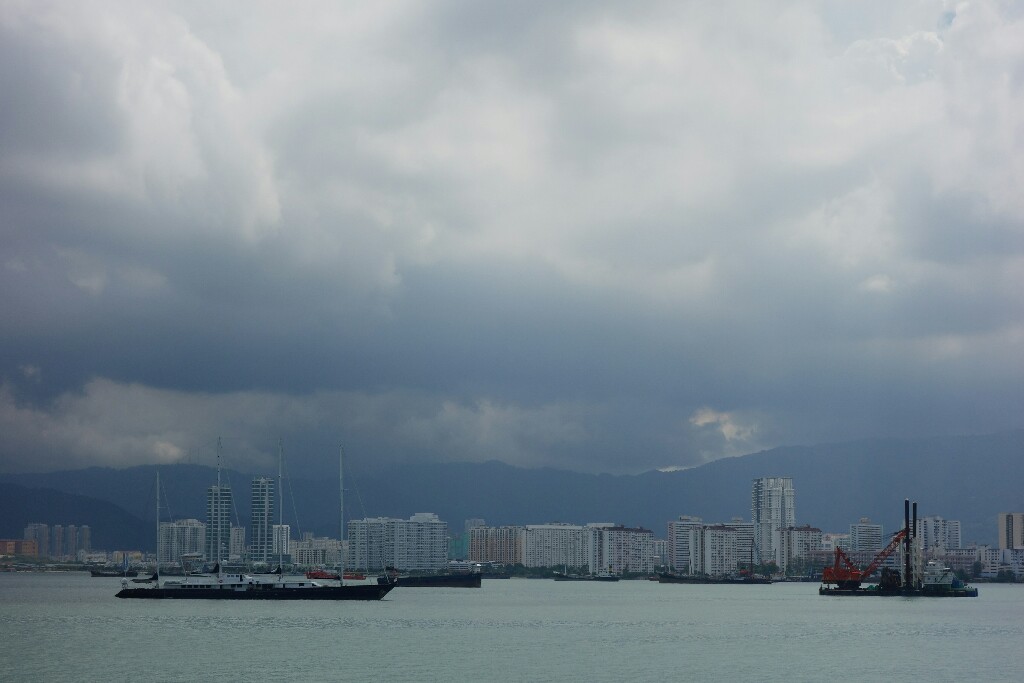 The way out of Butterworth is really not nice, lots of big roads and big trucks in a huge industrial area. But later on I find nice small roads again.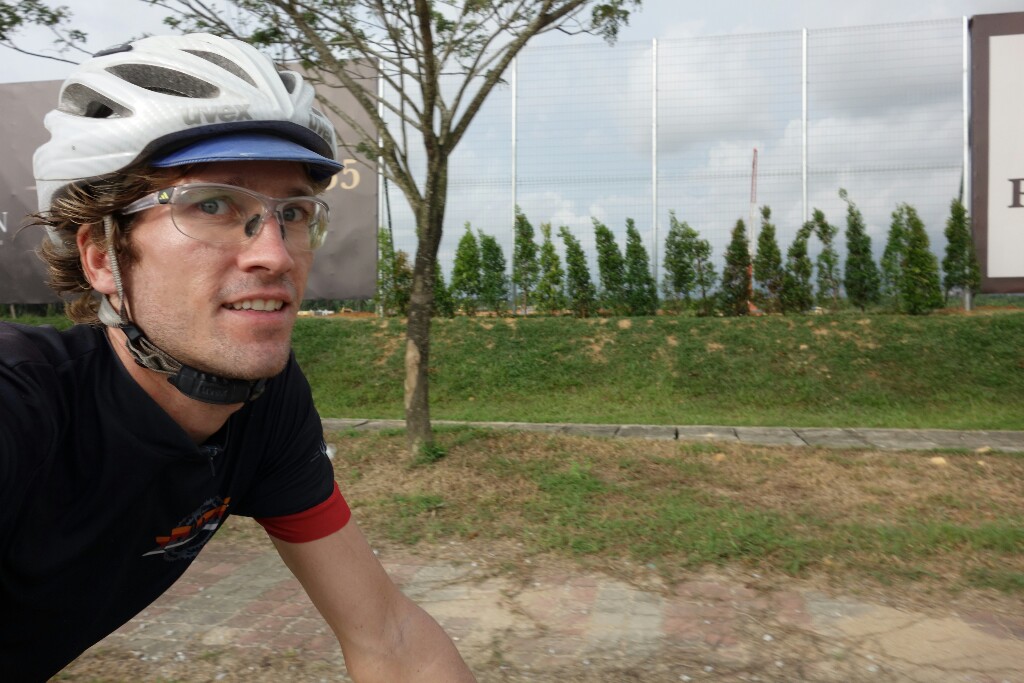 Indian temple.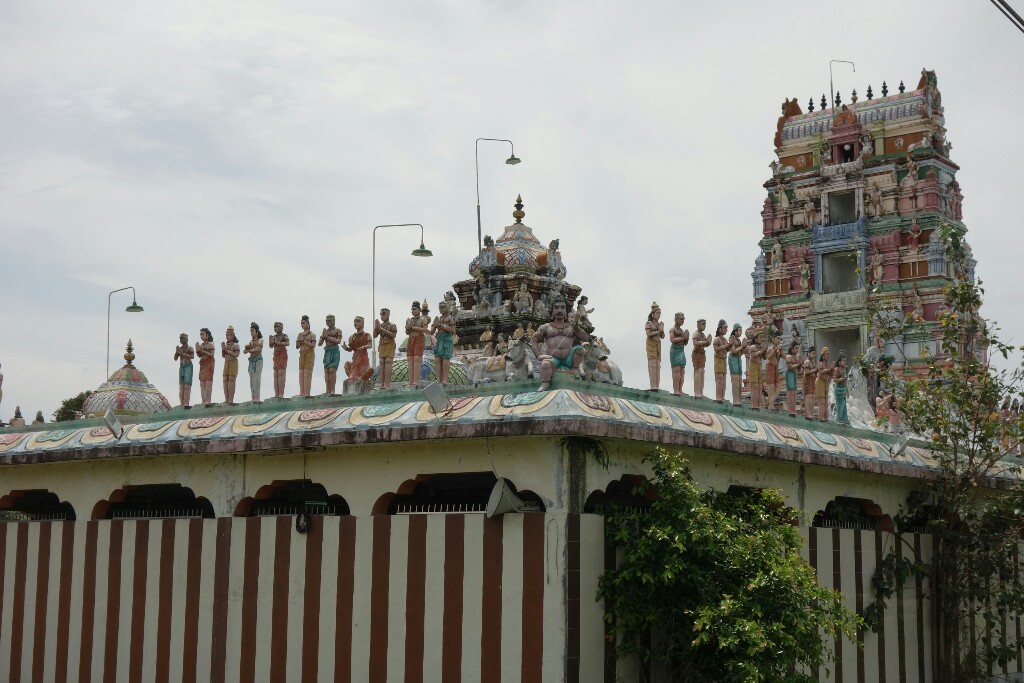 The next day I get caught by the rain. In the morning I start cycling with light rain, suddenly it gets stronger and I shelter under a big roof, where I have a bit company of a motorcyclist. After a while the rain seems to get less and both of us continue our ways. But I don't get far, because the rain gets stronger again. So I stop in the next café and order a tea. A bit later I order a second one, because it's still raining. Finally the rain stops and I ask how much I have to pay. The woman answers: "Somebody already paid for you!"
Oh wow, that is nice. I ask her, who it was. But the person already left. So I can't even say thank you.
Although it's just 2 RM, not much money, it's nice to be invited. Often it is the little things which happen and make you happy. 🙂 All together I get invited several times in Malaysia.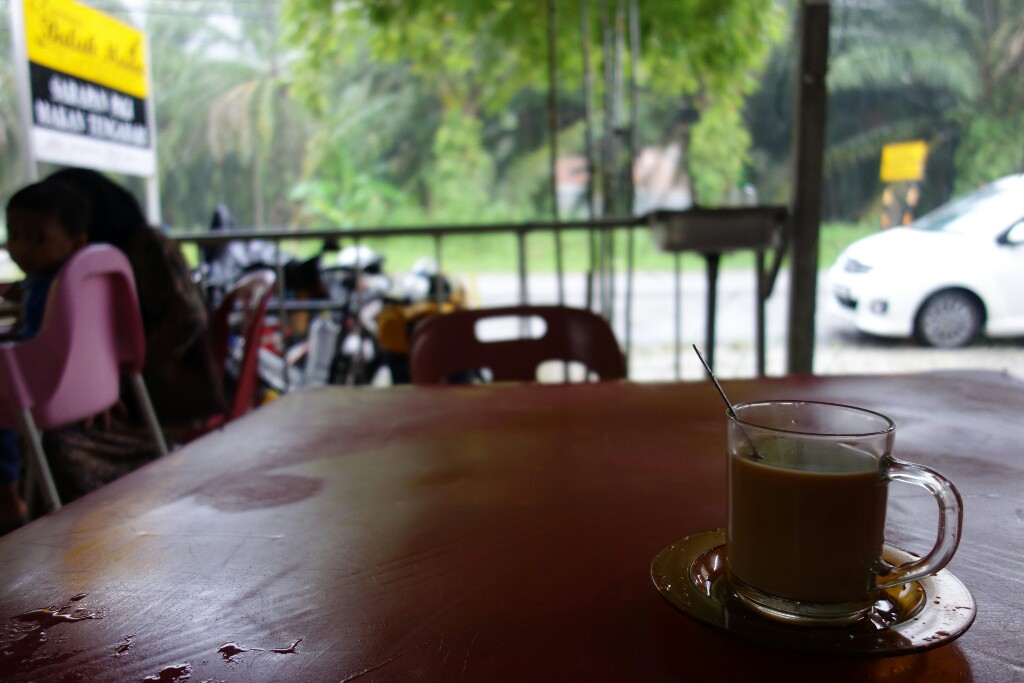 Time by time I see monkeys, but they can be dangerous as I experience some days later.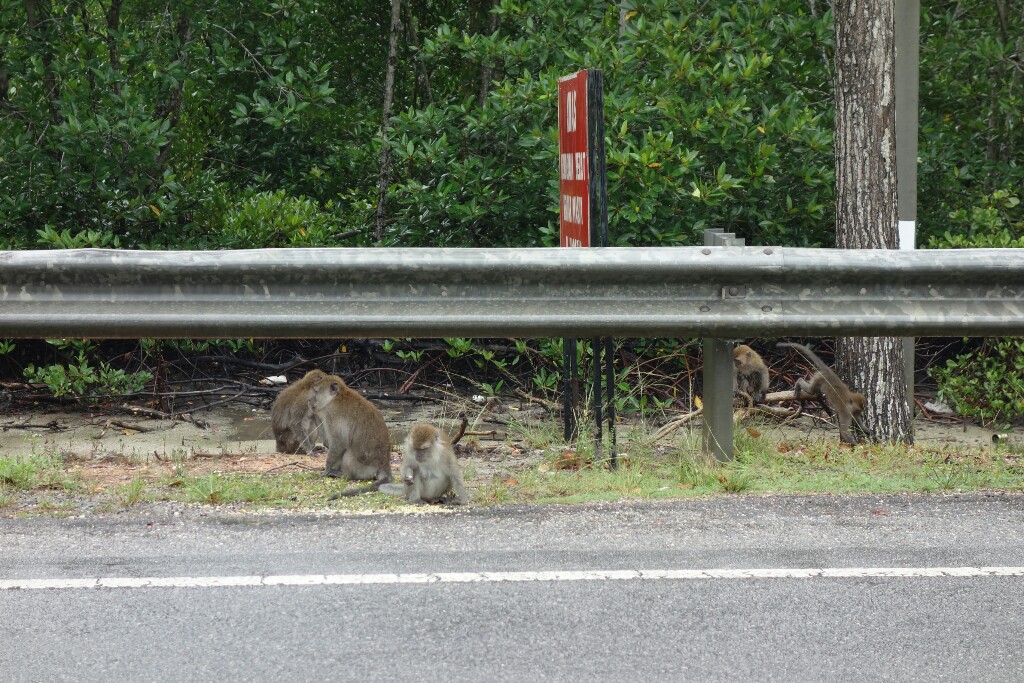 On a small road someone hits the ground with a big piece of wood from his old farm tractor. I am curious what's going on and stop. A nother man is watching and says only one word to me: "king cobra"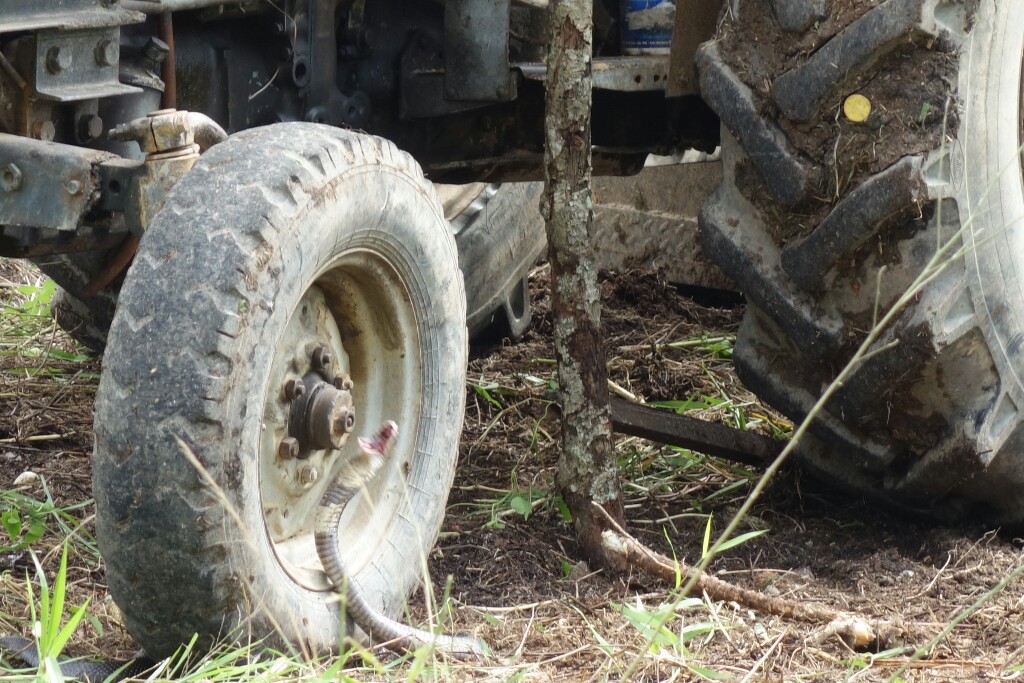 The next day I reach Klang, a big city near the capital Kuala Lumpur. The old bridge is only open for motorcyclist, cyclists and pedestrians. You have a nice view over the big new mosque.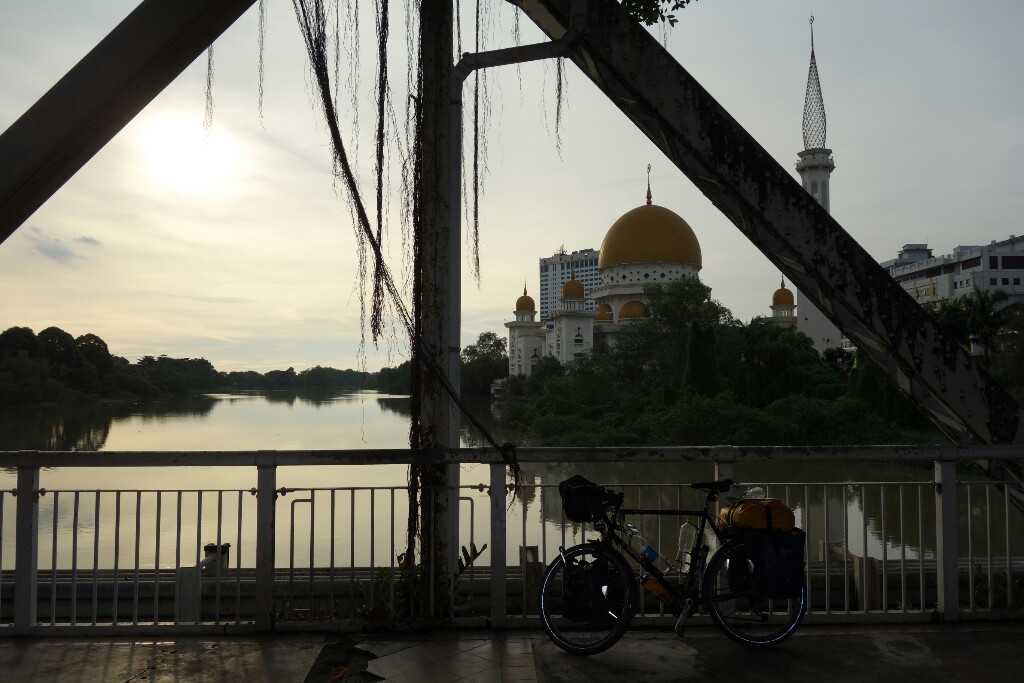 After a relaxed rest day I continue my way south direction Singapore. Long parts I cycle through endless palm oil plantations again. The heat is extreme like every day and I suffer and sweat a lot.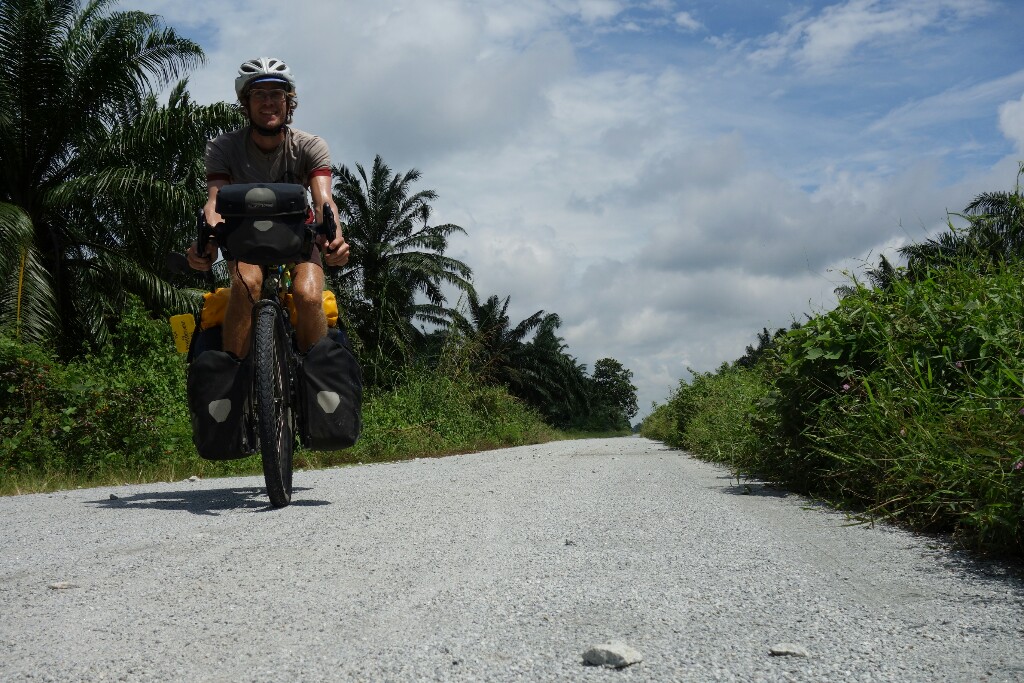 My favourite food in Malaysia is Roti canai. When I go to a typical Indian restaurant, which is always located at a corner, I order three Roti canai and hot tea most of the time.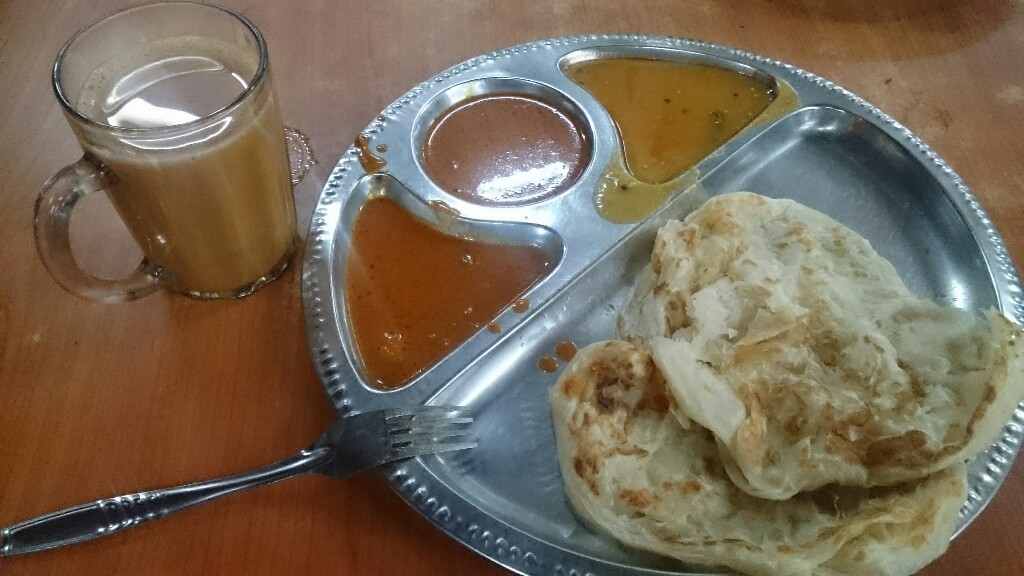 Big signs, so that no one oversights the curve.
During a break I randomly find a nice shortcut on Maps.Me, this App is very useful and almost every traveler I meet uses it. Short before the ferry I suddenly cycle into a group of monkeys, very unexpected. They are very angry and snarl at me. I snarl back and can get away. Puh, that was a small shock, luckily they don't jump on me or bit me.
The small ferry brings me to the other side.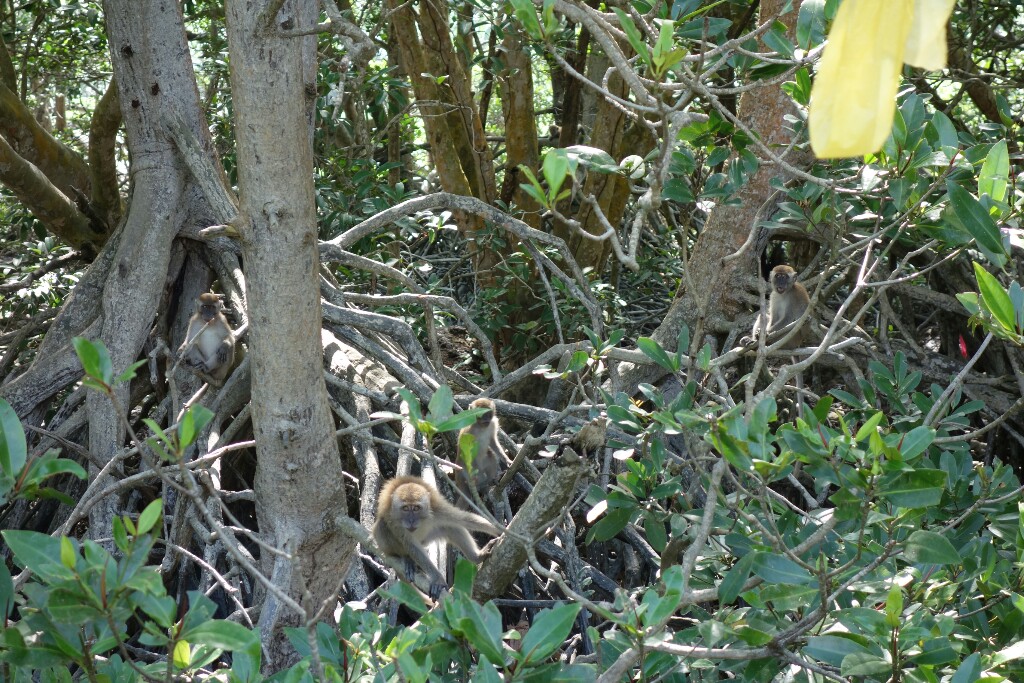 Well, the money has to come from somewhere. My small sport business in Malaysia.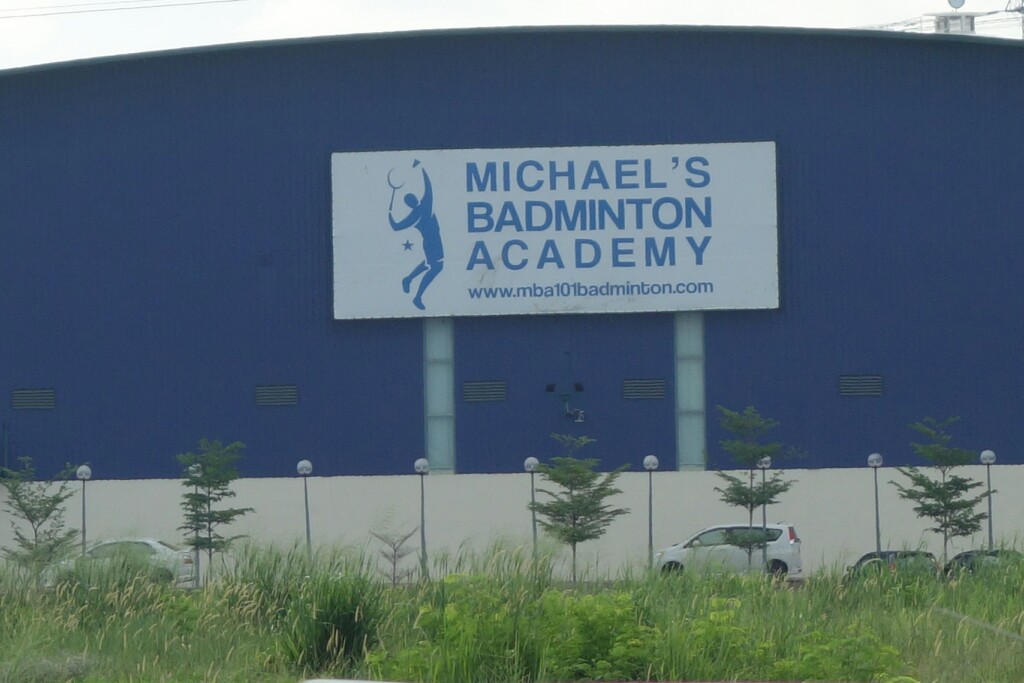 In the evening I take a short bath in the sea. I am in Port Dickson now. It is a well known holiday place for lots of people. The difficulty for me is to find a cheap and not fully booked accommodation. It takes a while, but in the end I find a nice homestay for 50 RM. The people are very friendly and take good care about me. I have a whole house for my own and some food is inclusive.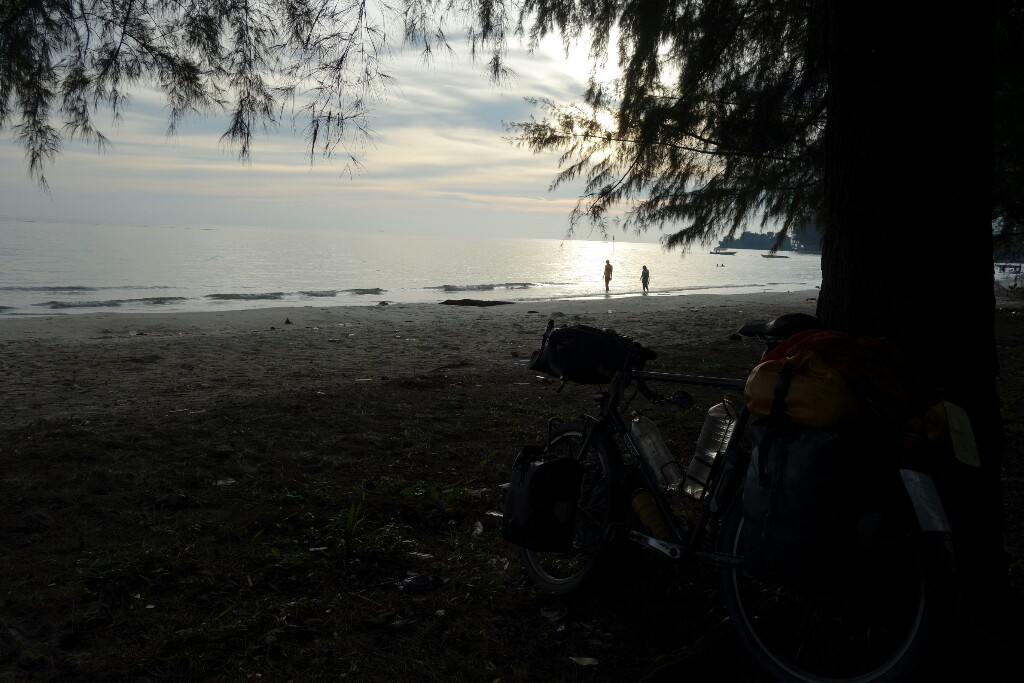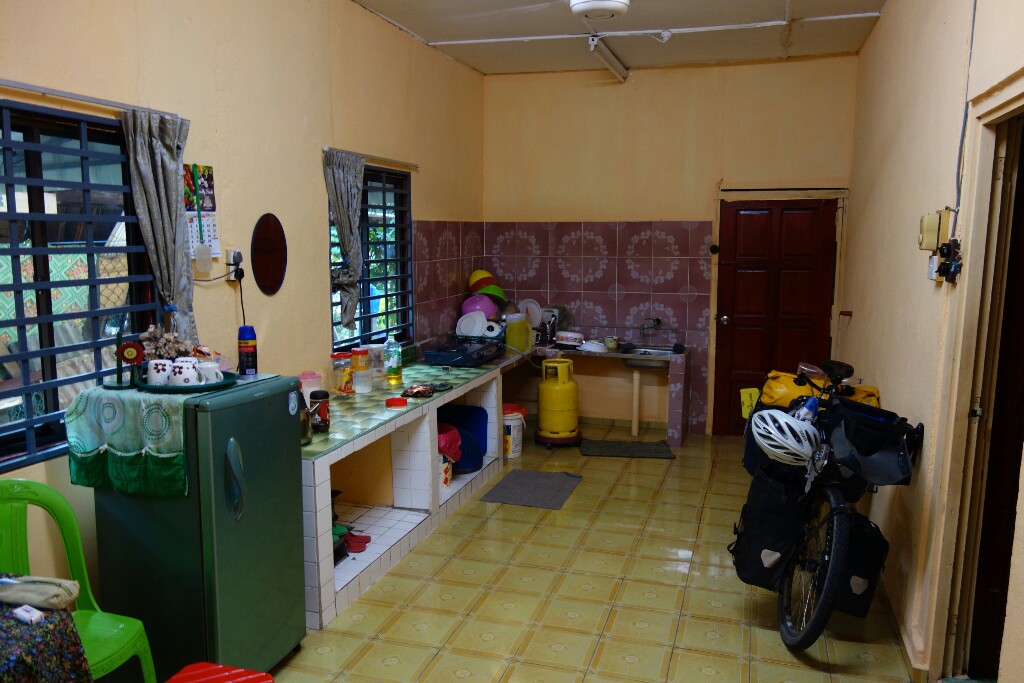 The next day I cycle towards a big bridge, when I see two loaded bicycles. At the same moment I see a guy sitting in a café and waving to me. I stop and turn back. Simon from Scotland and Kim from Vietnam are also on their way to Singapore. They started in Ho Chi Minh City in January. 2015 they already cycled from Vietnam to UK during one year. We have a tea and a nice talk.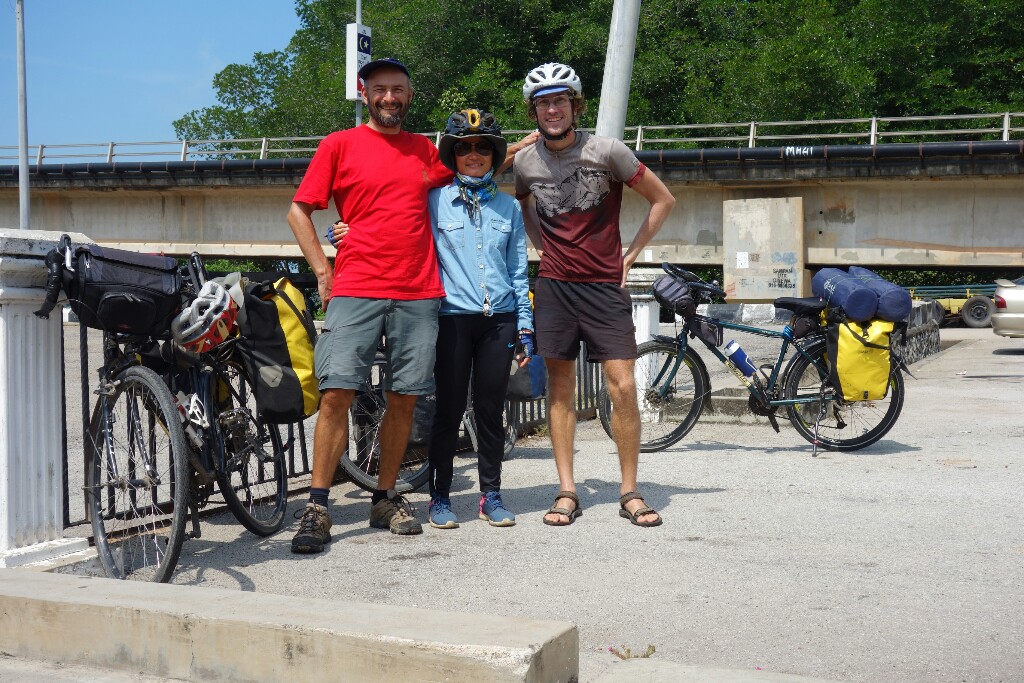 On my way to Malacca I cycle along a long nice beach, where fishermen caught some big fish. Unfortunately the road leads to a military camp, where the machine gun armed soldiers send me back. But it's ok, the extra way is just 5 km.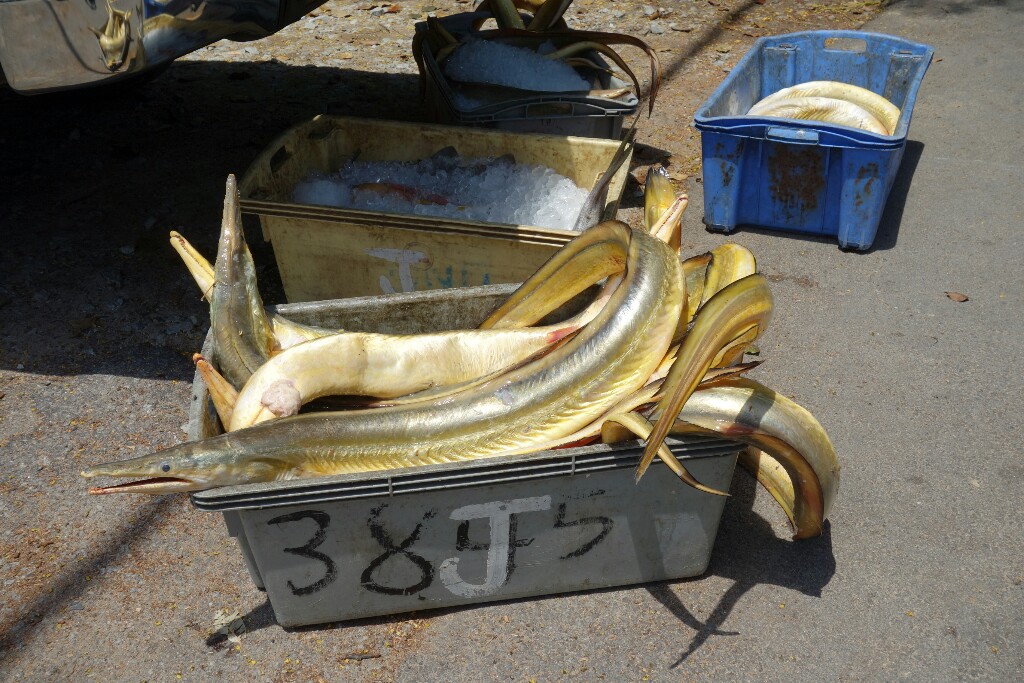 My goal today is not the center of Malacca. I cycle more or less around the city to stay in Tan's 'Cyclist Home'. He has a very new house in a new luxury living compound 15 km outside the town. He stays somewhere else, but hosted a lot of cyclists already.
I have another very relaxed rest day. As the house is quite remote and doesn't have WiFi, I watch some movies.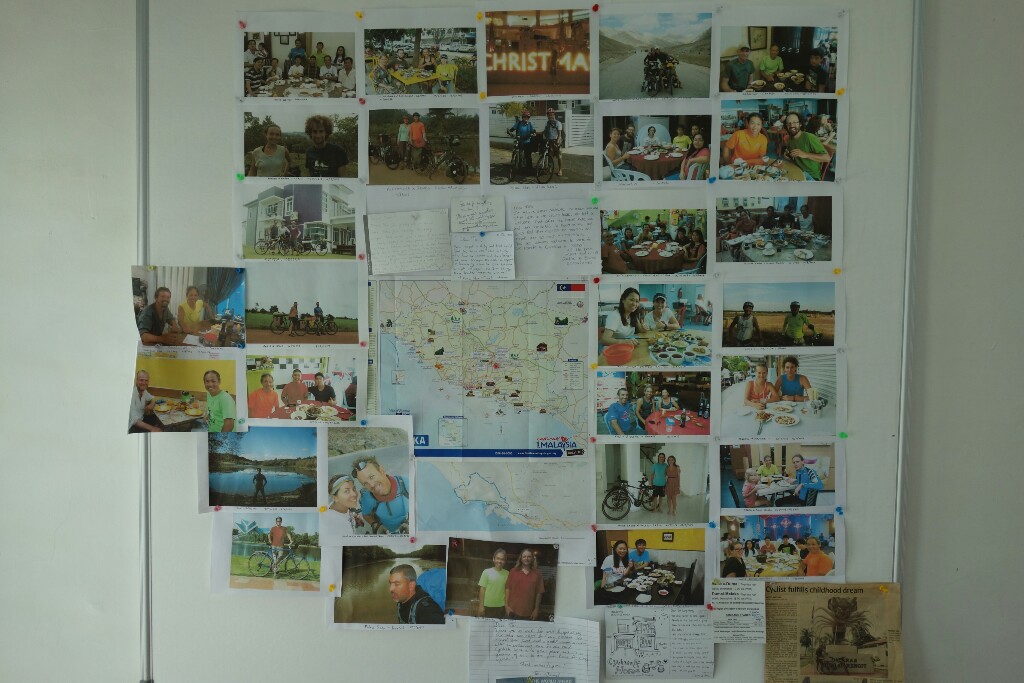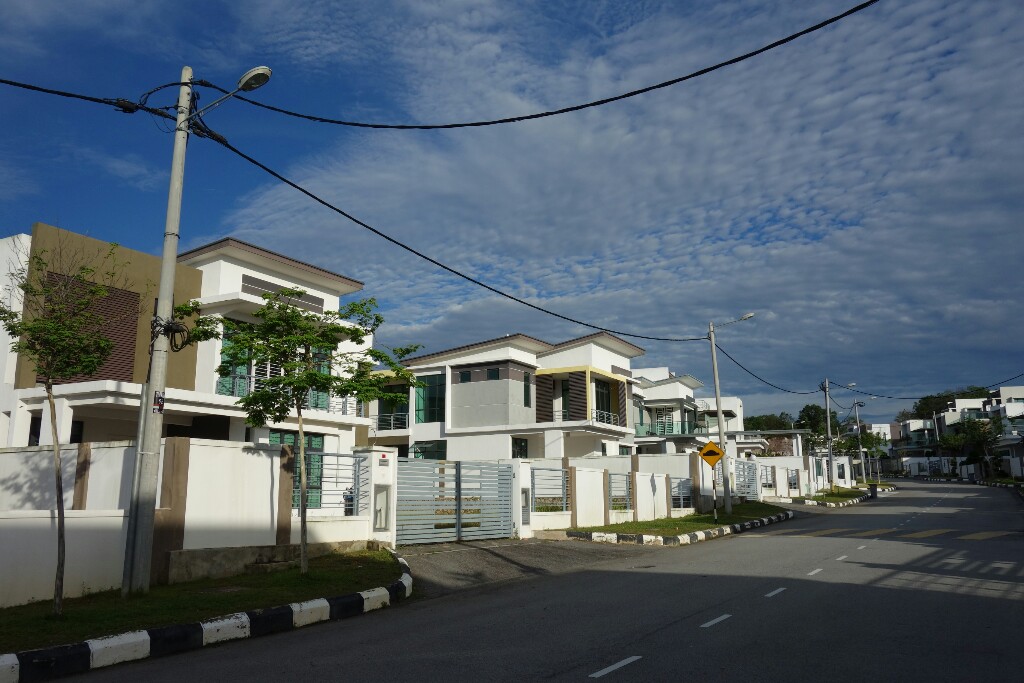 When I see the huge rickshaw, I have to stop and take some pictures. It's extremely big.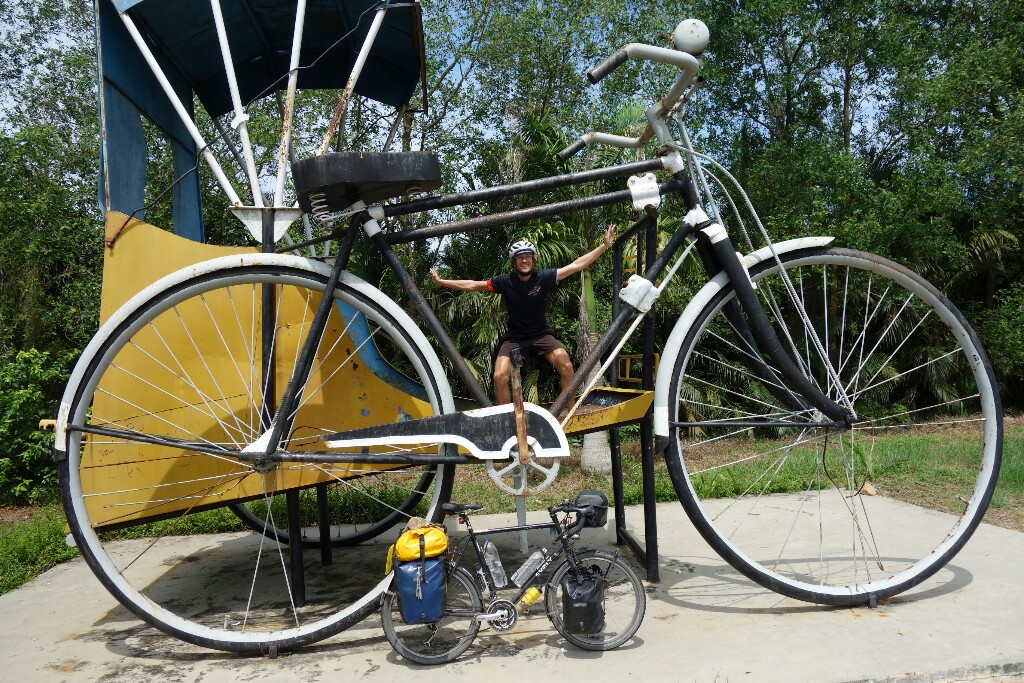 Another big thing is the famous huge painting in Muar. It shows to sisters and is painted by a Russian artist just about one year ago. But read yourself.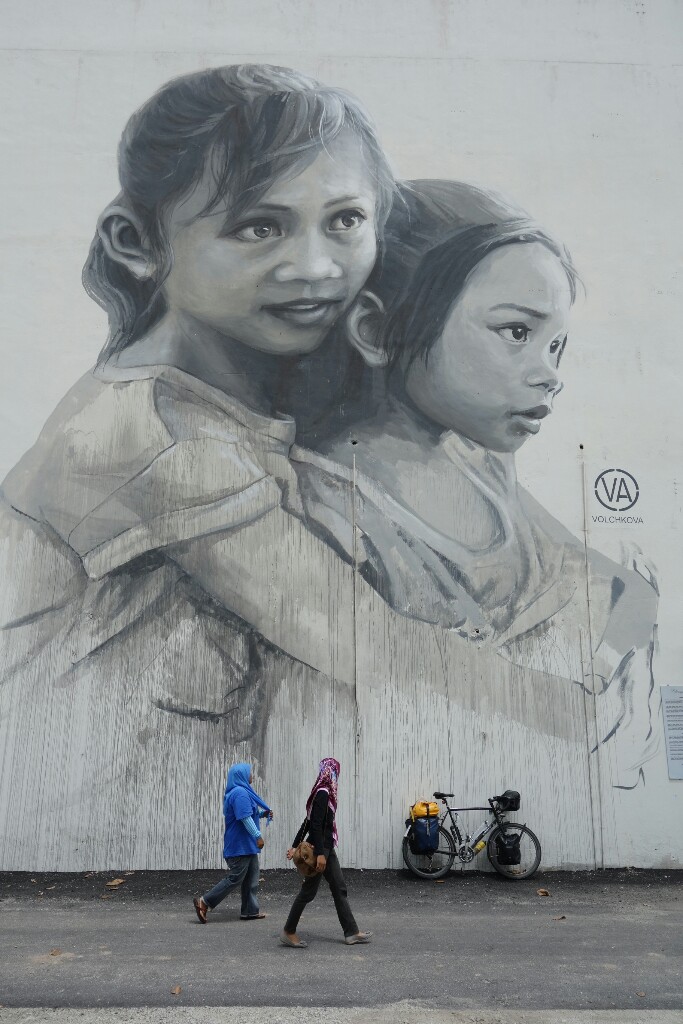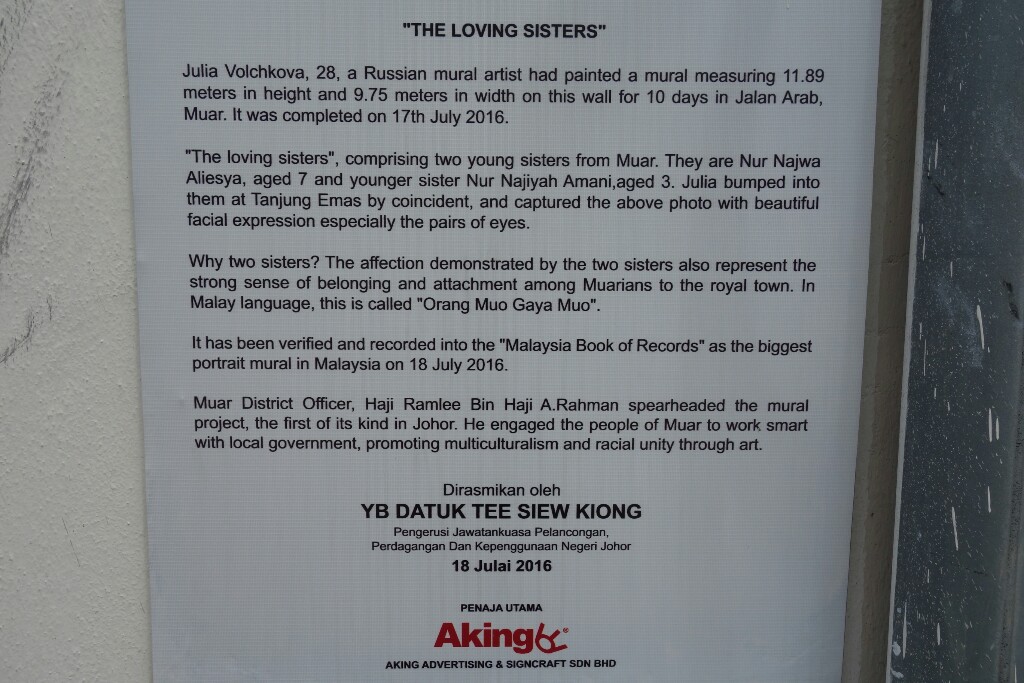 A bit unplanned it gets the longest stage so far, 163 km. I arrive in darkness at the nice village house of Mar Nilam. She has a very big family, 13 siblings. Four or five of her relatives will give birth in the next weeks.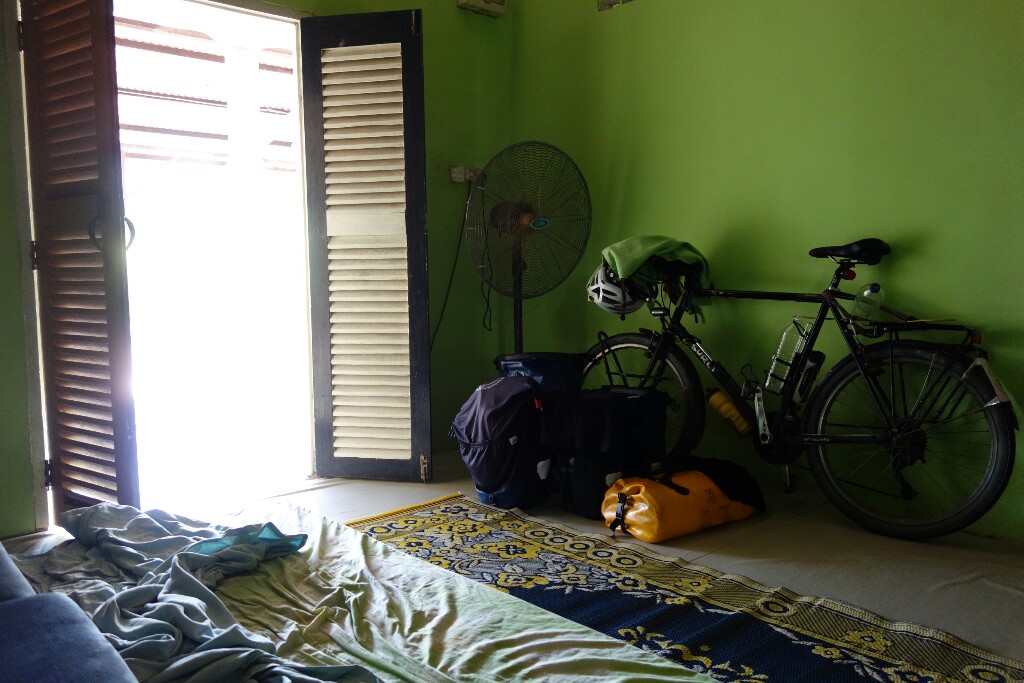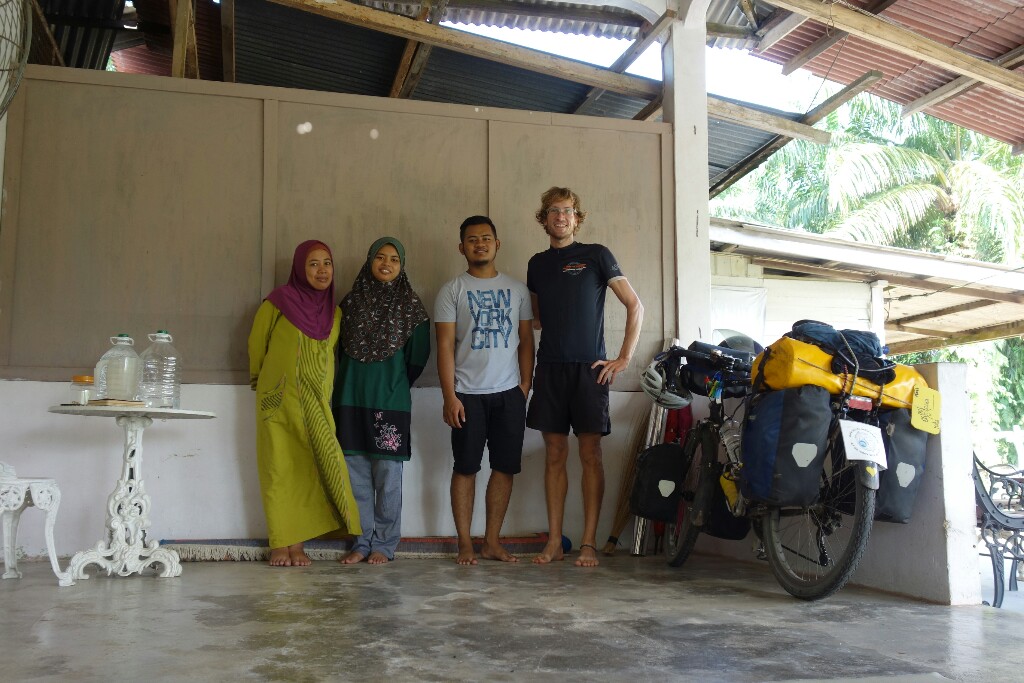 Finally I take a picture of one alive example of the nice big lizards, because usually, when I see them, they are overdriven or run away too fast. They behave more or less like small lizards, the difference is, that they make much more noise and are easy to see. Sometimes they cross the road very slowly, but as soon as I stop and take out my camera, they run away.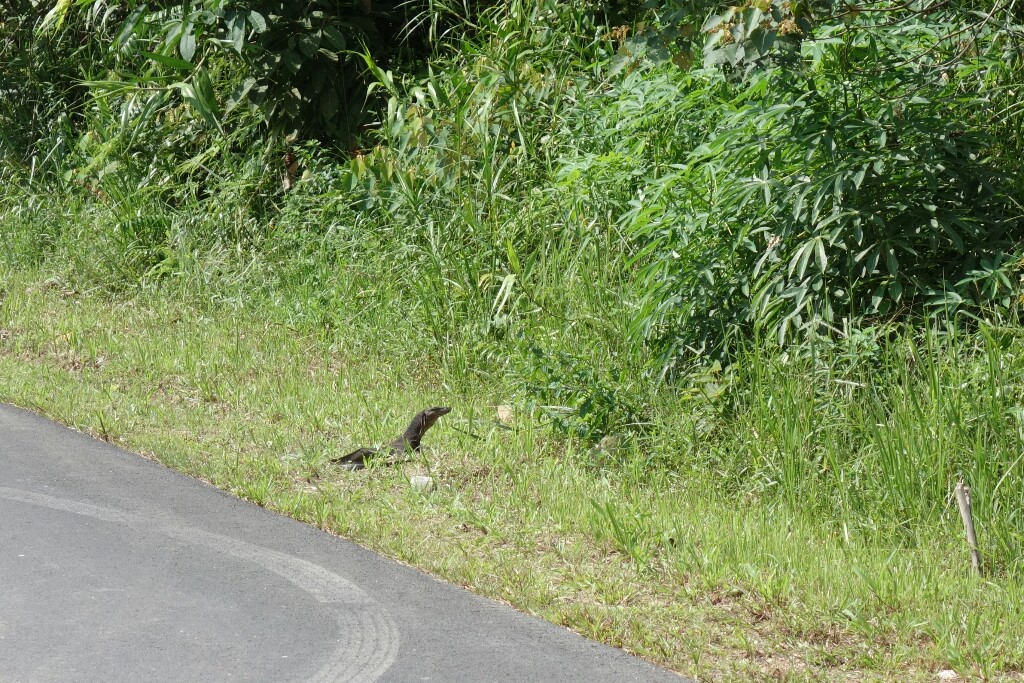 Johor Bahru, the last city in Malaysia before Singapore is not far anymore, but short before I have to shelter because of a heavy rainfall.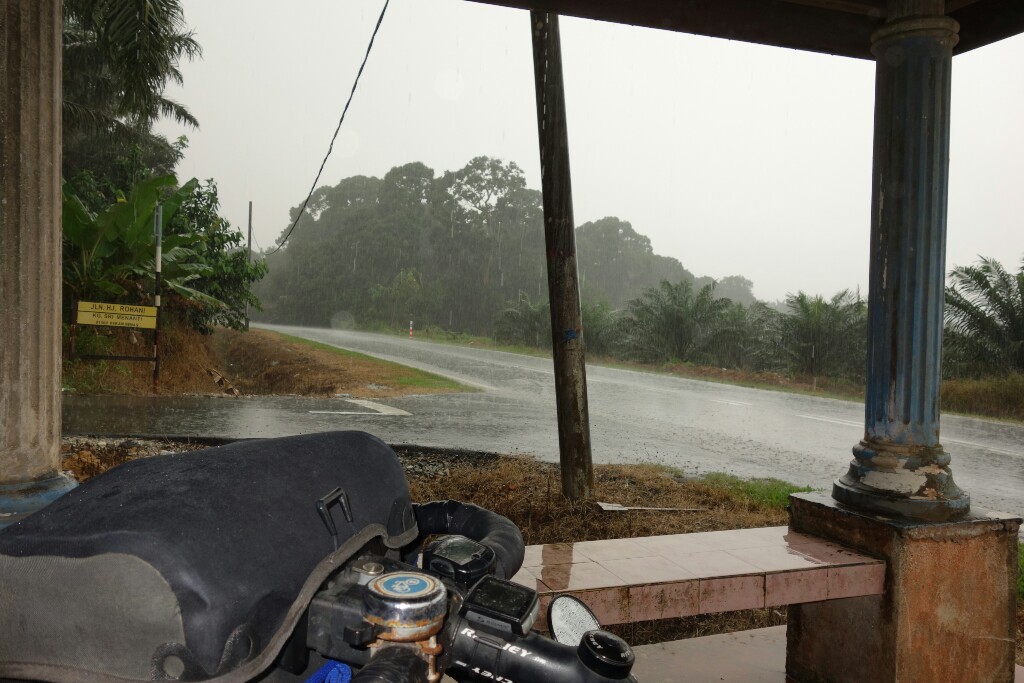 Andreas from Germany and Laima from Latvia host me for to nights. They live in a big new skyscraper, the view is amazing. After a long time it's really nice to speak German again.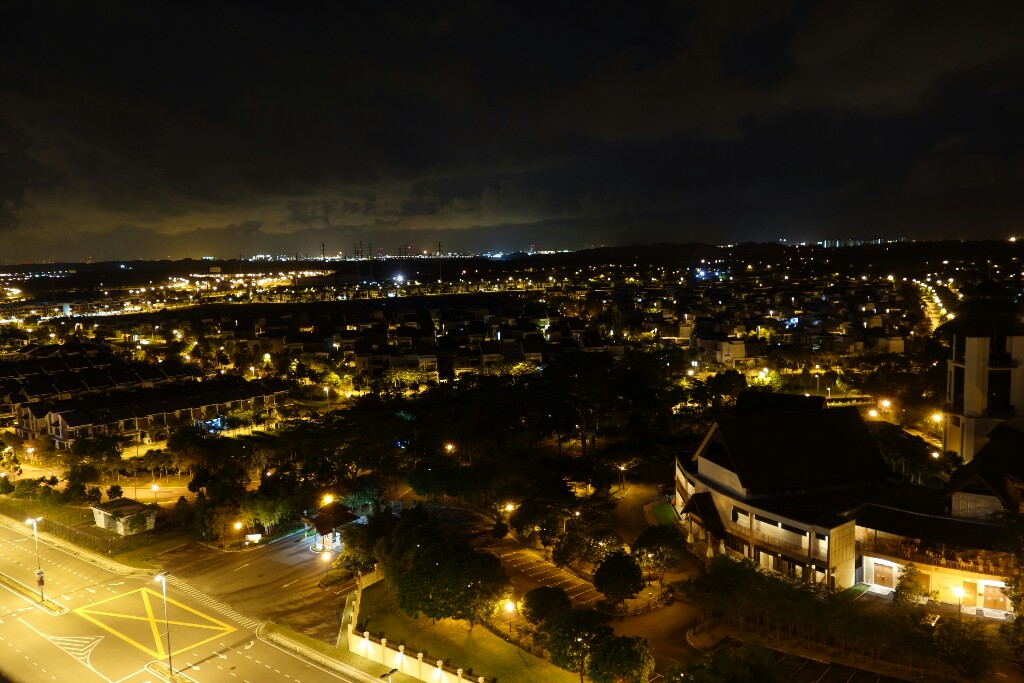 And then it's time to say goodbye to Malaysia and be curious about the futuristic city Singapore. On big highways I cycle to the border bridge. For lunch I order three Roti canai and tea in a typical Indian corner restaurant. I get company from two local guys. So my plan to spend my last money doesn't work, because they want to invite me. So I have to spend my last money at a grocery.
Woodlands is the part of Singapore where you enter the city.