The culture is even noticeable in agriculture vehicles. Their harvesters look like bumper cars.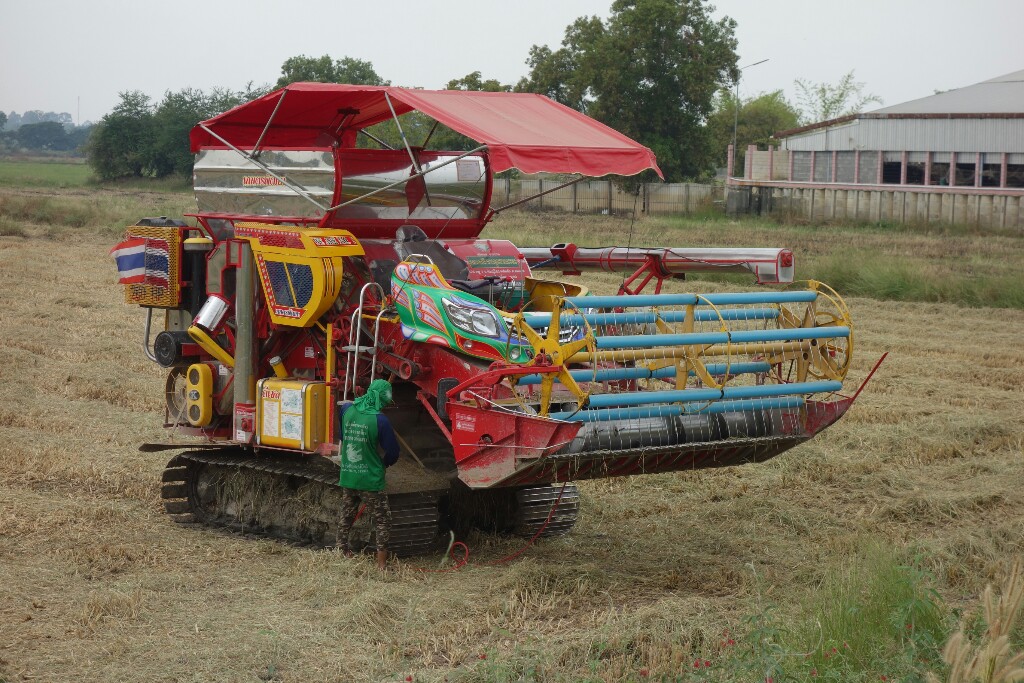 Today is my father's birthday, as we are 6 hours ahead, I wait until afternoon to call him. From this small café we call him and reach him as the first facilitators.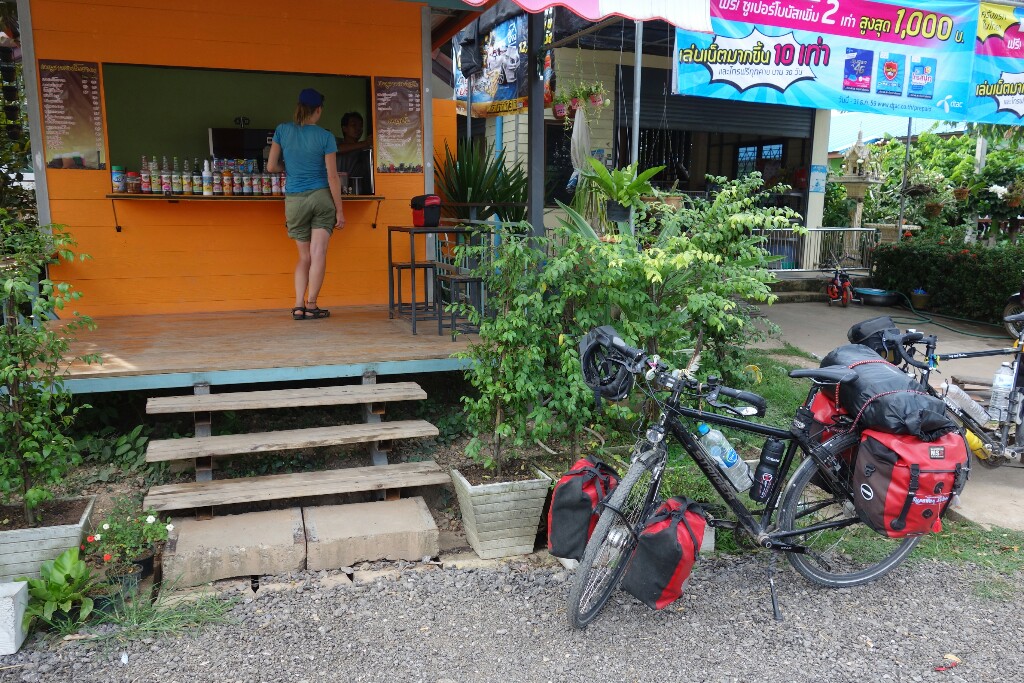 What is it? We don't know, but we are curious to try it. And it's great. It's dark sticky rice packed in bamboo and tastes very good.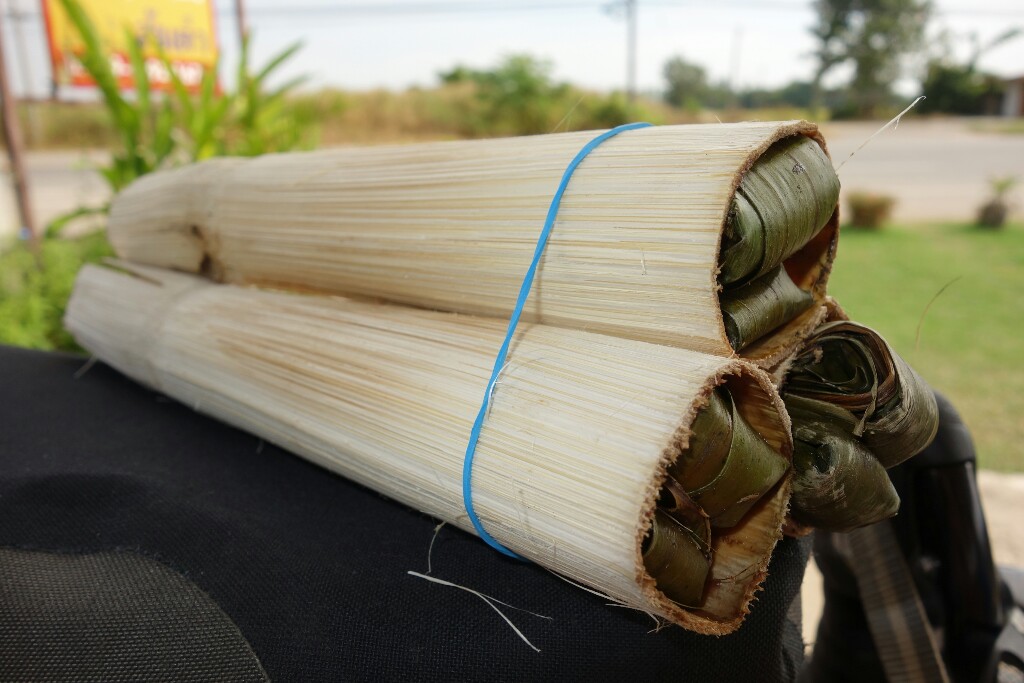 Not to overlook. Huge sign.
The longest banana fruit we have seen.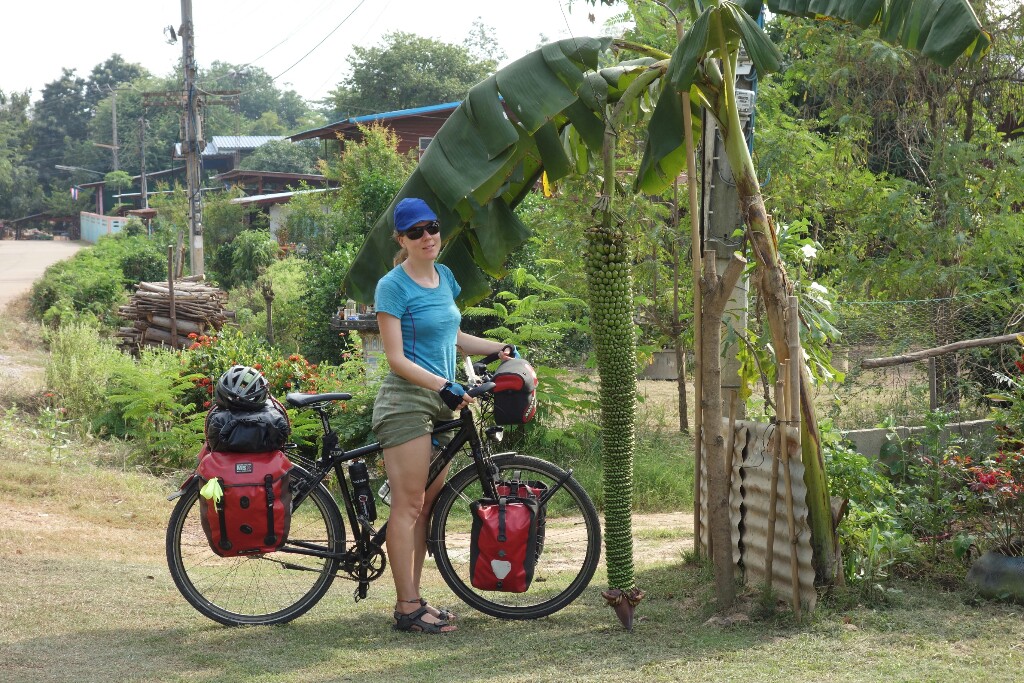 For the night we end up in a homestay at a little lake, but when we enter the room we are shocked. It "hello kitty" infested. Everything is pink and from hello kitty inside the room. Crazy. The owner must have a hello kitty fanatism.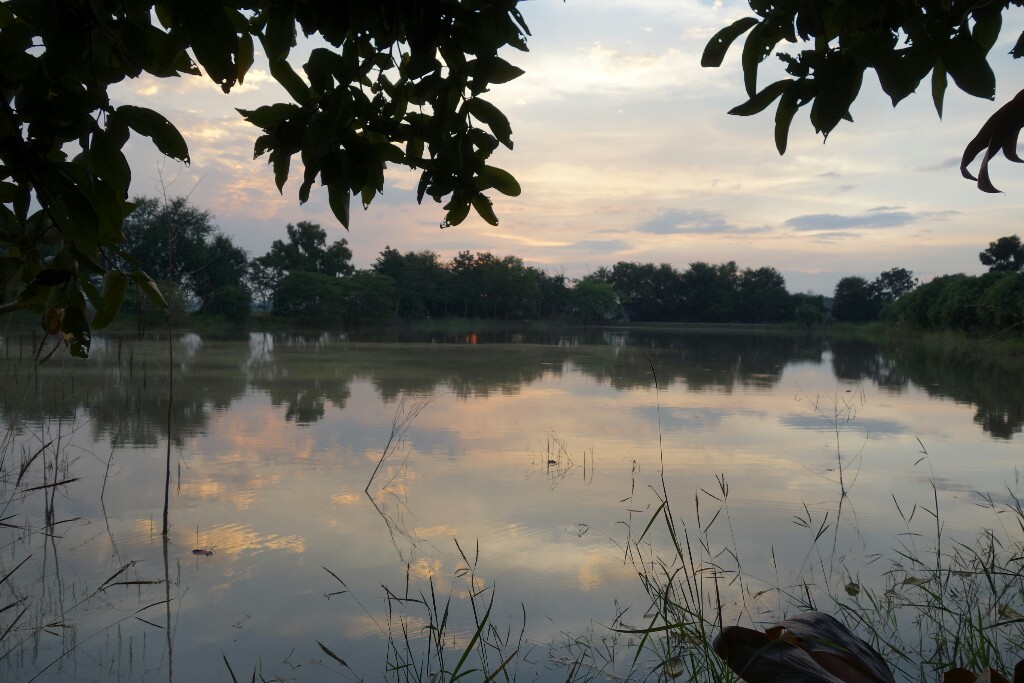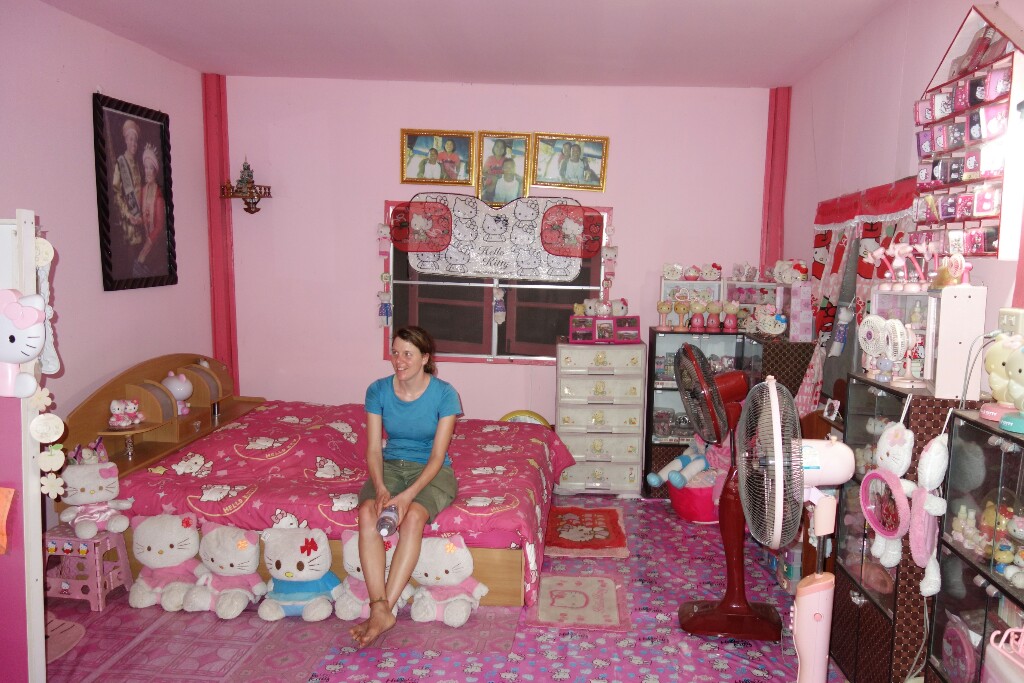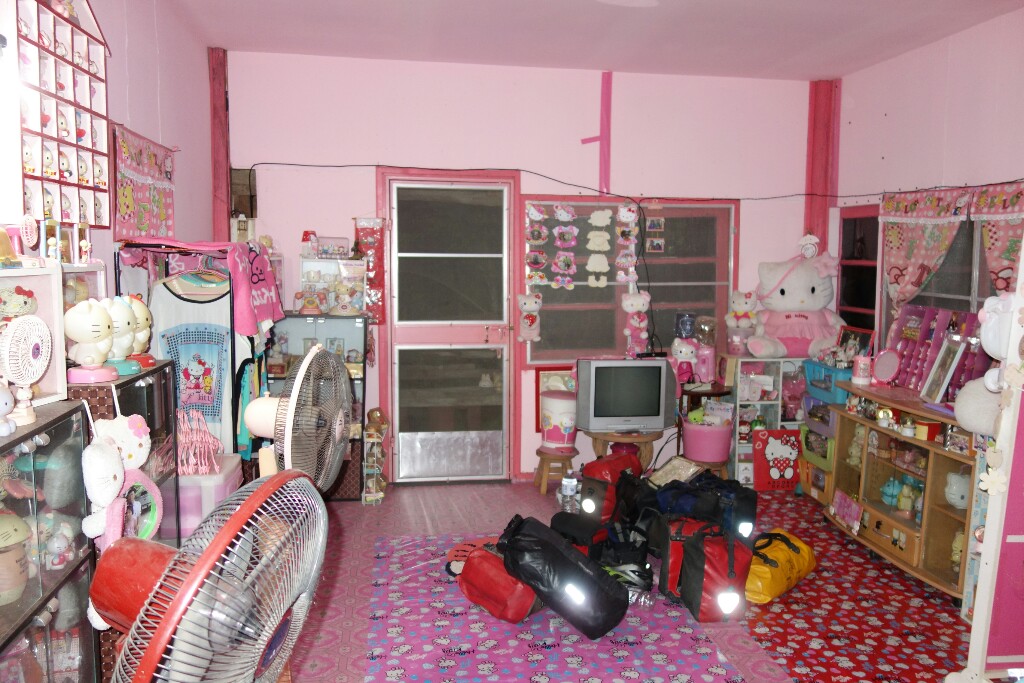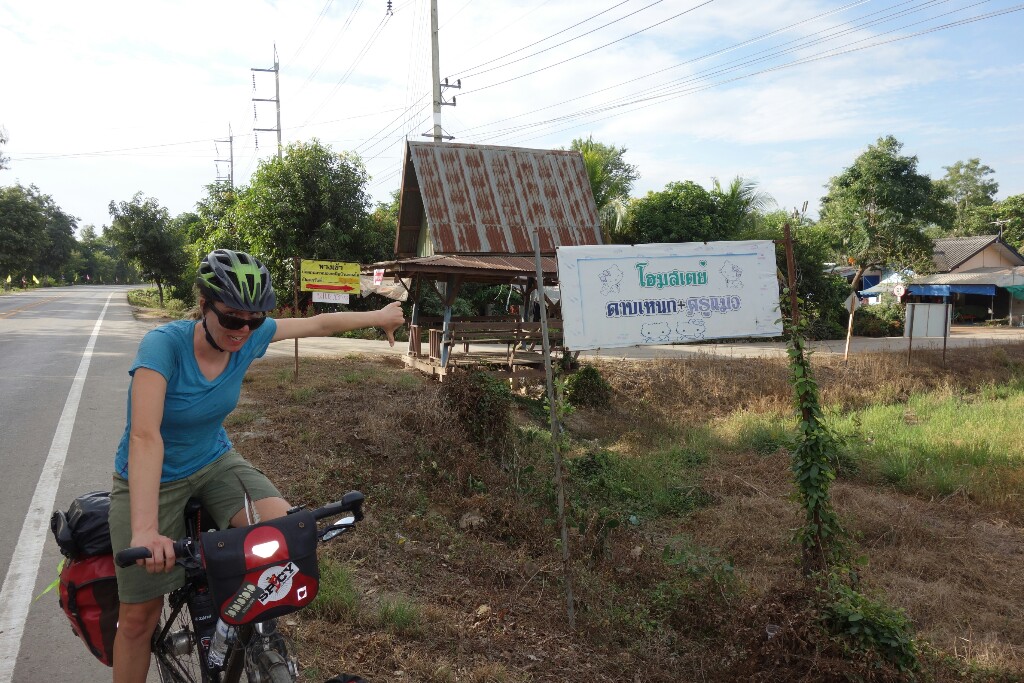 At lunch time we arrive at a kind of monk festival, so many nice orange dressed monks, they invite us to have food from a buffet. By the way, every men in Thailand has to be a monk for at least 5 days,the king even 2-3 weeks. And that's just our simple conclusion, their most done job/hobby is sweeping any or every floor. We just saw them doing this so often. 😉
After quite a long way we are done with the flat area of Thailand and start climbing our first small pass. On the way down we see a really big snake. It looks quite fresh, but we throw stones and it doesn't show any reaction, it is dead.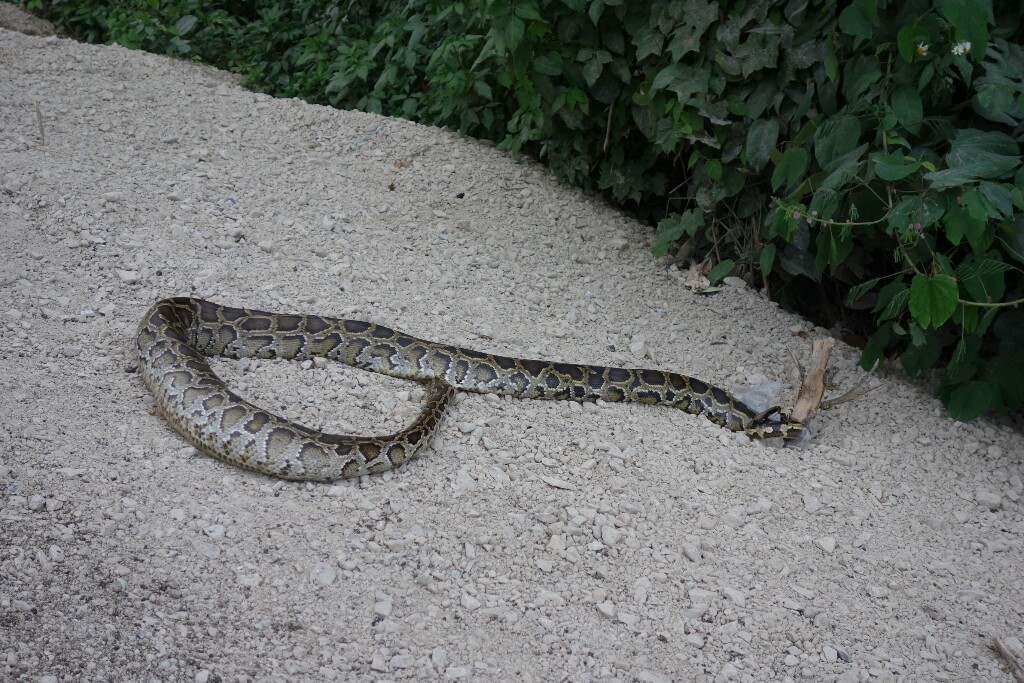 At night we ask at a police station, immediately we are welcome to sleep there and use the kitchen. For breakfast we make banana pancakes.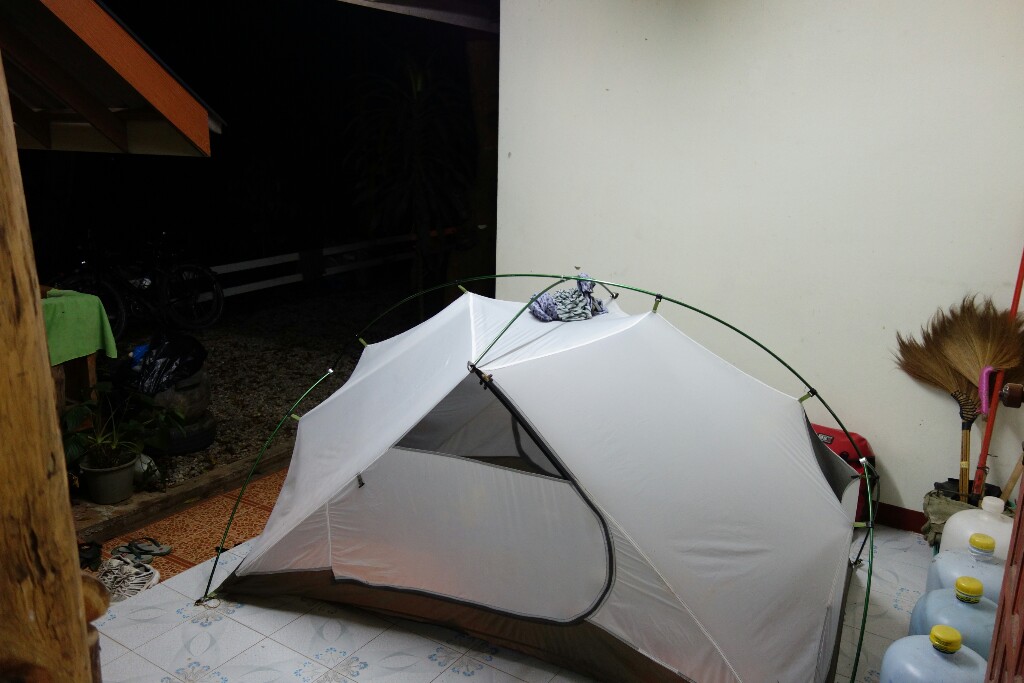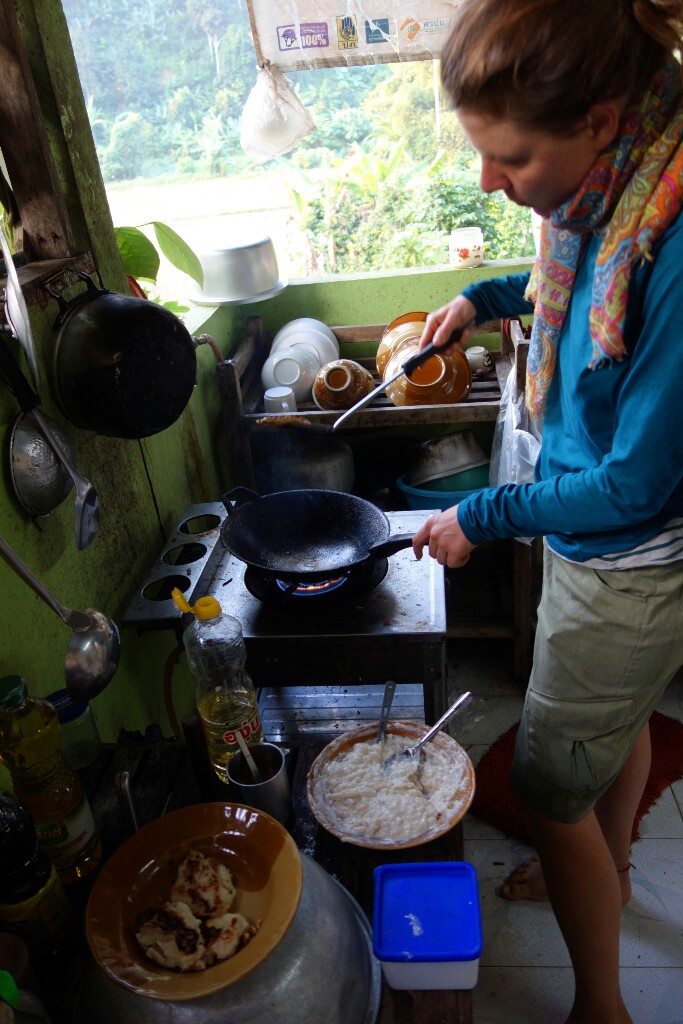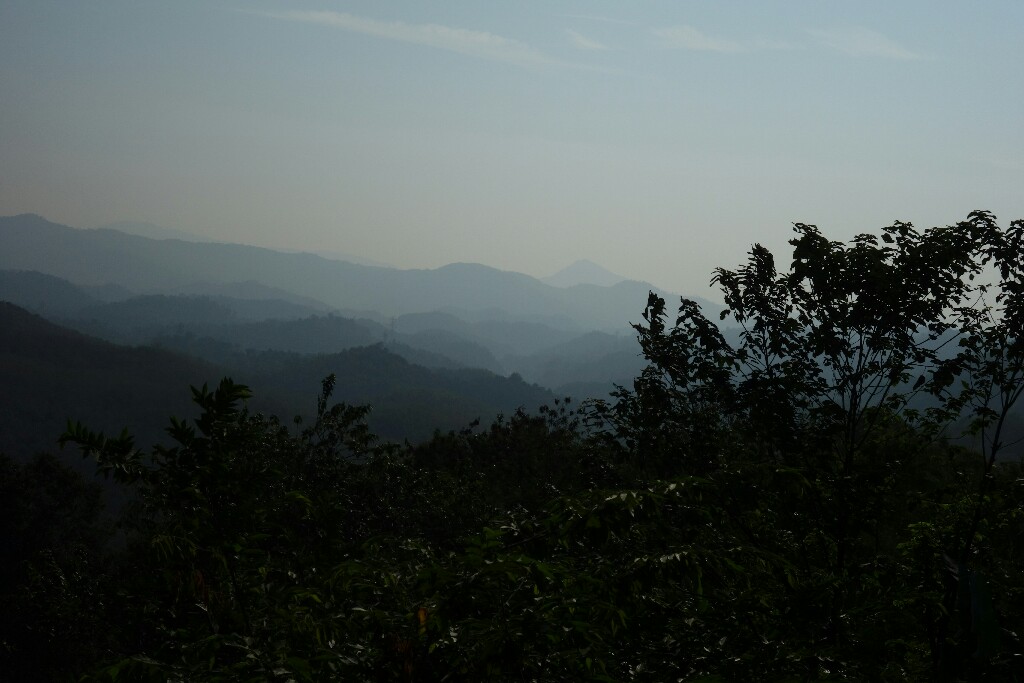 We change our means of transportation. 😉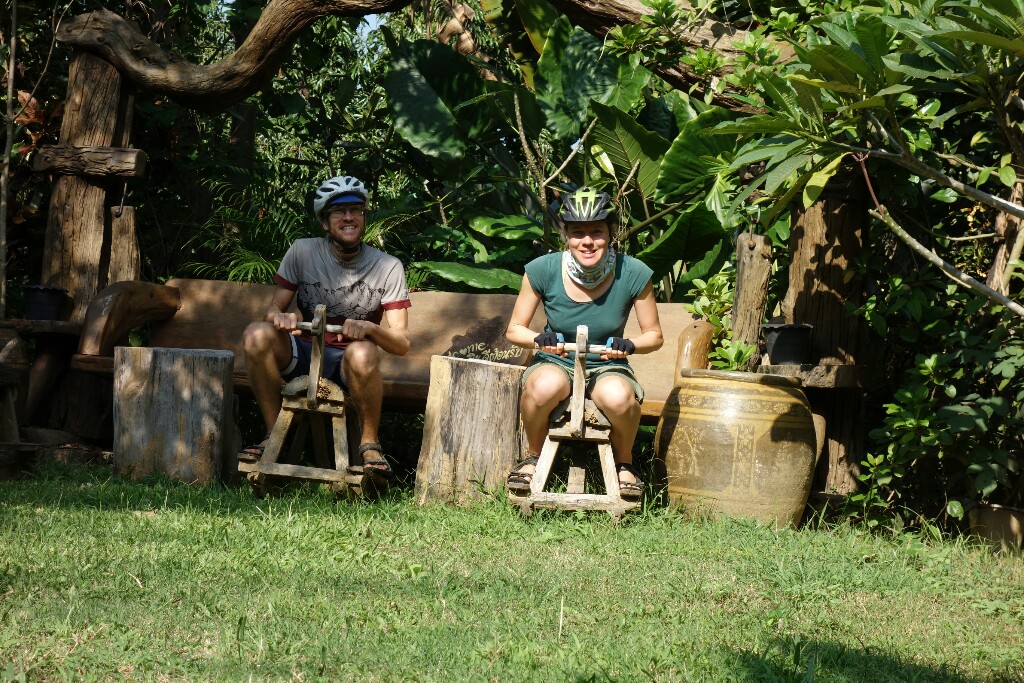 In Phrae we overnight in a very beautiful and good food guesthouse. We stay two nights, try to repair Johanna's new pedal and finally replace the shitty cheap bowden cable for the gear shifting of the Rohloff from Yerevan.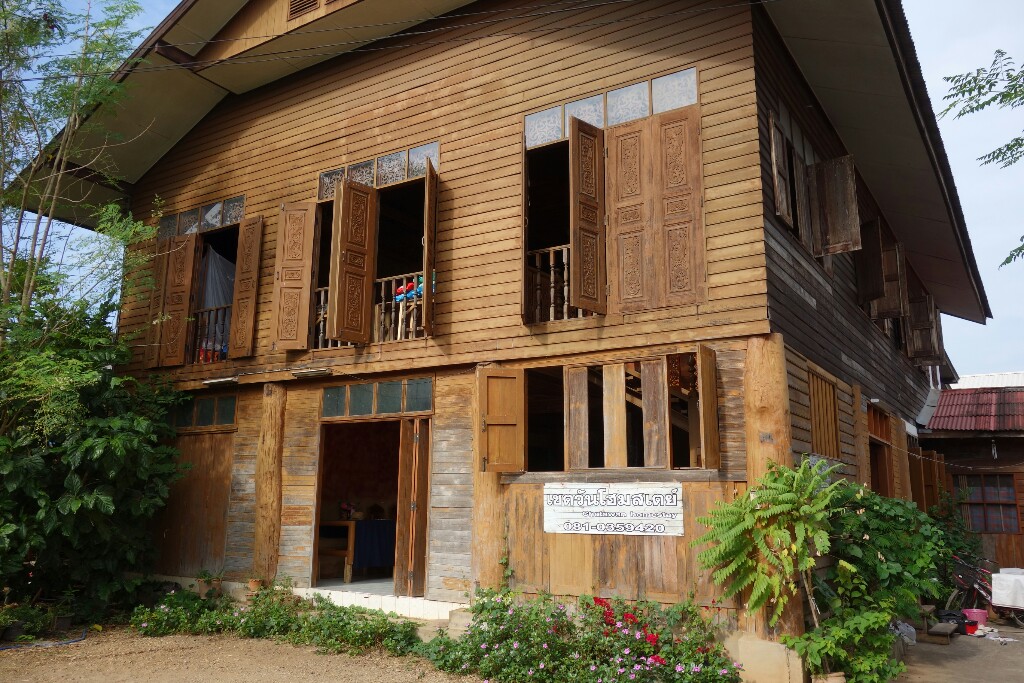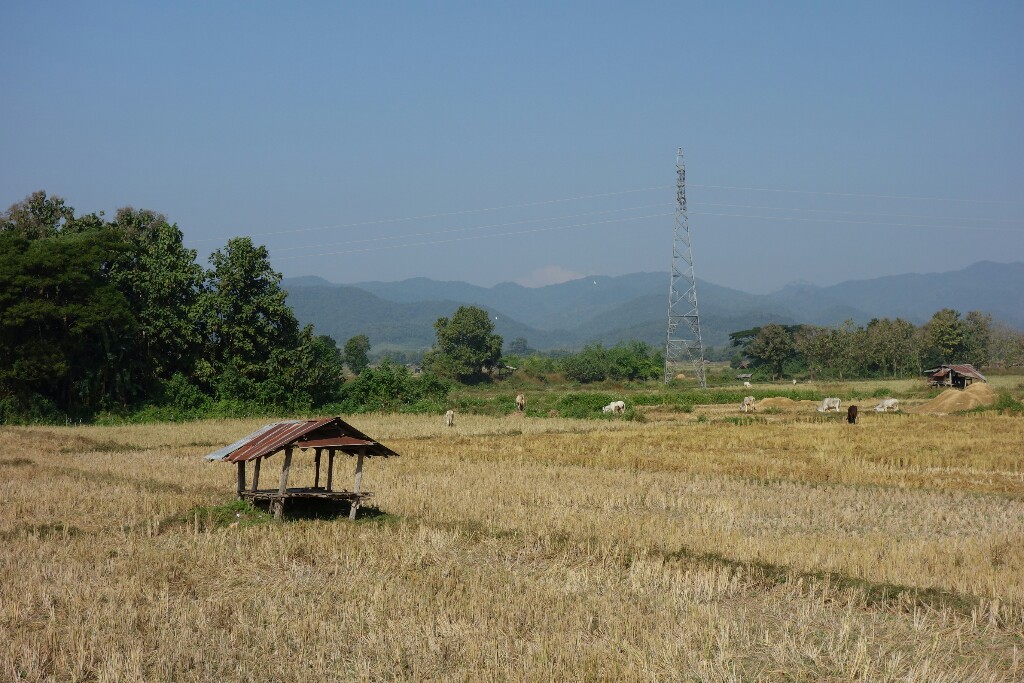 In passing we catch sight of a huge tree, summarily we turn back our bicycles and say hello to the wonderful tree.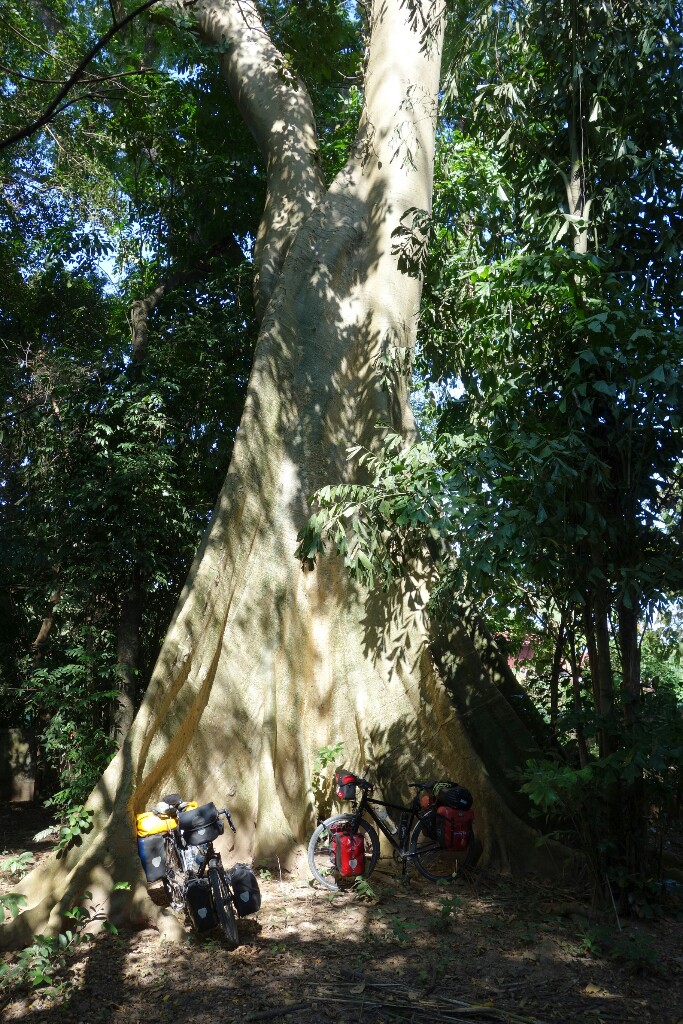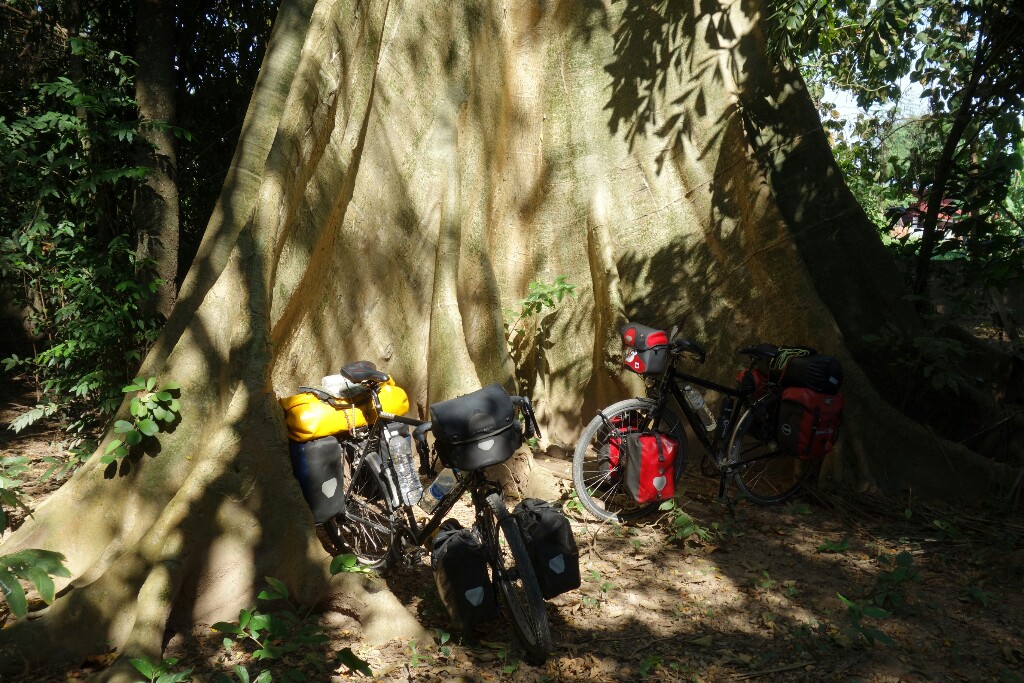 Growing rice is a hard job. I mean the man uses engine support, but it's still hard work walking through the mud. These old paddlewheel machines we see everywhere. Later every rice sapling has to be set separate. (The last picture is not rice.)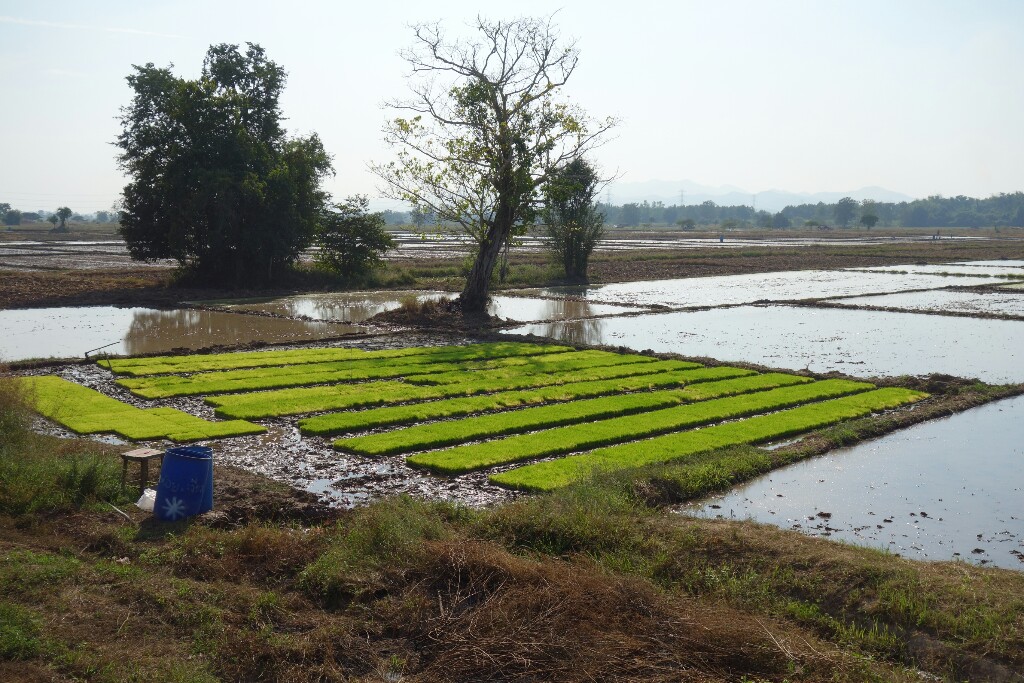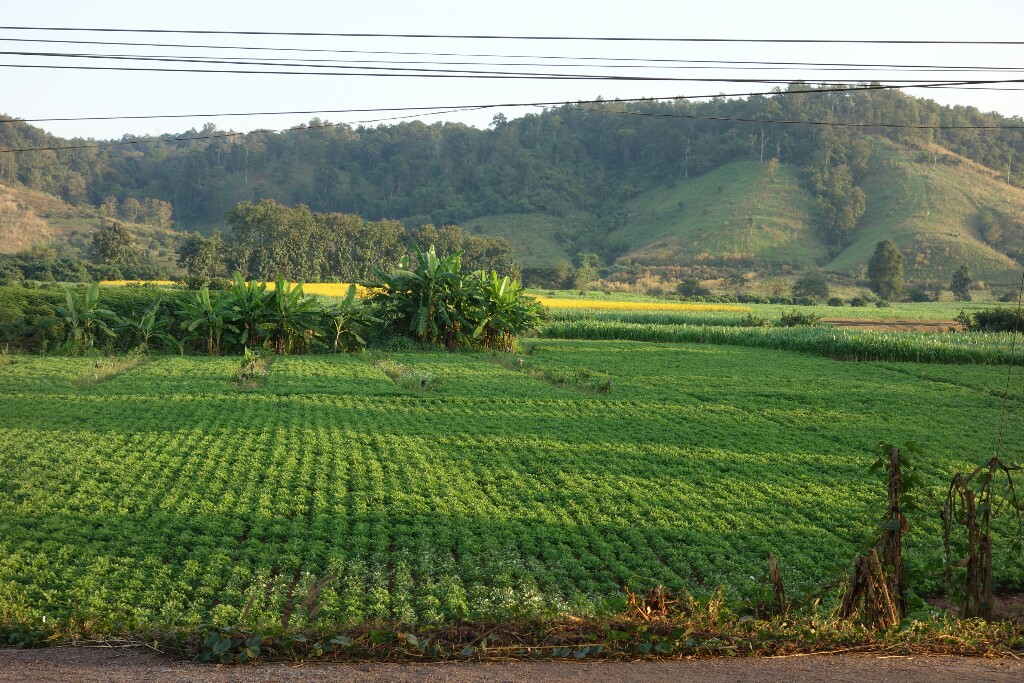 The guesthouse with rooms in chicken style we just see and don't stay there, it's in the middle of the day. We are happy, it's to freaky for us and we think bag to the hello kitty night.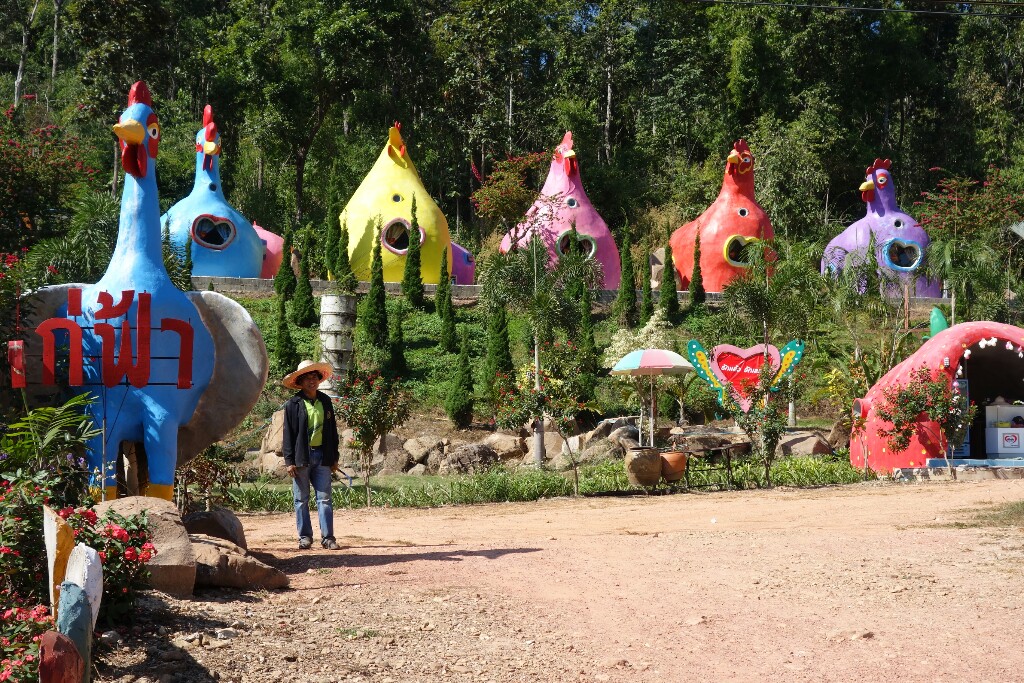 The landscape is beautiful here. We cycle hilly up and down and see incredible big bamboo trees.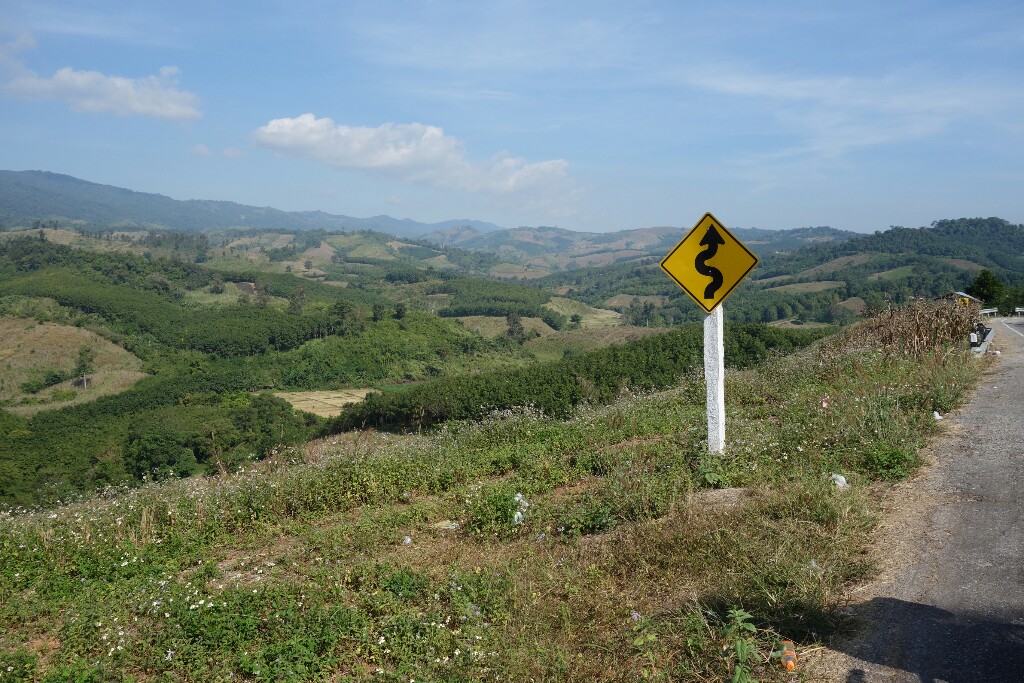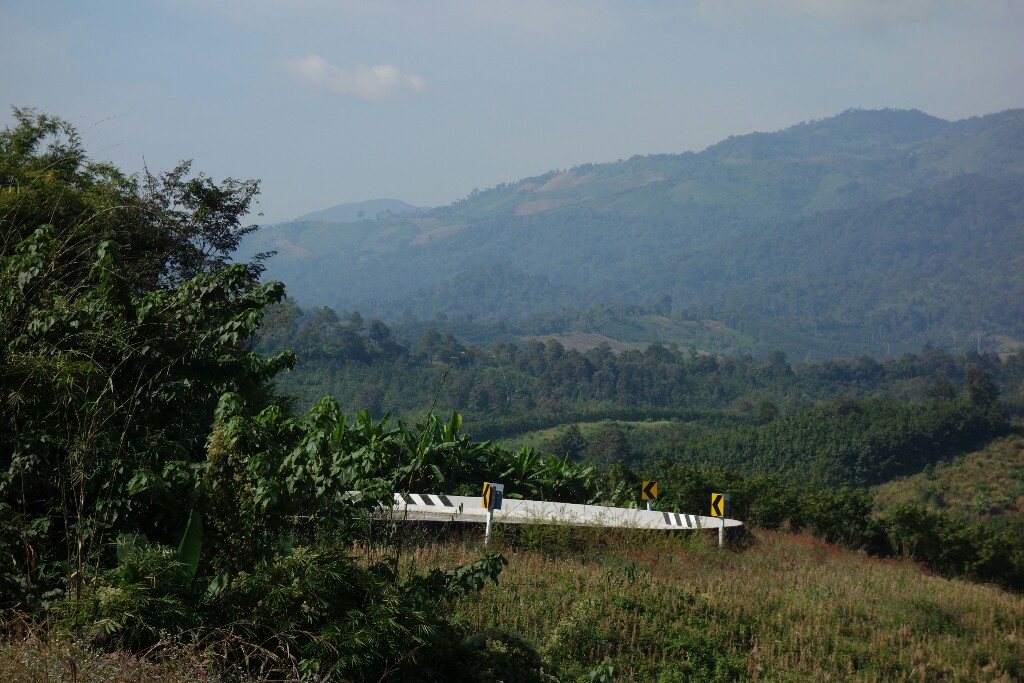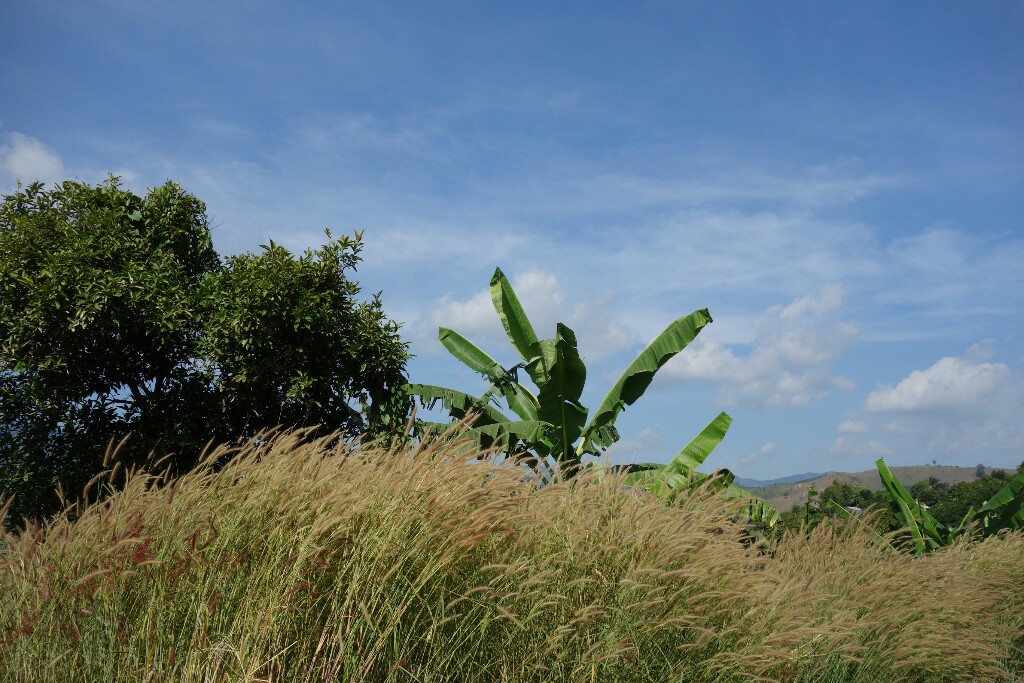 Along the road in small villages all children are so happy to see us, shouting "Hello" or "Sabaideee". Often we stop and take pictures of them. Johanna shows the picture she took right now and the boys laugh when they see themselves.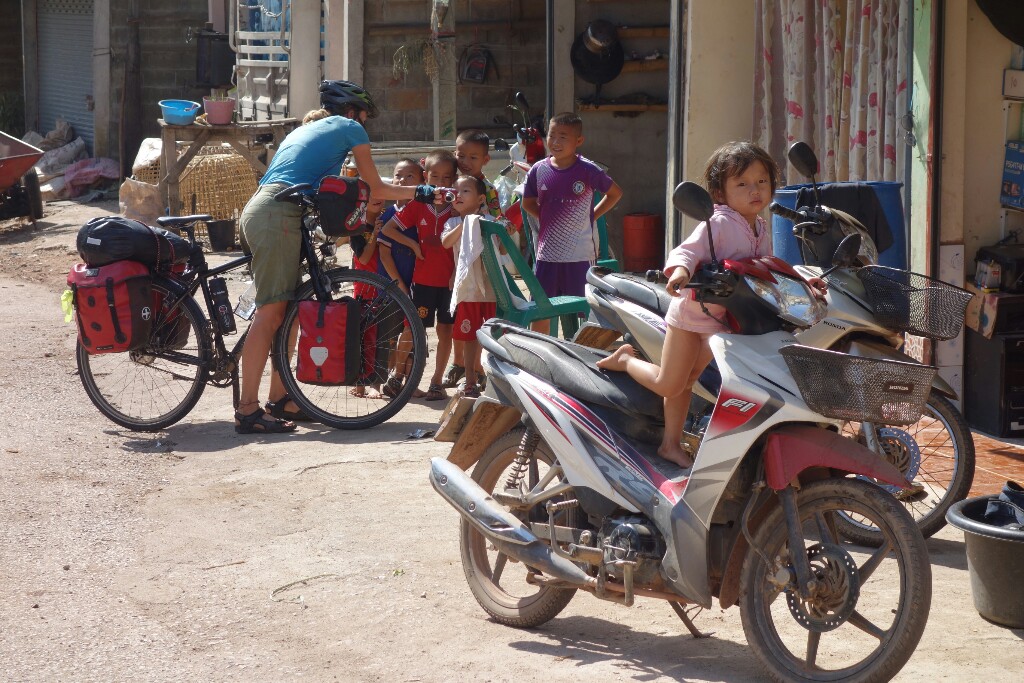 Later the day after lunch we take a small shortcut with a dirt road. It goes steep down to a little river, where we have a long-desired wild bath. The last time enjoying a natur bath was too long ago.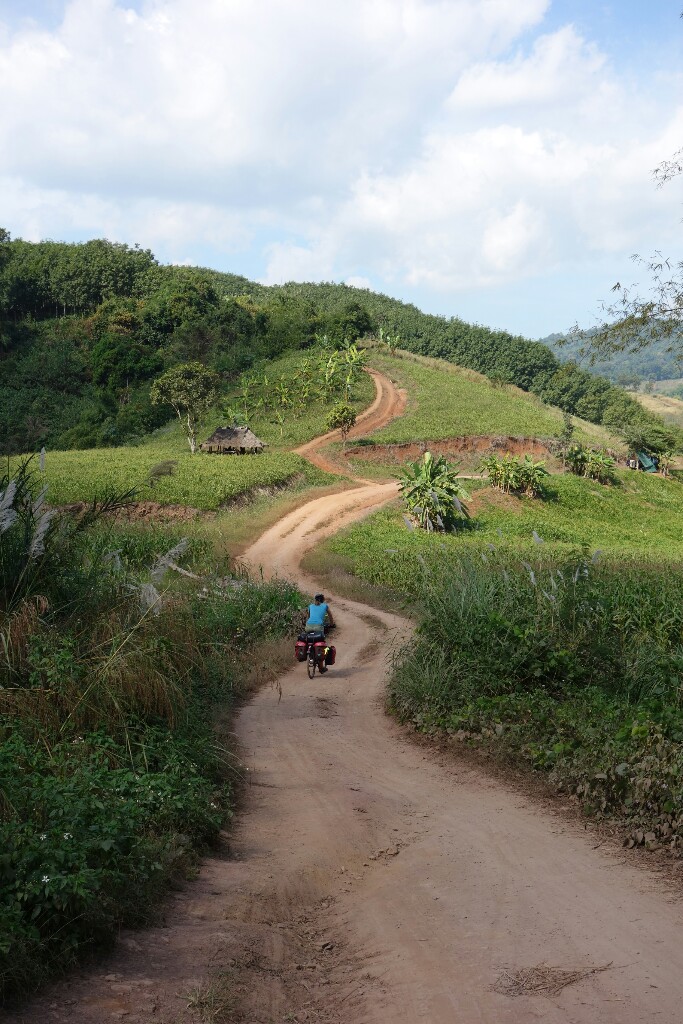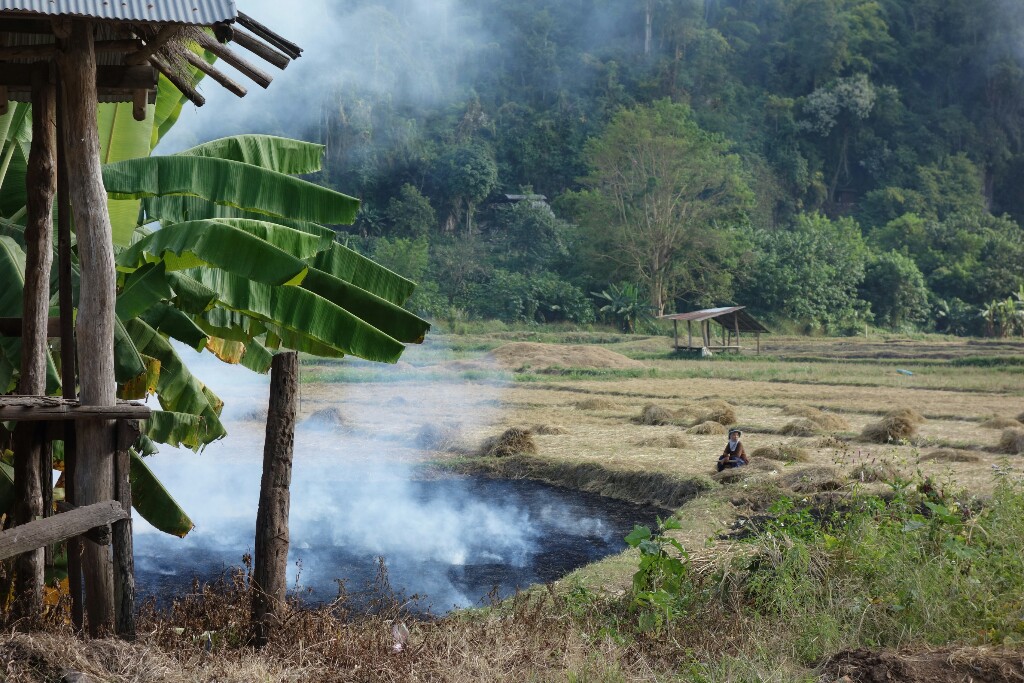 YES!!! PLEASE follow this!
At the 13th of December we cross the border to Lao. Which we actually think shouldn't be a problem, but this border crossing costs us many nerves. Confident we cycle to the car checkout of Thailand, as we think we are a vehicle and just want to leave the country, which shouldn't be a big deal. But we are not allowed to do so, no one explains us why. After a useless discussion we climb down and take the pedestrian exit pushing our bicycles. We get the stamp and want to cycle over the bridge. Someone wants to sell me a bus ticket, but I just say I don't need a bus I have my bicycle. After 200 meters there is a checkpoint with a gate. They say you can't cycle over the bridge, it's forbidden, go back and take the bus. We try a lot and everything but no way they don't give in. Too bad. The buses are big tour buses and we should pay 5 times more for the bicycle than for the person. The bridge is short and the distance about 2-3 kilometers. The sun is burning down. We discuss what to do, we want to cycle over the bridge, we cycled almost all the way from Germany (without China) to here. Sadly (only this time sadly) it isn't much traffic. Nevertheless we decide to hitchhike and not to give up and take the stupid bus. Fortunately the story ends good and after, I don't know, about one hour we and the bikes are on a pickup and cross over the Mekong to Lao.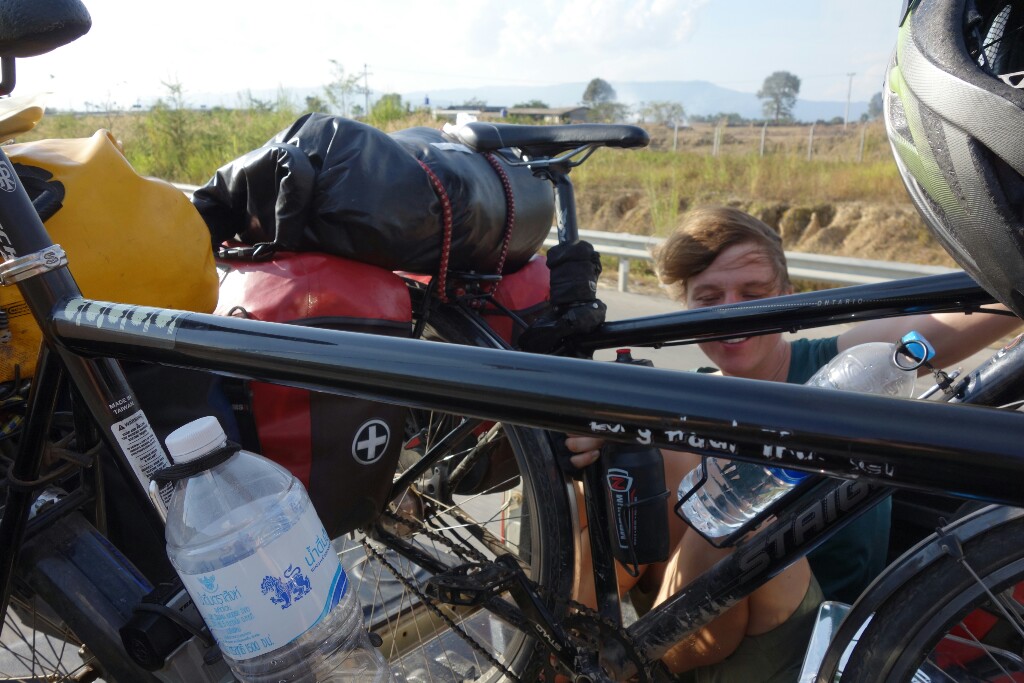 The Lao part of the border is easy as pie, after about 10 minutes and a fee of 30 $ each we have our visa on arrival for 30 days. 🙂
Lao here we come!