Sabaideeeeee..
Welcome to Lao!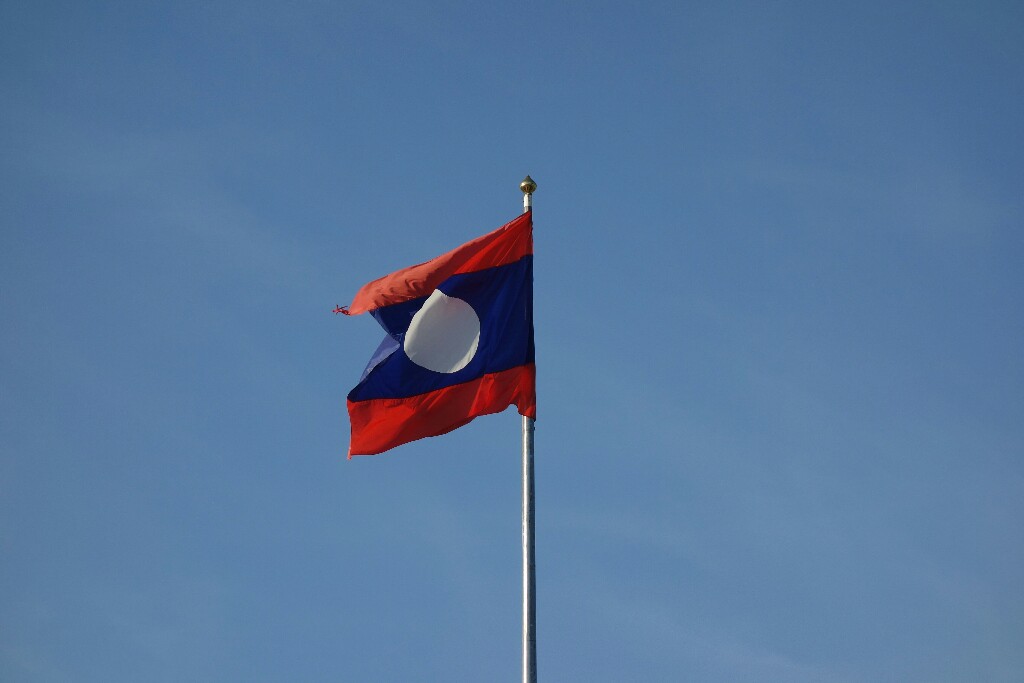 After we hitchhiked over the Mekong border bridge it was just a short ride to the city Houay Xay. The city is full with Falang (means foreigner) and mostly consists of small shops and accommodations. We find a nice, I mean for Lao standard, guesthouse, where we stay two nights. Johanna wants to have a break from cycling and is also afraid of the mountainous Lao. So we decide to separate for some days. She will take the 2 day slow boat to Luang Prabang and I will cycle the main road via Luang Namtha to Luang Prabang, which should take about one week. So if everything goes well, we will celebrate Christmas together in Luang Prabang.
We see other cyclists from the Netherlands and met a Southeast Asian experienced fellow. Tim (striped shirt) loves those countries here, he's from England and came about twenty times, always for 6 month. Every time he brings a new second hand touring bicycle with him, which he sells in the end of his trip.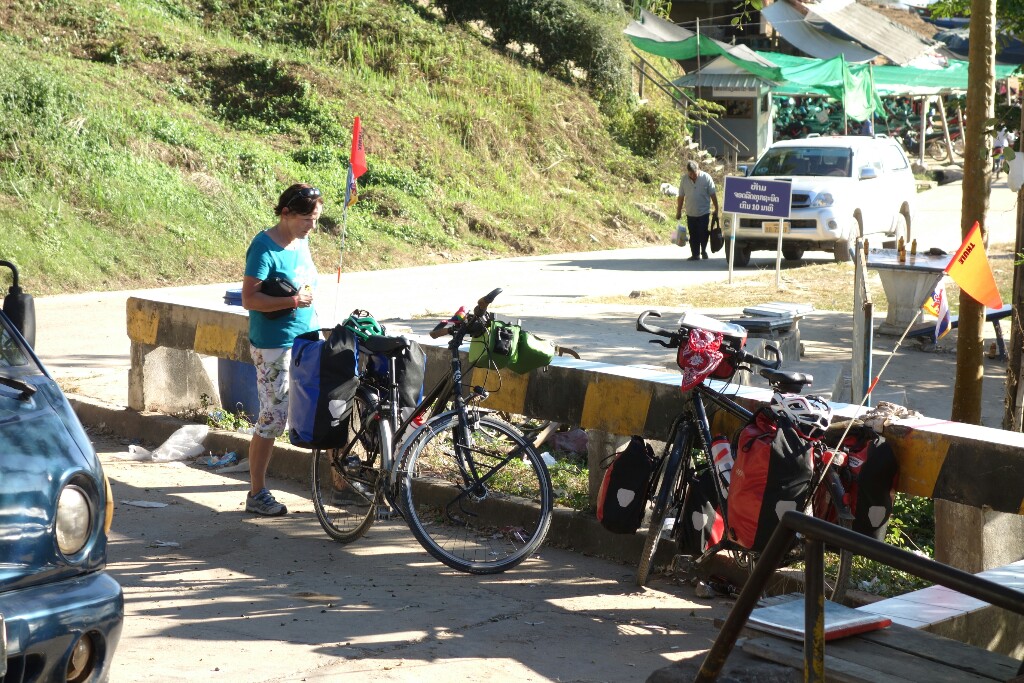 At the second evening we enjoy seeing the sun setting on the Thai side of the Mekong.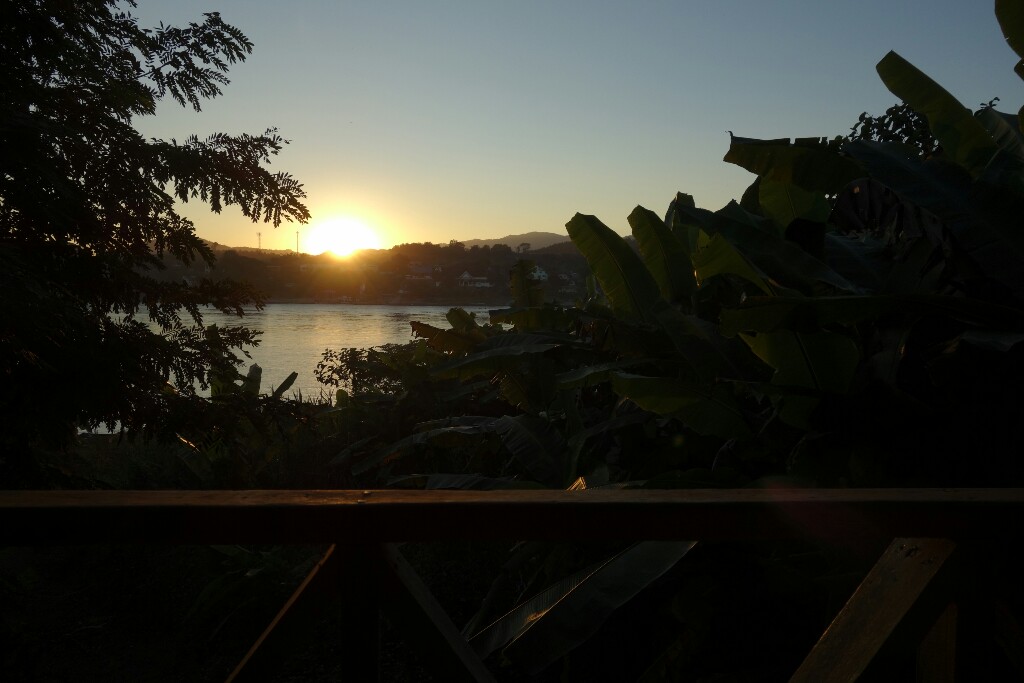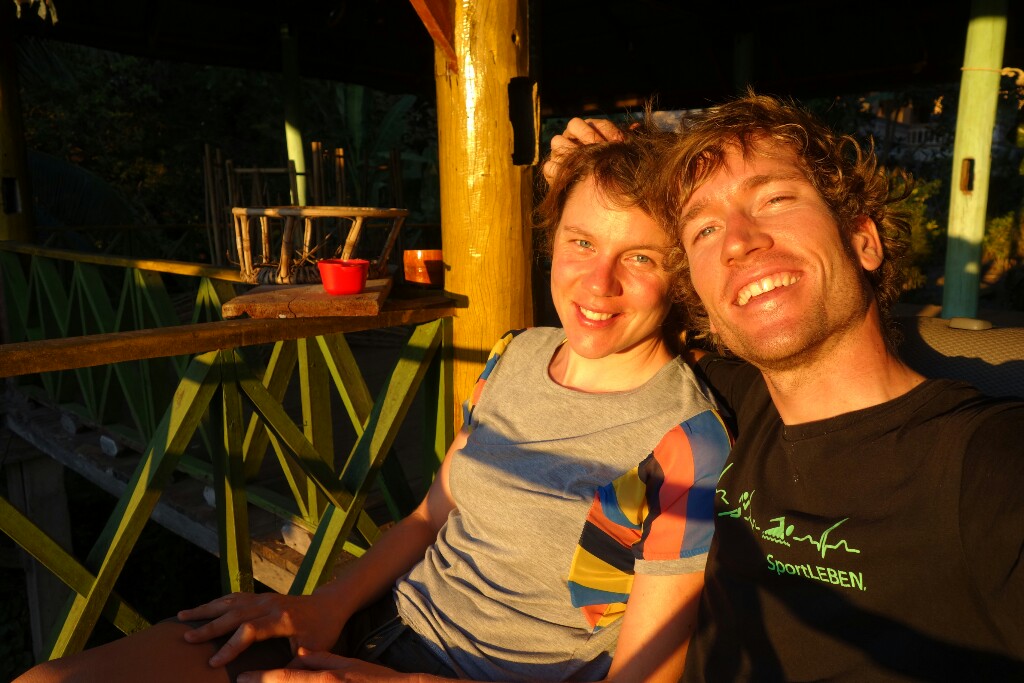 And then suddenly after more than 8 month I have to cycle alone! The sign shows the first part up to the Chinese border (Boten), still leading north.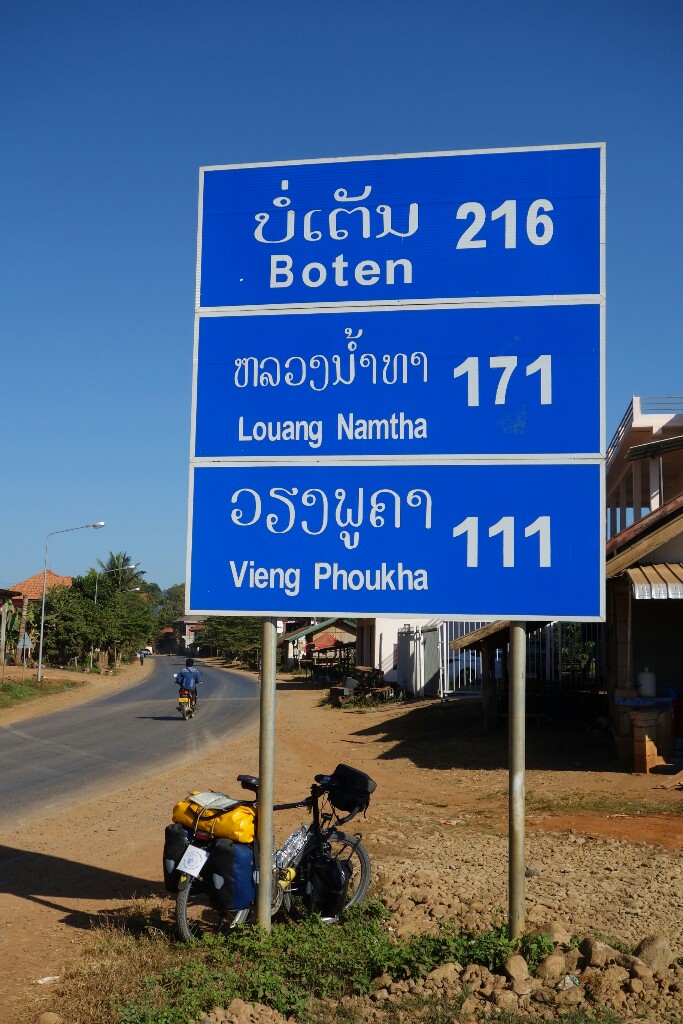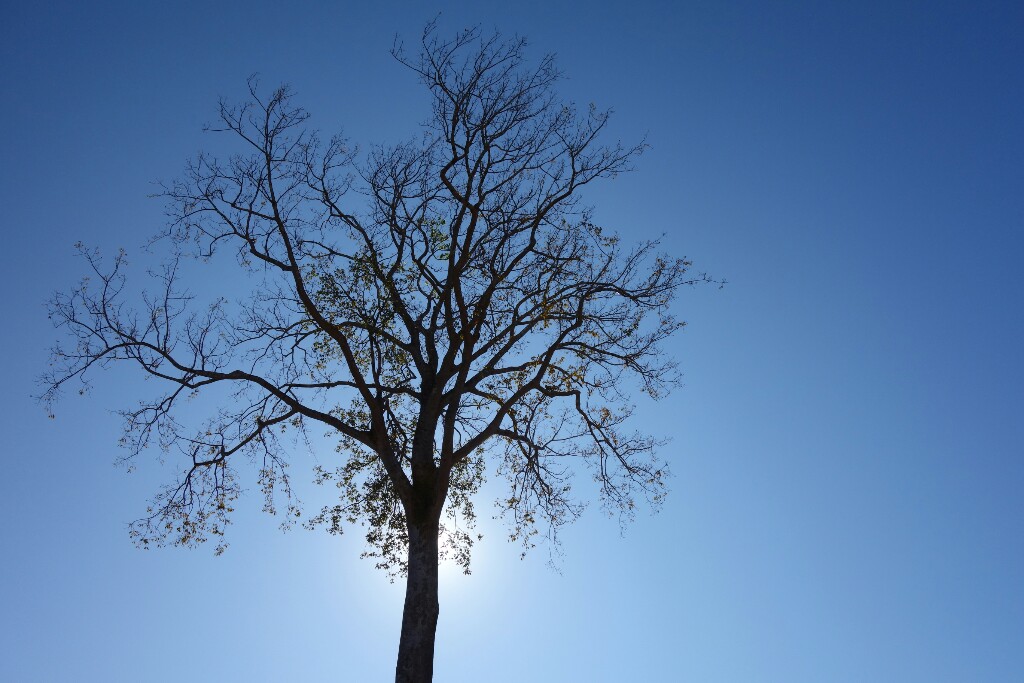 In Lao most works are done by women, and often it's the hardest jobs. I never see a man carrying the heavy wood bundle.
After 30 easy kilometers the climbing start. The road is steep and the trucks leave deep rutting in the asphalt. Their signature is easy to make out, it says something like I am big and heavy.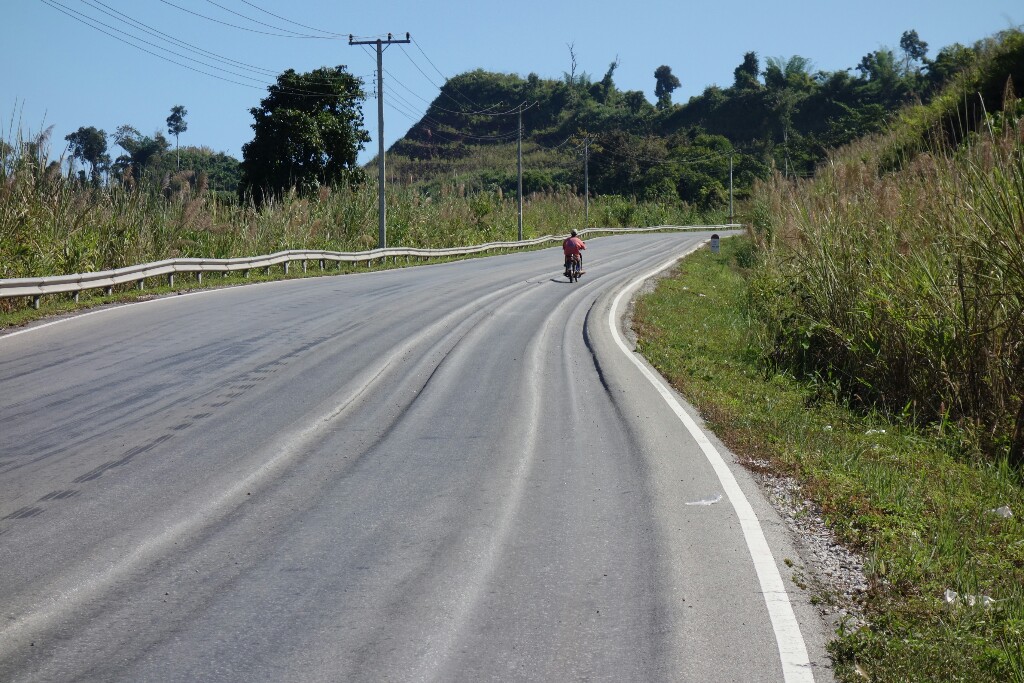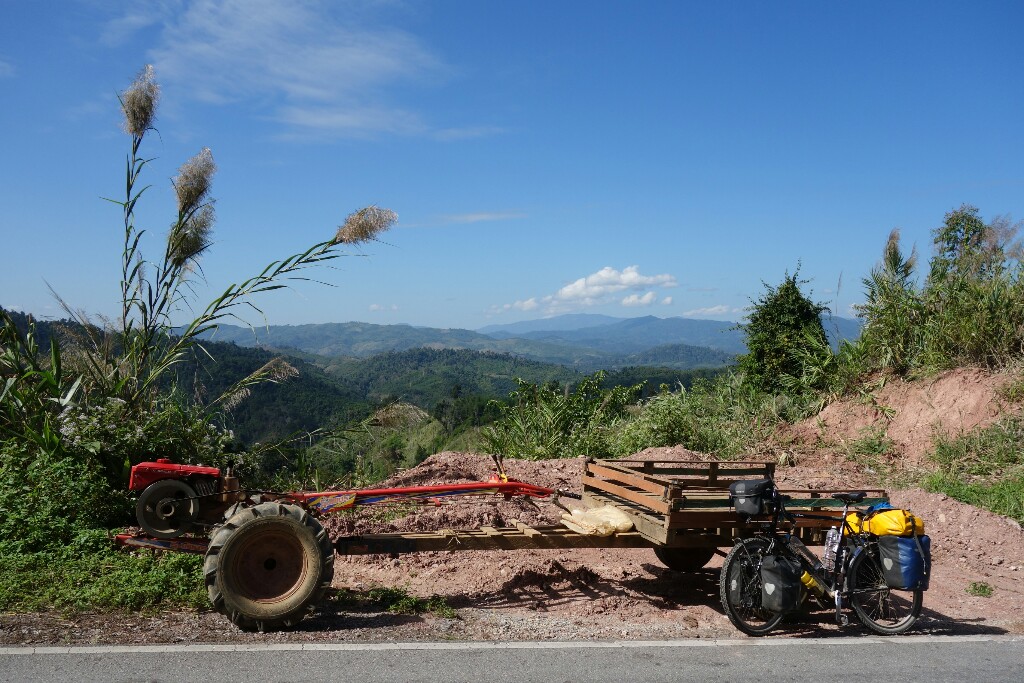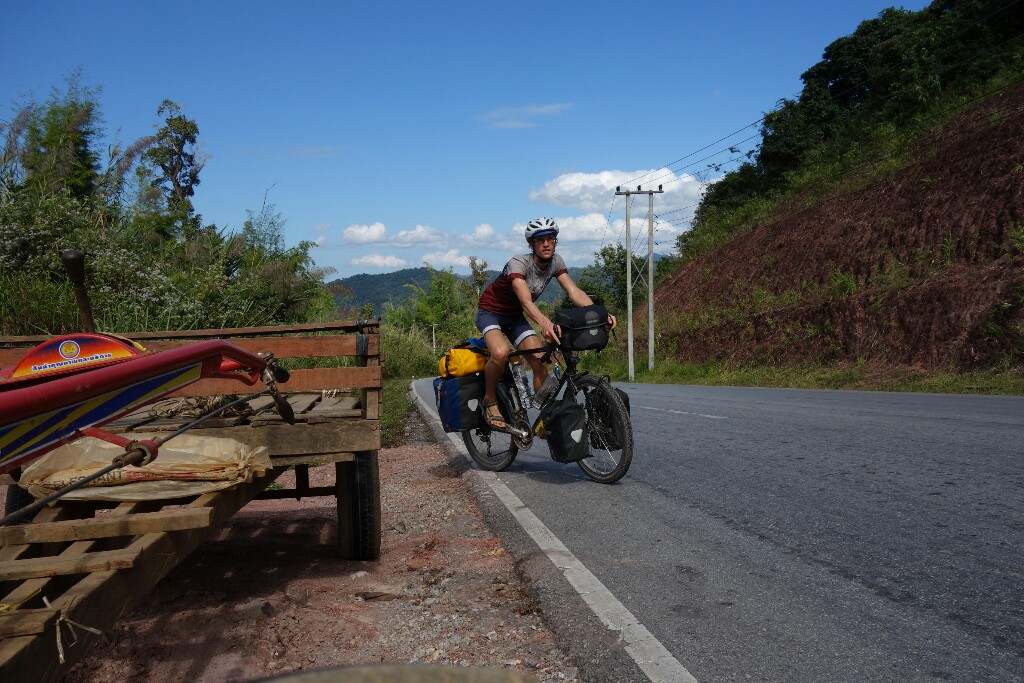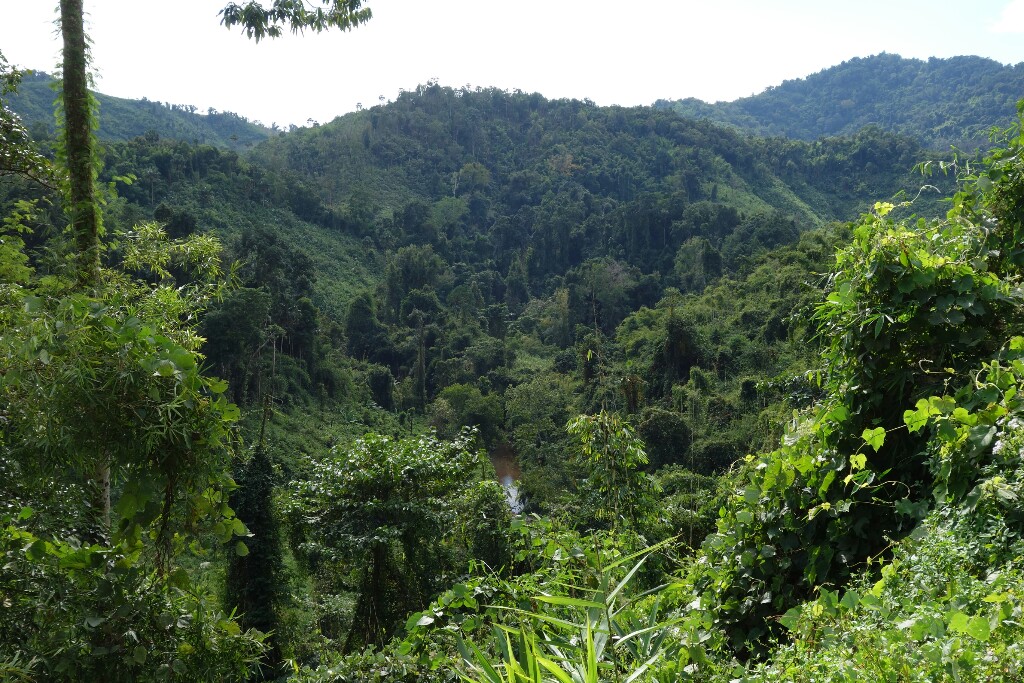 I didn't plan a place for lunch, but during the day I realise there is no bigger village in a reachable distance. So I hope to find something to eat in a very poor and small random village. I'm glad that I don't have to climb the next mountain starving, when I find a simple shop serving noodle soup. At this time I didn't know that noodle soup is the main food in Lao, almost every restaurant serves it. And sometimes they have only noodle soup. Unfortunately it's not even vegetarian, they always use pork stock. Actually it became our most unpopular food in Lao and we just eat it, when we don't have a choice.
Children looking at me, when I arrive and order my soup. A kitty bears me company on the table.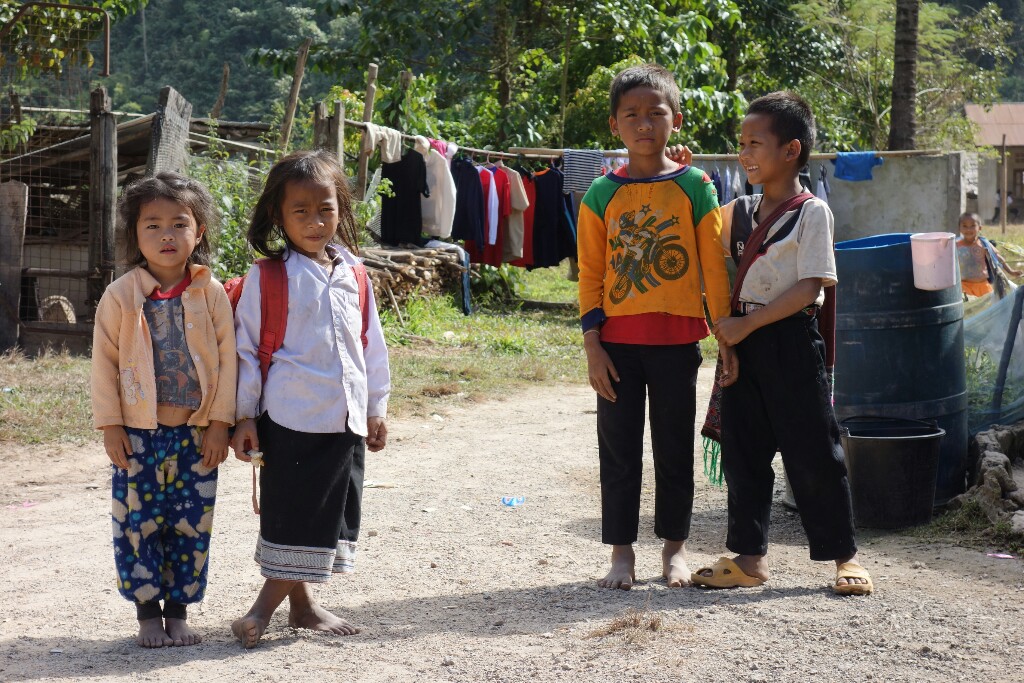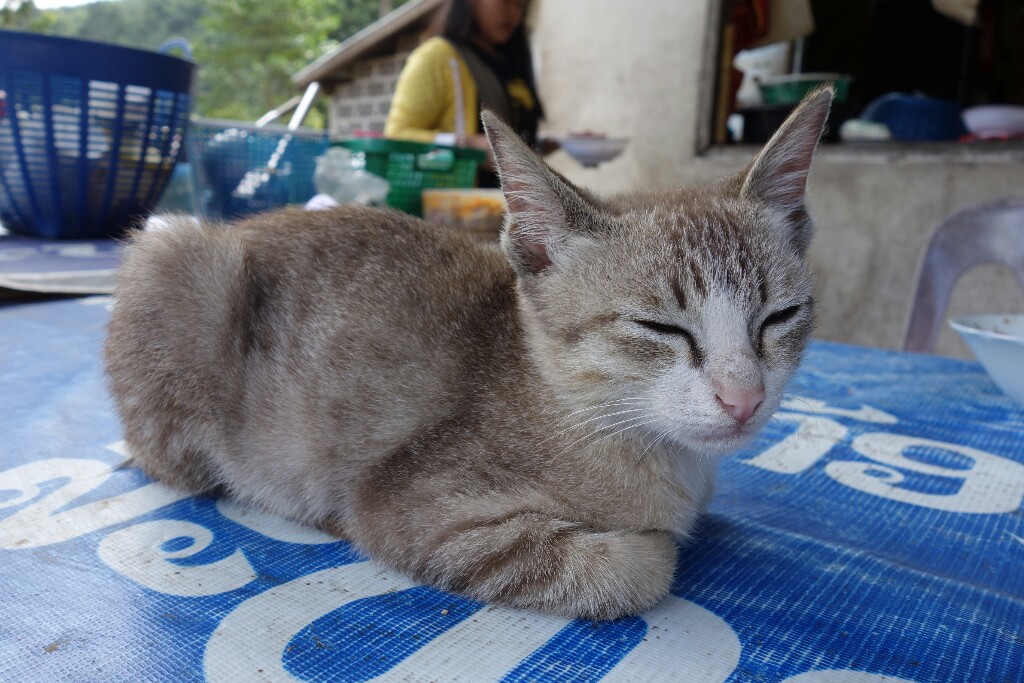 Ants are amazing insects, the ant trail fascinates me and gets my attention for a while, while I take a break. Big and small ants in one trail.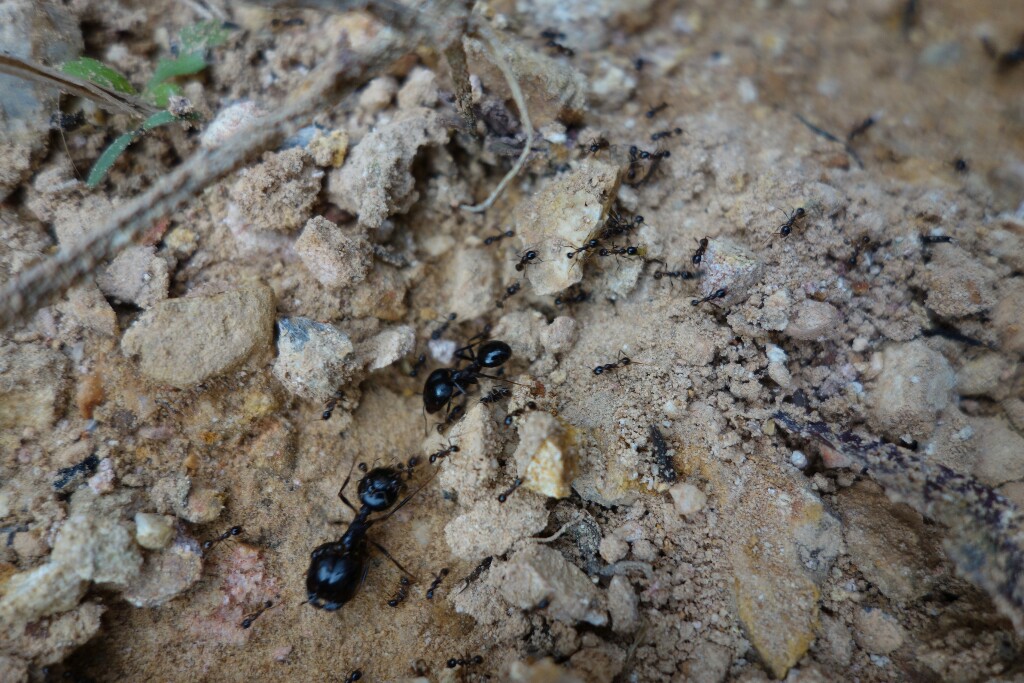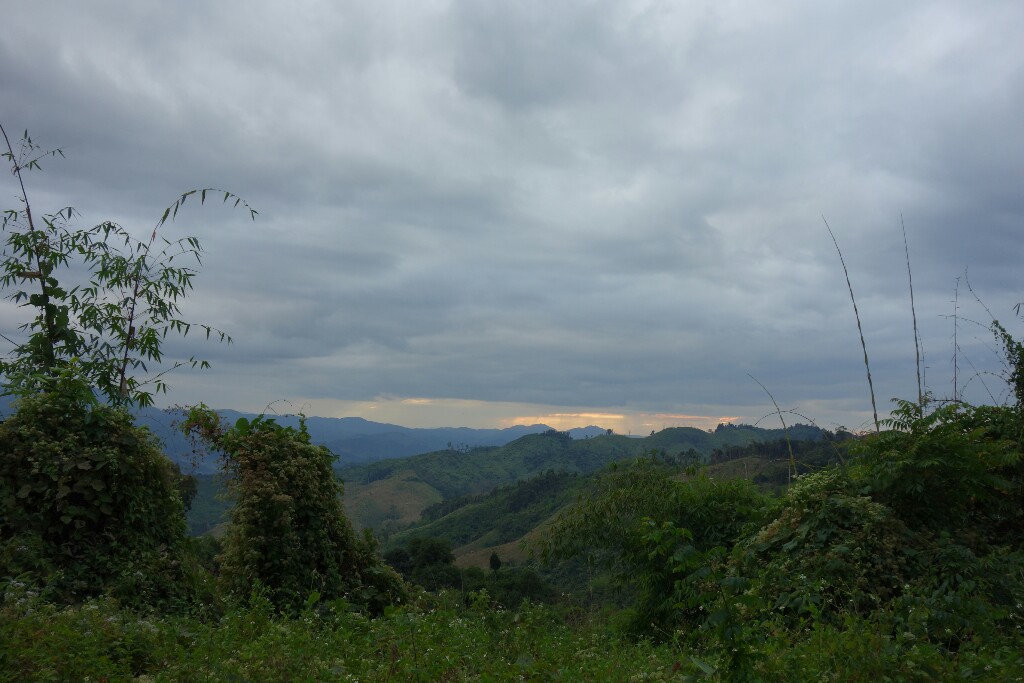 Cows are likewise amazing, they don't show fear when they cross the road or stand on it. Sometimes stupid drivers try to honk them from the road, but they don't show any reaction. No one can stress them. I don't think they are stupid, for me they are really brave. Here they are exceptionally at the roadside.
So the first single cycling day goes by and I find a place for my tent in the jungle.
Further animals you see everywhere in Lao are pigs, goats and roosters. They seem, to have a good live here.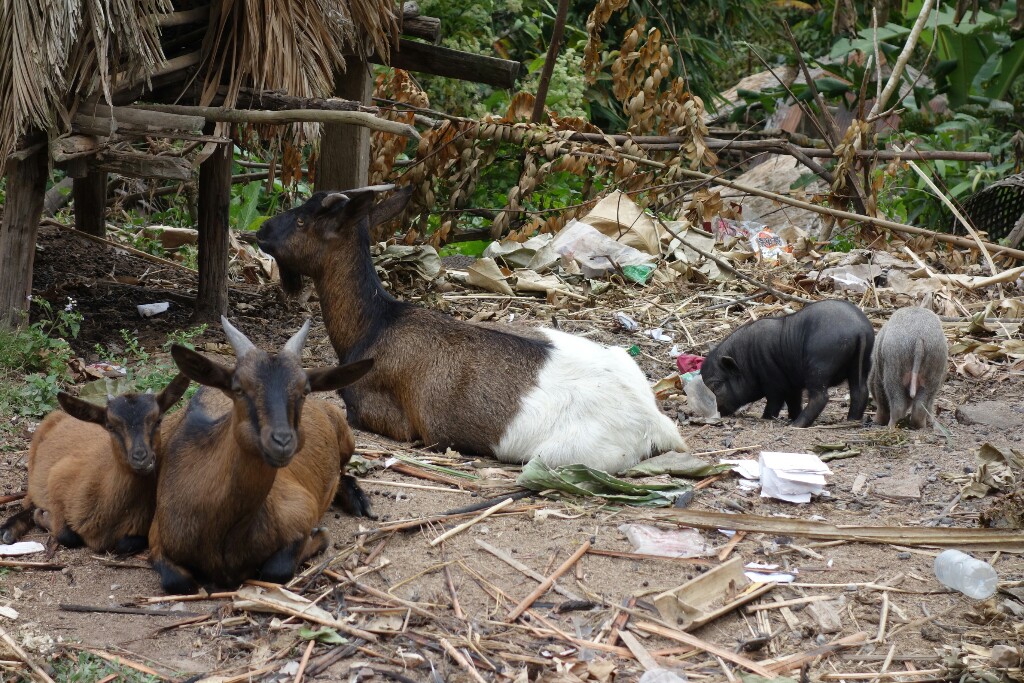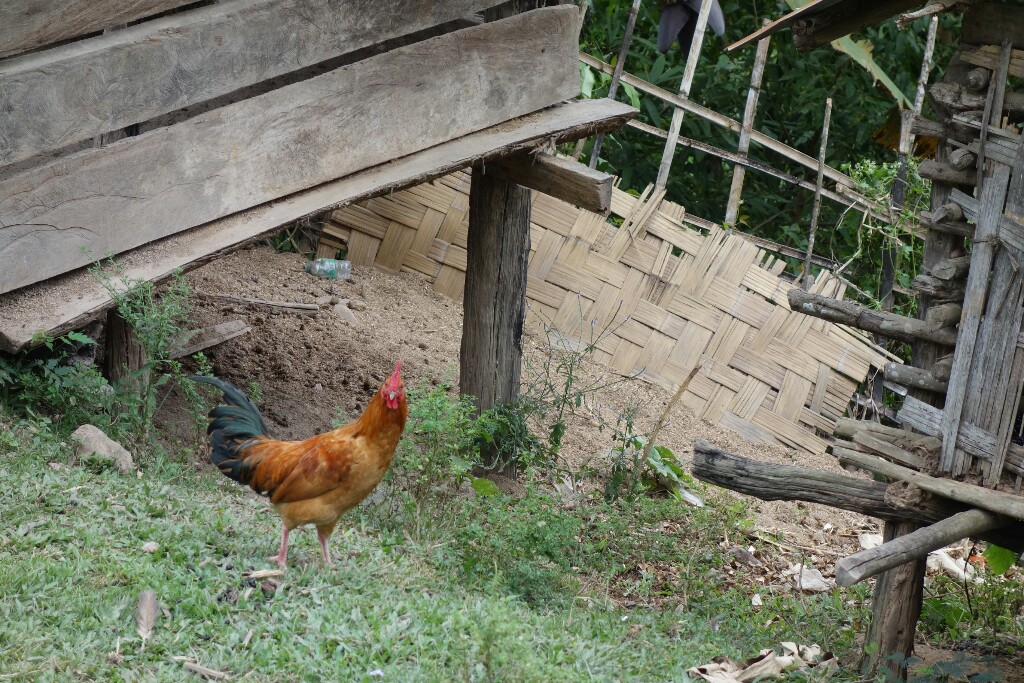 Second day, noodle soup again. But this one is a good one, I get extra sticky rice, lemon and tea. The big glass bottle on the right side is something like fish oil and tastes horrible, every time we order food, we tell the chef to not use it.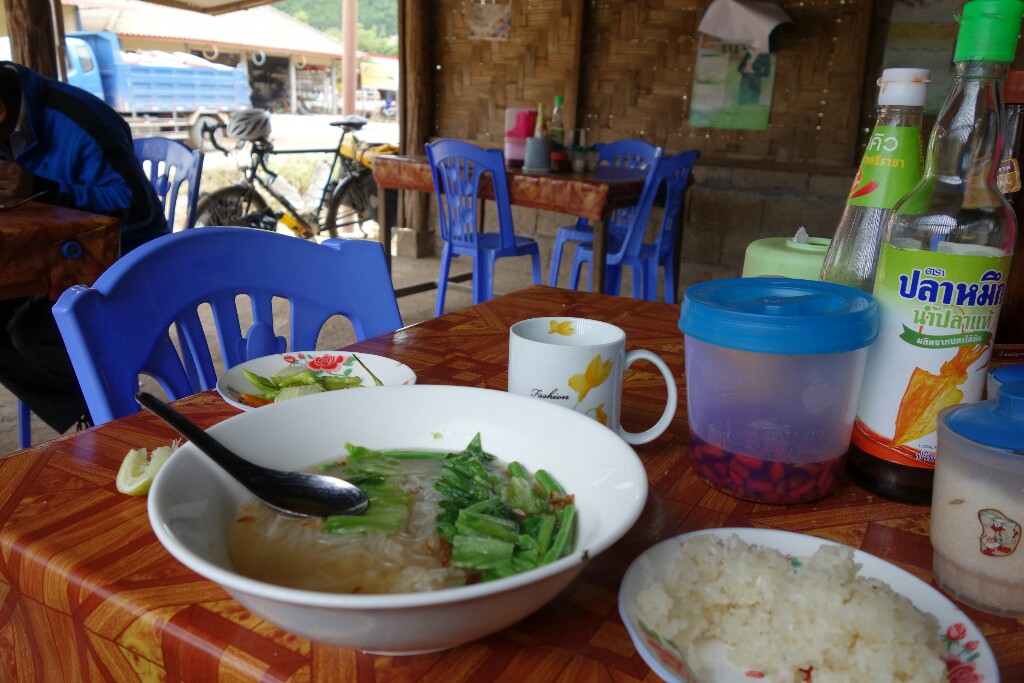 Oh suddenly two cyclist appear in the distance. Sad to say, but I forgot their names, they are from Germany and cycling 4 weeks in Lao. They have light luggage and bicycles. Her bicycle weighs together with bags about 17 kg, that's the weight of my bicycle without bags.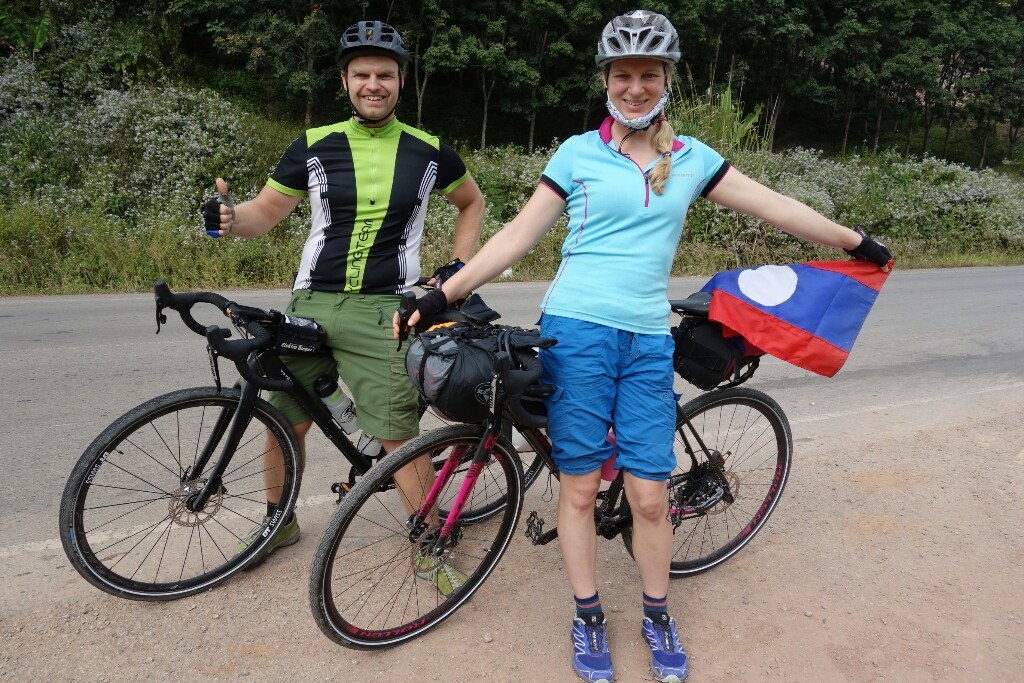 Distance to the capital.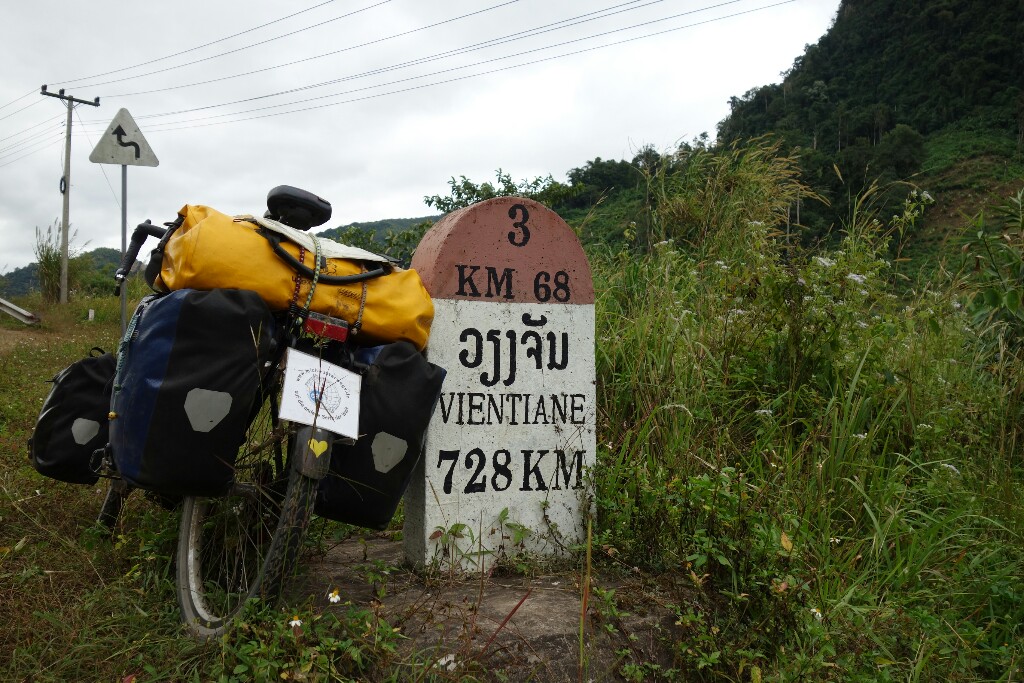 The road is very bendy, steep up and steep down. Some truck drivers are driving much too fast, like if they are doing a race. I see so many old  scenes of accidents, contour drawing of scooters, cars, trucks or body's on the asphalt, rubbish from the cargo or car wrecks.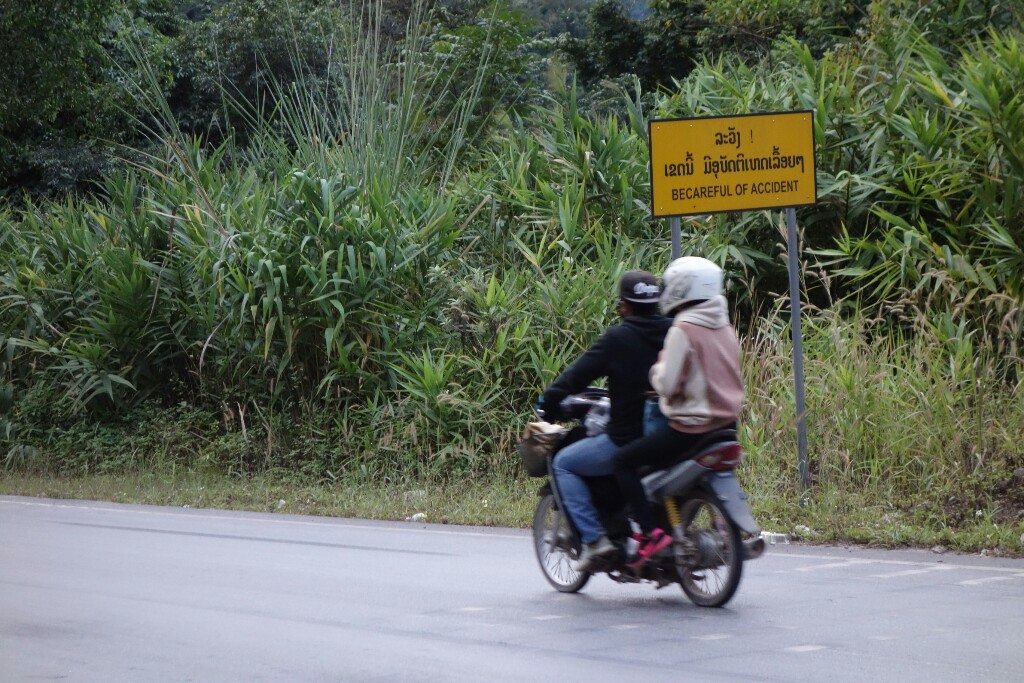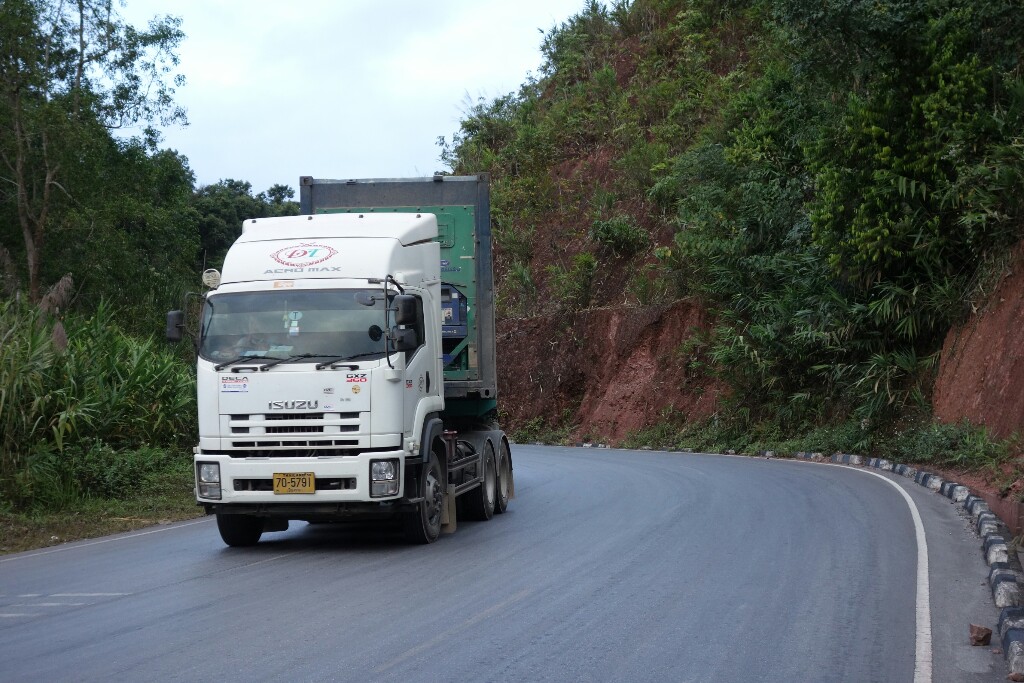 The second night I stay in a small guesthouse near Luang Namtha, after I stored my stuff in the little room I go to pay for the room. The family is sitting around a little table, having dinner. Immediately they make a gesticulation which invites me to sit and eat with them.
The stuff on the picture is very stinky. First I wonder what mysterious mushrooms this could be. But if you know the terrible smell, similar to the air, which comes out of a tube, it's clear that it is caoutchouc. The blocks consist of big flat dumplings, which have their shape from the small bowls which are tied to the stock of the trees.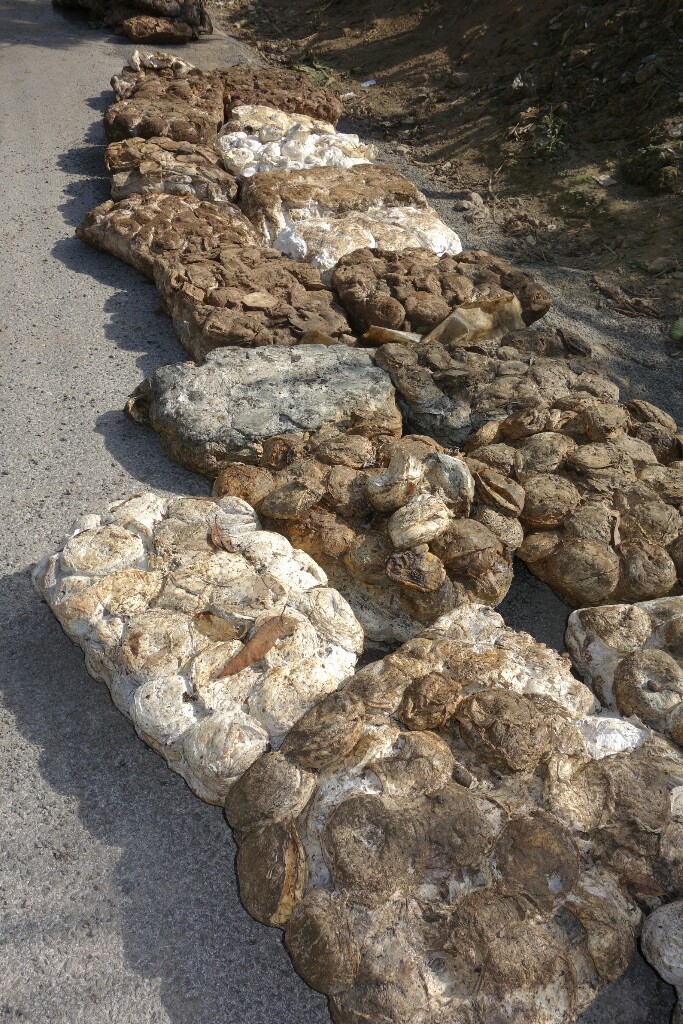 Rubber trees, never seen before. Quite sad for the tree, but fascinating where rubber comes from. They always grow in plantations, so please reuse rubber!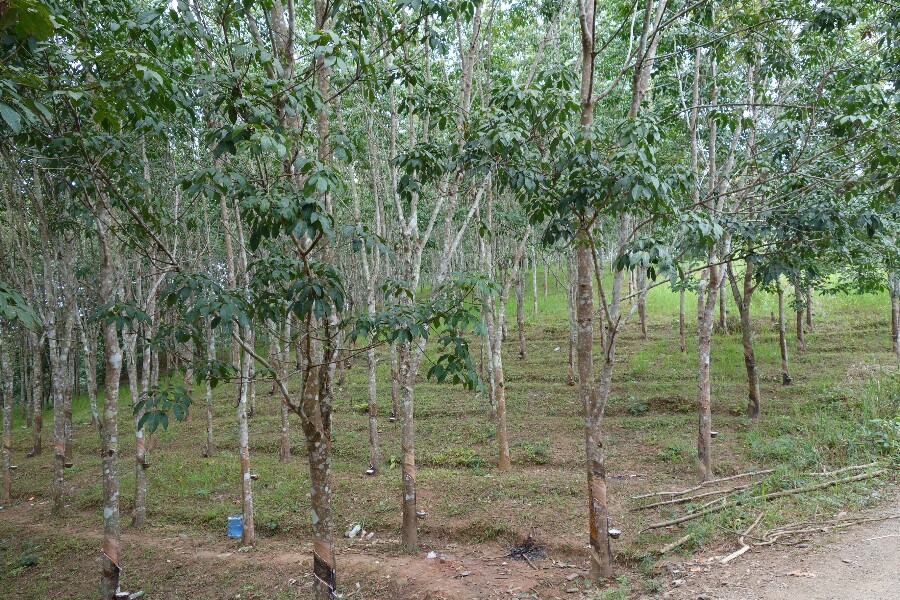 Maybe I repeat myself. A lot of women do the hardest jobs her, I never see a man carrying wood.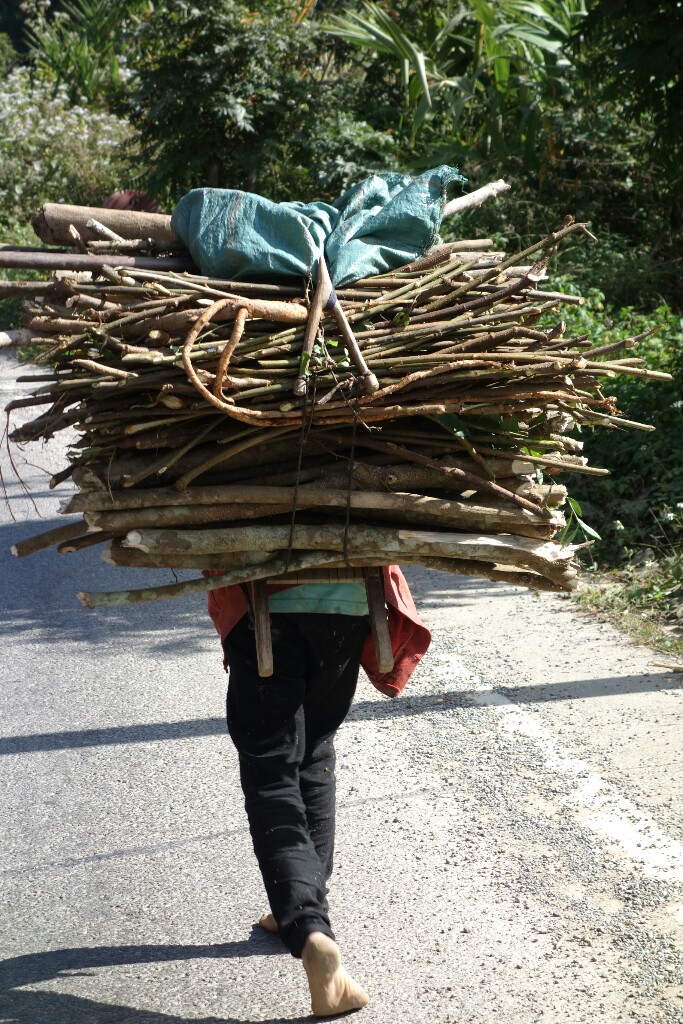 All the children are so happy when they see me and come to the street to say sabaidee/hello. If one child on a school yard recognizes you the whole school will shout, wave and run to the street. These 4 are not near a school, but anyway, nice boys. 
My most northern point of South East Asia is reached. From this junction it's only 18 kilometers to to China. From now on I will go south again and China will remain as a blank spot on the map for me. I celebrate the place with a nice portion of fried rice with vegetables.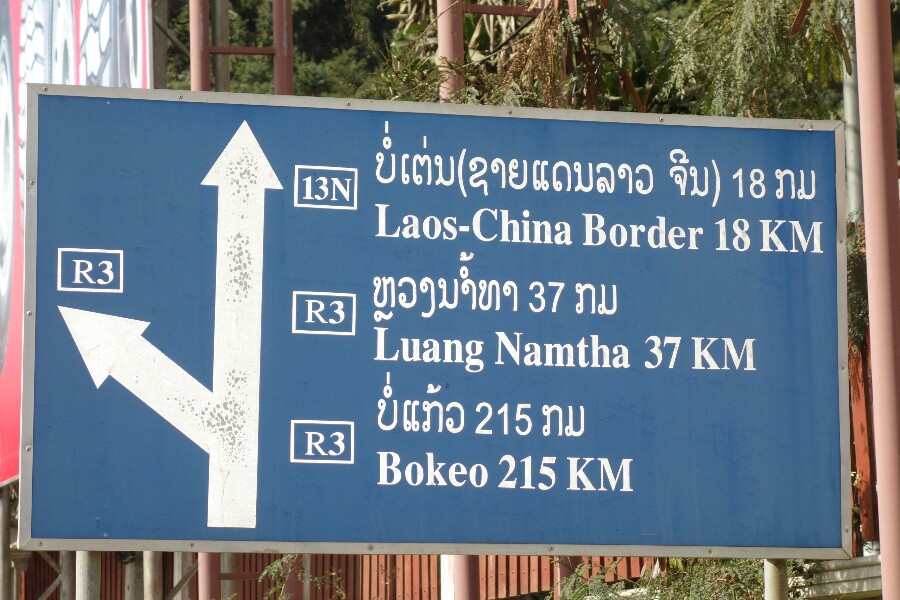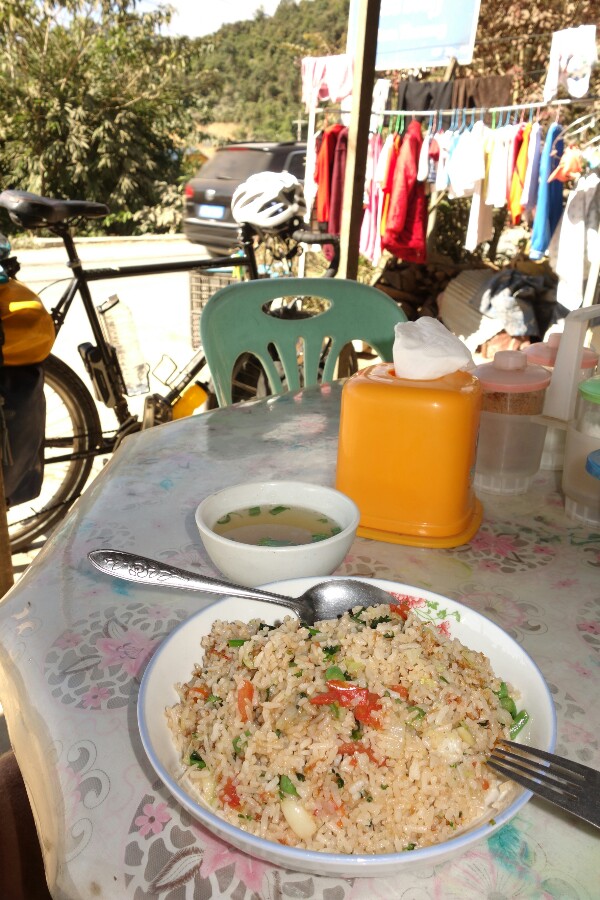 Ja, unfortunately already the girls have to carry the heavy wood. It's not for heating, most people cook with fire here.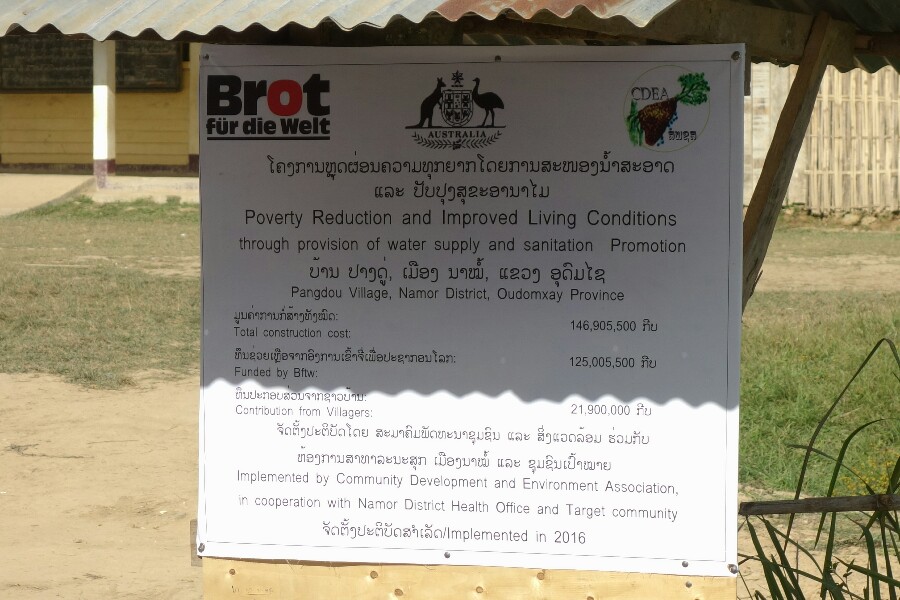 At night I camp again, the view is amazing. Finding a adequate place in the rainforest is not so easy. In the morning a lot of clouds and fog stick between the mountain ranges.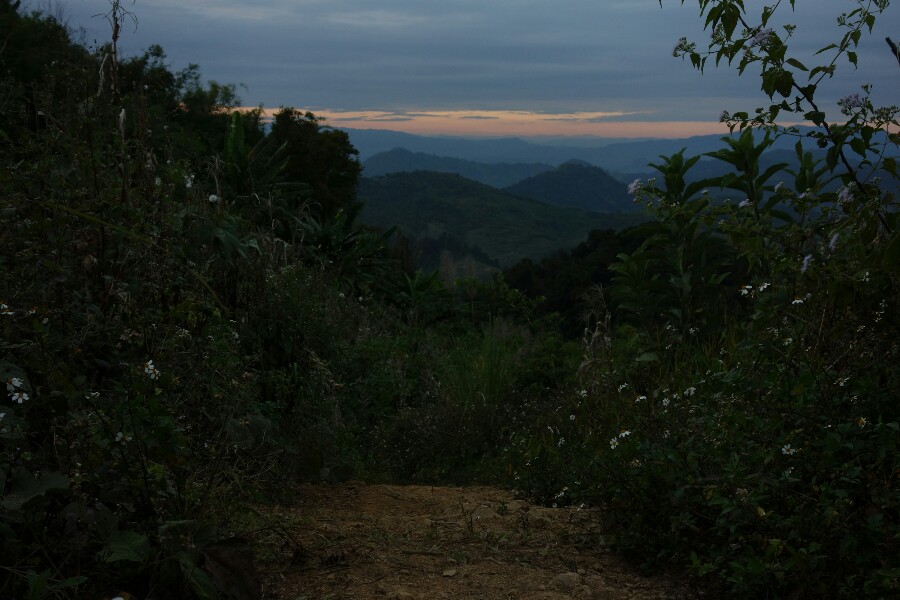 Ja, also street trading is a job for children in Lao.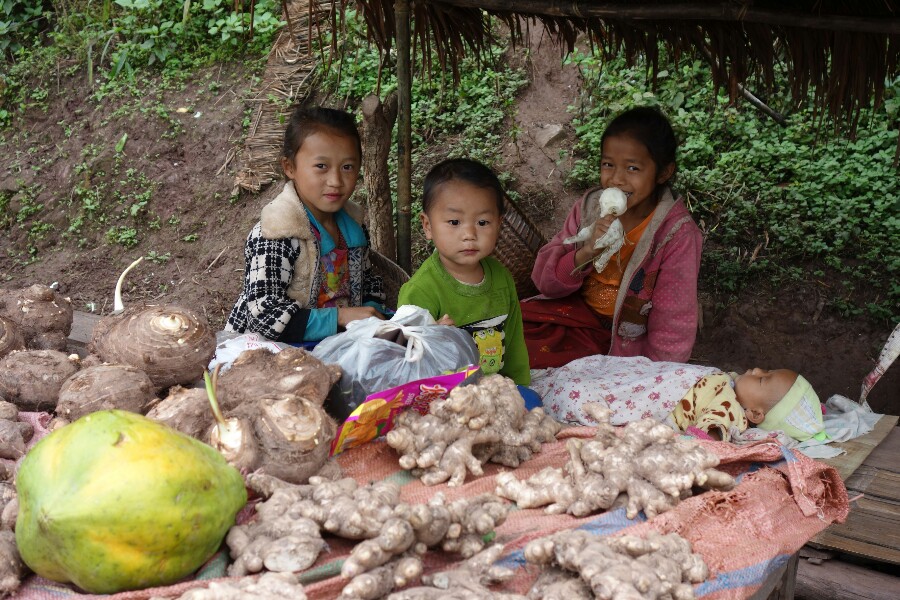 Today it is hard to find a restaurant, which serves vegetarian food. But in the end, when I get this delicious lunch, I am really happy. Most times they serve fresh greens with the meal.
Another time I eat the nice dark sticky rice in the bamboo packing.
Almost all people cook with fire, in the evening when it gets dark you can see all the small bonfires in the street.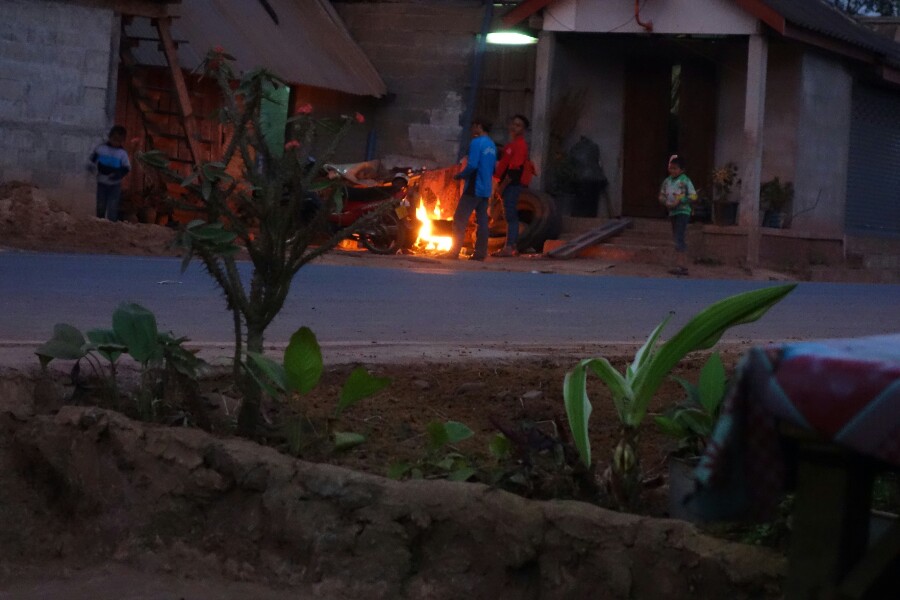 The next day starts very foggy and I have to climb a pass up to 1300 meters above sea level. Sadly they clear too much rainforest and just one visible 'simple' impact is the erosion. For a short moment I have a good view from the top and then it gets extremely foggy again. So I have my rest in the cloud.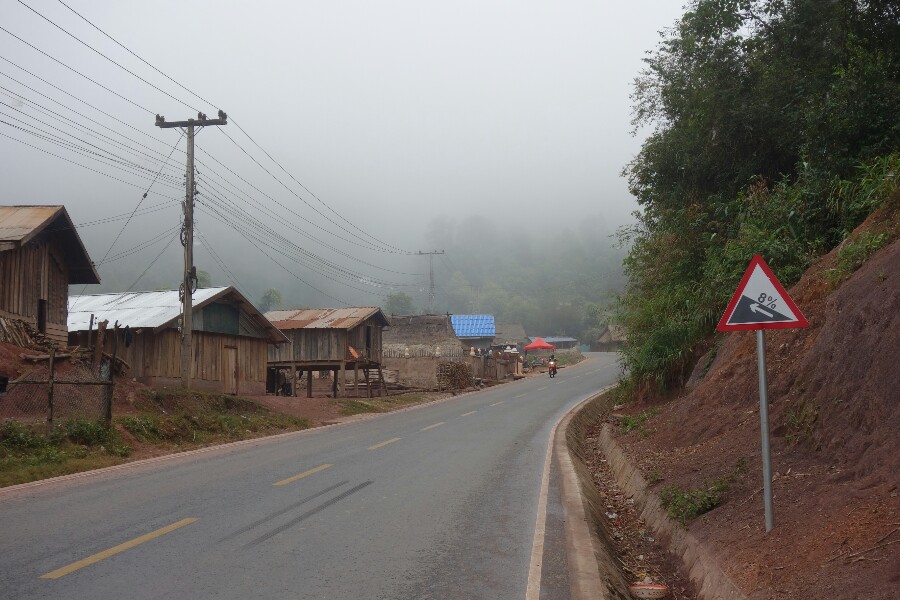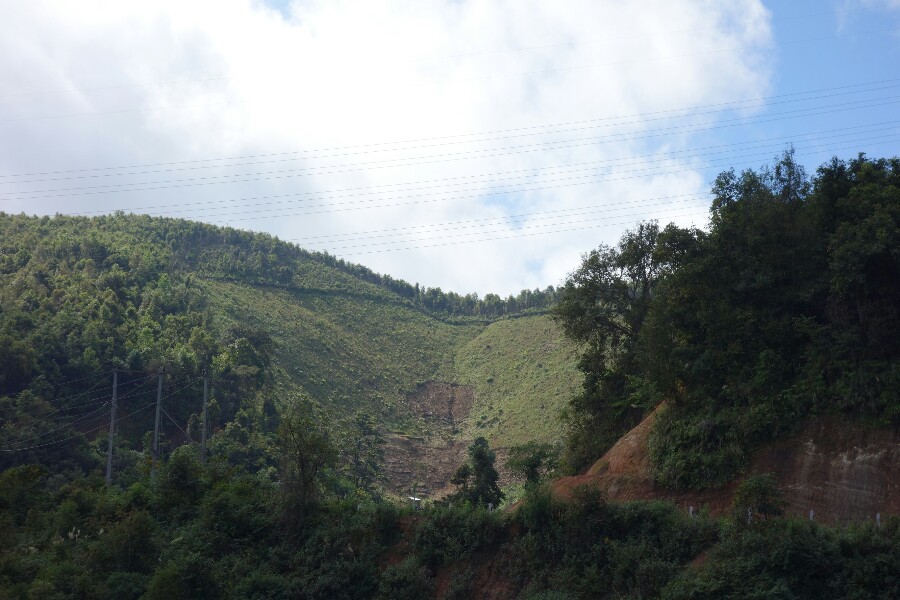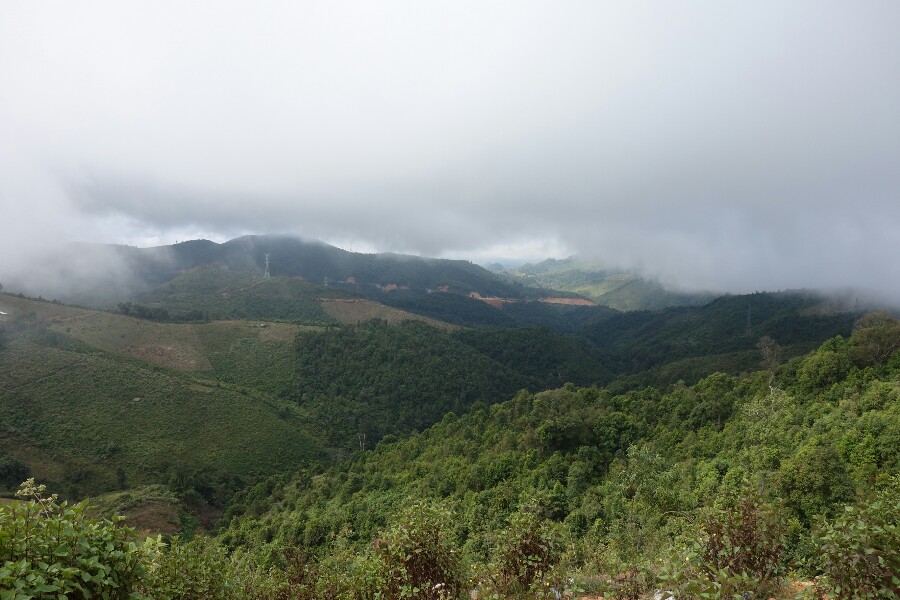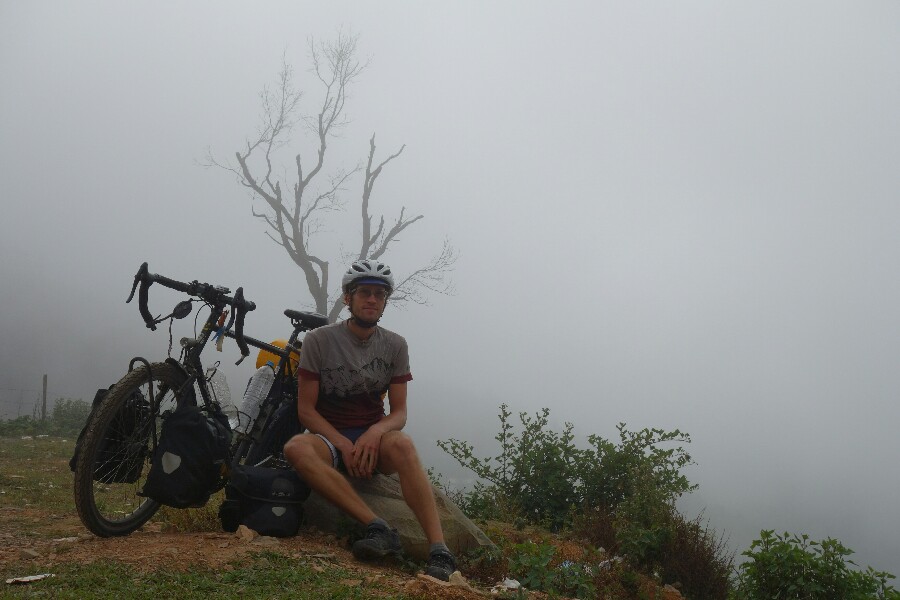 Beer and bees.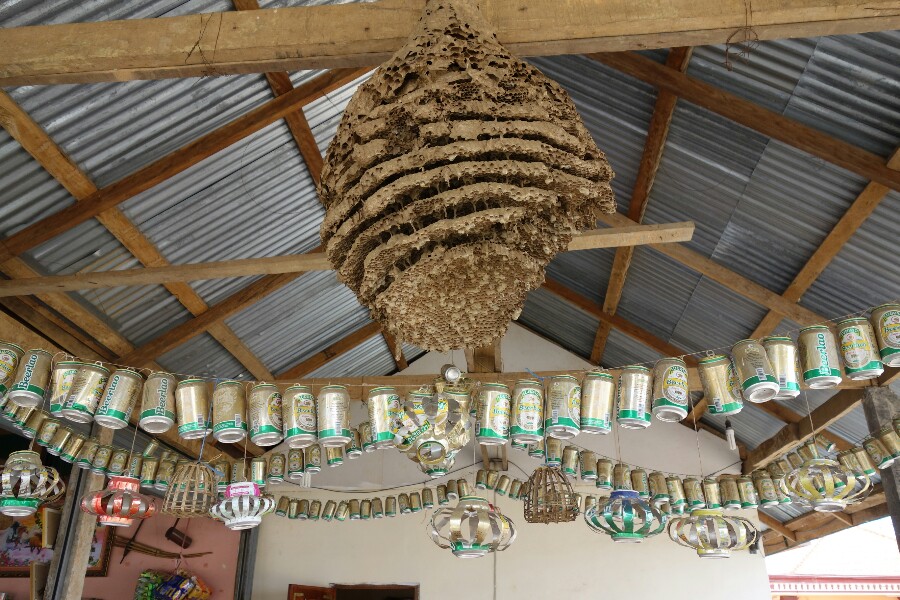 The view on the way down is horrible. I see just some meters ahead.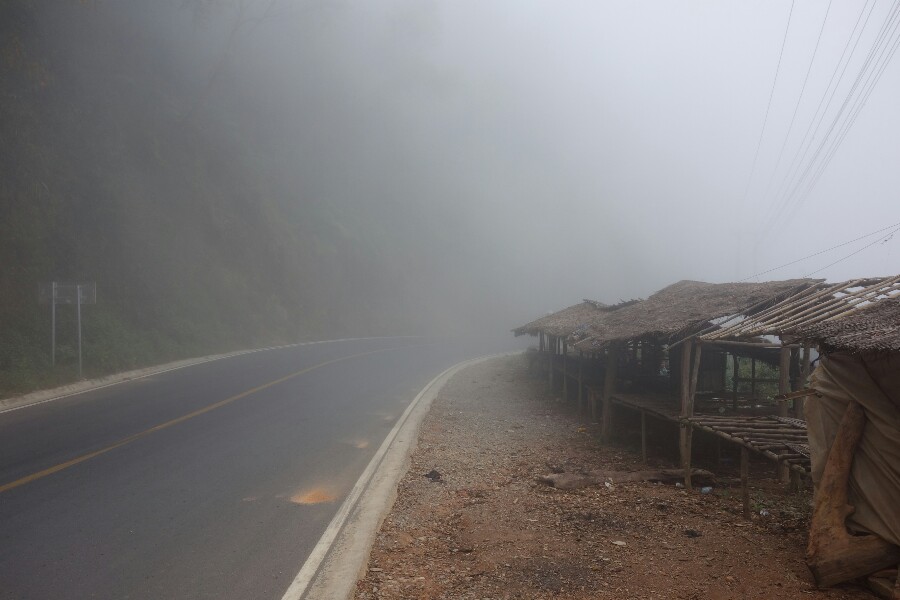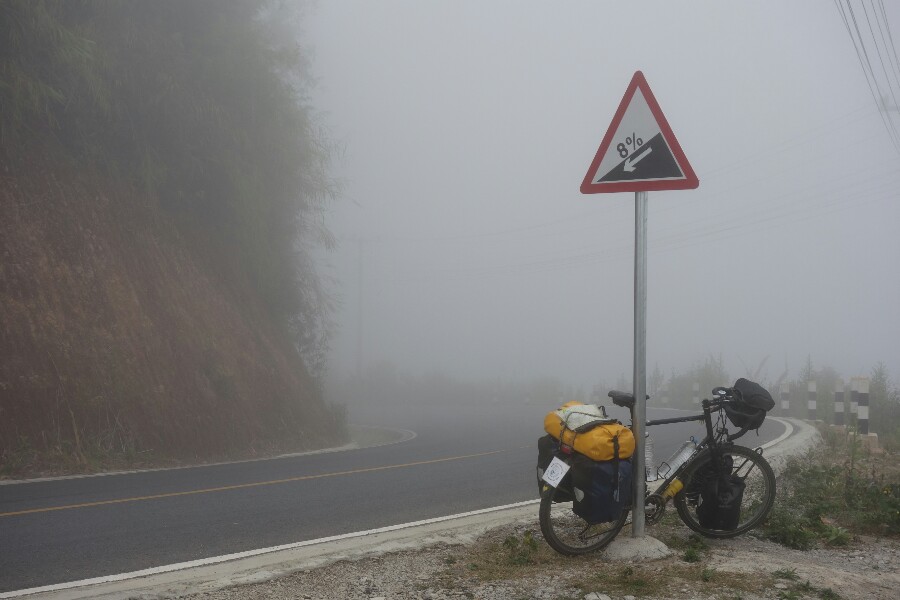 But suddenly I see a leopard, regrettably it's dead!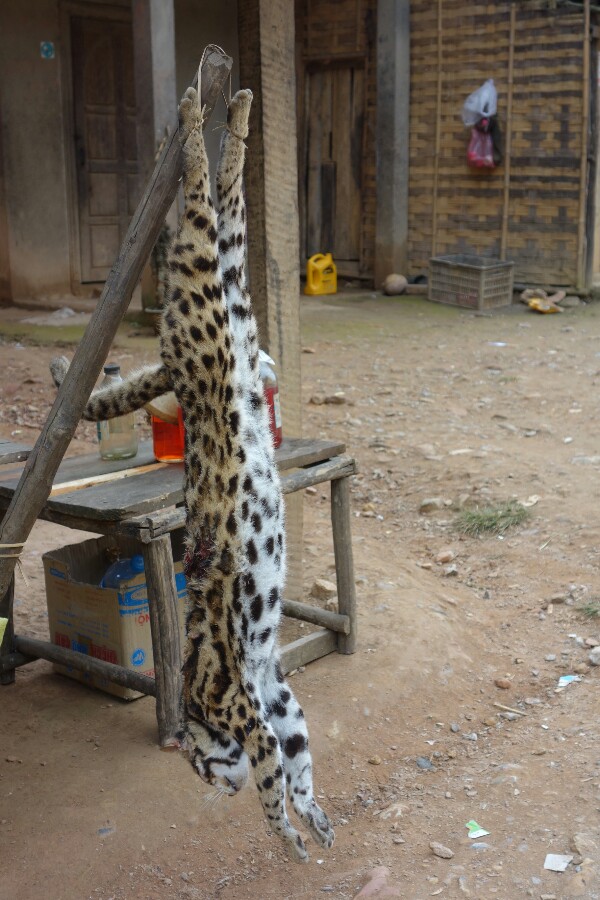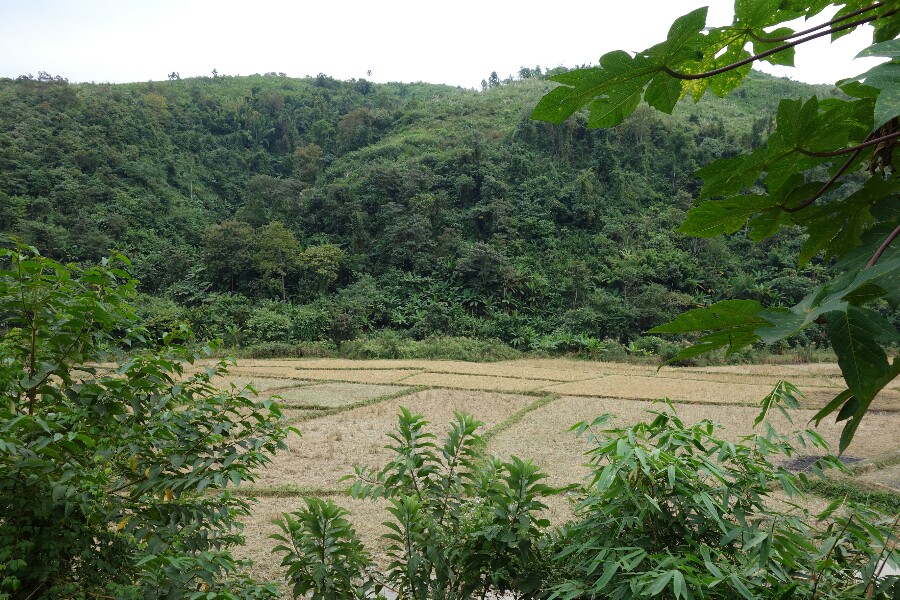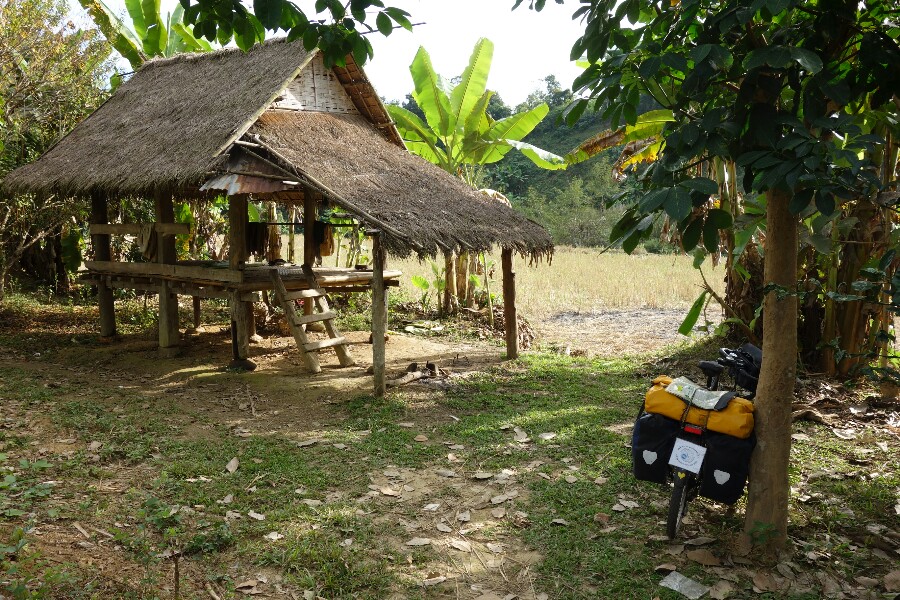 For a short moment I think about harnessing my bicycle in front of the pony trailer and go on that way. But who should give the power for the bicycle then?
Huge bamboo in the sky.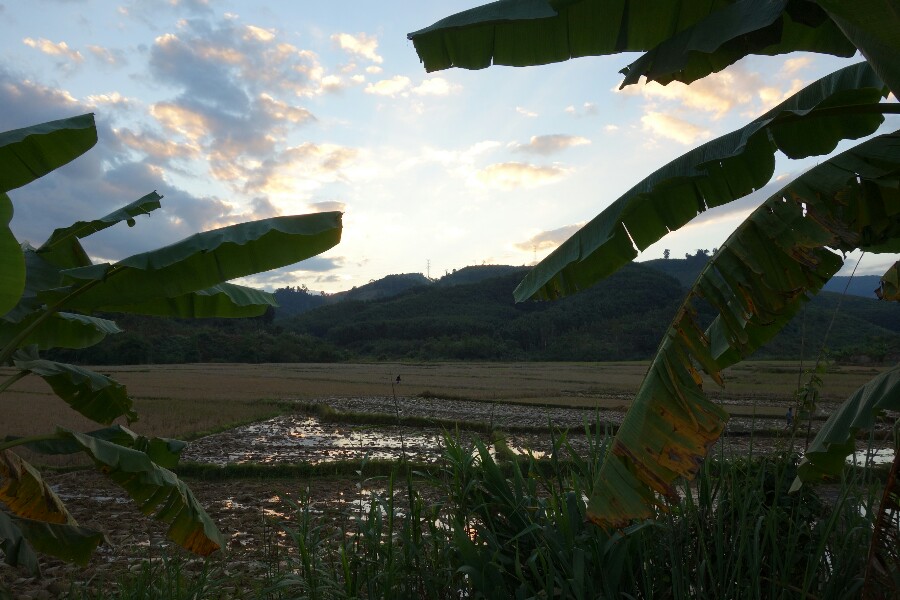 To have some company, I make a small bonfire at night. The next morning I meet a man and his water buffalo on my way back to the mainroad.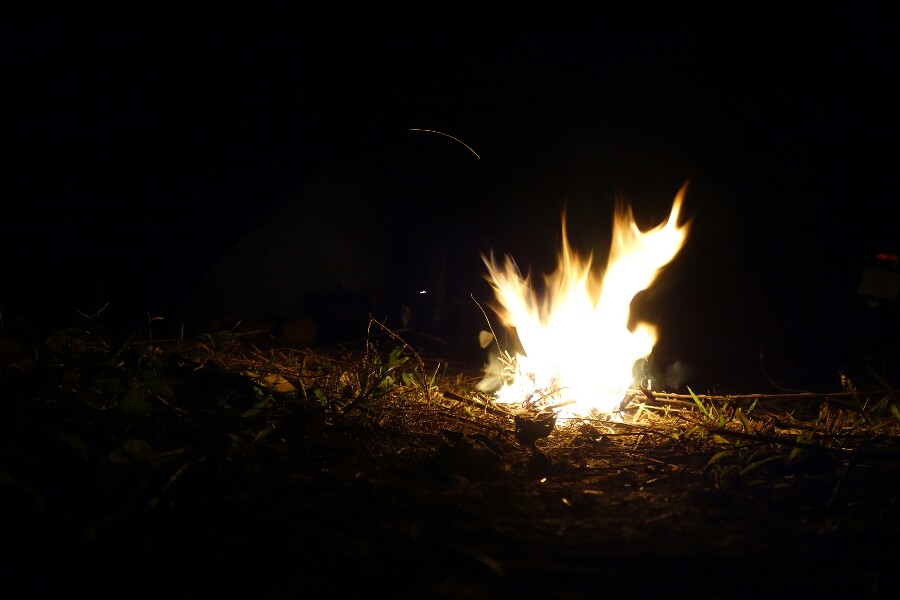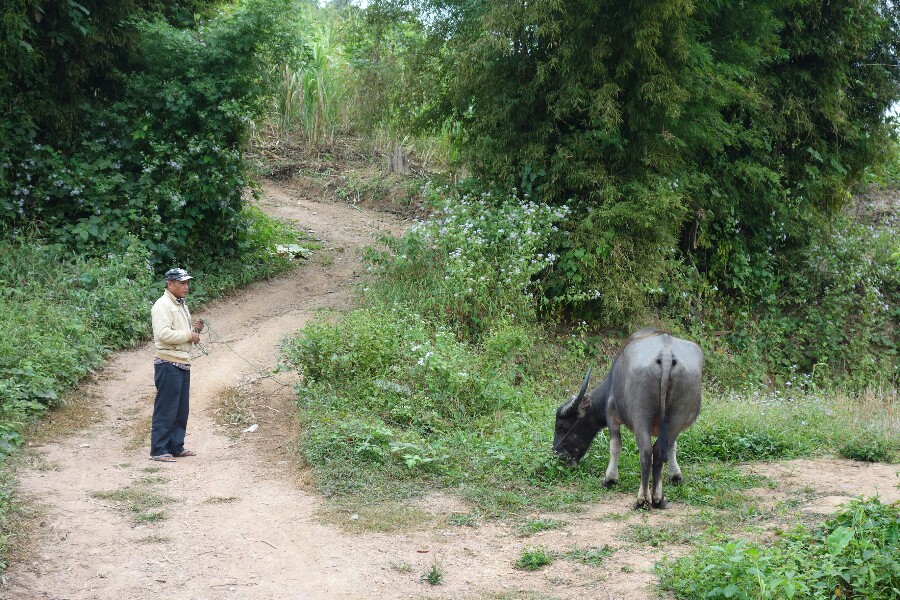 Farmers planting their rice seedlings.