After six days I meet Johanna again, she cycled towards me from Luang Prabang together with Jonathan for one day.
Jonathan comes from Canada, he started cycling in England also in April. He earns money selling photos and writing newspaper articles. His blog is written in French, but Google translate works very well: http://www.jonathanbroy.com
Jonathan's bicycle and him taking a picture of a man preparing the rat over the fire.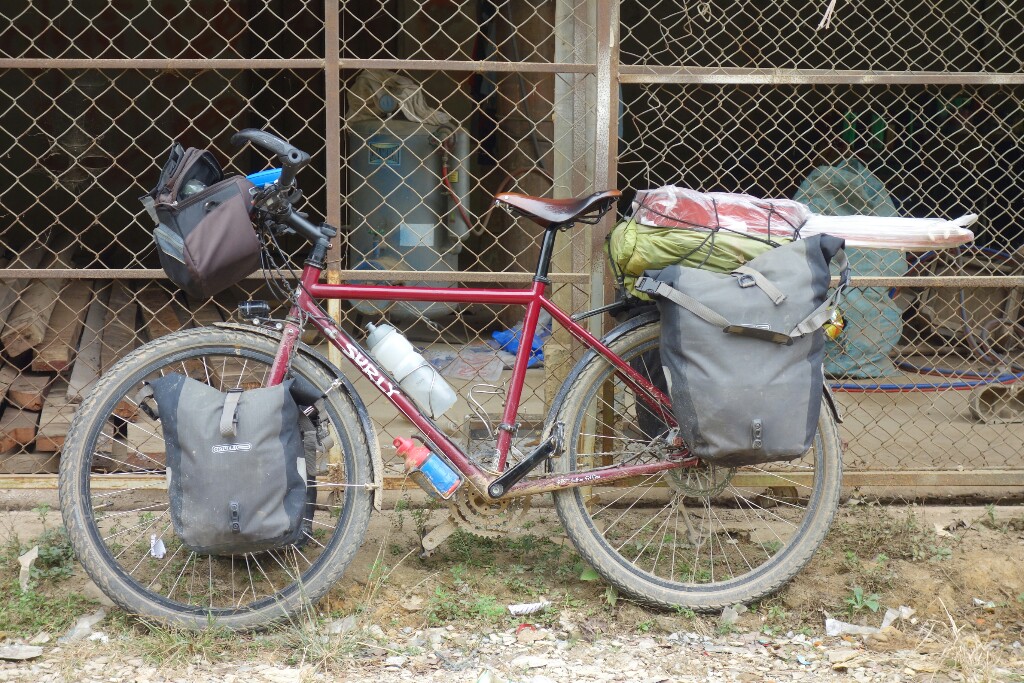 We celebrate our reunion with a swim in the river.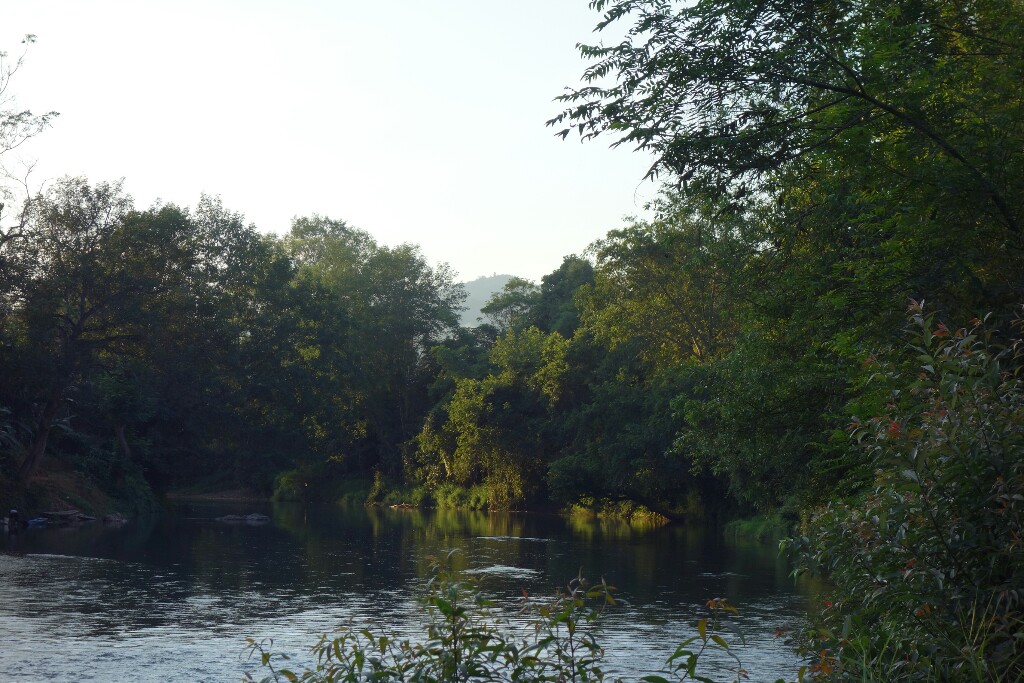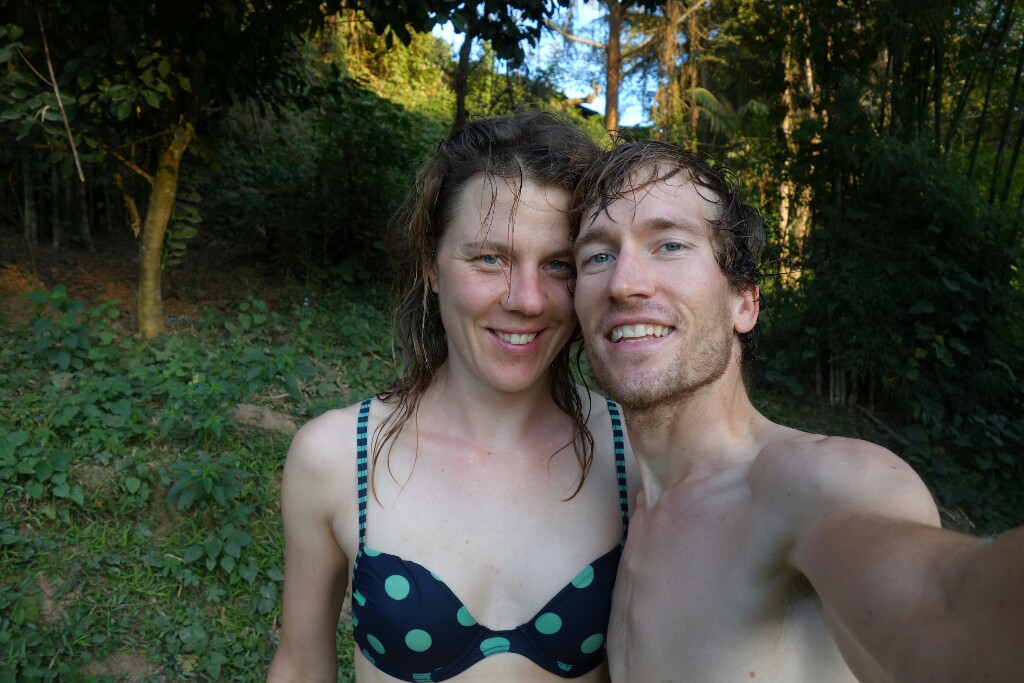 A lot of shops sell so much sweet stuff.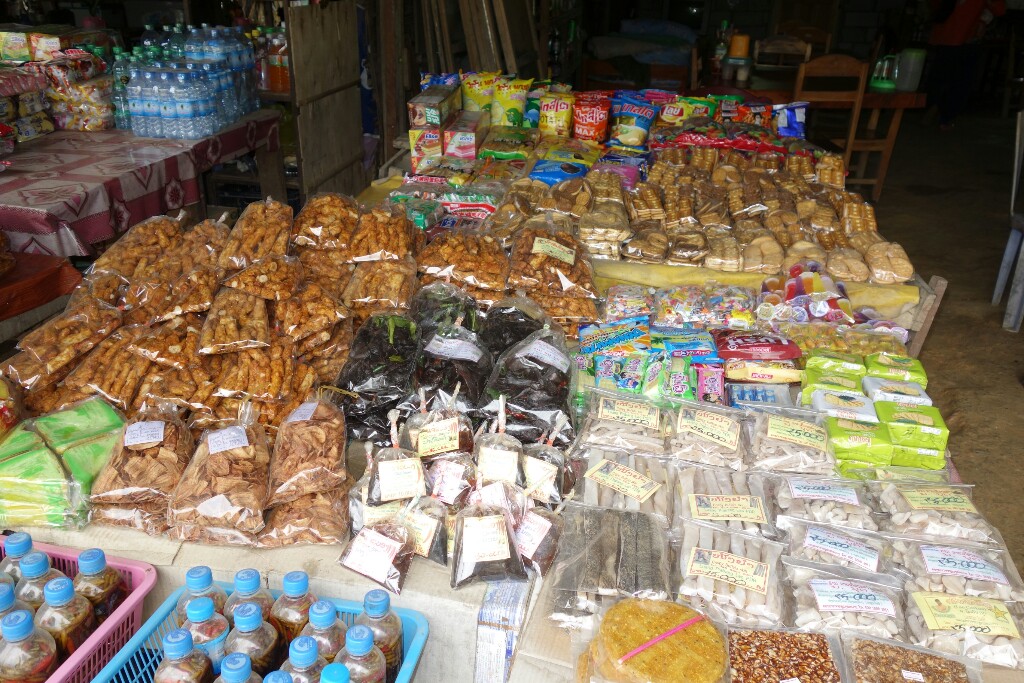 Not sure if someone is still working on this car body.
Almost everywhere we see women weaving with old nice weaving looms.
Children of Lao. They come running down to the shop where we stop to buy something.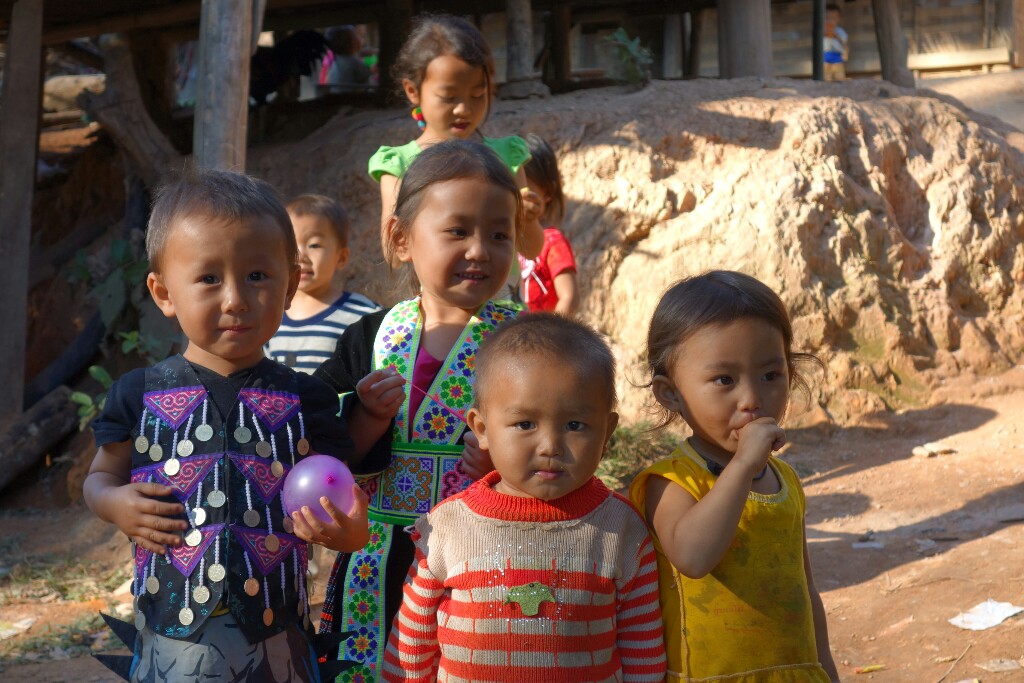 One leftover gigantic rainforest tree.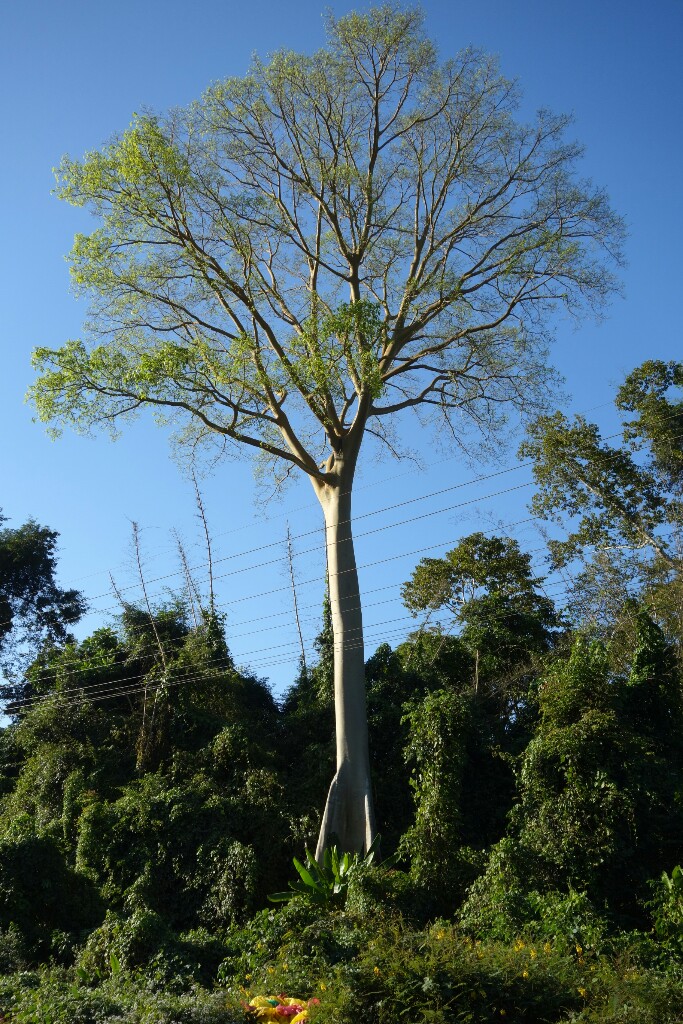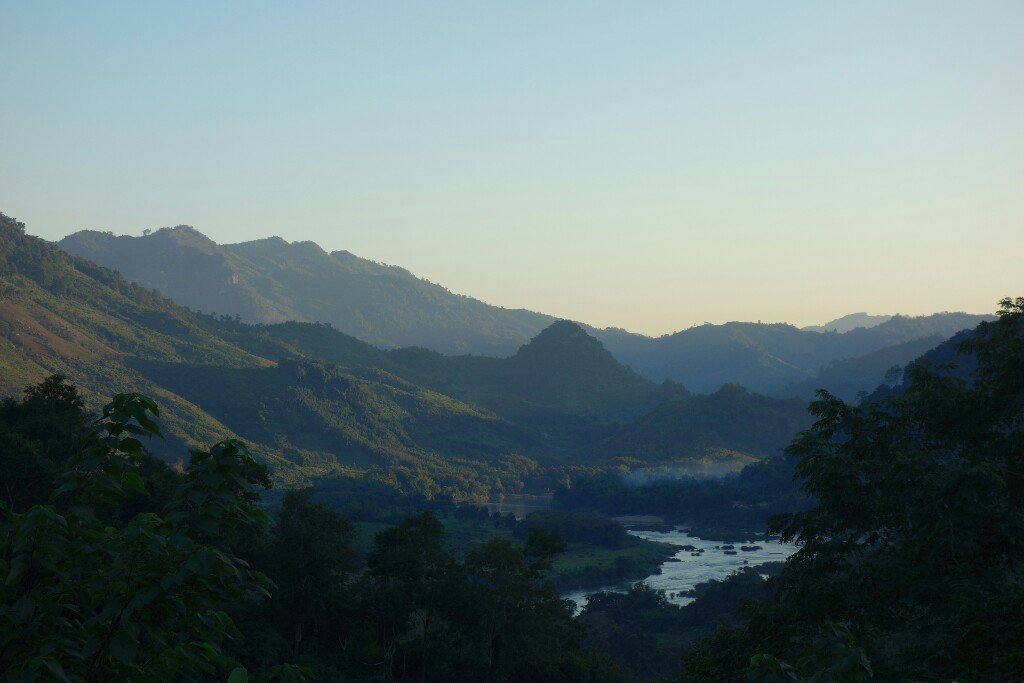 Do you find an animal? The night before Luang Prabang we camp somewhere, once more we see a small baby scorpion when we prepare our dinner. We chase it and carry it away carefully.
Every day at different times we meet big groups of children on bicycles. It's nice to see, that so many pupils cycle to school and home.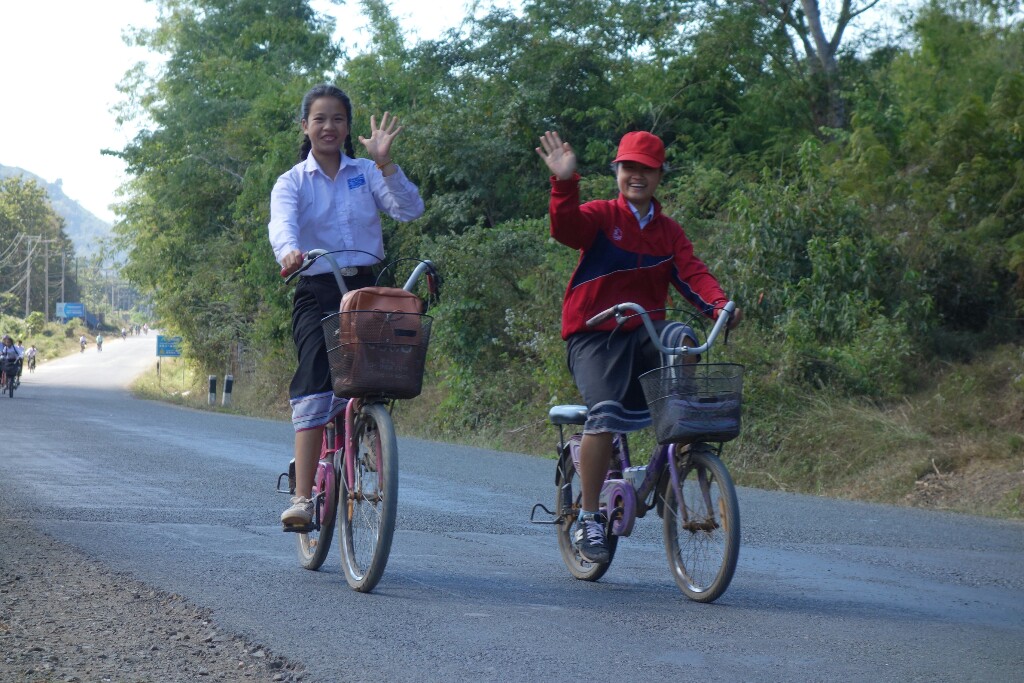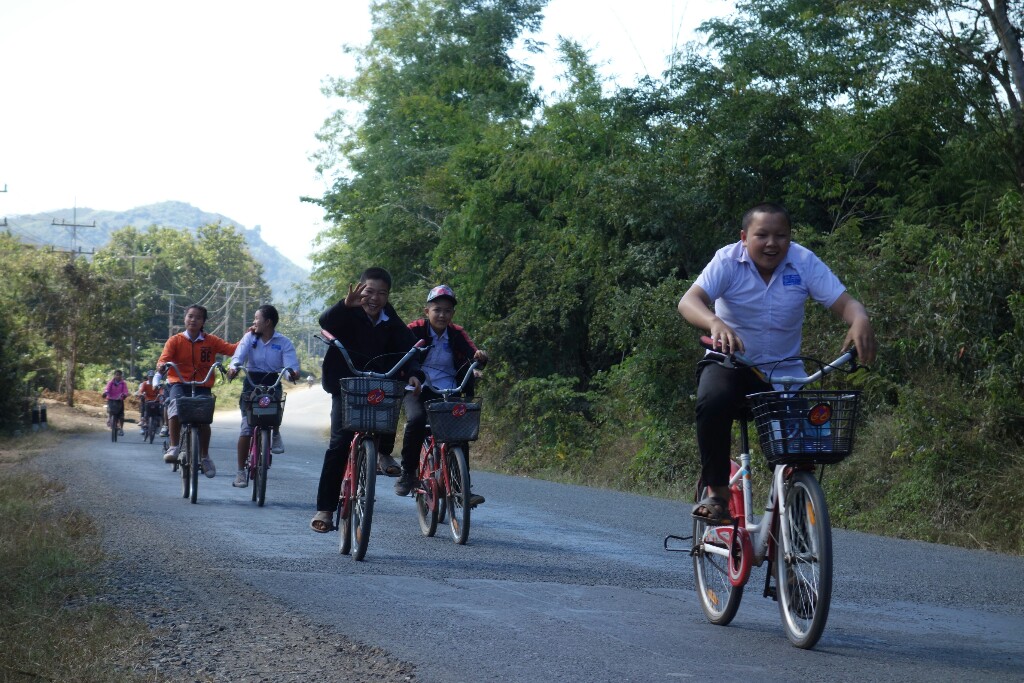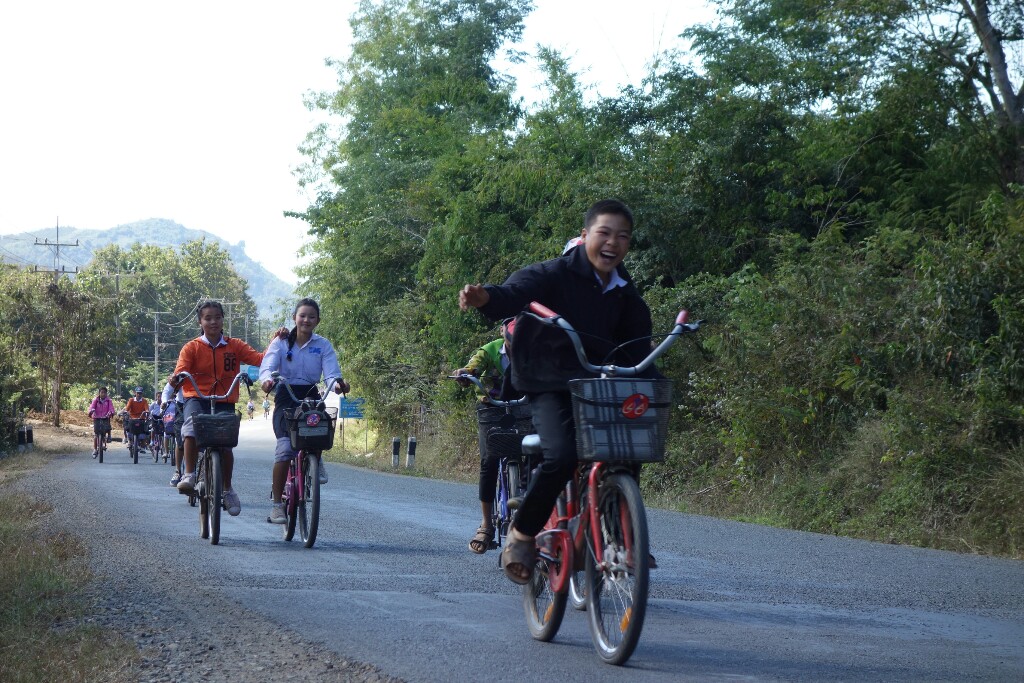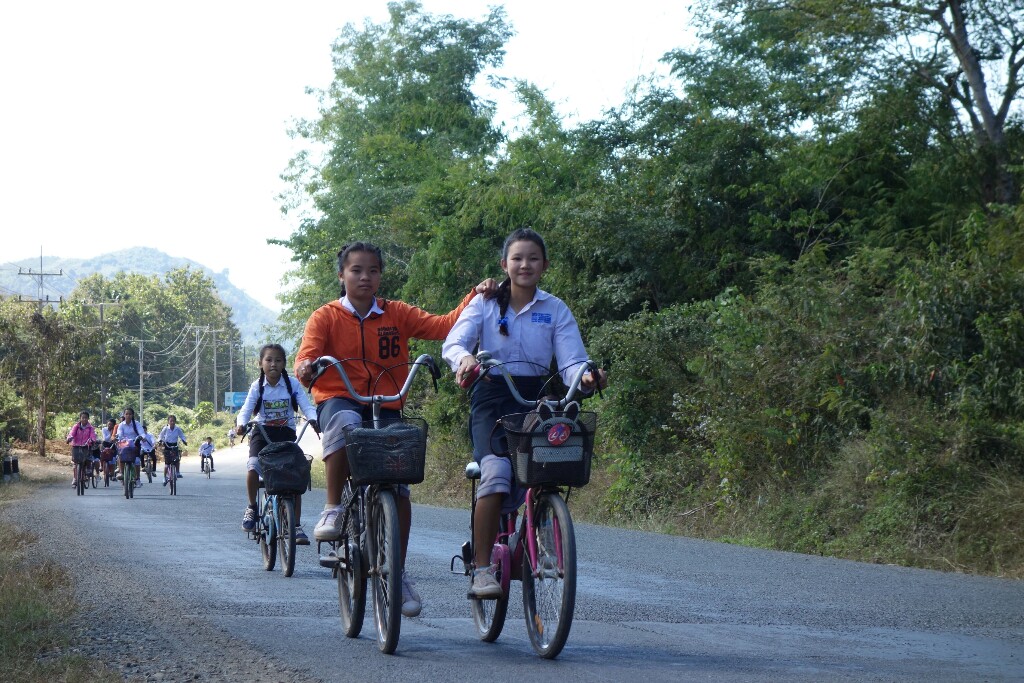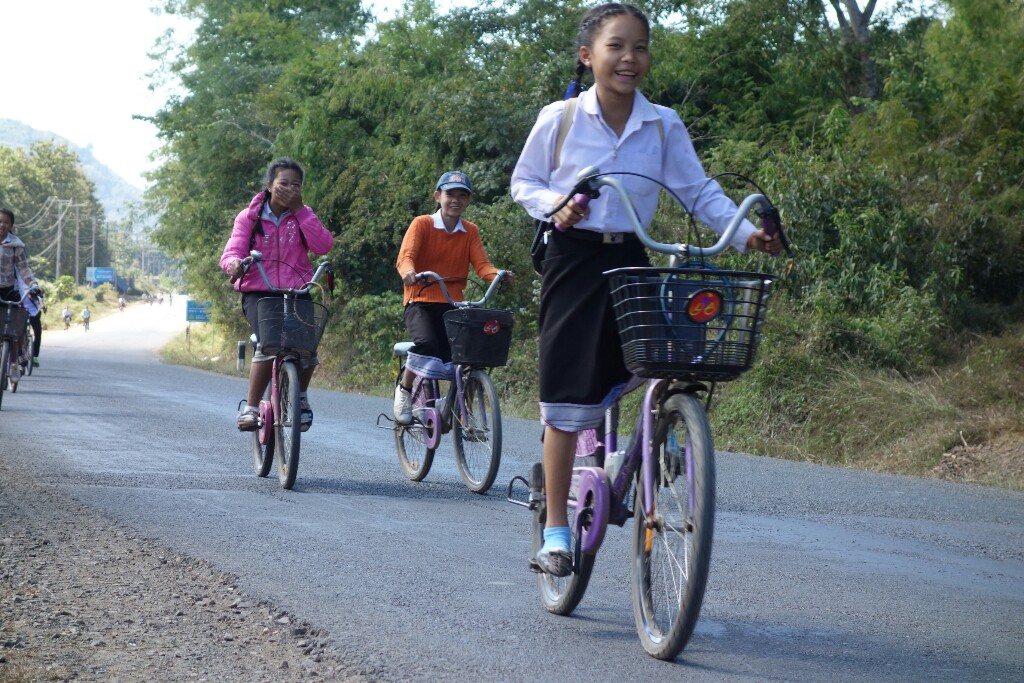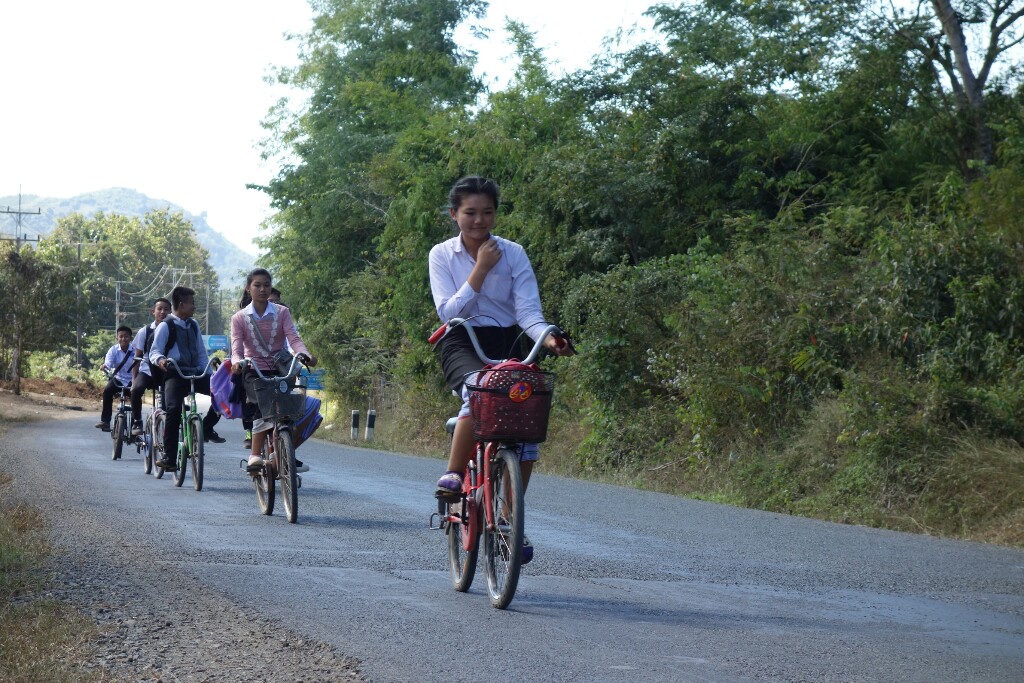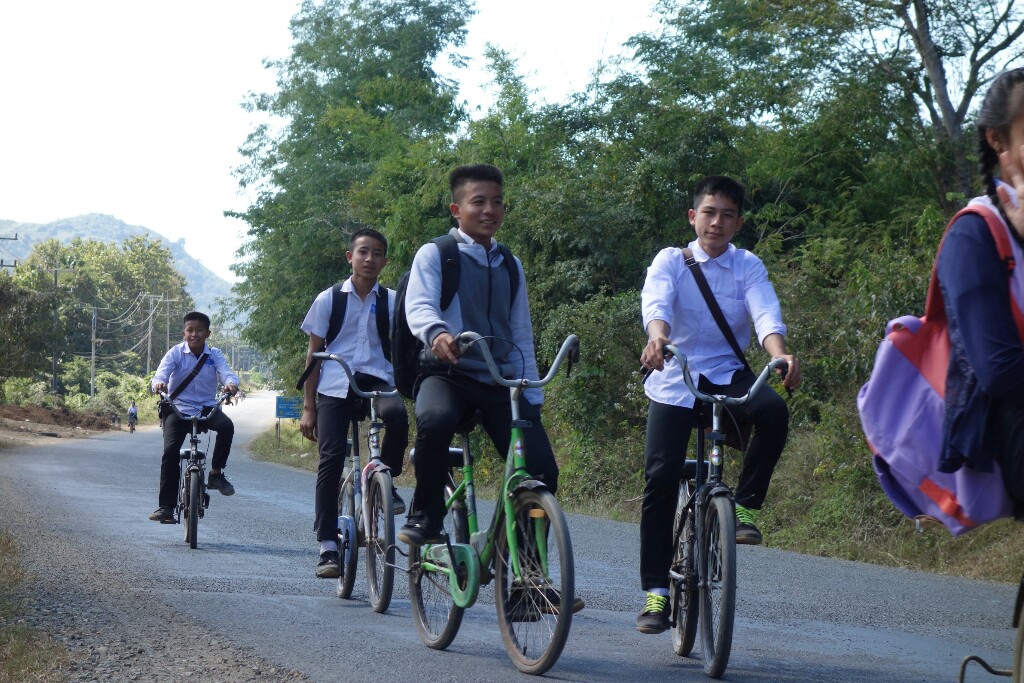 We cycle along the beautiful Ou River towards the old capital.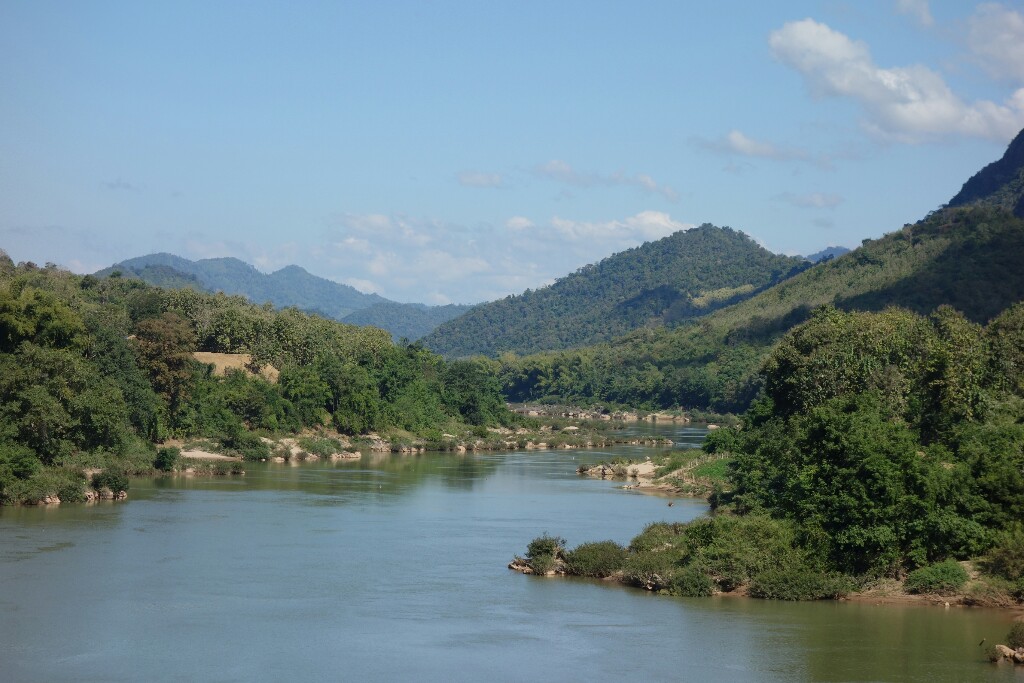 I see my first (not wild) elephant in nature. He is chained to a tree, then one of the guys sitting next to him gets a phone call. Very fast he unfastens the huge mammal, easily climbs on it and gallops away. Seams as he has an appointment for a tour or something.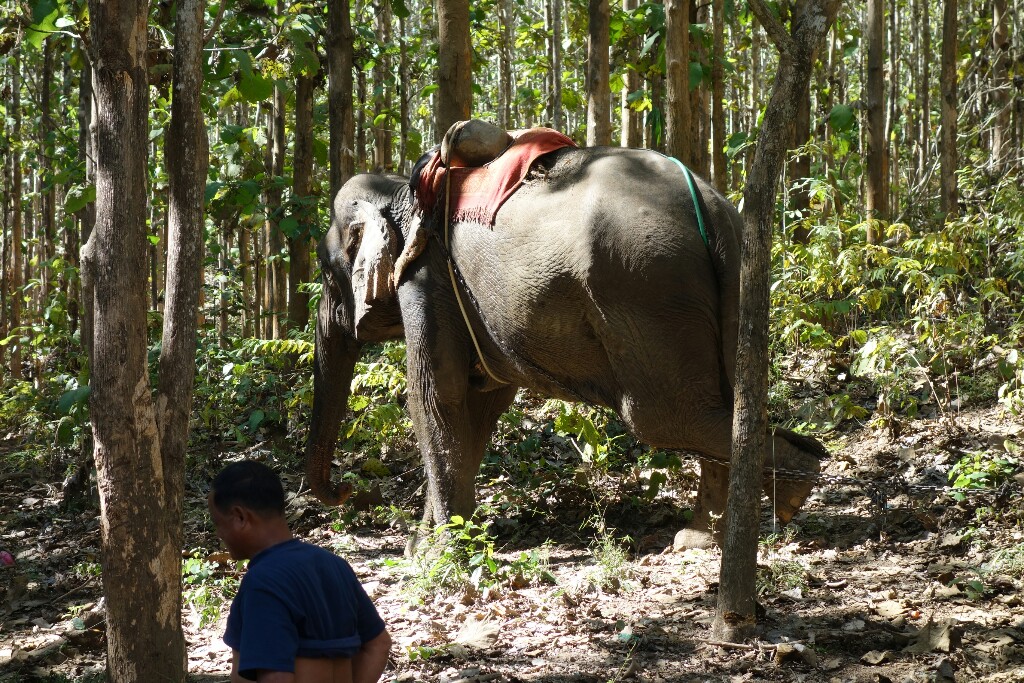 We love the impressive water buffalos. 🐃
After looking for a longer time for an adequate place to stay over Christmas, Johanna guides me to the night market where they have sumptuous assortment of food. For 15.000 Kip, it's about 2 €, you can take one plate from the vegetarian buffet. It's crowded like the Berg in Erlangen. For dessert we choose a cake from the nice looking bakery, but the taste is more like a supermarket cake at home. 😉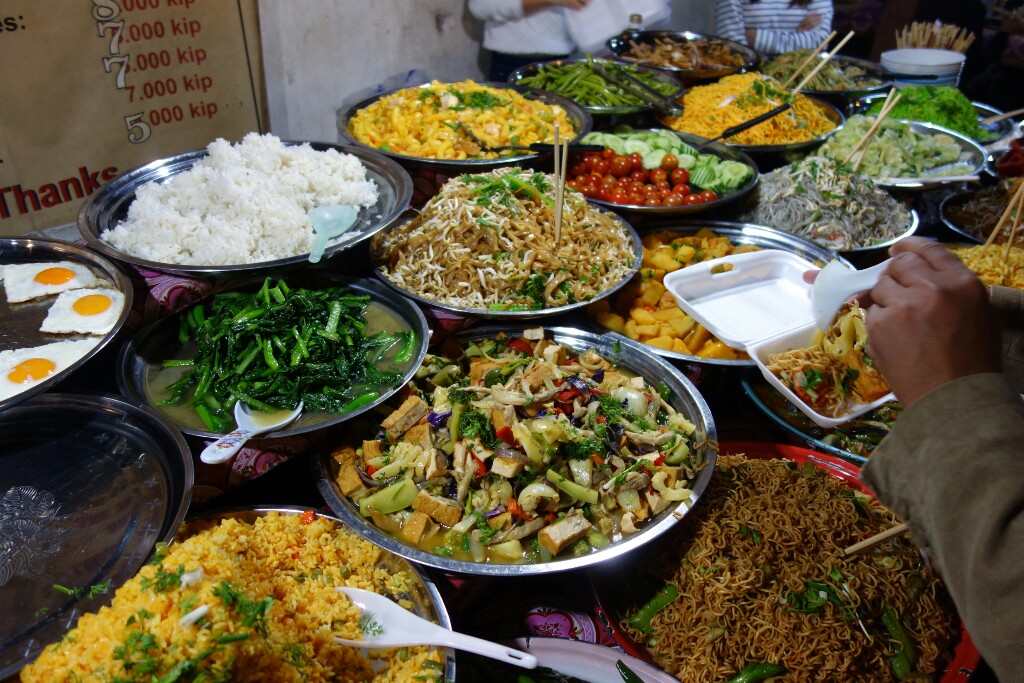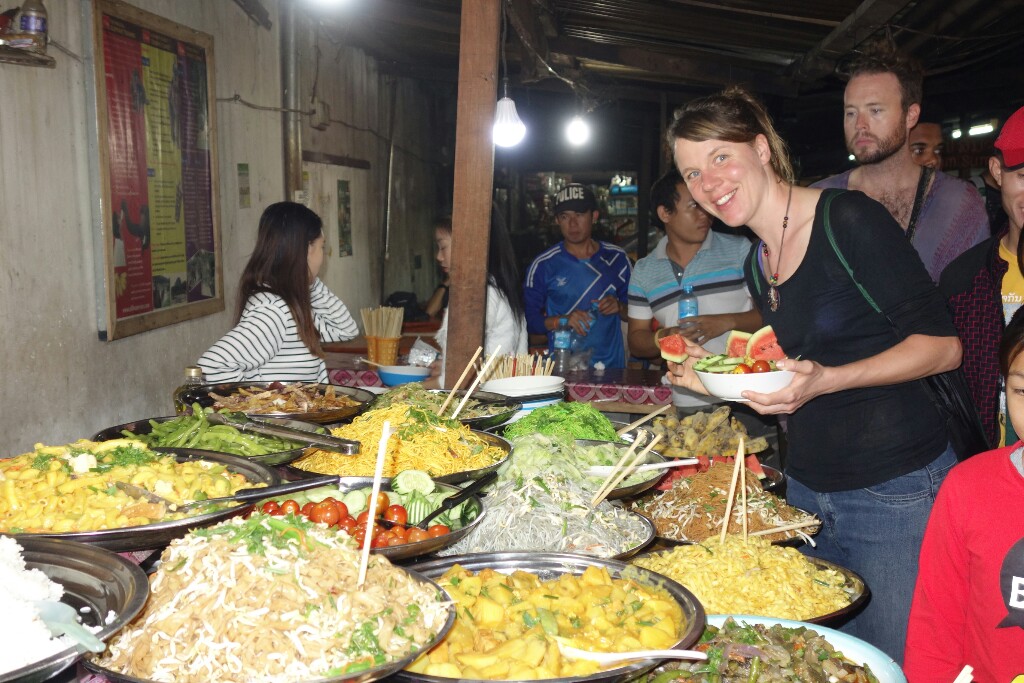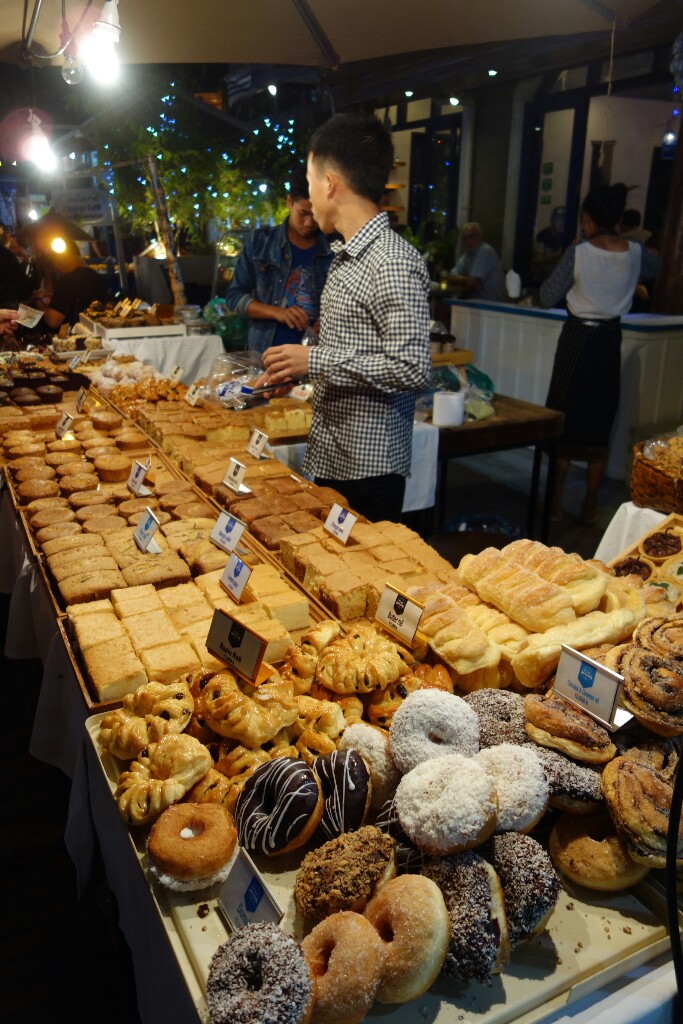 Walking home, we see a multi-pineapple. 🍍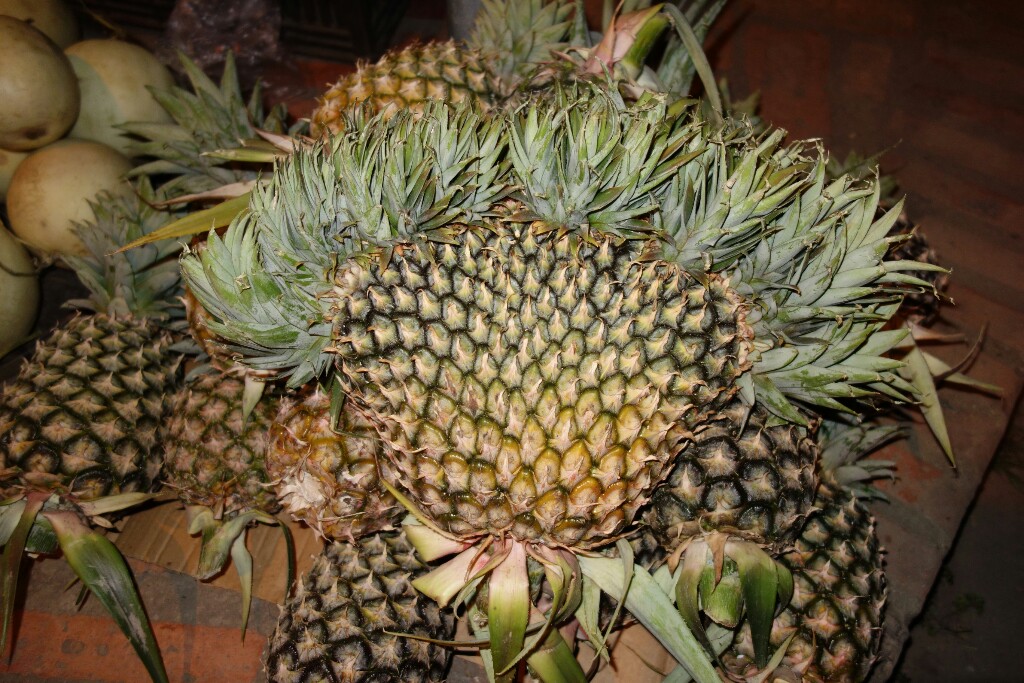 The next day we visit the Vietnamese embassy and apply for our 30 days visa. We will pick it up after three days and pay 45 $ each.
When we walk along the Mekong, we meet our friend Tim from England again.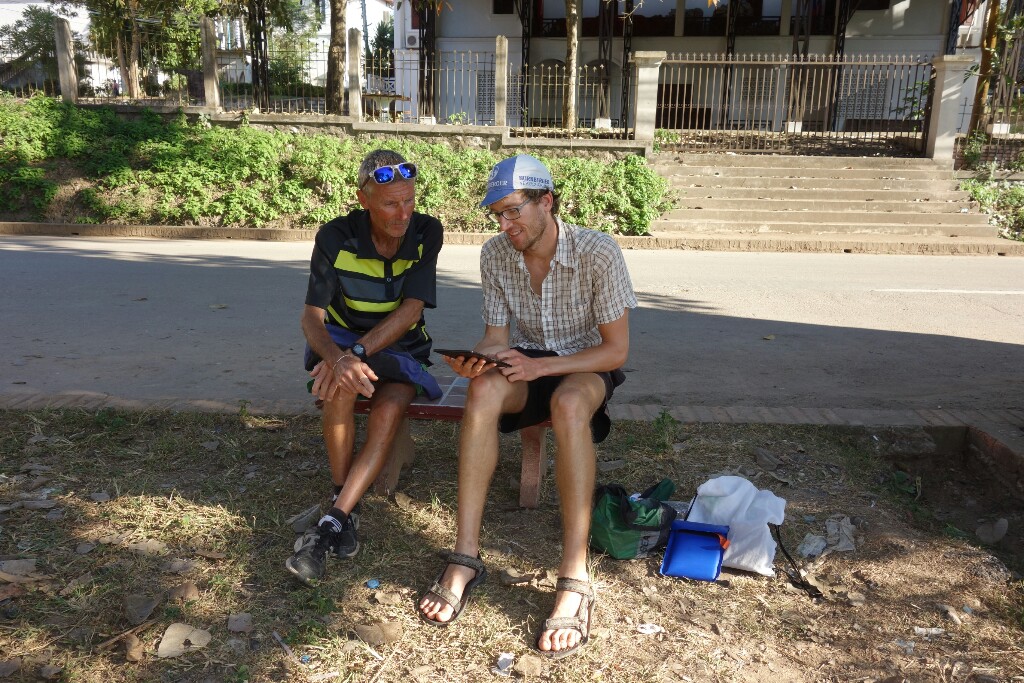 Our tiny nice balcony of our room.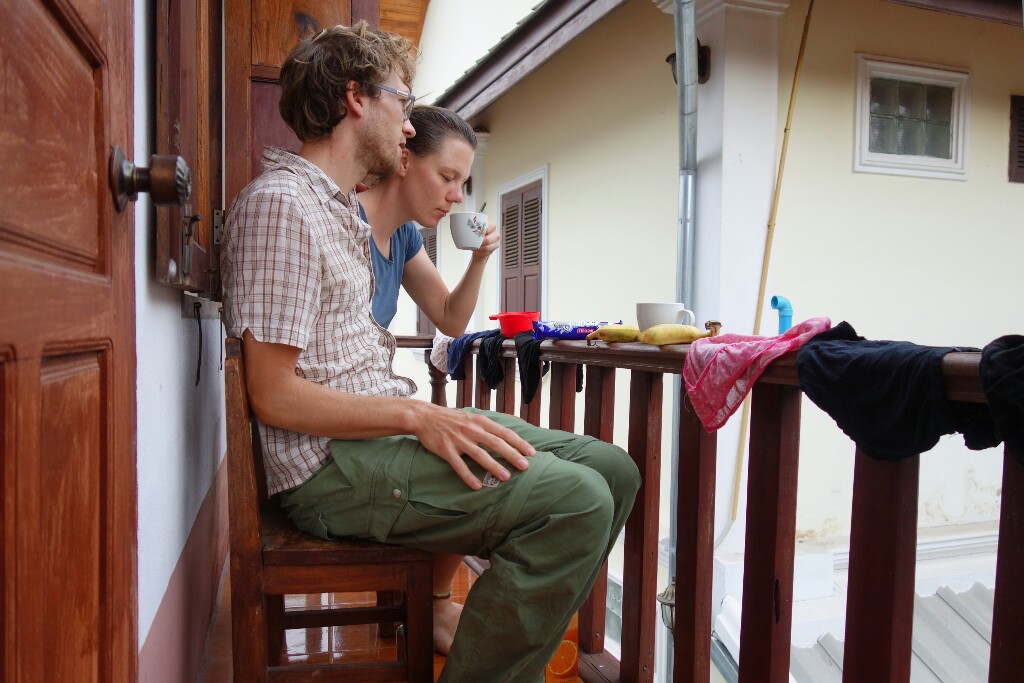 Extremely colourful, dragon fruits.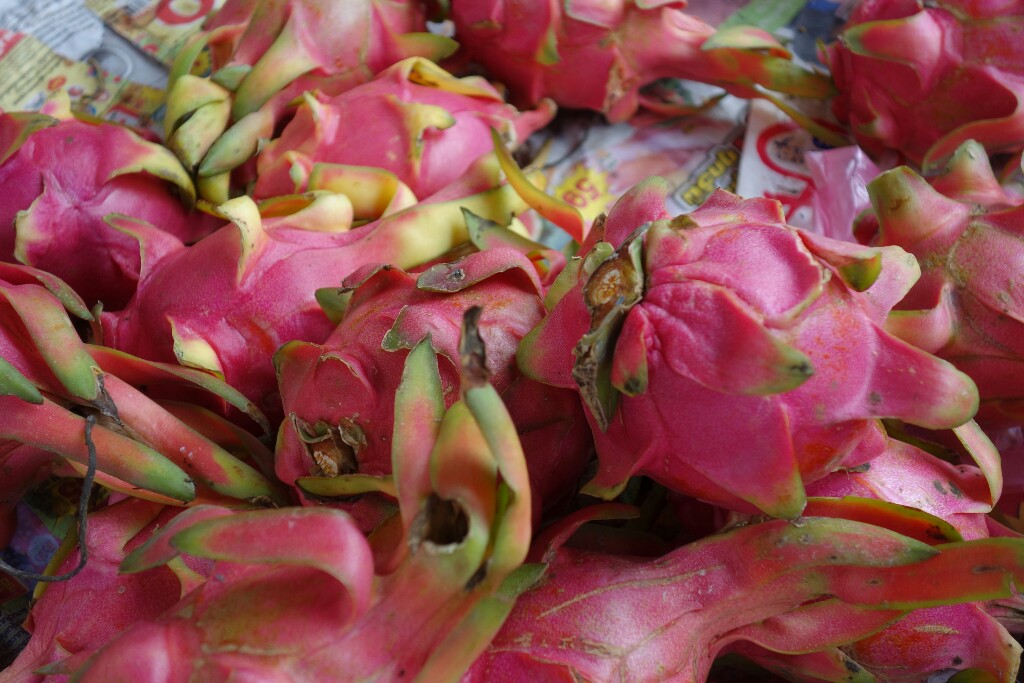 Today is the 24th of December, we will not see our families and we don't feel real Christmas spirit. Our mutual presents are to enjoy relaxed days and to do ourselves well. An eased coffee with view over the mekong branch. On our way back we find a nice vernissage. At evening we go to the traditional storytelling theatre and dine an extraordinary meal in a good restaurant. Sadly I can't enjoy our Christmas dinner so much, because my stomach hurts a bit.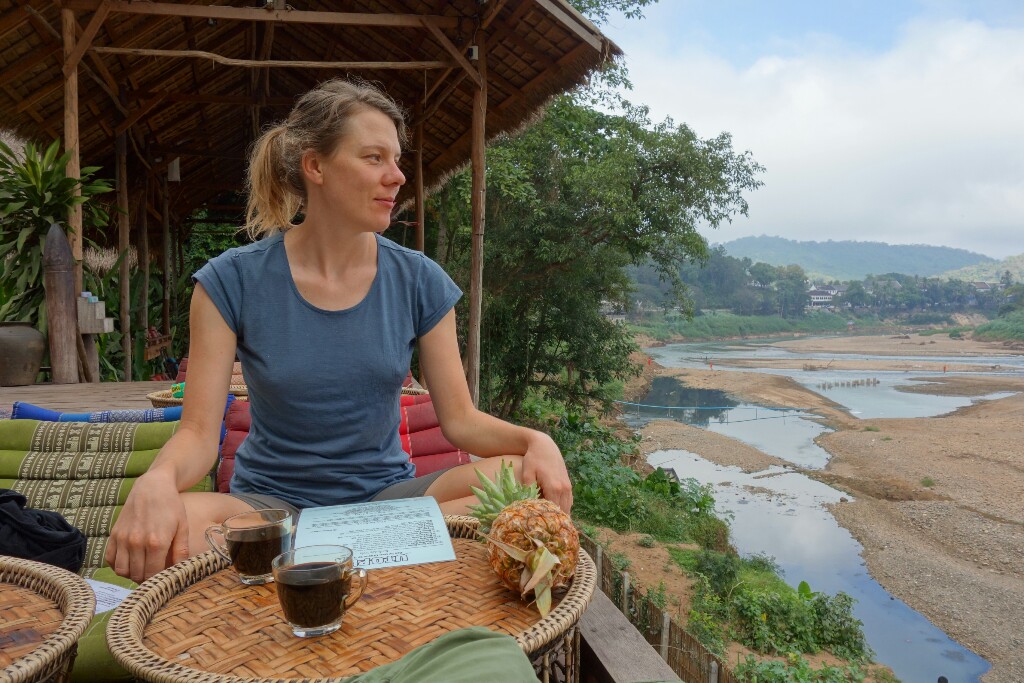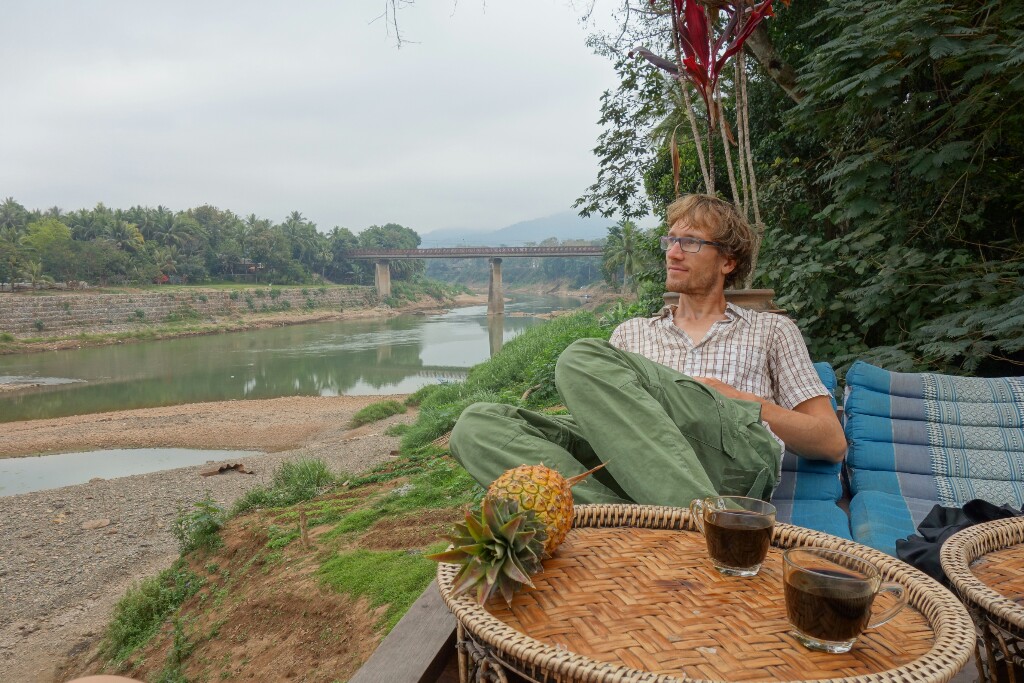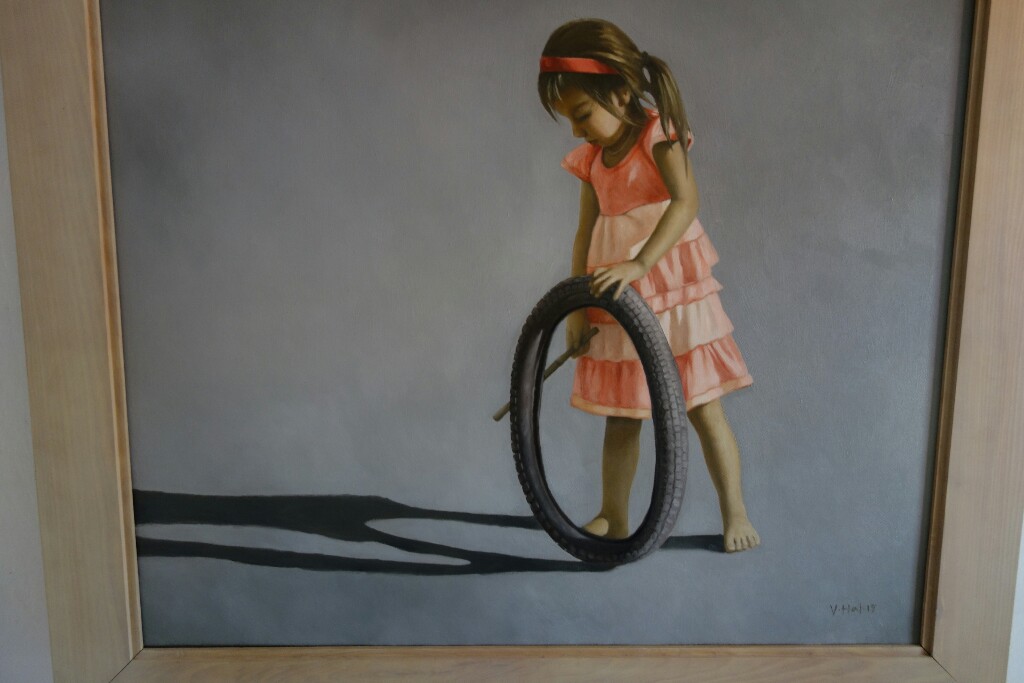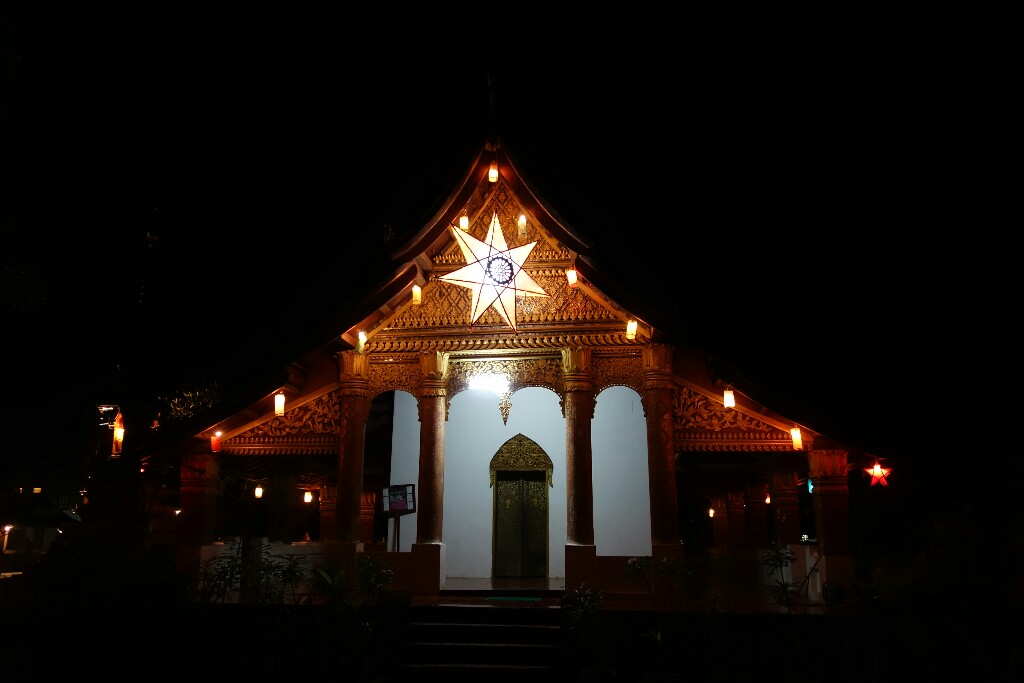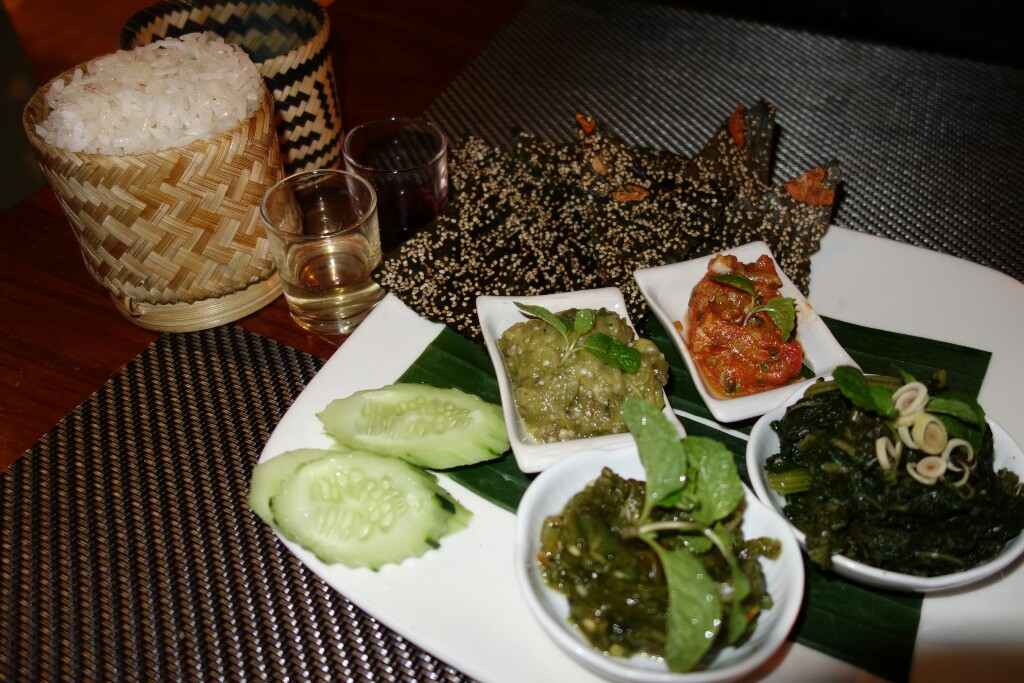 The 25th I just stay at home and try to get better. We are appointed for dinner with a cycling couple from Canada. I don't feel better at night, so Johanna goes to meet them alone. The 26th we cycle to the big and famous Kuang Si waterfall 30 kilometers away. We find a smaller one before, where we are alone, have a rest and swim.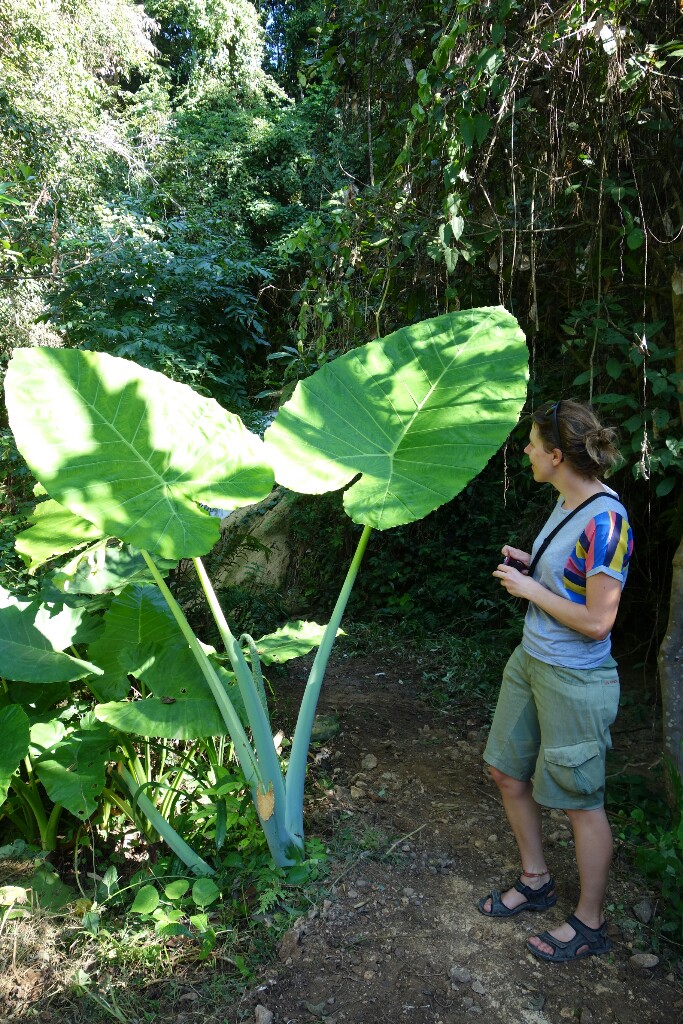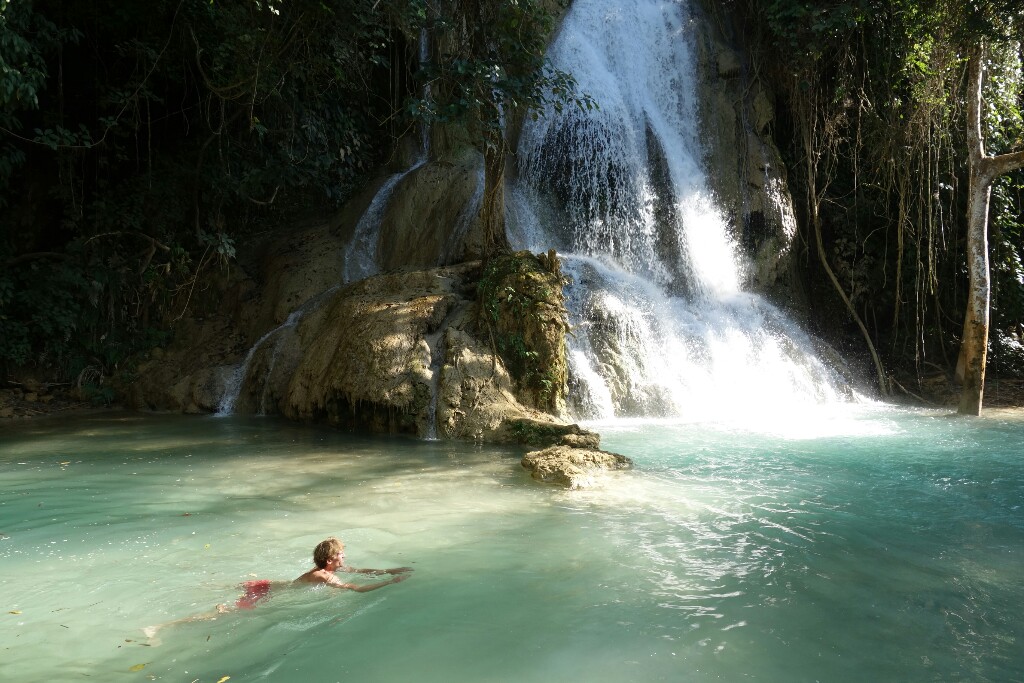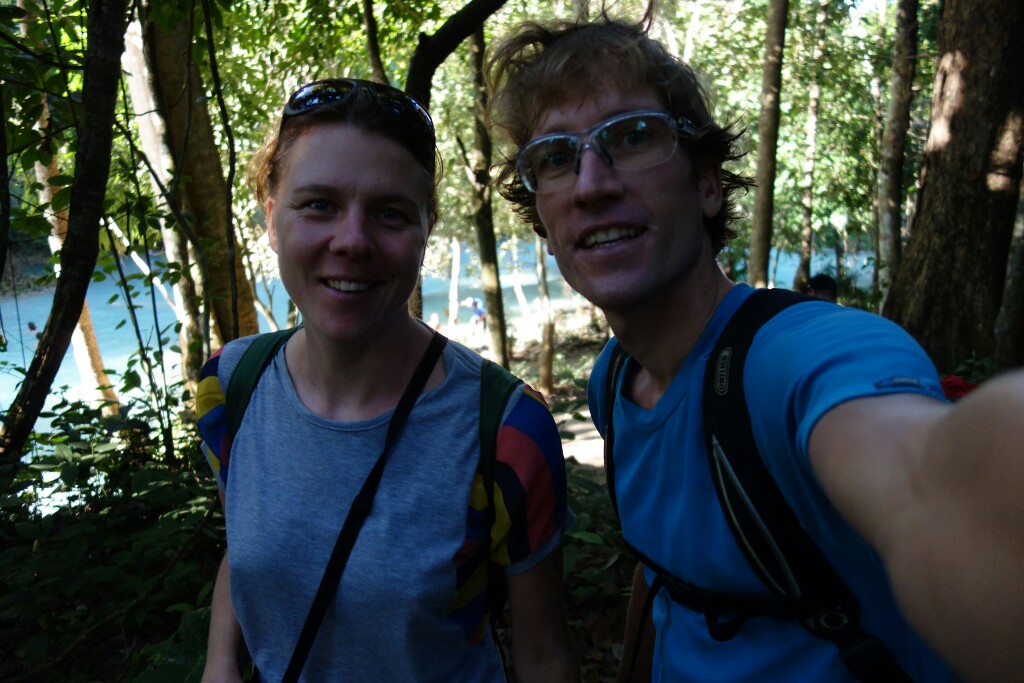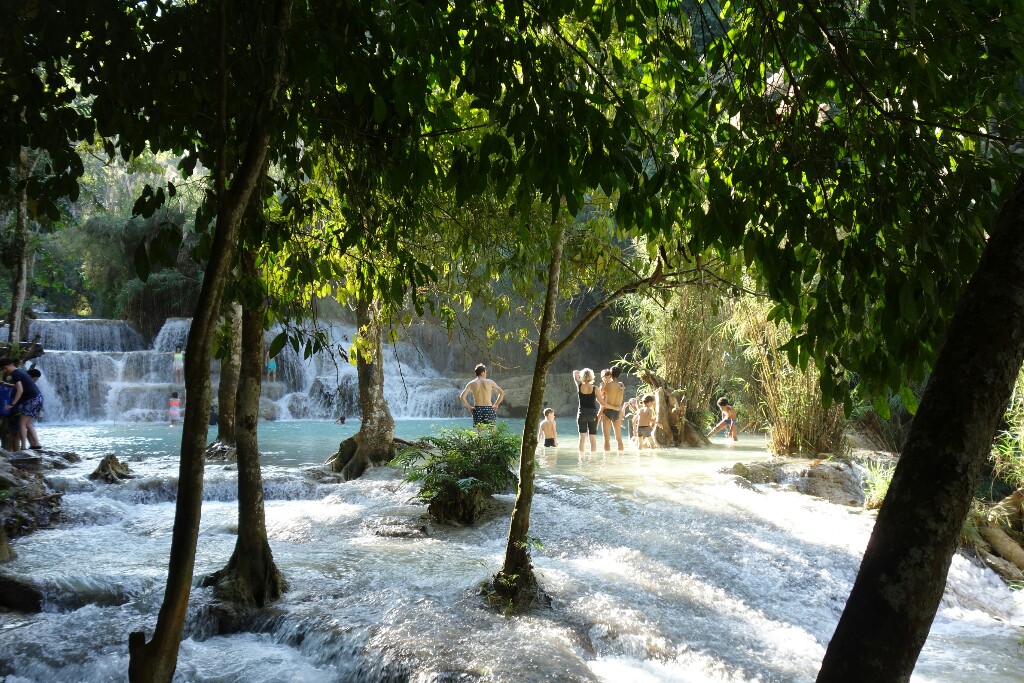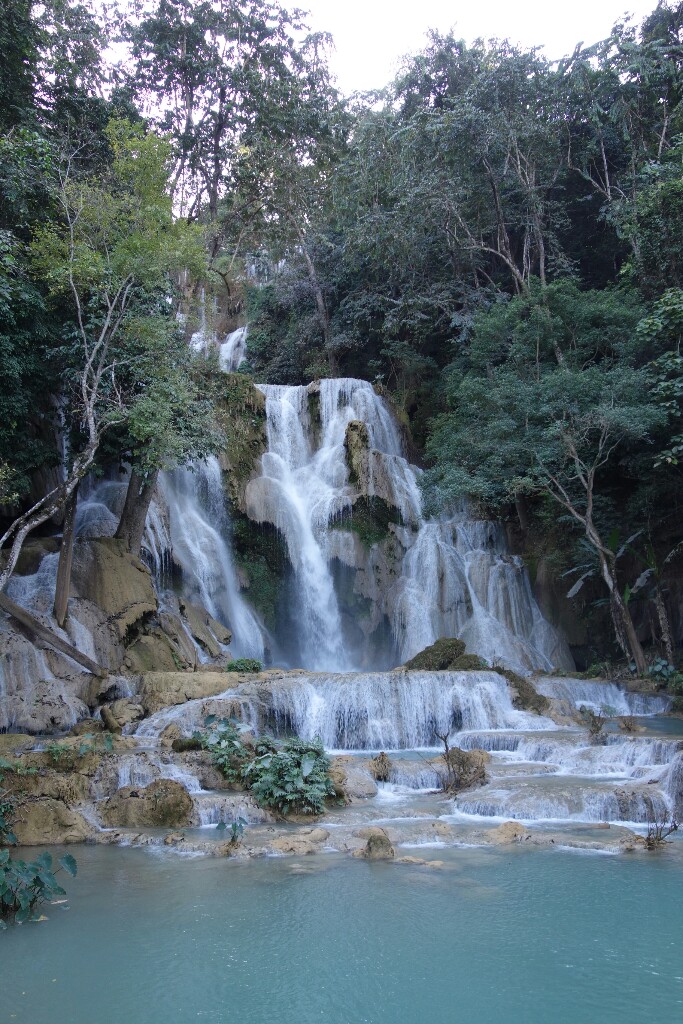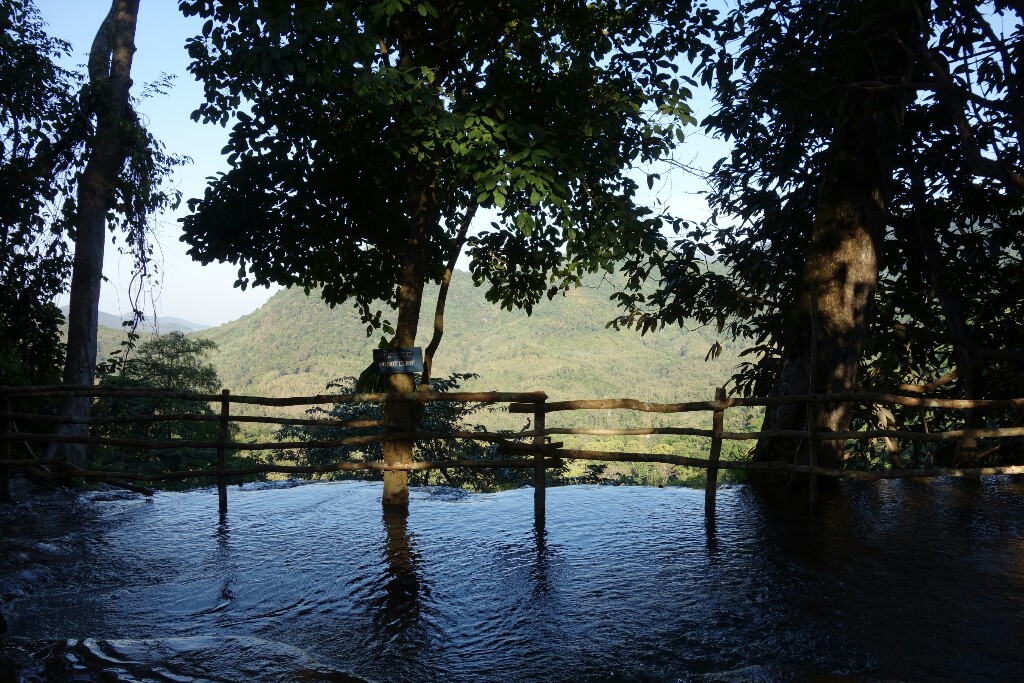 At our last morning in Luang Prabang we make it to the all day monk ceremony. At sunrise all the monks walk around in the streets and get food from a lot of people at the sidewalk.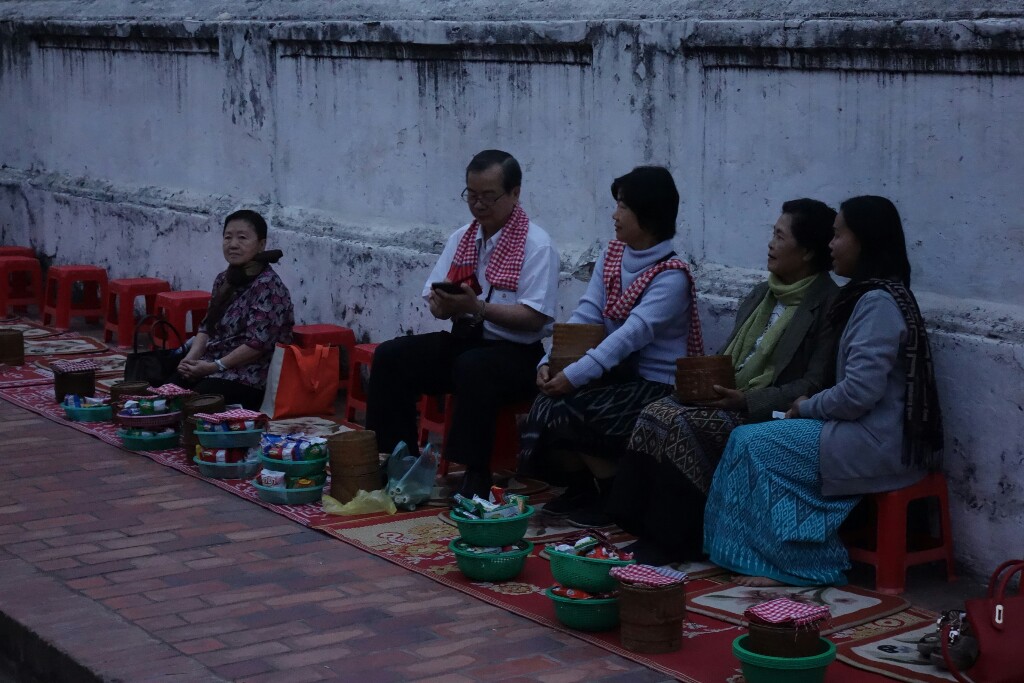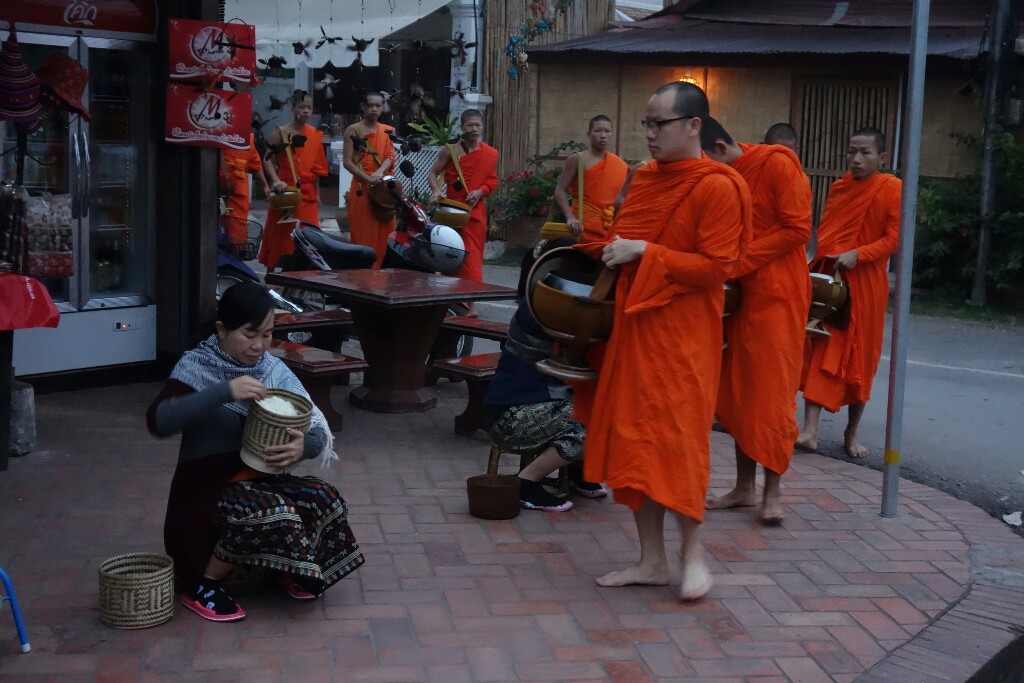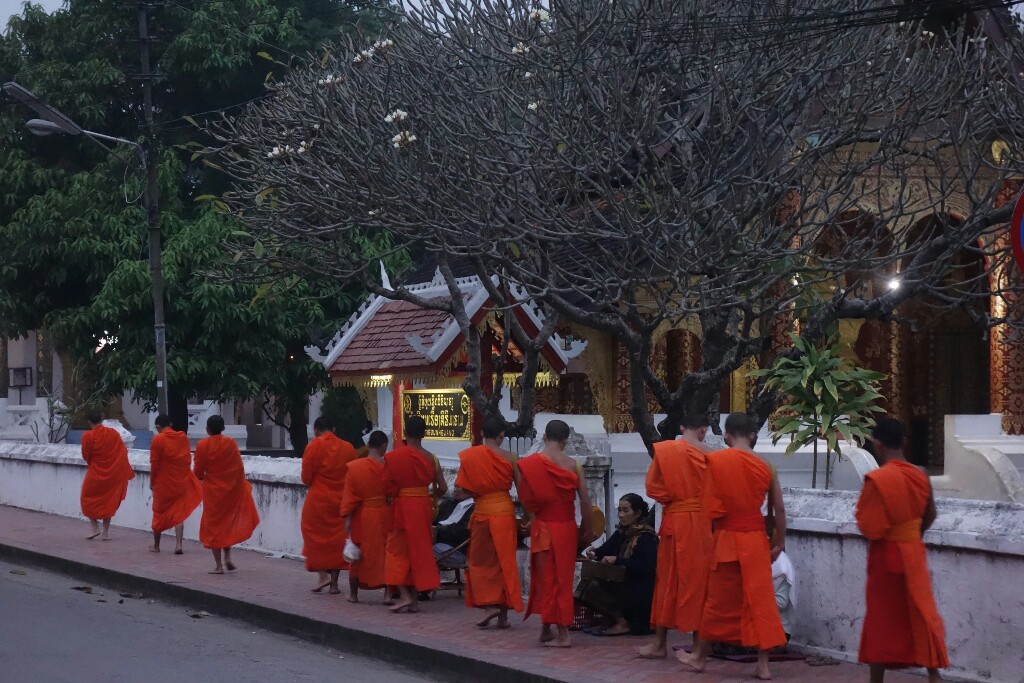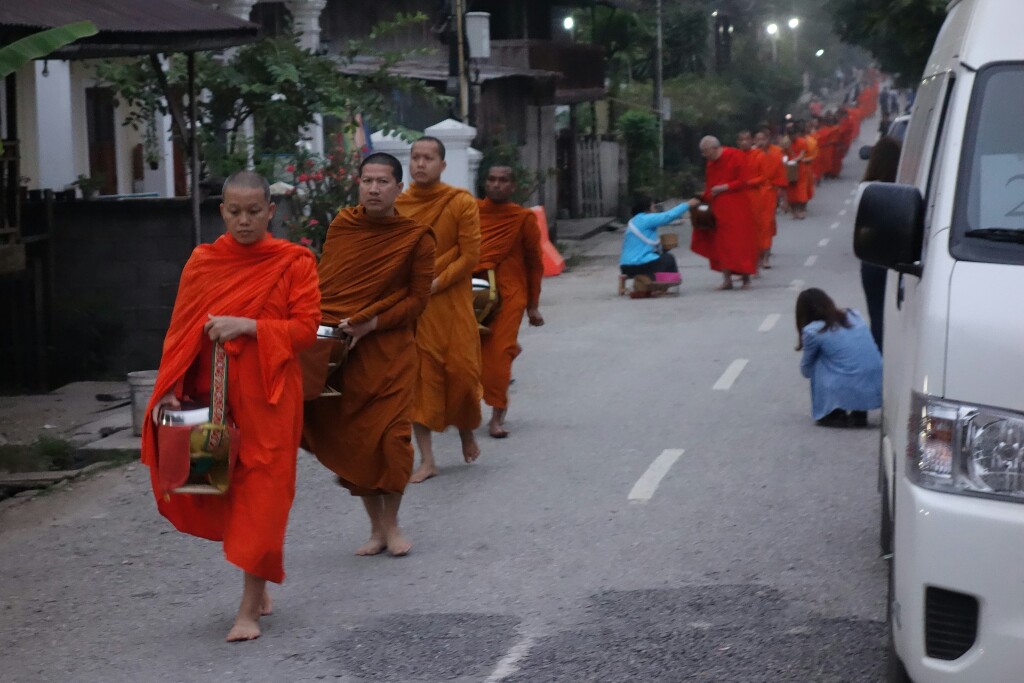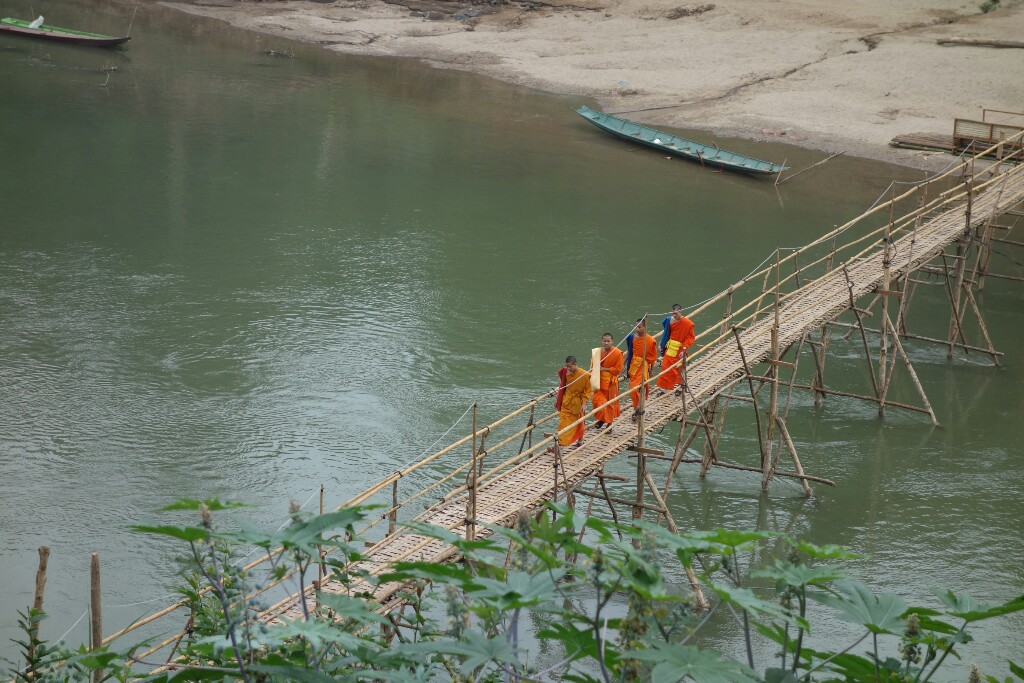 After the early morning start we cycle with full energy again. Soon the first long climb begins. Towards evening we are done with the climb and happily get sight of a nice wooden shelter, which is perfect for the night.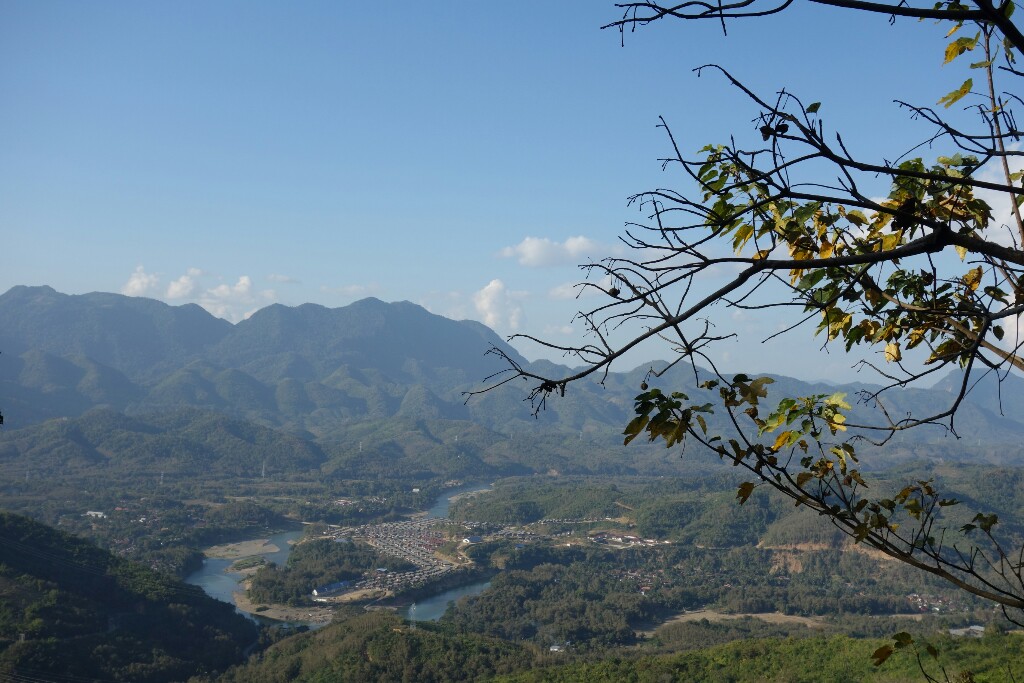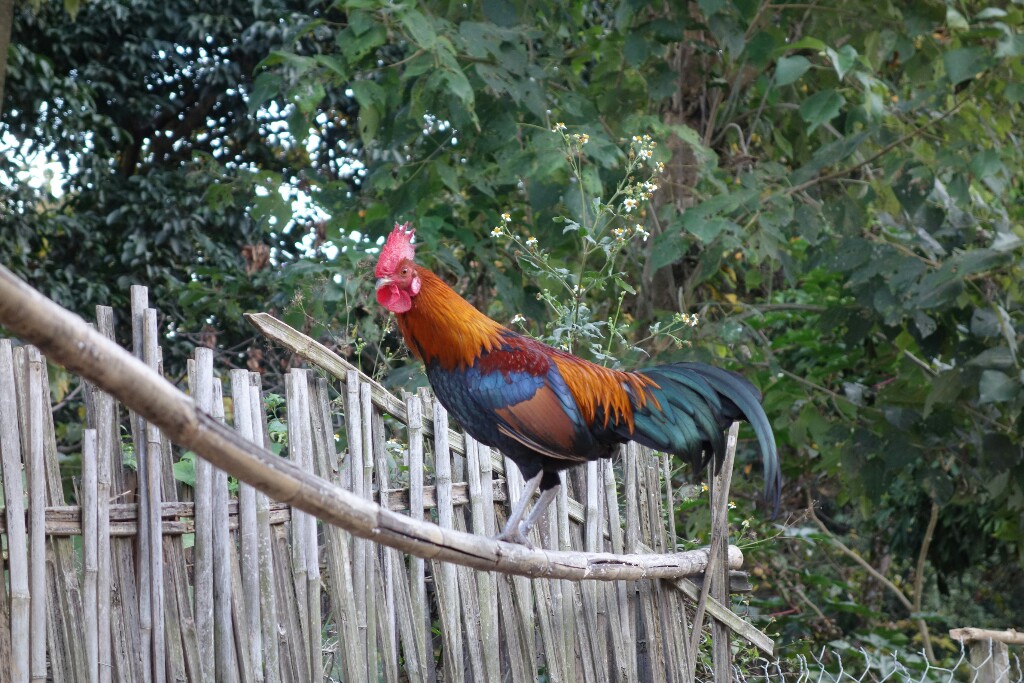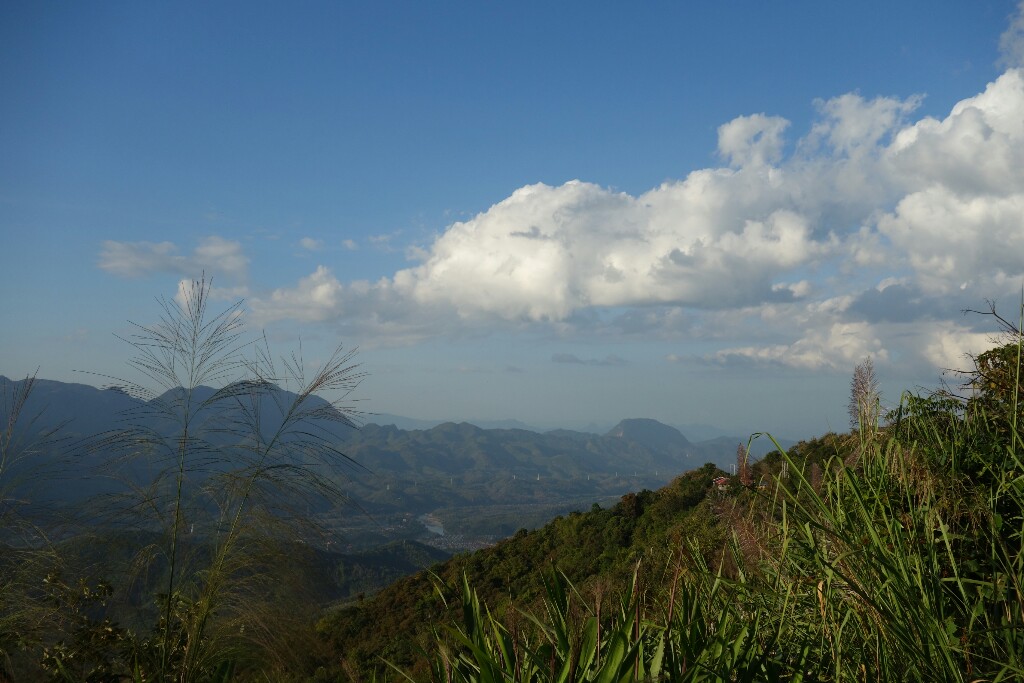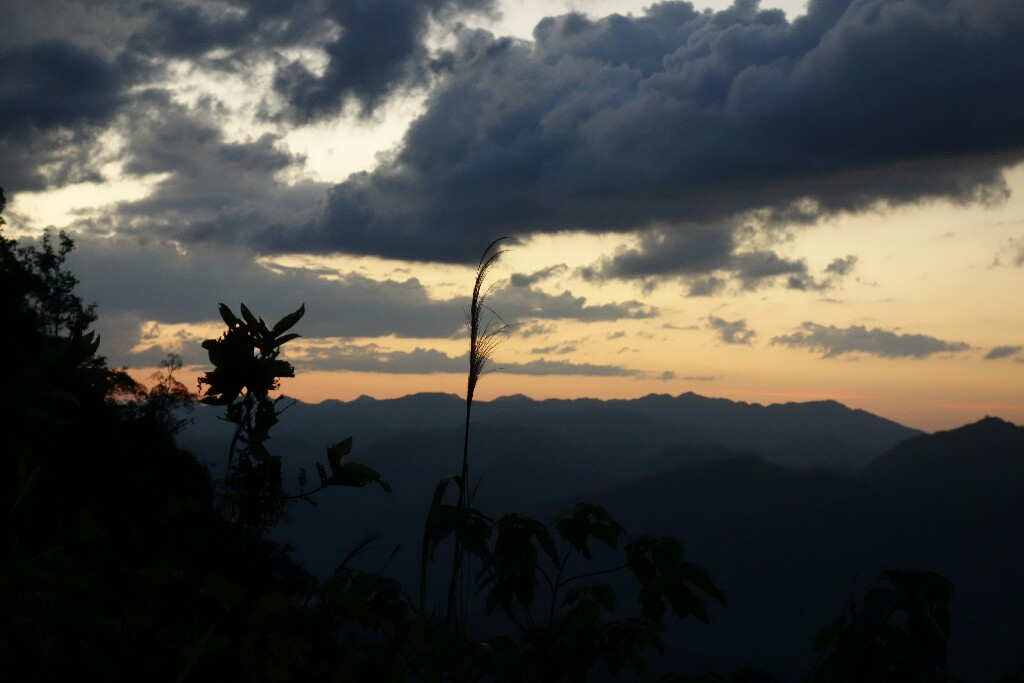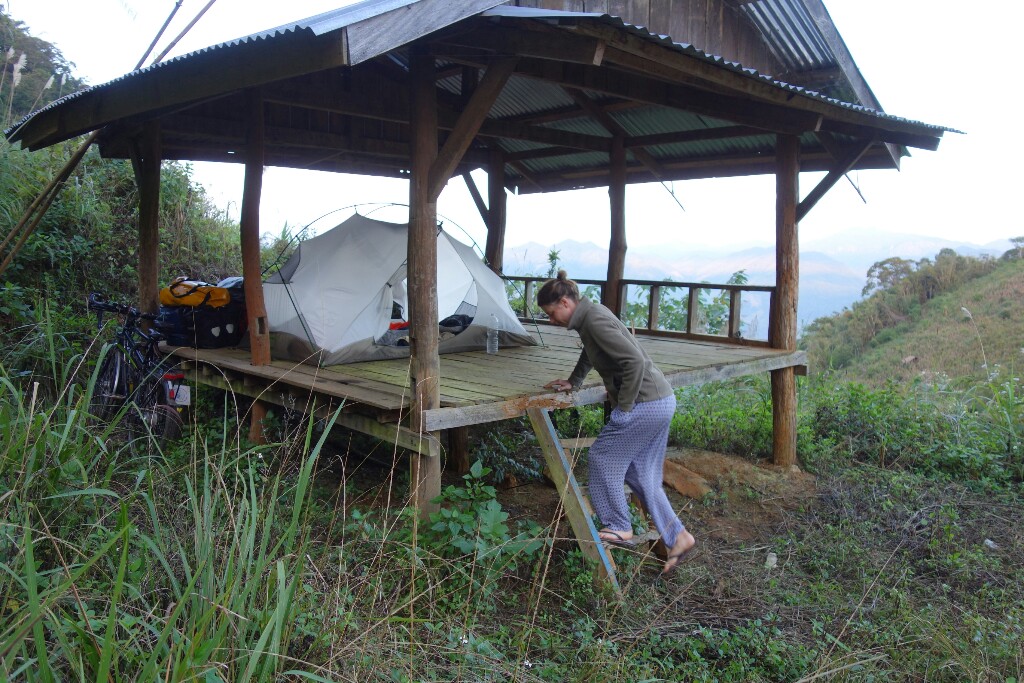 Another shelter the next morning, but not possible to reach so easy.
Getting fresh water from a source.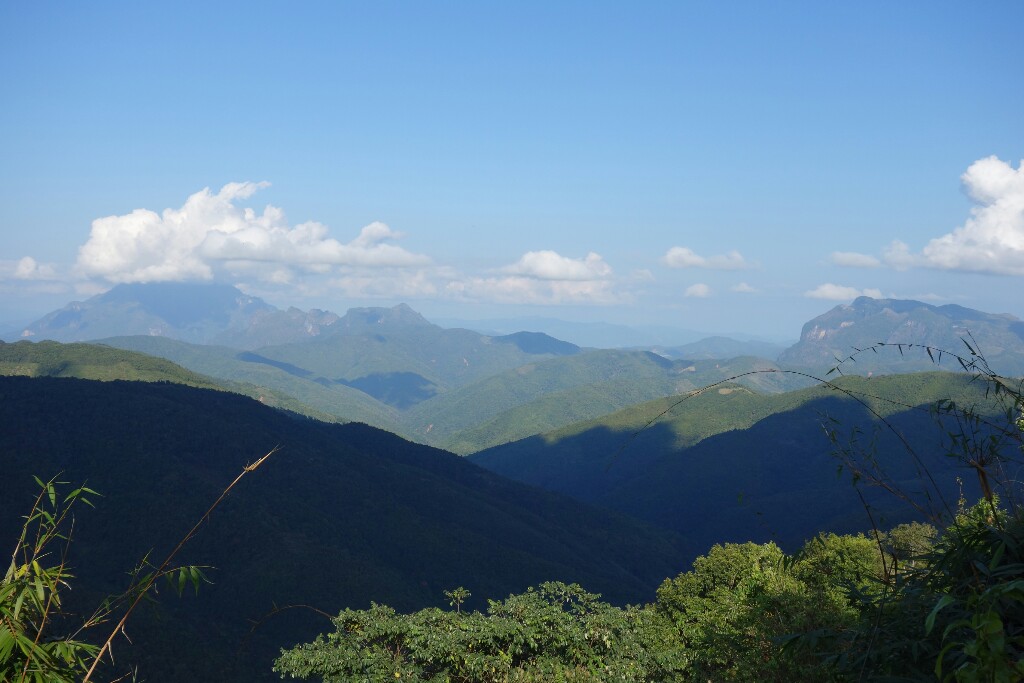 Beautiful children in front of a little shop in colored sunset light.
Hard day to find a place for our little tent, but we push a steep way down and pitch our tent on straw. For dinner we try our acquired unknown root, it is purple and sticky. The woman/child who sold it to us, pointed on the fire, as a serving suggestion. We fry it and it tastes somehow like potato.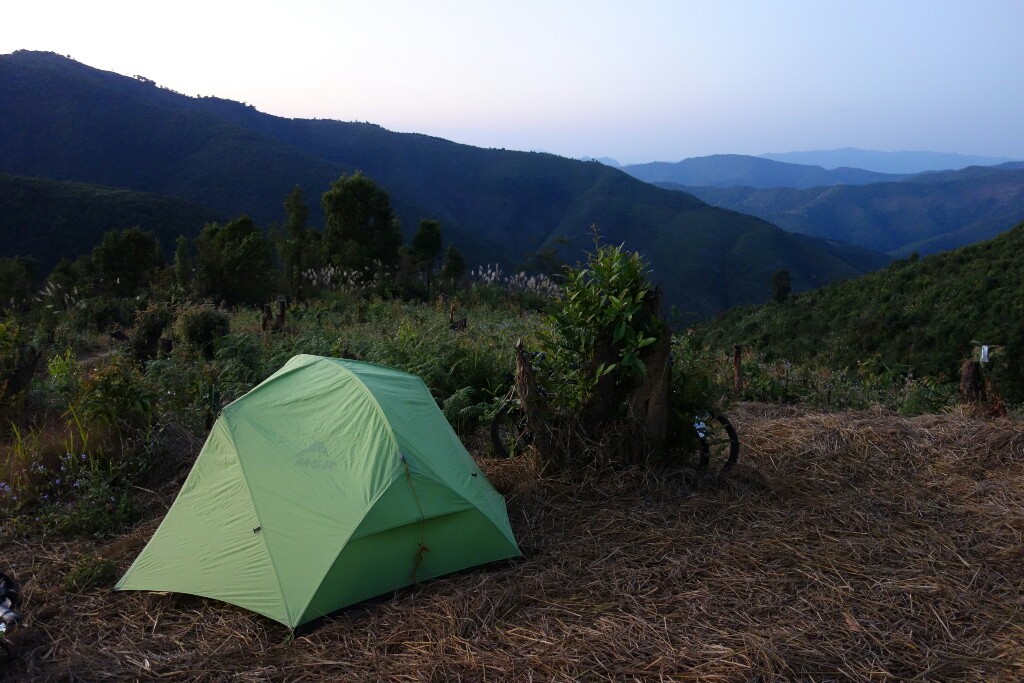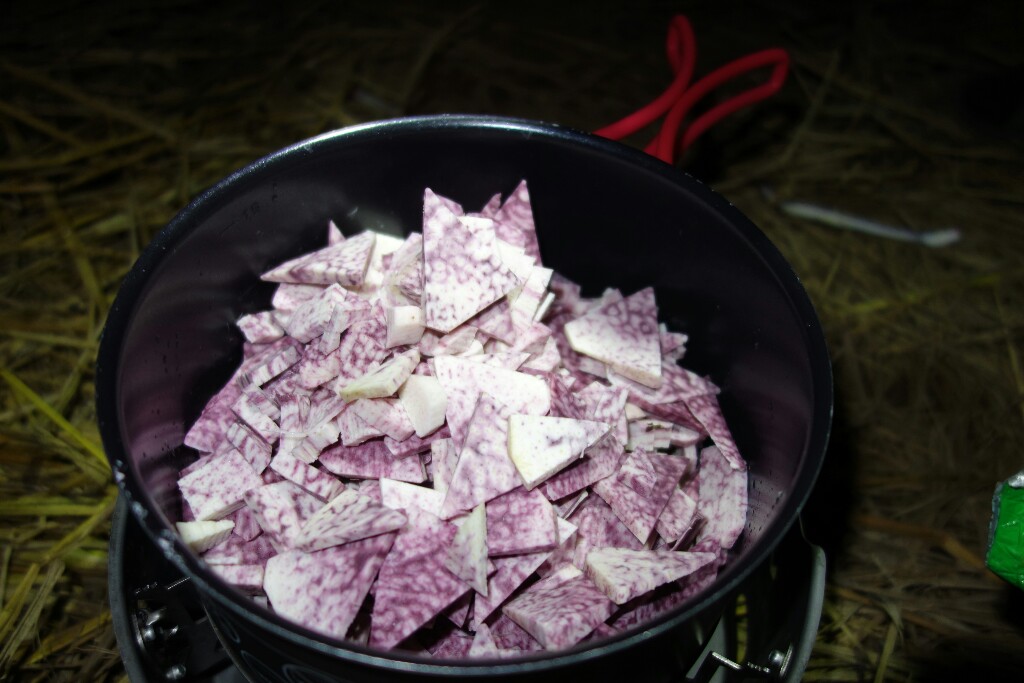 The next day we meet Daniel Schachinger from Austria. He also started at home in April. He managed to get his visa and cycled all the way through China. Daniel supports a project against land mines. You find him and the project on: www.landmine.at
Jo and Daniel posing the Chinese way.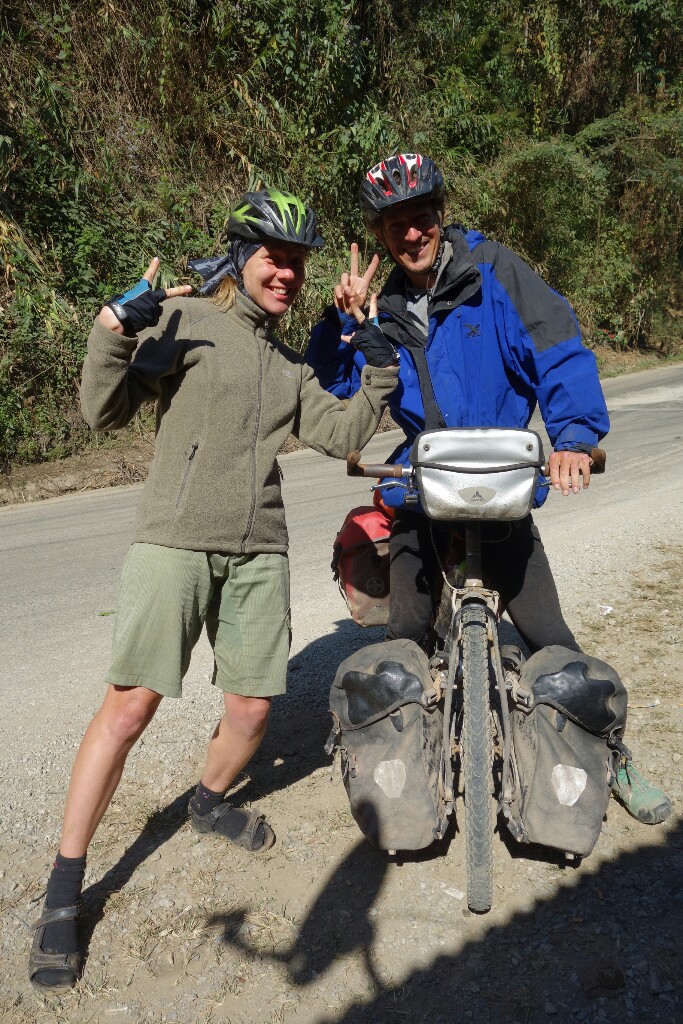 In Lao they celebrate new year some days earlier than us. One tradition is to throw balls faced to each other. Actually it is a game/way to find a partner, but children all over play it for fun and as an exercise or game. The traditional dresses look nice.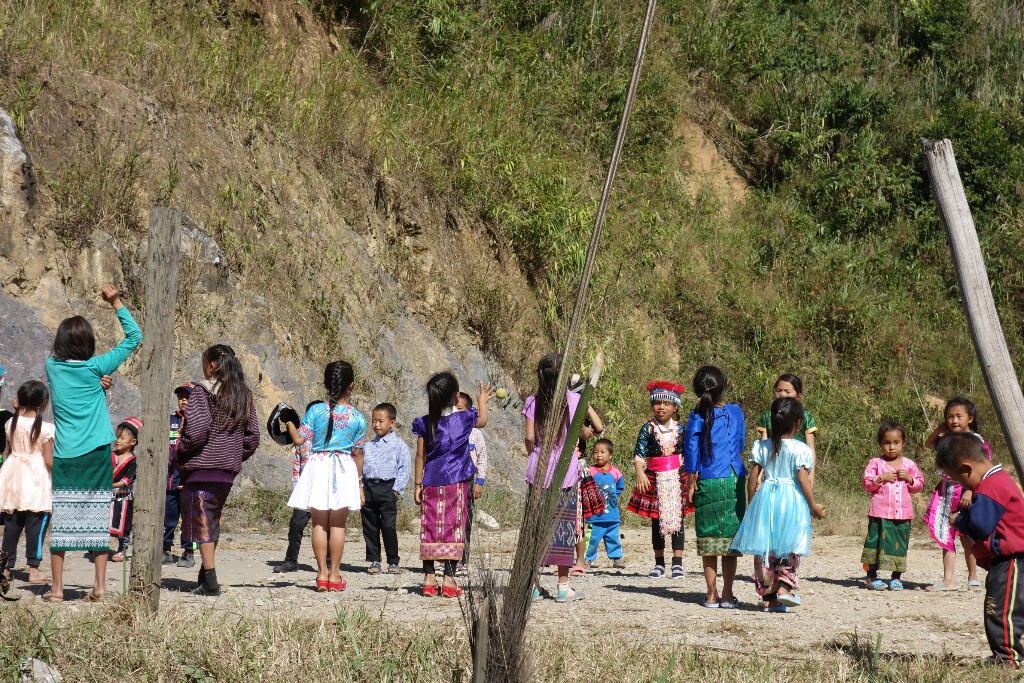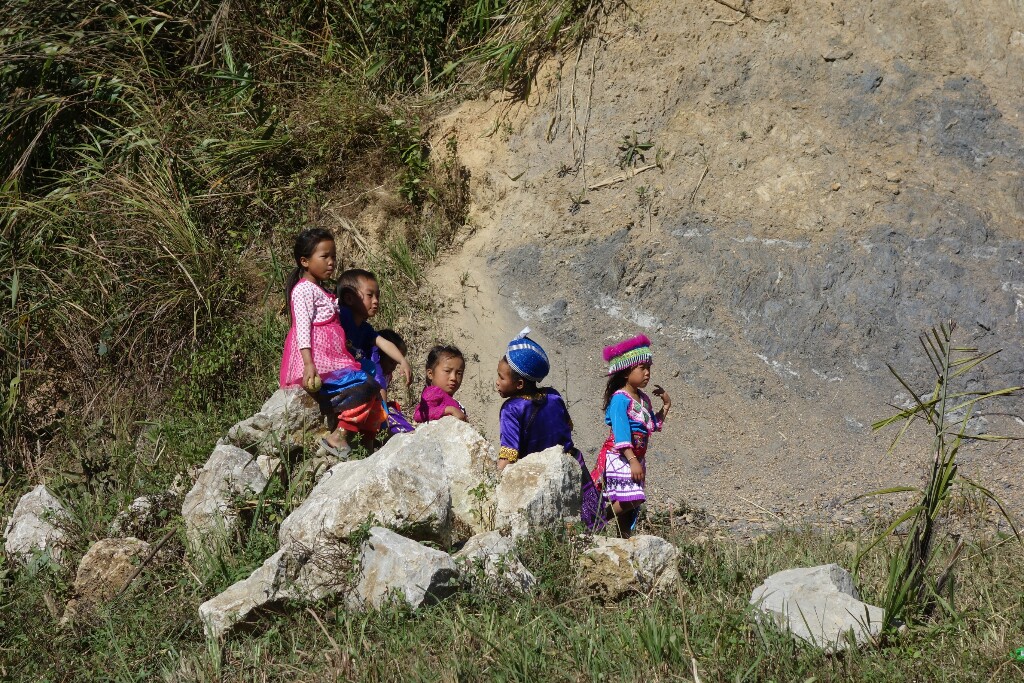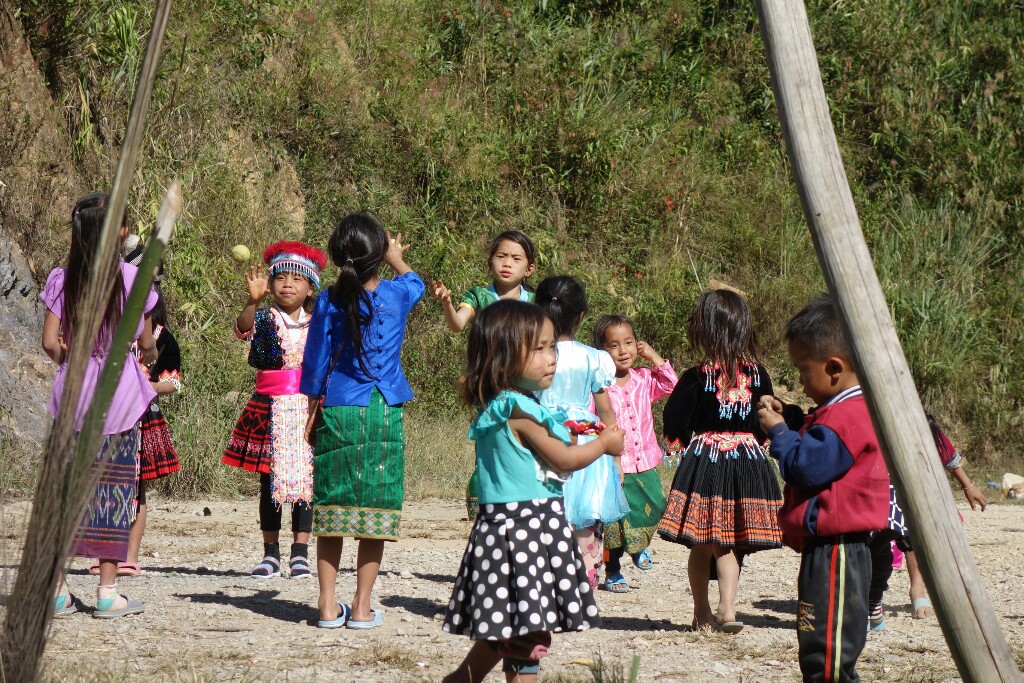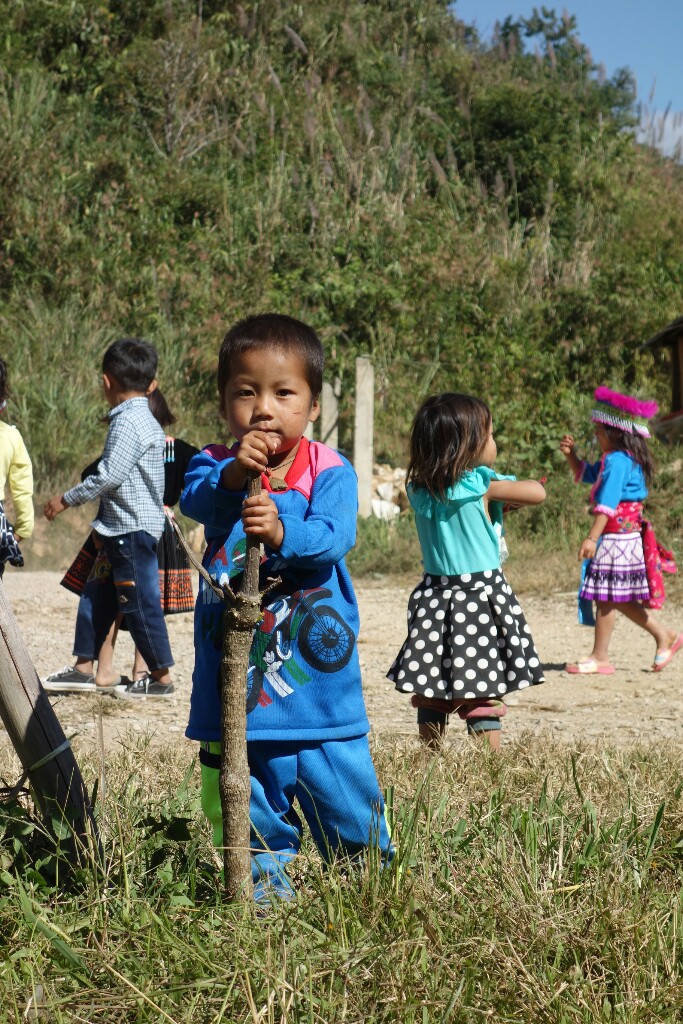 One more night we camp in the wild between high gras. The noise of the wind moving the huge grasses is amazing. As the wind is cold we prefer to have breakfast inside the tent.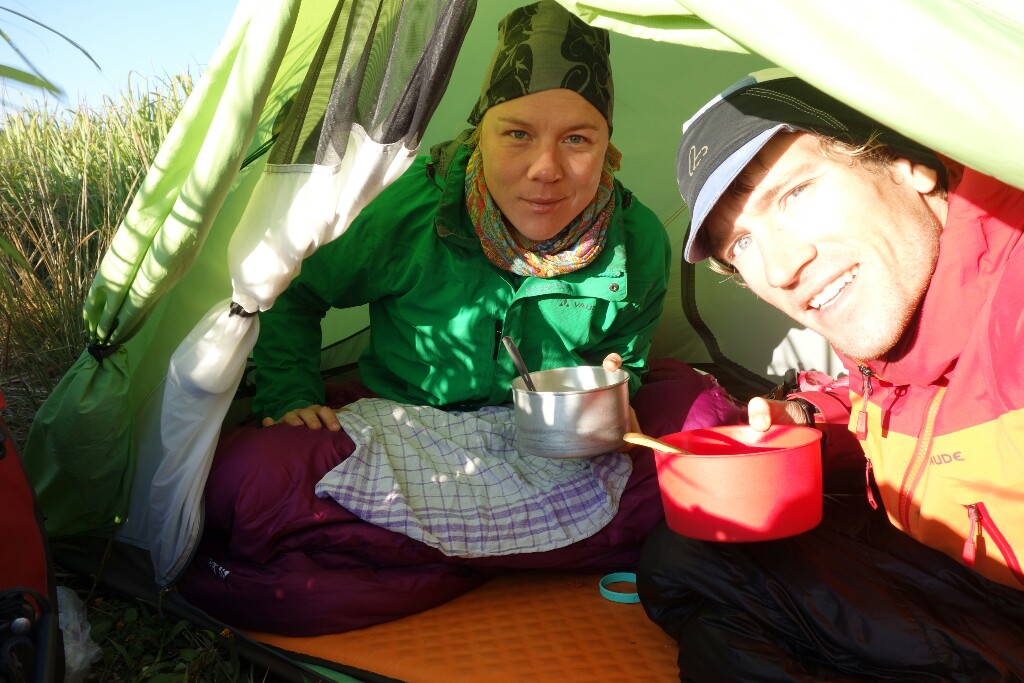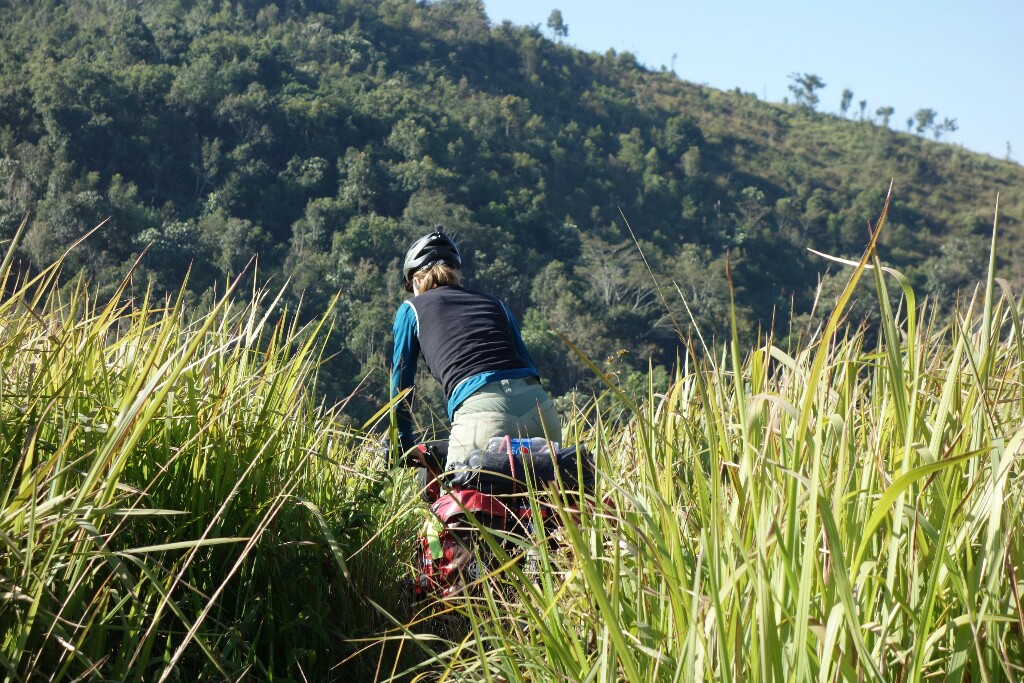 This is how a usual shop in Lao looks like. And a usual street. And usual pigs. 😉