After all the climbing we reach a more flat landscape with pleasant smooth hills. At a small lake we sleep in a small wooden guesthouse hut at the lake. The lake doesn't invite for swimming, but the weather is too cold anyway.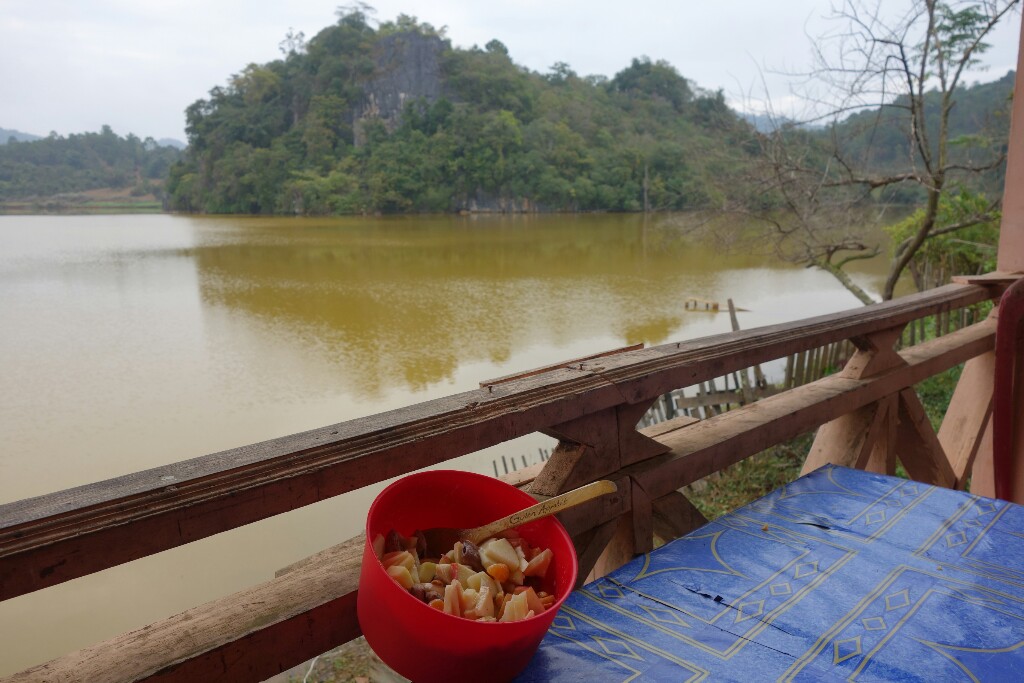 After quite a while we are happy to find bananas again. We also checked the wood, it's very heavy and strong, they use it for their fire to cook on.
No fear. Powerful.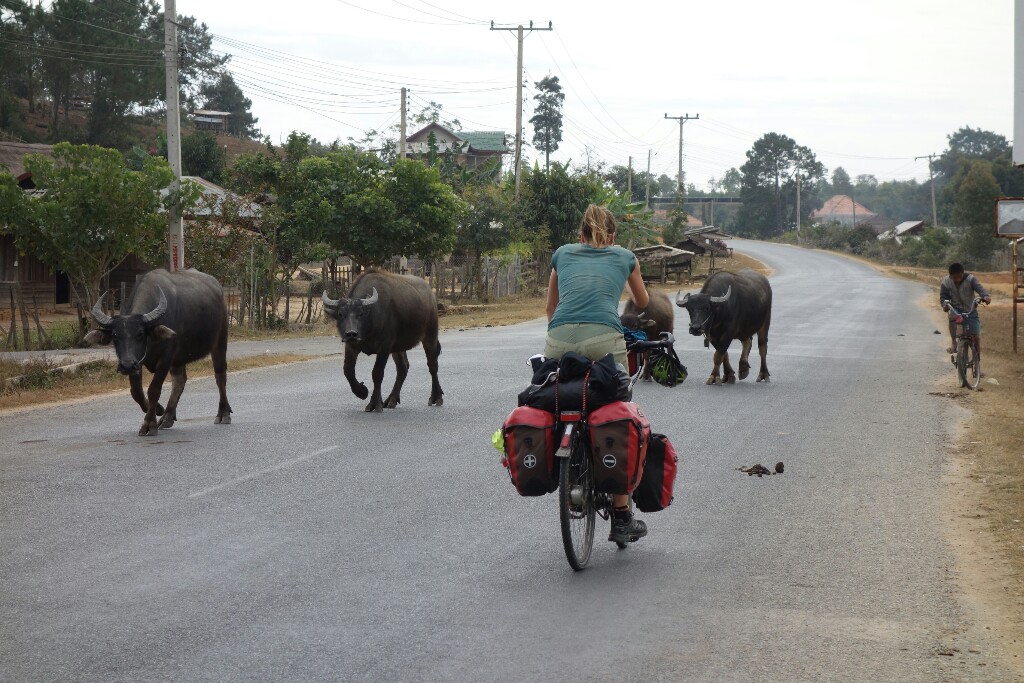 When we arrive in Phonsavan, we enjoy a real Italian pizza. It tastes so delicious.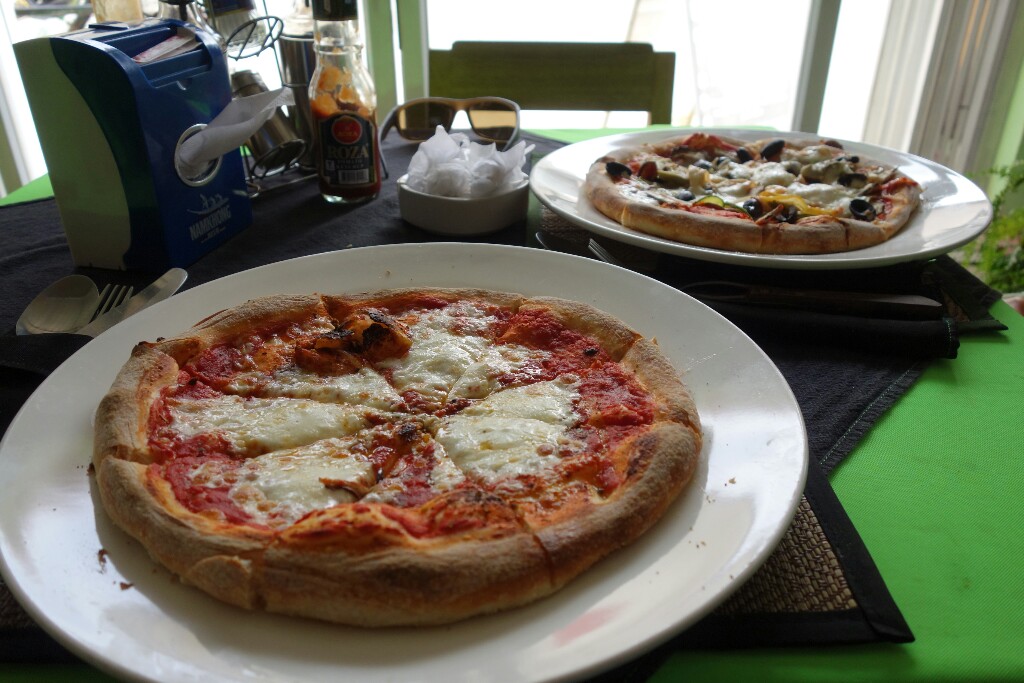 In the nice Kong Keo Guesthouse we meet our Canadian friends again. It's the 31th of December and this time we will have dinner all together. But before we visit the UXO (unexploded ordnance) visitor center. Very informative and a good initiative of victims collecting money to help other victims. If I remember it correct, Lao was bombed with more bombs, than all bombs during World War II together! After a short movie we rethink our camping experiences and are really afraid to camp again. We take in hand to not camp anymore in the dangerous areas. But it will be a hard restriction.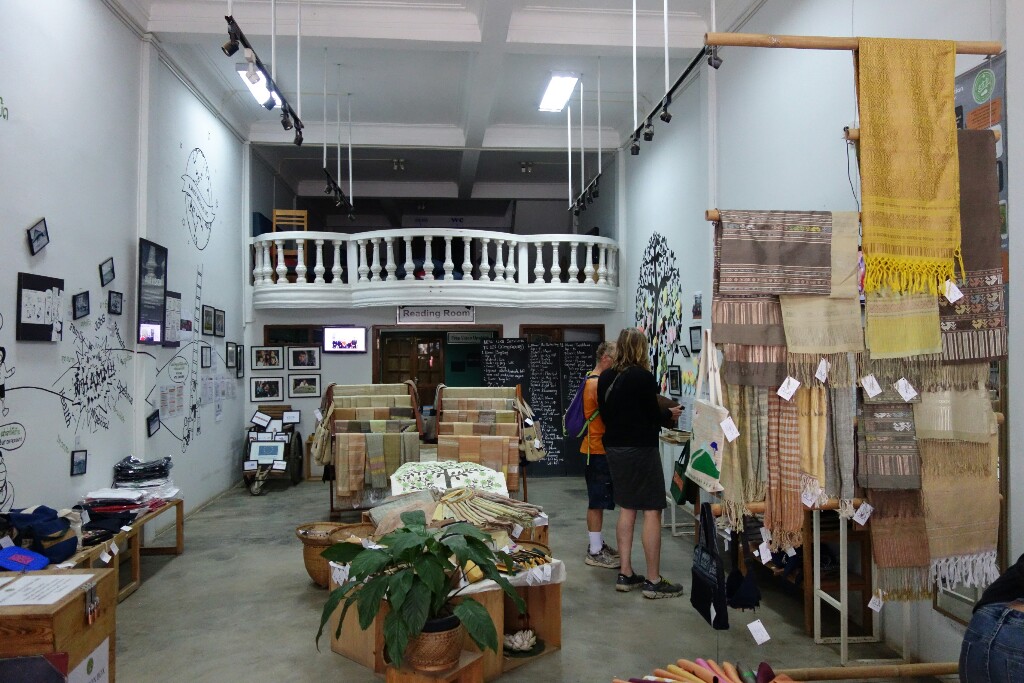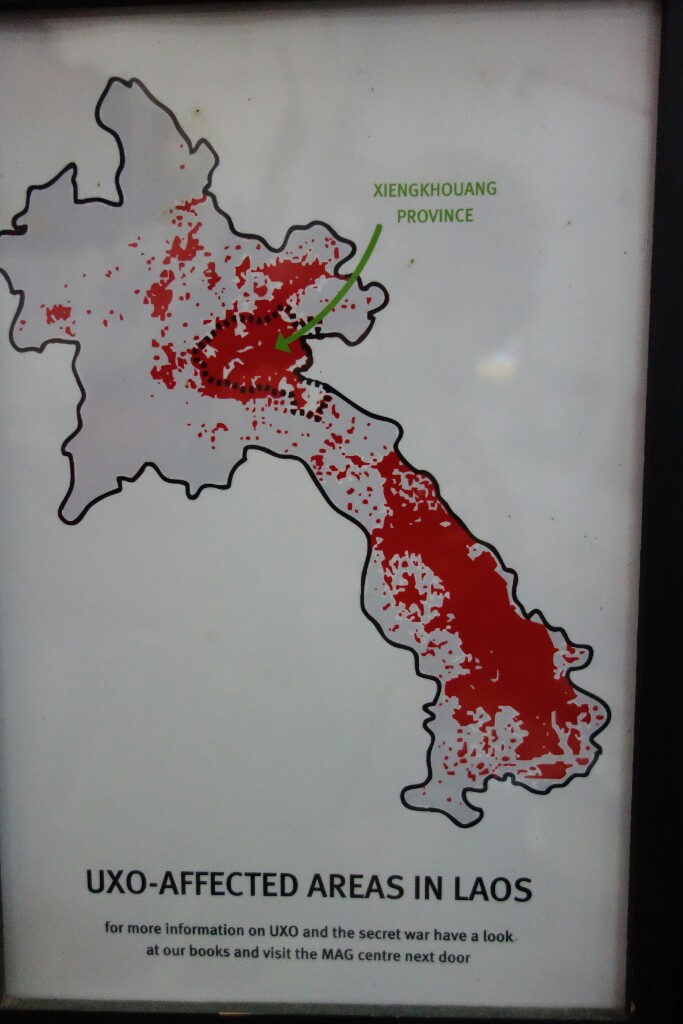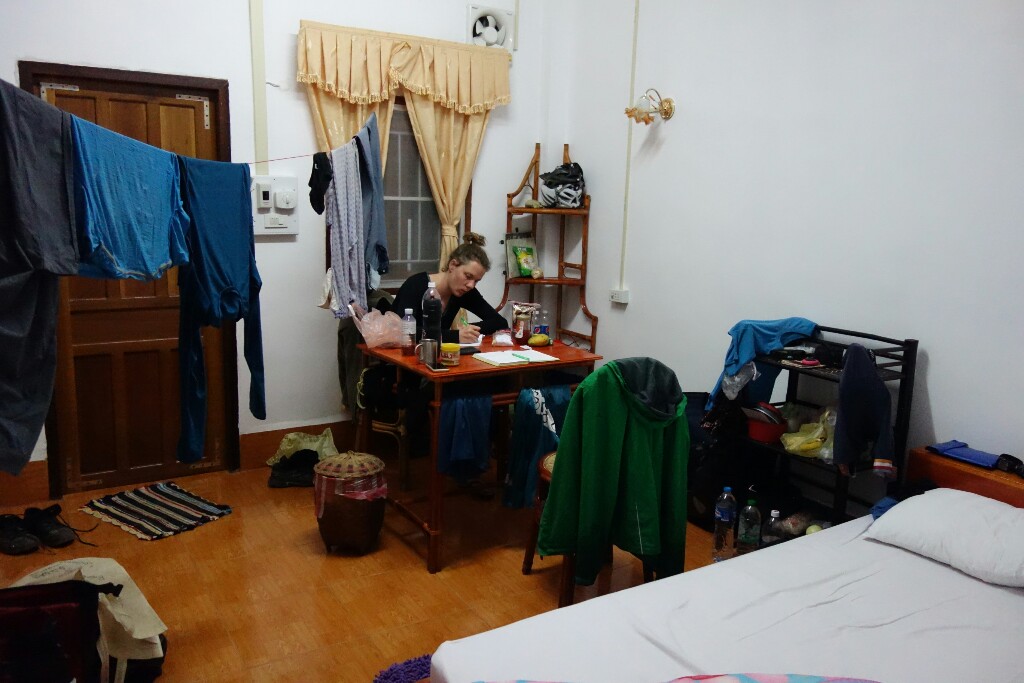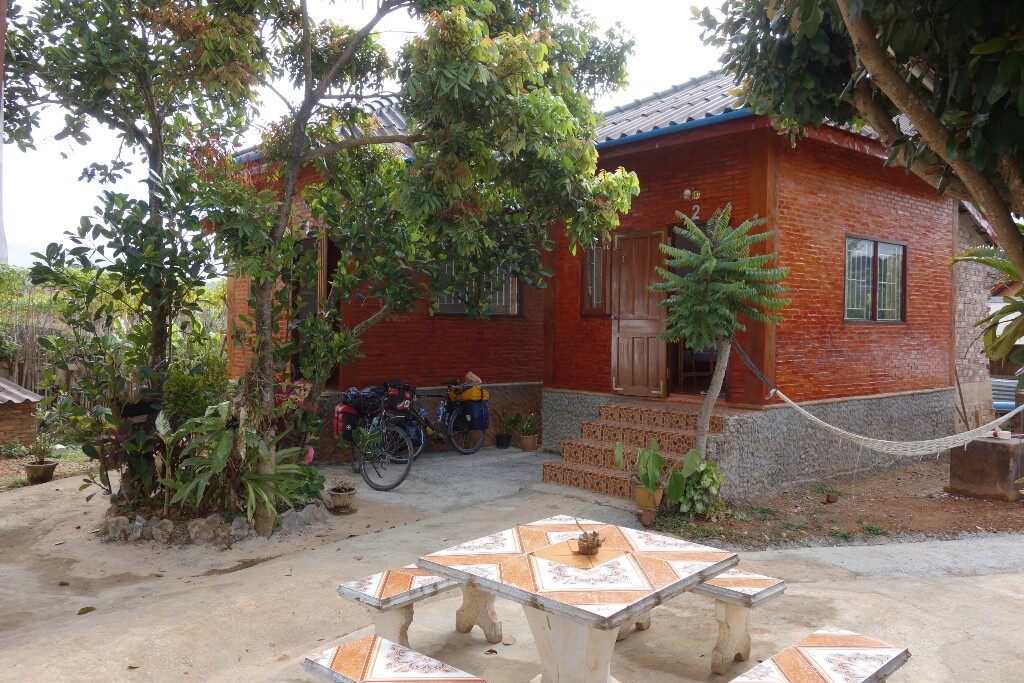 In the streets we randomly meet to tall cyclists and ask them, if they want to join us for our New Year's Eve dinner. At the Indian restaurant every traveler orders a Lao Beer first (and is happy 😉 😊). Then we order different meals and share them. Sorry, I didn't take a picture. Mads from Norway started at home too. His blog is: www.raudcola.com
And Klaas, from the Netherlands, started some weeks ago in Ha Noi.
Later at night we sit around a warm bonfire in an old bomb with a lot of other foreigners at our guest house. The picture is taken in the morning.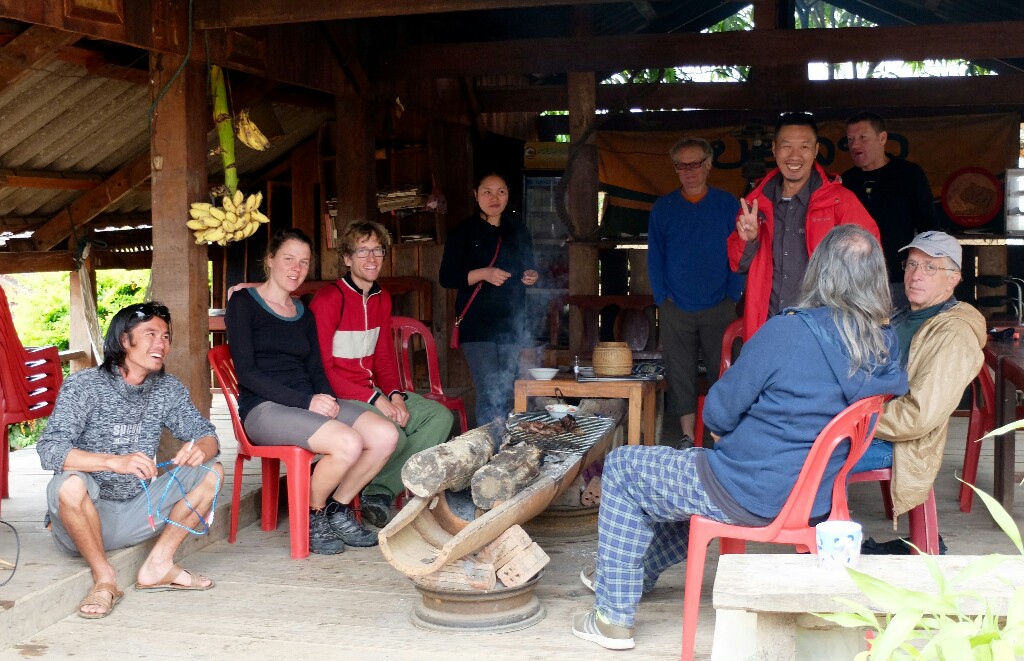 After a rest day, to start good into the New Year, we cycle to the Plain Of Jars. It's amazing, and still not clear where the huge stone jars come from or how they got there. We enjoy walking around. After a late lunch picnic break we continue our rout towards south. Mads and Klaas go back to Phonsavan and will continue in different directions each the next day.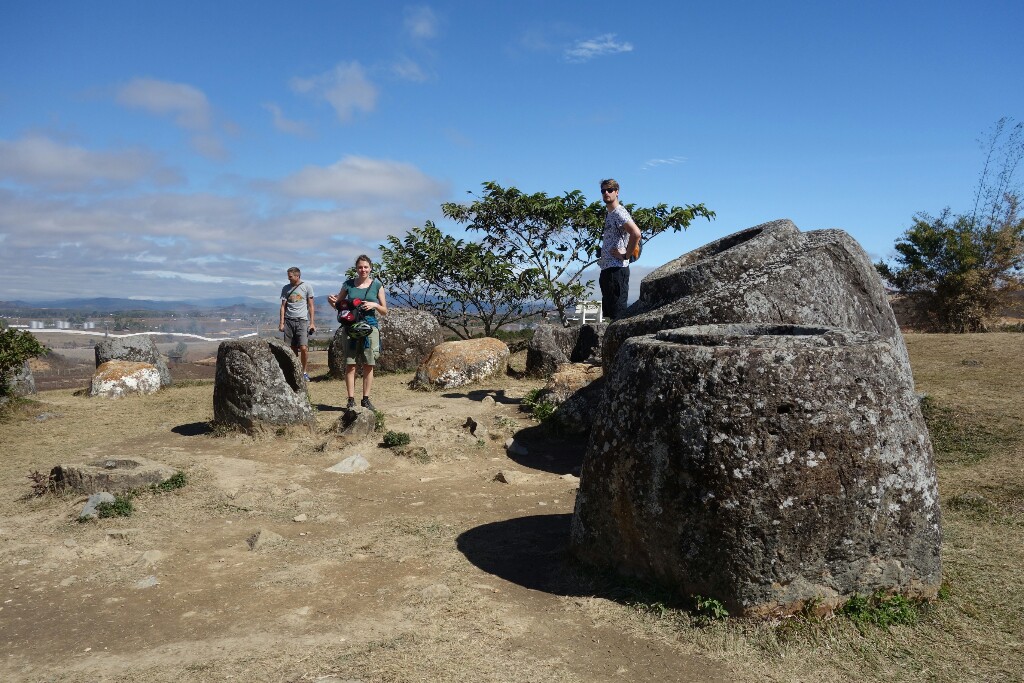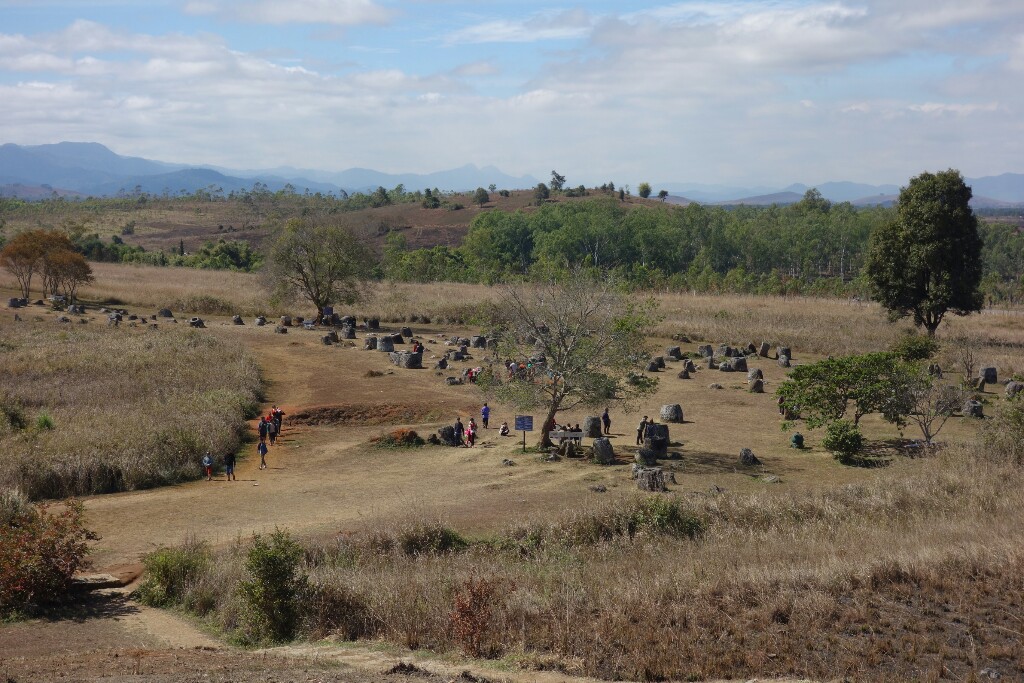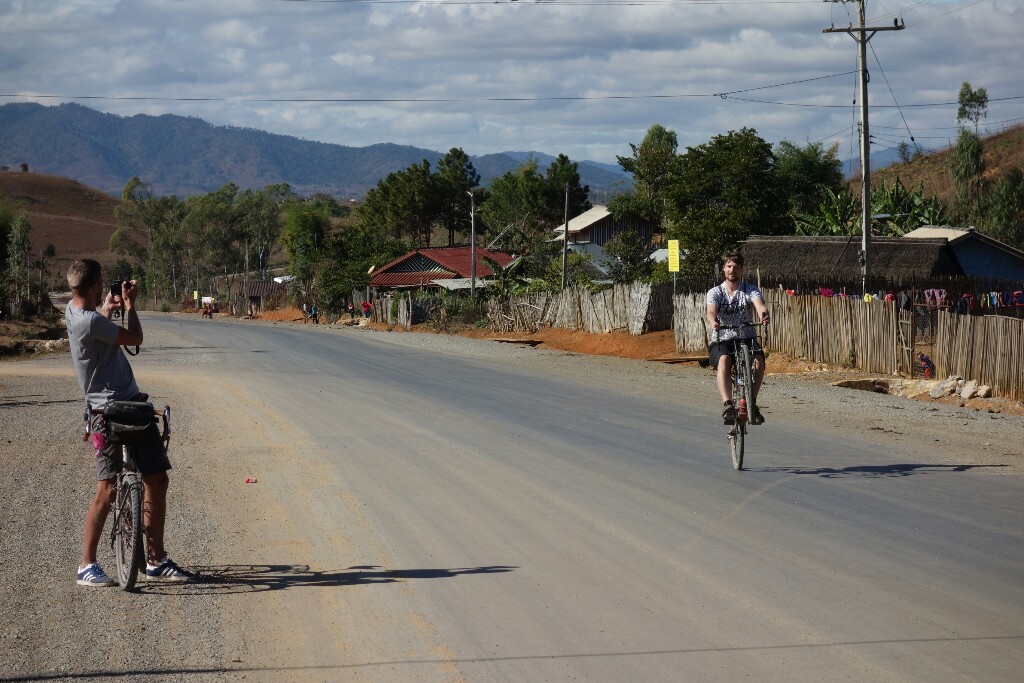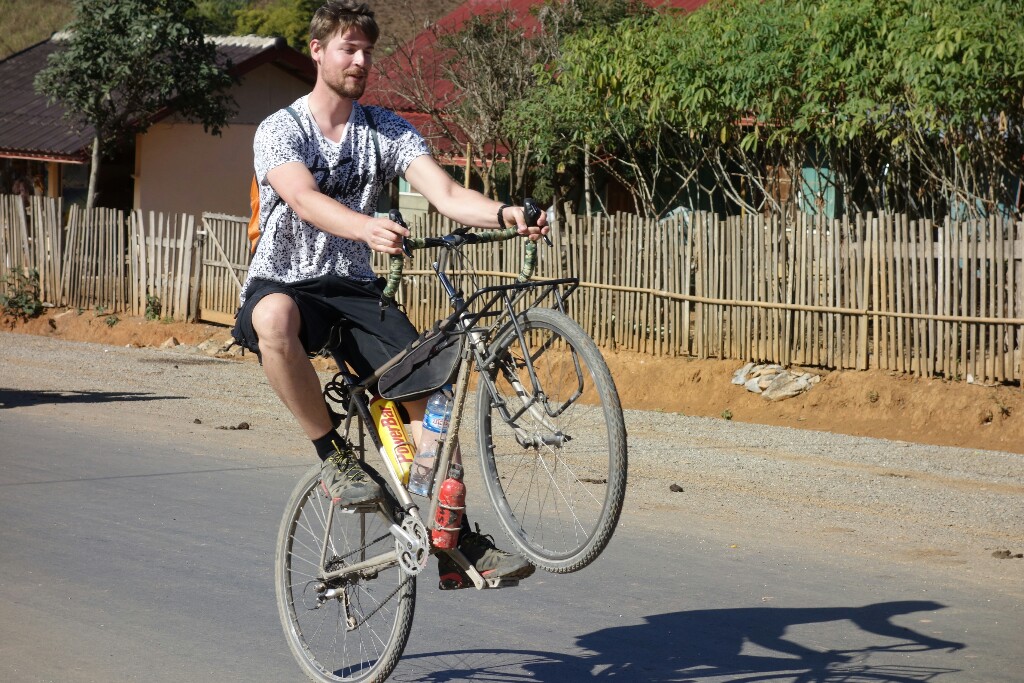 A very old Buda statue in Muang Khoun.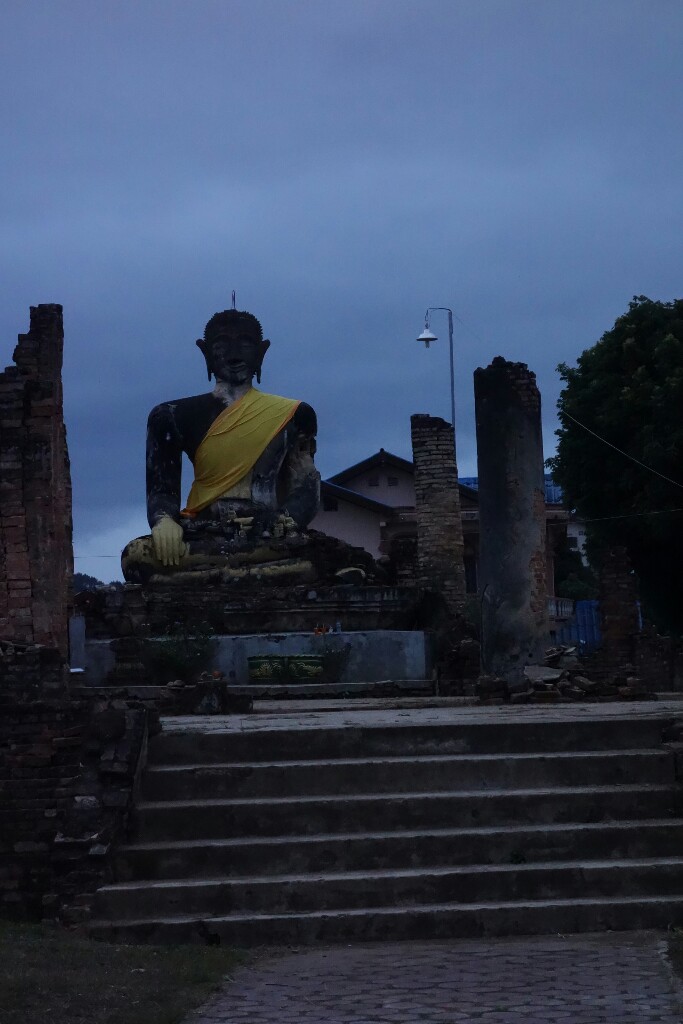 As usual we try to get a vegetarian meal with support of some translated words on a sheet of paper and our important "without words" dictionary. Very helpful. But tonight it gets a bit complicated and the woman wants us to help her in the kitchen, so Johanna ends up to prepare our food. 😉
I always marvel, when I see how much work it is to build a road. The most famous car in Lao is definitely a pickup.
Children, farmers and roadside vendors.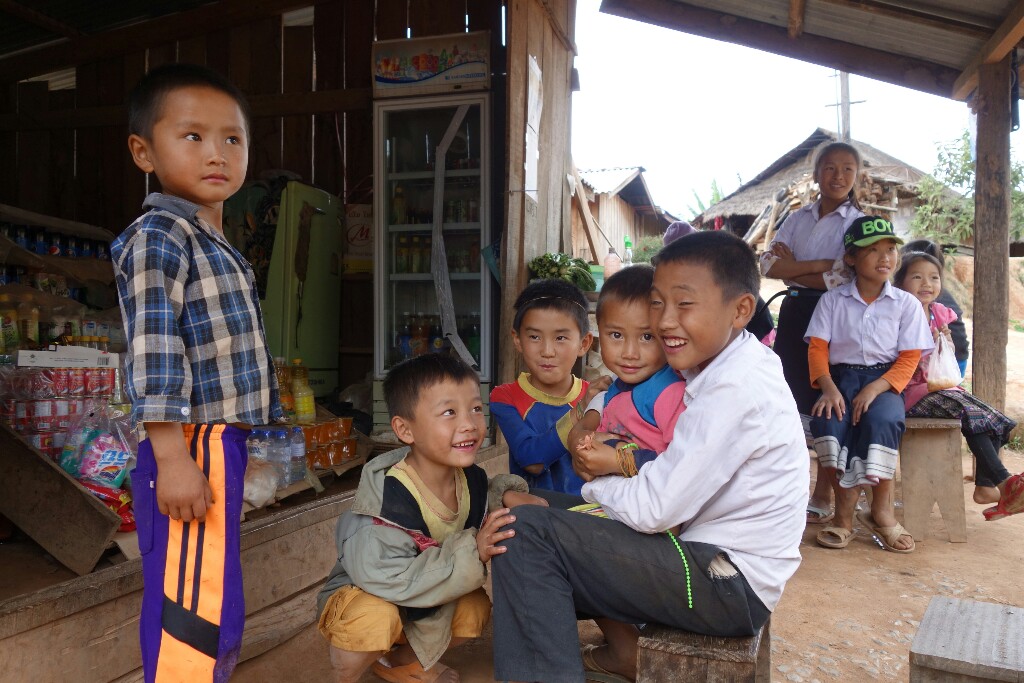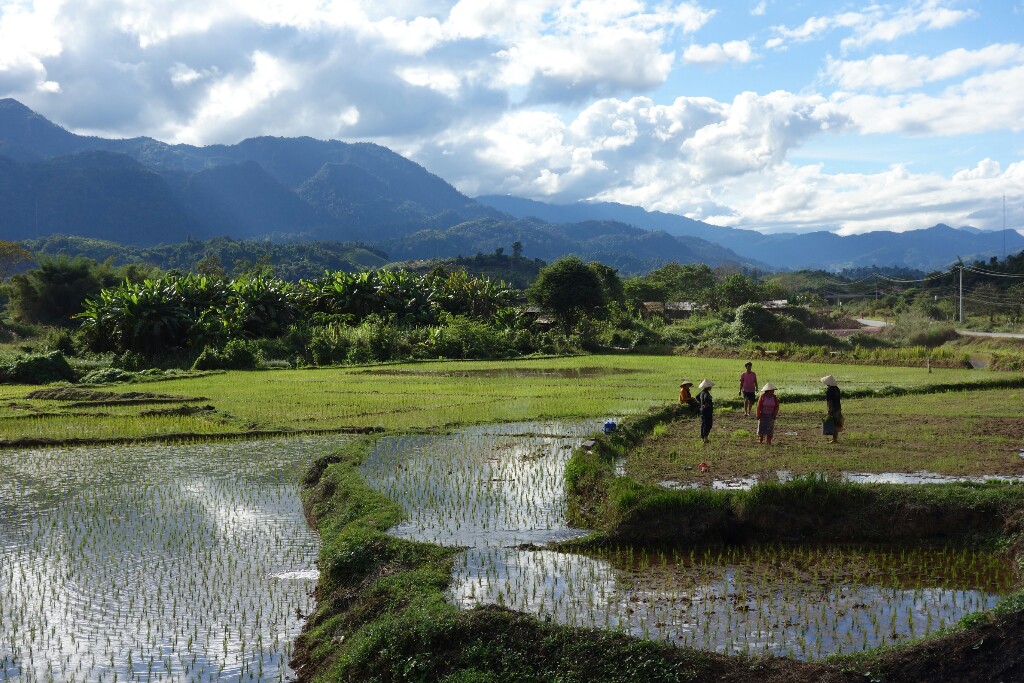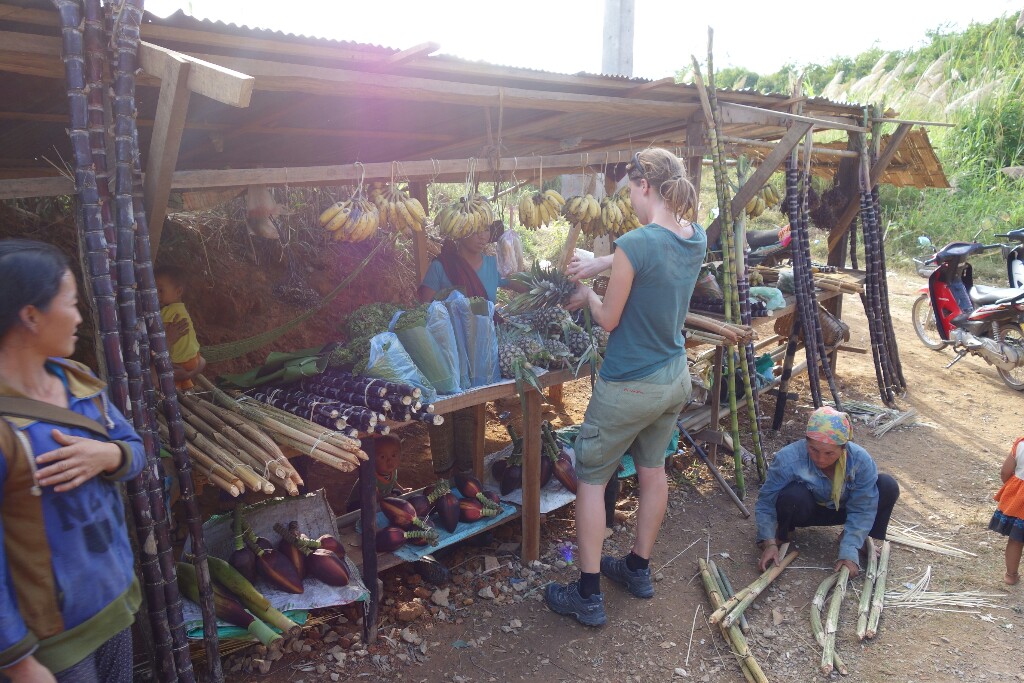 Sadly the Chinese have a hydro-electric dam project here, we see hundreds of hug electricity pylons growing like mushrooms.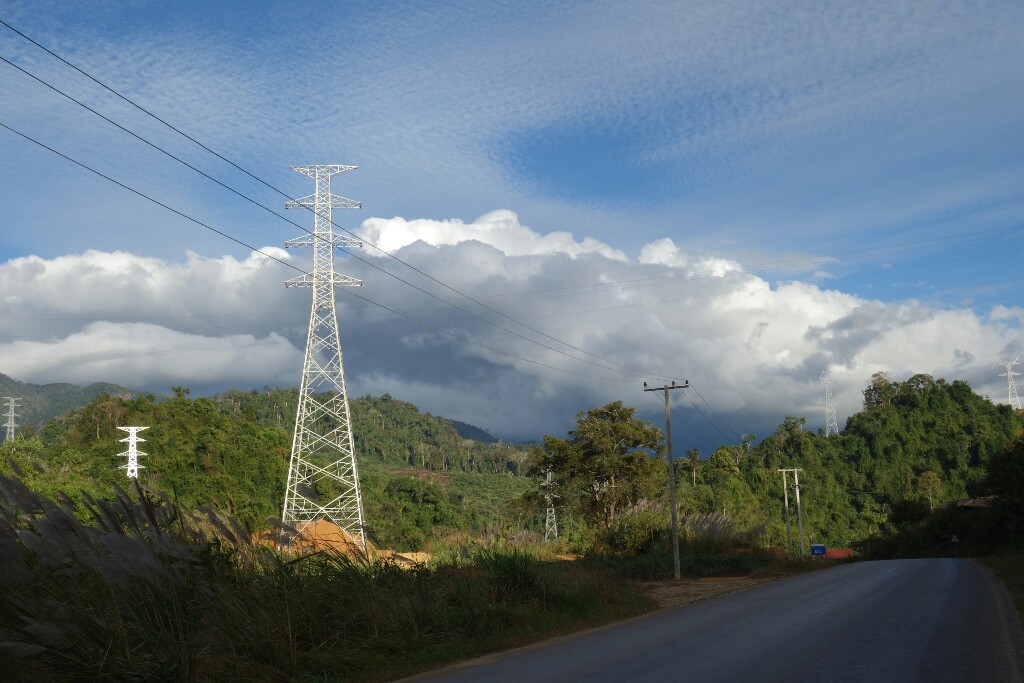 Big nice reed grass and a (for us) very important and valuable present from a German guy Johanna met in Luang Prabang, a big bottle of 30 LSF sun creme.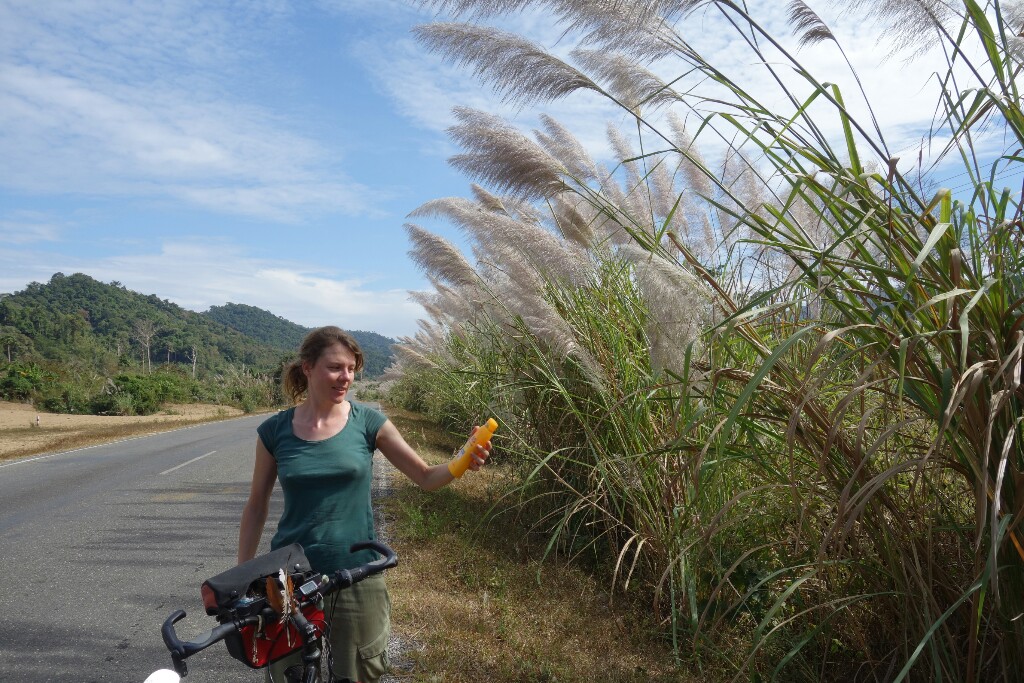 As much as we plan and as much as we want to reach the next guesthouse in an appropriate distance, we realize, when the climbing is steeper and more exhausting then thought, that we won't make it today. Good that we have our little tent with us. But with the UXO stories in our minds we are frightened. Anyway the place we find looks quite used by other peoples earlier. So we pitch our tent in the small wild garden with banana plants and start a small bonfire. I love camping. As a case of emergency it is the last time for us to camp in the wild Lao.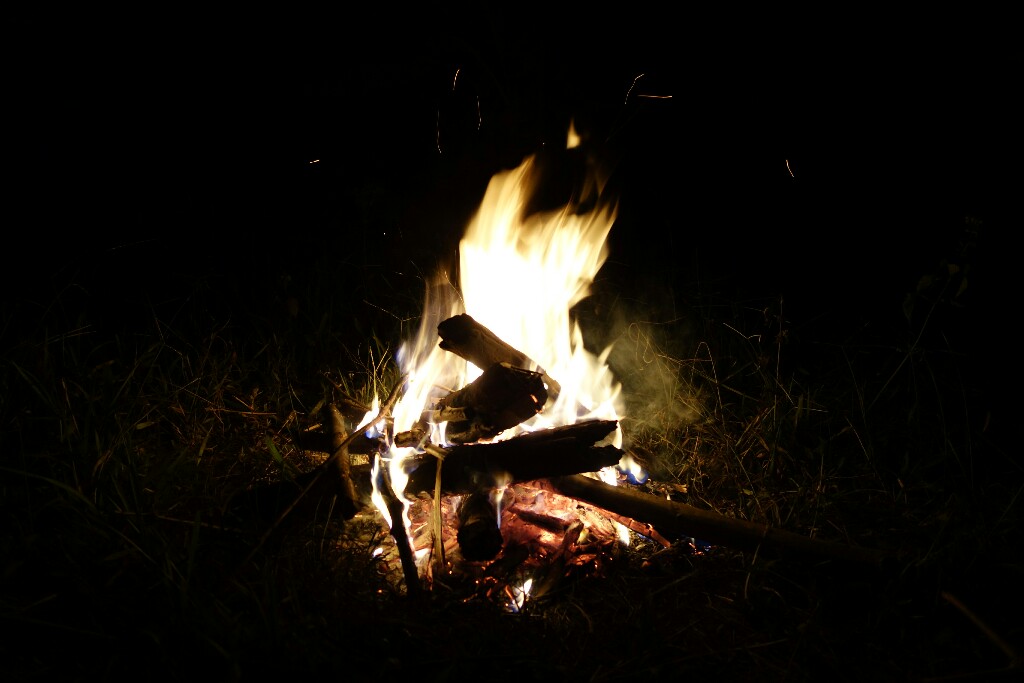 The nice kilometer stones I see in a lot of countries, but those ones in Lao remember me a lot to Morocco, where I cycled together with my sister 2011. They are always good to know how far the next city is.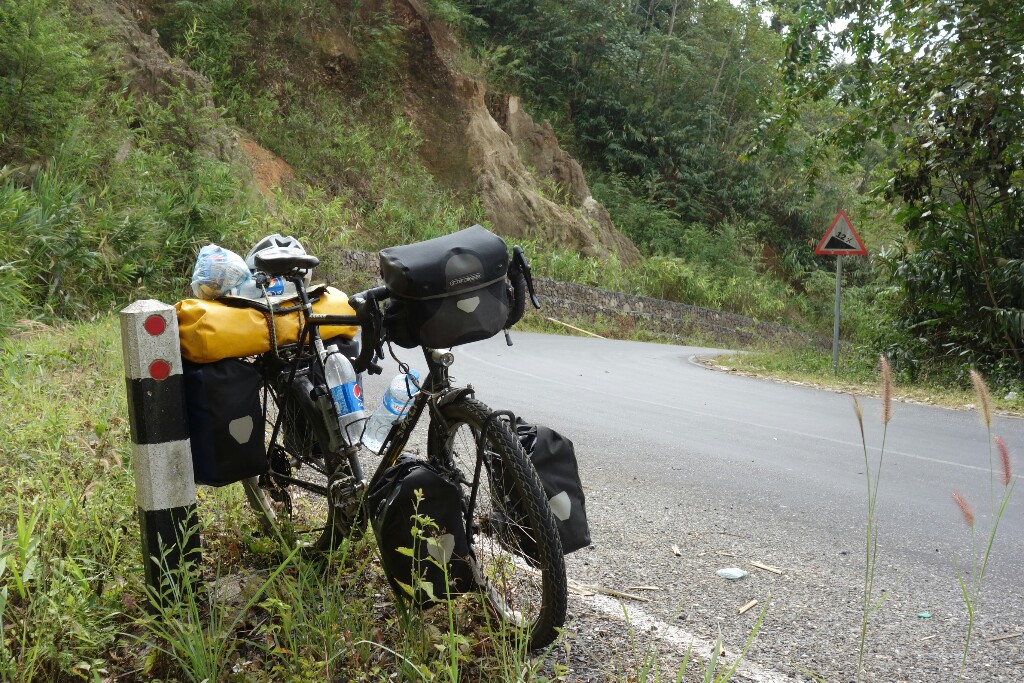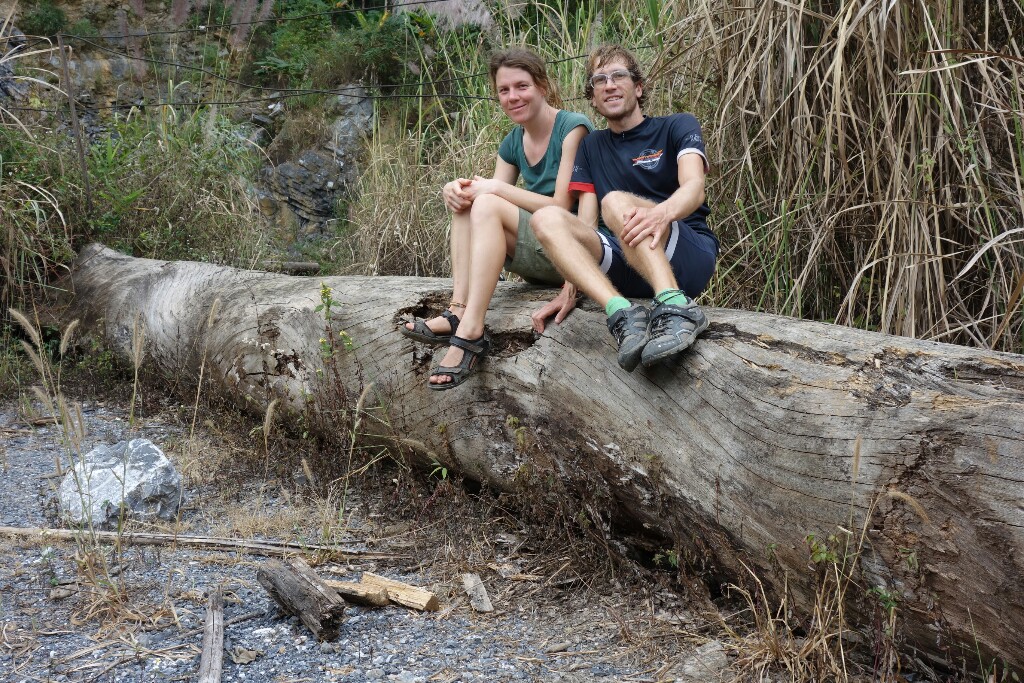 Every little village has a gas station like this. In the background Johanna is fixing her pedal the nth time. Real soon after we bought them in Almaty, one pedal started to have bearing slackness. One bicycle shop in Thailand showed us how to tighten it again, but in Lao it became worse and worse. The next day it stops turning and is run down completely, no way to fix it or cycle on with it. Fortunately all the small shops have some cheap spear parts for bicycles. Interestingly it's not the usual 15mm open-jaw wrench, but a 14mm one, to screw it in. And foolishly the thread is a bit smaller than normal. We can screw it in but it doesn't fit perfect. When it's screwed to the end it seems ok tight. As we don't have another choice, it should last till Vietnam, where we hope to find something better.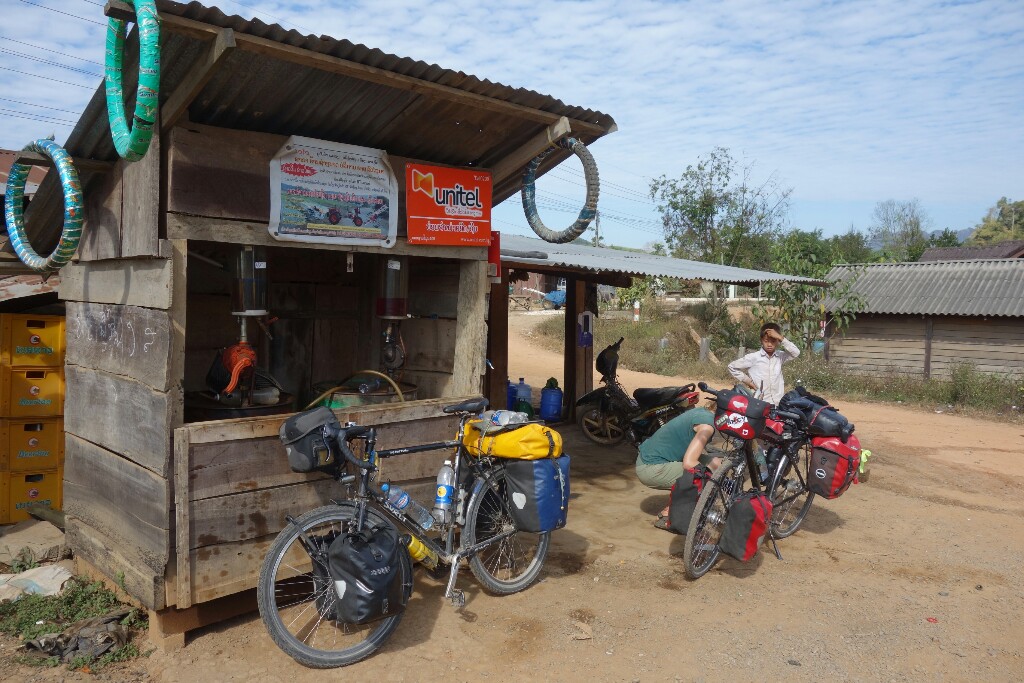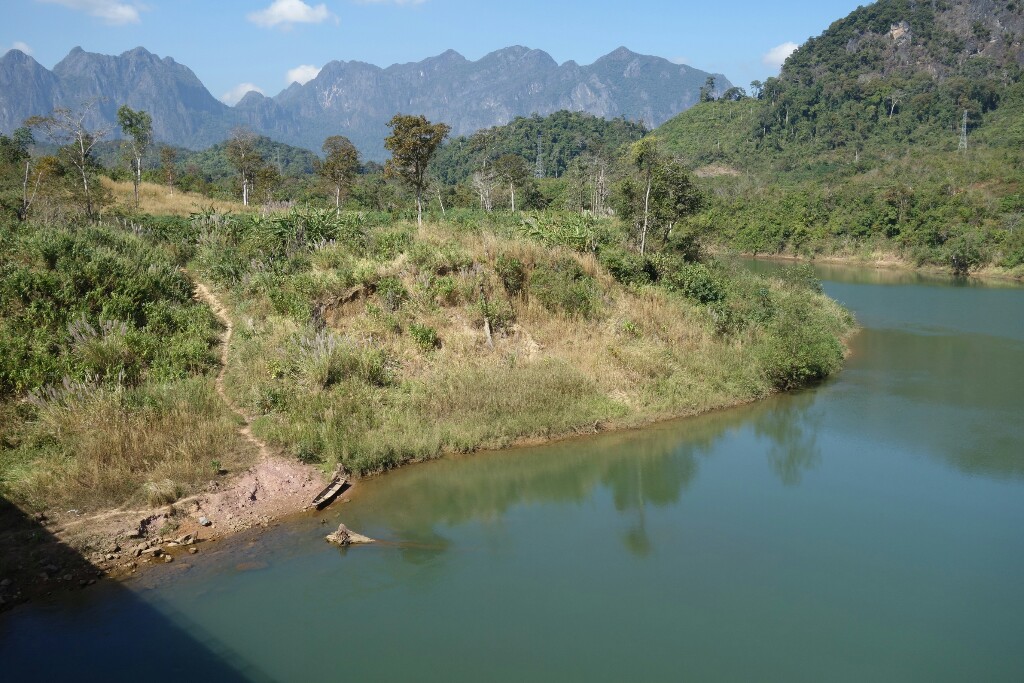 Okay…!? (PTL = power transmission line)
Water buffalos in their element.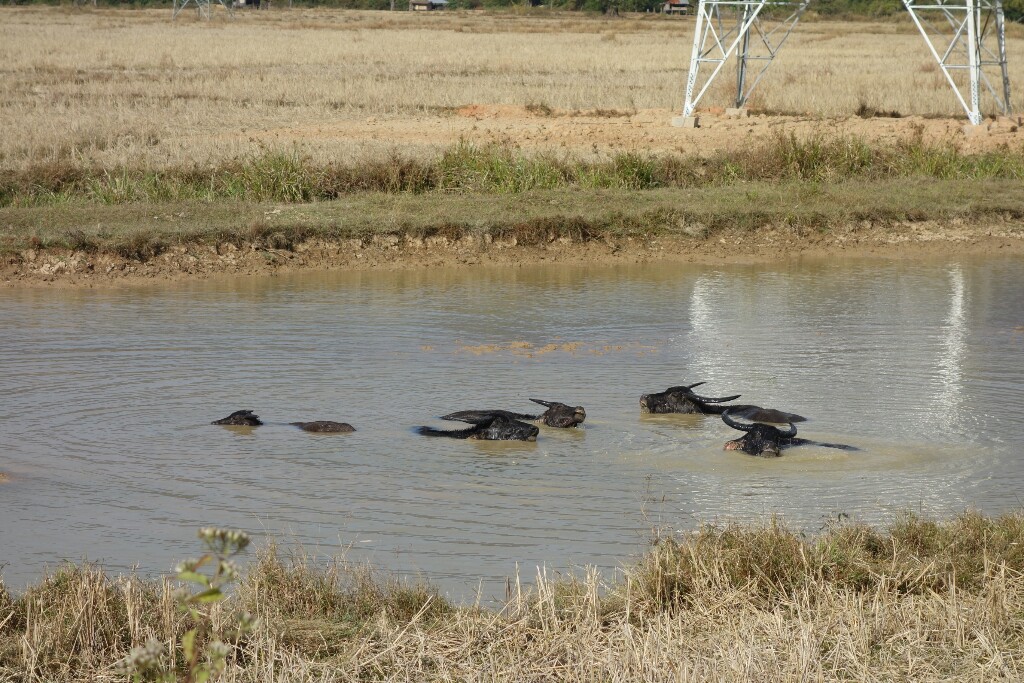 Even we have a long day today we stop over at the Mangkone Cave. Some workers are building new statues in front of the cave, the entrance is free. We are alone and explore the cave, it's quite big and after five minutes we end in a huge hall.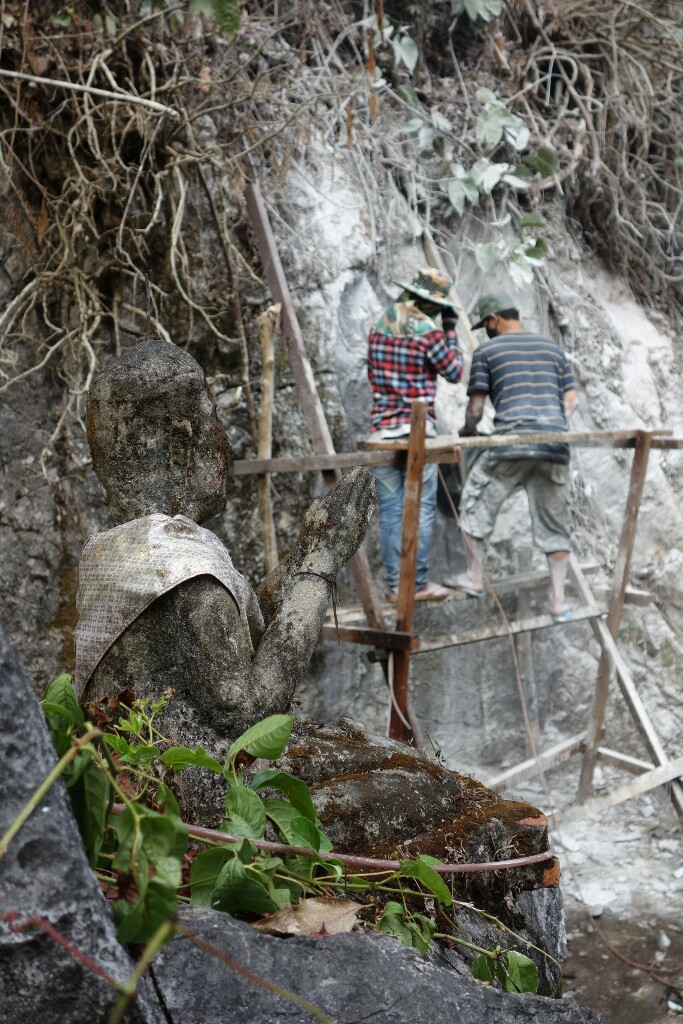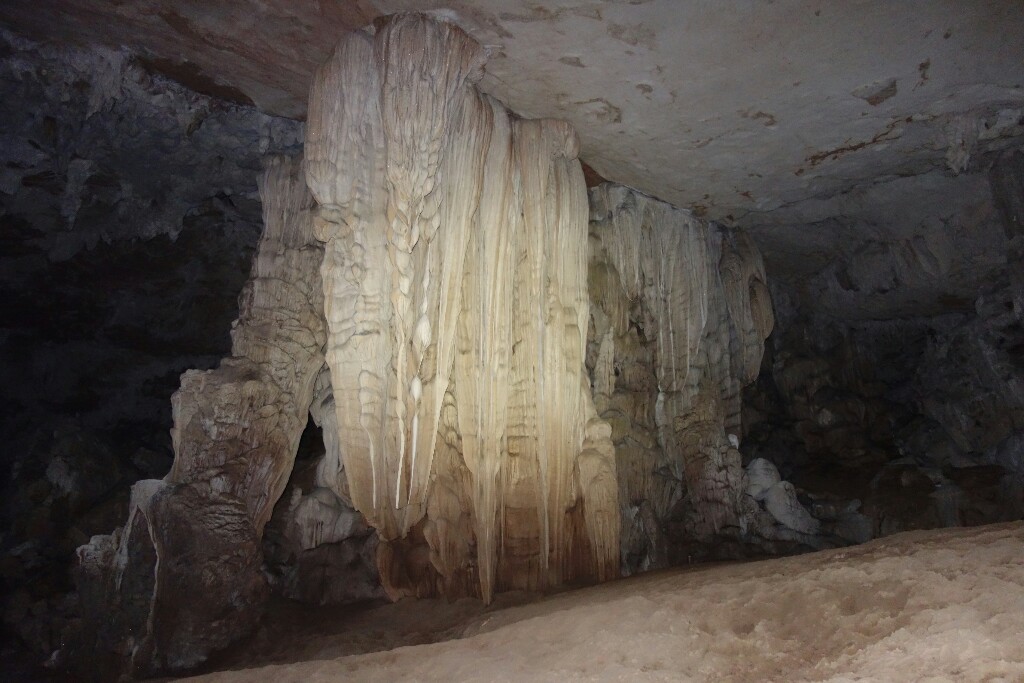 We almost arrive in darkness, but we find a room in a hotel in Lak Sao and one needed ATM. For breakfast we eat omelette and sticky rise.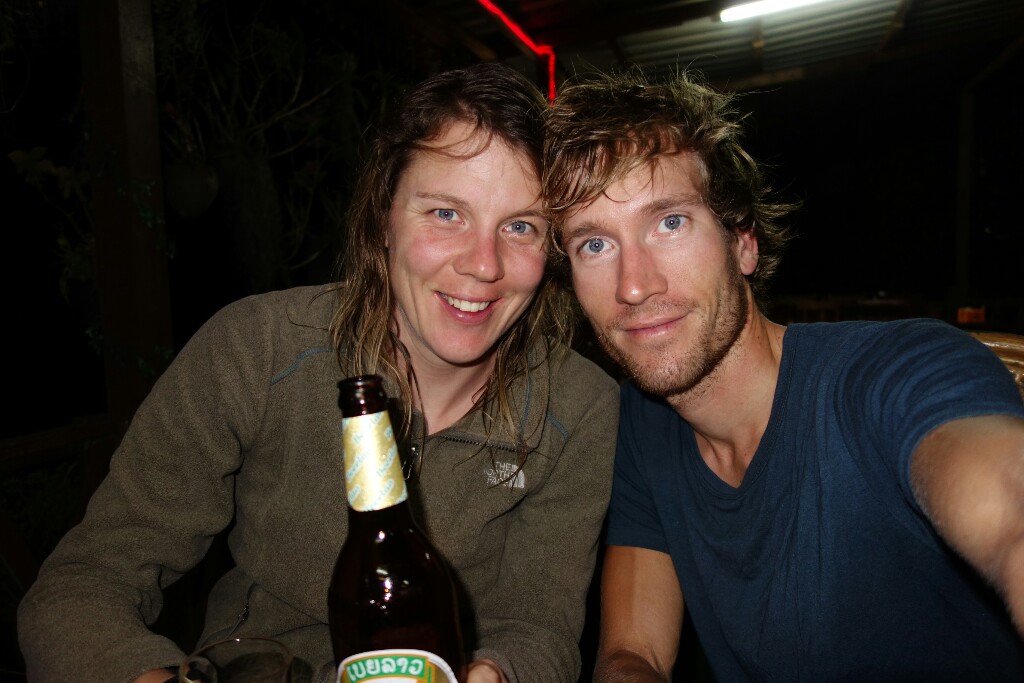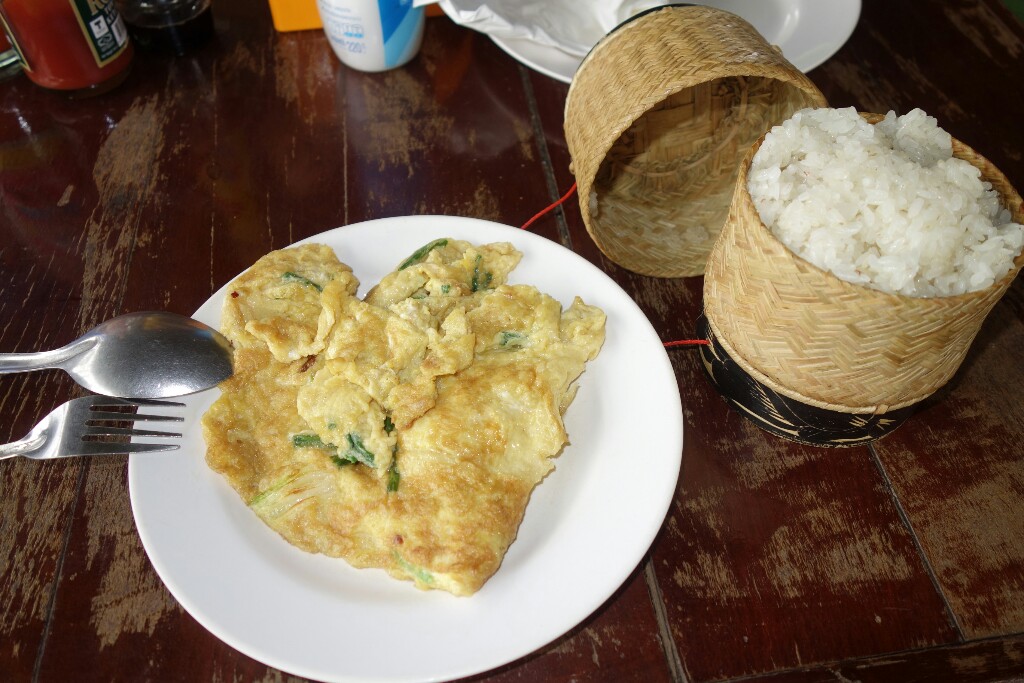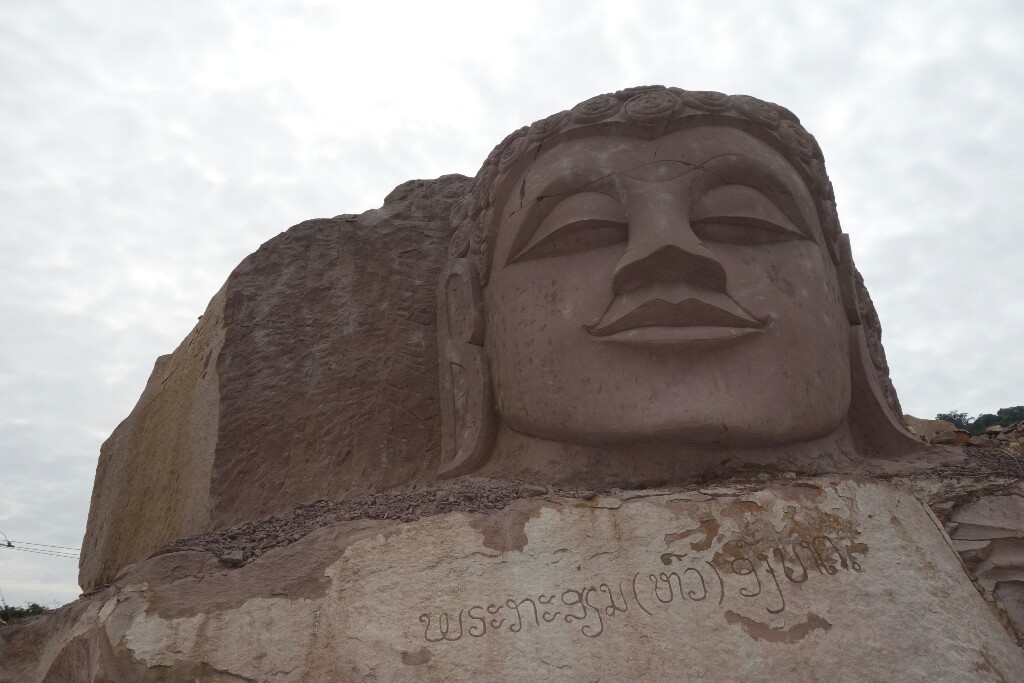 The next day we arrive at the Nam Theun 2, which is a by human water filled valley, to produce energy. With all the dead trees it looks very scary.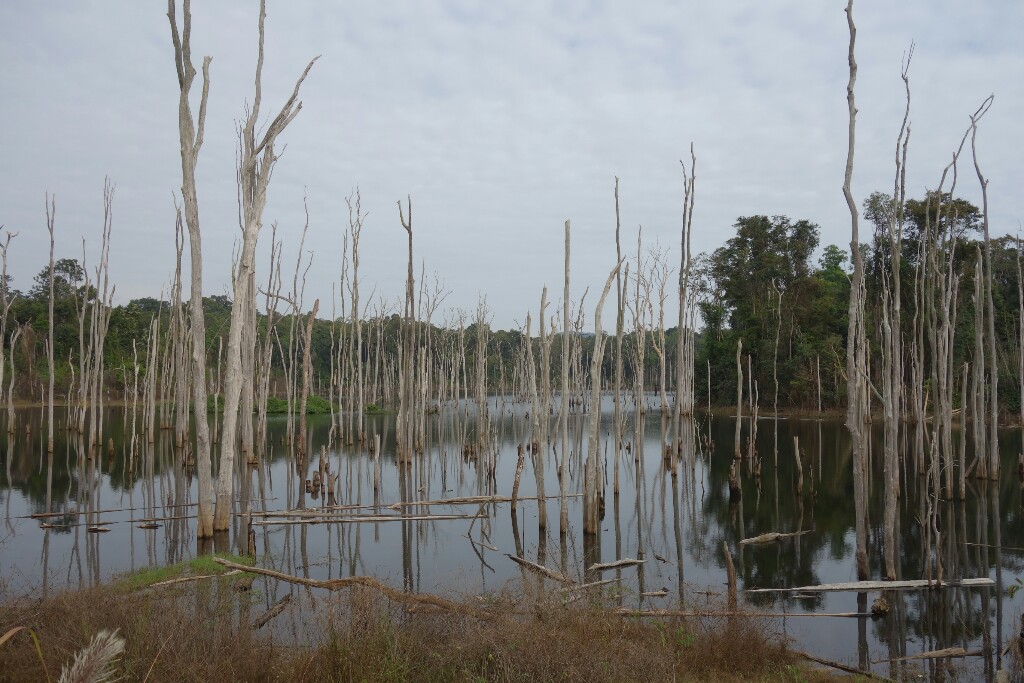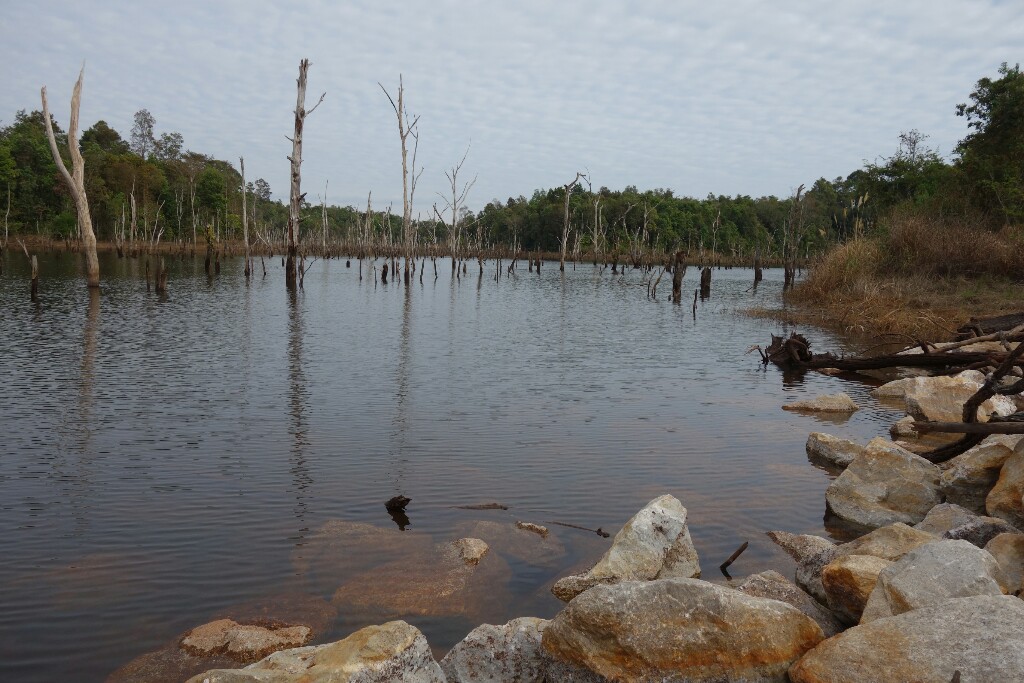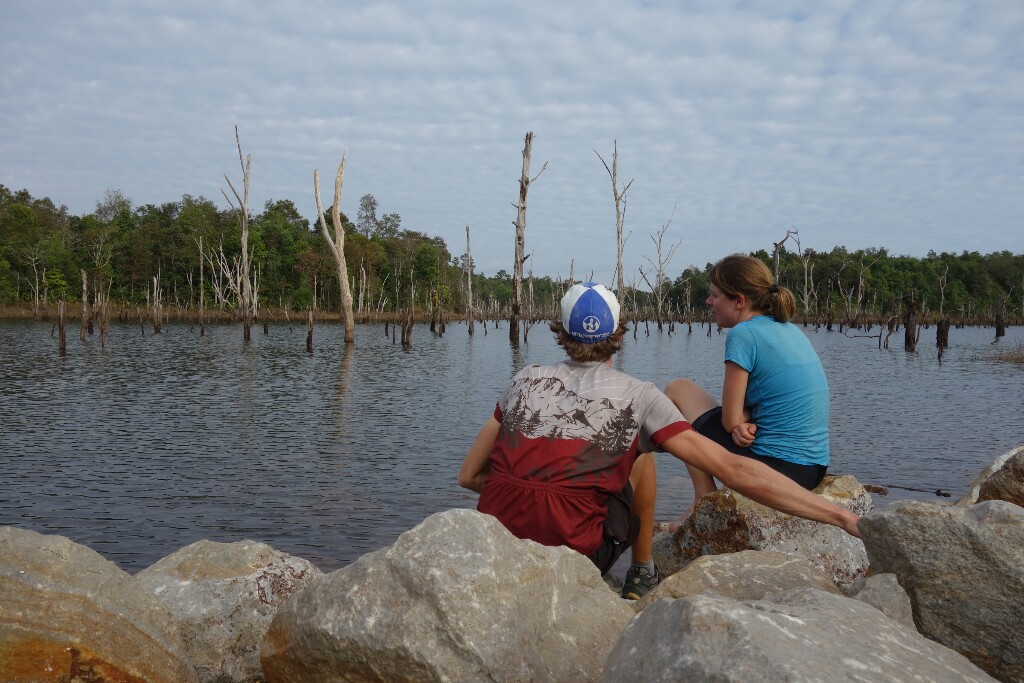 In between this unreal appealing area there is a nice falang (= western person) paradise on an island, the Sabaidee Guesthouse. We enjoy good food, relaxed bonfires at night and stay two nights.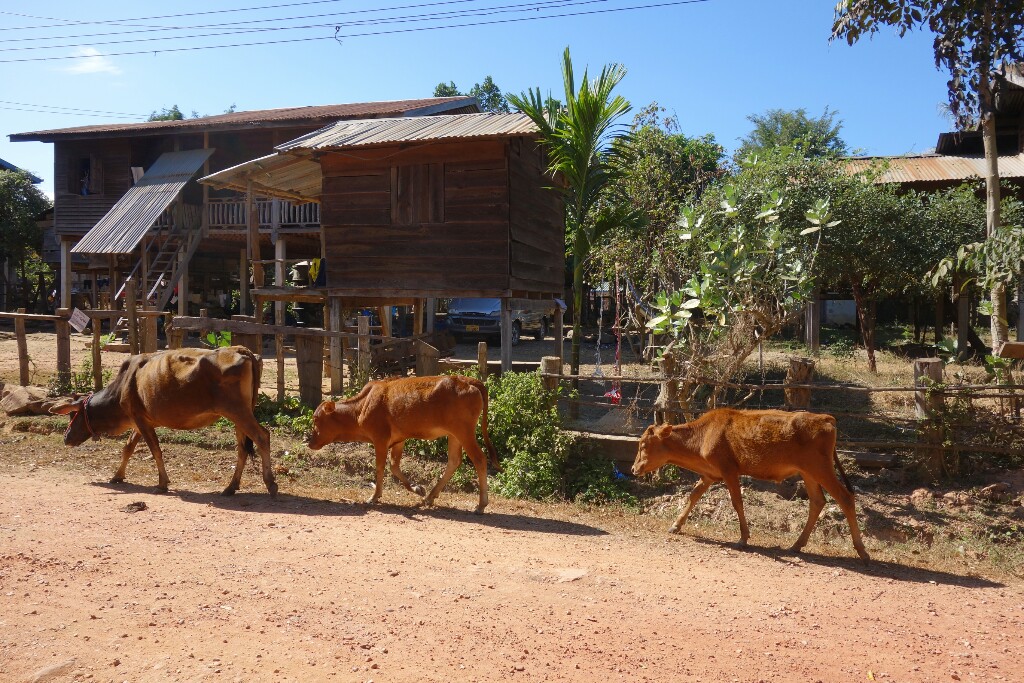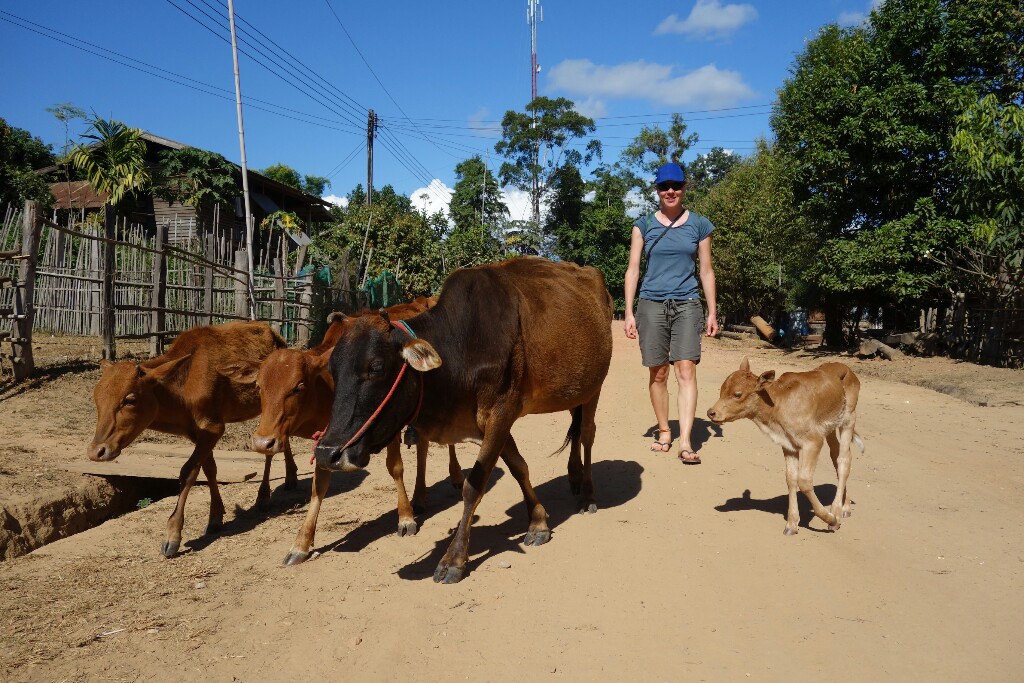 The artificial lake is almost 60 kilometers long at Nakay we reach the 300 meters elevation gain slope, where the turbines are, their power is 1070 MW. They have a visitor center. The project (NTCP) is of three countries (France, Thailand and Lao). They tried to build it with due regard to environment and residents. It seems to be a quite good project, but sure there are a lot of bad things about it as well.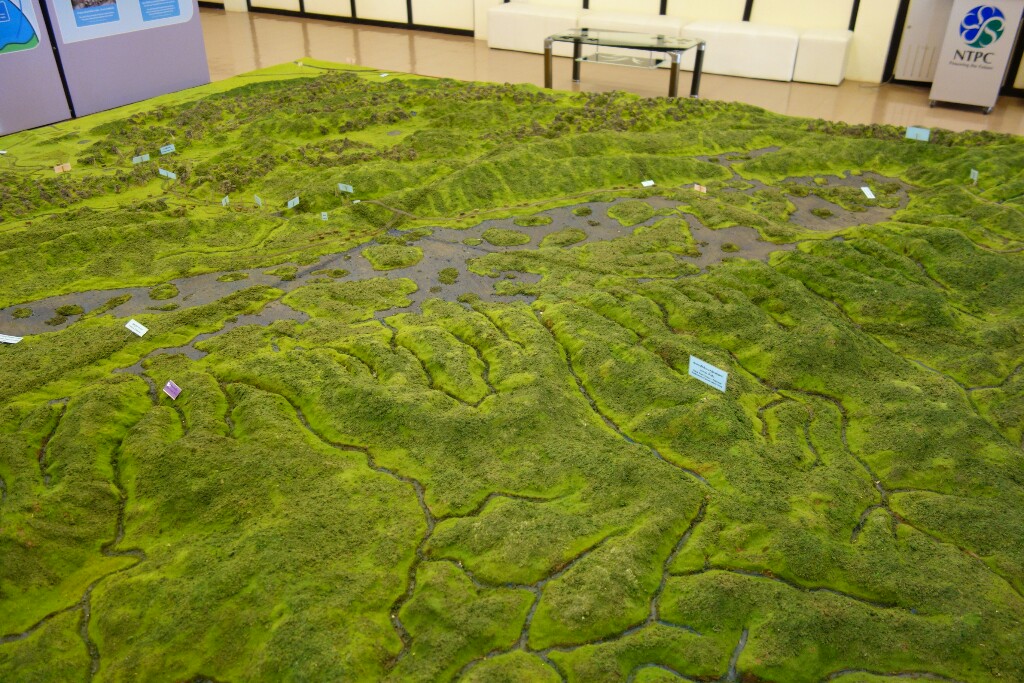 Before flooding the valley they cleaned the area from UXO.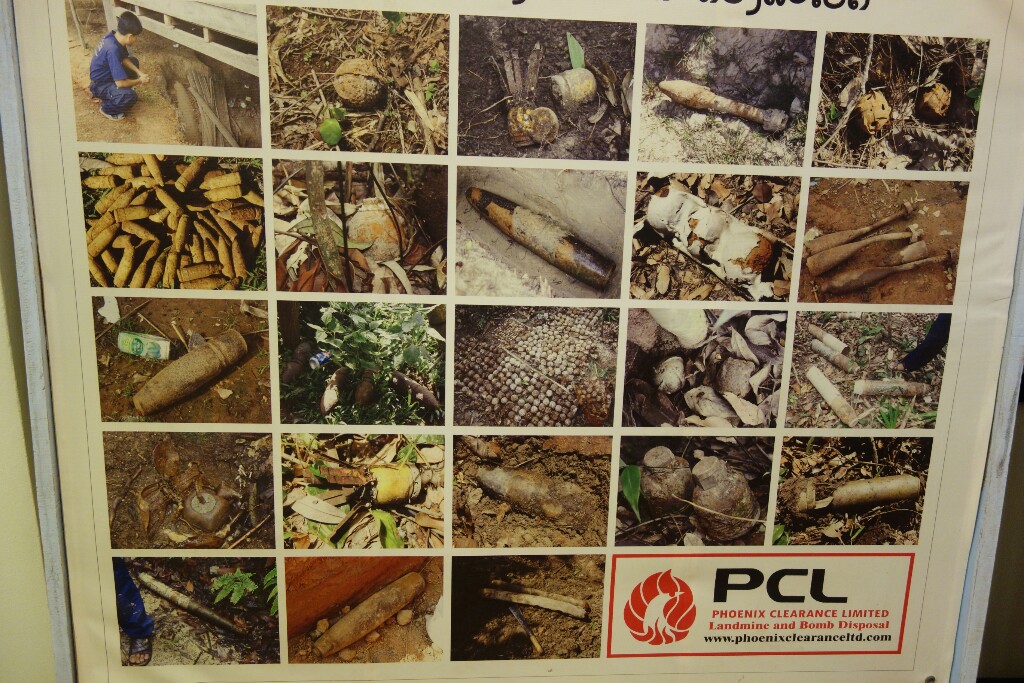 Beautiful rice field landscape.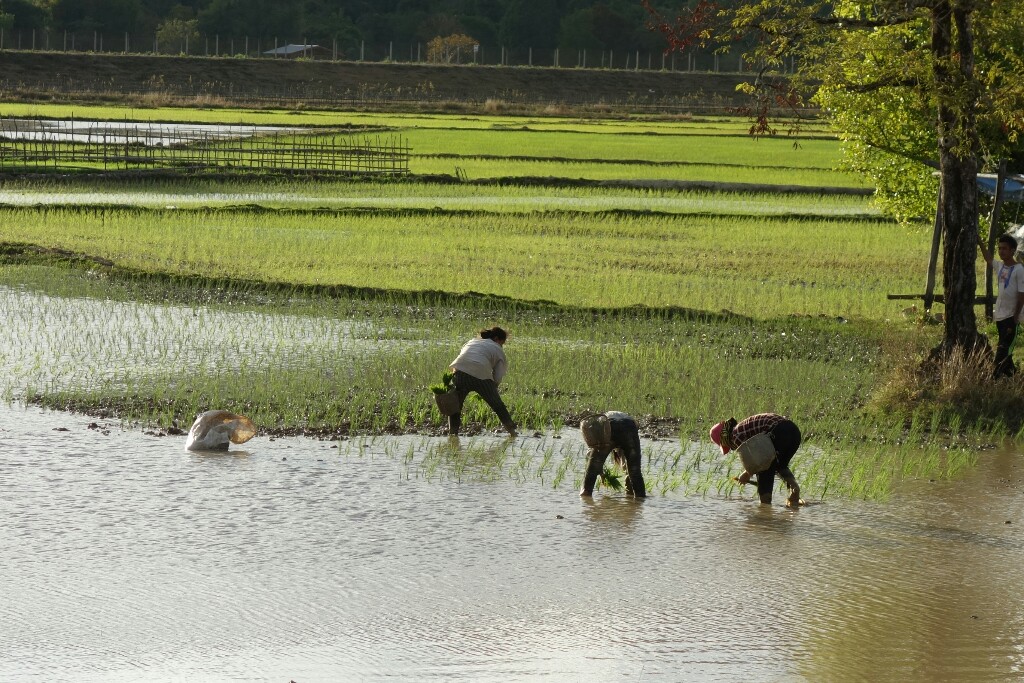 On our penultimate day in Lao, we get the possibility to cycle in the slipstream of an agricultural machine. Not sure if the people realize, why we drive so close behind their trailer for several kilometers.
The last day it is only 17 km to the border, but the road is destroyed in a lot of parts and just sand anymore. To our bad luck a lot of trucks come towards us. We have to climb 200 meters and soon we are covered with a thick layer of dust. I think our worst border crossing road so far. The border is unspectacular dusty likewise, but not very busy and the border formalities go easy as we already have our 30 day Vietnam visa.