Iran, the country of extrem hospitality.
Welcome to Iran. It's not allowed to take pictures at the border, so I took this picture a little later. In the background you can see the Iranian flag (green white red) and another small detail, which surprised us for Iran.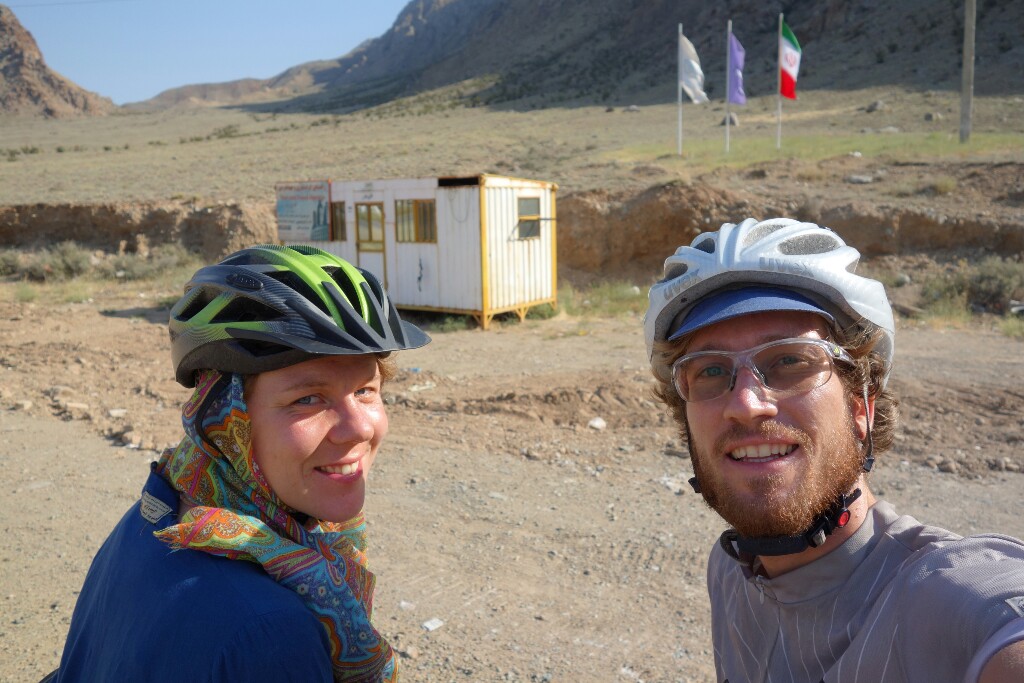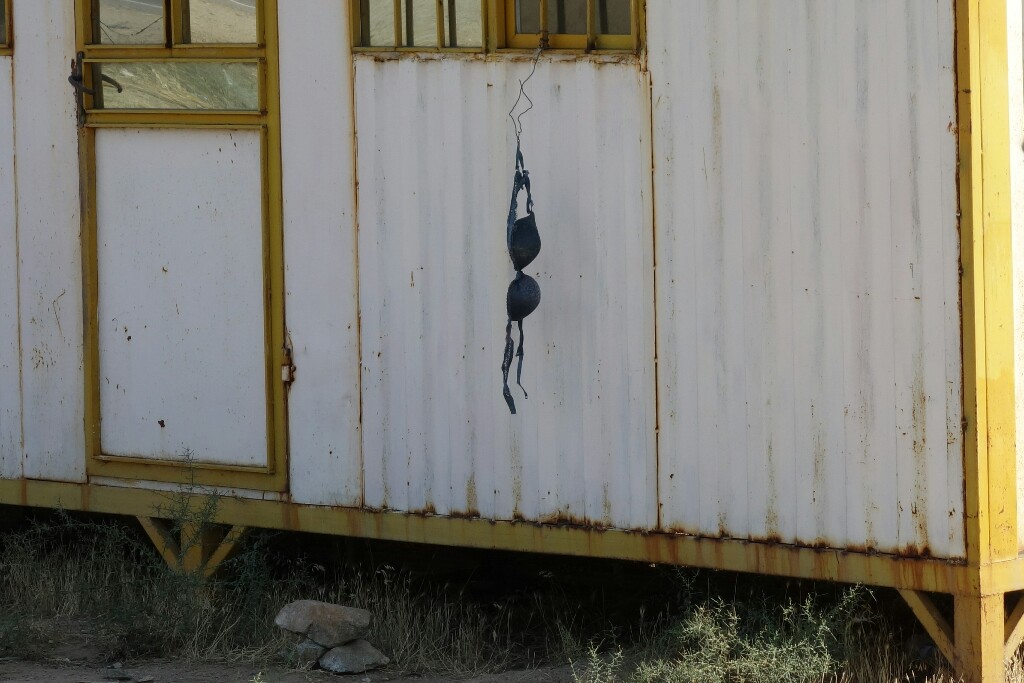 The first big city in Iran on our way is Tabriz, there is a national road which goes more flat around the mountains and a small road over the mountains. Of course we took the mountain way with less traffic. Immediately we had to climb steep uphill, for Johanna even harder with long cloth and headscarf in this extrem heat. The area was very dry, just some little oasis showed where life is more fruitfully.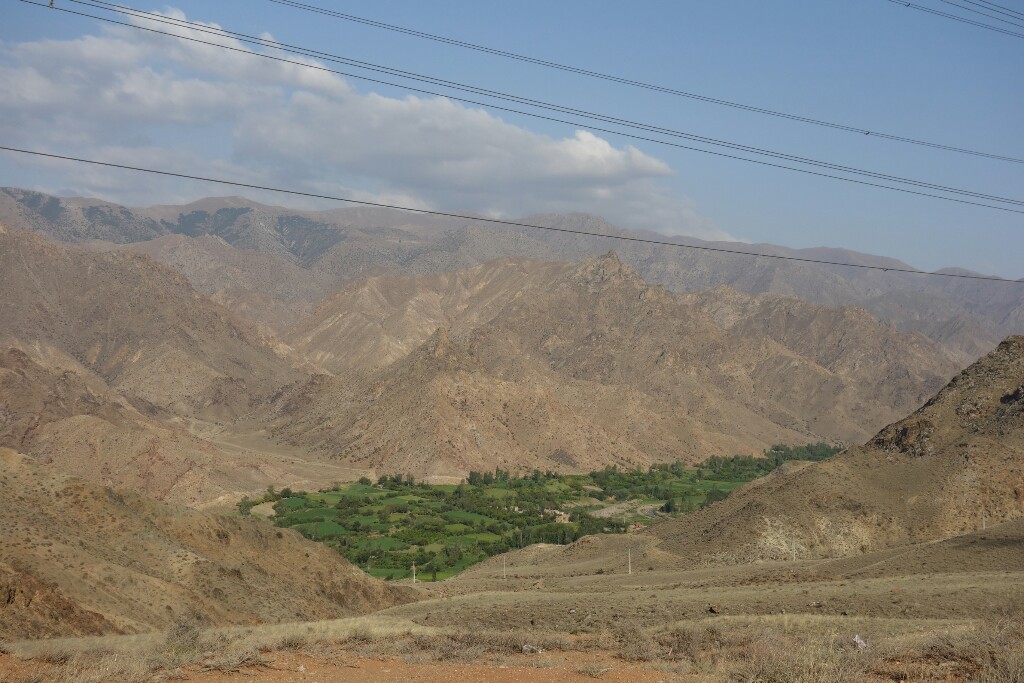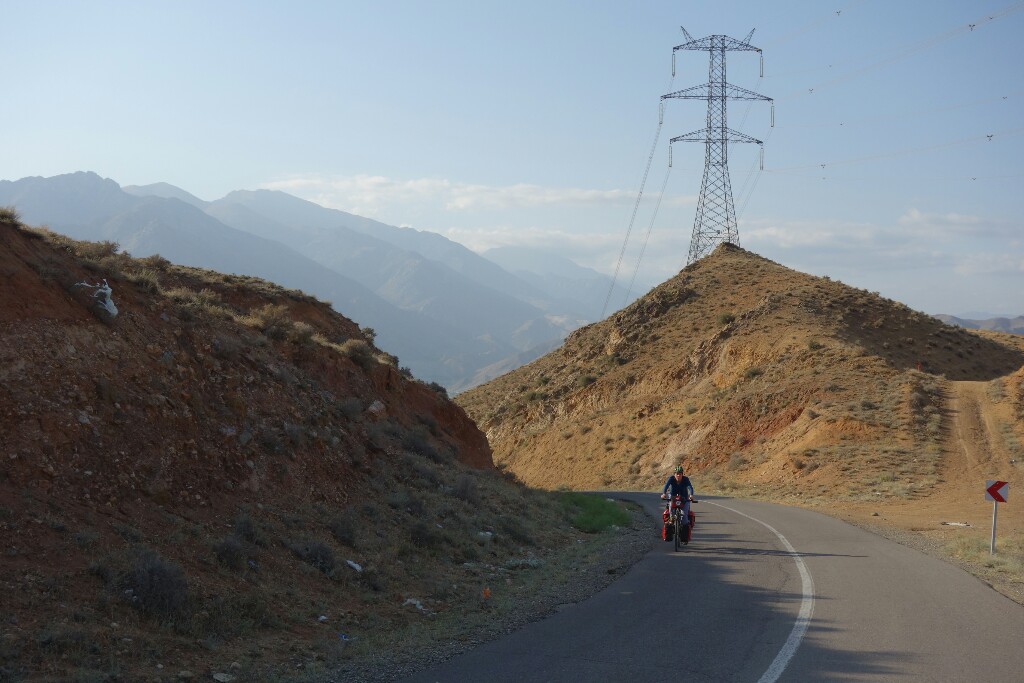 This type of blue cars you see a lot in Iran. It's the smallest truck and they are sometimes overloaded with melons or straw for example. The man stopped for us and gave us a big box of biscuits (1 kg). 🙂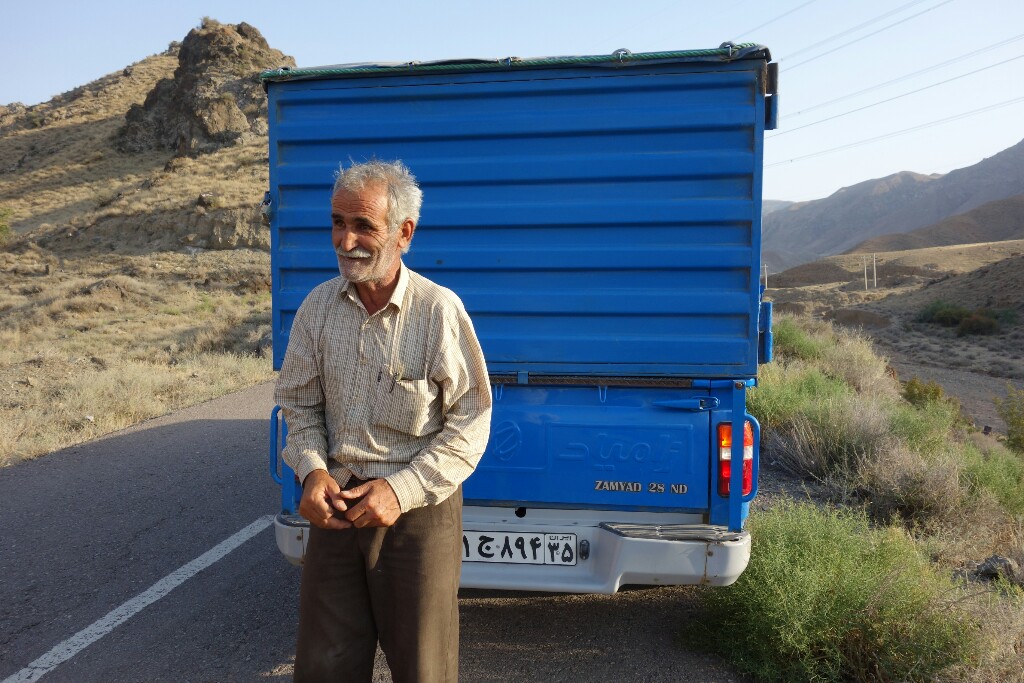 Filling up our water bottles at a spring, we had some small talk and pictures with this family.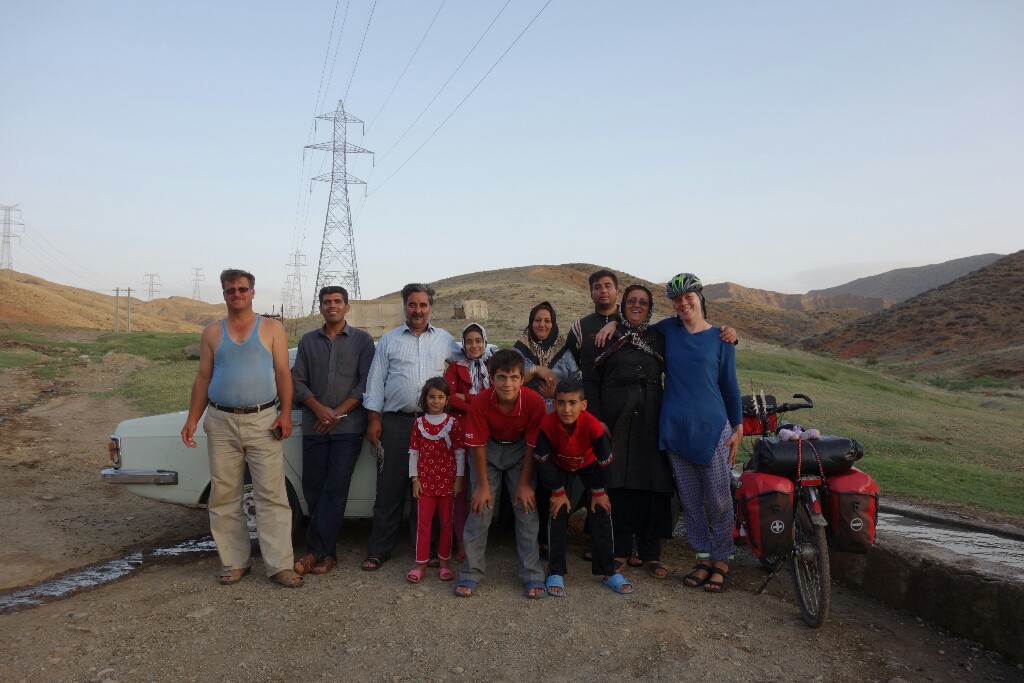 At evening we had to find a campsite, looking around we ended up on the gas pipe track. It was the second time on our journey, in Hungary, after we were eaten by thousands of mosquitoes, we camped on a gas pipe track before.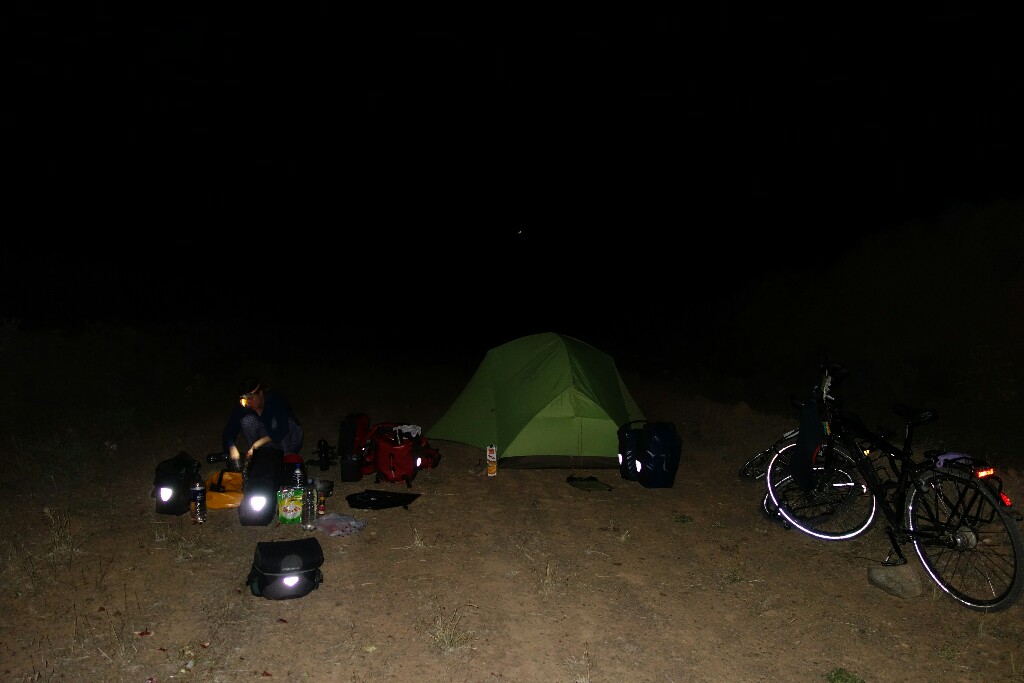 After dinner we brushed our teeth and Johanna saw this scorpion. We didn't know how poisoning it is. But a big stone helped us to sleep better. Later inside the tent wikipedia told us, that just a small number of scorpion species is lethal for humans.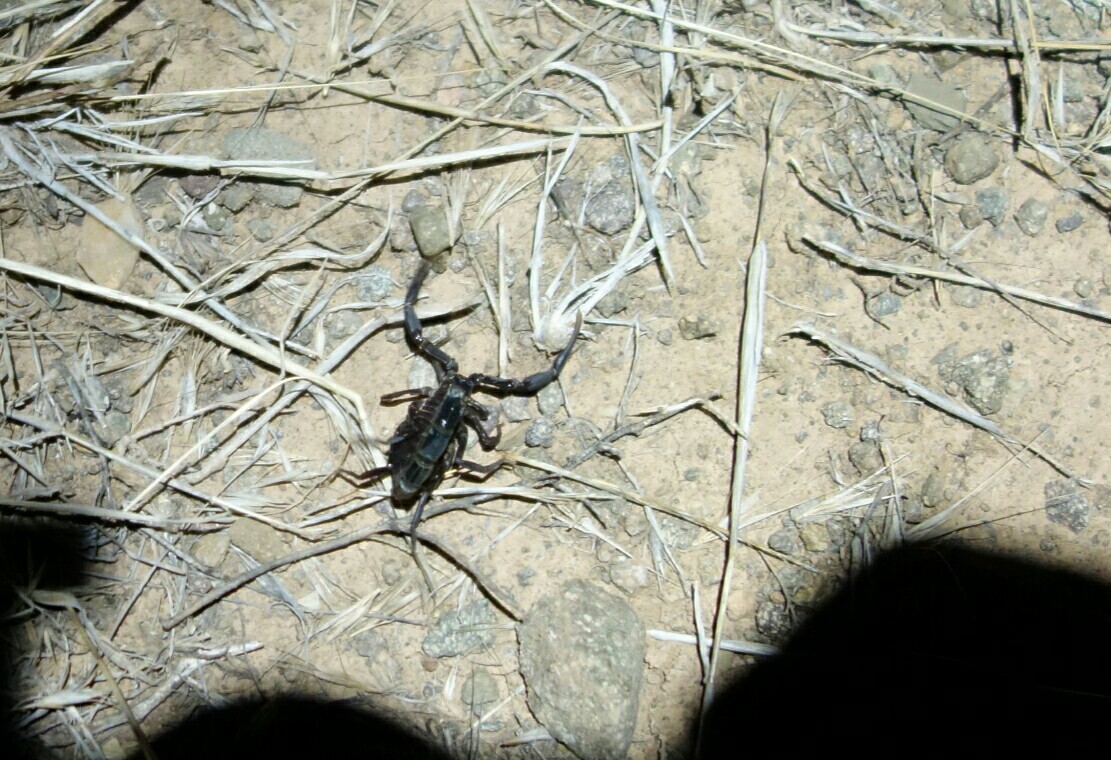 Cool nice cloudy morning.  

More up and down on our way to Tabriz. The signs show that it goes uphill or downhill, but never how steep.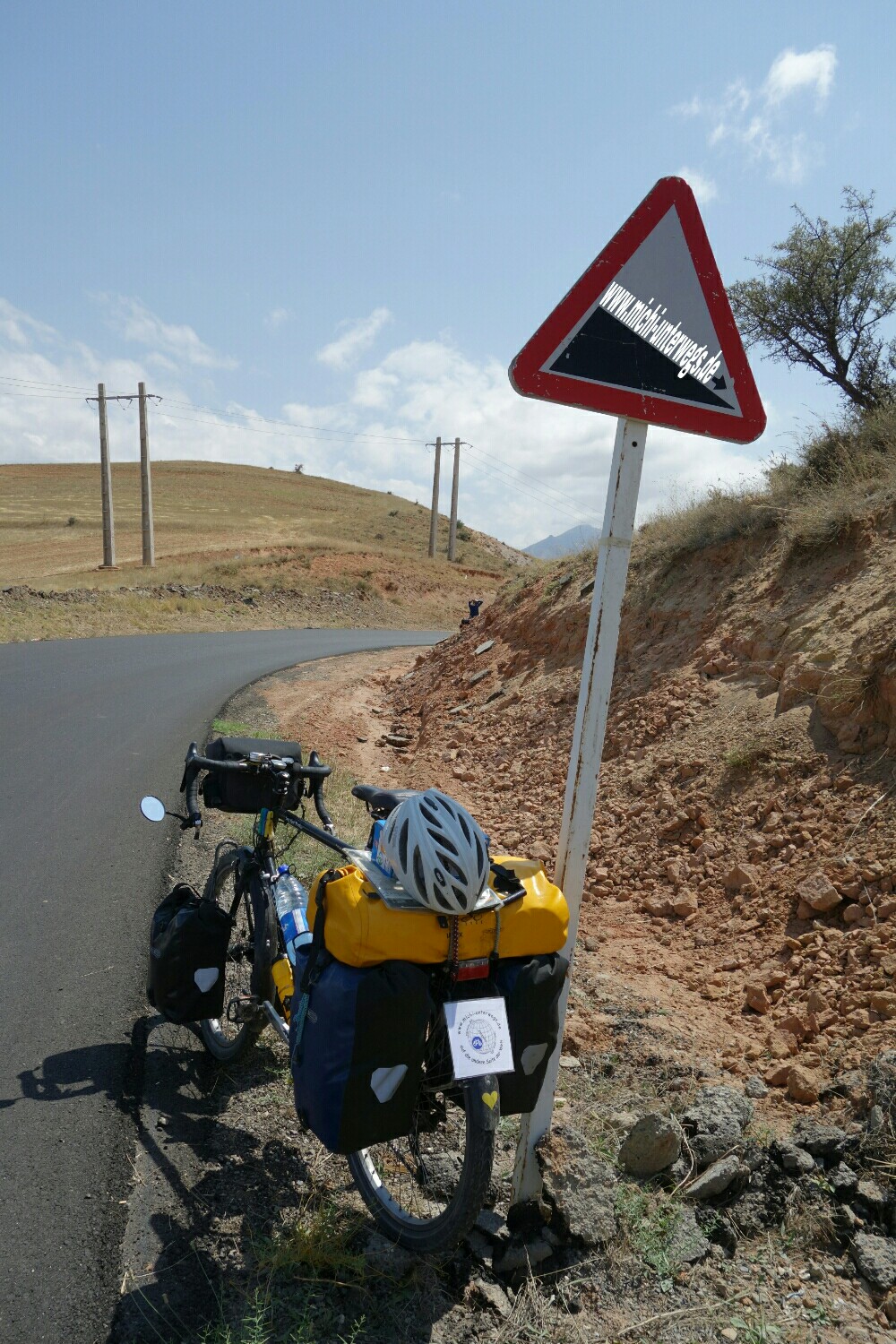 If you want to learn some Farsi, you have to read from right to left. The numbers are not so difficult. For example 5 is a upside-down heart.
6000 kilometer! 🙂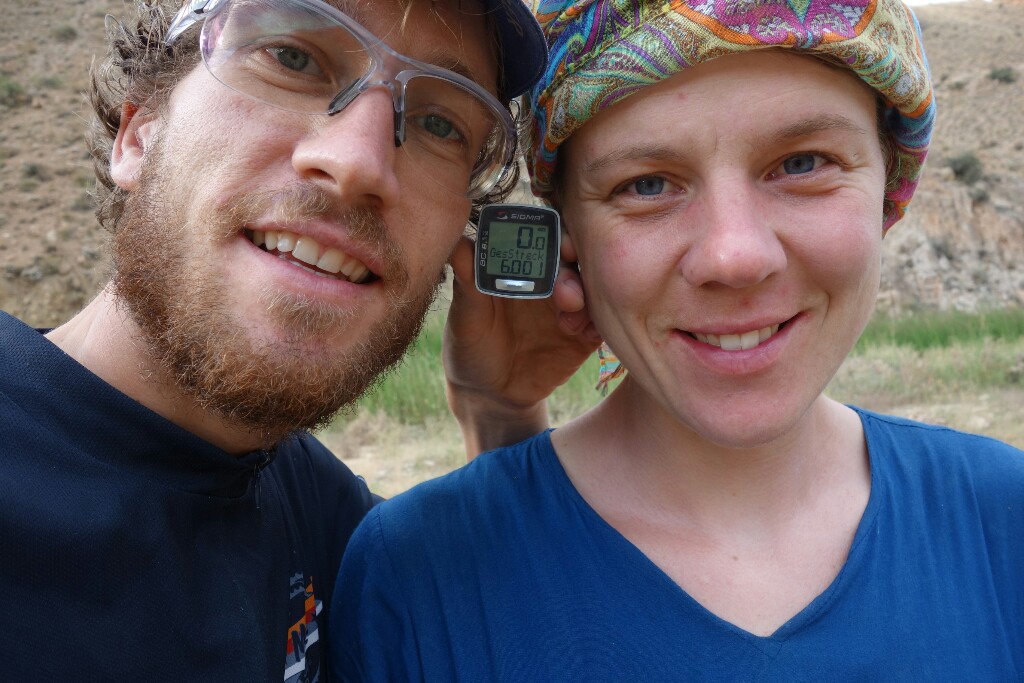 The small village Arzil, where we camped one night.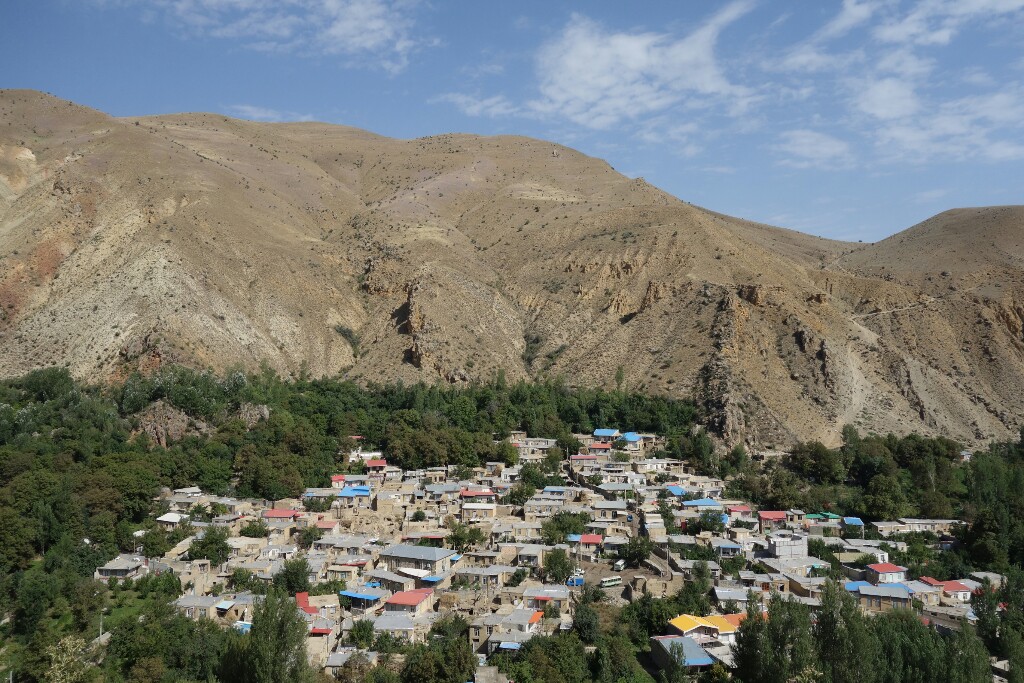 An Iranian Café, or let's better say a tearoom with biscuits. 😉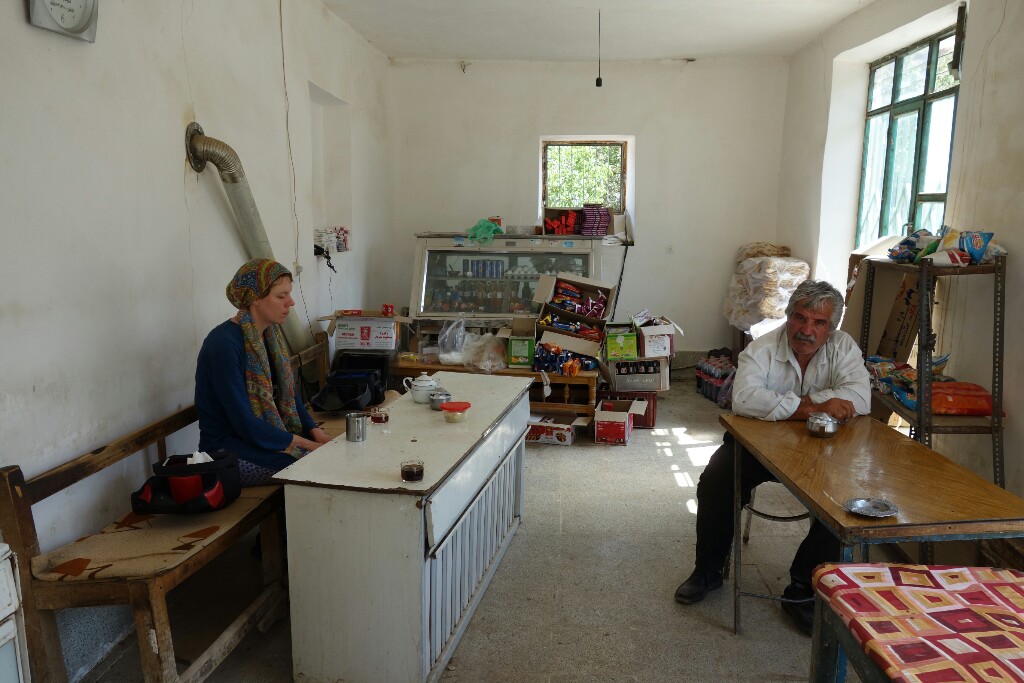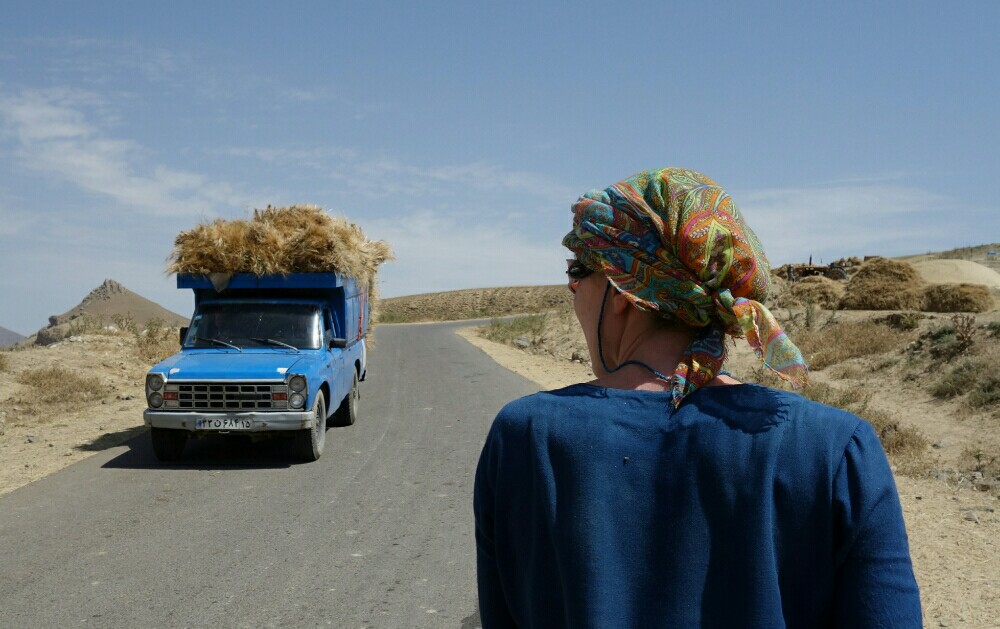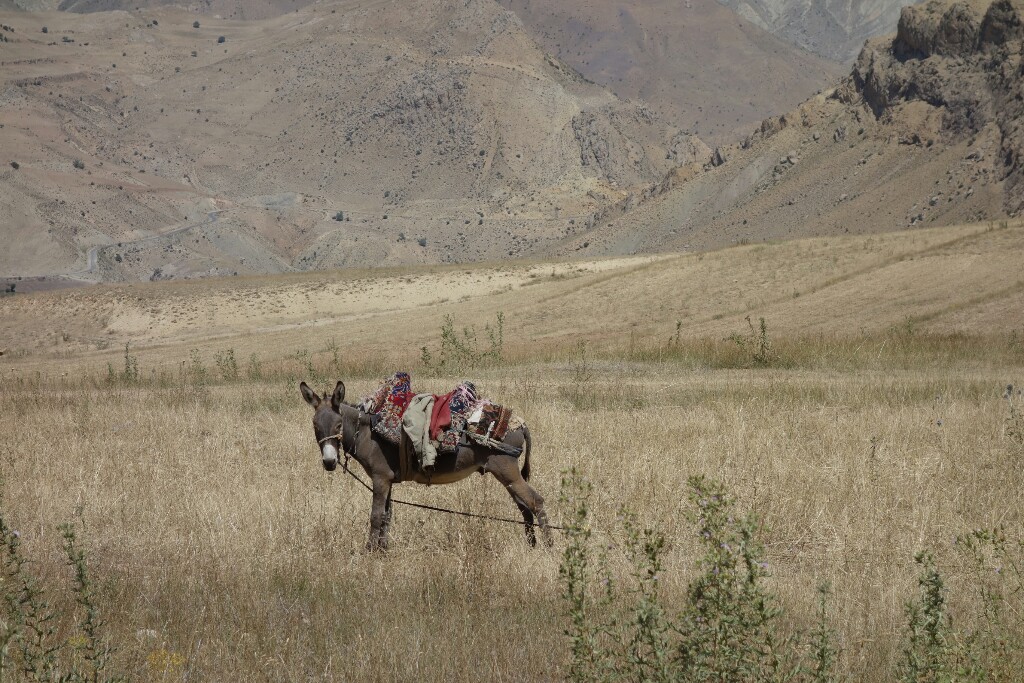 On top of the mountain pass (2400 meters a.s.l.) on car stopped and gave us a stone melon.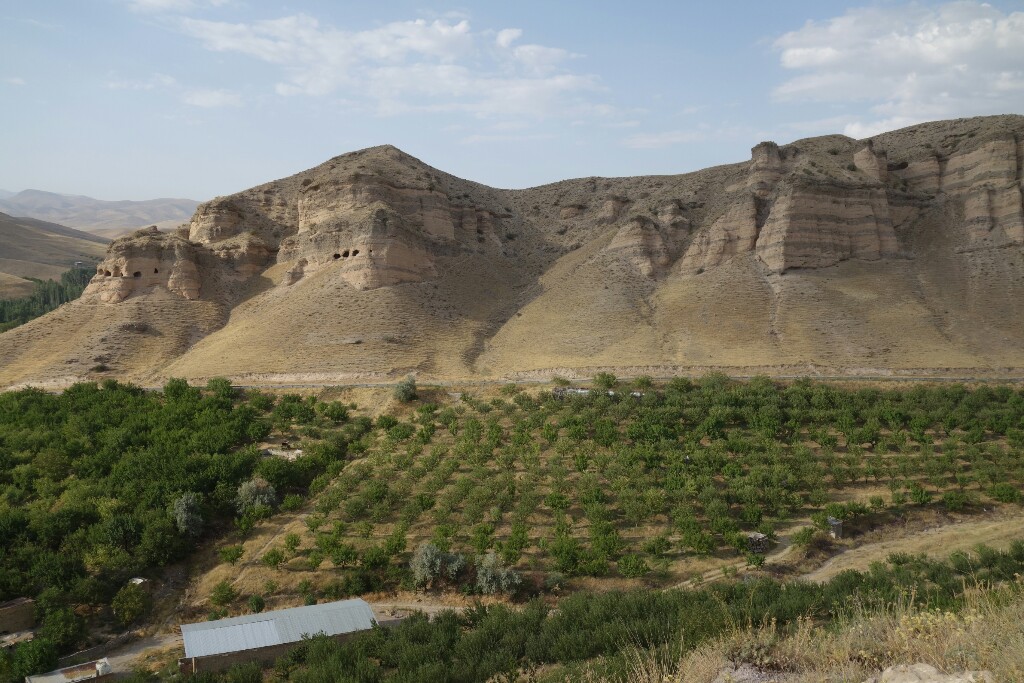 Later the day we had a nice rest (invitation).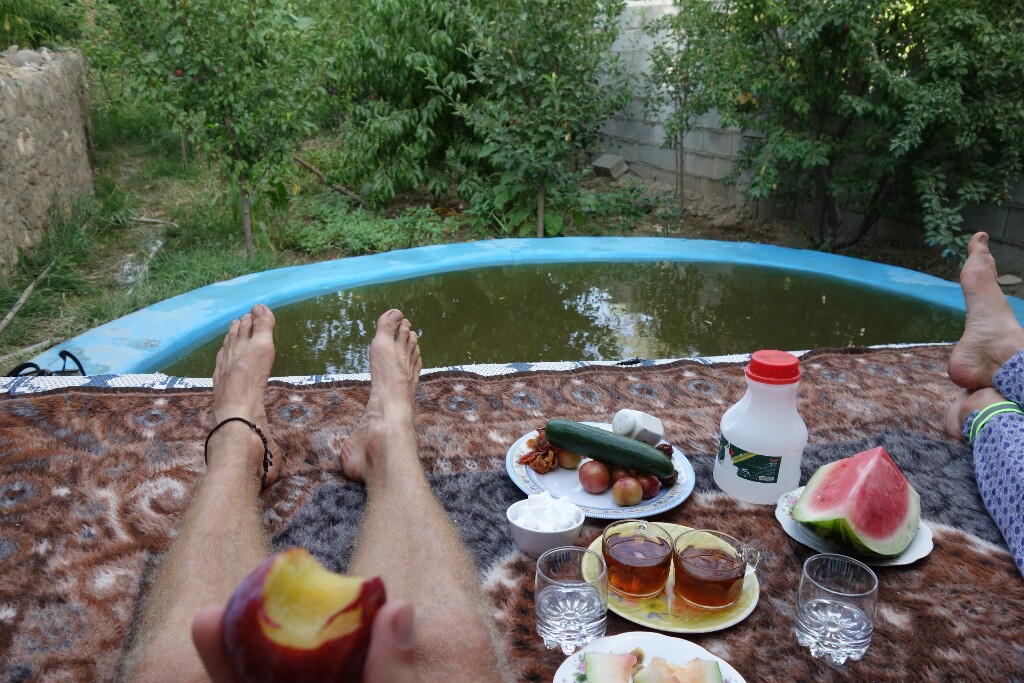 Before Tabriz we ate in a restaurant, it's sad, you get salad in plastic.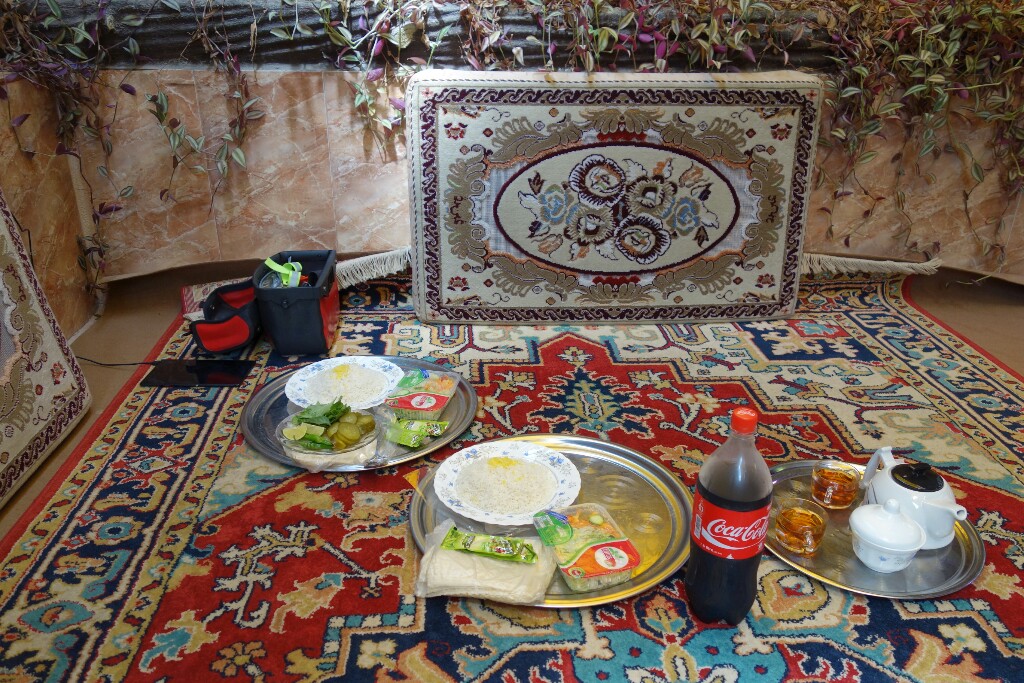 Sightseeing in Tabriz. Old town gate or part of a big old mosque, sorry I'm not sure exactly.
Famous Iranian drink "doogh" with our fabulous host Ali.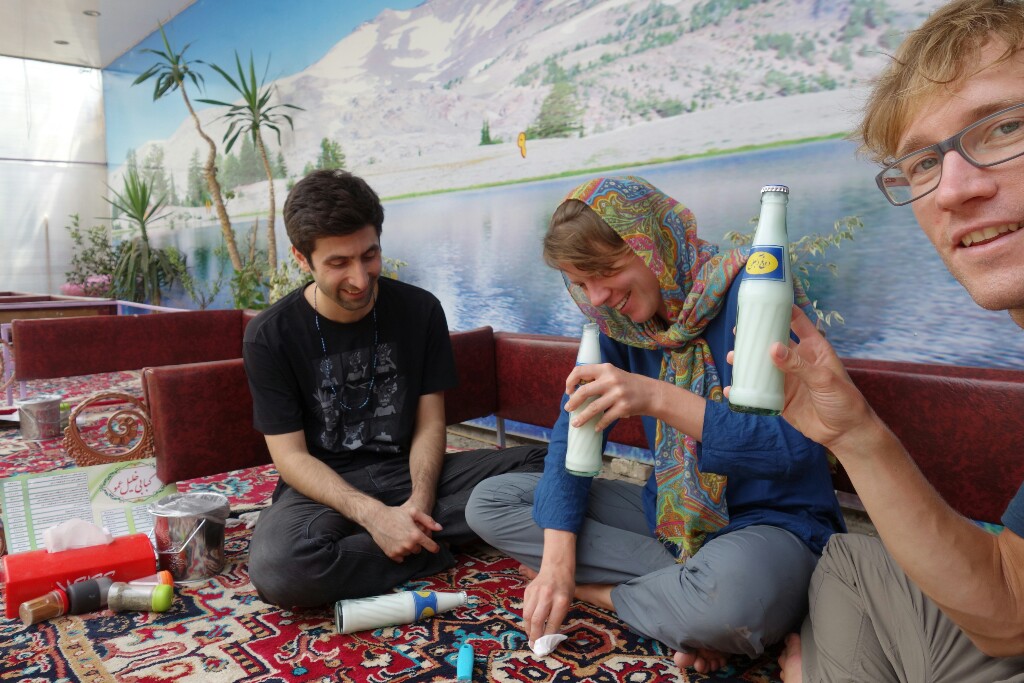 Guess what it is? It's not bubble wrap. In Iran they have four different types of bread: barbari, sangak, tafton and lavash. The bread on the picture is lavash, very thin, a little bit like paper.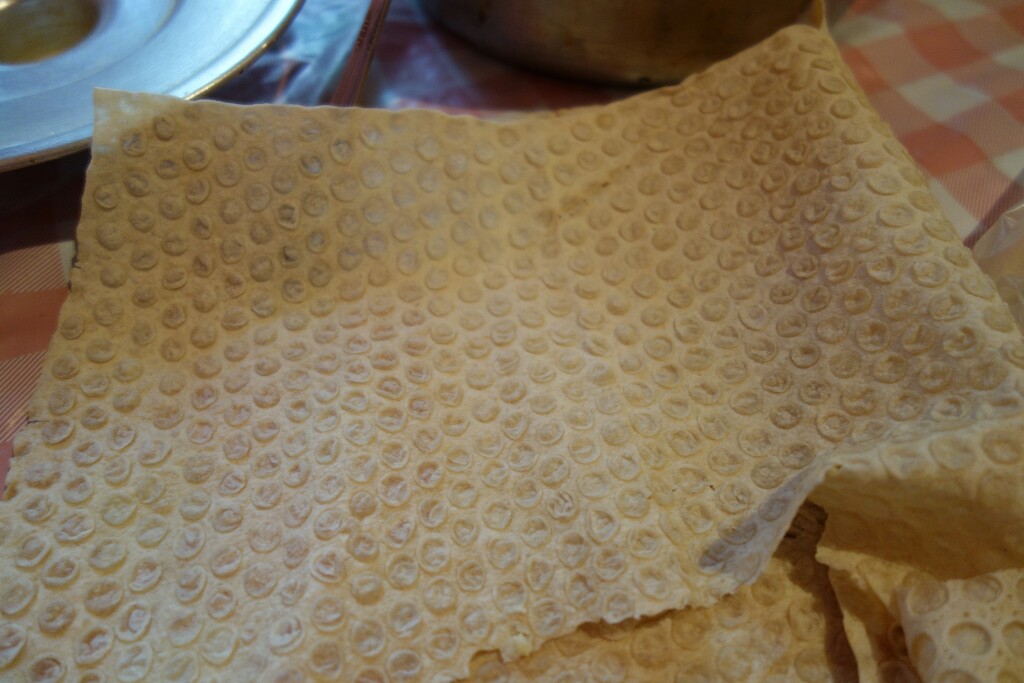 My back wheel makes noises 
and I don't know where they come from. I wanted to check it one more time. There is one famous bike shop in Tabriz. The name of the mechanic is Saeed, tourist get free service at his shop, you only pay for parts. He opened the hub, but everything is fine. But as I expected, the noise didn't disappear. So it's still not repaired properly. But I don't know what I could do more, hope it doesn't matter. :/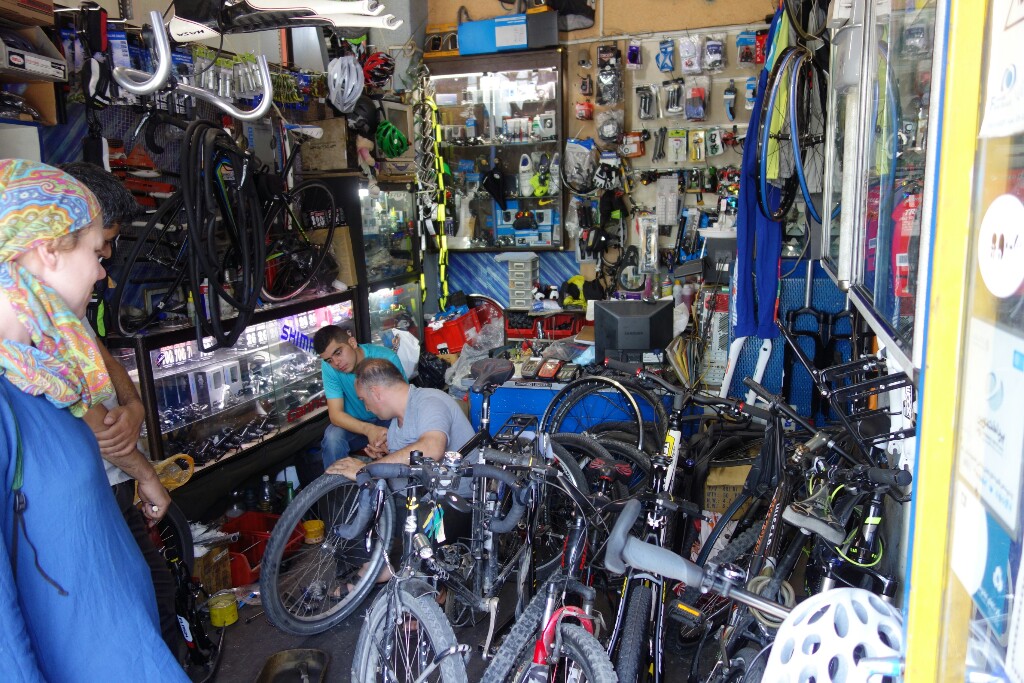 For dinner we cooked real German food "Spätzle".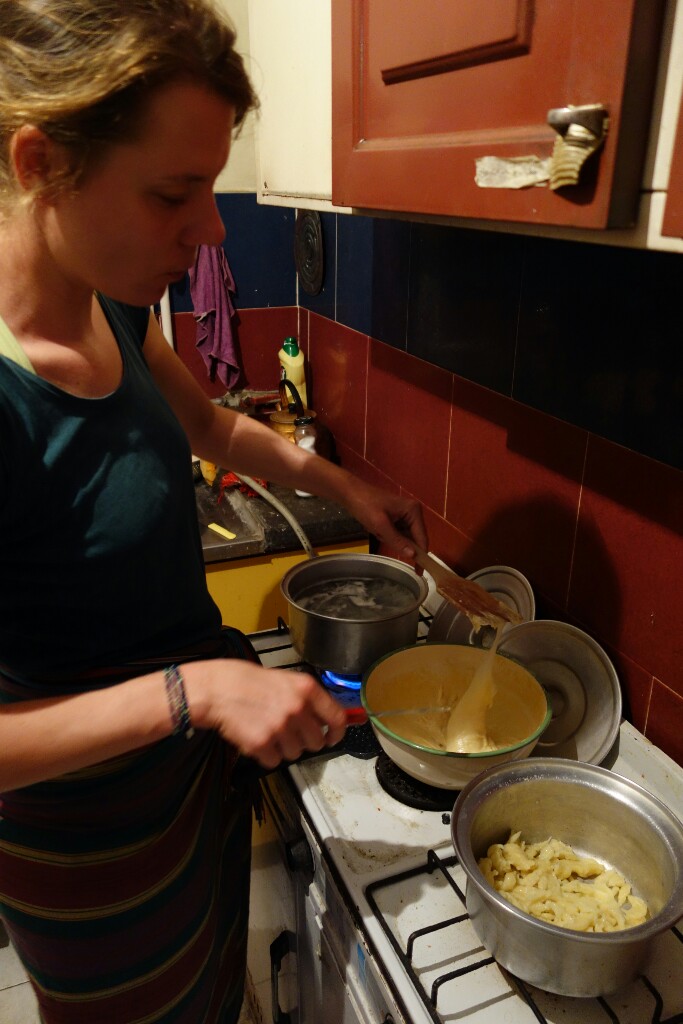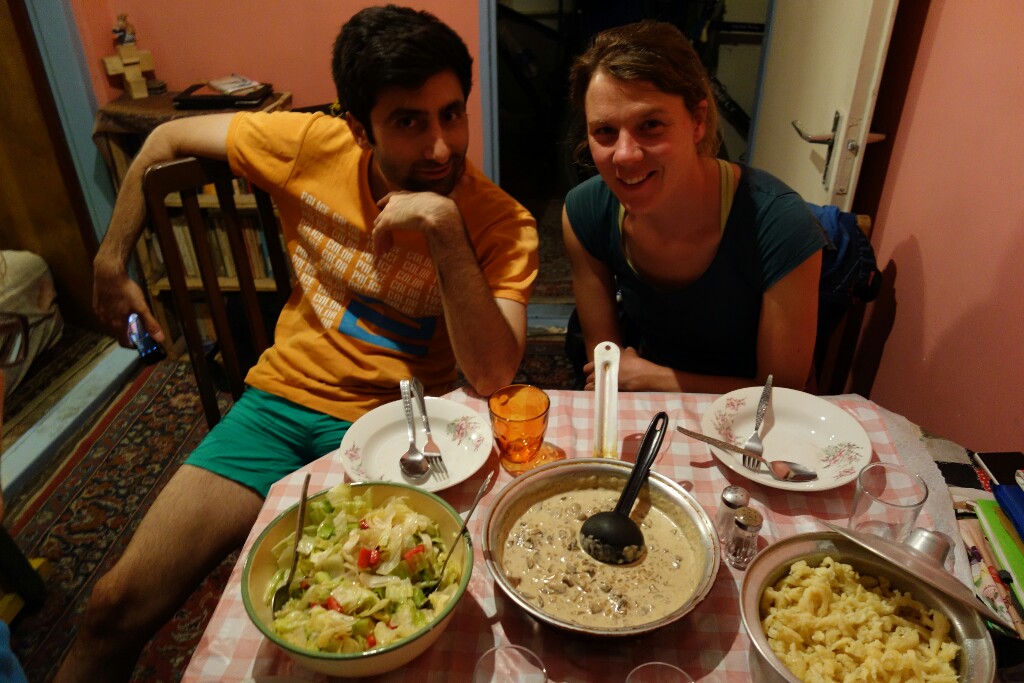 We had a great time with Ali in Tabriz, but after three nights we had to continue our ride to Tehran. Ali gave us two wonderful nice gifts, they hang around our necks.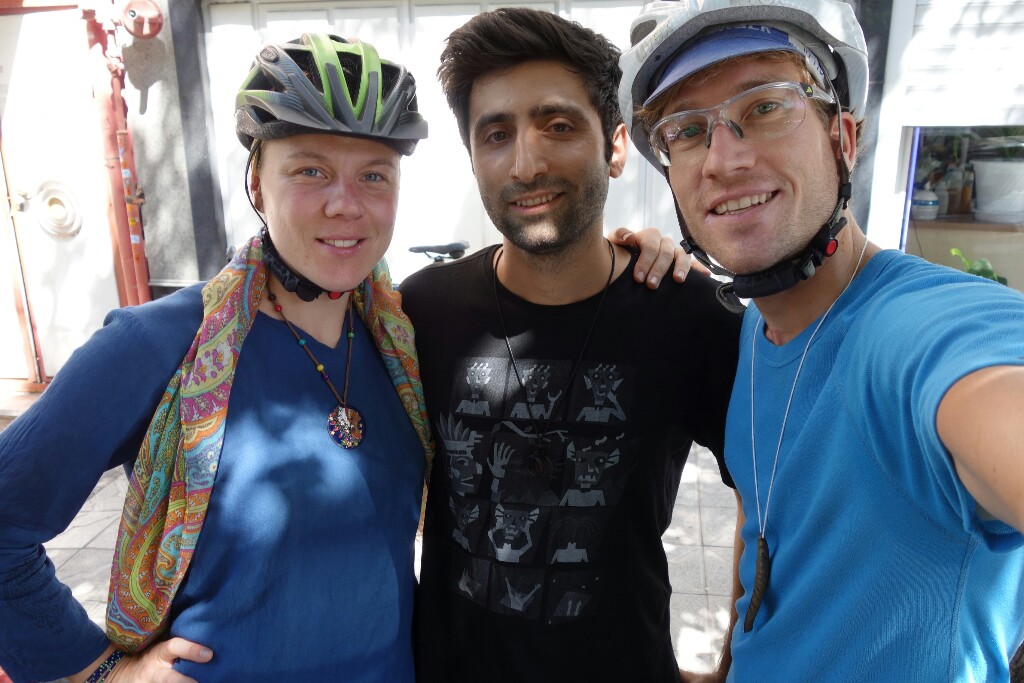 Our best truck driver friend. First time we met him in Armenia on the road to Meghri, he stooped to take a picture with us. Some days later we had lunch in a restaurant short before Tabriz, when one guy came, said hello and showed us a picture with us one his phone. After some seconds we realized that he was the truck driver. Me meet so many people, who say hello and want to take pictures with us, so we can't remember everyone. We stayed three nights in Tabriz, when we cycled uphill to Bostanabad, there was one truck parking and waiting for us at the roadside, from far away we saw, that it was our trucker friend. All good things are three. He invited us to eat melon in his driver's cabin.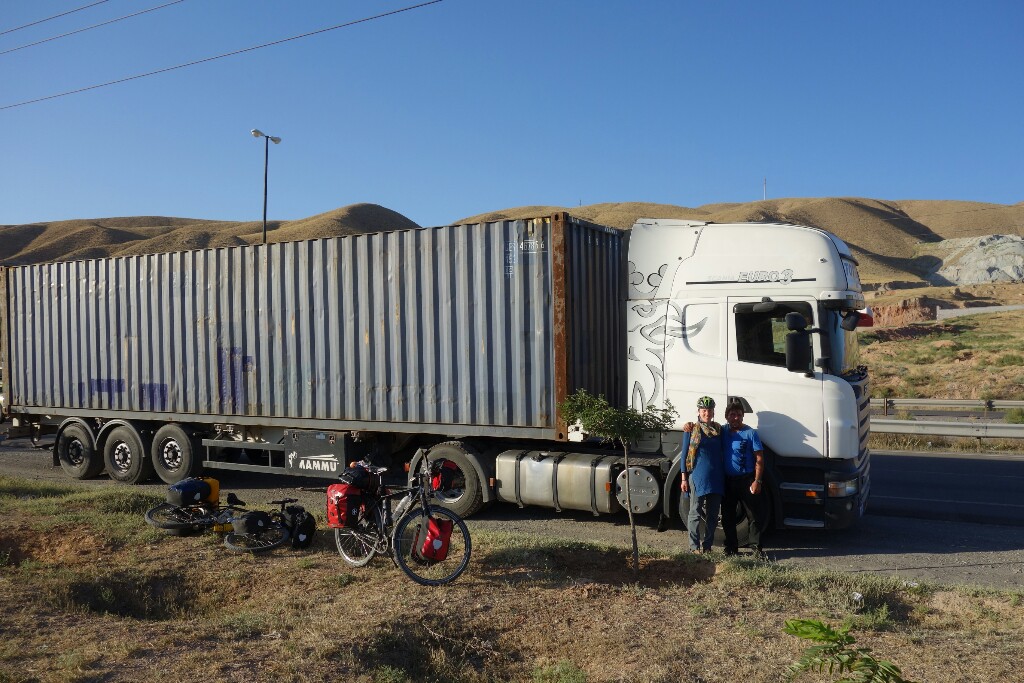 Another night in dusty sand.
Joanna's favorite headscarf style.